Celebrate Valentine's Day with a home-cooked meal and impress your loved ones with these simple yet delicious recipes. From appetisers to main courses and desserts, this collection of easy Valentine's day recipes has something for everyone to enjoy.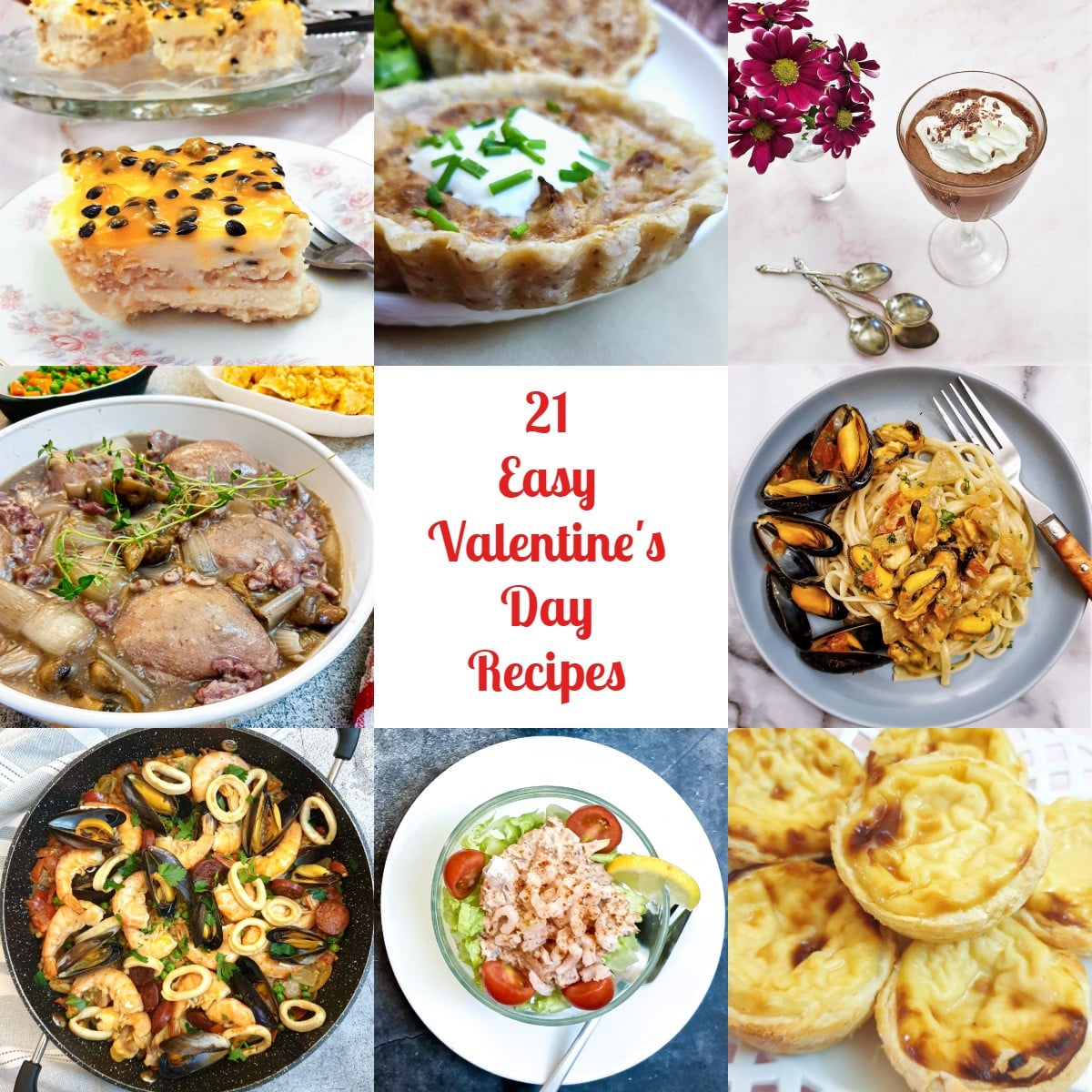 **As an Amazon affiliate, I earn from qualifying purchases.**
Easy Valentine's Day recipes
This Valentine's Day set the mood for a romantic evening with a delicious meal made with love. Whether you're cooking for your significant other or just want to treat yourself or your family, this collection of 21 easy recipes that you can make for Valentine's Day is sure to provide inspiration. From make-ahead starters to quick and easy mains and sweet treats, there's sure to be something for everybody!
Starters
I think the American word 'appetisers' is actually a better description for the first course of a meal. A 'starter' simply sounds like something that you would eat at the start of a meal, whereas an 'appetiser' sounds more like something that awakens the taste buds and whets the appetite for the meal that is to follow.
These easy Valentine's Day appetisers will make the perfect start to any meal. They are light and non-filling, and can all be prepared in advance.
Mains
Most of these recipes can be made ahead of time, and those that can't have minimum cooking involvement so you're not tied up in the kitchen all evening.
Take your pick from the selection of chicken, beef, pork, fish and seafood recipes. Any one of them will make a super Valentine's Day meal.
Desserts
No matter how much I eat of the main meal, I always make sure to leave room for dessert! And these desserts are light and refreshing after a large meal. Plus you can make them all ahead of time and leave them in the refrigerator until you are ready for them.
Save for later
If you would like to try any of these recipes this Valentine's Day, why not save the post to one of your Pinteret boards so you can find it easily. Just click on the image below
Alternatively, you can save the recipe by clicking on the floating heart icon on the right-hand side of the screen.
I do hope you enjoyed this collection of Valentine's Day recipes as much as I enjoyed putting it together.
If you made any of these recipe and enjoyed them, I'd love it if you could give me a star rating in the comments below. And if you'd like to get in touch, you can email me at [email protected]. I'd love to hear from you. And don't forget to subscribe to my mailing list so you can grab yourself a copy of my FREE COOKBOOK!
If you'd like to continue browsing, just click on this link to all my recipes.