Sometimes the simple classic recipes are the best. And this creamy chicken marsala recipe with mushrooms takes some beating. It's packed with flavour and needs only a few ingredients. You can have this on the table in just on half an hour.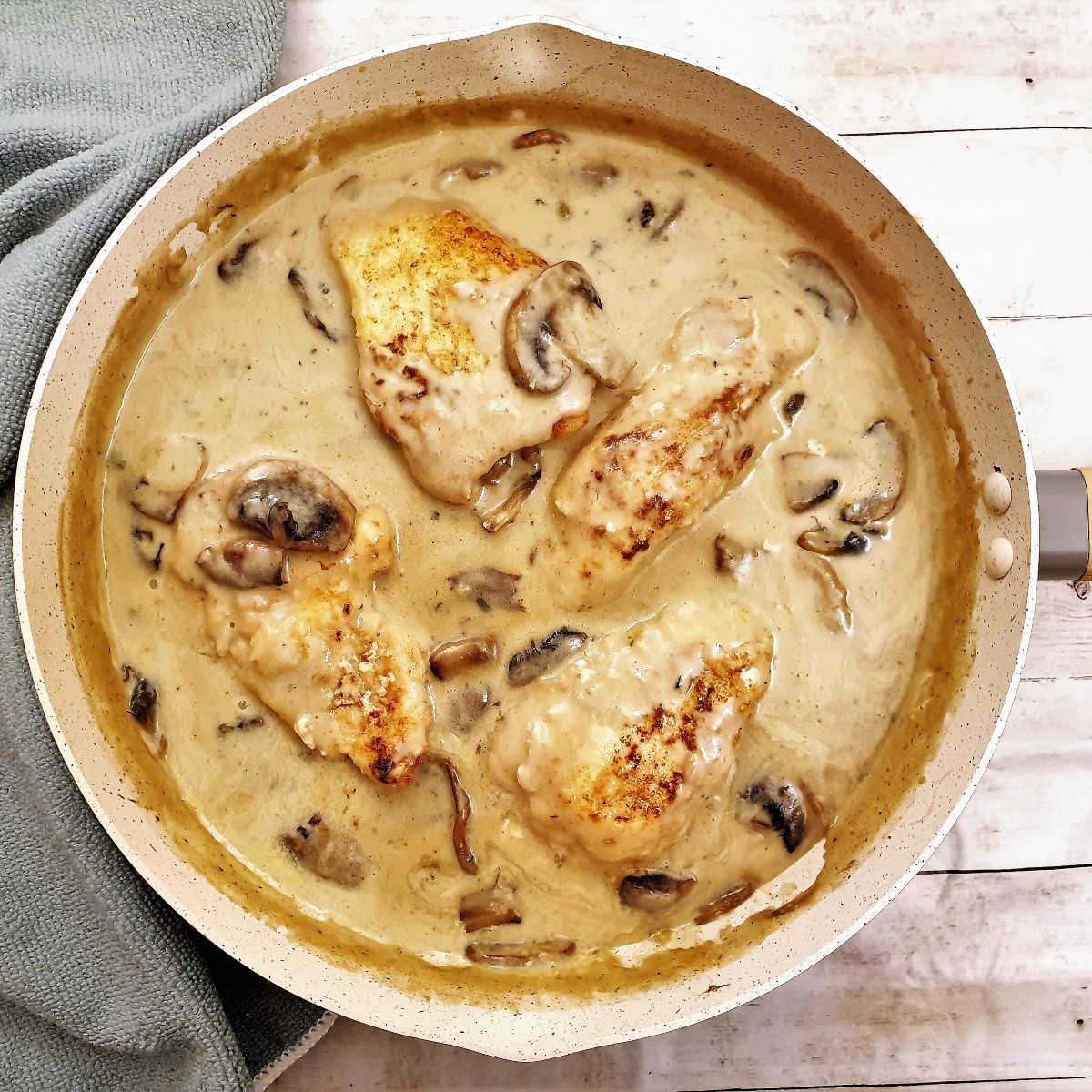 Creamy chicken marsala with mushrooms
This recipe for creamy chicken marsala with mushrooms is a classic Italian dish that I love to make at home. It is a simple dish, made with only a few ingredients and takes only minutes to prepare and cook.
The combination of juicy chicken breasts, pan-fried in butter, savoury mushrooms and a rich and creamy marsala flavoured sauce has to be experienced to be believed. And today, I'm sharing my version of this dish, along with my secret ingredients that elevate a classic chicken marsala recipe from merely delicious to mouth-wateringly outstanding.
Chicken breast can be dry if not cooked correctly, but with this dish, the chicken is flash-fried in butter before being simmered gently in the sauce for only a few minutes. This results in deliciously moist and juicy chicken.
It's absolutely unreal how the combination of so few ingredients can result in such an amazing dish.
This recipe for creamy chicken marsala is a truly restaurant-quality dish that you can easily make at home, yet it is so simple to make that even the most inexperienced cook shouldn't have any difficulty. I hope you enjoy it as much as I do.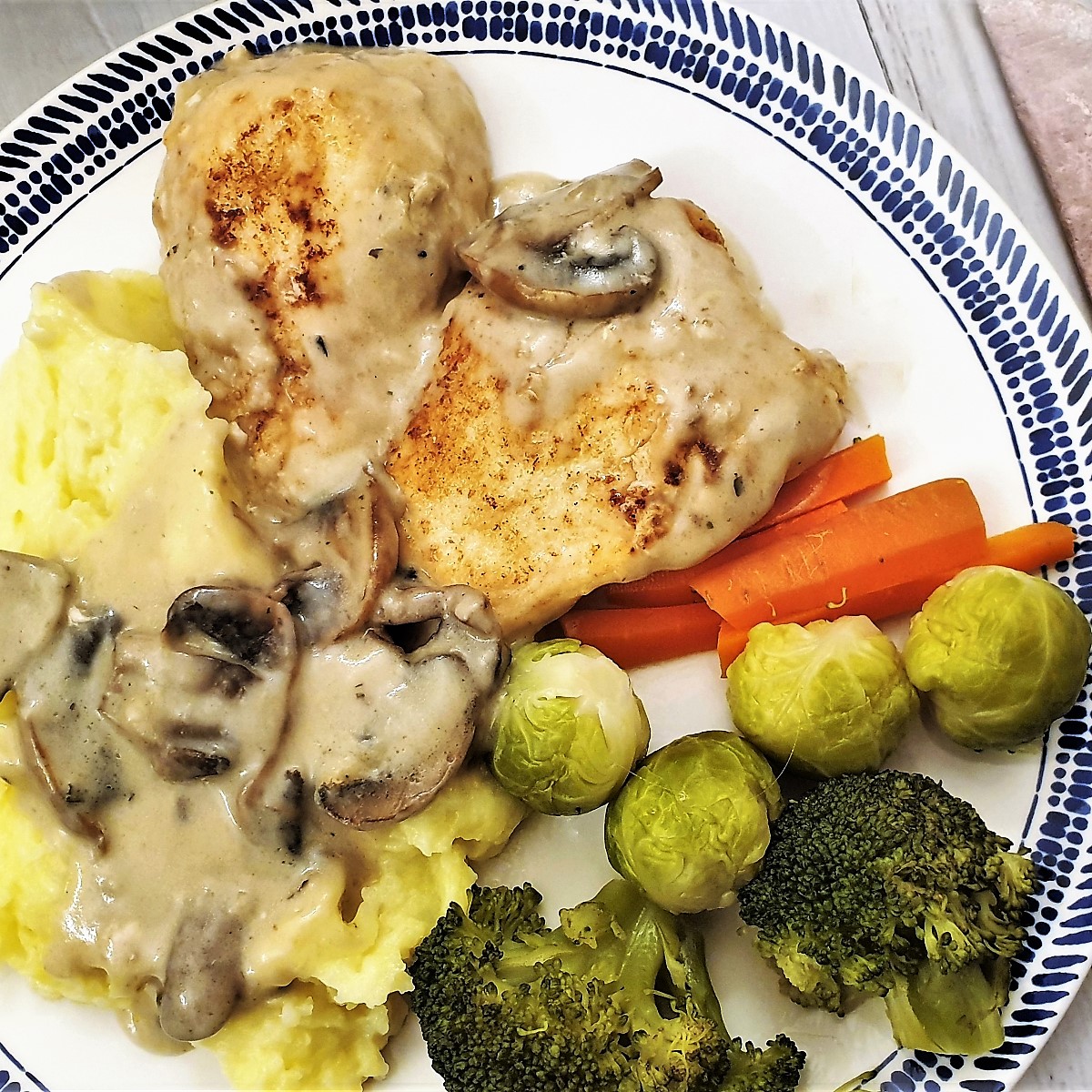 What goes in to chicken marsala?
You only need a few ingredients. You can get the actual quantities and full instructions for making this easy chicken marsala on the printable recipe card at the end of this post.
This recipe is sufficient for 2 people, but you can easily scale it up to cater for more by just doubling up on the ingredients.
Chicken breasts – you will need skinless, boneless chicken fillets. I allow 1 per person, but it totally depends on your appetite (and the size of the fillets).
Flour – mixed with 1 teaspoon salt (optional) and 1 teaspoon paprika. This is used for coating the chicken before frying.
Mushrooms – the more, the better. I used brown chestnut mushrooms, but you can use your favourite type. I've allowed 2 ounces (about 60g) per person but you can use more if you prefer.
Butter – this adds a real richness to the sauce and a lovely nutty flavour to the chicken.
Chicken stock – if you have fresh chicken stock you can use this, if not, just substitute with a chicken stock cube dissolved in 1 cup of boiling water.
Cream – this gives the sauce its lovely creamy flavour. You can use either single of double cream.
Marsala – Marsala is a brandy-fortified wine. If you can't get hold of Marsala, you can substitute with the same amount of full-cream sherry, or even extra chicken stock plus 1 tablespoon of brandy. If you don't want to use alcohol at all, you can substitute with red or white grape juice and a tablespoon of balsamic vinegar or lemon juice.
Secret ingredients – my secret ingredients for elevating the flavours of this dish are anchovies and capers. The anchovies dissolve into the sauce, adding an extra layer of umani, while the capers enhance the savouriness.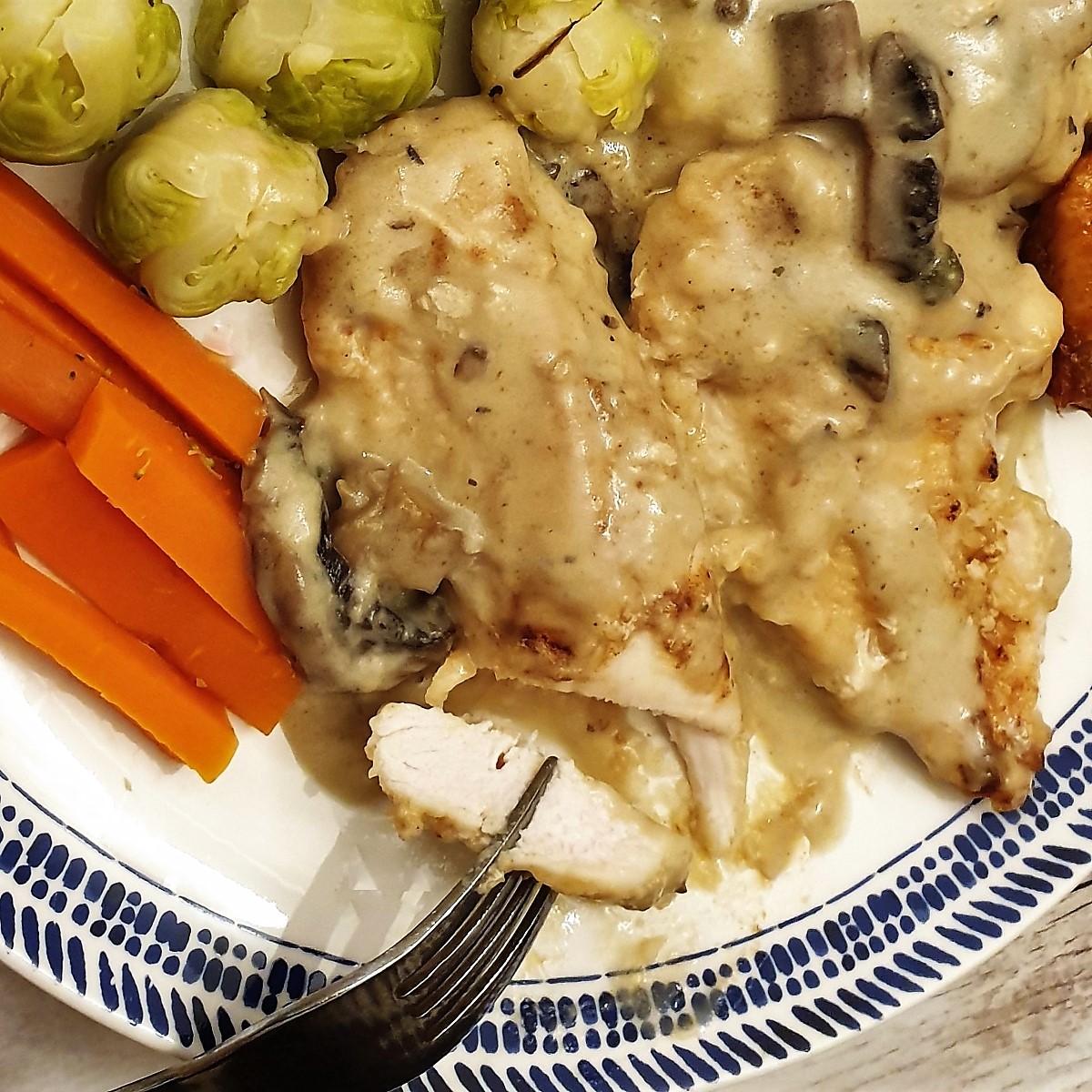 How to make chicken marsala
Chicken marsala takes about 30 minutes to prepare and cook.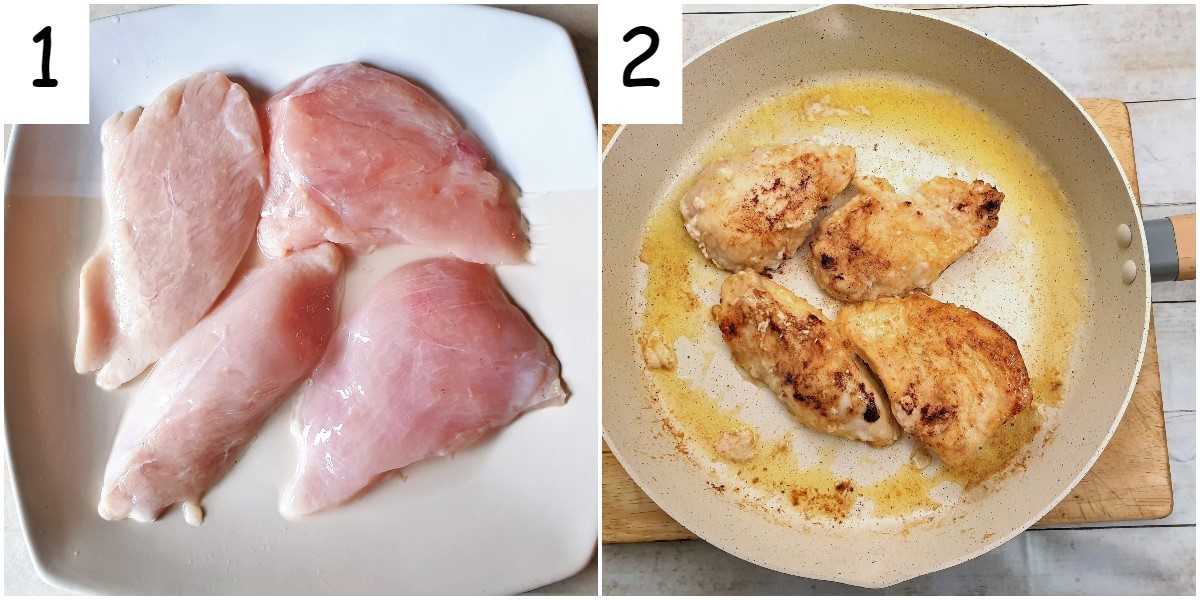 Start by slicing chicken breasts through the middle so you have thinner slices. The mix 1 teaspoon salt and 1 teaspoon of paprika with 4 tablespoons of flour and dredge the chicken in the flour. Shake off any excess flour and pan-fry the chicken in butter for about 3 minutes per side until golden brown.
The chicken will not be 100% cooked at this stage. It will finish off the cooking process while it simmers in the sauce.
Remove from the pan and set aside.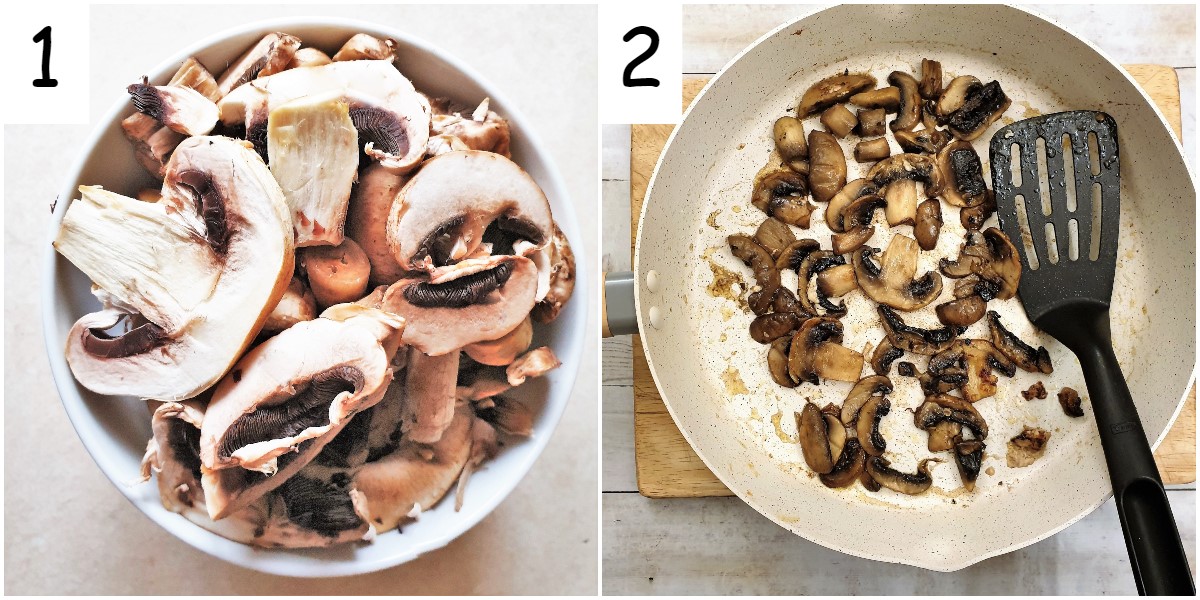 Slice the mushrooms and then fry them for about 3 minutes in the same pan as the chicken was fried in. The mushrooms are like little sponges, and they will soak up all the remaining butter in the pan. Don't worry, as they cook and soften they will start to release their juices.
Once the mushrooms are softened, remove from the pan and set aside while you prepare the sauce.
The Marsala sauce
To make the creamy marsala sauce, melt another 2 ounces of butter in the pan, then remove from the heat and stir in 1 tablespoon of flour. Make sure there are no lumps, then return the pan to the heat and stir in the chicken stock, cream and marsala. Bring to the boil then stir in the anchovies and capers.
Add the chicken and mushrooms back to the pan, cover with a lid, reduce the heat and simmer for 5 minutes to ensure the chicken is cooked through. Cooked chicken will have an internal temperature of 74C/165F and will not have any pinkness showing when cut in half.
And that's all there is to it! A delicious supper that wouldn't be out of place in an Italian restaurant, but made at home in half an hour.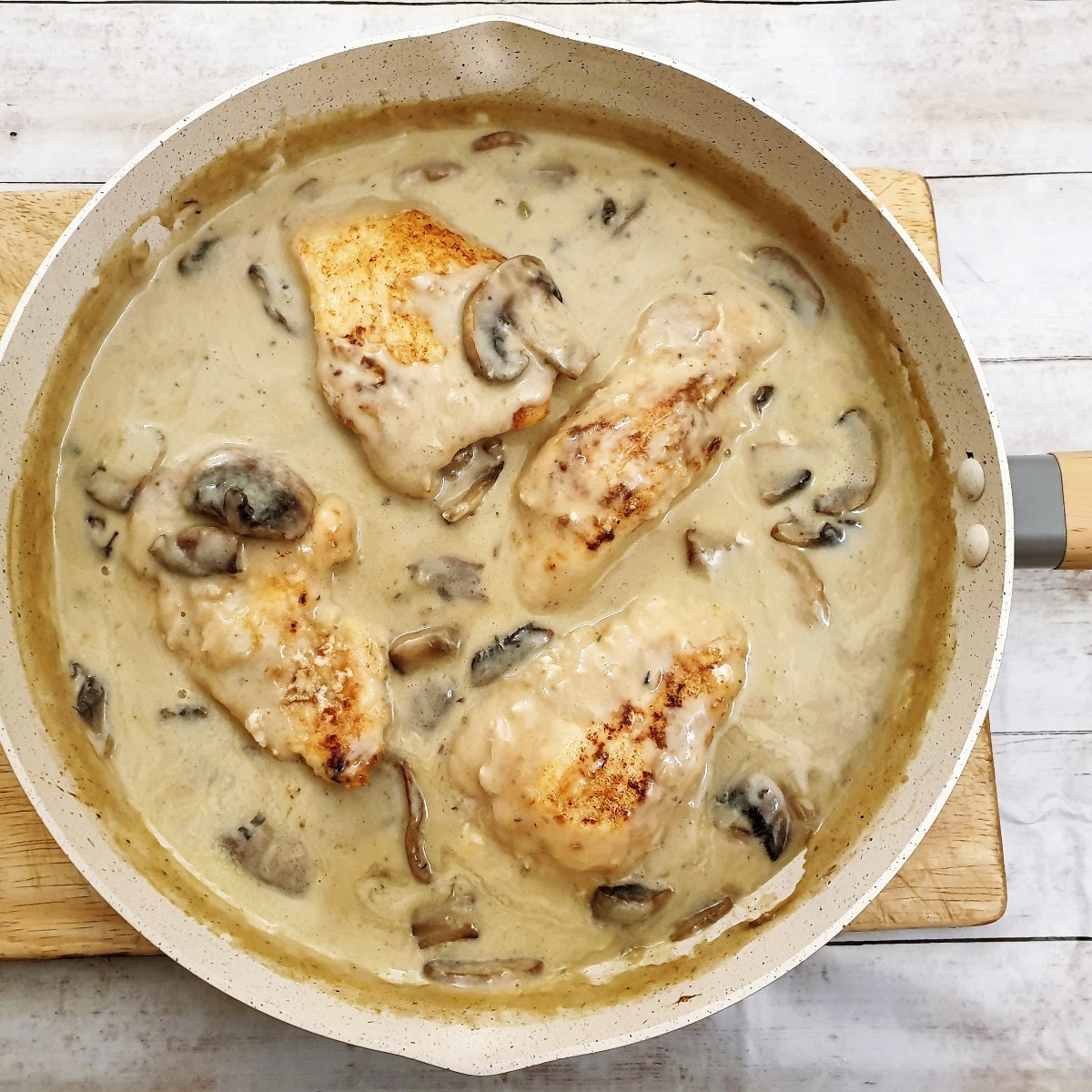 What to serve with chicken marsala
I like to serve this creamy chicken marsala with mashed potatoes and fresh vegetables with the sauce spooned liberally over the top.
If you prefer, you could substitute the mashed potatoes for rice.
Variations
For another meal with a difference, why not cut the chicken into short strips instead of halving the breasts.
Then follow the recipe instructions, but serve the chicken and sauce over a bed of pasta, with crusty garlic bread to mop up the sauce.
I promise you this will be the best chicken marsala pasta you've ever tasted!
If you want to keep up-to-date with my latest recipes why not follow along on Facebook or Pinterest. And don't forget to subscribe to my mailing list so you can get your FREE COOKERY BOOK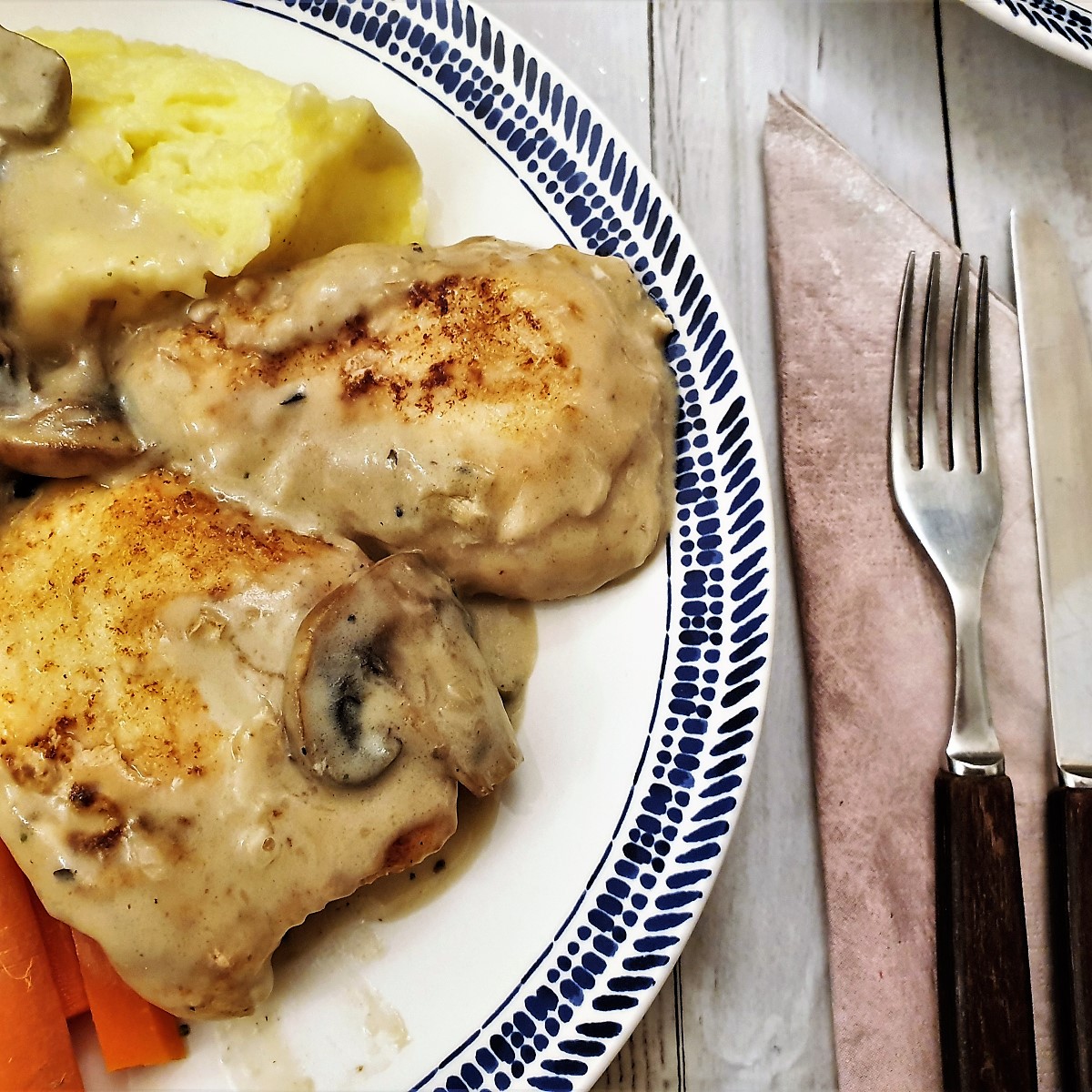 If you enjoyed this recipe for chicken marsala you may also enjoy these other chicken recipes:
Or how about trying my Italian recipes:
Convert grams to cups
To help you convert your recipes, I have created a handy Cookery Conversion Calculator which will convert ingredients between grams, ounces, tablespoons, cups and millilitres. I hope you will find it useful.
If you live at a high altitude you may find you need to adjust your baking recipes to compensate for this. You can read about how to do this in this post on baking at high altitudes.
Pin for later
Why not pin this recipe for creamy chicken marsala to your pinterest board so you can make it later. Just click the image below.
Creamy chicken marsala with mushrooms recipe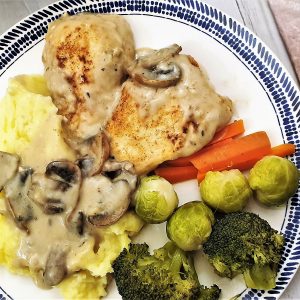 Creamy chicken marsala with mushrooms
Juicy chicken breasts sauteed in butter and then cooked in a creamy marsala flavoured sauce. Serve with mashed potatoes and vegetables covered with the sauce.
Print recipe
Pin me for later
Leave a comment
Equipment
Sharp Knife

Chopping Board

Large frying pan with lid

Spatula
Ingredients
Chicken
2

medium

chicken breast fillets

approximately 115g or 4 oz each

¼

cup

plain flour

for coating the chicken

1

teaspoon

salt

optional

1

teaspoon

paprika

2

oz

butter

for frying the chicken
Marsala Sauce
4

oz

white or chestnut mushrooms

(115g)

2

oz

butter

for the sauce

1

tablespoon

plain flour

1

cup

chicken stock

(240 ml) make with a chicken stock cube

⅓

cup

single cream

(80ml)

⅓

cup

Marsala wine

(80ml)

2

anchovy fillets

1

tablespoon

pickled capers
Instructions
Cut the chicken breasts in half to form two thinner fillets. See note 1.

Mix ¼ cup flour with the salt and paprika

Coat the chicken breasts in the seasoned flour and shake off the excess

Melt 2oz of butter in a frying pan and gently fry the chicken breasts until nicely browned on both sides. This will take about 4 minutes. Remove from the pan and set aside.

Add the mushrooms to the same pan and fry gently until they soften. Remove from the pan and set aside. See note 2.
Make the sauce
Melt another 2 oz of butter in the same frying pan, then stir in one tablespoon flour to make a smooth paste.

Dissolve 1 chicken stock cube in 1 cup of boiling water and add to the flour mixture. Stir over a low heat until the mixture starts to thicken.

Add the cream and the marsala and continue stirring until you have a thick creamy saucy, about the consistency of thick gravy.

Add the anchovies and capers and stir to allow the anchovies to dissolve into the sauce.

Taste for seasoning and add salt if necessary. See note 3.

Add the mushrooms and chicken to the sauce in the pan, cover with a lid and leave over a very low heat for about 5 minutes to give the chicken time to finish cooking. See note 4.°

Serve the chicken fillets on a plate with mashed potatoes and your vegetables of choice. Pour over plenty of the delicious gravy.
Notes
Note 1 – This recipe does not need a very long cooking time and cutting the chicken fillets in half makes then thinner and lets them cook quickly.
Note 2 – There will be sufficient butter left from frying the chicken to cook the mushrooms.  Mushrooms are like little sponges and they will soak up all the leftover butter.  Don't worry, just continue to stir and as the mushrooms start to soften, they will release their moisture.
Note 3 – The anchovy fillets should provide sufficient saltiness to the sauce.  Taste, and add salt to your own taste if you think the dish needs it.
Note 4 – The chicken will be cooked when its internal temperature reaches 74C / 165F.  Alternatively, if you don't have a thermometer, cut a piece of chicken in half and make sure there is no pinkness showing. 
Variation – Cut the chicken into short strips and follow the remaining recipe instructions.  The serve the chicken and sauce over a bed of our favourite pasta noodles.
Nutrition
Share on Facebook
I am not a nutritionist. The nutrition information has been calculated using an on-line calculator, and is intended for information and guidance purposes only. If the nutrition information is important to you, you should consider calculating it yourself, using your preferred tool.
If you made this recipe and enjoyed it, please don't forget to give me a star rating in the comments below. And if you'd like to get in touch, you can email me on foodleclub1@gmail.com. I'd love to hear from you. And don't forget to subscribe to my mailing list so you can grab yourself a copy of my FREE COOKBOOK!
If you'd like to continue browsing, just click on this link to all my recipes.