A hearty beef and kidney stew, slow-cooked until you can cut the meat with a fork! And I've also got three secret tips for making the tastiest, thickest gravy, without the need for thickening agents.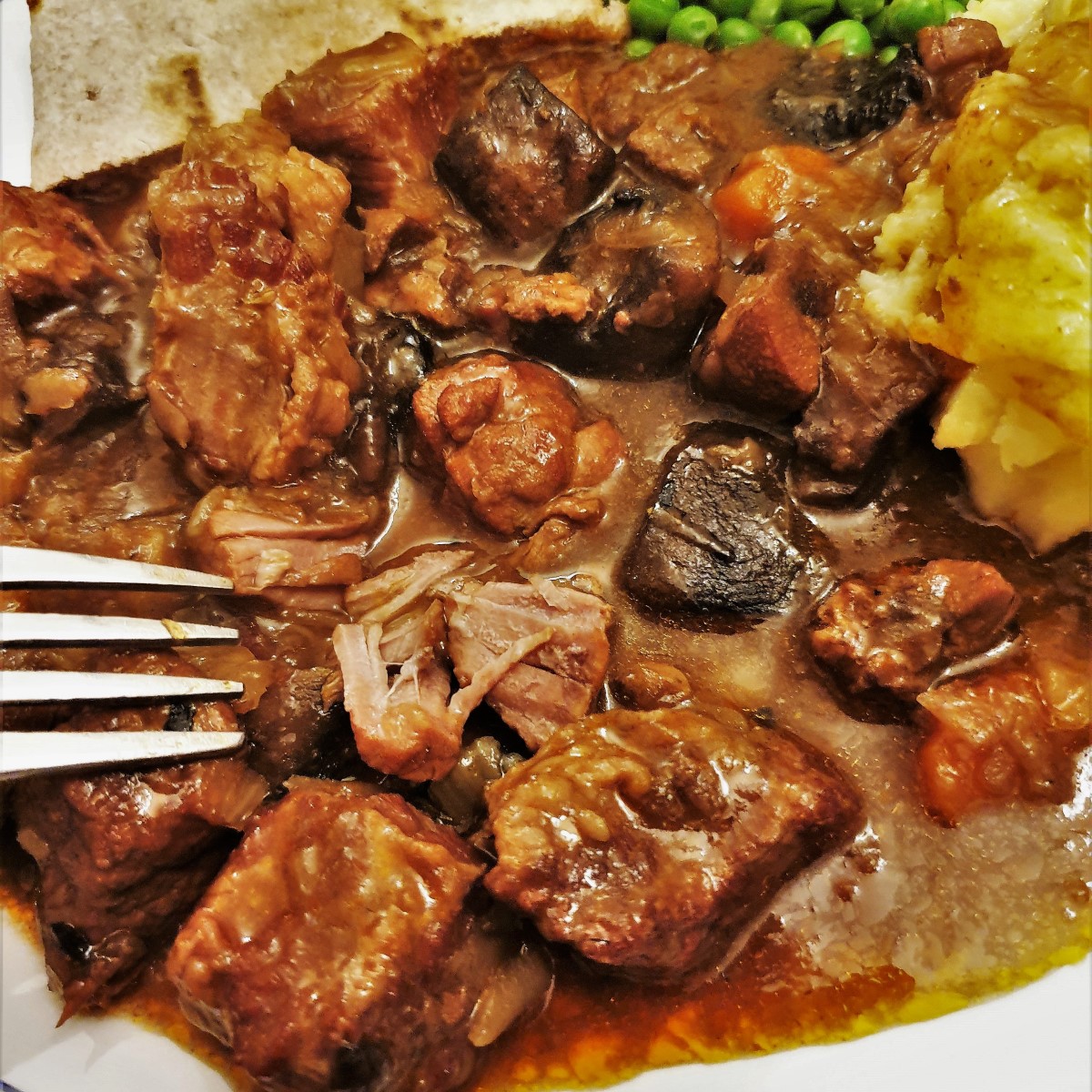 **As an Amazon affiliate, I earn from qualifying purchases.**
Thick and tasty beef and kidney stew
Much as I love a barbeque outdoors in the summer, I have to admit I do love a good winter stew too. There's something so comforting about tucking into a bowl of hearty stew, with a piece of crusty bread to soak up the delicious juices.
And this slow-cooker beef and kidney stew ticks all my boxes.
Easy to make – this stew couldn't be easier if it tried. Just brown the meat, onions and mushrooms and tip it all into the slow cooker with some stock, red wine, vegetables and spices and leave it alone for 6 hours.
Time-saving – this stew is a real time-saver because apart from browning the meat, all the cooking is done in one pan. And because you can just leave the slow-cooker to get on with the hard work of cooking, there's no standing and stirring to be done.
Economical – because the meat is cooked long and slow, you can get away with using a cheaper cut of meat such as chuck. Comparing chuck to steak is like comparing apples and oranges. Steak has a higher fat content which means it can be cooked quickly over a high heat, whereas chuck has more connective tissue which requires a longer time to break down. If you were to cook a piece of chuck in the same way that you cook steak, you would end up with something resembling shoe-leather; but pop the chuck into a slow cooker, leave it alone for a few hours and you will have the most tender melt-in-the-mouth meat that you could wish for. And at a much lower price than you would pay for prime beef steak.
Delicious to eat – the flavour in a piece of slow cooked stewing beef has to be experienced to be believed. If you were to boil steak for hours, the fat would just melt into the stock, taking with it all the juices and flavour, and leaving you with tough stringy meat; but boil a cheaper cut and the connective tissues soften and hold the meat together, helping to keep the flavour locked in the meat.
And as an added bonus you get all the delicious smells coming from the kitchen!
This recipe will easily feed 4 hungry people, but you can easily increase it to feed more – just increase the amount of meat, stock and vegetables and up the seasoning slightly. And if you happen to make too much, don't worry. This stew freezes beautifully – in fact I always make a double batch and freeze half for another meal.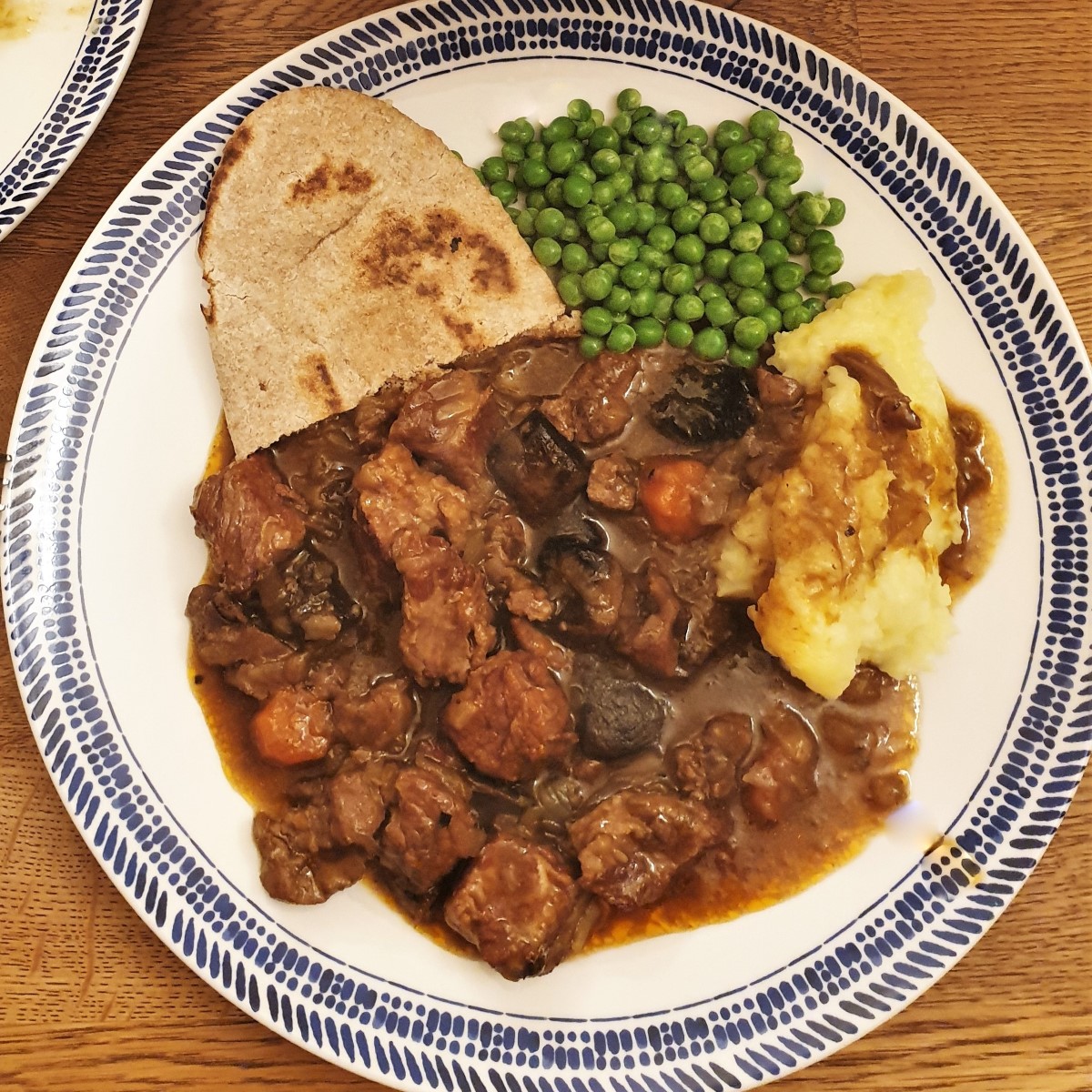 Recipe information
Prep time – 15 minutes
Cooking time – 6 hours
Yield – feeds 4
Calories – 350 per serving
Main equipment – slow cooker or crockpot. I like this one because it has a large 3.5 litre bowl which can be used on the hob for searing meat before cooking. And even though this feature doesn't really add to the efficiency, you can get it in different colours to match your kitchen!
What goes into beef and kidney stew?
This is what you will need – (and I've included my three secrets below).
Get the complete list of ingredients and full instructions for making beef and kidney stew on the printable recipe card at the end of this post.
Chuck (or other cut of stewing beef) and kidneys. The chuck should be cut into bite-sized pieces and the kidneys should be cut into approximately 1cm or half-inch chunks.
Onions, mushrooms, cabbage, carrots and grated potato. My first secret for getting a lovely thick, tasty gravy is to add a grated potato to the stew. The potato cooks away into the gravy and the starch in the potato acts as a thickening agent. My second secret is to add shredded cabbage. Because of the long cooking time, the cabbage disintegrates into the sauce, leaving lots of yummy flavour.
Beef stock and red wine. You can use a stock cube to make the stock if you don't have real beef stock to hand. The red wine is my third secret. It give a delicious richness to the stew. But do make sure that it is actually a wine that you would drink. The flavour of a bad wine will not improve with cooking, and may actually spoil the flavour of the finished dish. My rule of thumb when cooking with wine is "if you wouldn't drink it, don't cook with it".
Worcestershire sauce, tomato paste and thyme. I use tomato paste that I buy in a tube at my local supermarket. It is very highly concentrated. You can get away with using tomato puree, but this is not as concentrated so you may need to use extra to get the same flavour.
You can use either dried or fresh thyme. Dried herbs are much more concentrated in flavour than fresh herbs. The rule of thumb is use 1 teaspoon of dried or 1 tablespoon chopped fresh herbs.
Ingredient substitutions
If you don't like kidneys you can just leave them out and up the amount of chuck to compensate.
You can also leave out the red wine if you don't like cooking with alcohol. Just substitute with an equal amount of stock. You could also substitute the red wine with red grape juice.
If your family do not like mushrooms you can leave those out.
How to make this delicious stew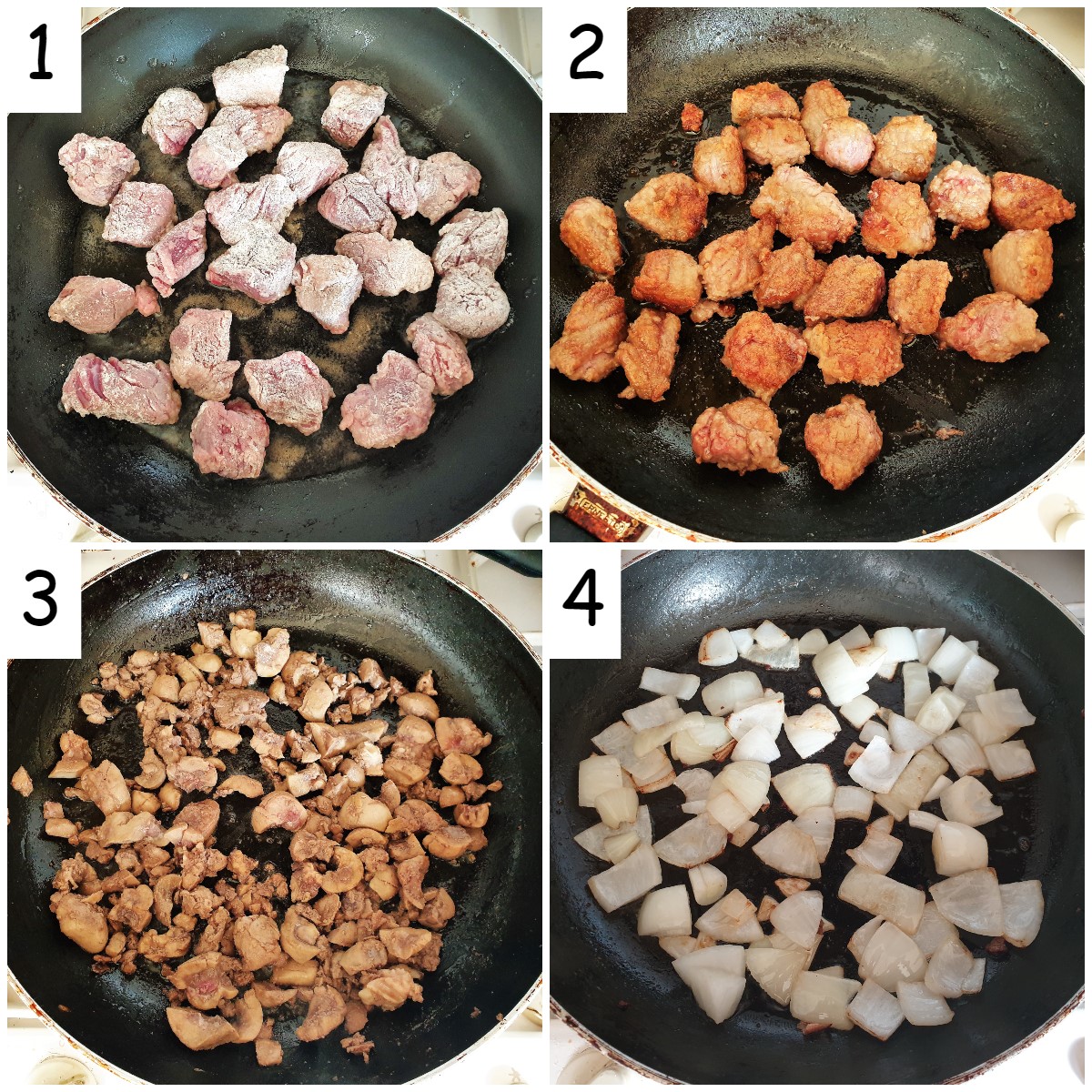 Start off by coating the cubed beef in seasoned flour and browning it in a frying pan. Do this over quite a high heat so that the meat browns nicely. If the heat is too low the meat will release juices and stew rather than brown. Don't overcrowd the pan either, rather brown the meat in batches. Once browned, transfer to the slow cooker.
Next fry the chopped kidneys in the same pan until they turn colour, then add then to the beef in the slow cooker.
Soften the onions and chopped garlic in the same pan. You may need to add an additional tablespoon of oil to do this. Transfer to the slow cooker.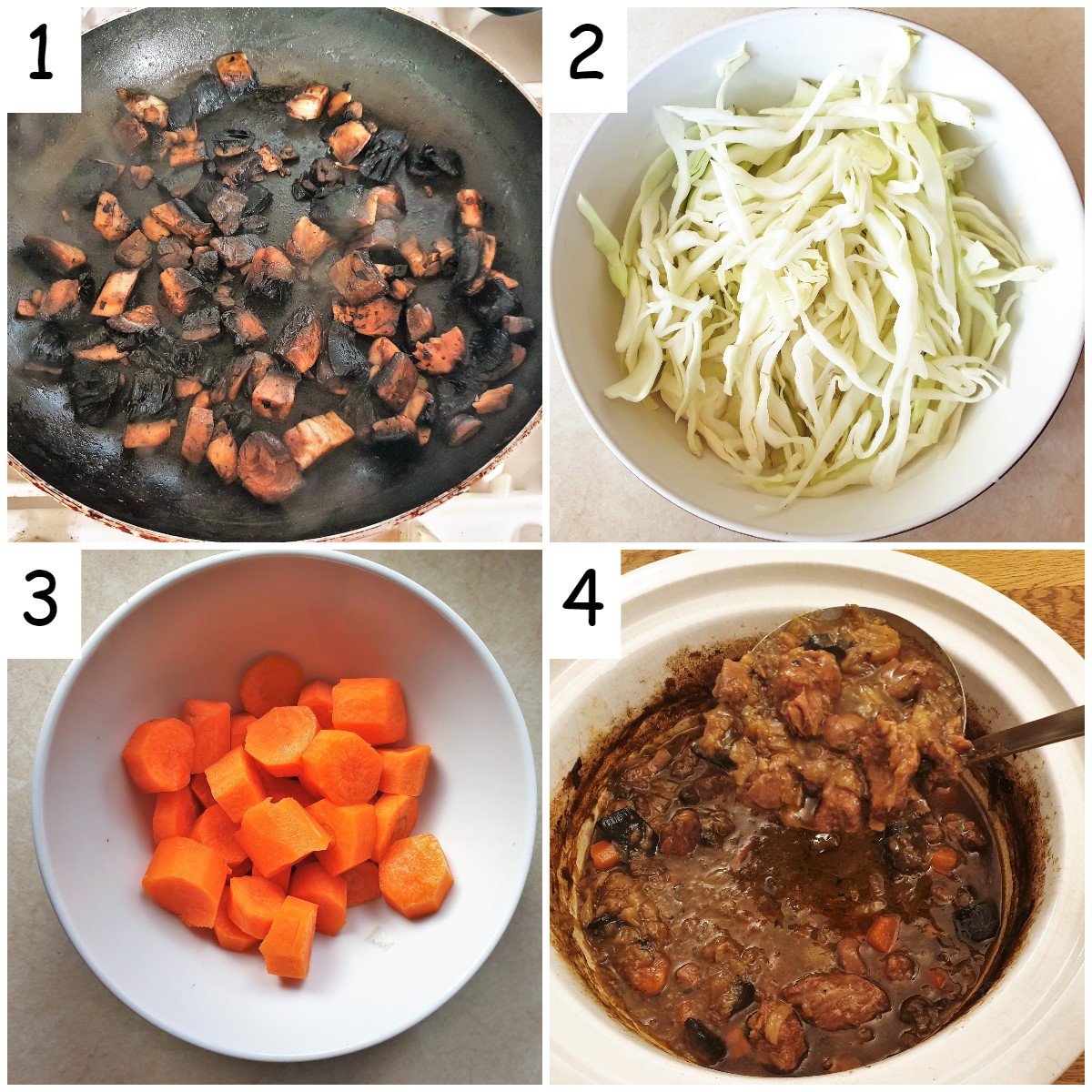 Finally, fry the mushrooms until they soften and release their juices. Transfer them into the slow cooker.
Now add the shredded cabbage, grated potato and chopped carrots. Pour in the prepared stock and the red wine. Add the Worcestershire sauce, tomato paste and thyme. Season with salt and pepper, stir to combine all the ingredients and then set the heat on the slow cooker.
Leave for 6 hours on a high setting, or for 8 hours on a low setting.
If you want to keep up-to-date with my latest recipes why not follow along on Facebook or Pinterest. And don't forget to subscribe to my mailing list so you can get your FREE COOKERY BOOK
How to freeze beef and kidney stew
As I mentioned above, this stew freezes really well. Just allow it to cool and then pack it into a Tupperware container, or a strong large Ziploc bag, and place it in the freezer. You can freeze this stew for up to 4 months.
To use, either defrost in the refrigerator and then reheat in a large saucepan. You could also just tip the frozen stew directly into a large pan and leave it, covered, on the lowest heat setting, until it defrosts. Then just turn up the heat and bring to a boil.
Can I make it in advance?
Yes, you can make this stew up to 3 days ahead of time, then allow to cool and refrigerate until you are ready to eat it.
If you enjoyed this beef and kidney stew recipe, you might also like to try some of my other soup and stew recipes.
Additional resources
Don't forget to check out my handy Cookery Conversion Calculator if you want to convert any of your recipe measurements from grams to cups, ounces, tablespoons or millilitres and vice versa. You can also use the calculator for converting oven temperatures between Fahrenheit, Celsius and Gas marks.
If you live at a high altitude you may find you need to adjust your baking recipes to compensate for this. You can read all about it in this post on baking at high altitudes.
Pin for later
Why not pin this beef and kidney stew recipe to your pinterest board so you can make it later. Just click the image below.
Slow-cooker beef and kidney stew recipe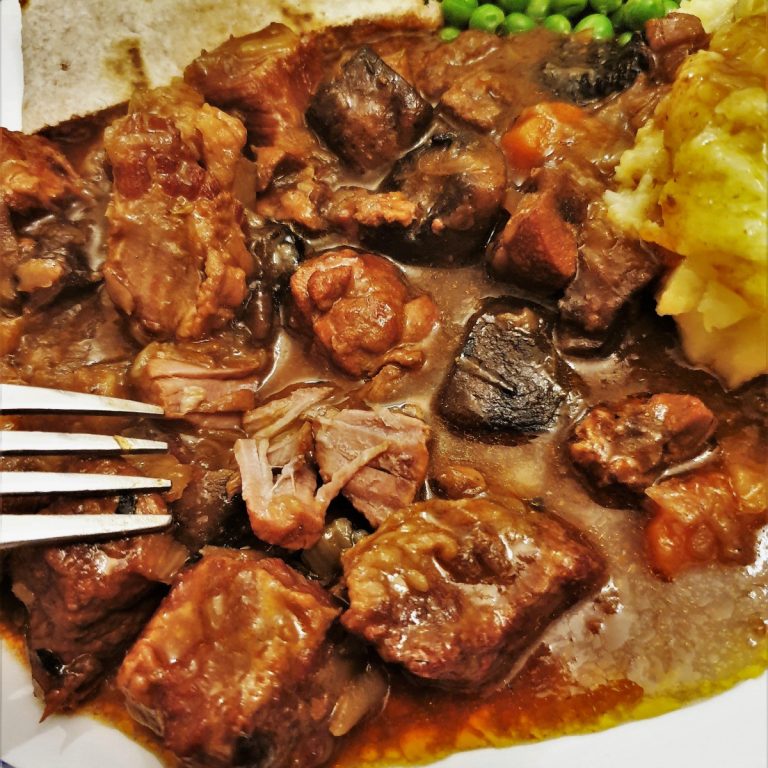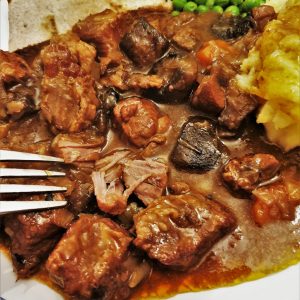 Slow-cooker beef and kidney stew
A hearty beef and kidney stew, slow-cooked until you can cut the meat with a fork!
(Click the stars to rate this recipe)
Print
Pin
Comment
Bookmark
Saved!
Equipment
Sharp Knife

Chopping Board
Ingredients
12

oz

(

350g

) stewing steak or topside

cut into cubes

8

oz

(

225g

) beef kidney

coarsely chopped and membranes removed

¼

small

shredded white cabbage

approximately 2 cups

1

cup

carrots

sliced into rounds

1

large

onion

cut into 1cm dice

1

cup

chopped mushrooms

white, chestnut or portobello

1

medium

potato

grated (approximately 1 cup)

1

clove

garlic

finely chopped

1

cup

beef stock

made with a stock cube

½

cup

full-bodied red wine

2

tablespoons

tomato paste

4

tablespoons

Worcestershire sauce

1

teaspoon

dried thyme

2

tablespoons

sunflower or canola oil

for browning the meat

1

tablespoon

flour

1

teaspoon

salt

½

teaspoon

ground black peper
Instructions
Coat the cubed meat with flour and brown in sunflower oil. Transfer the browned meat to a slow-cooker. See note 1.

Add the diced kidney to the pan and fry until it is no longer pink. Add the kidney to the slow-cooker.

Fry the chopped onions and garlic in the same pan until just translucent. You may need to add a little extra oil. Add the onions to the slow-cooker.

Fry the mushrooms in the same pan until they soften and release their juices. Add to the slow-cooker.

Add the shredded cabbage, sliced carrots and grated potato to the slow-cooker. See note 2.

Pour in the prepared stock and the red wine and add the tomato paste, worcestershire sauce, thyme, salt and pepper.

Stir well then put the lid on the slow cooker and leave on high for 6 hours, or on low for 8 to 9 hours.

Check the consistency of the stew. If it is too thin, make a slurry of 2 teaspoons of corn starch (cornflour) in 2 tablespoons of water and drizzle in slowly, stirring, until the desired thickness is reached. See note 3.

Serve with mashed potatoes and your favourite side vegetables. If you are feeling really hungry, add a slice of crusty bread to mop up the juices.
Notes
Note 1 – when browning the meat, let the oil in the pan heat up first.  Do not over-crowd the pan or the meat will release its moisture and stew rather than brown.  Brown the meat in batches if there is too much to fit in one pan.
Note 2 – the grated potato will cook away and help to thicken the gravy.  I find that if I add the grated potato I do not need to thicken the sauce at the end of the cooking time.
Note 3 – if you find you do need to thicken the stew, drizzle in a slurry of 2 teaspoons cornflour and 2 tablespoons water, but be careful.  You may not need all the slurry.
Freeze the leftovers – in a plastic container for up to 4 months.  Allow to defrost in the fridge overnight and then reheat in a saucepan until piping hot.
 Calories do not include side vegetables and mashed potatoes for serving.
Nutrition
Calories –
350
kcal
|
Carbohydrates –
25.4
g
|
Protein –
31.8
g
|
Fat –
13.6
g
|
Saturated Fat –
0.7
g
|
Sodium –
785
mg
|
Potassium –
574
mg
|
Fiber –
4.3
g
|
Sugar –
8.8
g
|
Calcium –
48
mg
|
Iron –
2
mg
I am not a nutritionist. The nutrition information has been calculated using an on-line calculator, and is intended for information and guidance purposes only. If the nutrition information is important to you, you should consider calculating it yourself, using your preferred tool.
Share on Facebook
Share on Twitter
If you made this recipe and enjoyed it, I'd love it if you could give me a star rating in the comments below. And if you'd like to get in touch, you can email me at [email protected]. I'd love to hear from you. And don't forget to subscribe to my mailing list so you can grab yourself a copy of my FREE COOKBOOK!
If you'd like to continue browsing, just click on this link to all my recipes.