This peppermint chocolate mousse dessert is so light and airy, you'd almost expect it to float out of the refrigerator by itself! This is a classic chocolate mousse recipe, but I've given it a slight twist by making it with peppermint chocolate, and a dash of chocolate mint liqueur. If you're looking for a spectacular dessert for Valentine's Day, or just an easy dessert to impress on date night, then you've come to the right place.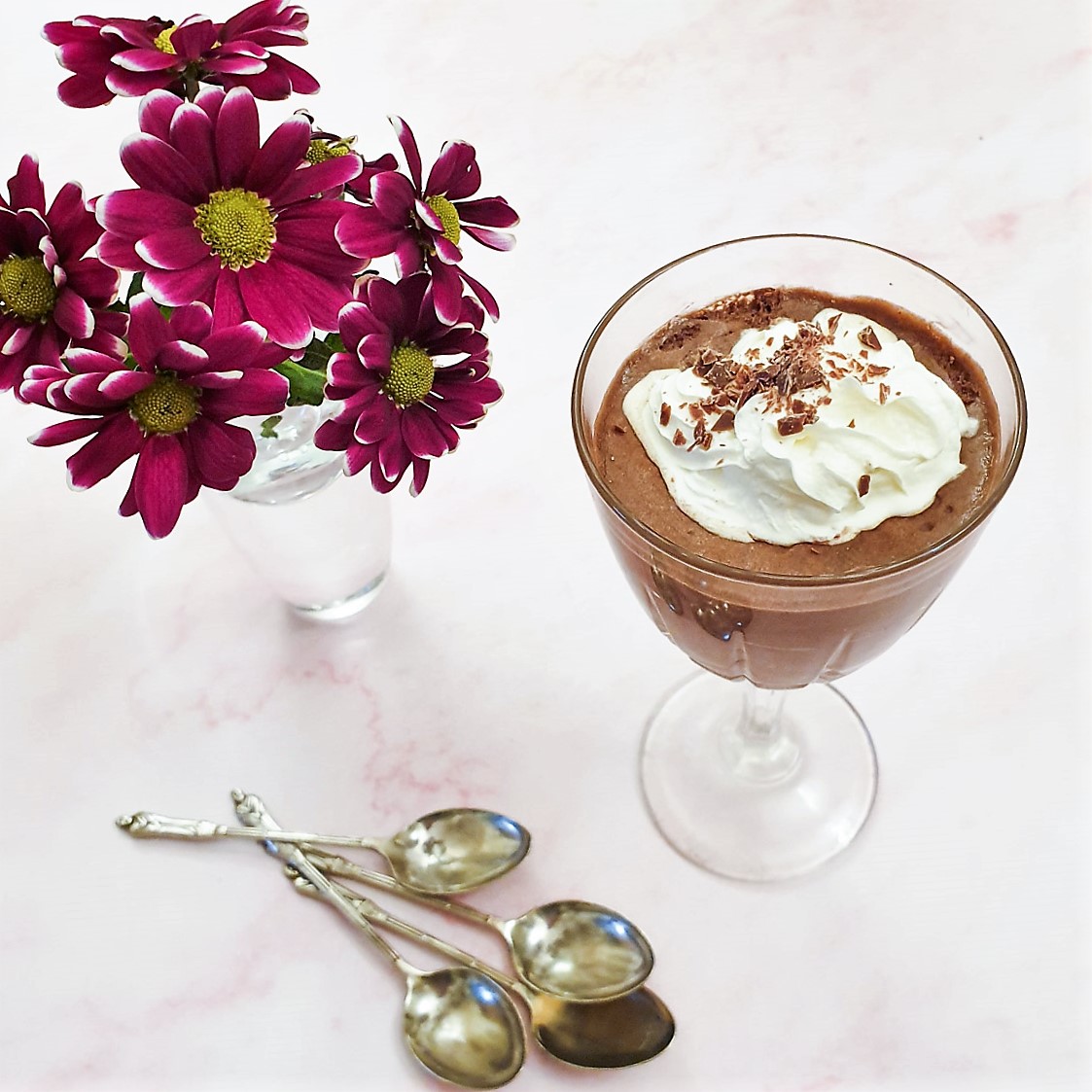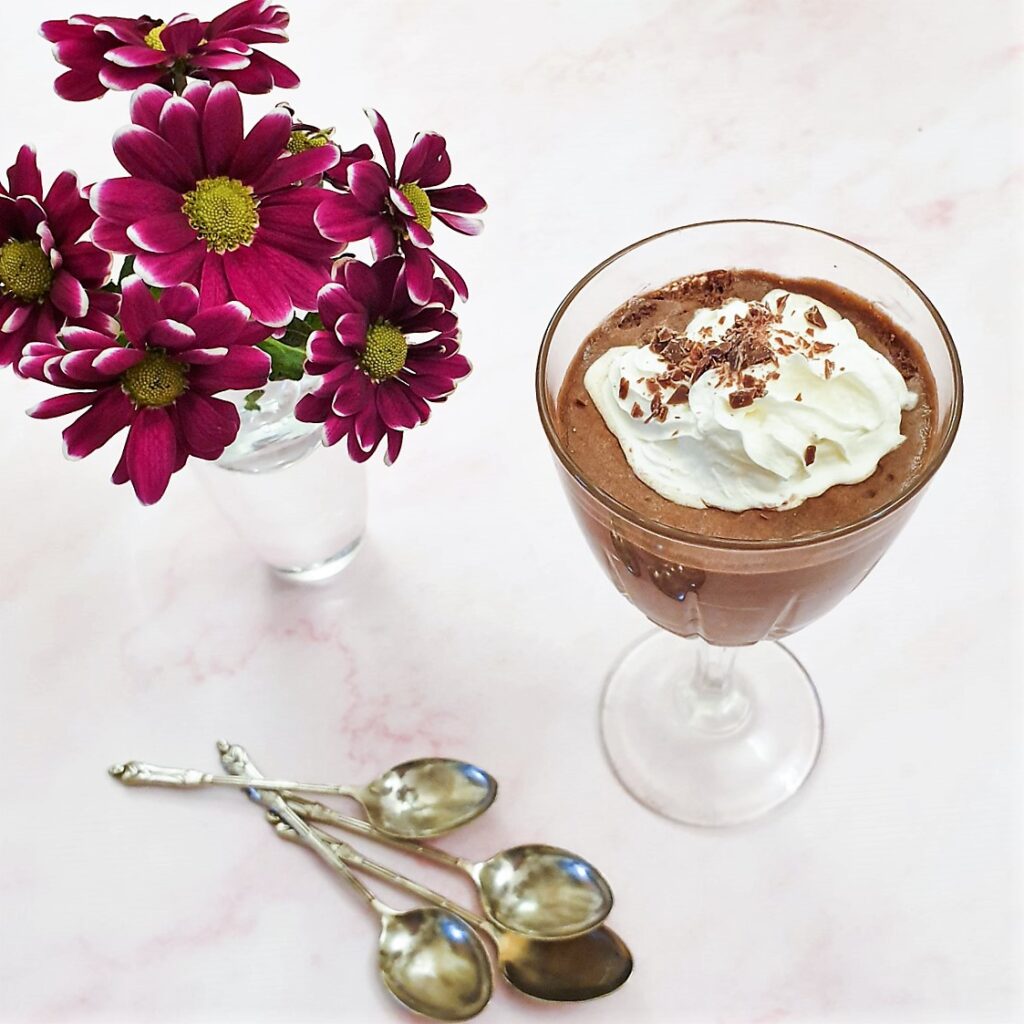 **As an Amazon affiliate, I earn from qualifying purchases.**
Chocolate heaven in a glass
If you like chocolate mousse, then I'm sure you will love this PEPPERMINT chocolate mousse! It's rich and creamy and as light as a feather, the way chocolate mousse should be, but I've spiced it up by making it with a peppermint Aero and the addition of a splash of mint chocolate liqueur.
The mint chocolate liqueur turns a perfectly delicious chocolate mousse from the sublime to an 'Oh my goodness, what have you put in this mousse? Please can I have some more' type of recipe. You won't be able to stop at just one bowl. This dessert really is the perfect ending to a special meal.
Of course, if you are making it for children you should leave out the alcohol, but it will the peppermint in the chocolate will still give it a special taste.
Now I'm sure you're wondering whether a normal 'eating' bar of chocolate can be melted and used to make a mousse. Every recipe out there recommends using cooking chocolate with at least 70% cocoa solids. Don't worry – I've made this recipe umpteen times, and it never fails. The trick is to melt the chocolate with a small knob of butter. The butter adds a small amount of fat to the chocolate, and it melts perfectly.
Why I think you'll love this recipe
It tastes amazing and makes the perfect ending to a meal. Think after-dinner chocolate mints.
It only takes 15 minutes to mix together, then you just leave it in the refrigerator to chill until you are ready to eat it.
There's absolutely no baking involved.
Best of all, there are only 237 calories per serving so you can be excused for having a second helping.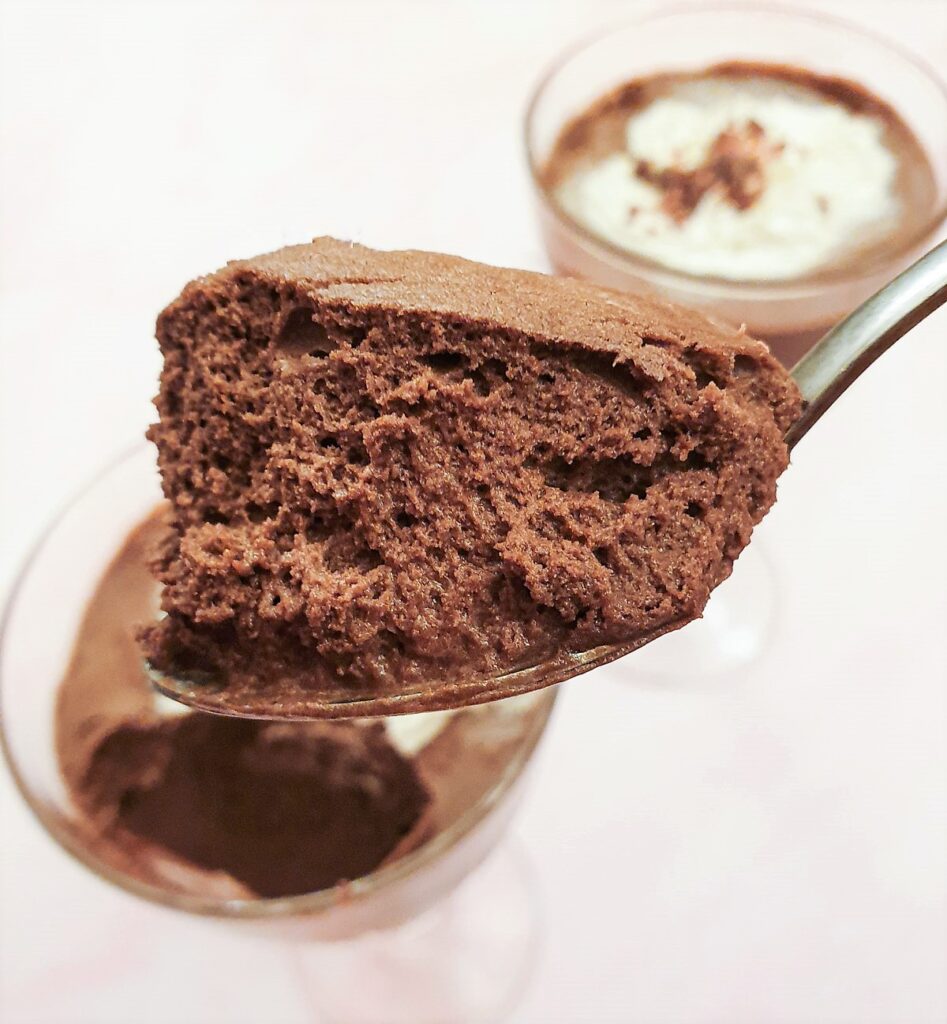 What about the raw eggs?
Yes, this peppermint chocolate mousse does call for raw eggs, but as long as your eggs are pasteurised, you'll be fine.
Eggs produced in Britain carry the British Lion mark and have been produced under the stringent requirements of the British Lion Code of Practice which ensures the highest standards of food safety. The code covers the entire production chain and ensures strict food safety controls including the guarantee that all hens are vaccinated against Salmonella and a 'passport' system ensuring that all hens, eggs, and feed are fully traceable.
Pasteurised eggs are simply eggs that have been heated to a temperature of 59 degrees Celsius (138 degrees Fahrenheit). If you are worried about the risk of salmonella food poisoning you can click on this link to see how to pasteurise your own eggs.
However, that said, raw eggs are not advisable for pregnant women, babies, or those with a compromised immune system.
Ingredients for peppermint chocolate mousse
**For the complete list of ingredients and full instructions for making peppermint chocolate mousse, see the printable recipe card at the end of this post**
This recipe is sufficient for 4 to 6 people. I made 2 large wine glasses full, plus 2 smaller heart-shaped ramekins.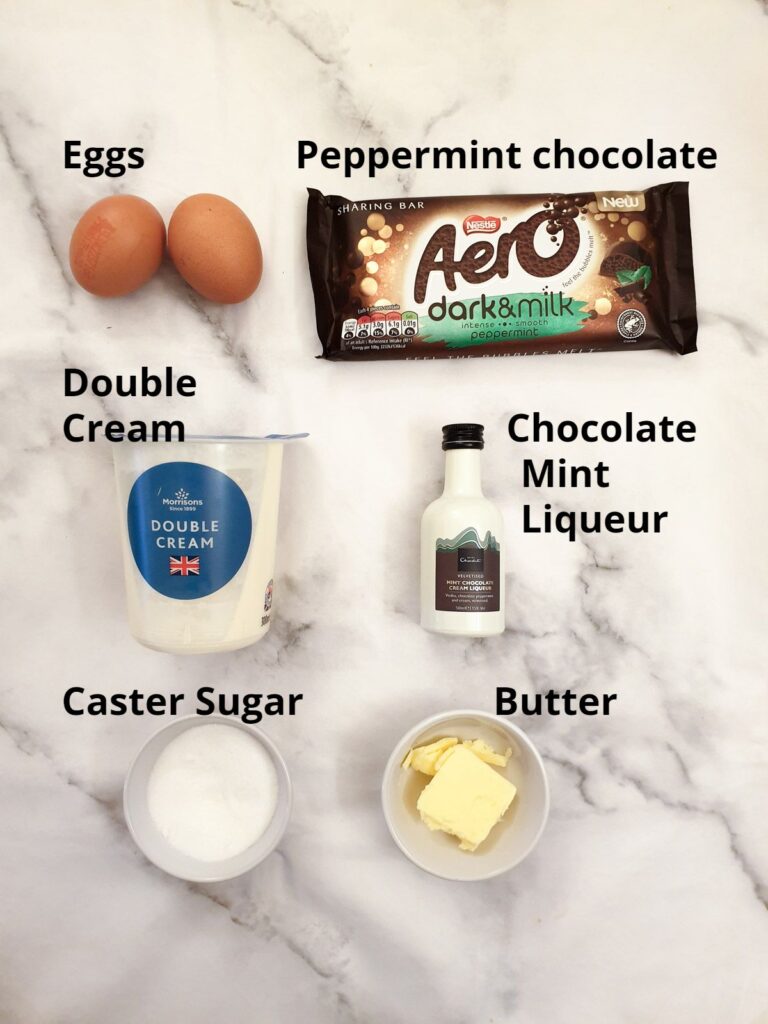 Eggs – pasteurised (obviously). Use large eggs – if you use small eggs the amount of mousse that you get will be smaller.
Mint Aero – I used an Aero with a dark chocolate outer layer and milk chocolate bubbles (see ingredients image). You can use a normal peppermint Aero, but the green colour of the mint bubbles will affect the colour of the mousse.
Butter – use unsalted butter. This is melted with the chocolate.
Double or heavy cream – you can not substitute this with single cream (or pouring cream). The cream has to be whipped until stiff, and you can beat single cream all day, but it will not stiffen.
Caster sugar – don't substitute this with granulated sugar. Caster sugar is very fine and dissolves much more easily than granulated sugar. You don't want grains of undissolved sugar in your mousse.
Mint chocolate liqueur – you can use any brand of mint chocolate liqueur. If this is something that you would not normally drink, you can buy a miniature bottle. This is the brand of mint chocolate liqueur that I used. If you can only find chocolate liqueur (without the mint flavour) you can add a few drops of peppermint essence to the plain chocolate liqueur. If you don't drink alcohol, or you are making this for children, just leave the liqueur out altogether – it won't make any difference to the final texture.
To decorate the mousse once it has set, you will need extra cream and a small piece of extra chocolate to make chocolate shavings.
How to make it
You will need four mixing bowls – two small bowls for the egg yolks and the chocolate, a medium-sized bowl for whipping the cream, and the final bowl large enough to hold all the mousse mixture.
You will also need either a balloon whisk or an electric hand-beater for whipping the cream and the egg whites.
Step 1 – Melt the chocolate
Break the chocolate into small pieces and place it in a small microwave-safe bowl with the butter. Heat the chocolate in the microwave in 30-second bursts on full power until it melts. My 900-watt microwave took 2 x 30-second bursts. Don't over-cook the chocolate – if it doesn't melt completely you can mix it with a flat-bladed knife and the heat from the melted chocolate should melt any unmelted lumps.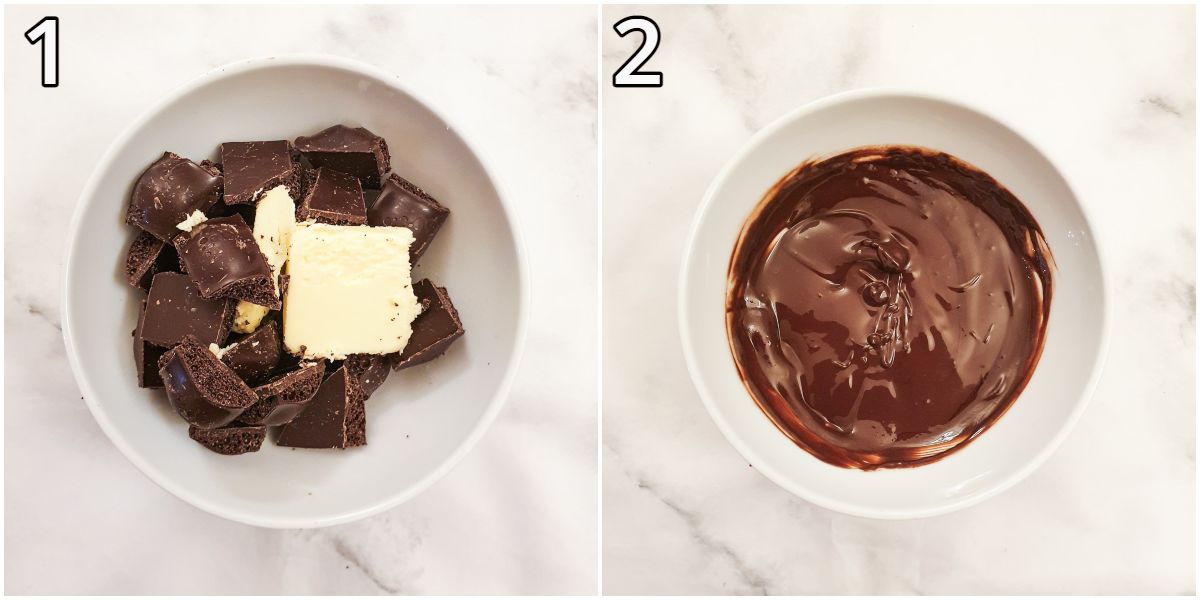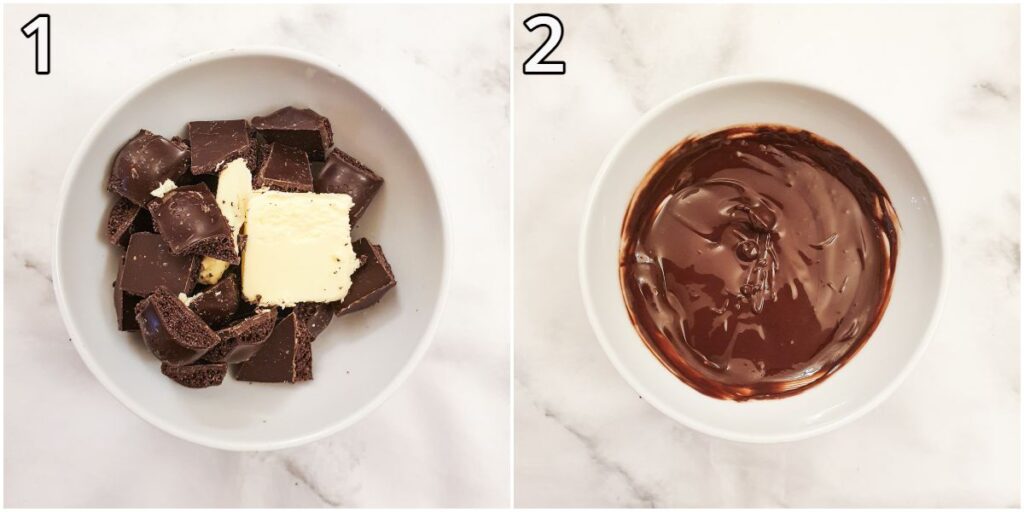 Alternatively, if you don't have a microwave, you can place the dish of chocolate over a pan of boiling water. Stir until the chocolate has melted. Take care not to get any water into the chocolate or it may turn lumpy and you will have to start again.
Step 2 – Separate the eggs
Put the egg yolks into a small bowl and the whites into the largest bowl. Be careful not to get any egg yolk in with the whites or the egg whites will not stiffen when you beat them.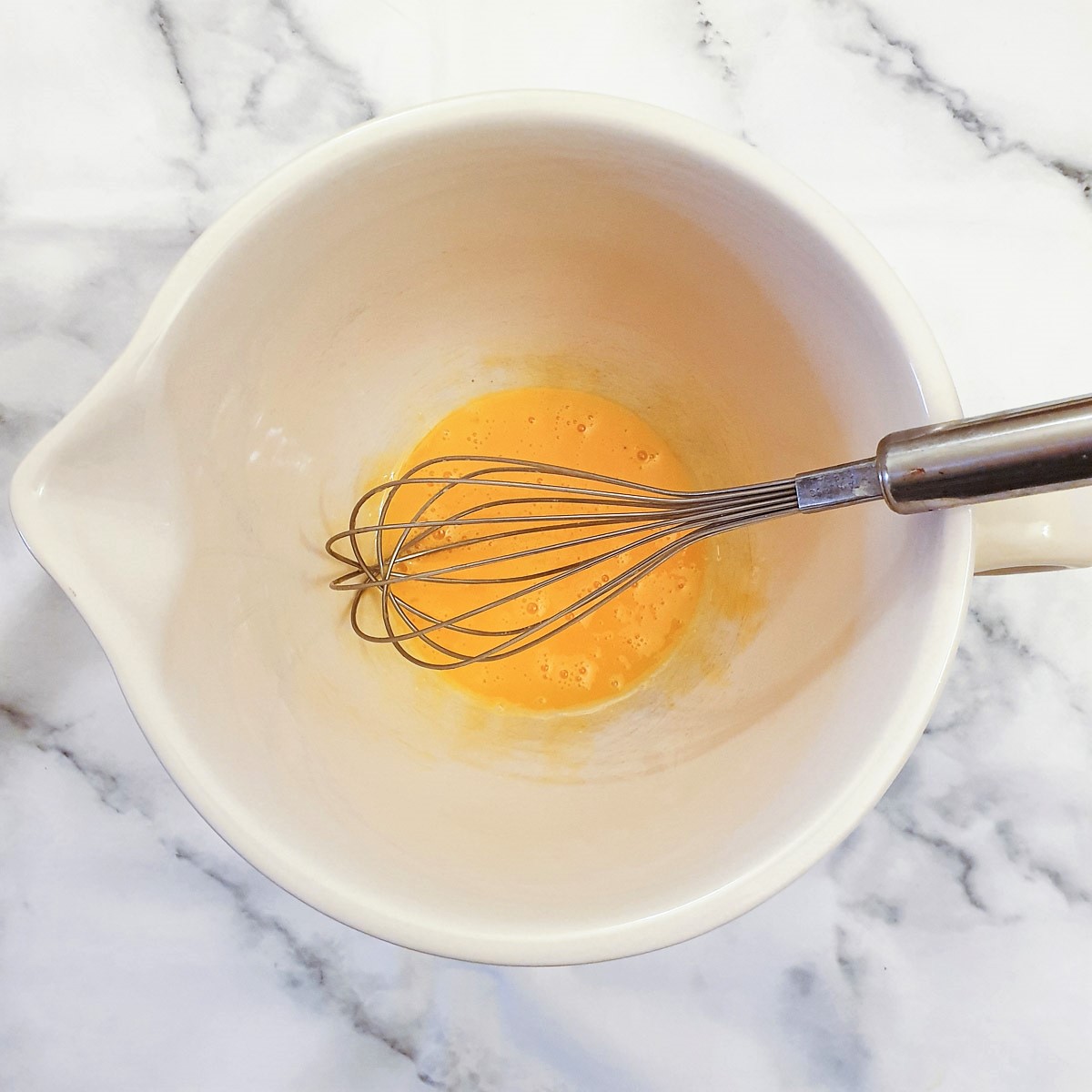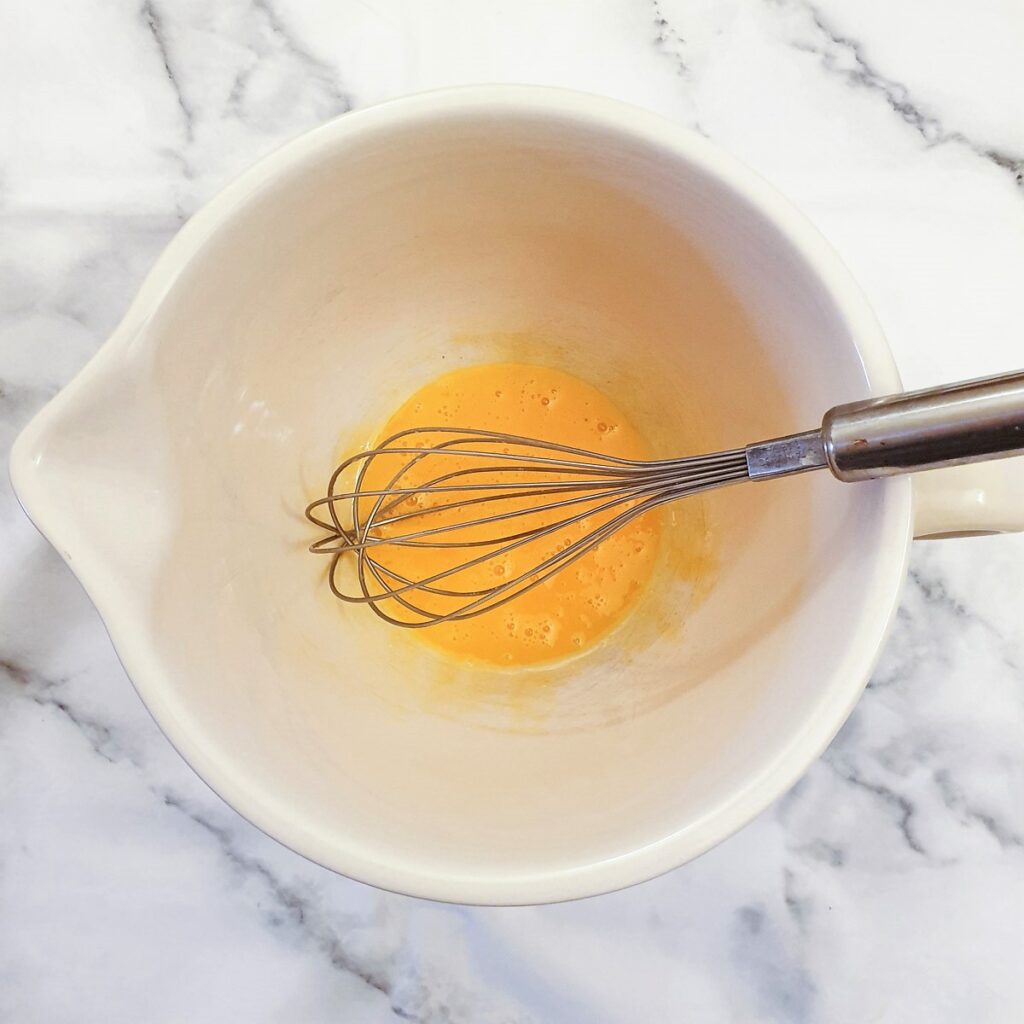 Step 3 – Beat the egg whites
Whisk the egg whites lightly until they are foamy. Add all the caster sugar and continue to whisk until the egg whites form stiff peaks.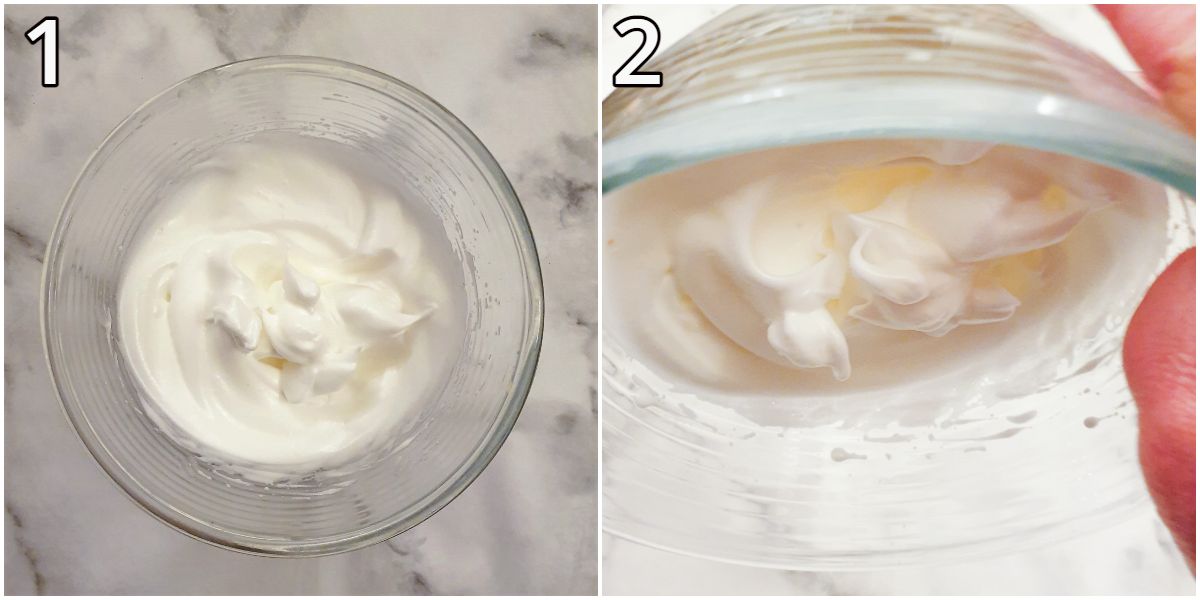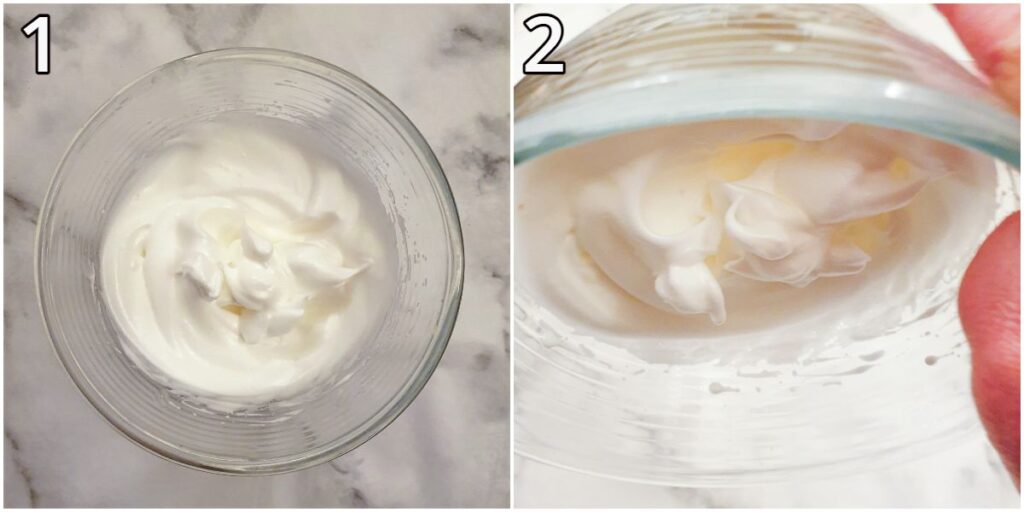 Set the egg whites aside.
Step 4 – Whip the cream
Pour the cream into the medium-sized bowl and beat until the cream forms stiff peaks.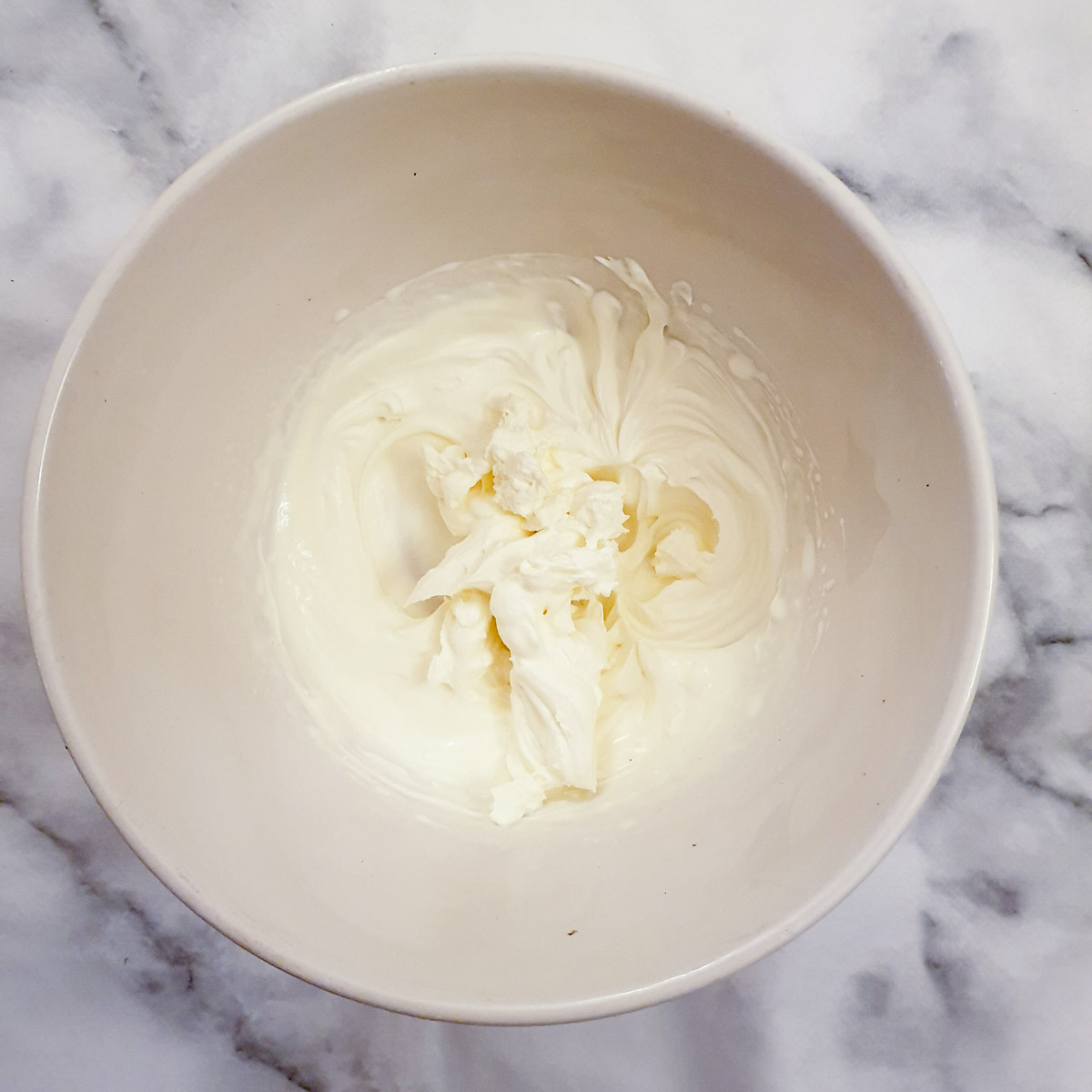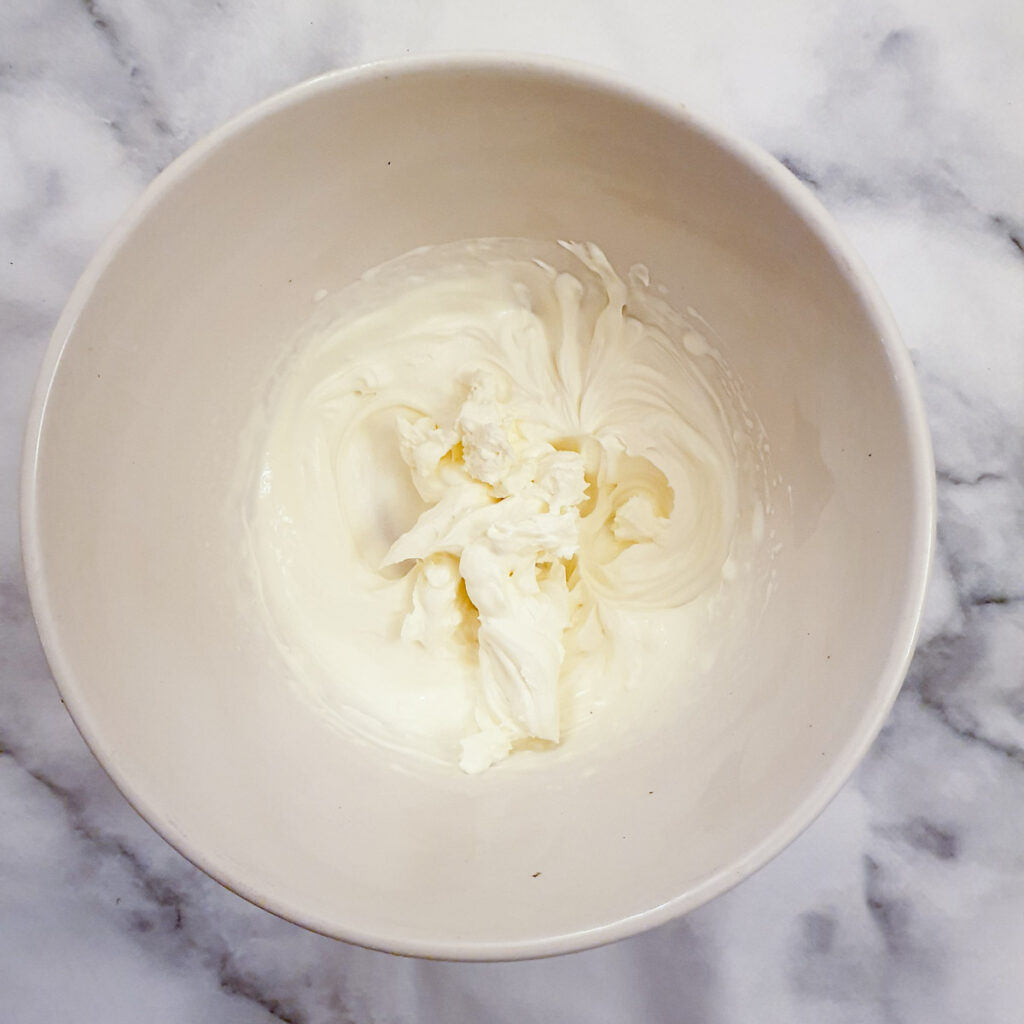 Step 5 – Combine the eggs, cream and chocolate
Pour the egg yolks into the cream and mix lightly with a spatula or a flat-bladed knife until just combined.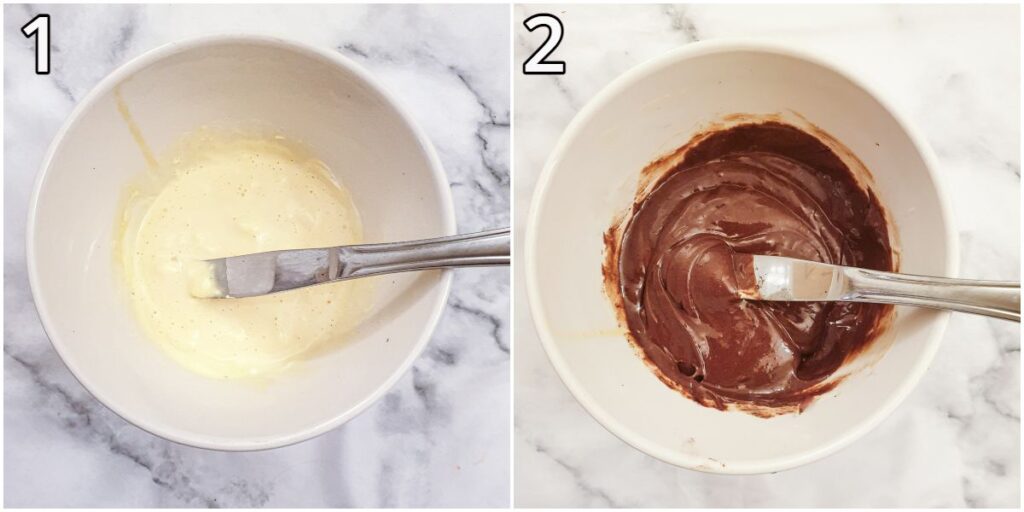 Once the liqueur has been combined, stir in the melted chocolate.
Word of warning – don't add the liqueur and the chocolate at the same time, or the chocolate may thicken and it will be more difficult to mix. However, that said, the addition of the butter to the melted chocolate will prevent the chocolate from turning 'grainy' when it is mixed in.
Step 6 – Mix in the egg whites
Spoon about one-quarter of the egg whites into the chocolate-cream mixture. Cut through lightly until there is no egg white visible.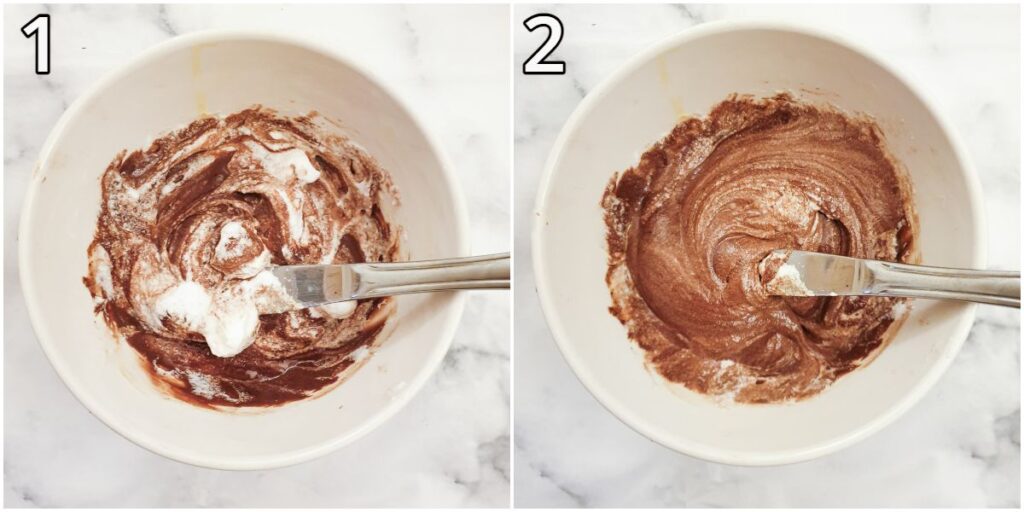 Finally, transfer this mixture back into the bowl containing the remaining egg whites and mix through gently.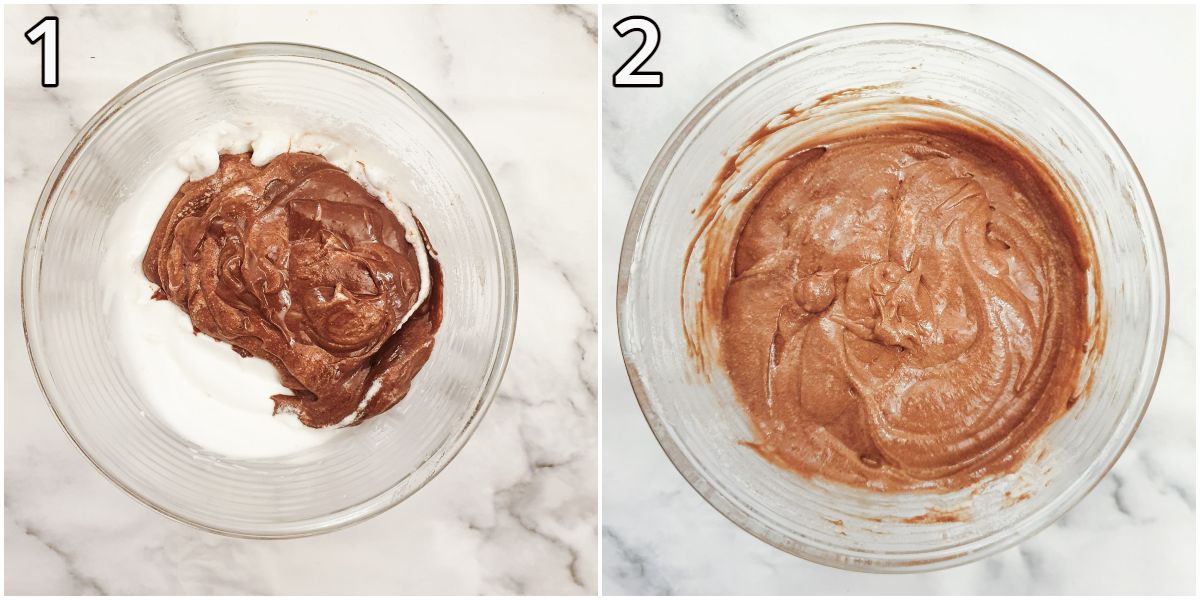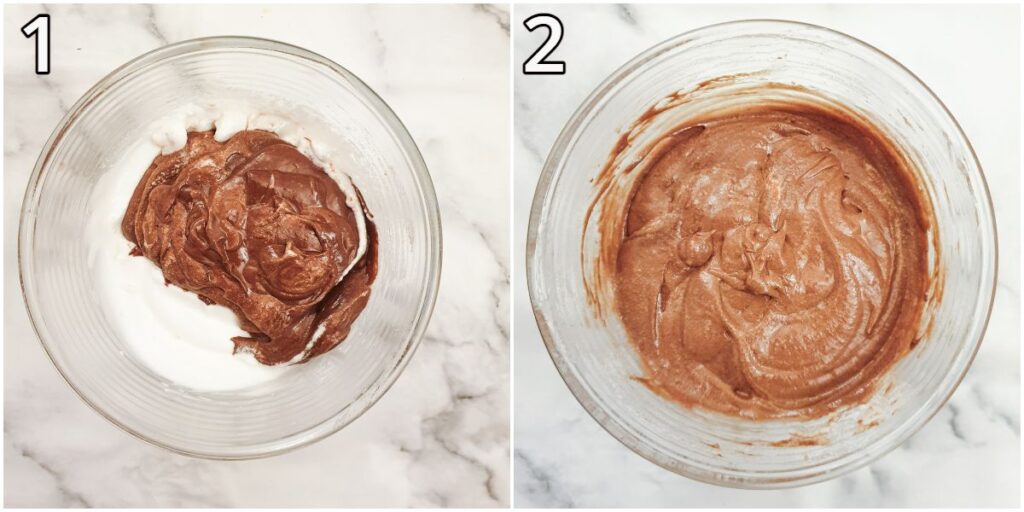 Step 7 – Serve
Spoon the mousse into small ramekins or long-stemmed wine glasses. Place into the refrigerator to chill and firm up. Then decorate with whipped cream and chocolate shavings.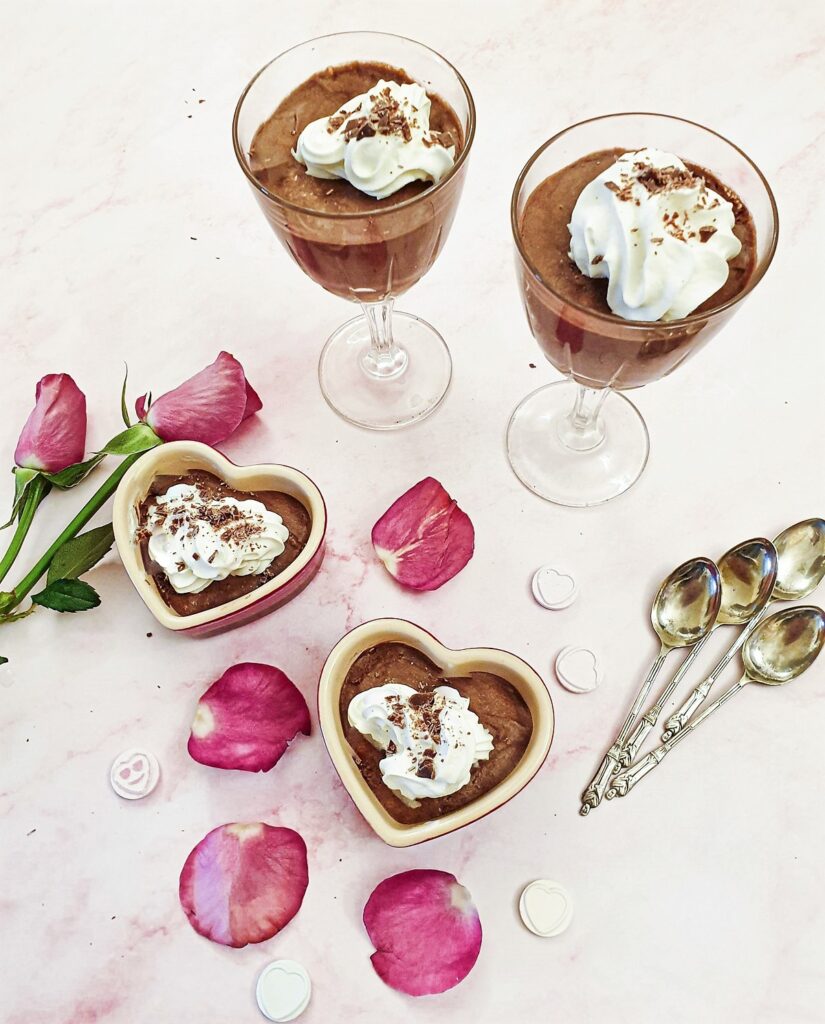 If you'd like to be notified of any new recipes, why not subscribe to my newsletter. As a thank-you gift, you will receive a free recipe e-book containing some of my most popular cakes and desserts.
Freezing and storage
Unfortunately, this recipe is not suitable for freezing.
The mousse can be stored in the refrigerator for up to three days.
Make a larger batch
As I've said previously, this recipe serves 4 people. To make a larger batch you can double the ingredients.
Pin for later
If you would like to make this peppermint chocolate mousse, why not pin the recipe to one of your Pinterest boards so you can find it easily. Just click on the image below.
Other dessert recipes
If you are looking for other creamy dessert recipes, you might like to try these.
The recipe
If you made this recipe and enjoyed it, I'd love it if you could give me a star rating in the comments below. And if you'd like to get in touch, you can email me at [email protected]. I'd love to hear from you. And don't forget to subscribe to my mailing list so you can grab yourself a copy of my FREE COOKBOOK!
If you'd like to continue browsing, just click on this link to all my recipes.
I have linked this recipe to #CookBlogShare Week 5 2022, run by Sisley and Chloe and hosted by Sisley at Sew White