A little sweet, a little salty, with a hint of chilli … this twice-cooked pork belly with a sticky glaze makes the perfect addition to your Asian recipe repertoire. And today I'm sharing my secrets for cooking the most tender and juicy pork belly imaginable!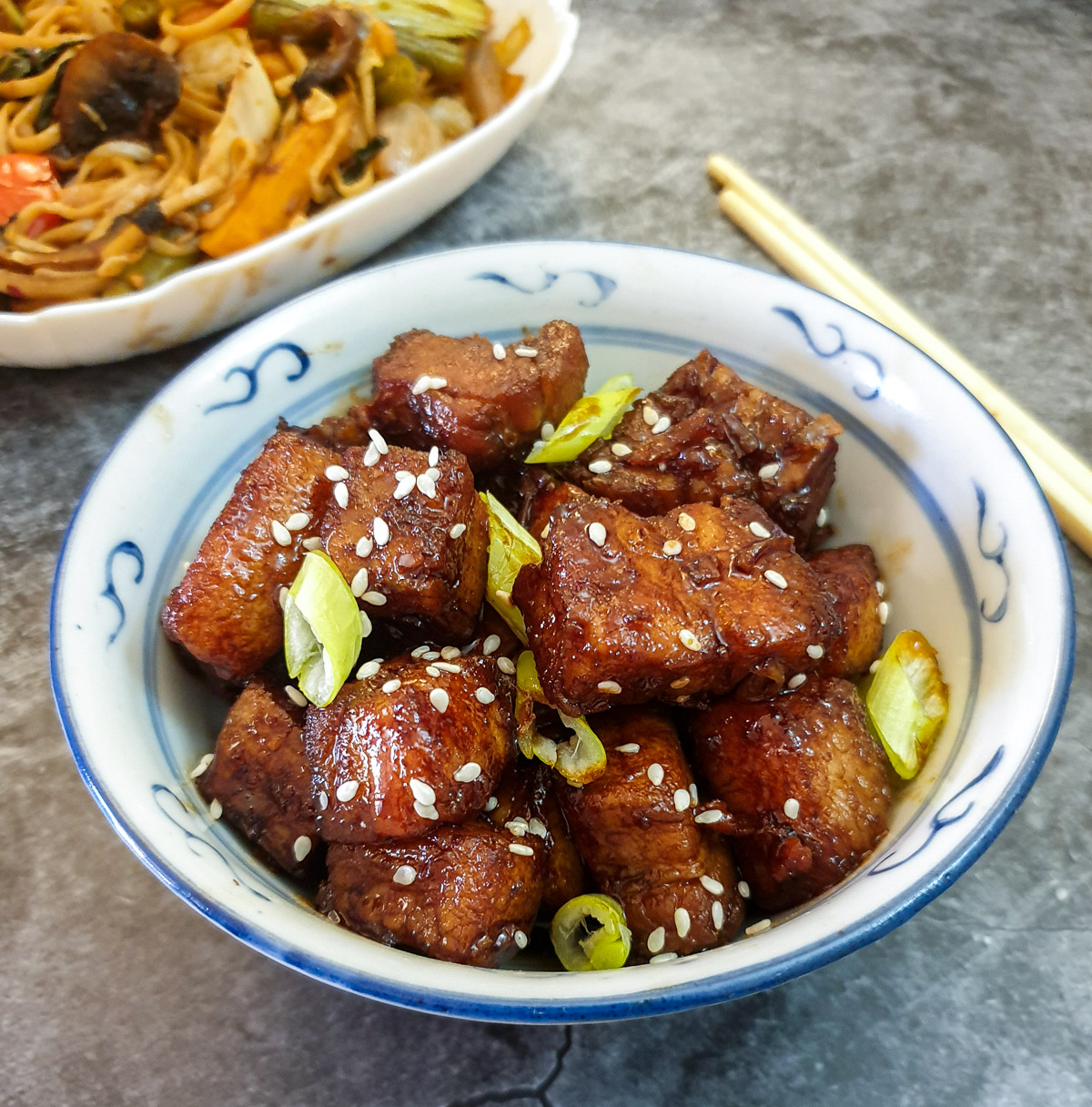 **As an Amazon affiliate, I earn from qualifying purchases.**
The secrets to tender pork belly
Unfortunately, pork belly has the reputation for being tough and chewy, very fatty, and not the most appetising of meats. This is a great pity, because in reality, pork belly is none of these things.
Properly cooked, pork belly is juicy and tender with unctuous layers of soft fat interspersed with layers of melt-in-the-mouth meat. Add a sticky spicy glaze, serve with fluffy white rice, and you have a meal fit for a king.
And today, I'm going to share my secrets to getting perfectly cooked pork belly, so you can enjoy it for yourself.
Secret number 1
The first secret is to simmer the pork rashers slowly in lightly salted water for at least 2 hours. You can get away with an hour and a half if you are in a hurry.
Cooking the pork slowly like this results in layers of soft, non-greasy fat, that melts into the layers of meat, turning them into succulent, flavoursome mouthfuls.
Secret number 2
Once the pork belly is cooked, we get onto the second secret. This is to slice the cooked belly rashers into smaller pieces and brown them in a frying pan.
Take your time over this step. Brown the meat slowly, turning it from a pale pinky-white colour to an appetising golden brown. Remember browned meat = lots of flavour.
Secret number 3
The third and final secret is to coat the meat in a sticky spicy glaze, adding the third layer of flavour, and shiny, thick and sticky coating.
This is twice-cooked pork. The first cooking tenderises the meat and renders out the fat and the second cooking browns the meat, turning it golden and appetising. I suppose you could call secret number 3 the third cooking, but actually, all you are doing in this step is coating the pork in the delicious sticky glaze.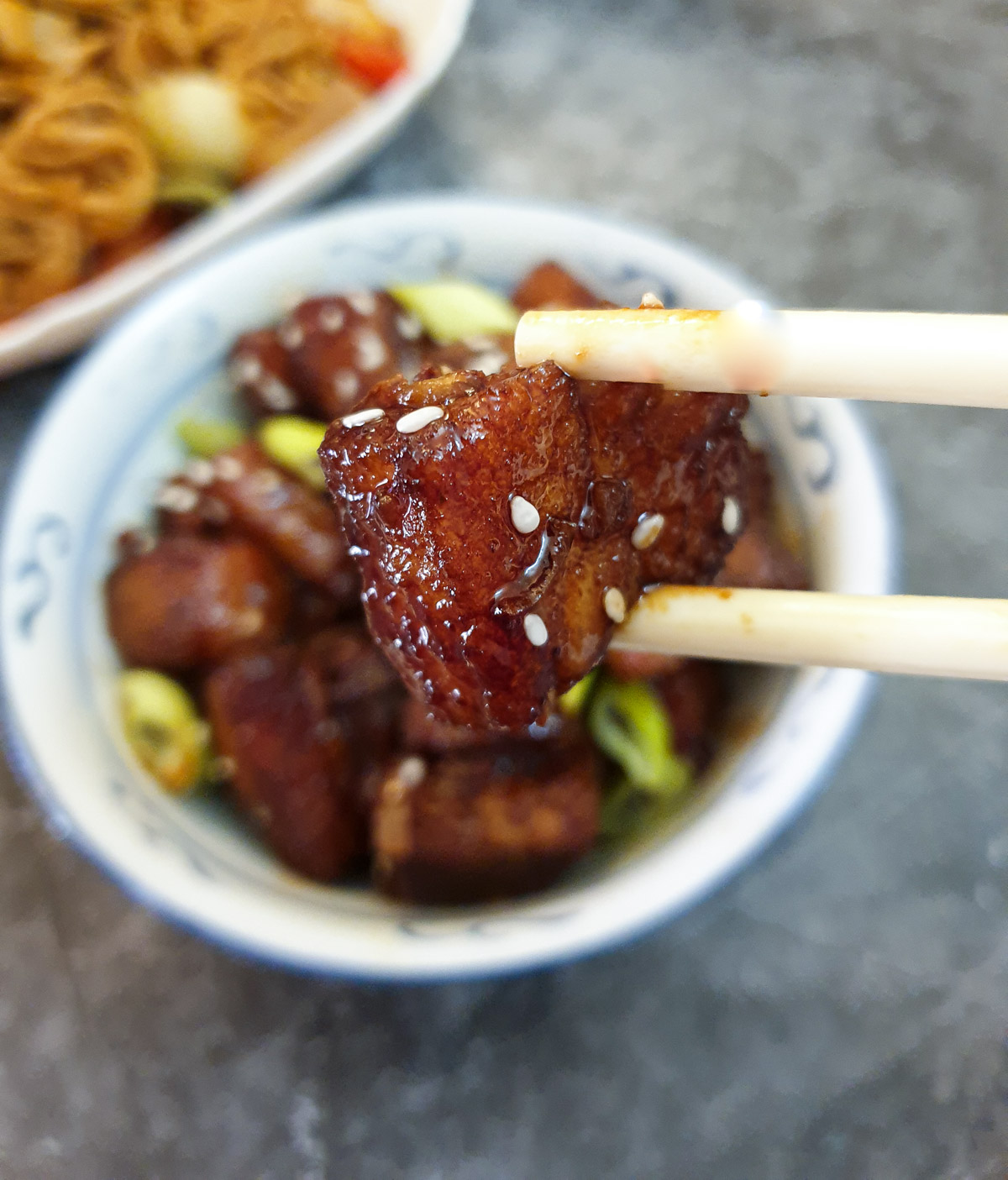 What you will need
Equipment
The main piece of equipment you will need is a wok or a large frying pan, but do make sure your pan has a lid.
Ingredients
**See the printable recipe card at the end of this post for complete instructions for making this twice-cooked pork belly recipe**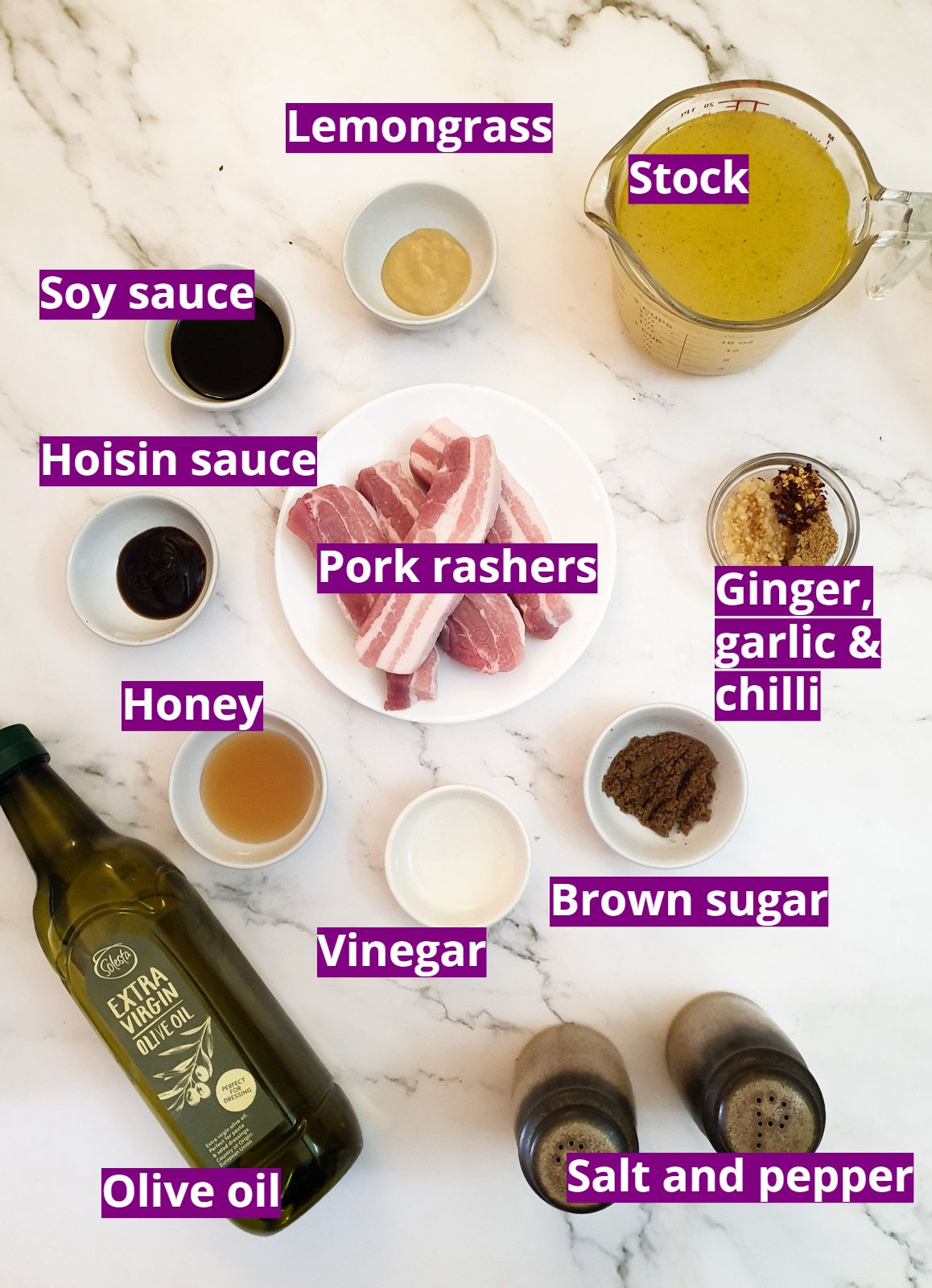 To make this twice-cooked sticky pork belly you will, of course, need some pork belly rashers. Try and get nice thick meaty rashers, you don't want thin rashers that are not much thicker than bacon. The ones you are looking for are nice thick slices of pork belly, which are sometimes called Chinese pork belly ribs in the supermarkets.
For the sticky glaze you will need all the usual Asian flavours –
soy sauce – for saltiness. I like to use dark soy sauce;
ginger – you can use fresh ginger if you have some, but to be honest, I find it quite a chore to peel and crush, so I keep a jar of crushed ginger in the refrigerator;
garlic – either fresh or from a jar;
chilli for a touch of heat – you can use a freshly chopped chilli or use from a jar;
honey and brown sugar – to provide the sweetness and stickiness;
lemongrass and hoisin sauce for added flavour. Once again I keep a jar of lemongrass paste in the refrigerator for convenience. You can use fresh lemongrass if you prefer;
vinegar – to cut through and balance the sweetness of the dish;
stock – I just used 2 chicken stock cubes dissolved in 2 cups of boiling water;
you will also need olive oil for browning the meat.
What to do
This is a very simple dish to make. However, it does take quite a long time because the meat is simmered in stock for 2 hours before being turned into delicious sticky glazed cubes, so make sure you allow for this step. To save time, you could boil the pork the night before and leave it in a covered dish in the refrigerator until you are ready to make the glazed pork.
Place the pork belly rashers into your wok or frying pan and pour in the stock.
Cover the pan with a lid and adjust the heat so that the water is just simmering.
Leave to simmer for two hours. You can top up with extra stock during the cooking time if necessary.
Remove the cooked pork from the stock and allow it to cool, then cut the pork into bite-sized pieces.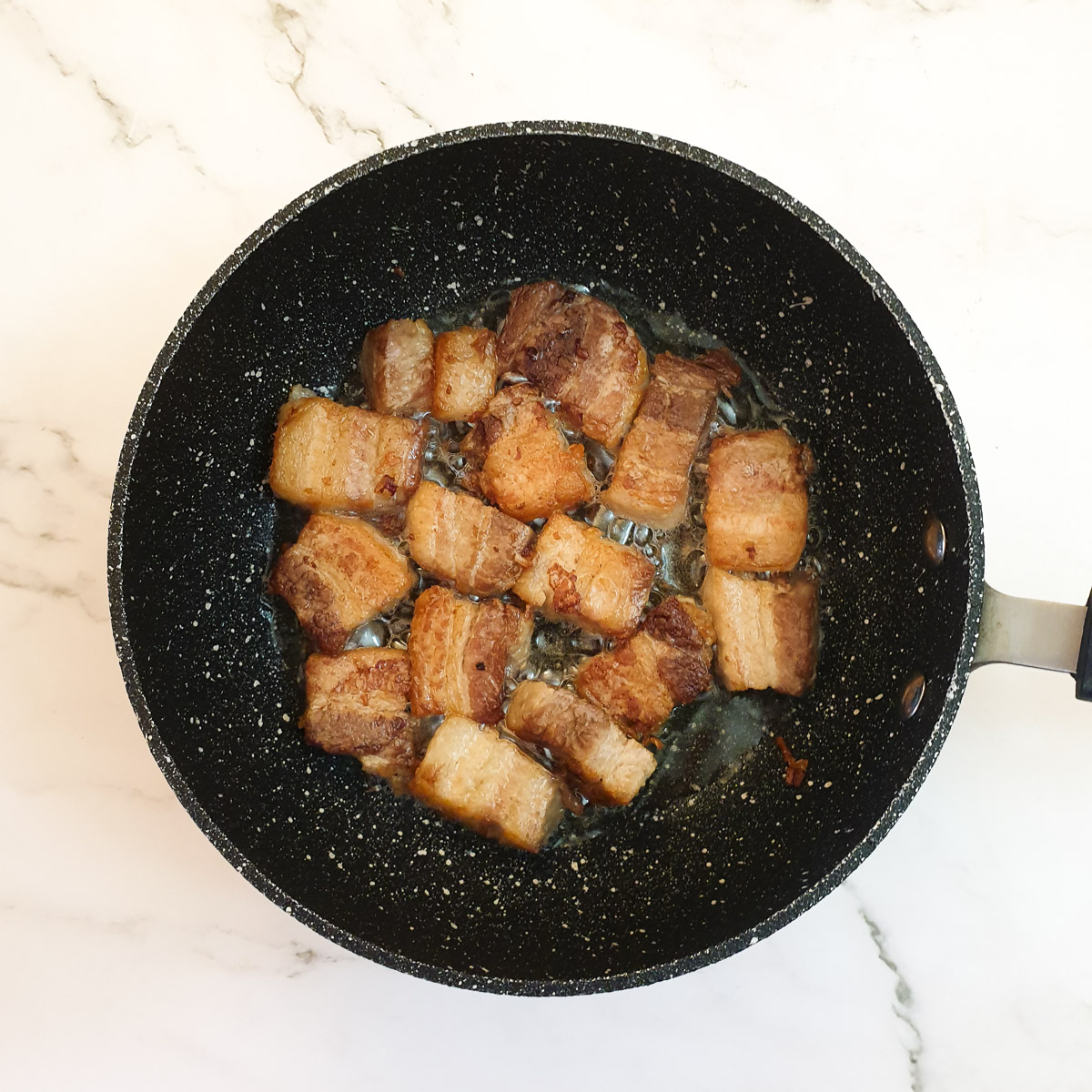 Heat 2 tablespoons of olive oil in a frying pan and brown the meat on all sides. Use a pair of kitchen tongs to help you turn the meat over.
Take your time with this step, and turn the pork frequently to allow it to brown on all sides.
You can discard the cooking liquid, or use it as stock in this recipe for leftover roast pork in garlic sauce.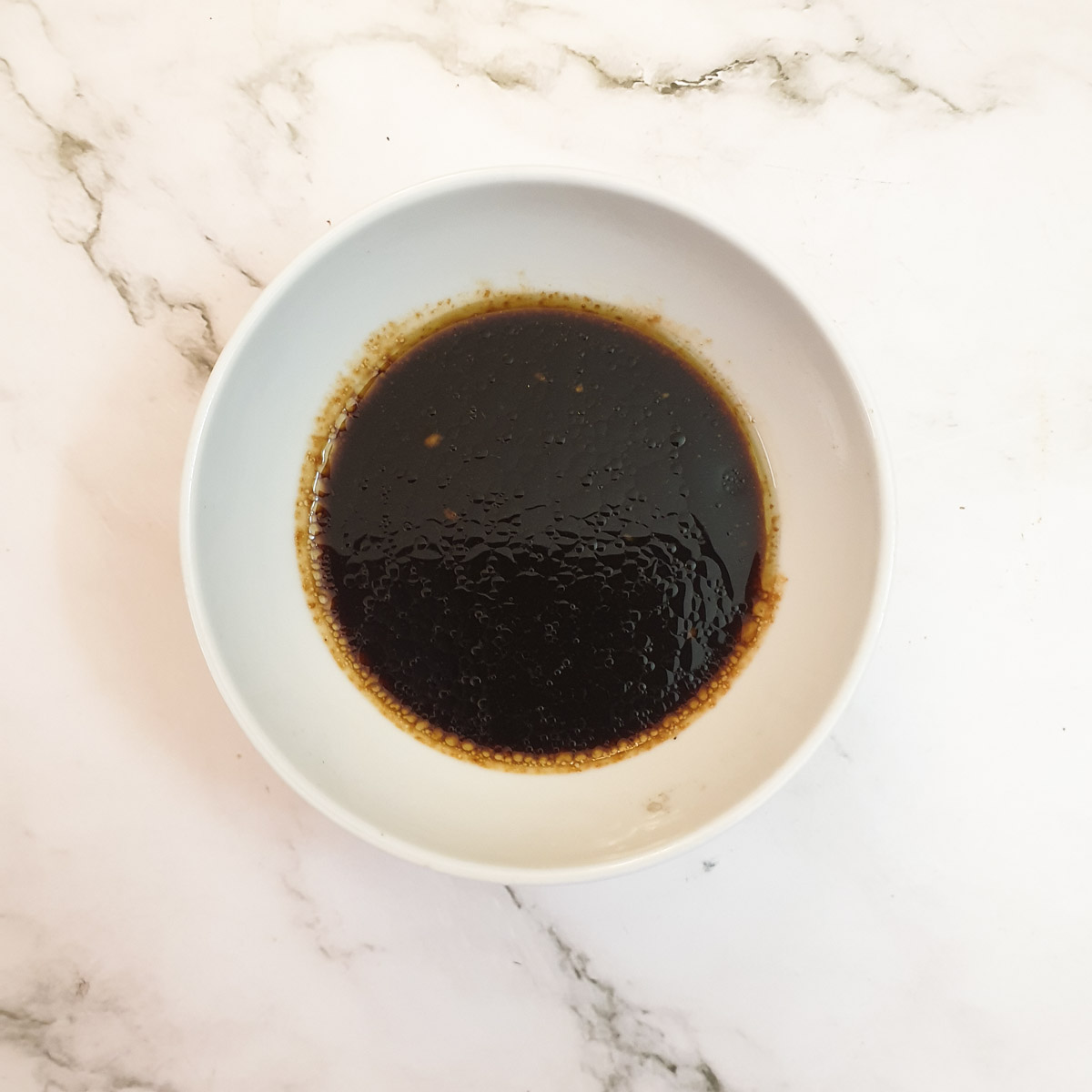 Mix all the ingredients for the glaze together in a small bowl. Stir well to dissolve the sugar.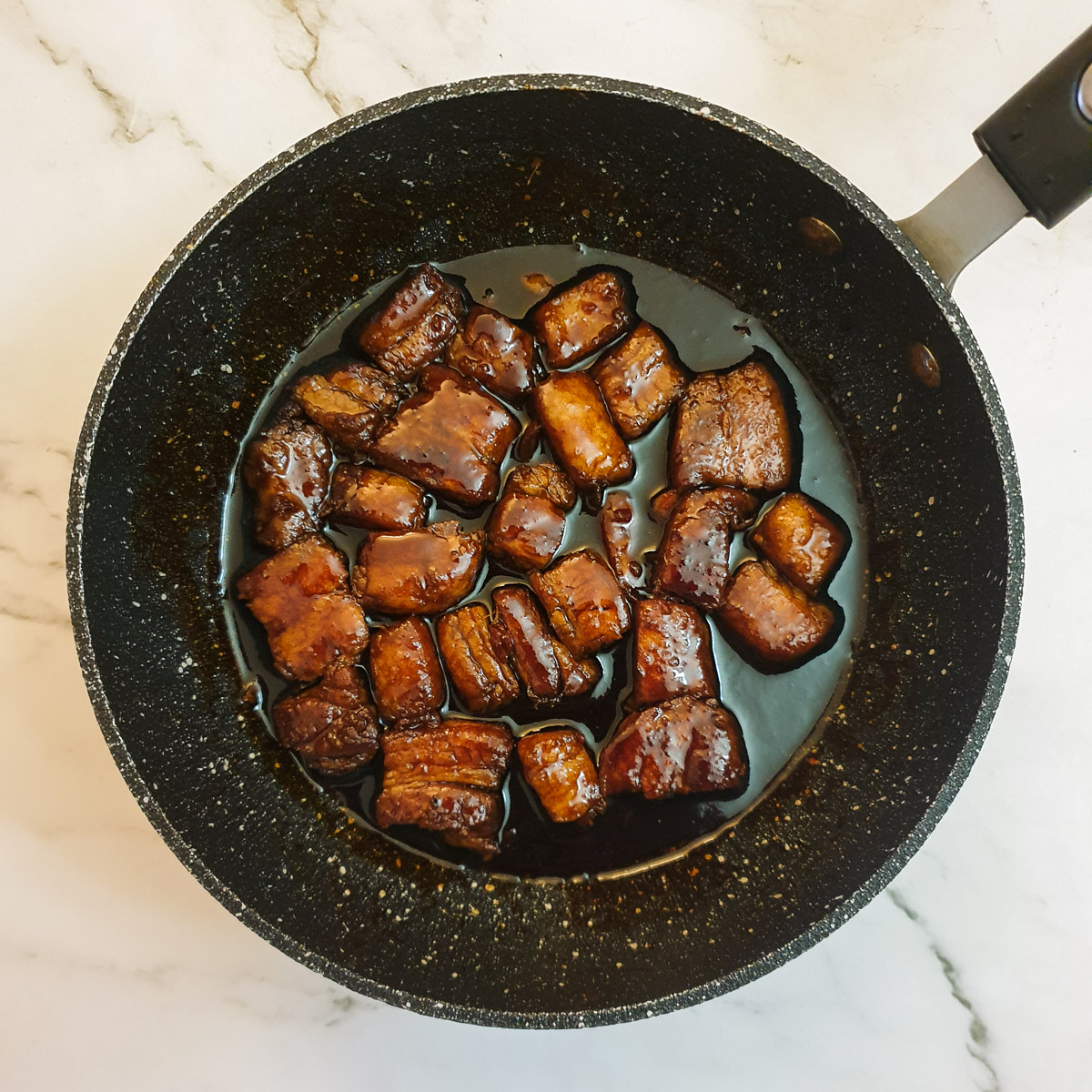 Pour the glaze onto the browned pork and continue to cook and stir until the glaze has thickened and coated the pork. This should take about 5 minutes.
Transfer the cooked pork pieces to a serving dish. Serve immediately with noodles or white rice and your choice of vegetables. I like to serve with broccoli for a touch of greenery, and a sweet vegetable like carrots. You may also like to serve it with this vegetable lo mein or Chinese egg fried rice.
If you'd like to be notified of any new recipes, why not subscribe to my newsletter? As a thank-you gift, you will receive a free recipe e-book containing some of my most popular cakes and desserts.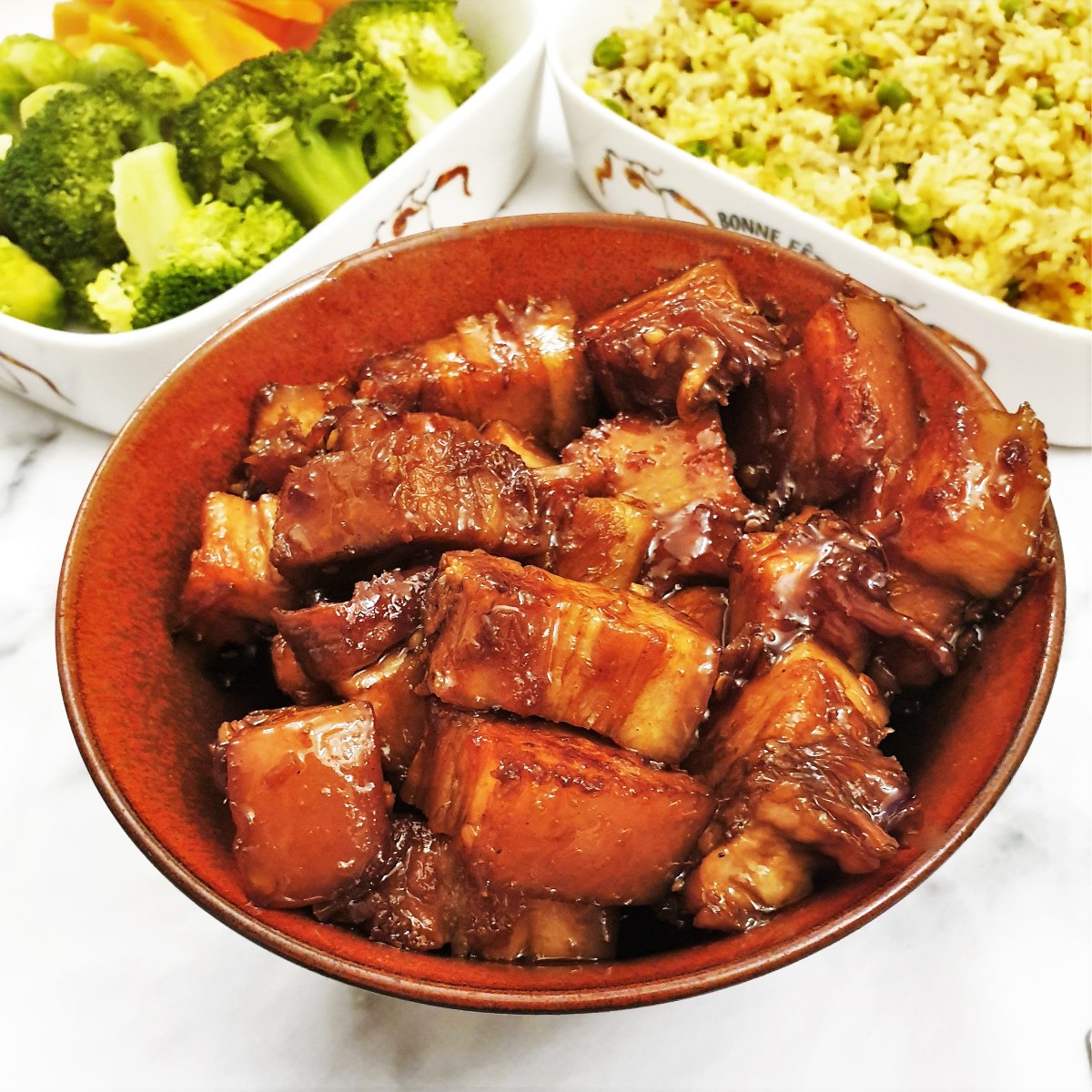 Storage information
You can make this dish in advance and store it covered in the refrigerator for up to 3 days before serving.
To serve, reheat in the microwave until piping hot and serve immediately. You can also transfer the pork belly and sauce to a frying pan and heat thoroughly before serving.
If you want to freeze pork belly, you can cook it until it has been browned and the freeze. Just allow the browned pork to cool and transfer to a large ziploc bag. You can freeze this meat for up to 2 months.
To prepare the frozen meat, allow to defrost in the refrigerator, and then tip the defrosted pork pieces into a large frying pan with freshly prepared glaze ingredients. Bring to the boil and then simmer for about 5 minutes until the glaze is thick and sticky and coats the pork. Serve immediately.
Do not refreeze.
Pin for later
Why not pin this recipe for sticky belly pork to one of your Pinterest boards so you can find it easily. Just click the image below.
Alternatively, you can save the recipe by clicking on the floating heart icon on the right of the screen.
Other recipes
If you enjoyed this recipe for sticky pork belly, you may also enjoy some of my other Asian-inspired meals:
The recipe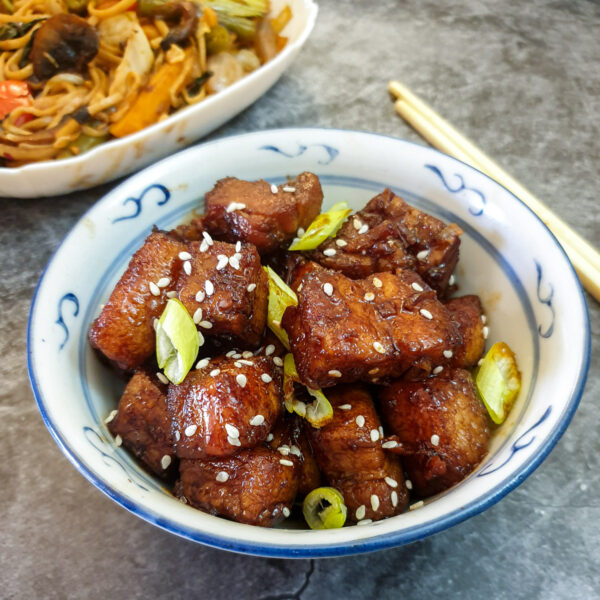 Twice-cooked pork belly with a sticky glaze
A little sweet, a little salty, with a hint of chilli … this twice-cooked pork belly with a sticky glaze makes the perfect addition to your Asian recipe repertoire. Serve with rice and your choice of vegetables.
Print
Pin
Comment
Bookmark
Saved!
(Click the stars to rate this recipe)
Ingredients
2

pounds

/ 900 grams thick pork belly rashers

2

tablespoons

olive oil

for browning the pork.

2

cups

/ 480 ml chicken or vegetable stock
For the glaze
2

tablespoons

dark soy sauce

1

tablespoon

hoisin sauce

1

teaspoon

lemongrass paste

1

tablespoon

runny honey

1

teaspoon

crushed ginger

2

cloves

garlic

minced

1

teaspoon

dried chili flakes

optional

1

tablespoon

brown sugar

1

tablespoon

white wine vinegar
Instructions
Place the rashers of meat in a pan of stock and bring to the boil.

2 pounds / 900 grams thick pork belly rashers,

2 cups / 480 ml chicken or vegetable stock

Reduce the heat to a simmer, cover the pan with a lid, and leave to simmer for two hours. Top up with extra stock if necessary. See notes.

While the meat is simmering, measure all the ingredients for the glaze into a small bowl and mix well. Set aside. See notes.

2 tablespoons dark soy sauce,

1 tablespoon hoisin sauce,

1 teaspoon lemongrass paste,

1 tablespoon runny honey,

1 teaspoon crushed ginger,

2 cloves garlic,

1 teaspoon dried chili flakes,

1 tablespoon brown sugar,

1 tablespoon white wine vinegar

After two hours, remove the meat from the stck oand leave on a plate until it is cool enough to handle.

Cut the meat into 1" pieces.

Heat 2 tablespoons of olive oil in a large frying pan then add the cut pork.

Turn the heat down to medium and fry the pieces of pork, turning frequently, until they are browned on all sides. See notes.

Add the glaze ingredients and bring to the boil. Stir until the glaze has thickened and the pork is well coated.

Serve immediately with rice and your choice of vegetables.
Notes
Allow the pork to simmer for at least 2 hours.  Be careful not to allow the pork to boil dry.  Make sure to top up with extra water if necessary.
Mix all the ingredients for the glaze into a small bowl.  This will make it easier to add the glaze ingredients to the pork when they are required.
When browning the pork, make sure to get a nice even brown on all the pork pieces.
You can freeze the pork once it has been browned – before adding the glaze.  When ready to use, let the pork defrost and then continue to follow the recipe to glaze the pork.
Nutrition
Calories –
905
kcal
|
Carbohydrates –
12
g
|
Protein –
69.6
g
|
Fat –
64.6
g
|
Saturated Fat –
30.7
g
|
Sodium –
835
mg
|
Potassium –
20
mg
|
Fiber –
0.2
g
|
Sugar –
10.8
g
|
Calcium –
4
mg
I am not a nutritionist. The nutrition information has been calculated using an on-line calculator, and is intended for information and guidance purposes only. If the nutrition information is important to you, you should consider calculating it yourself, using your preferred tool.
Unless otherwise stated, a cup is the standard US cup containing 240 ml. In all my recipes this cup is assumed to hold 140g of flour. For help converting other ingredients between cups, grams, ounces and other measures, see my recipe conversion calculator.
All my recipes are developed and tested at sea-level. For tips on adjusting recipes for high altitudes see my post on baking at high altitudes.
Tried this recipe?
If you made this recipe I'd love it if you could leave me a comment and let me know how it went!
Share on Facebook
Share on Twitter
If you made this recipe and enjoyed it, I'd love it if you could give me a star rating in the comments below. And if you'd like to get in touch, you can email me at [email protected]. I'd love to hear from you. And don't forget to subscribe to my mailing list so you can grab yourself a copy of my FREE COOKBOOK!
If you'd like to continue browsing, just click on this link to all my recipes.