Chinese Egg Fried Rice – with peas, ham and spring onion. The perfect accompaniment to all your Chinese dishes. Make it with or without soy sauce – the choice is yours.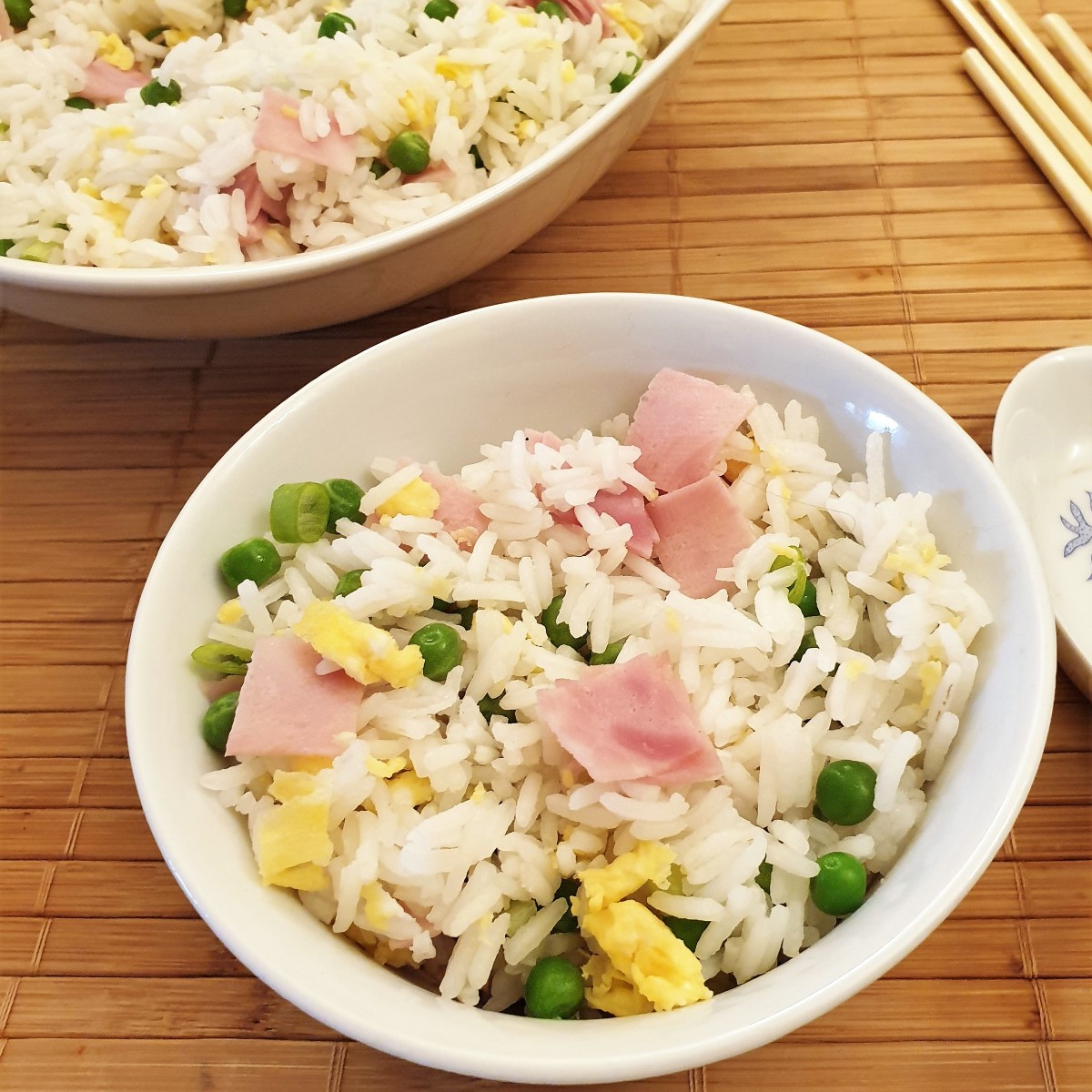 **As an Amazon affiliate, I earn from qualifying purchases.**
**Updated March 2021 with new photographs. The original recipe remains unchanged.
My first ever Chinese meal
The first time I went to a Chinese restaurant was when I was working in Johannesburg, back in the 1970s. I worked in an office with 3 other ladies whose payday treat was to take themselves off to a nearby Chinese restaurant for lunch. They invited me to go with them and from the first bite I was hooked. They ordered a set menu, and there were about 4 different courses. What blew my mind was that there was a full bowl of Chinese egg fried rice in the centre of the table, which was removed, replenished and replaced with each course.
I couldn't get over how tasty it was! Perfectly cooked, fluffy grains of rice, with pops of sweetness from the peas, and a hint of saltiness from the pieces of ham. It was the perfect foil to all the dishes that were served, and because it didn't have any spices of its own, it picked up the flavours of all the different dishes.
I remember the meal as though it were yesterday. We had a starter of Egg Drop Soup. This was followed by crispy batter-encased deep-fried prawns in sweet and sour sauce followed by juicy chicken chunks served with cashew nuts. Then another sweet and sour dish, this time succulent deep-fried pork. It was all followed by what they described as the star of the show – Bow Ties. Crispy golden pastry covered in a delicious honey sauce. I rolled back to the office in a food-induced coma. From then on, payday couldn't come soon enough.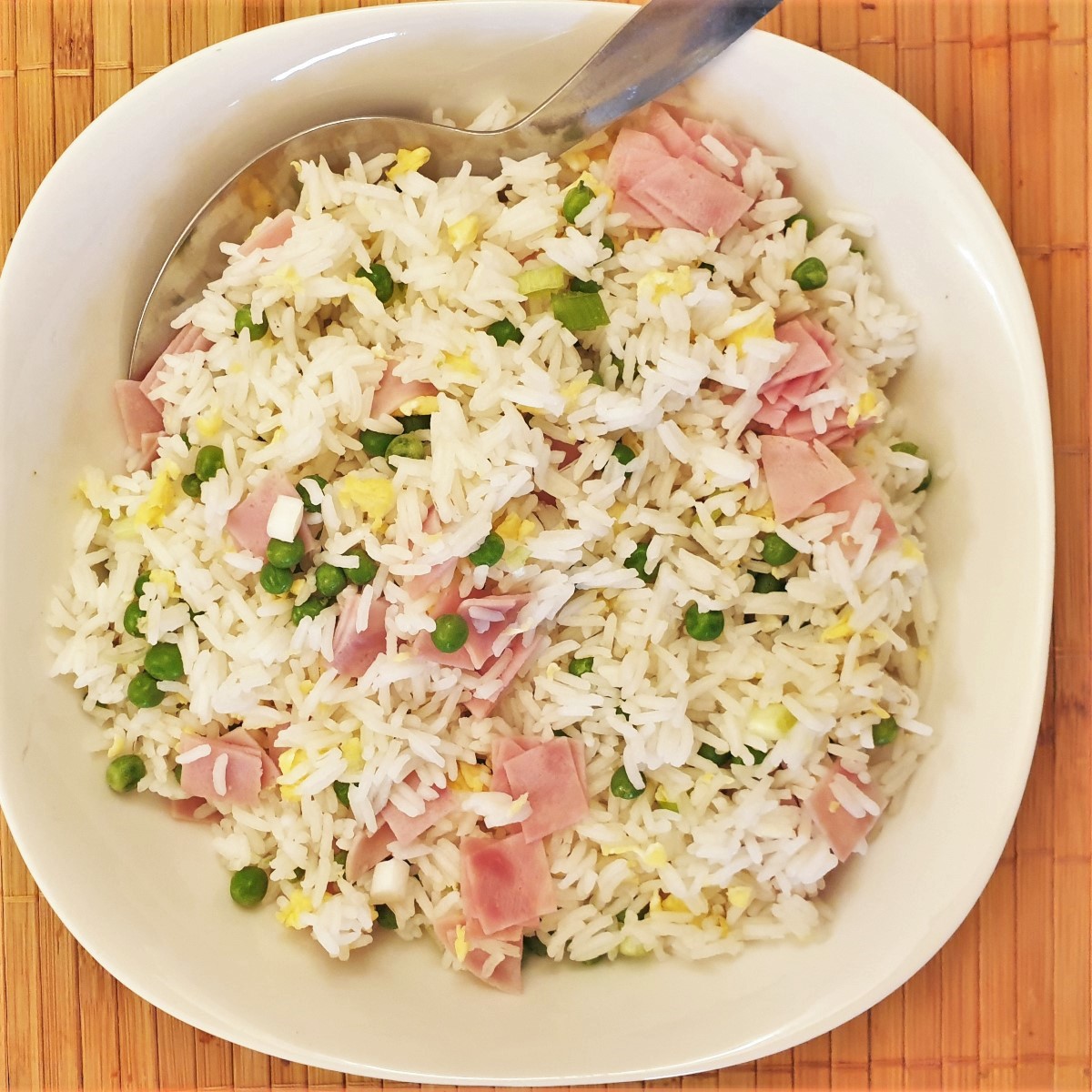 My first attempt at Chinese Egg Fried Rice
Over the years I've eaten many Chinese meals in many different restaurants, but that first introduction has stuck in my mind, especially the egg fried rice. I tried to make it at home and it was an epic disaster. Back in the 1970s there was no internet to look up recipes, and Chinese restaurants were only just making their appearance on the Johannesburg culinary scene. It was all trial and error. For my first attempt I simply cracked an egg on top of a bowl of hot rice and watched in dismay as it all coagulated into a gloopy mess.
Since those early days things have improved somewhat, and I think I have finally perfected the art of making egg fried rice. Well, to my taste at least. I'm sure there are 100s of different ways of making it, but this is my version.
Ingredients for Chinese Egg Fried Rice
Get the complete list of ingredients and full instructions on the printable recipe card at the end of this post
This recipe is more than sufficient for 4 people, as a side dish.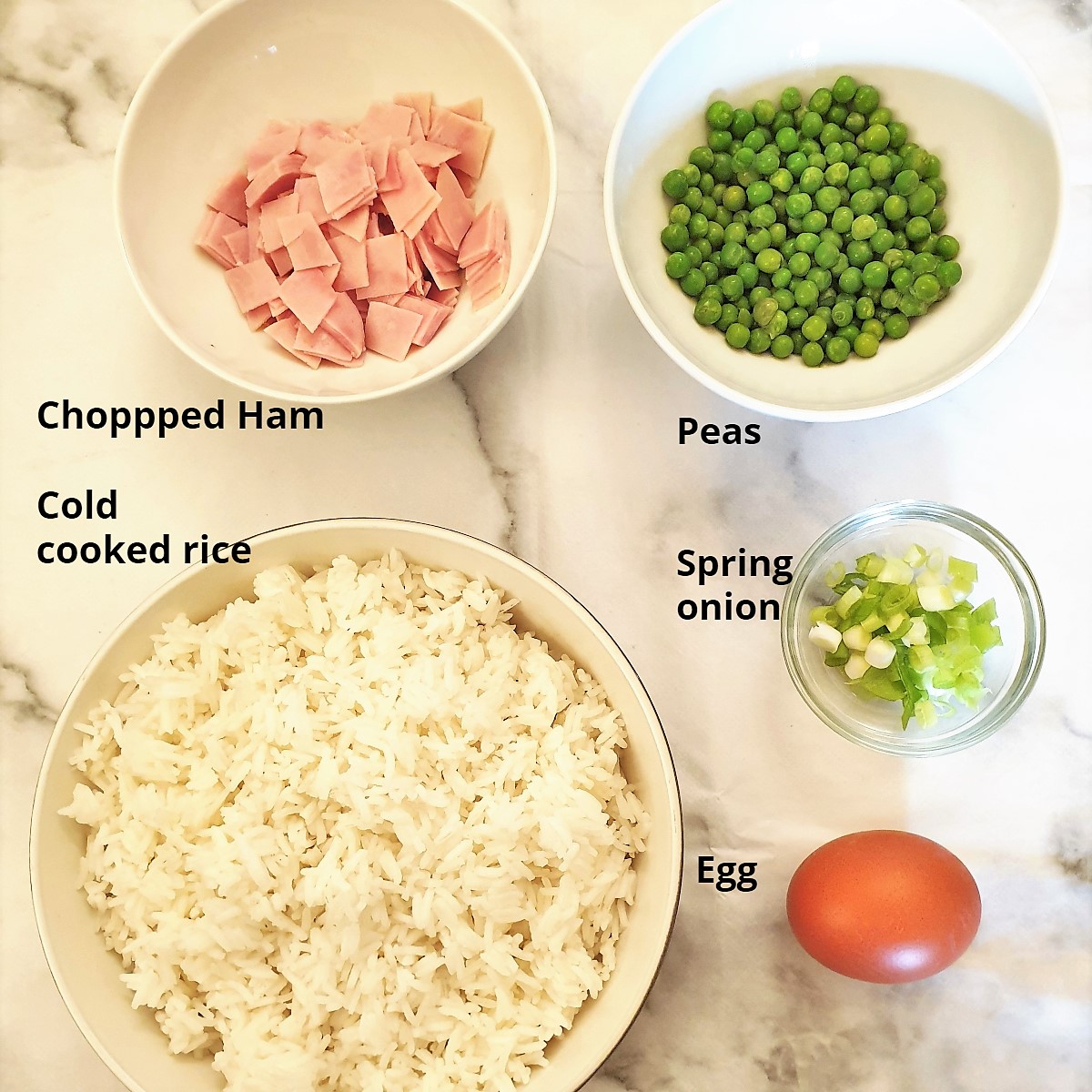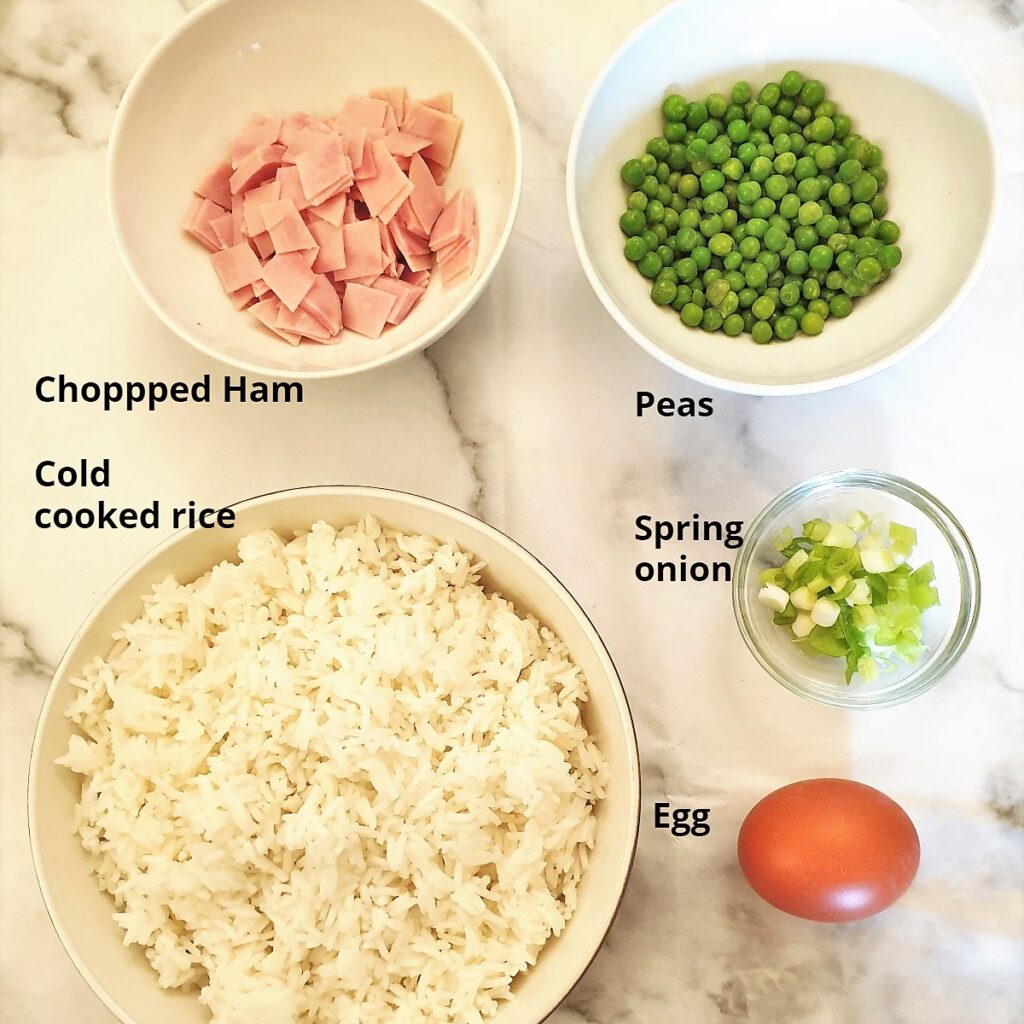 Cooked Rice – Basmati or any long grain rice is fine. You can cook the rice from fresh, or use leftovers. At a pinch, you could even use a packet of store-bought pre-cooked rice.
Egg – lightly beaten
Frozen Peas – these provide little pops of colour and sweetness. I prefer petis pois but you could use any frozen peas. Don't use tinned peas. Their texture will be too soft, and they will be inclined to break up as you stir the rice.
Ham – adds a nice texture. I just use pre-sliced sandwich ham.
Spring Onions – because they add flavour
Soy Sauce – optional (not included in this recipe but if you prefer you can add 2 tablespoons soy sauce when you add the rice to the egg). I prefer not to add any soy sauce. I like the plain flavour, as this means the egg fried rice takes on the flavours of whatever dish you are serving it with.
This recipe is sufficient for about 2.5 cups of cooked rice. I have used Basmati long-grained rice for this recipe. You can use my recipes for Microwave Rice or Oven-Baked Rice, to ensure that all the grains are separate.
How to make the perfect Chinese Egg Fried Rice
Cook the rice
You will need approximately 3 cups of cooked rice, which is about the equivalent of 1 cup of raw rice.
I like to use Basmati, but you can use any long-grained rice. Don't use short-grain or pudding rice as this tends to clump together. You want all the grains to be separate.
You can follow my recipe for Microwave Rice or Oven-Baked Rice, to ensure that all the grains remain separate. Or you can follow the manufacturer's instructions on the packet.
Once cooked, allow the rice to cool. Don't try to make this dish with rice that is still hot or it will stick together in clumps, and we want each grain of rice to be separate.
Add the egg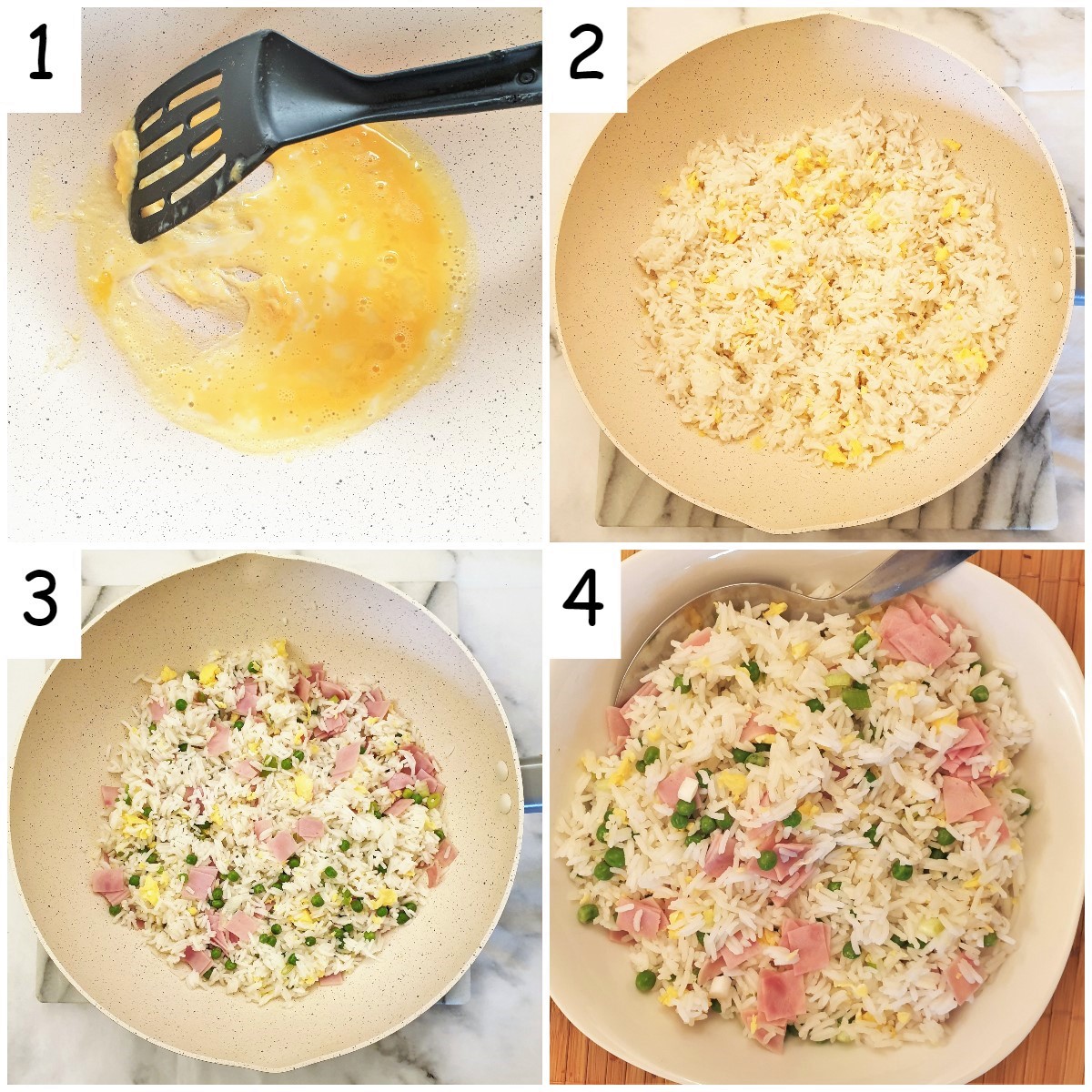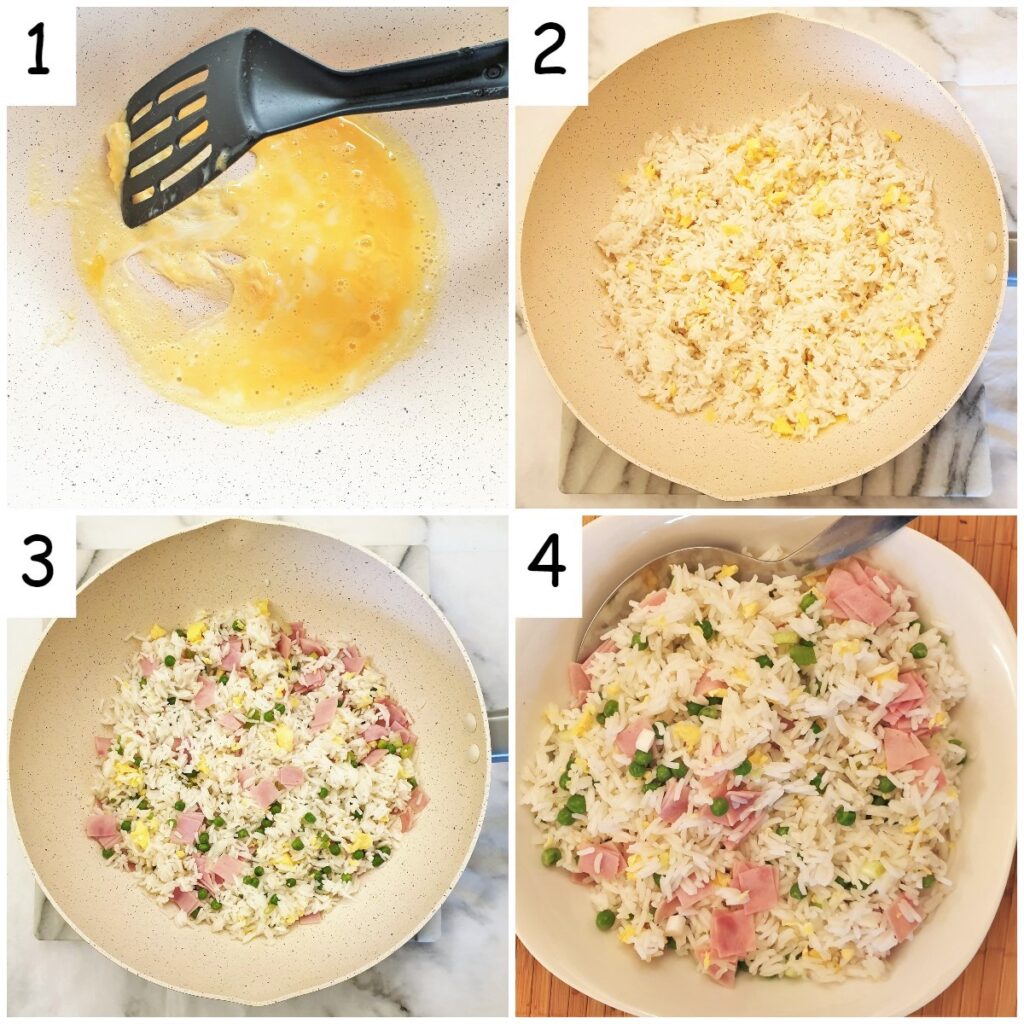 Beat up one large egg in a cup, and pour it into a non-stick wok (image 1 above). I like to cook the egg first, because then it is properly set, and there is no danger of raw egg clumping with the rice and turning it into a gloopy mess.
Don't add any butter or oil with the egg. If your wok is non-stick, you won't need oil. Just keep stirring the whole time you are cooking it.
Let the egg cook gently breaking it up with a spatula until it is well set and dry.
Add remaining ingredients
Add 3 cups cooked, cooled rice (image 2 above) and stir well to combine.
If you want to add soy sauce to your rice, this is where you should add it. Once you have added the soy sauce, stir well to combine thoroughly.
Chop the ham slices into 1cm squares and slice the spring onion finely
Mix in the peas, ham and spring onions (image 3 above). Leave the pan over a very low heat, stirring all the while, until heated through.
Serve
Tip into a serving bowl, garnish with a few more chopped spring onions, and you are ready to serve it with your favourite Chinese dish.
And there you have it! Quick and easy Chinese Egg Fried Rice in only 3 steps.
Can I freeze Chinese Egg Fried Rice?
You can freeze this dish for up to 6 months in a suitable container in the the freezer. To serve, defrost and reheat in the microwave.
Make in advance
You can make this dish up to 3 days in advance and store covered in the refrigerator.
Reheat in the microwave, or in a saucepan on the stove. However, if you are reheating on the stove you should stir continuously to prevent the rice sticking to the saucepan.
If you'd like to be notified of any new recipes, why not subscribe to my newsletter? As a thank-you gift, you will receive a free recipe e-book containing some of my most popular cakes and desserts.
Pin for later
Why not pin this recipe for Chinese egg fried rice to your pinterest board so you can make it later. Just click the image below.
Recipe – Chinese Egg Fried Rice – with peas and ham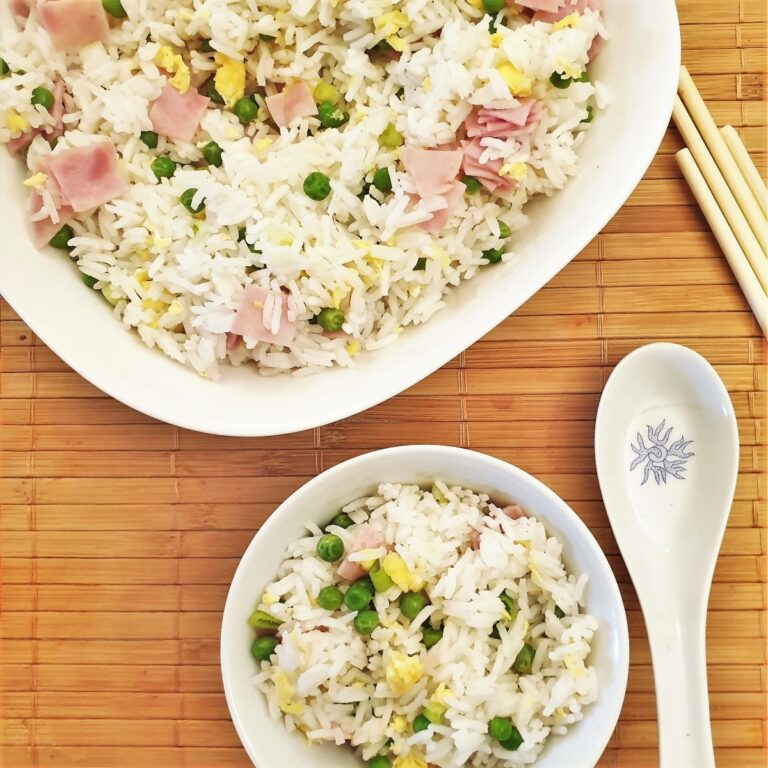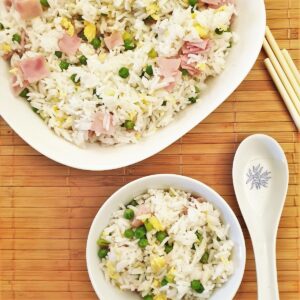 Chinese Egg Fried Rice – with peas and ham
 Chinese Egg Fried Rice – with peas, ham and spring onion.  The perfect accompaniment to all your Chinese dishes. Make it with or without soy sauce – the choice is yours.
Print
Pin
Comment
Bookmark
Saved!
(Click the stars to rate this recipe)
Ingredients
3

cups

Cooked Rice

equivalent to 1 cup raw Basmati rice

1

large

Egg

lightly beaten

½

cup

Frozen Peas

½

cup

Chopped Ham

2

medium

Spring Onions

finely chopped

2

tablespoons

Soy Sauce

optional
Instructions
Cook the rice according to the instructions on the package or you can follow the instructions for my Microwave Rice

Pour the beaten egg into a non-stick wok, and stir-fry stirring continuously until the egg is dry and in small pieces (do not add any oil or butter).

Add the cooled rice to the egg in the wok and continue to stir-fry until well mixed

If you are using soy sauce, mix it through the rice now.

Add the remainder of the ingredients and stir until well combined

Leave on the heat and stir continuously until heated through

Tip into a serving bowl and garnish with a few chopped spring onions
Notes
This recipe is suitable or Basmati or any other long-grained rice. The egg must be cooked until it is completely dry and scrambled. The rice should be cool before adding to the egg Stir continuously while heating through to ensure the rice does not stick to the wok.
Nutrition
I am not a nutritionist. The nutrition information has been calculated using an on-line calculator, and is intended for information and guidance purposes only. If the nutrition information is important to you, you should consider calculating it yourself, using your preferred tool.
Unless otherwise stated, a cup is the standard US cup containing 240 ml. In all my recipes this cup is assumed to hold 140g of flour. For help converting other ingredients between cups, grams, ounces and other measures, see my recipe conversion calculator.
All my recipes are developed and tested at sea-level. For tips on adjusting recipes for high altitudes see my post on baking at high altitudes.
Tried this recipe?
If you made this recipe I'd love it if you could leave me a comment and let me know how it went!
Share on Facebook
Share on Twitter
If you made this recipe and enjoyed it, I'd love it if you could give me a star rating in the comments below. And if you'd like to get in touch, you can email me at [email protected]. I'd love to hear from you. And don't forget to subscribe to my mailing list so you can grab yourself a copy of my FREE COOKBOOK!
If you'd like to continue browsing, just click on this link to all my recipes.