The end of stodgy, stuck-together clumps of rice. No more burned pans to soak and wash. Read on and find out how to get perfectly cooked rice every time with all the grains separate and fluffy. Cooked in the oven in under 30 minutes with minimum preparation.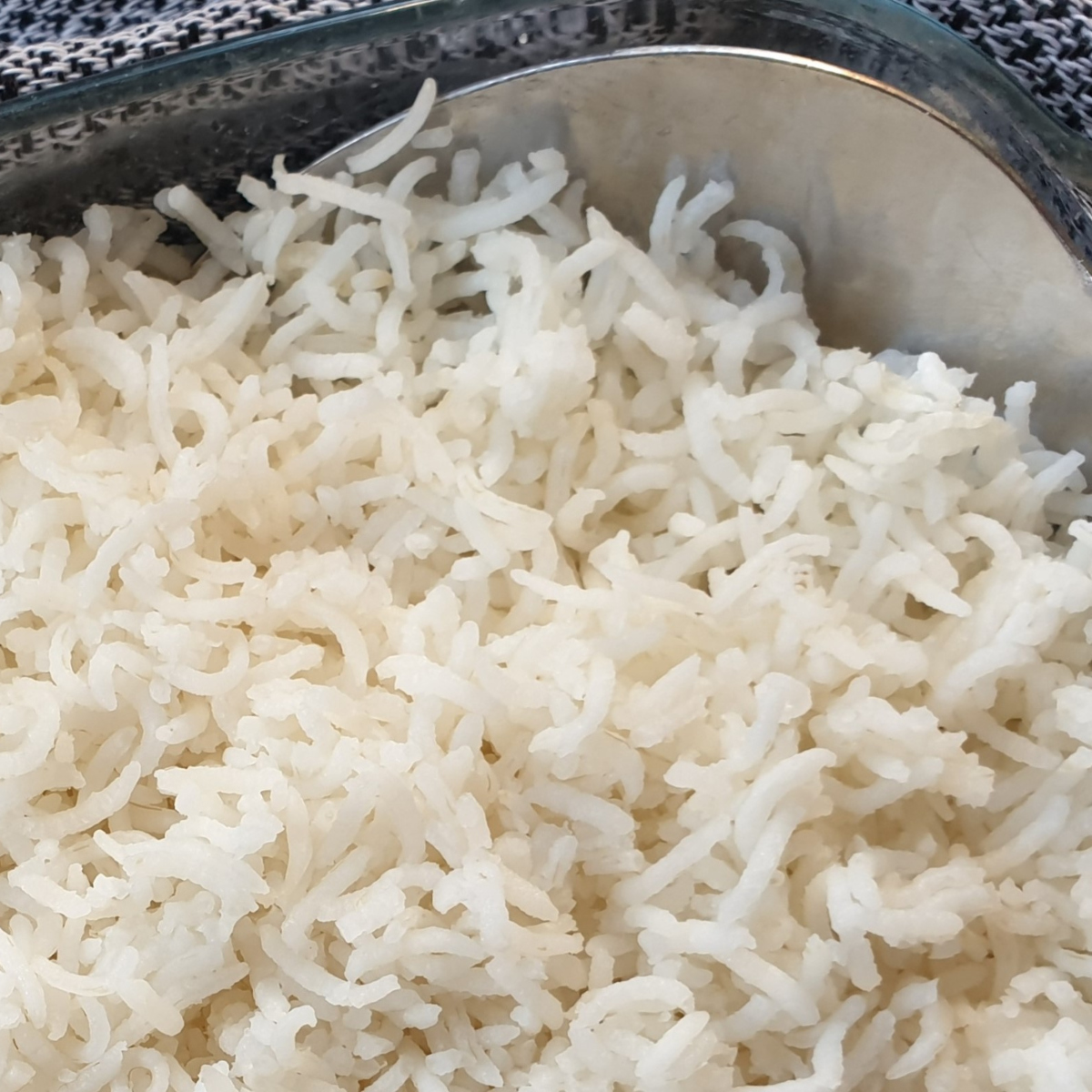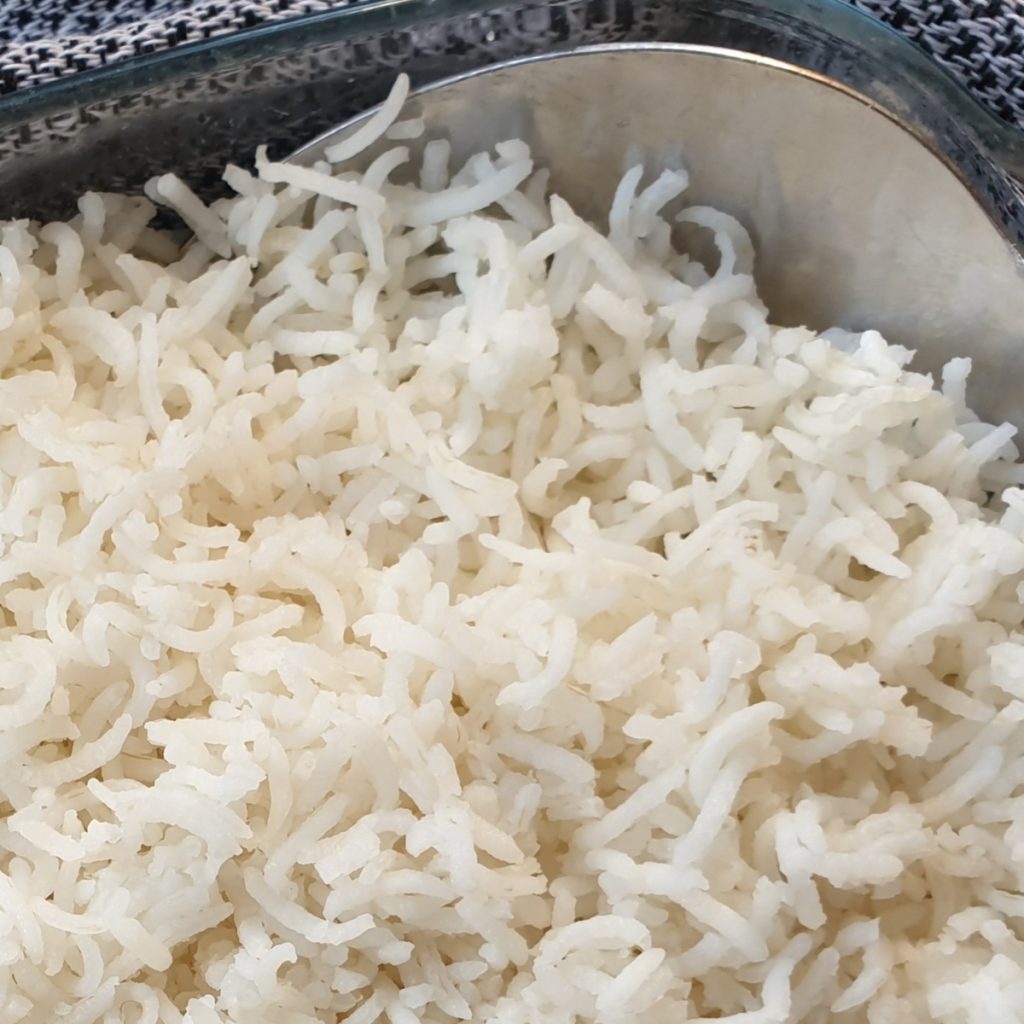 How to cook rice in the oven
Have you ever put a pot of rice on the stove to boil, only to forget about it and come back to find it has boiled dry and burned onto the bottom of the pan? Me too! And have you ever tried to get the burned-on rice OFF the pan, even after soaking the pan for hours? Not an easy task!
I stopped cooking rice on the stove years ago, when I discovered how to cook rice in the microwave. Today however, I'm going to show you an alternative way of cooking rice in the oven, which I think is even easier. It is how to cook rice in the oven.
Secrets to cooking rice in the oven
I've discovered 3 secrets to cooking the perfect rice in the oven, and I'm going to share them with you here.
The first secret to perfectly cooked rice in the oven is to use boiling water to cover the rice. This gives the rice a head start and cuts down on the cooking time by at least half.
And the second secret is to get the ratio of rice and water correct. You need to use just enough water to make sure that it is all absorbed into the rice. Too little water and your rice will be undercooked; too much water and you will end up with soggy rice. The perfect ratio is 2 cups of water for every cup of white rice.
Note – If you are using brown rice you should increase the ratio of rice to water, and use 2.5 cups of water for every cup of brown rice. You should also increase the cooking time by 10 minutes.
The final secret is to cover the baking dish with a tight-fitting lid or a layer of tin-foil. This prevents the water from evapourating, and helps keep the ratio of rice and water correct.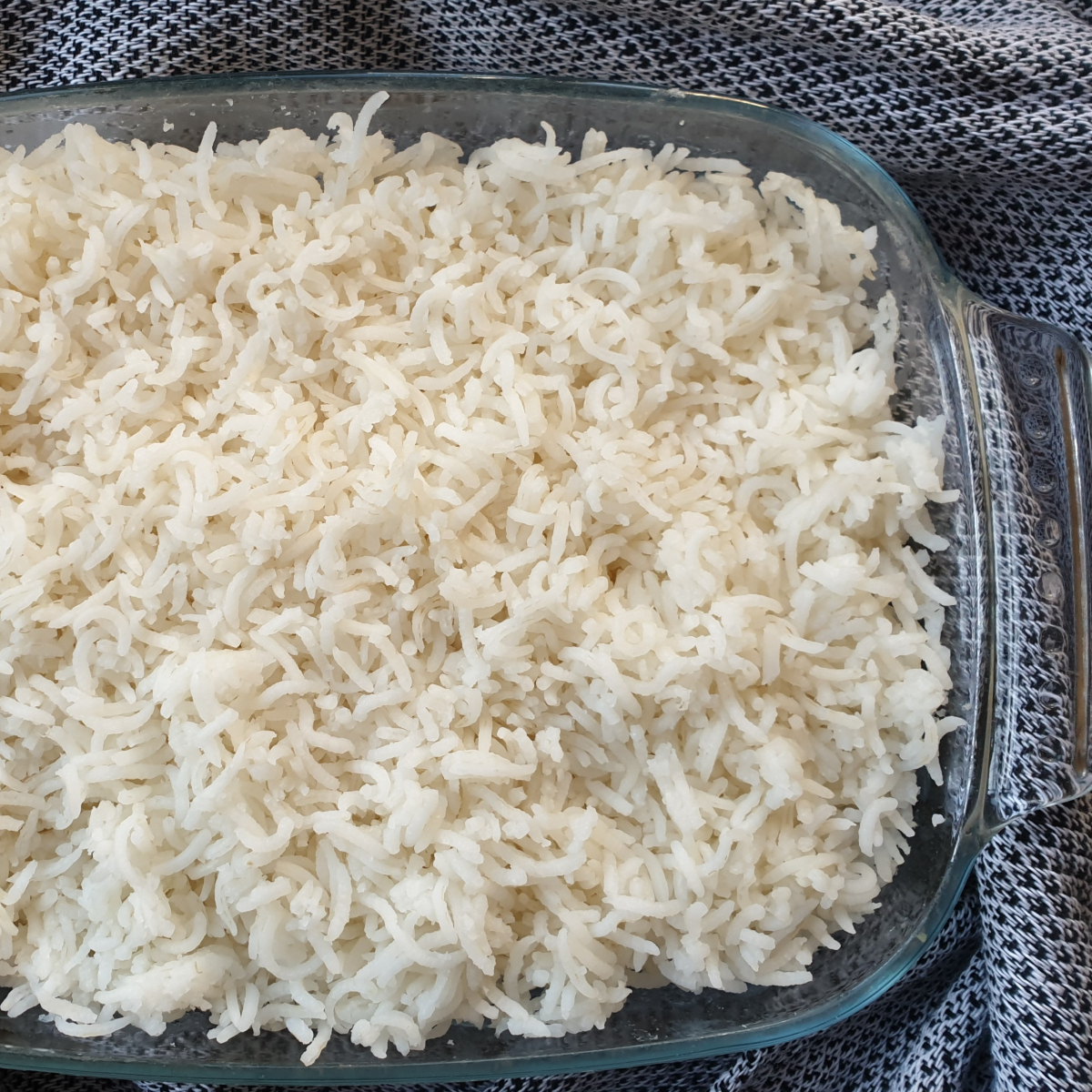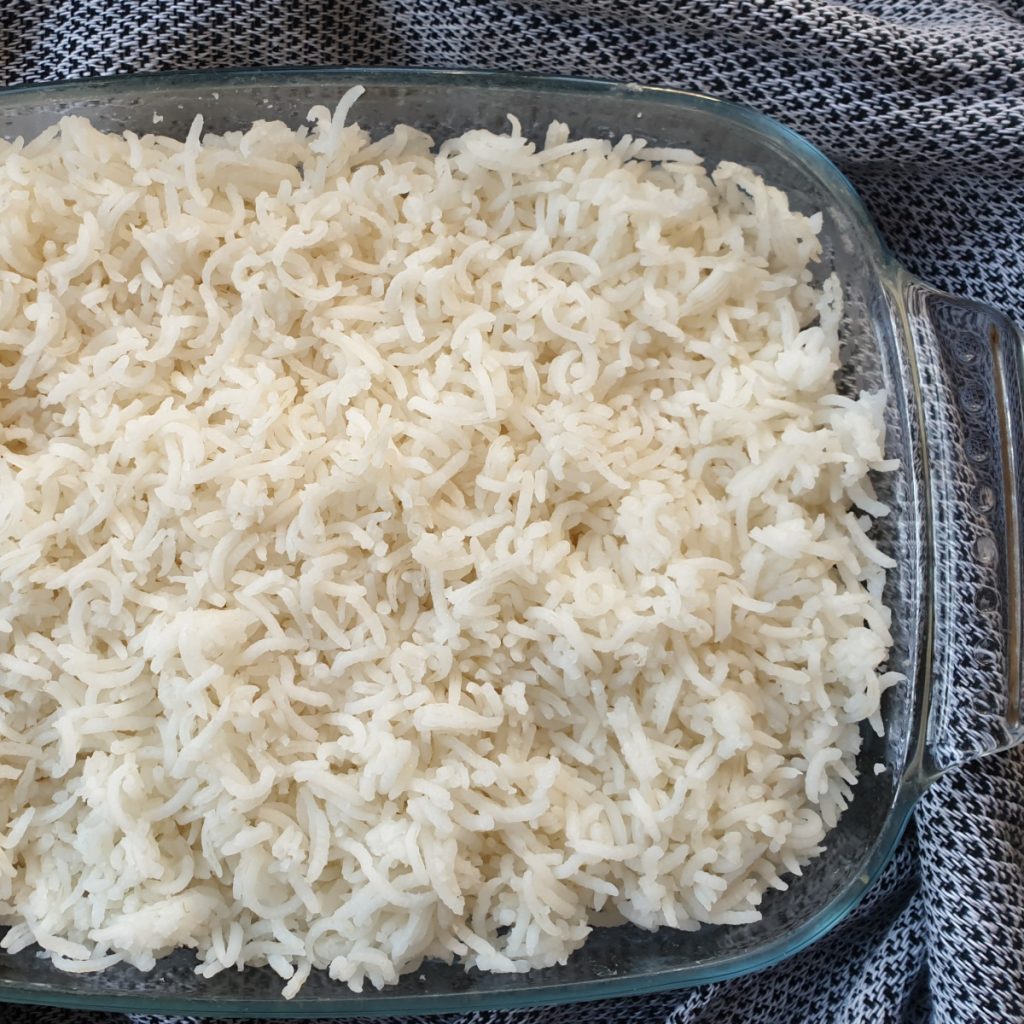 A note on the cup size
When I talk about cup sizes I don't mean just any old cup that happens to be hanging around in your cupboard. I'm talking about a measuring cup. If you need to buy one I've added a link under the equipment section below to measuring cups you can purchase on Amazon.
Differet countries also measure cups in different ways. In the US a cup is 240ml (or 8.45 fluid ounces). In the UK and rest of world, a cup is slightly bigger, at 250 ml (or 8.5 fluid ounces).
If you want to convert ingredient measurements between cups / grams / ounces etc see my handy cookery conversion calculator.
However, for this recipe it doesn't matter what size cup you use as long as you use the same cup-size to measure both the rice and the water.
One cup of uncooked white rice will yield about 3 cups of cooked rice.
What you will need
You can get the complete recipe on the printable recipe card below.
For this recipe you will need only three ingredients.
Rice – I have used basmati long grain white rice for this recipe, but you could use any long grain white rice of your choice.
Boiling water – don't forget the ratio – 2 measures of water for each measure of rice.
Salt – this is to your own personal taste. For the quantities of rice and water in this recipe I would use 1 teaspoon (6g).
What you have to do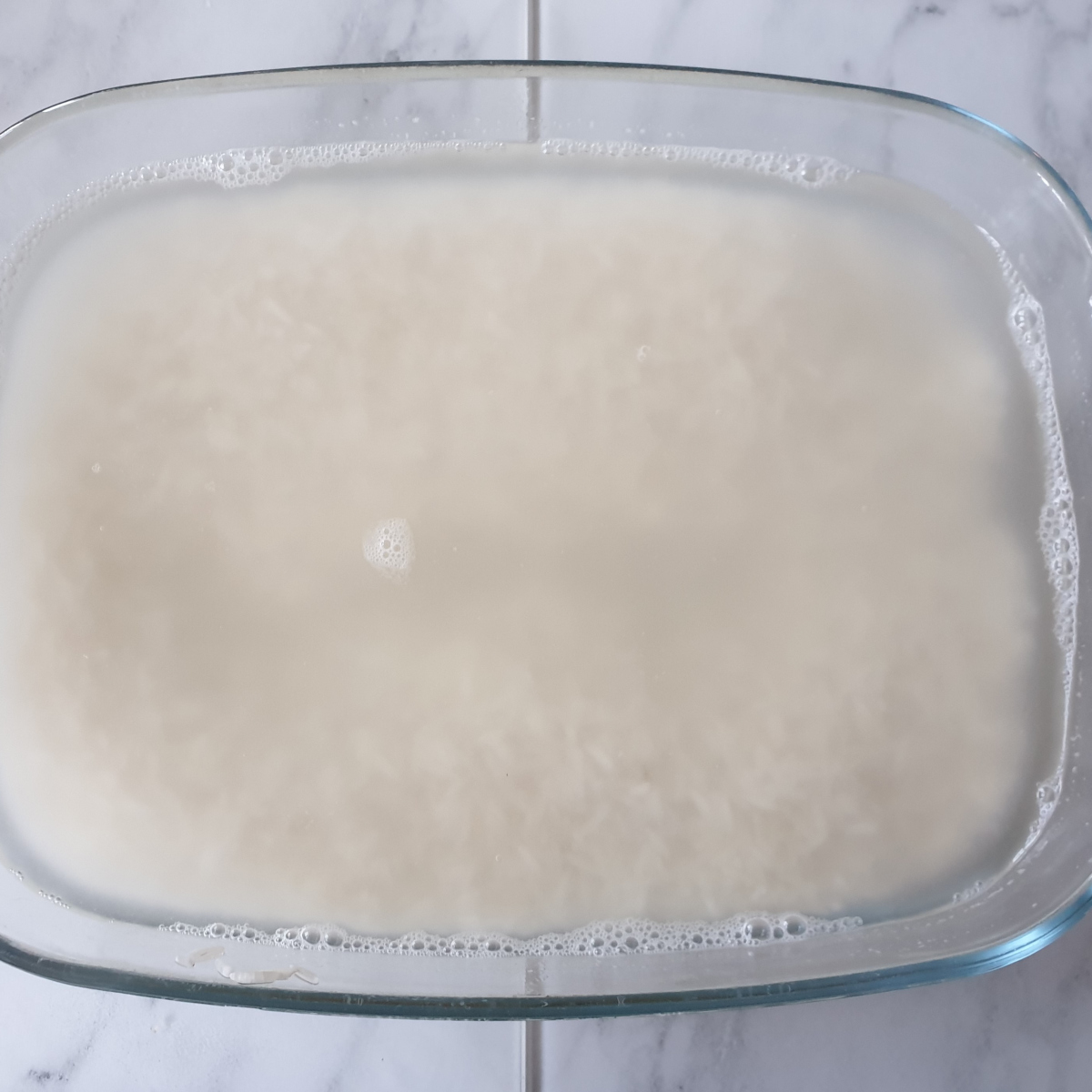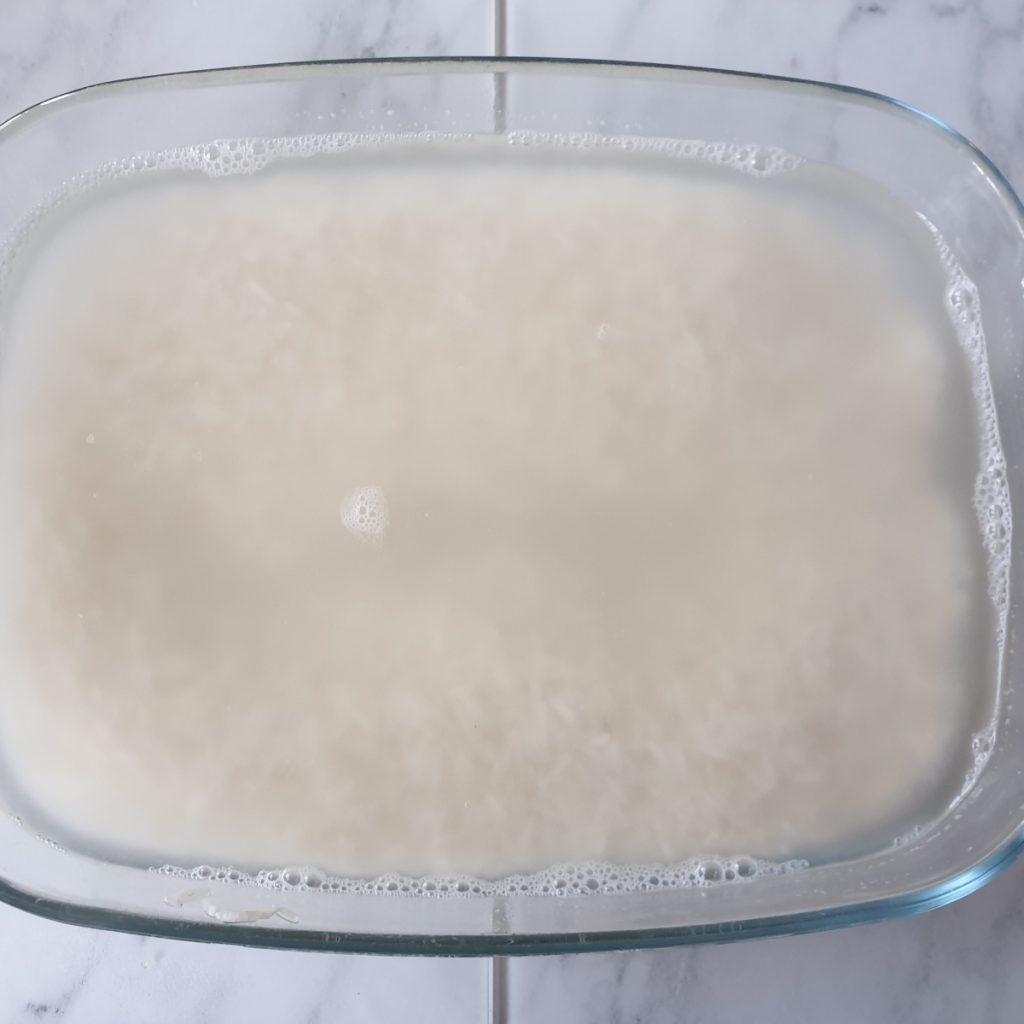 Fill the kettle with water and put on to boil.
Measure 1 cup of long grain white rice into a baking dish. The size of the baking dish is important because the rice swells on cooking so you will need a large enough size to hold the cooked rice.
The water and uncooked rice should only fill your baking dish half-way. This way there will be sufficient room for the rice to swell up as it cooks.
Add the salt to the rice, then pour over the boiling water.
Cover the baking dish with a tight-fittig lid or a layer of tin-foil.
Place in a preheated oven (220C/425F) for 25 minutes.
Remove from the oven, fluff with a fork and serve.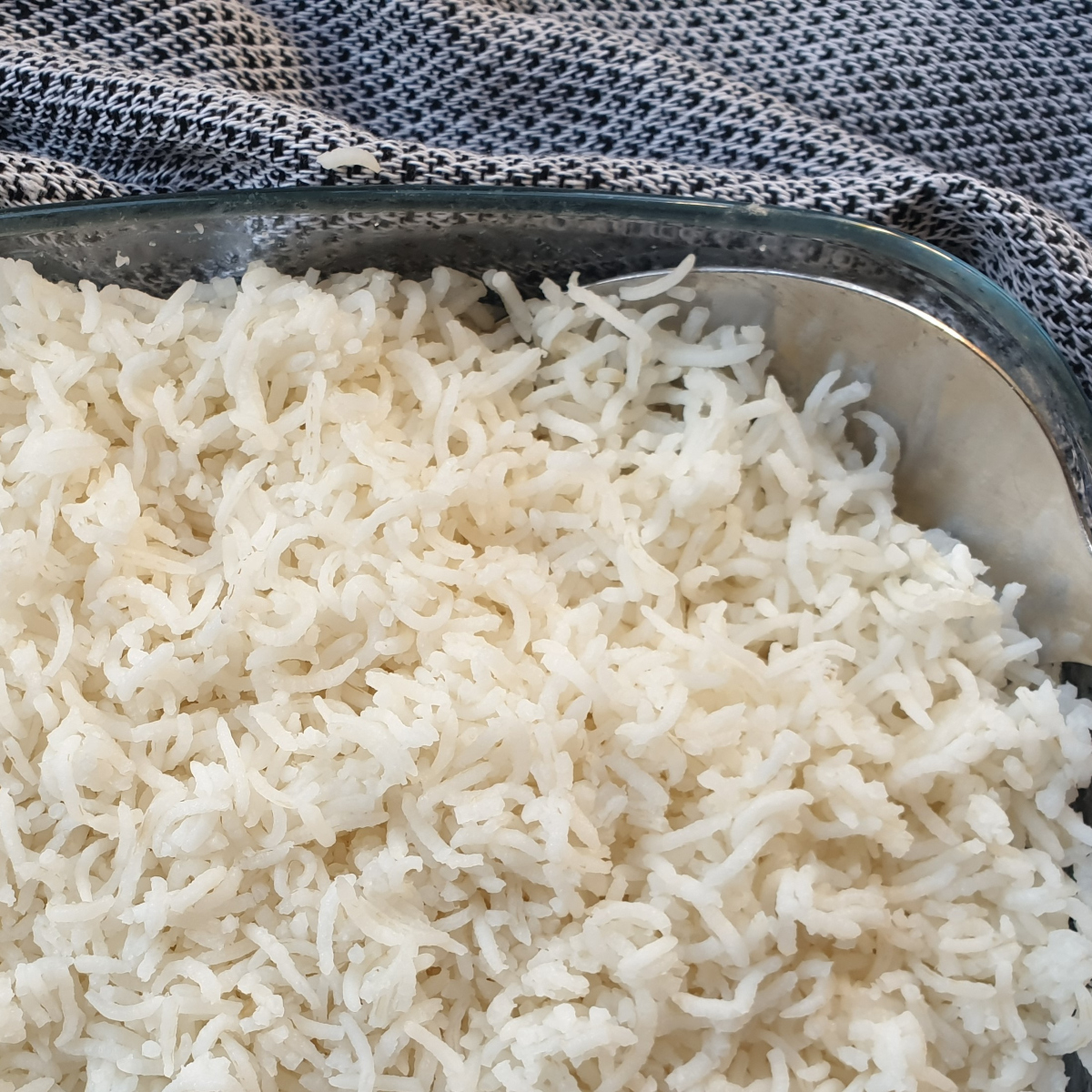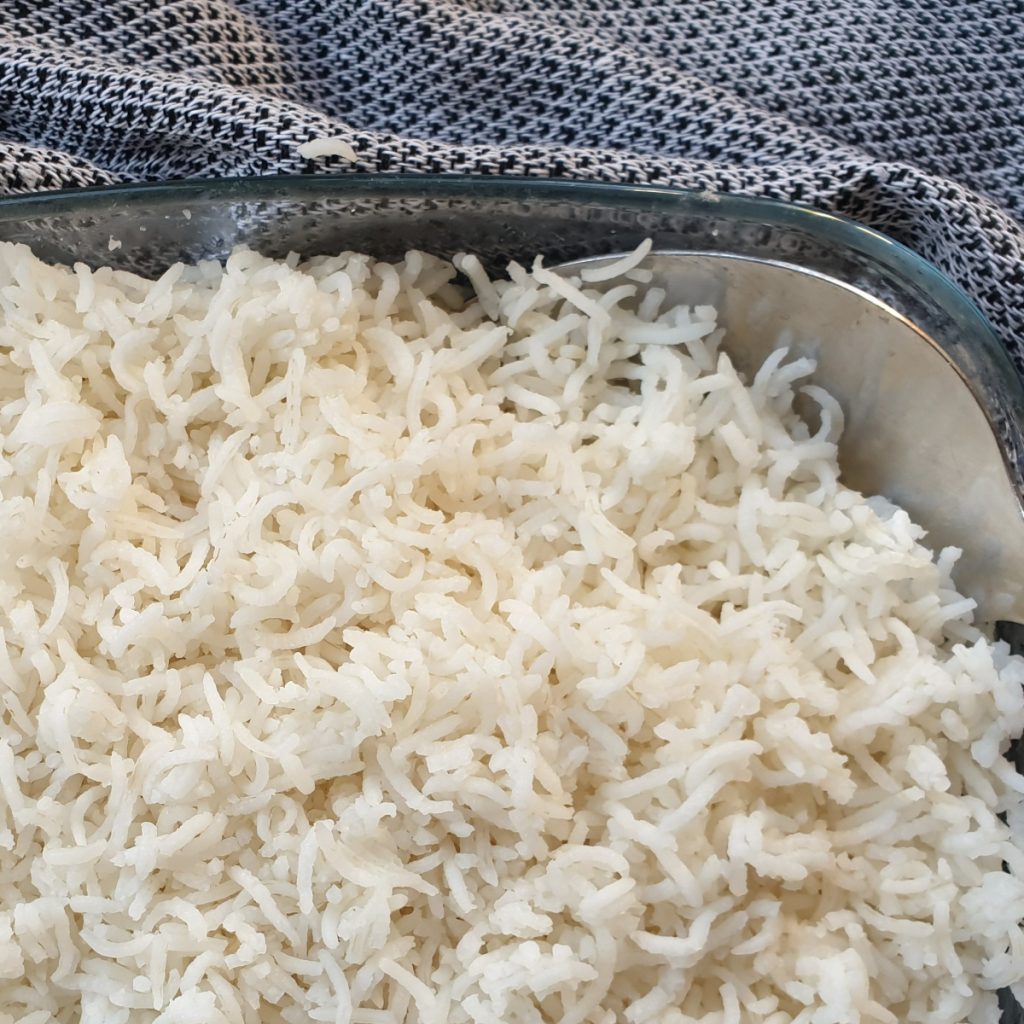 Can I freeze this rice?
Cooked rice freezes very well. Just allow to cool and then spoon into plastic containers and place in the freezer for up to six months.
To use, allow to defrost in the fridge and then reheat in the microwave.
If you want to keep up-to-date with my latest recipes why not follow along on Facebook or Pinterest. And don't forget to subscribe to my mailing list so you can get your FREE COOKERY BOOK
Convert grams to cups
To help you convert your recipes, I have created a handy Cookery Conversion Calculator which will convert ingredients between grams, ounces, tablespoons, cups and millilitres. I hope you will find it useful.
If you live at a high altitude you may find you need to adjust your baking recipes to compensate for this. You can read about how to do this in this post on baking at high altitudes.
Recipe – how to cook rice in the oven
How to cook rice in the oven
No-fail rice cooked in the oven – ready in 20 minutes
Servings: 6 people
Calories: 113kcal
Ingredients
1 cup Uncooked Basmati Rice
2 cups Booiling water
1 teaspoon Salt
Instructions
Pre-heat oven to 220°C / 425°F

Place 1 cup uncooked Basmati rice in a 2-litre baking dish

Boil the kettle and pour 2 cups boiling water over the rice

Stir in 1 teaspoon salt

Cover with a tight-fitting lid or with a sheet of tinfoil

Place the dish in the pre-heated oven for 25 minutes

Remove from the oven and fluff with a fork before serving.
Notes
I've specified Basmati rice in this recipe, but you can use any long-grain rice of your choice.
This recipe yields 3 – 4 cups cooked rice and is more than sufficient for 6 people as a side dish.
If you wish to make a larger amount you can double the ingredients, but make sure you use a large enough baking dish.
I am not a nutritionist. The nutrition information has been calculated using an on-line calculator, and is intended for information and guidance purposes only.  If the nutrition information is important to you, you should consider calculating it yourself, using your preferred tool.
If you made this recipe and enjoyed it, please don't forget to give me a star rating in the comments below. And if you'd like to get in touch, you can email me on [email protected] I'd love to hear from you.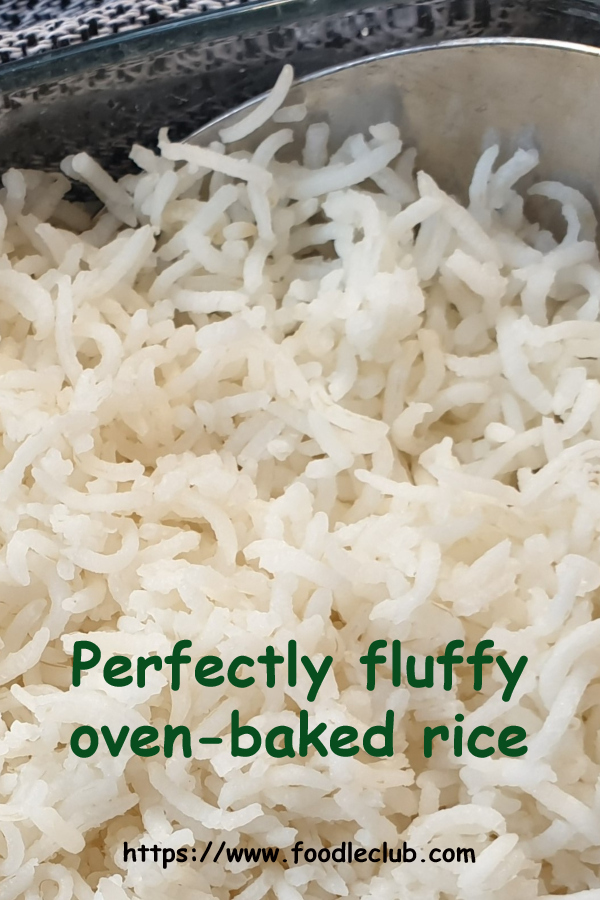 You can click the buttons below if you'd like to save the recipe to Pinterest or your Yummly recipe box. And don't forget to subscribe to my mailing list so you can grab yourself a copy of my FREE COOKBOOK! If you'd like to continue browsing, just click on this link to all my recipes.