Forget Korma, Jalfrezi, Madras. Try this easy lamb curry recipe for the tastiest lamb curry ever. It's packed with spices for great flavour and enough chilli to give it heat without too much of a bite. It's also loaded with veggies, which makes it an ideal one-pan meal.
Easy Lamb Curry
Quick Links
We love a good curry. Left to himself, Graham would eat it every night of the week. In fact, the very first dish he ever cooked for me was a curry.
To be honest it didn't taste too bad. What I liked about it was that he'd included potatoes, carrots and cauliflower in the same pan, which went really well with the flavour of the curry. The only drawback was that he'd used a jar of instant sauce.
Made from scratch
We've come a long way since those days. I've introduced him to the art of making a curry from scratch, and I think between us, we've come up with a pretty good tasting curry.
This recipe has carrots, potatoes and cauliflower in it, as well as the normal tomato and onion. It only takes 20 minutes to prepare, and you can leave it simmering on the stove to finish off cooking while you get on with more important things (relaxing with a glass of wine maybe?).
---
Here's how to make an easy lamb curry
It takes about an hour and a half in total to prepare and cook this lamb curry, but the prep time is less than half and hour. The rest of the time the curry just simmers away by itself.
Ingredients
Spices
1 teaspoon each of
Cumin
Dried Chilli Flakes
Fennel Seeds
Garam Masala
Ground Coriander
Hot Curry Powder
Mustard Seeds
Turmeric
All the rest
500g Lamb leg (cubed)
Tin chopped tomatoes (400g)
Fresh Tomatoes x 2 (chopped)
Mediium Carrots x 2 (chopped)
1/2 small cauliflower
Medium Onions x 2 (chopped)
Medium Potatoes x 2 (chopped)
Sugar (1 teaspoon)
Salt and pepper to taste
---
Steps
Prepare the lamb
Start by cutting up your lamb into 2 cm (1-inch) chunks.
You can buy your lamb ready cut up at the supermarket, but I like to buy a whole piece of lamb leg and cube it myself. That way, I'm sure that all the pieces are evenly sized.
Peel and chop the vegetables
The onions, carrots and tomatoes should be approximately 1 cm (half inch) cubes and the potatoes a little larger. I find that carrots take a bit longer to cook than potatoes, so keeping them smaller ensures that everything is cooked at the same time.
Break the cauliflower into small florets.
Gather all the spices
Fry the onions and spices
Pour about 1 tablespoon of olive oil into a large frying pan (use one that has a lid) and saute the onion gently until translucent. Do not allow it to brown.
Tip in all the spices and continue cooking, stirring continuously, until the onion is well-coated and the spices start to release their aroma.
Remove the onions from the pan and set aside.
Brown the lamb
Add another tablespoon of oil to the same frying pan, and the fry the lamb cubes gently to brown and seal.
Return the onions to the pan and add the tomatoes
Add the onions to the meat along with the chopped fresh tomatoes and 1 teaspoon of sugar.
You can omit the sugar if you prefer. I always add a teaspoon of sugar to cooked tomatoes as it brings out the tomato flavour and reduces the tartness.
Let this simmer until the tomatoes start to soften and release their moisture.
Now pour in the tin of chopped tomatoes and bring to the boil
Add the root vegetables and season
Add the potatoes and carrots.
Season with salt.
Put the lid on the pan and allow to simmer for about 10 minutes.
This would be a good time to check the flavour and seasoning. As with any recipe you should check the taste as you go.
Add the cauliflower
Add the cauliflower to the pan and continue to simmer for another 30 minutes until the vegetables are soft and the meat is cooked and tender.
The reason for adding the cauliflower at a later stage is because cauliflower cooks much more quickly than potatoes and carrots and if you add it at the beginning it will be over-cooked and mushy.
Serve and enjoy
I like to serve this with a bowl of white rice and a side helping of peas. If you'd like to serve with something other than rice, you could serve it in a slice of pita bread.
A dollop of chutney on top also makes a nice addition.
---
FAQ
Can I freeze the lamb curry?
Yes – this lamb curry freezes very well.
Once cooked, let it cool and then spoon into a suitable freezer container and freeze for up to 4 months.
To reheat just let it defrost in the fridge and then reheat gently in a saucepan.
I always made a bigger batch than I need and freeze half for another meal.

Can I substitute the vegetables?
Yes, any firm vegetable can be used.
Why not try it swapping out the potatoes for sweet potato, or swap the carrots with parsnips.
You can also add a handful of chopped bell peppers to this dish.
I wouldn't use a soft vegetable like a zucchini because that would become mushy.

---
Equipment
You will need the following equipment to make this recipe:
Large frying pan with lid
Sharp knives
Cutting Board
Spatula
Balti dishes for serving
Join Amazon Prime and get free delivery on all items displaying the Prime logo
As an Amazon Associate I earn from qualifying purchases. These are affiliate links which means I get a small commission (at no additional cost to you) if you click through and make a purchase.
If you want to keep up-to-date with my latest recipes why not follow along on Facebook or Pinterest
---
Recipe – Easy Lamb Curry
Easy Lamb Curry
Easy homemade lamb curry. Packed with vegetables and bursting with flavour.
Ingredients
Spices
1

teaspoon

Cumin

1

teaspoon

Dried Chilli Flakes

1

teaspoon

Fennel Seeds

1

teaspoon

Garam Masala

1

teaspoon

Ground Coriander

1

teaspoon

Hot Curry Powder

1

teaspoon

Mustard Seeds

1

teaspoon

Turmeric
All the Rest
1

400g

Tin Chopped Tomatoes

2

medium

Fresh Tomatoes (chopped)

2

medium

Carrots (diced)

½

small

Cauliflower (broken into florets)

appromimately 1 cup

2

medium

Onions (chopped)

2

medium

Potatoes (cubed)

1

teaspoon

Sugar (optional)

Olive Oil (for frying)

Salt and pepper (to your own taste)
Instructions
Fry the chopped onions in a little olive oil, over a gentle heat until translucent. Do not allow to brown.

Add all the spices and stir well. Continue to fry gently for 1 minute to allow the flavours to combine.

Remove the onions and spices from the pan.

Add a little more olive oil to the pan and increase the heat slightly.

Add the meat and stir it around in the pan until it is no longer pink.

Add the onions back to the meat and stir in the chopped fresh tomatoes and sugar.

Fry gently, stirring all the while, until the tomatoes start to break down.

Add the onions, potatoes and carrots, and the tin of chopped tomatoes. Stir well.

Bring to the boil, then reduce the heat and allow to simmer with the lid on the pan for 10 minutes.

Add the cauliflower florets and stir.

Replace the lid and continue to simmer until the vegetables are soft and the meat is tender. Approximately 30 minutes.

Serve on a bed of rice with a side of naan bread for mopping up the juices.
Notes
I buy a whole piece of lamb leg and cut the meat off the bone myself.  You can buy ready diced lamb if you prefer.
Chop the lamb into 2cm (1 inch) chunks.
Chop the vegetables to approximately 1cm (1/2 inch) chunks.  
I always add 1 teaspoon of sugar to a tin of tomatoes to reduce the tartness.  You can leave the sugar out if you prefer.
I find the tomatoes provide sufficient liquid.  If you feel the dish is too dry you can add vegetable stock to your own taste.
If there is too much liquid, remove the lid from the pan for the last few minutes of cooking time so that some of the liquid can evaporate. 
The calorie count has been calculated using an on-line calculator and is provided for information purposes only.  If the calorie count is important to you, you should consider calculating it yourself, using your preferred tool.
If you made this recipe and enjoyed it, please rate it in the comments below. I'd love to know how it went.
---
Related Recipes
You might also like to try these other lamb recipes:
Authentic South African lamb curry, made with leftover lamb and served in a crispy pita bread – the easiest mid-week supper ever!
---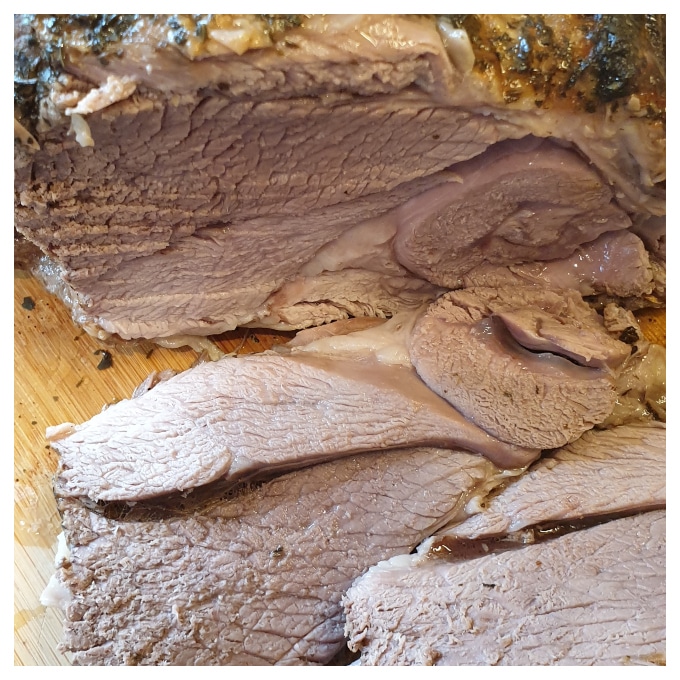 There's nothing nicer than a joint of succulent leg of lamb, covered in mint sauce and cooked to perfection!
Why not pin this recipe for later, or save it to your Yummly recipe box. And don't forget to subscribe to my mailing list so you can grab your FREE COOKBOOK!