South Africa is known for many dishes – the most iconic of all being Mrs Balls Chutney – spicy, fruity and delicious. It's made with minced dried fruit and onion, flavoured with a hint of chilli. It has a slightly sweet, tangy taste, with just enough heat from the chilli to give it a bit of a bite. Absolutely delicious served with a slice of pork pie and a chunk of cheese!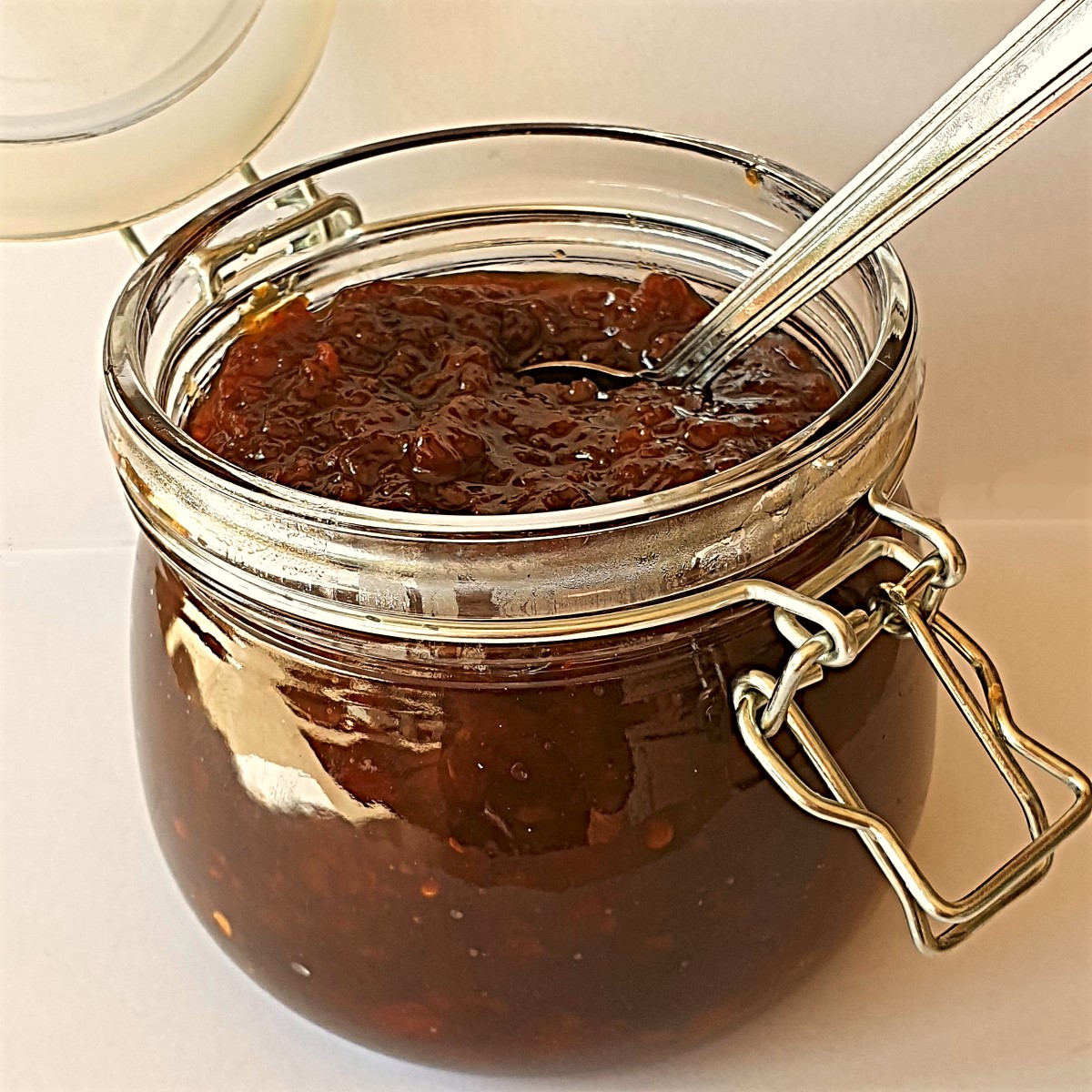 **As an Amazon Associate I earn from qualifying purchases.**
The history of Mrs Balls Chutney
Mention Mrs Balls chutney to any South African and you will see their eyes immediately light up, and their mouths start to water.
It is the most delicious chutney, made with dried fruit, with a hint of chilli. It is used to add flavour to stews and curries, or served as a side dip with cold meat or pies.
There's quite a bit of history around Mrs Balls Chutney. The story goes that a certain Mr and Mrs Adkins were on a ship sailing from Canada to South Africa back in the 1860s. While on the ship Mrs Adkins was given the recipe for chutney by one of the Indian chefs. Chutney is the anglicised version of the Hindu word 'Chatni', meaning a relish made with fruit and spices.
Once the family had settled back in South Africa, Mrs Adkins began making the chutney and it proved to be very popular amongst her friends and family. When her daughter, Amelia, got married to Mr Herbert Saddleton Ball, Mrs Adkins passed the recipe on to her, and Amelia cooked and sold the chutney to help with the family finances. She named her chutney Mrs H.S.Balls Chutney, using her husband's initials as was the custom in those days. The chutney proved so popular that the business expanded, and was eventually passed on to Amelia's sons, who ran the business until it was bought out by one of the big food manufacturers in South Africa.
Amelia Ball passed away in 1962 at the age of 97, leaving South African families everywhere the legacy of her amazing chutney.
I found a lovely video of an advert for Mrs Balls Chutney that I'd like to share
Recipe notes
Prep time – 15 minutes
Soaking time – 12 hours
Cooking time – 30 minutes
Yield – 2 x 500ml jars
Calories – 155 per 100 ml
Main equipment – large saucepan with lid – I like these saucepans because they have non-metal handles.
How to make Mrs Balls Chutney
The original recipe is a closely guarded secret. During my research on how to make it I've come across many variations.
Some people say you should make it with dried apricots, others say you should use dried peaches. Some say to soak the dried fruit in vinegar overnight, others say soak in water.
If you want to make the peach version then just substitute the dried apricots for dried peaches.
Anyway, I've come up with the recipe which I think is pretty close to the original taste. I've used a mixture of dried apricots, sultanas and onion, and even if it is not 100% authentic, I think it tastes pretty good.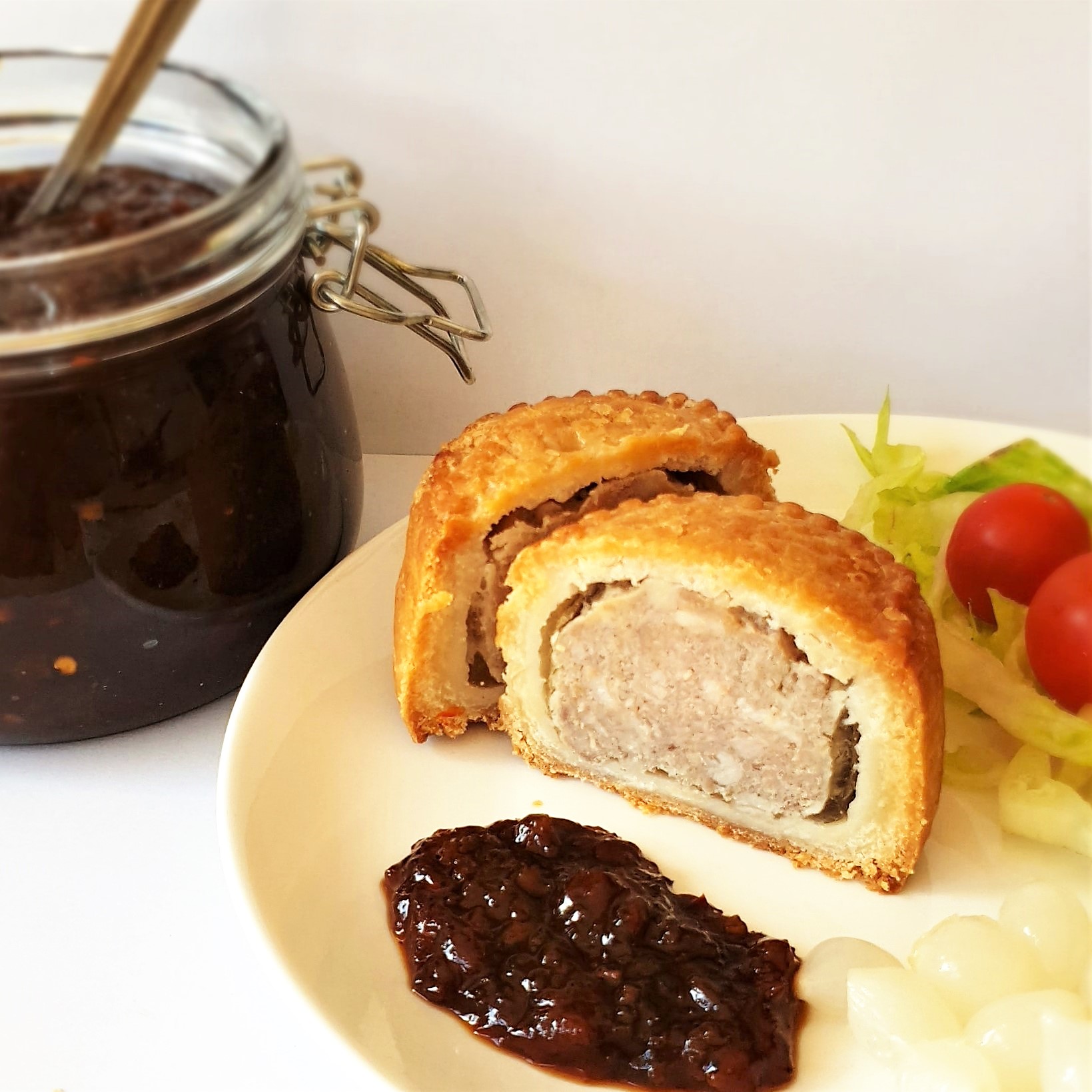 What you will need to make chutney
Whenever I read a recipe I like to have a look at the ingredients to see whether I have everything I need. To make it easy for you – I've listed the ingredients below. You can get the full list of ingredients and instructions to make this recipe on the printable recipe card further down in the post.
This recipe makes approximately 500ml jars (or 1 litre) of chutney.
Dried Apricots – you need to chop these to the size of sultanas
Sultanas
Onions – chopped to the size of sultanas
Sherry vinegar – or any 'fruity' vinegar – don't use plain white or malted brown vinegar or the chutney will taste too acidic.
Water
White sugar
Salt
Dried Chilli Flakes – you can adjust this quantity according to your own taste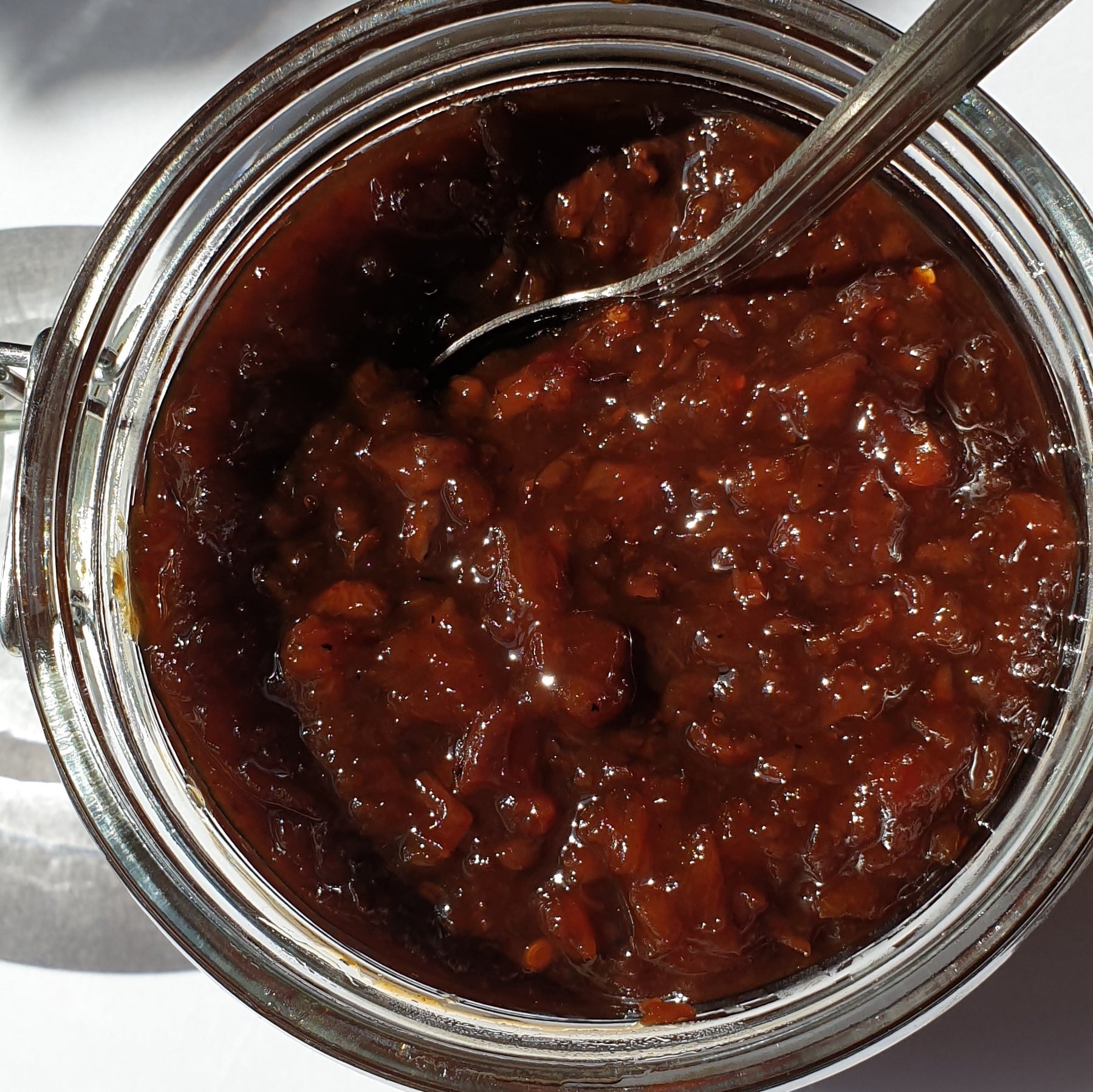 How to make Mrs Balls Chutney
Place the dried apricots and sultanas in a large bowl and cover with the vinegar. Cover and leave to stand overnight. This allows the fruit to plump up as the vinegar gets absorbed.
Next day, blend the soaked fruit in a food processor (along with the soaking liquid). Don't allow the apricots to become too finely chopped – you want them to be the same size as the sultanas.
Tip the whole lot into a large saucepan (that has a lid).
Use the food processor to chop the onions and add them the fruit in the saucepan.
Once again, don't chop too finely – keep them the same size as the chopped apricots.
Add the rest of the ingredients and bring to the boil.
Place the the lid on the pan, turn down the heat, and allow to simmer for at 30 to 45 minutes until the mixture becomes thick and syrupy.
If it's still not thick enough after this time, just simmer a bit longer. You are looking for the consistency of a nice sticky jam. Do remember however that the mixture will thicken on cooling.
As with all recipes you need to taste and adjust the flavour as you go along.
If you find the chutney is too acidic you can add a touch more sugar. If you want it hotter, add more chilli.
This is quite a sweet chutney and the final result should be sweet and tangy.
Pour into sterilised jars and keep in your fridge until you are ready to use. This chutney improves with age, and will keep for weeks in the fridge.
A note on the chilli
Mrs Balls Chutney is produced both in the original version, which I have tried to replicate here, or in a HOT version. If you want to make the hot version, you can adjust the amount of chilli in the recipe to suit your own taste.
If you'd like to be notified of any new recipes, why not subscribe to my newsletter. As a thank-you gift, you will receive a free recipe e-book containing some of my most popular cakes and desserts.
Save for later
If you would like to try Mrs Balls chutney yourself, why not pin this recipe to your one of your Pinterest boards so you can find it easily. Just click the image below.
Alternatively, you can save the recipe by clicking on the floating heart icon on the right-hand side of the screen.
Other South African recipes
While you are here, why not try some of my other South African recipes:
Update – I've just perfected my green tomato chutney recipe (which I think is even better than Mrs Balls 🙂 )
This recipe was number one on my top 10 recipes for December 2019
Recipe – Mrs Balls Chutney
If you made this recipe and enjoyed it, I'd love it if you could give me a star rating in the comments below. And if you'd like to get in touch, you can email me at [email protected]. I'd love to hear from you. And don't forget to subscribe to my mailing list so you can grab yourself a copy of my FREE COOKBOOK!
If you'd like to continue browsing, just click on this link to all my recipes.