A lamb bredie (bree – a – die) is just another name for a lamb stew. But whereas a stew is typically cooked in a large amount of stock, a bredie uses hardly any stock and relies on the juices from the vegetables to form the liquid component of the dish. This recipe for lamb bredie was given to me by my mother-in-law, many years ago, and it's remained a firm family favourite over the years.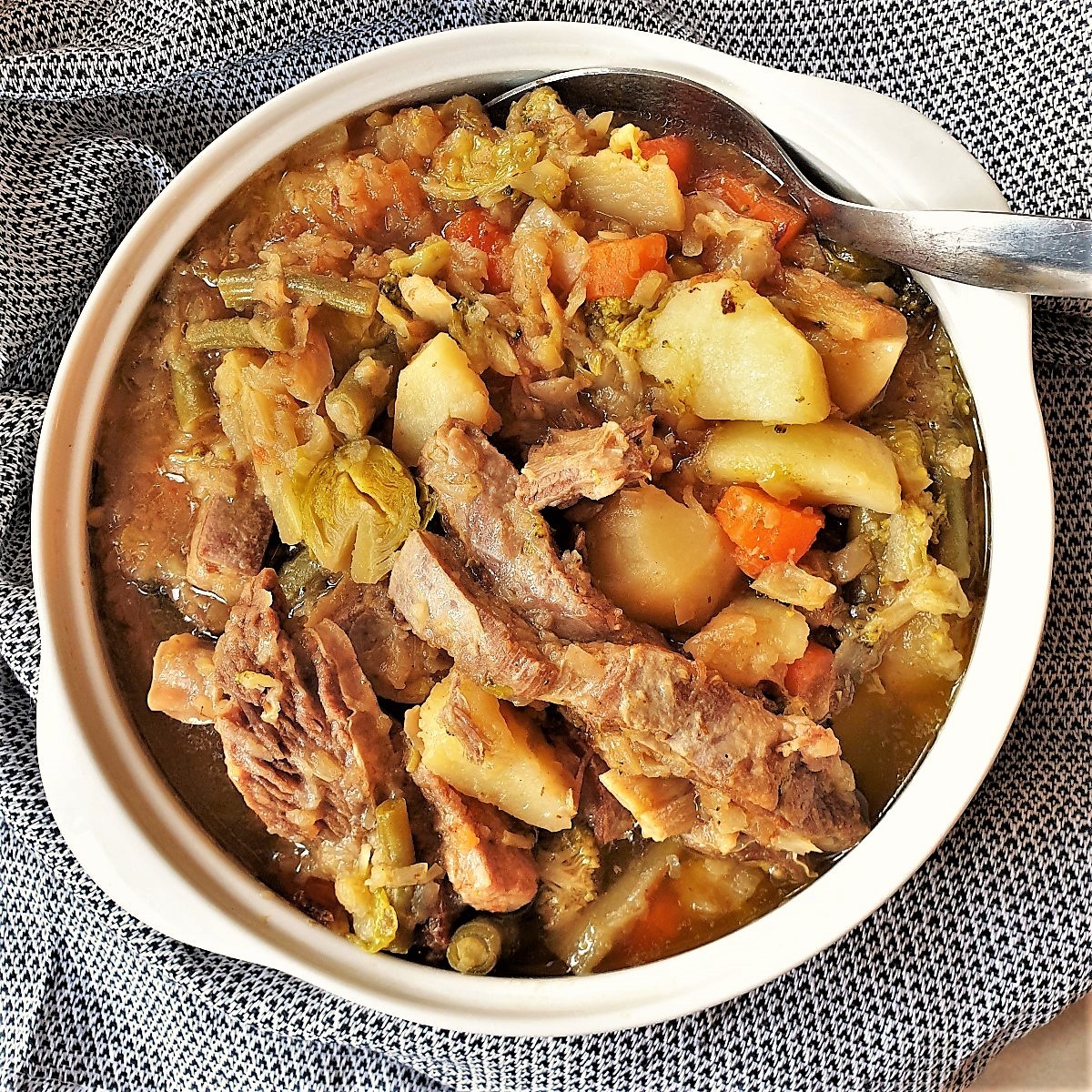 **As an Amazon affiliate, I earn from qualifying purchases.**
Hearty lamb bredie made with lamb ribs
Nothing beats a good stew on a cold winter's night, and this hearty lamb stew made with lamb ribs is one of the best lamb stew recipes ever. It's a popular dish in South Africa, where it is known as lam bredie or lam ribbetjies. The lamb is succulent and fall-off-the-bone tender, while the stew itself is packed with vegetables. The gravy is thick and full of flavour, and today I'm going to share my secret to making this gravy without the use of a thickening agent. Once you've tried it I'm sure you'll agree that this lamb stew is a winner.
I can't think of many meals that satisfy the senses as much as a stew. The wonderful aroma that emanates from the pan as the stew is cooking; the sight of the meat and vegetables, piled on your plate, accompanied by slices of crusty bread to mop up the delicious juices; and the taste of those mouthwatering flavours that stay with you from the first forkful to the last. A good stew is definitely a meal made in heaven.
In my opinion, the best cut of meat for making a lamb bredie has to be the lamb ribs. The meat on a lamb rib contains a lot of connective tissue and can be quite tough if it is roasted. But pop it in a pressure cooker, or simmer it for a couple of hours on the stove, and it turns into a fork-tender, juicy, meat that just melts in your mouth. Add some chunky vegetables of your choice, and you end up with a lamb stew that will warm up the coldest winter night.
How to make a lamb bredie
You can get the complete list of ingredients and full instructions on how to make this lamb stew recipe on the printable recipe card at the end of this post.
You can make this lamb bredie either in a pressure cooker, or in a saucepan on the stove top. I've included instructions for both below.
I love this stew because it is a way of using up all the vegetables that are lurking in the back of the fridge. You definitely need onions, carrots, and potatoes. But after that, the sky's the limit. Just use what you have available.
Brown the lamb
You will need a pile of lamb ribs, cut into individual riblets. For four people you will need about 1kg (2.25 pounds) of ribs. Try to get ribs with as little fat as possible. If there is a lot of excess fat on the ribs you could trim it off before cooking.
Brown the ribs in a little sunflower oil in the bottom of your pressure cooker, or in a large saucepan on the stove. You want to get the outside of the lamb nice and brown so that the fat starts to melt.
Once the lamb is nicely browned, remove from the pan and set aside.
Brown the onions
Now chop up a large onion and a stalk of celery and saute in the same pan until the onion starts to soften.
Add 1 cup of stock made with a stock cube. If you can't find lamb stock cubes, you could use chicken, or even vegetable stock cube. You won't need more than one cup of stock if you are making this using a pressure cooker.
If you are using a saucepan then you will need 2 cups of stock to allow for some evapouration (so just use 2 stock cubes in two cups of water).
Stir well, scraping the bottom of the pan to loosen any sticky residue left over from browning the meat and onions.
Add 2 tablespoons worcestershire sauce and tablespoon tomato puree and 1 teaspoon salt and give it all a good stir.
Special way to get thick gravy
The next step describes how to form a thick gravy using cabbage and potatoes.
Finely shred about 1 cup of cabbage and grate the same amount of potato and add to the pan.
The shredded cabbage and grated potato are added at the start of the cooking process along with the meat, and as they cook, they disintegrate, releasing their juices and flavour. The juices from the cabbage add additional liquid to the dish, and the grated potato acts as the thickening agent.
Add the browned ribs back to the pan.
Cook in the pressure cooker for 30 minutes on the highest setting.
If you are using a saucepan on the stove, cover with a lid and allow to simmer for about 90 minutes until the meat is tender. Top up with additional stock if necessary.
Cook the vegetables
After 30 minutes, release the pressure on the pressure cooker, give it a stir and then add the rest of the vegetables.
You will need 2 or 3 potatoes and 2 or 3 carrots (depending on the size) chopped into chunky pieces. This is approximately 2 cups of potatoes and 1 cup of carrots.
For the additional vegetables, you can use any vegetables of your choice. I used broccoli florets, brussels and green beans. Chopped butternut or sweet potato would work well, as would chopped parsnips.
You will need about 2 cups in total of the additional vegetables.
If you like mushrooms you can also add 1 cup whole button mushrooms, or 1 cup chopped white or chestnut mushrooms with the vegetables.
Cook in the pressure cooker on medium pressure for 10 minutes.
If using a saucepan, add the vegetables and then simmer, covered, until the vegetables have softened – about 15 – 20 minutes.
If you find there is a lot of fat from the lamb, you can skim some of it off the top of the stew using a large spoon.
Serve
I like to serve this lamb stew with slices of chunky bread to mop up the juices. You could also serve it over rice. See these links for how to cook rice in the oven, or how to cook rice in the microwave.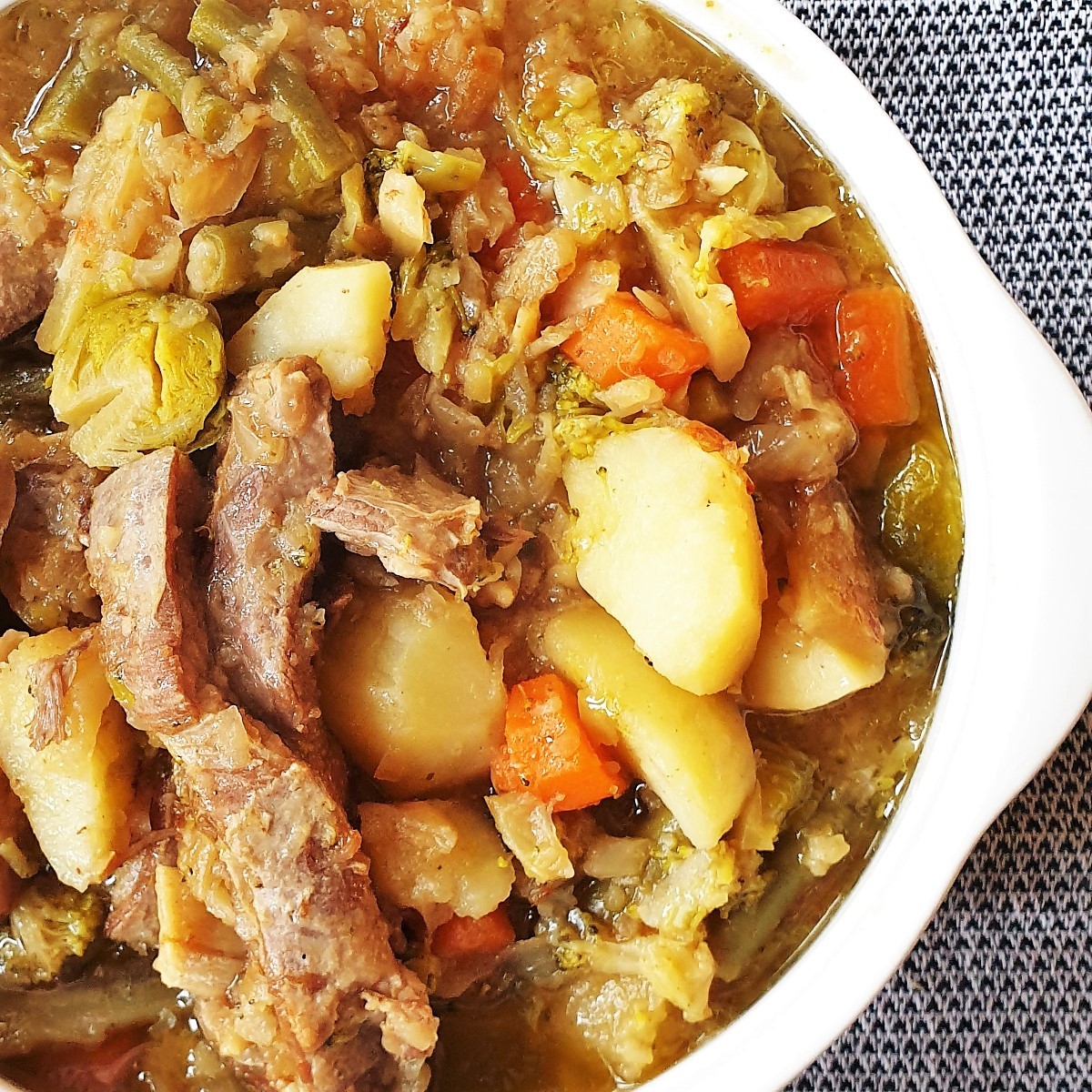 Make it in a slow cooker
If you would like to make this meal in a slow cooker, here is how to do it.
Brown the meat, onions and celery as per the instructions above and then transfer to a slow cooker with the grated potato and shredded cabbage and 2 cups of stock. Add the rest of the vegetables.
Cook on low for 6 to 7 hours (my meat was cooked on low and took 6.5 hours). You could also cook on high for 5 to 6 hours.
If you want to keep up-to-date with my latest recipes why not follow along on Facebook or Pinterest. And don't forget to subscribe to my mailing list so you can get your FREE COOKERY BOOK
Additional resources
Don't forget to check out my handy Cookery Conversion Calculator if you want to convert any of your recipe measurements from grams to cups, ounces, tablespoons or millilitres and vice versa. You can also use the calculator for converting oven temperatures between Fahrenheit, Celsius, and Gas marks.
If you live at a high altitude you may find you need to adjust your baking recipes to compensate for this. You can read all about it in this post on baking at high altitudes.
Pin for later
Why not pin this recipe for lamb bredie so you can make it later.
Recipe – Lamb Bredie (Lamb Stew)
If you made this recipe and enjoyed it, I'd love it if you could give me a star rating in the comments below. And if you'd like to get in touch, you can email me at [email protected]. I'd love to hear from you. And don't forget to subscribe to my mailing list so you can grab yourself a copy of my FREE COOKBOOK!
If you'd like to continue browsing, just click on this link to all my recipes.