This has got to be the quickest and easiest wholemeal soda bread recipe ever. Just pop you ingredients into a bowl and give them a quick mix. Shape into a ball, flatten slightly and pop in the oven. No kneading, no yeast, no waiting for it to rise – just mix and bake. Even a child could do it!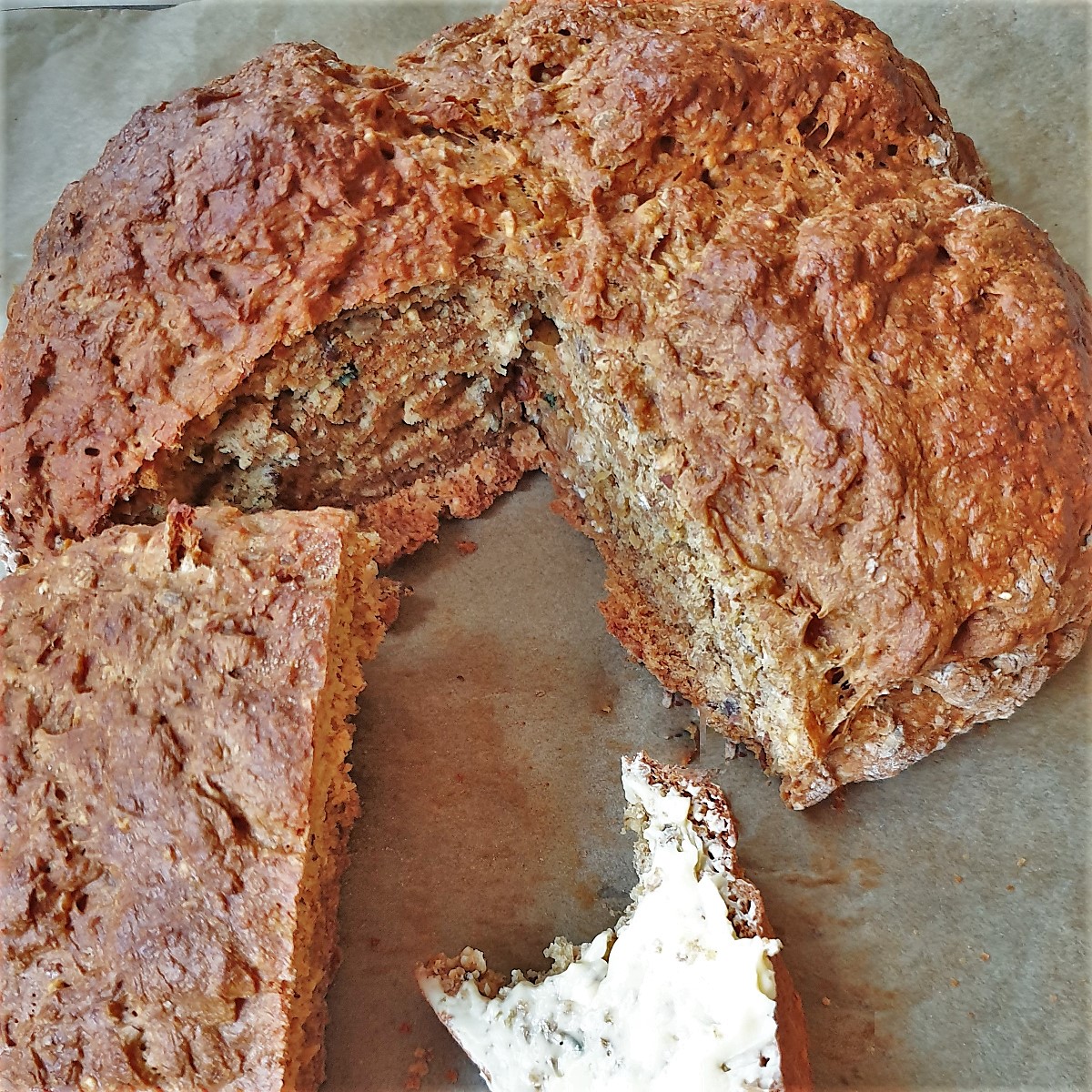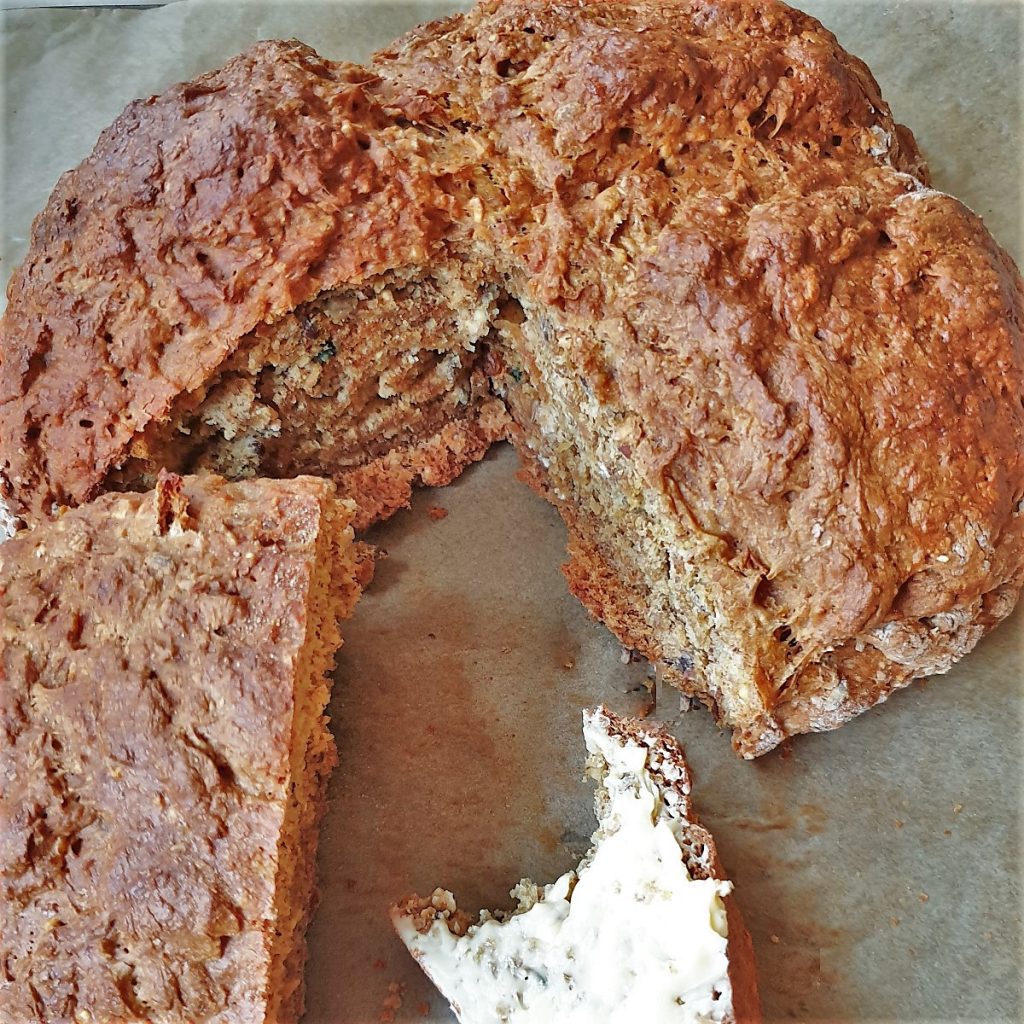 **As an Amazon affiliate, I earn from qualifying purchases.**
Easy wholemeal soda bread
This has got to be the easiest soda bread recipe EVER! It is so simple to make, even a child could do it. But it tastes out of this world. It has a light chewy interior, with a crispy crust that wouldn't be out of place in an artisan bakery. But it only takes minutes to mix.
The beauty of this wholemeal soda bread is that you don't need any yeast, so you don't have to knead, and there's no waiting for the dough to prove. Just mix and bake.
This has to be my favourite wholemeal soda bread recipe. I made a loaf the other day to go with my homemade beef vegetable soup. I must say, even I was surprised at how well it turned out. The coarse, grainy texture of the bread soaked up the soup beautifully, but the firmness of the crust kept the bread from breaking off and falling back in the soup!
Normally, I find that quickbreads tend to go stale, and become unappetising the next day. But not this one. I mixed some leftover chicken with my homemade mayonnaise, and spread onto slices of the wholemeal soda bread the next day, and made a pile of open sandwiches for lunch. There wasn't a crumb left!
The secret is in using a mixture of half and half wholemeal and plain flour. The wholemeal flour provides the nutty texture that is characteristic of wholemeal bread, whereas the plain flour provides the gluten that give the bread it's strength and rise. Bread made with just wholemeal flour does not rise as much as bread made with white flour, because the wholemeal contains shards of grain husks, which cut through the gluten. Combining white flour with wholemeal flour acts to combat this. In addition, the plain flour provides a lighter texture than wholemeal flour alone.
How to make easy wholemeal soda bread
You can get the complete recipe including detailed instructions on how to make this wholemeal soda bread on the printable recipe card at the end of this post.
Prep time – 10 minutes
Baking time – 40 minutes
Yield – 1 small loaf
For the soda bread you will need a 175g wholemeal flour and the same amount of plain flour. Place this in a mixing bowl with 1 teaspoon salt, 1 teaspoon bicarbonate of soda and 1/2 teaspoon of baking powder.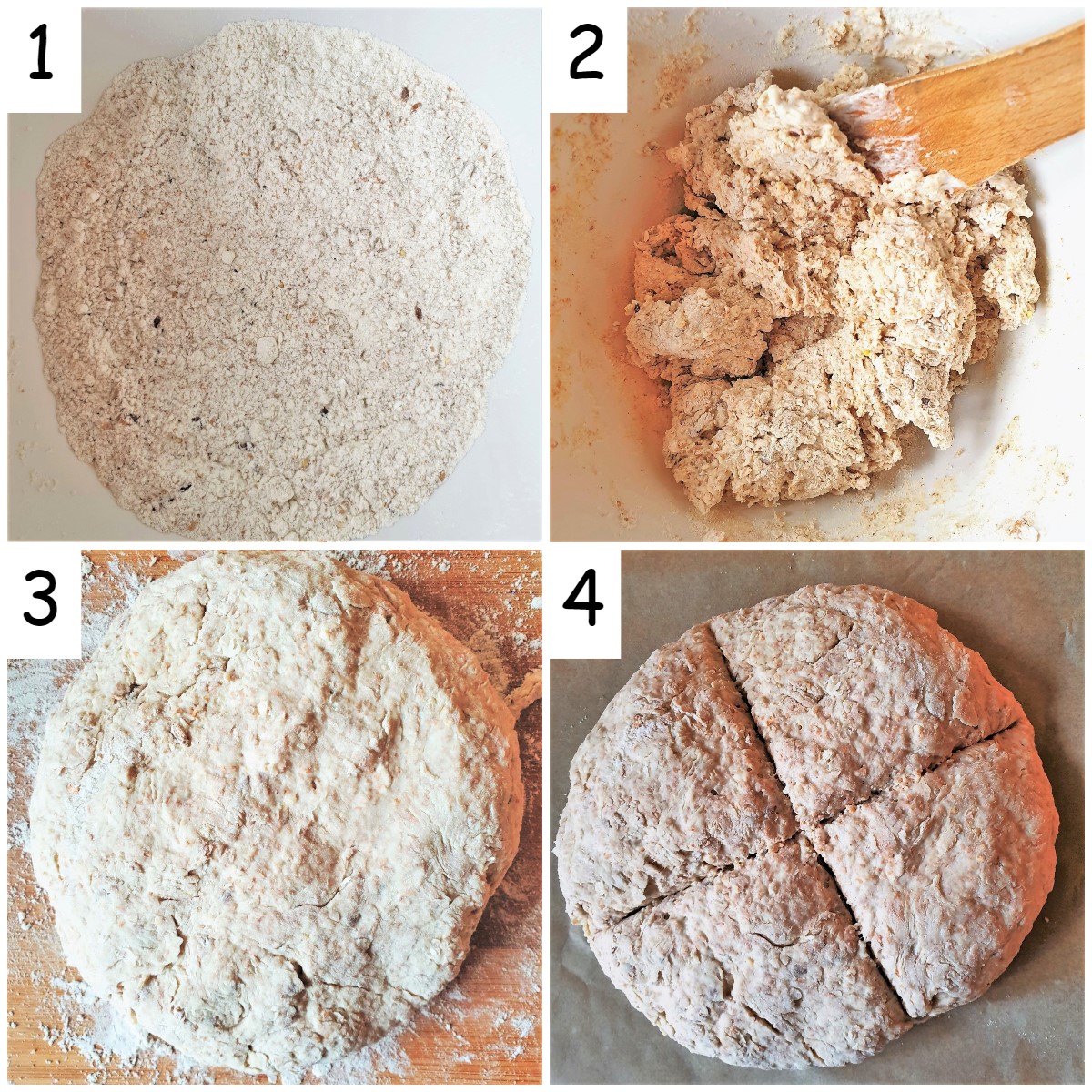 Don't be tempted to swap out the bicarbonate of soda for extra baking powder. This bread is called soda bread for a reason. We are going to be mixing in buttermilk, which reacts with the bicarbonate of soda to form tiny bubbles of carbon dioxide. This is what makes the bread rise.
Pour in 300 ml buttermilk and mix until just combined.
Tip out the mixture onto a lightly floured board and knead lightly until it comes together in a ball. Flatten slightly and cut a deep coss into the top of the dough.
Place the dough on a baking tray lined with a sheet of baking parchment and lightly with milk.
Place the baking tray in a preheated oven (190C / 375F) for 40 minutes. The loaf will be cooked when a wooden skewer inserted into the thickest part comes out clean, or when the loaf sounds hollow when tapped underneath.
Remove from the oven, cover with a cloth and allow to cool.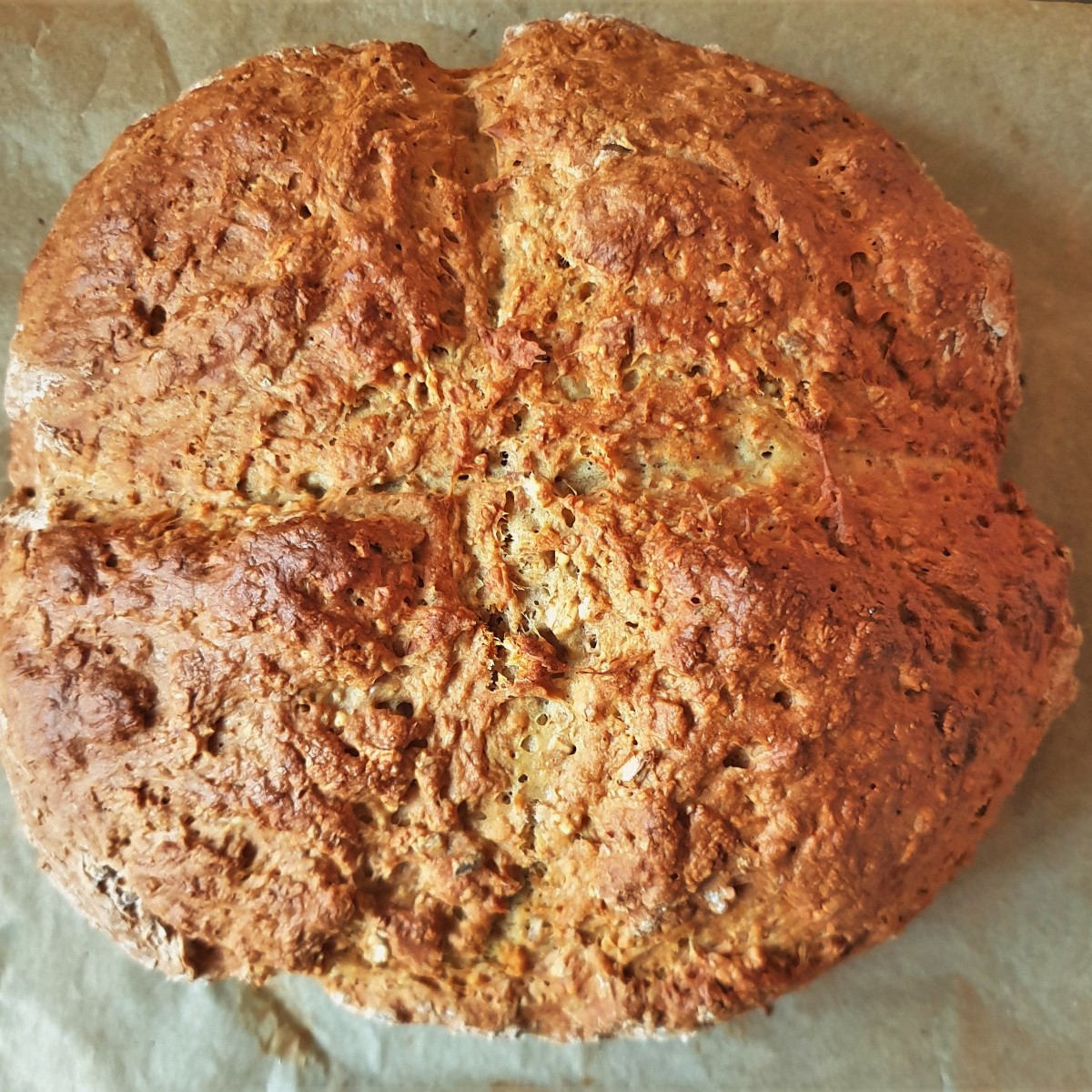 Note – this soda bread does not rise a great deal, but what it lacks in height it makes up in taste and texture.
If you'd like to be notified of any new recipes, why not subscribe to my newsletter. As a thank-you gift, you will receive a free recipe e-book containing some of my most popular cakes and desserts.
Pin for later
Why not pin this recipe for easy wholemeal soda bread so you can make it later.
Recipe – Easy wholemeal soda bread
If you made this recipe and enjoyed it, I'd love it if you could give me a star rating in the comments below. And if you'd like to get in touch, you can email me at [email protected]. I'd love to hear from you. And don't forget to subscribe to my mailing list so you can grab yourself a copy of my FREE COOKBOOK!
If you'd like to continue browsing, just click on this link to all my recipes.