This no-knead crusty homemade bread is the real deal – crusty on the outside, but soft and chewy on the inside. You could quite easily pass this off for a loaf bought from a fancy bakery, but all it takes to make this bread is 5 minutes of mixing time and absolutely no kneading whatsoever. This delicious loaf is great for sandwiches, is ideal for soaking up soups and gravy and freezes like a dream.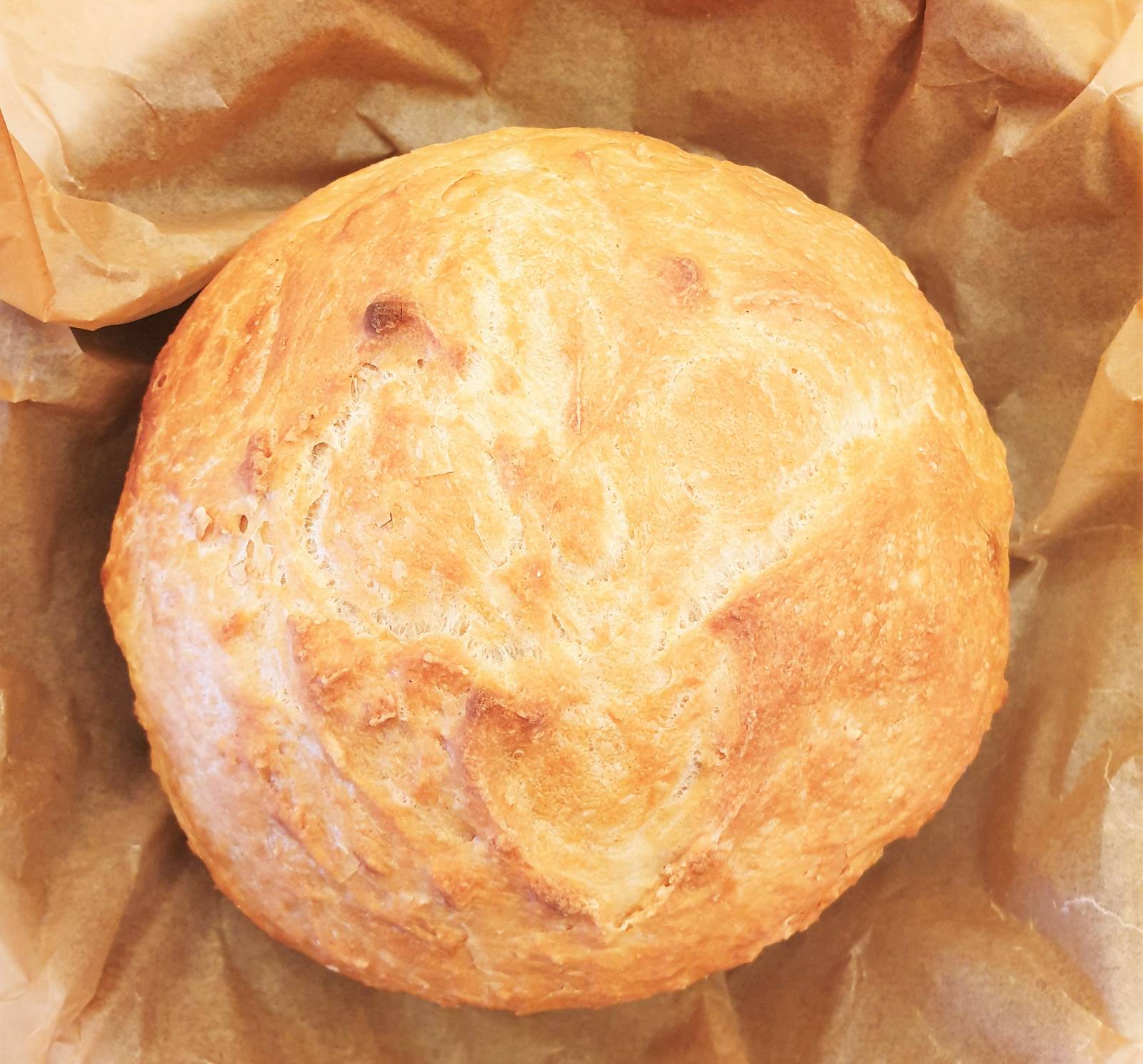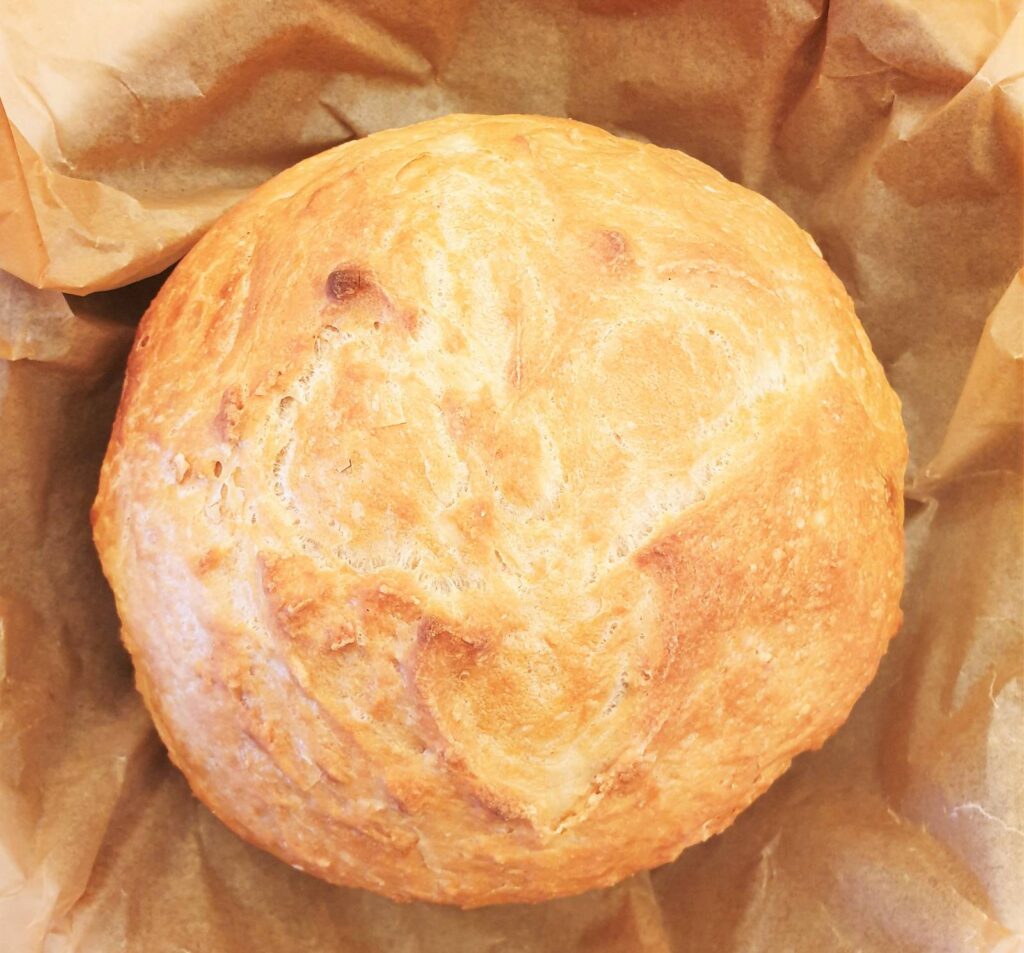 **As an Amazon affiliate, I earn from qualifying purchases.**
Easy mix no-knead crusty homemade bread with yeast
Well, that's a bit of a mouthful for a heading, but then again, so is this delicious crusty homemade bread. I'm absolutely delighted to have finally perfected this recipe.
This has to be the easiest recipe ever for bread made with yeast.
there is absolutely no kneading required – all you do is mix the ingredients together so they are just combined and then leave the dough to rest.
once the dough has rested and is well-risen, pop the dough into a pre-heated cast-iron Dutch oven and bake for 30 minutes with the lid on, then remove the lid from the Dutch oven and bake for a further 10 to 15 minutes until the bread is nicely browned and crusty.
don't worry if you don't have a Dutch oven – I'll show you how to bake this bread in the normal way too!
This is quite a long post, so if you would like to skip directly to the recipe, just click the 'scroll to recipe' button at the top. However, I do recommend you read all the way through because I've added lots of tips and hints to help you make the best crusty homemade bread possible.
Tips for making the perfect crusty homemade bread
Get your ingredient ratios right
I can't stress enough how important it is to use a scale to measure the ingredients. If you get the ratio of water to flour wrong then your dough will either be too sticky or too dry.
One cup of water will always be one cup of water. However I have tried many times to get a consistent flour measurement using measuring cups, but it is almost impossible to get the exact weight every time.
Depending on whether the flour has been sifted, and also on how tightly packed the flour is in the cup I can get a weight that ranges from 125 grams (4.4 ounces) right up to 160 grams (5.6 ounces) with the same cup.
In all my recipes I assume one cup of flour weighs 140 grams (4.9 ounces) and my conversions are tested and based on this.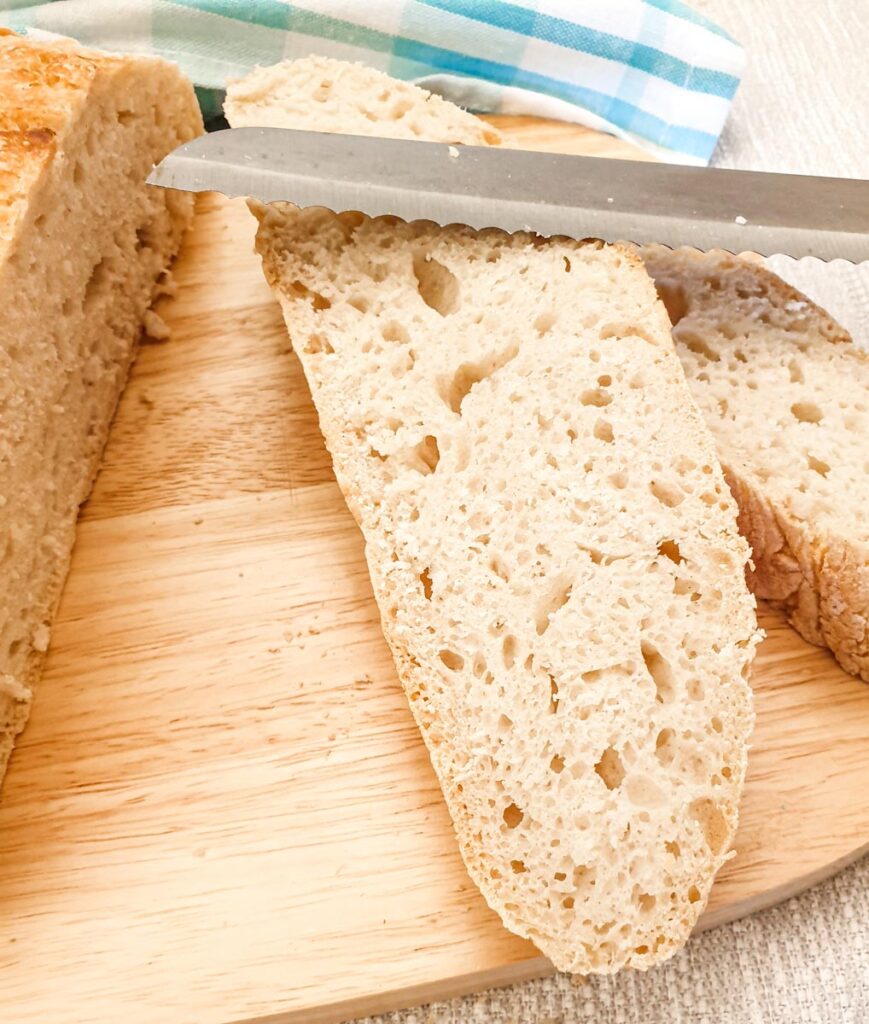 Let the dough rest and rise
The dough needs to rest and rise for at least 2 hours, but you can leave it resting in the fridge for longer – even up to 3 days.
This gives the yeast time to work its magic on the flour, converting the starch into simple sugars. These simple sugars then produce carbon dioxide (in a process called fermentation) which causes the bread to rise and form the signature holes in the dough.
If you are in a hurry you can get away with a 2-hour rest/rise. I made the loaf in this recipe after 2 hours and the pictures show the result. However, you do get a better rise and also a better flavour if you leave the dough to rest for longer.
Cover the dough as it rises
This may sound obvious. However, if you don't cover the bowl of dough the surface will dry out and form a 'skin' on top. This will affect the texture of the finished dough as the skin will get folded through the dough before baking.
Always cover the bowl of dough with a sheet of plastic wrap (or a large plate) to prevent this from happening.
Use strong white bread flour
This type of flour contains the most protein which forms the strands of gluten. It is the development of gluten that gives the bread its structure and helps to form the holes in the texture.
Cake flour, or all-purpose plain flour, contains less gluten so you won't get quite so much of a chewy texture which is characteristic of this particular crusty bread recipe.
Bake this bread in a steamy environment
A steamy baking environment encourages a crustier surface. You can do this in one of two ways:
bake the bread in a Dutch oven. The tightly fitting lid prevents steam from escaping and mimics the effect of a commercial steam oven.
place a tray of hot water in the bottom of your oven which will create a steamy environment for the bread to bake in.
Be gentle with the dough
Handle the dough as little as possible once it has risen. You've waited a long time for the dough to rest and form bubbles of air – you don't want to knock all the bubbles out again!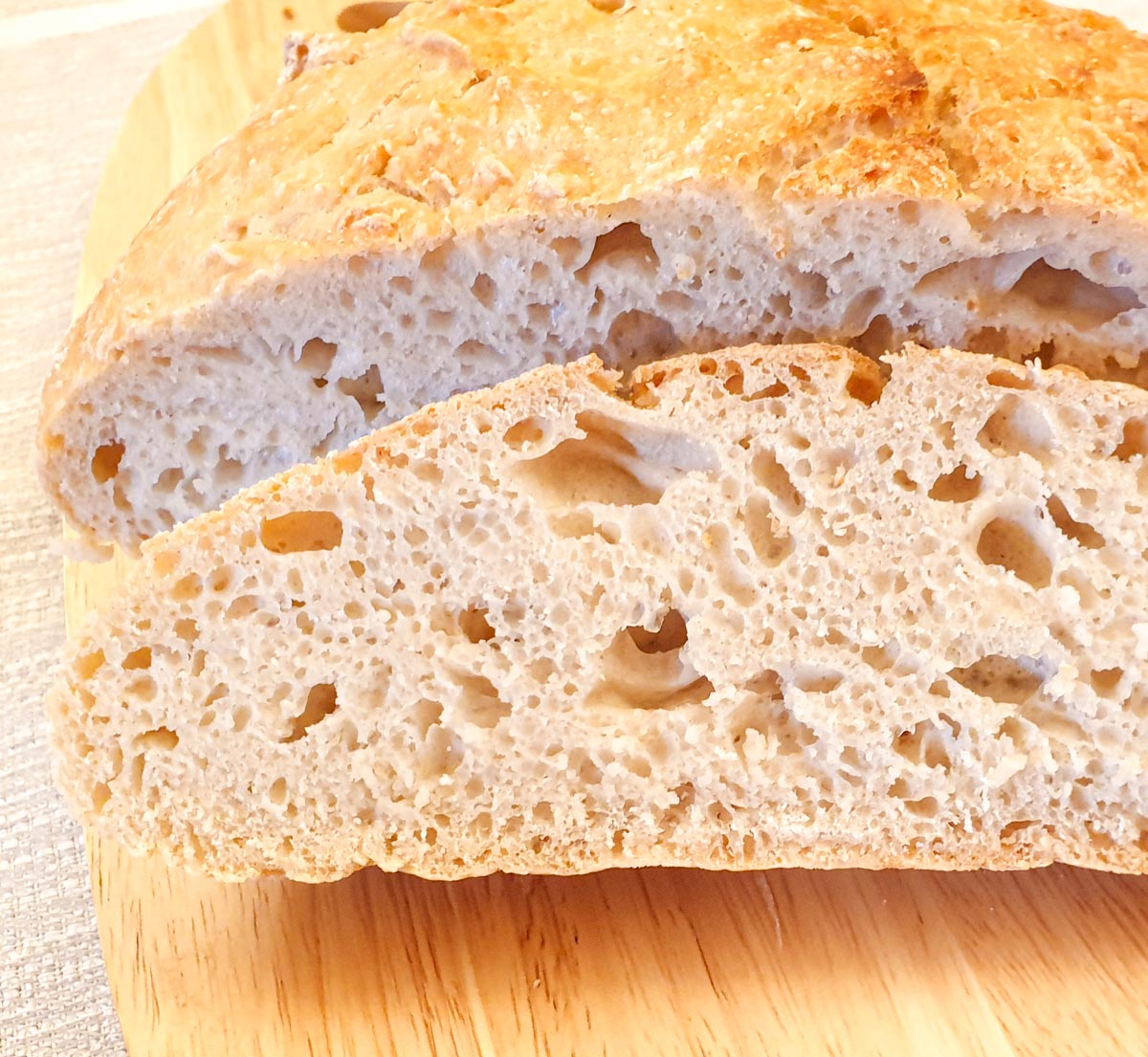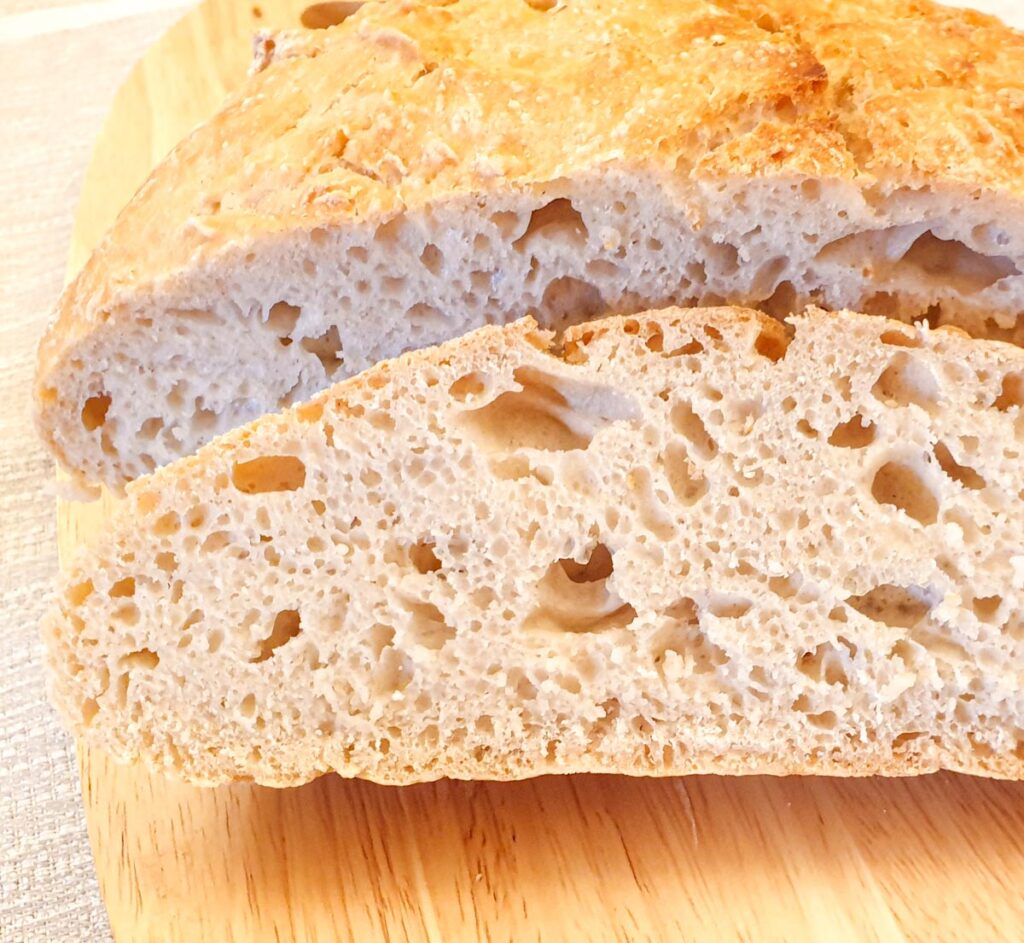 How to make crusty bread
**Get the exact ingredient quantities and full instructions for making crusty bread on the printable recipe card at the end of this post**
In a nutshell, mix, allow to rise and bake. It couldn't be easier 🙂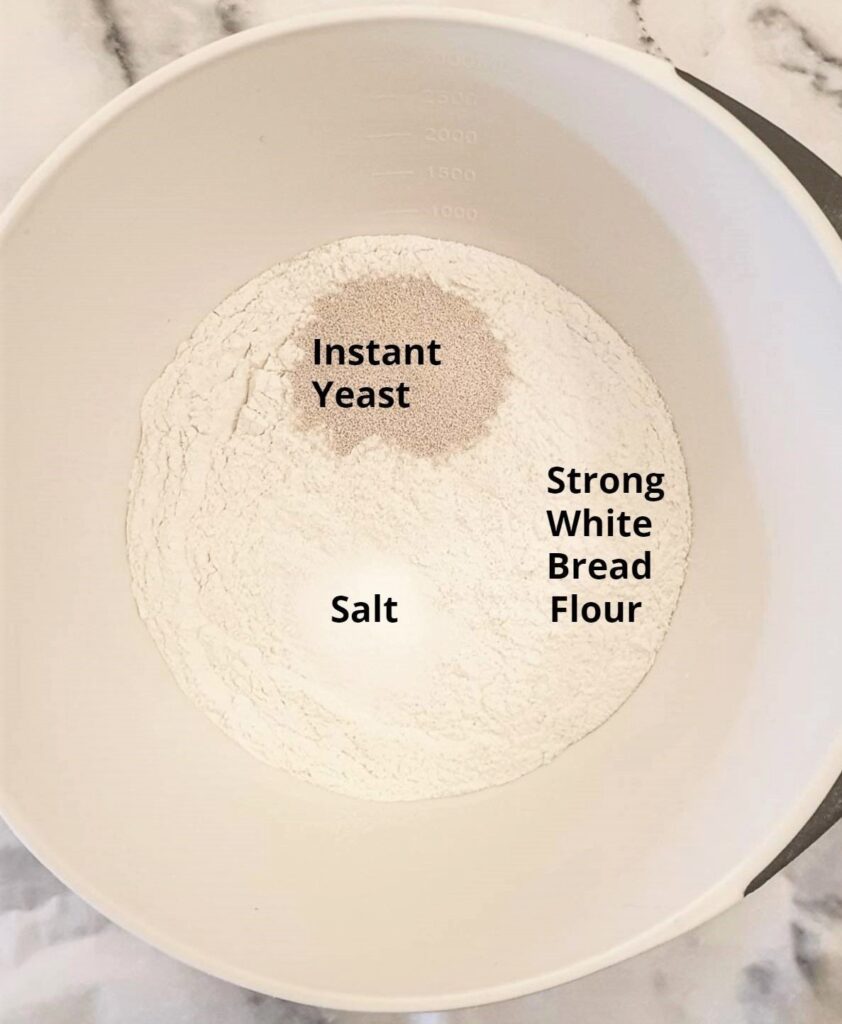 White bread flour – use bread flour rather than cake or all-purpose plain flour. This will give a better structure and texture to your bread. Don't use self-raising flour either. Self-raising flour contains baking powder which we don't need as the yeast in this recipe takes care of the rising.
Instant yeast granules – these are sold in sachets in the UK, but if you do a lot of baking with yeast you can also buy it in larger tins, which are more economical. One sachet weighs 7 grams and is the equivalent of 2 teaspoons. This yeast is in granular form and can be added directly to the dry ingredients. I haven't tried this recipe with any other type of yeast.
Salt – I do think that salt improves the flavour of the bread. You can omit it if you prefer – it won't make any difference to the final look and feel of the bread, only the flavour will be different. I use normal table salt.
Water – the ratio of flour to water is 1 and a quarter cups of water to every 3 cups (420 grams) of flour, based on a US measuring cup of 240ml capacity. UK measuring cups are slightly larger at 250ml capacity so if you are UK-based please take note of this. I have included the millilitre measurements in the recipe.
Mix and let rise
Measure all of the dry ingredients into a mixing bowl (1). Use a bowl that is large enough to allow the dough to rise. The bowl should be at least 4 times as big as the initial ball of dough.
Add the water and stir with a spatula or wooden spoon until the dough comes together in a shaggy ball (2 and 3). Don't overmix – the ingredients should just come together.
You should end up with a sticky ball of dough that sticks to your fingers if you touch it. This is what you are looking for.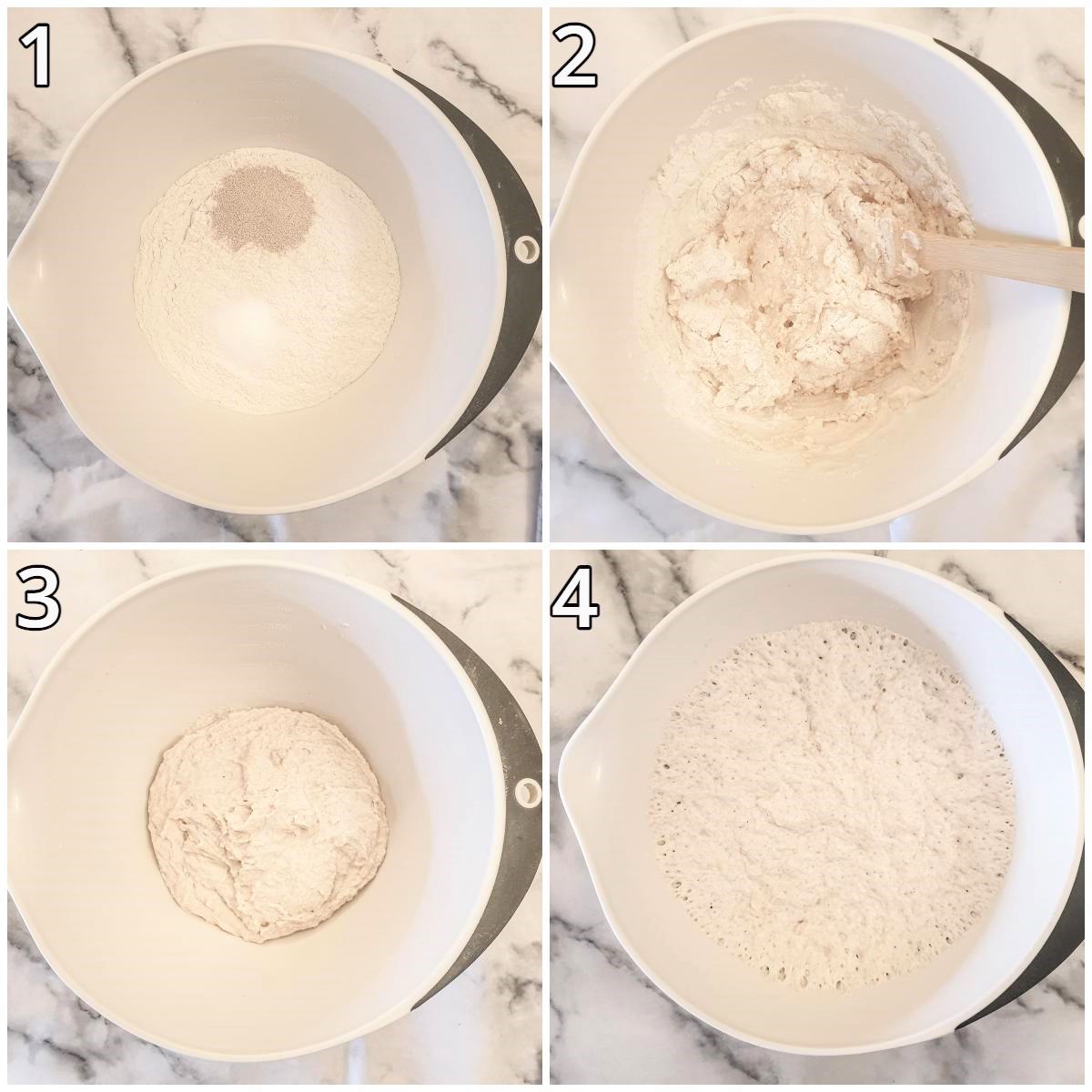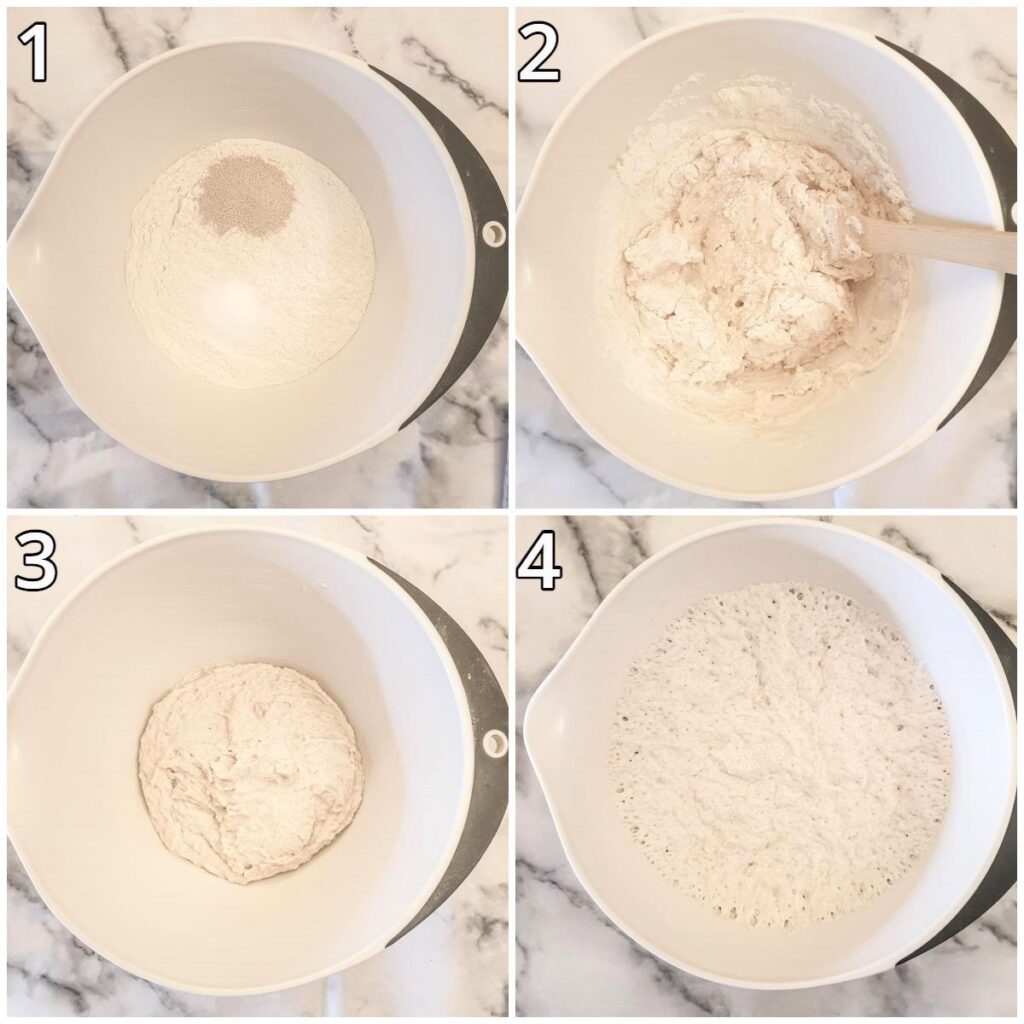 If you are going to leave the dough to rise for a long period of time (anything over 2 hours) place the bowl in the refrigerator. The dough will still rise in the refrigerator, but at a much slower rate due to the colder temperature. You can leave the dough in the refrigerator for up to 3 days.
The loaf made for this recipe and shown in these pictures was baked after a 2-hour rise, and I was very happy with the way it turned out.
Bake (with a dutch oven)
The baking temperature is 220 degrees Celsium / 425 degrees Fahrenheit
The Dutch oven should be pre-heated in the oven at this temperature for at least half an hour before you add the dough for baking (1). It will become very hot so you will need some thick oven mitts to help you handle it.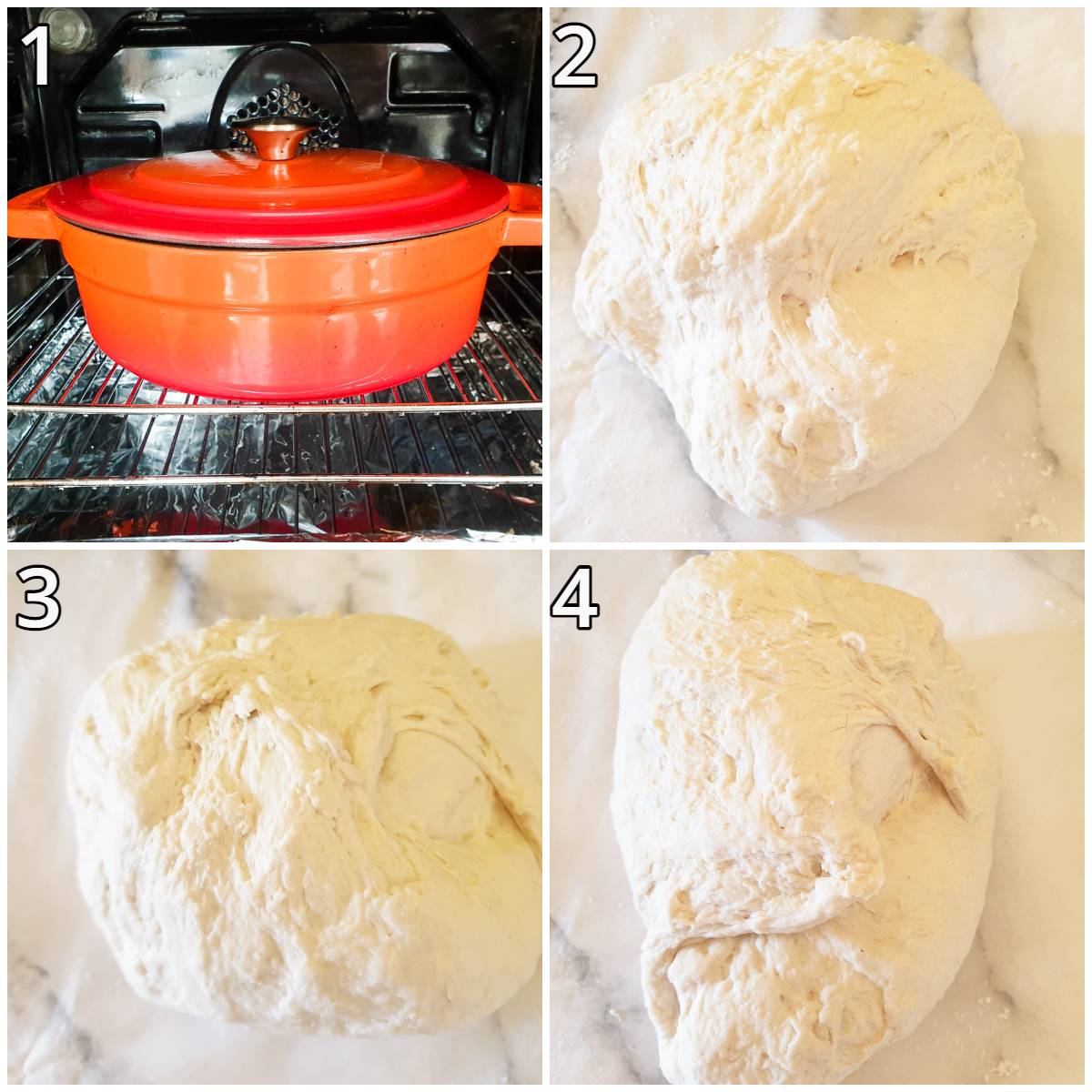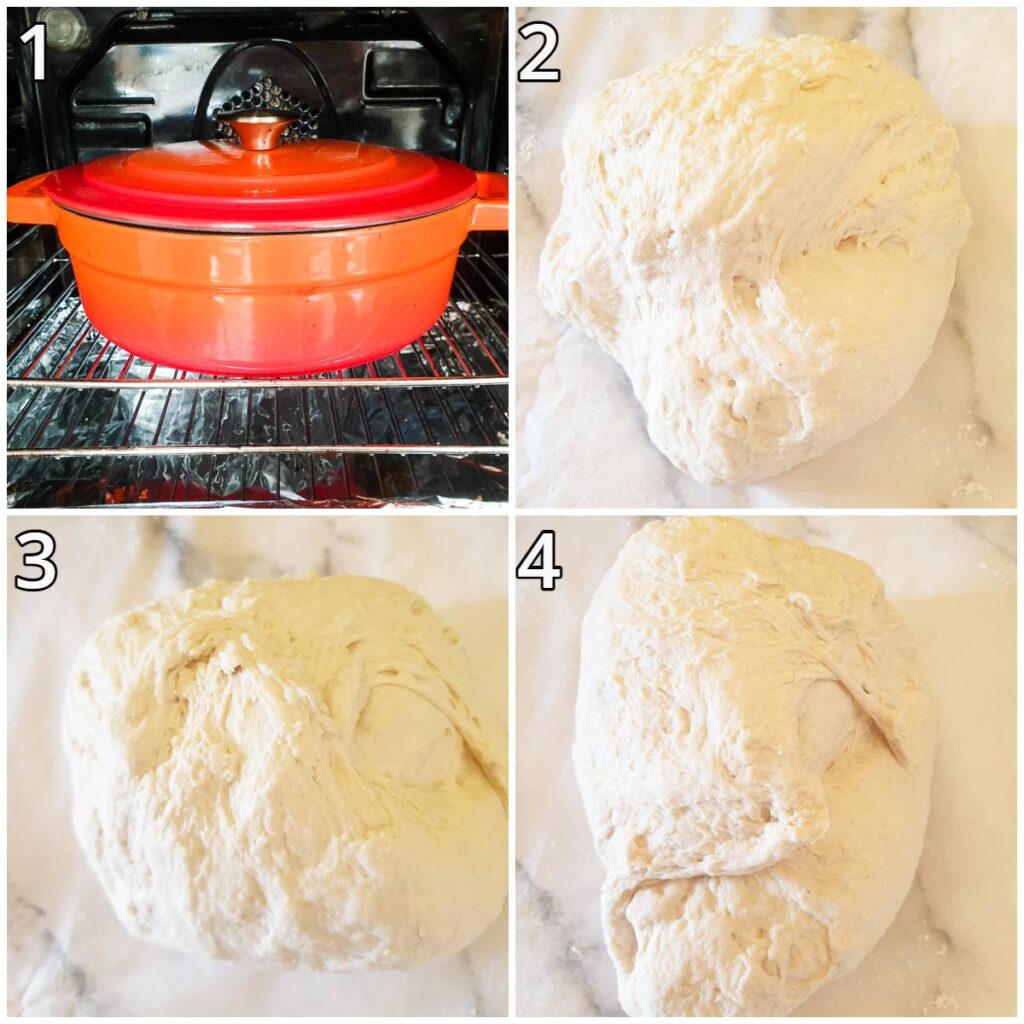 Sprinkle your work surface with a small amount of flour (1 to 2 teaspoons should be sufficient).
Using a spatula, scrape the dough from the bowl onto the flour. Sprinkle the surface of the dough with a little extra flour (1 to 2 teaspoons) to make it easier to handle. Try to use as little flour as possible.
If you have a dough scraper, you can use it to help for this next step, or continue to use a spatula. Put the dough scraper under the dough and then pull the dough up and fold it over itself. Give the dough a quarter turn and fold up again. Repeat until you have folded the dough all the way around (I've tried to illustrate this in steps 2, 3 and 4 above). Repeat the fold and turn steps until you have a smooth ball of dough – two or three times around should be sufficient.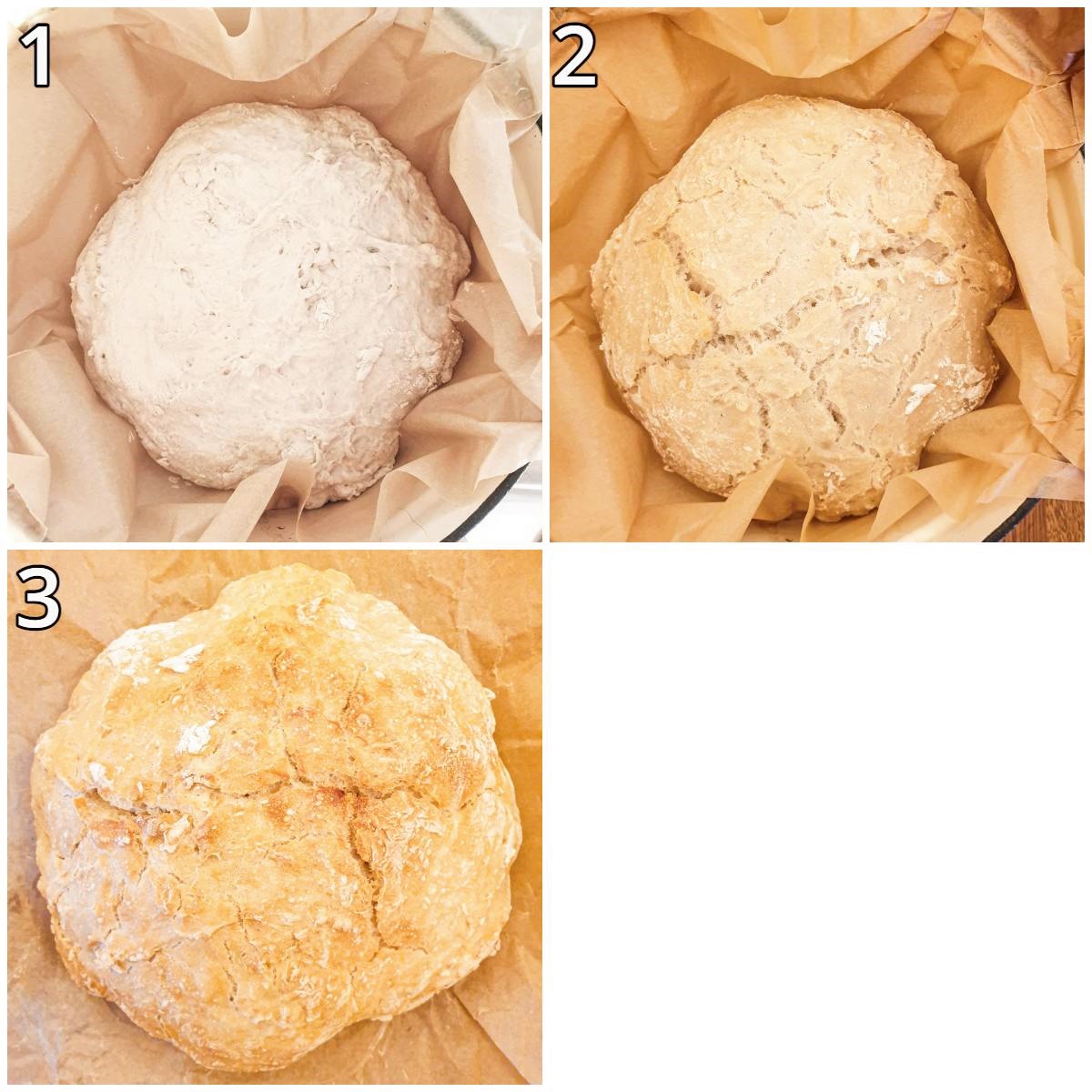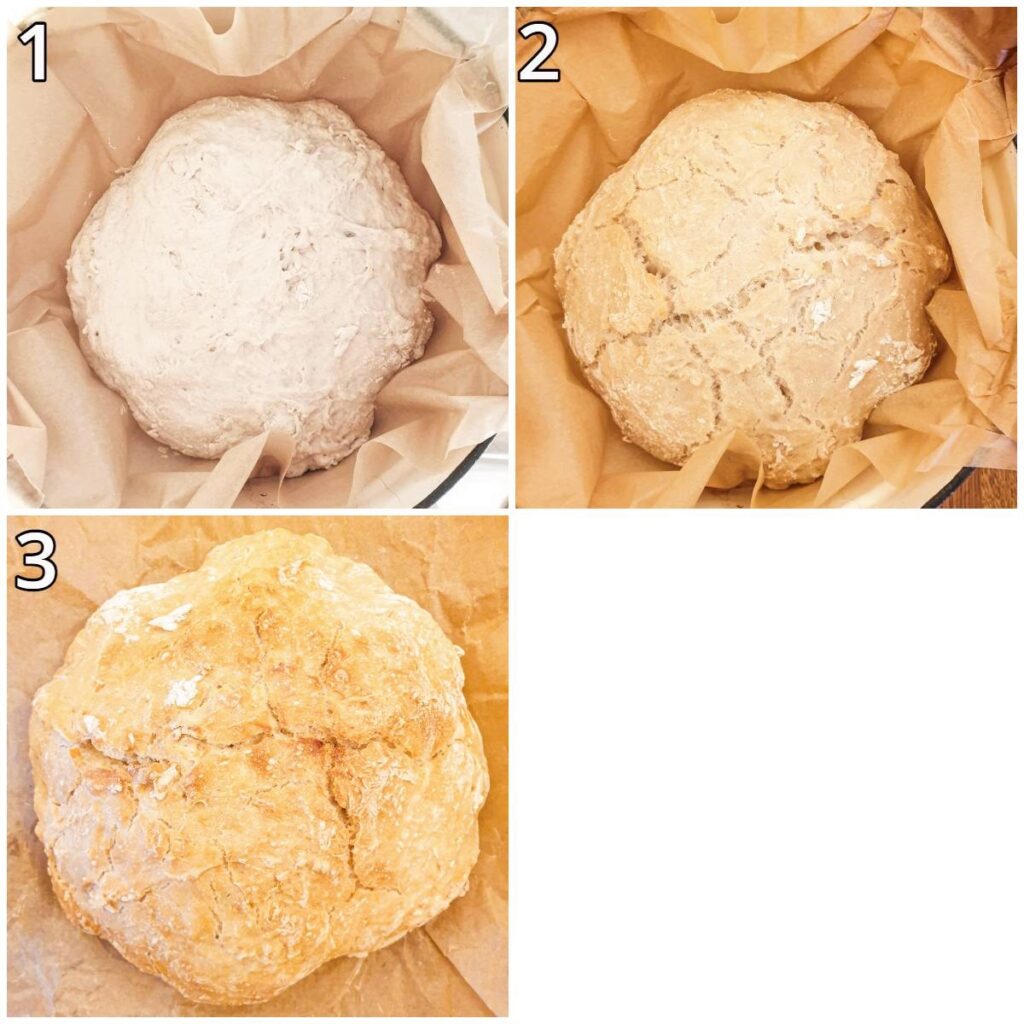 Transfer the ball of dough to a sheet of baking parchment, form it into a roughly circular shape and carefully lower the paper with the dough into the hot dutch oven (2).'
If you would like to score the top of the loaf, you can do this using a sharp knife (see Bake (without dutch oven) below). I didn't bother.
Cover the dutch oven with the lid and bake for 30 minutes (3).
After 30 minutes remove the lid and bake for another 10 to 15 minutes until the loaf is nicely browned and crusty (4).
Remove from the oven and allow to cool before slicing. This cooling process is very important as it allows the hot inside of the loaf to 'settle'. If you cut into the loaf before it has cooled properly you may find it is still 'doughy'.
Bake (without a dutch oven)
If you don't have a cast iron dutch oven you can still create a steamy atmosphere in your oven by placing a tray of hot water on the bottom shelf of the oven and leaving this in the oven as the bread bakes.
Warning – this step creates quite a bit of steam, which will be boiling hot. Be extremely careful both when putting the bread into the oven, and also when taking it out, not to burn yourself (as I did) on the hot steam. Open the oven door and give the steam time to escape before putting the bread in or taking it out.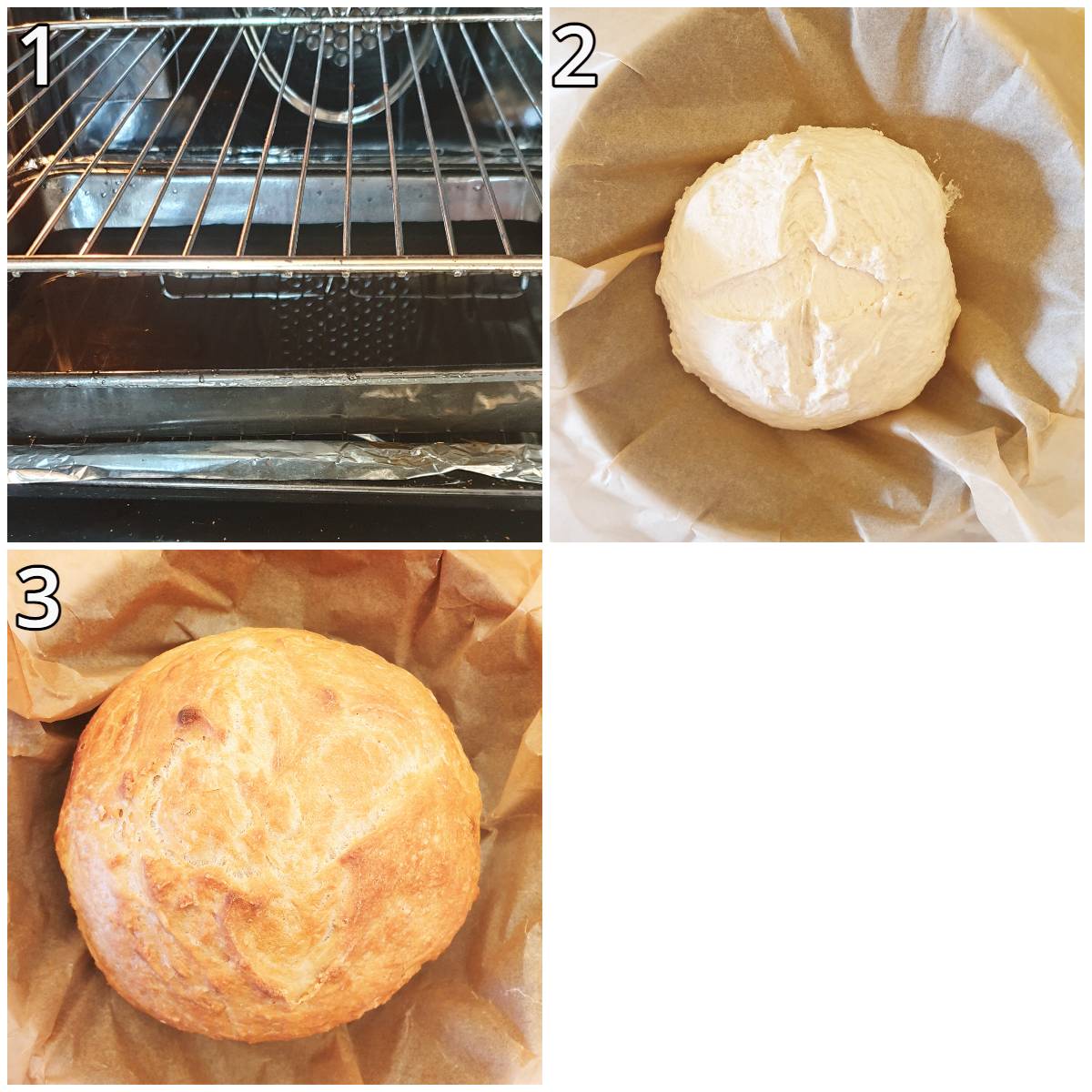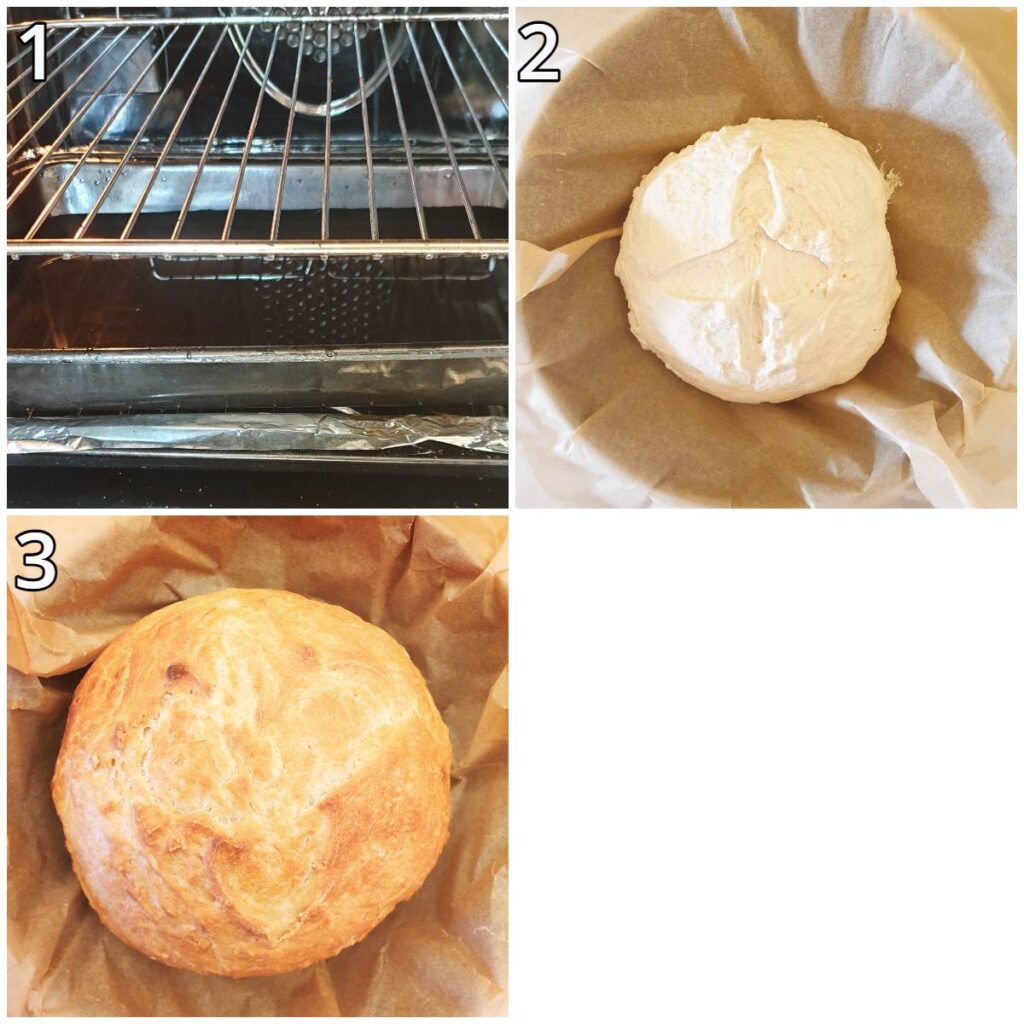 Preheat the oven to a temperature of 220 degrees Celsius / 425 degrees Fahrenheit
To shape the bread, you can do a number of things:
for a round loaf, follow the instructions for baking in a Dutch oven, but transfer the dough and baking paper to a 9″ or 10″ (23cm or 25cm) springform pan. Optionally, you can cut a cross into the top of the loaf using a sharp knife (2). Once the oven has reached temperature, place the pan into the oven. Do this as quickly as possible so that all the steam does not escape. Bake for 35 to 40 minutes and remove from the oven once nicely browned on top;
for an oblong loaf, do the same as for a round loaf, but use a 5″ x 10″ (13cm x 25cm) oblong pan;
alternatively, place the formed dough onto a baking sheet and make a 'free-form' loaf. You may find that you will need about 5 minutes less baking time for a free-form loaf. Keep your eye on it and remove it from the oven once nicely browned and crusty.
In all instances, the bottom of a properly cooked loaf will sound hollow when you tap it.
If you'd like to be notified of any new recipes, why not subscribe to my newsletter. As a thank-you gift, you will receive a free recipe e-book containing some of my most popular cakes and desserts.
Questions
Pin for later
If you would like to make this crusty homemade bread why not pin the recipe to one of your Pinterest boards so you can find it easily. Just click the image below.
Other bread recipes
You may also be interested in these other bread recipes:
The recipe
If you made this recipe and enjoyed it, I'd love it if you could give me a star rating in the comments below. And if you'd like to get in touch, you can email me at [email protected]. I'd love to hear from you. And don't forget to subscribe to my mailing list so you can grab yourself a copy of my FREE COOKBOOK!
If you'd like to continue browsing, just click on this link to all my recipes.