Why not cook up a batch of this hearty beef and barley stew to chase away the last of the winter blues. It's packed with vegetables and nutritious barley for lots of health benefits – and it tastes super delicious too.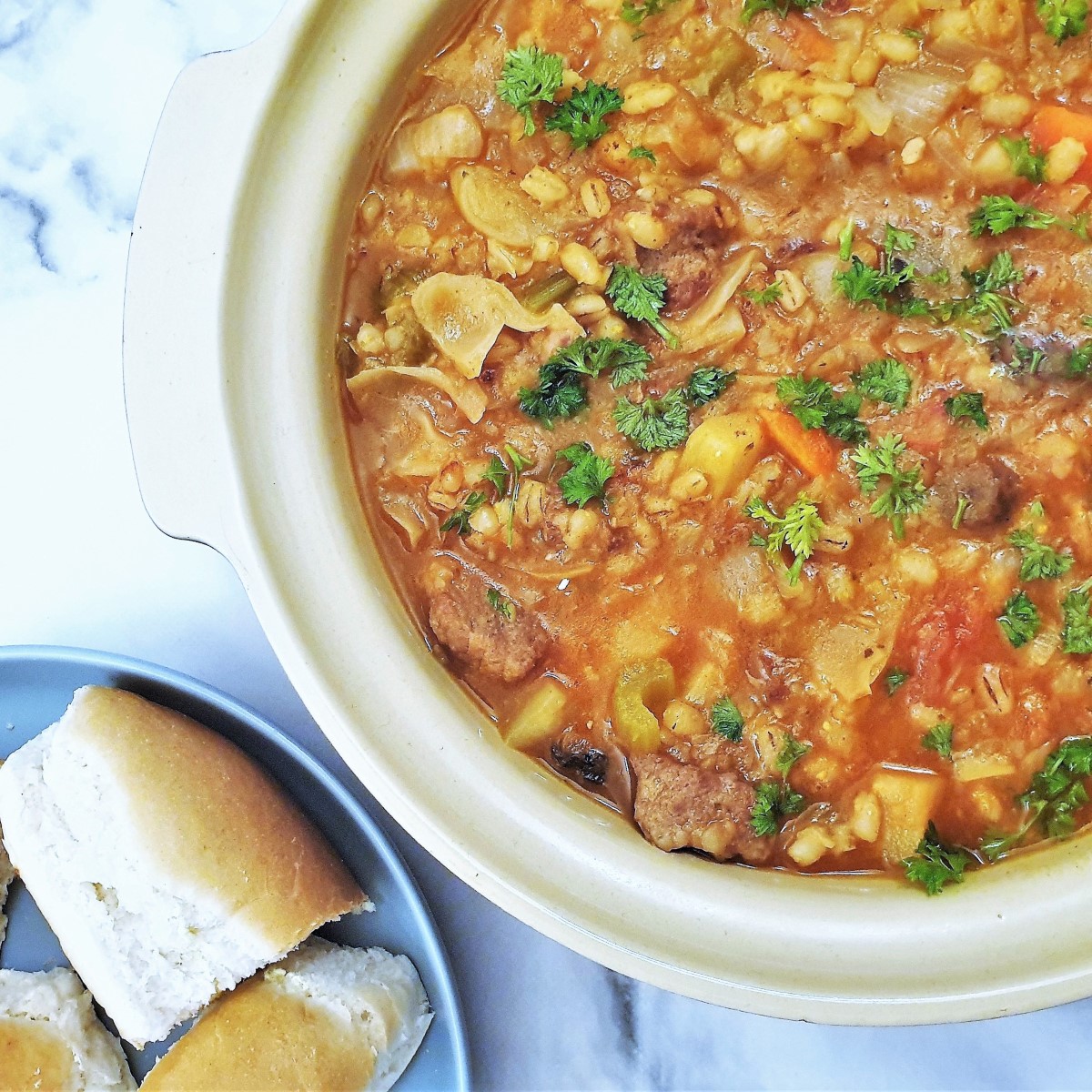 **As an Amazon affiliate, I earn from qualifying purchases.**
There's nothing nicer than a good stew…
And this beef and barley stew is one of the best! Tender chunks of beef with tasty vegetables and nutritious barley, swimming in a delicious tomato-flavoured gravy. This stew makes you want to grab a crusty breadroll and dive right in!
One thing I will say though, is don't leave out the barley. It adds a delicious nutty flavour, and an amazing texture. Barley is such an under-rated grain, and yet it provides so many health benefits. Just have a look at this article on benefits of eating barley on healthline.com if you don't believe me.
It's quite astounding what you can do with barley too. It lends itself to so many dishes. Just take a look at all these barley recipes on the BBC Good Food web site.
I've made this stew in my pressure cooker because I like how quickly I can get this stew on the table, but I've included instructions below for cooking it in a slow-cooker, in the oven and even on the stove top in case you don't have a pressure cooker.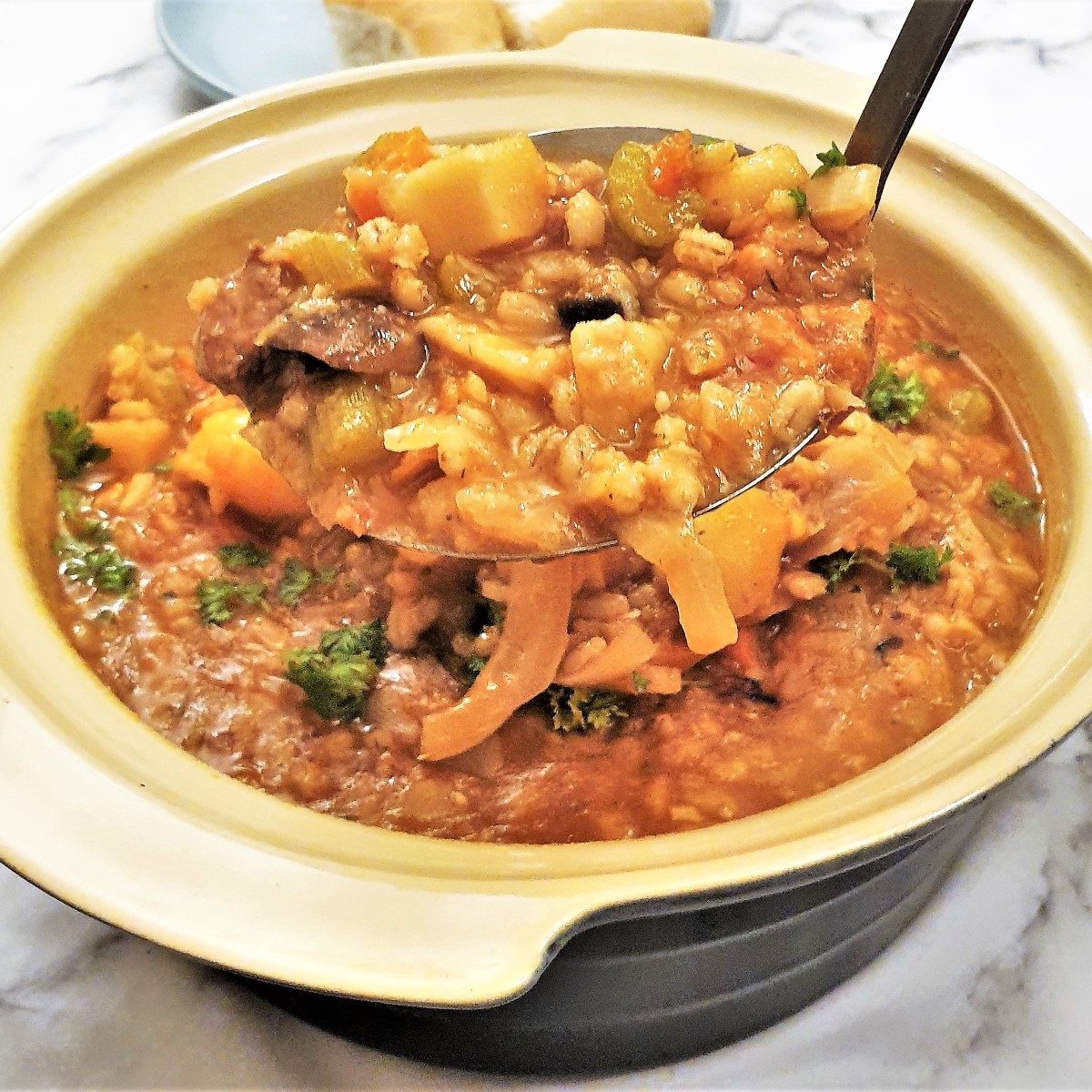 What ingredients go into beef and barley stew?
Surprisingly few actually.
This recipe feeds 4 people, but you can easily scale it up or down by adding extra meat or vegetables and adjusting the seasoning.
Apart from the beef and the barley, you will need only need some vegetables and a few spices.
You can get all measurements and full instructions from the printable recipe card at the end of this post.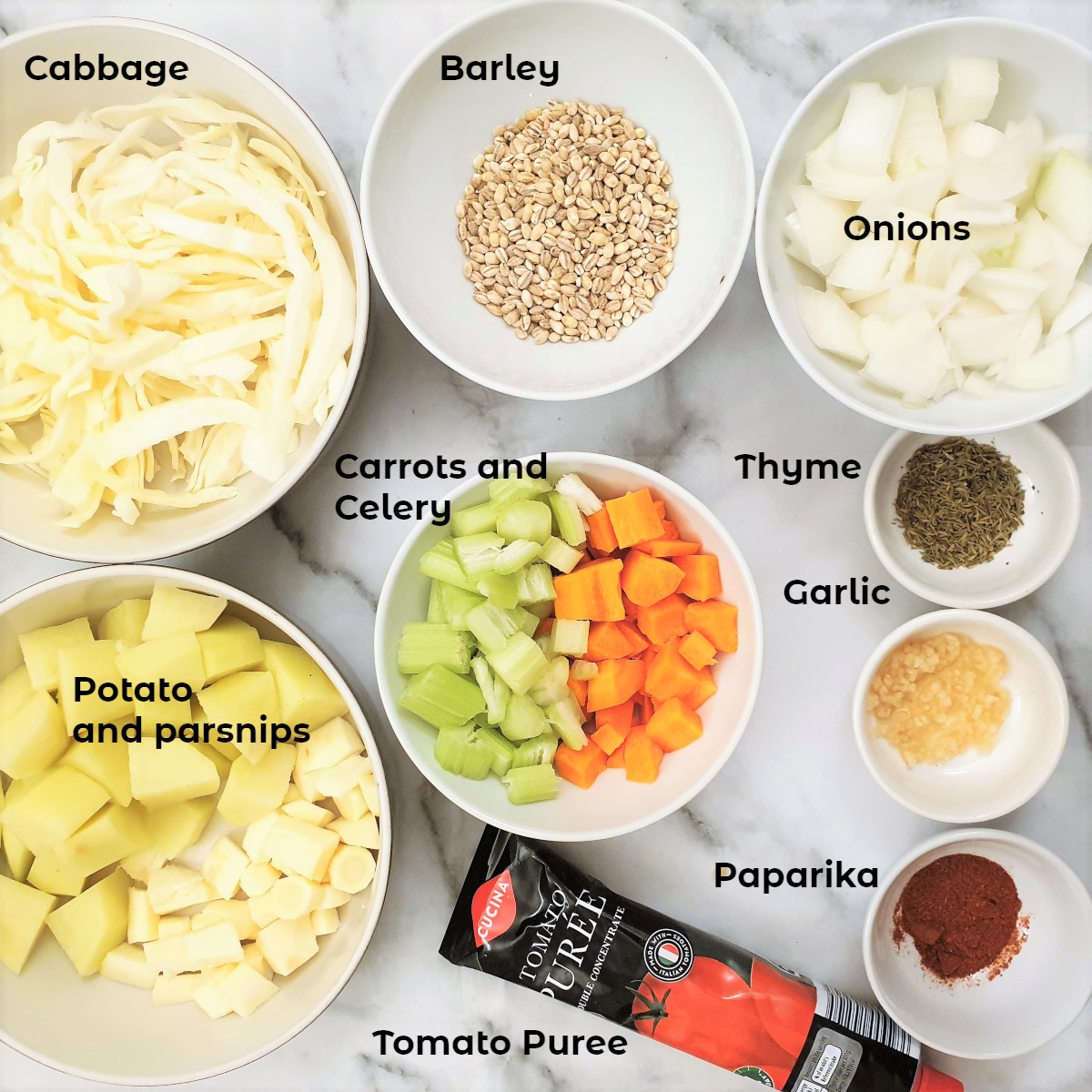 Of course, you'll need some beef (pictured below) which gets coated in seasoned flour before being browned in a frying pan to seal in all the juices. You will need between 4 and 6 ounces of beef per person (that's about 120 to 160g if you measure in metric). You can use any good quality stewing beef such as chuck, or diced topside.
The other ingredients are:
Barley – which cooks up to soft plumpness.
Vegetables – I've used shredded cabbage, onions, carrots, celery, potatoes and parsnips. For thickening the stew I like to add a grated potato as well as cubed potatoes. The grated potato cooks away to nothing, leaving only its starch to thicken stew.
You can substitute the vegetables with any vegetable of your choice. Sweet potatoes, sweeds or rutabaga, leeks, anything you have on hand. Just make sure you add approximately one cup of mixed vegetables per person.
Seasoning – I like to add paprika which adds an amazing depth of flavour to beef (I'm thinking here of Hungarian Goulash), garlic, and dried thyme. You can use fresh garlic cloves, or crushed garlic from a jar.
Stock – If you have beef stock to hand, by all means use that. Otherwise a stock cube makes a perfectly adequate substitute. Dissolve the stock cube in one and a half cups of water, and mix in the tomato puree and Worcestershire sauce.
Finally, I like to season with salt and ground black pepper. And don't forget the oil for frying the beef. You can use sunflower oil, or olive oil. It doesn't matter.
How to make it
The preparation for beef and barley stew is the same whether you are making it in the pressure cooker, in a slow cooker, in the oven or on the stove. Only the cooking times differ.
Preparation
Start off by cutting the beef into bite-sized pieces, and trimming away any visible fat (image 1 below).
Coat the meat in flour seasoned with half a teaspoon of salt and 1 teaspoon of paprika (image 2 below).
Peel the onions, carrots and parsnips. Cut them into approximately 1″ or 1/2 inch pieces.
Peel the potatoes and cut them into 2 cm or 1″ pieces. Keep one medium-sized potato aside and grate it coarsely.
Shred the cabbage.
Dissolve the stock cube in 1 cup of water and add the tomato paste and the Worcestershire sauce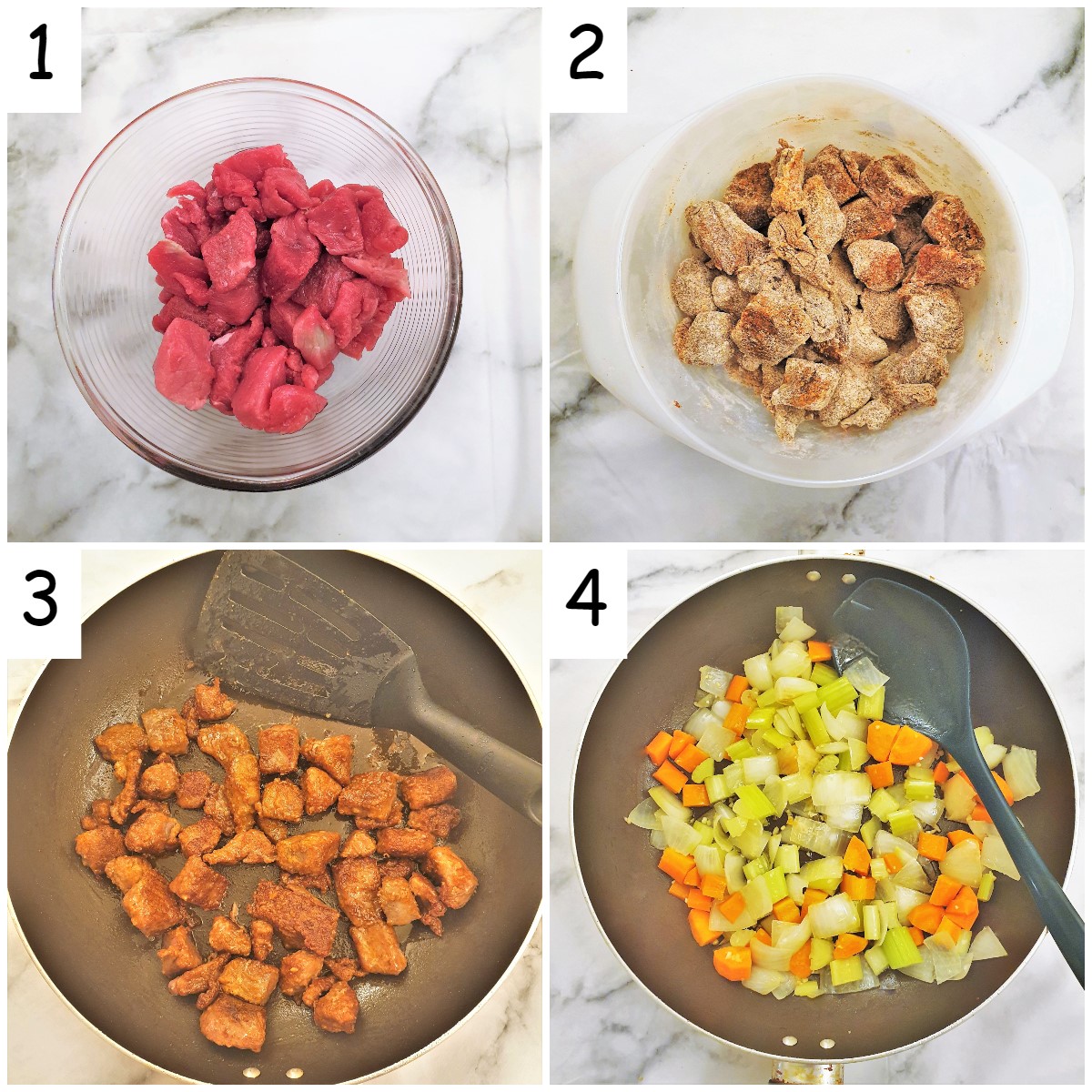 Heat the oil in a frying pan and add the meat and let it fry until nicely browned on all sides (image 3 above). Don't overcrowd the pan or you may find that the temperature of the oil drops too much and the meat may start to lose moisture and stew rather than brown. If this happens you may end up with tough meat. Rather fry the meat in batches so that the oil retains its temperature.
Once the meat has browned, remove it from the pan and set it aside,
Add a little extra oil to the pan if needed, and then fry the garlic, onions, celery and carrots until they start to soften (image 4 above). Don't allow them to brown. Keep stirring the pan to loosen any bits of meat that may have stuck to the bottom.
How to cook beef and barley stew
In a pressure cooker
Transfer the meat to the pressure cooker and add the barley, cabbage and grated potatoes.
Pour in the prepared stock and stir well.
Select the stew setting and cook for 30 minutes.
Release the steam, open the pressure cooker and add the remaining vegetables.
Select the stew setting and cook for 10 minutes.
If you have a normal pressure cooker rather than an electric pressure cooker, follow the manufacturer's instructions for cooking meat and vegetables.
In a slow cooker
Transfer the meat, barley and all the vegetables to the slow cooker.
Stir in the stock.
Leave to cook on low for 6 to 8 hours.
On the stove top
Transfer the meat, barley, cabbage, grated potato and stock to a large saucepan.
Make up another cup of stock and add this too, to allow for any evapouration.
Adjust the heat to a simmer, cover and and leave for 1 hour. Then add the rest of the vegetables and simmer for another hour.
Keep your eye on it, and top up with additional stock if necessary.
Casserole in the oven
Transfer the meat, barley, cabbage, grated potato and stock to an oven-proof casserole dish.
Cover with a tightly fitting lid and place in the oven pre-heated to 200C/400F. Leave for 1 hour and 30 minutes.
If it starts to dry out, add additional stock.
Add the remaining vegetables, stir and return to the oven for a further hour until the potatoes are softened.
Thicken if necessary
The grated potato should have thickened the beef and barley stew nicely. However, if it hasn't thickened sufficiently, make a slurry of 1 teaspoon of cornflour and 1 tablespoon of water and stir it into the stew.
If you'd like to be notified of any new recipes, why not subscribe to my newsletter. As a thank-you gift, you will receive a free recipe e-book containing some of my most popular cakes and desserts.
What to serve with beef and barley stew
This stew is so thick and satisfying that you don't really need much by way of accompaniment.
I like to serve it with slices of fresh crusty bread, or these homemade crusty Portuguese rolls.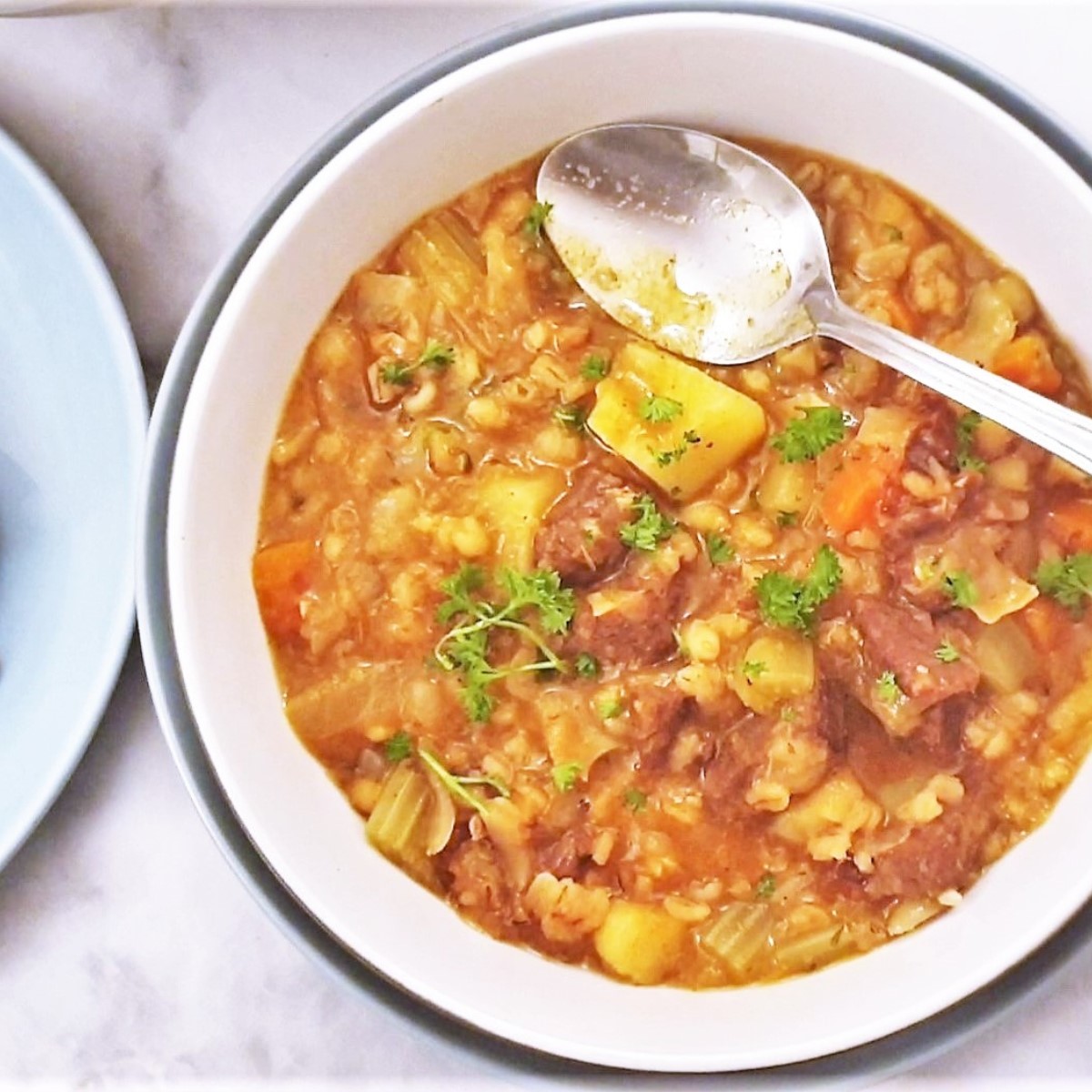 Can I freeze beef and barley stew?
Yes, you can freeze this stew for up to 4 months.
Allow to cool and pack into suitable freezer containers.
To use, defrost in the refrigerator overnight and then heat in a saucepan on the stove until piping hot.
You can also reheat the defrosted stew in the microwave.
Storage
You can store the cooled stew in the refrigerator for up to 3 days.
To use, reheat in a saucepan on the stove, or reheat in the microwave.
What is barley?
Barley is a member of the grass family, and is grown in temperate climates all over the world. It is the fourth most popular grain, after maize, rice abd wheat.
Barley is very well-suited to soups and stews, but is also used in beer and whiskey production.
Of the main different strains of barley, pearl barley is the most popular, and it is pearl barley that you are most likely to find in the supermarket.