This pork and cabbage hotpot is the perfect casserole to pop into the oven and forget about for a couple of hours. And you will be rewarded with a delicious meal of juicy pork chunks and tasty vegetables in a thick gravy covered with a layer of crispy slices of potatoes.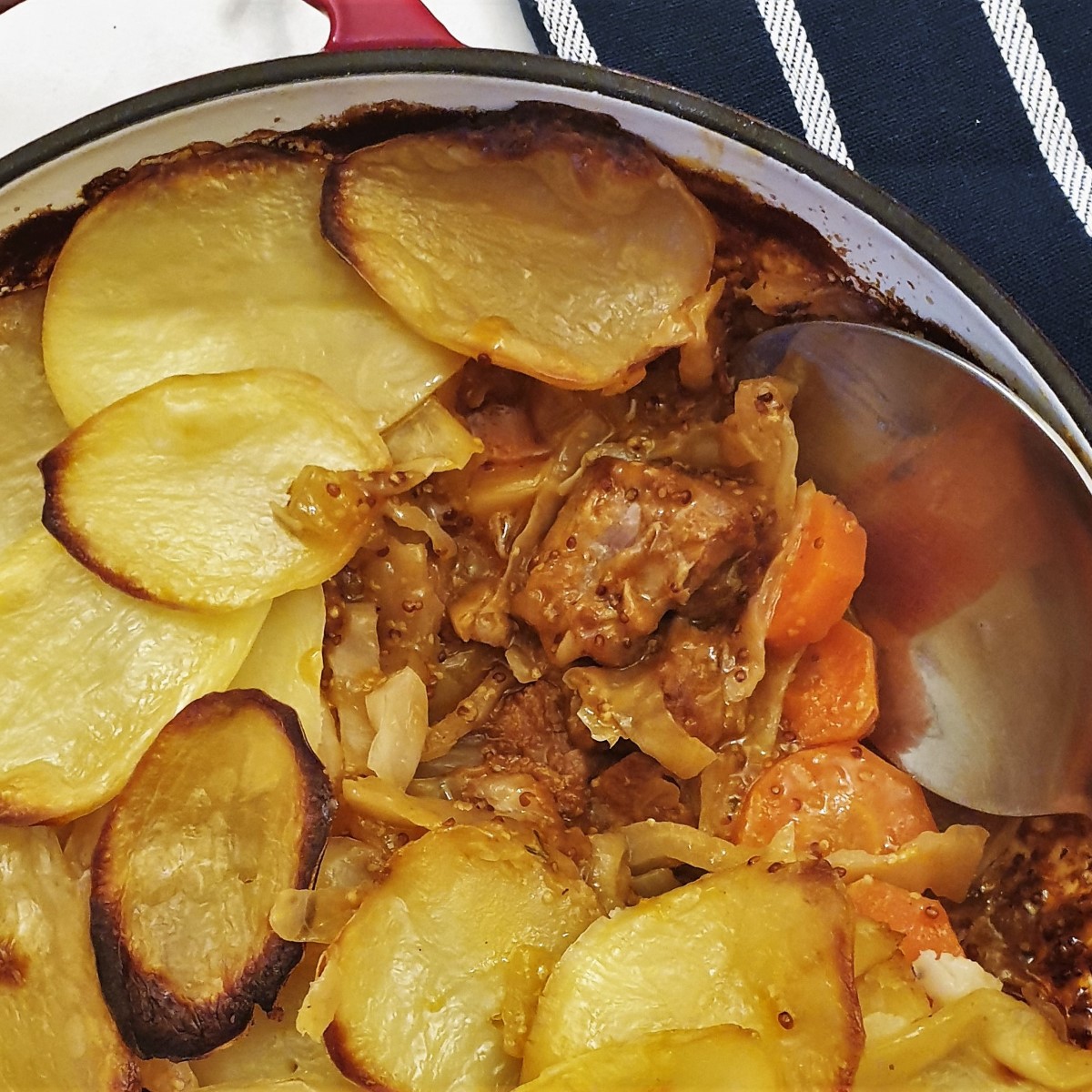 **As an Amazon affiliate, I earn from qualifying purchases.**
Pork and cabbage hotpot
Pork and cabbage pair so well together. I'm thinking of crispy Eisbein served with sauerkraut or pork meatballs stuffed in cabbage leaves.
And today, I'm sharing my favourite recipe for pork and cabbage hotpot, made with juicy chunks of pork shoulder, lots of vegetables and a sauce flavoured with apples and mustard.
I've been making this hotpot for years, and it always gets rave reviews from friends and family. There are only a few ingredients in this dish, but they all work together perfectly.
The hotpot is slow-cooked in the oven for 2 hours. During this time the shredded cabbage releases its juices which combine with the apples and mustard to form an amazing gravy, while the connective tissue in the pork shoulder melts away, leaving the meat soft and fork-tender.
The sliced potatoes on top of the casserole absorb some of the gravy, leaving them soft and full of flavour underneath, but crispy and lightly browned on top.
You can also make this hotpot in a slow cooker or crock pot, and I've included the instructions below.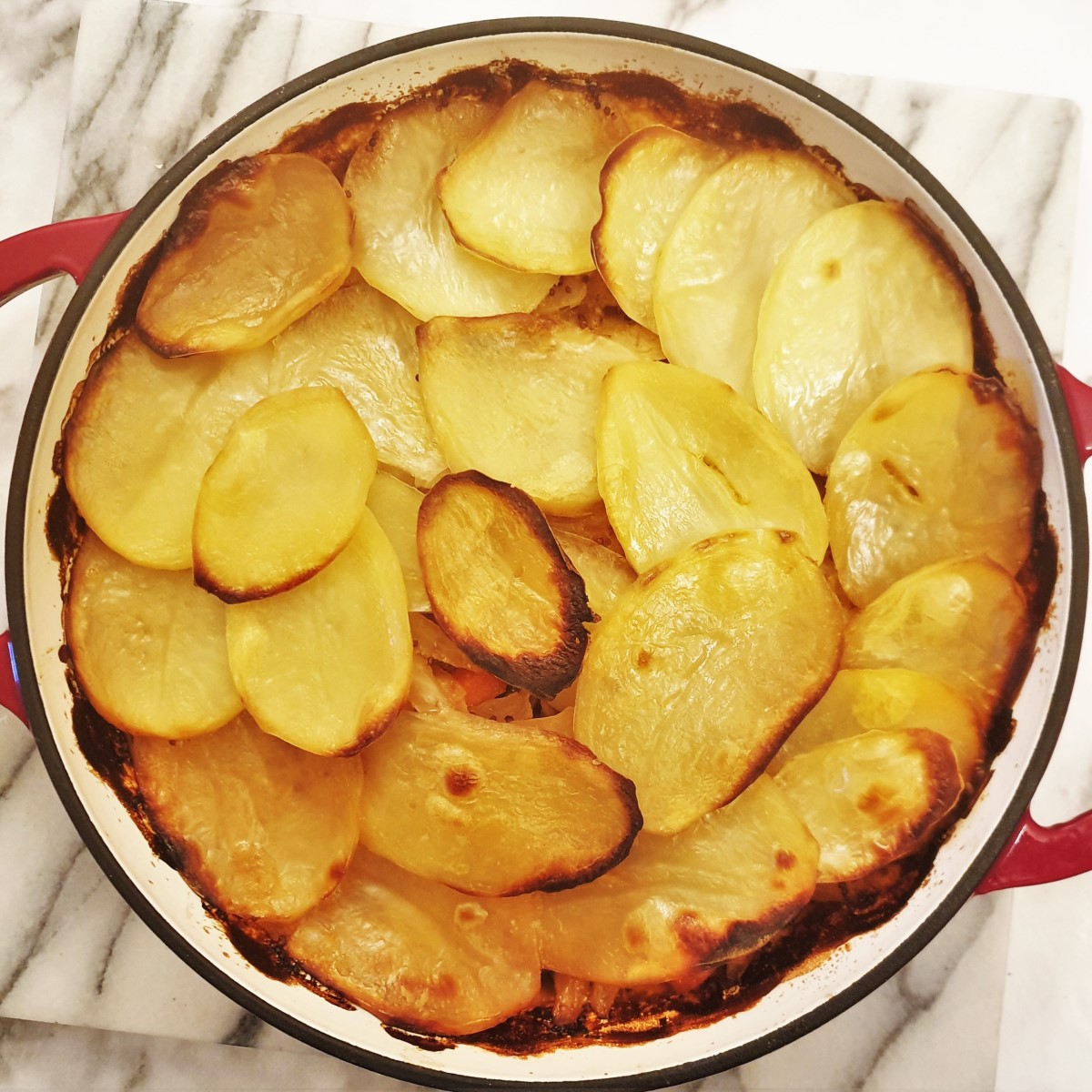 What's the best cut of meat to use?
Pork shoulder is my choice of meat for this pork and cabbage hotpot because it really benefits from a long and slow cooking time. It contains a lot of connective tissue which needs time to break down and melt away. Cooked in this way, pork shoulder can literally be pulled apart with a fork.
If you don't have pork shoulder, you can use pork butt instead.
Both pork shoulder and pork butt come from the foreleg of the pig, and both contain connective tissue. The only difference is that pork butt is higher up on the foreleg than pork shoulder.
I wouldn't use pork belly for this recipe, because that particular cut of meat contains a lot of fat which will make this dish fatty. I wouldn't use pork loin or tenderloin either, as these cuts don't contain much connective tissue, and will become tough if cooked for too long.
Cooking information
Prep time – 15 minutes
Cook time – 2 hrs 30 minutes
Oven temperature – 180C / 360F
Servings – 4 people
Main equipment – large casserole dish with lid – I like this heavy-duty cast iron casserole dish. It's perfect for using either on the hob or in the oven and it comes in various colours and sizes.
Calories – 738 per serving
Ingredients
Pork shoulder – this can be quite a tough cut of meat, but cook it long and slow in a casserole, and the gelatin and connective tissues break down and disintegrate, leaving you with soft, juicy, succulent meat. I normally buy a large piece of shoulder and cut it into chunks myself, but you can also buy ready-cubed meat from the butcher. If you buy a whole piece of pork shoulder, be sure to remove the rind and any visible fat when cutting the meat to size.
Cabbage – finely shredded. The cabbage will break down during cooking, leaving you with soft strands of cabbage swimming in a thick, delicious gravy. I prefer to use white cabbage as it tends to hold together better than savoy cabbage.
Onion – chopped into large chunks and separated into petals.
Carrots – sliced into rings.
Potatoes – cut into thin slices. I like to use a mandolin for slicing the potatoes, but if you don't have one you could use a sharp knife. Make sure all the slices are the same thickness.
Stock cube – I like the flavour of a vegetable stock cube, but you can use a chicken stock cube if you prefer. The stock cube should be dissolved in 2 cups of boiling water.
Wholegrain mustard – to give a slight tang. You can substitute this with Dijon mustard if you prefer, but I like the way the wholegrain mustard seeds coat the cabbage.
Apple sauce or apple puree – for a hint of sweetness.
Tomato puree and Worcestershire sauce – for extra flavour.
Paprika – for coating the meat before browning.
Flour – both for browning the meat and thickening the gravy.
Sunflower or other neutral-flavoured oil for browning the meat and onions.
Salt – optional and to taste.
Instructions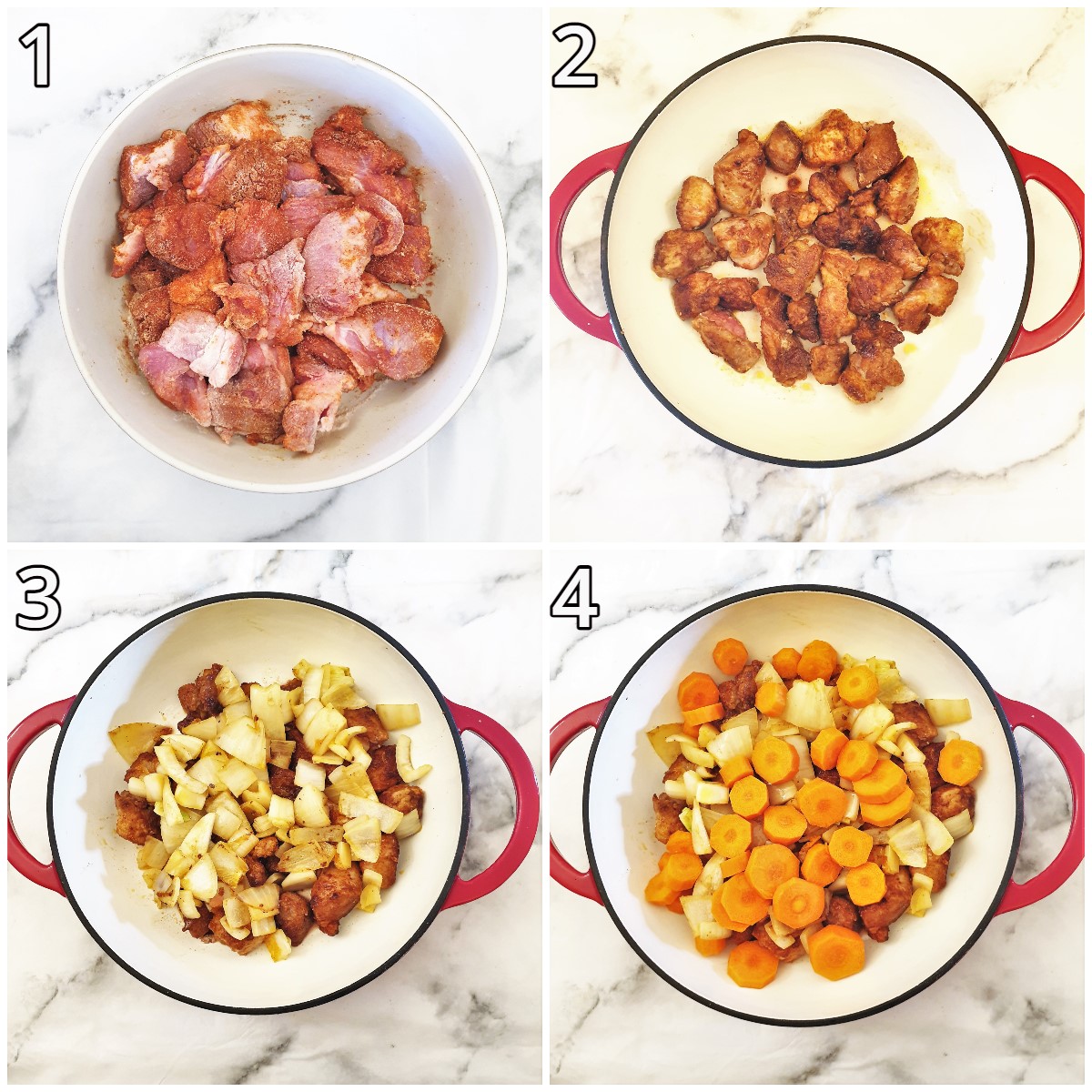 Cut the meat into large chunks (discarding any rind and visible fat), and coat the meat in a mixture of flour, salt and paprika (image 1 above).
Fry the meat in batches in a large frying pan. Let the oil get hot before adding the meat and don't overcrowd the pan or the meat will release juices and stew rather than brown. Transfer the browned meat to a casserole dish (image 2 above).
Fry the chopped onions in the same pan (add a touch more oil if necessary) and then transfer the onions to the casserole dish with the meat (image 3 above).
Slice the carrots into rings and add them to the casserole (image 4 above).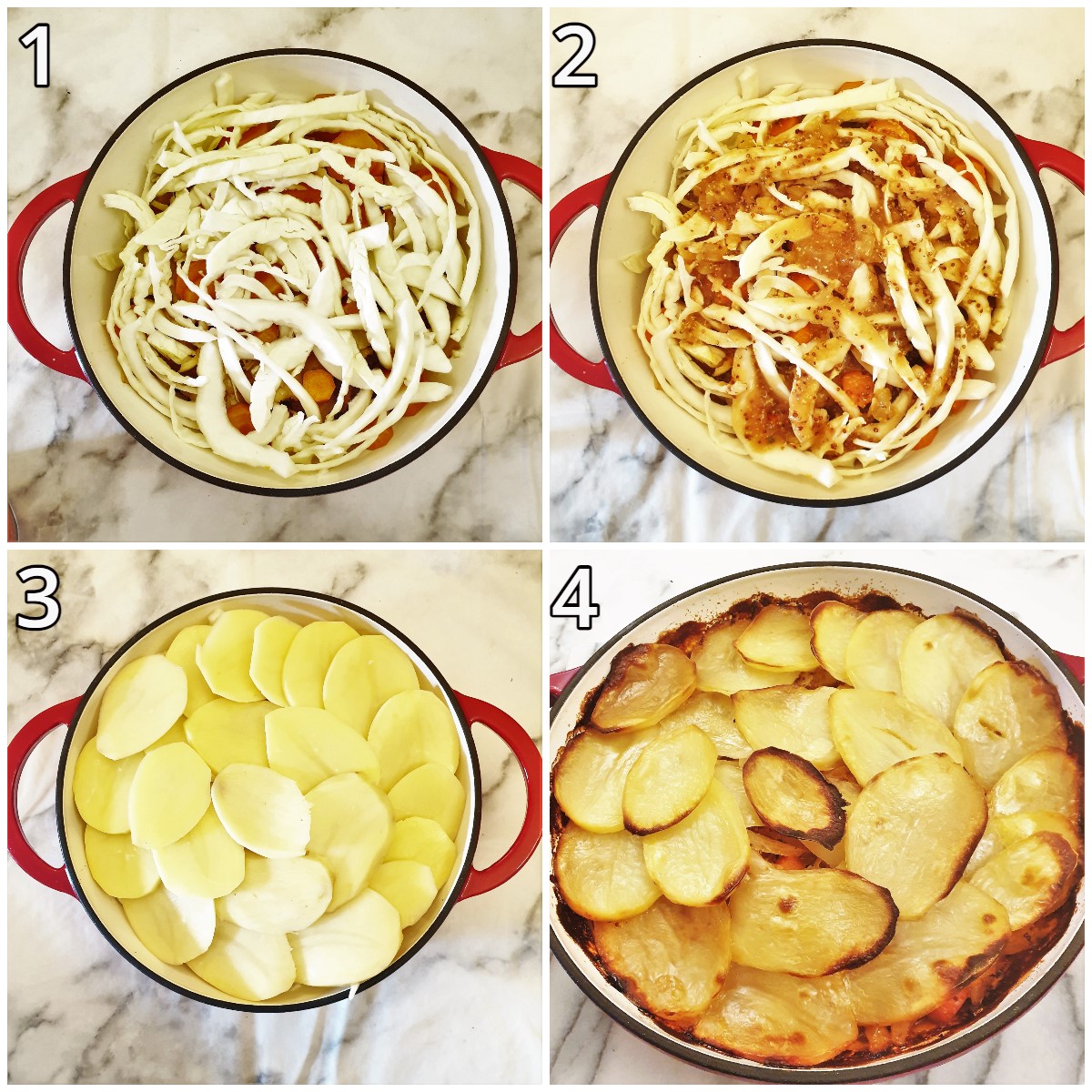 Finely shred the cabbage and arrange it on top (image 1 above).
Dissolve the stock cubes in boiling water and stir in the Worcestershire sauce, apple puree, tomato puree and mustard. Mix two teaspoons of flour with 2 tablespoons of cold water to make a paste, and stir that into the stock too. Pour the stock over the meat and vegetables (image 3 above).
Slice the potatoes and arrange them neatly on top of the casserole, overlapping slightly like fish-scales. Sprinkle lightly with salt (image 3 above).
Cover the casserole with a tightly fitting lid and place in a pre-heated oven for 2 and a half hours. Remove the lid for the last 20 minutes to allow the potatoes to brown and crisp (image 4 above).
If you want to keep up-to-date with my latest recipes why not follow along on Facebook or Pinterest. And don't forget to subscribe to my mailing list so you can get your FREE COOKERY BOOK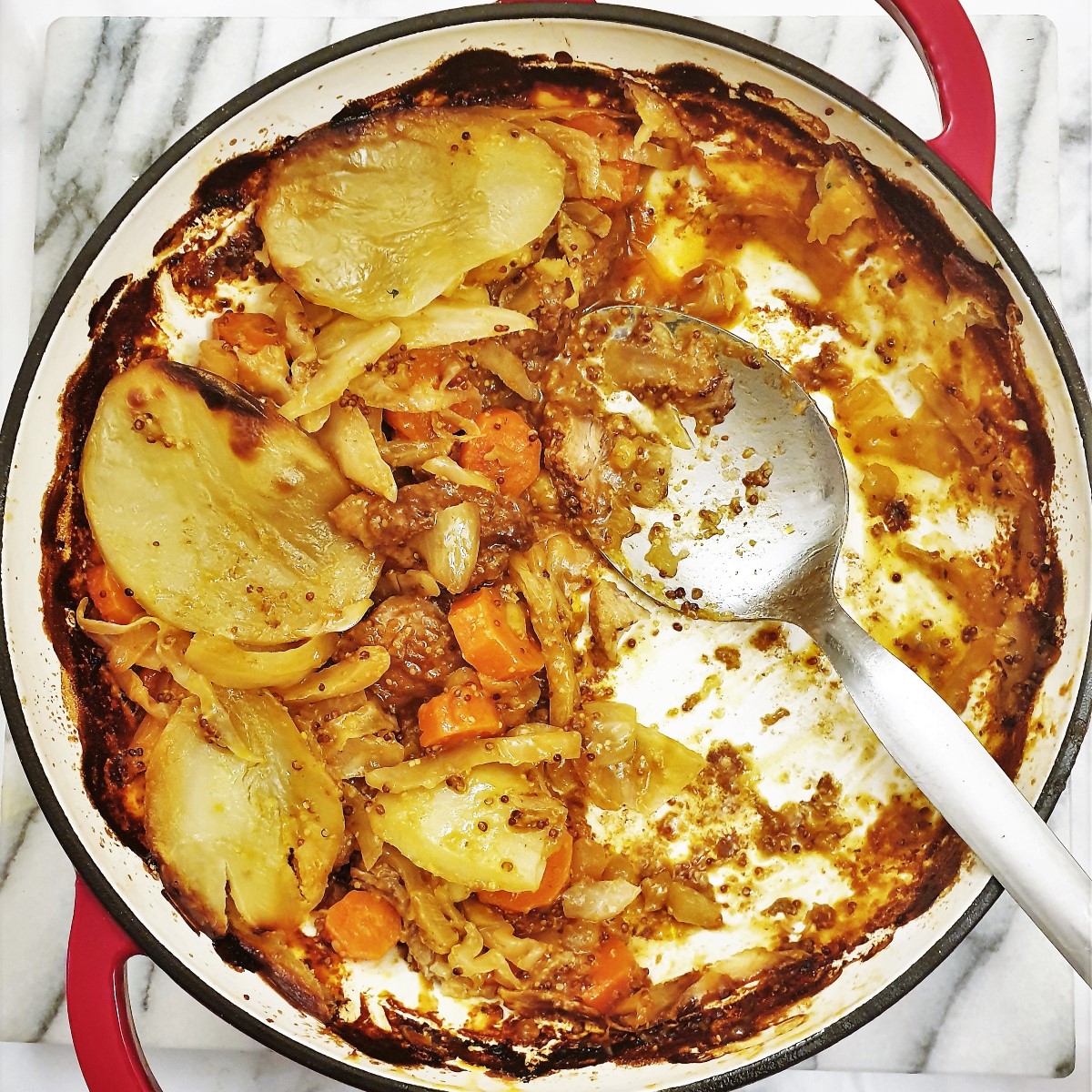 Slow cooker (crock pot) instructions
If you would like to make this pork and cabbage hotpot in a slow cooker, follow all the assembly instructions.
Then, instead of putting the hotpot into the oven, cook in the slow cooker for 5 to 6 hours on low or 4 to 5 hours on high.
Once the hotpot is cooked, place the inner dish of the slow cooker into a hot oven for about 20 minutes to allow the potatoes to brown and crisp.
Freezing and storage
Leftovers can be safely frozen for up to 3 months. Allow to cool completely and then pack into a suitable freezer container.
To use, reheat either in a saucepan on the stove, or in the microwave until piping hot and serve immediately.
The hotpot can also be cooked in advance, cooled and left in the covered casserole dish for up to three days in the refrigerator.
To reheat, allow the casserole to come to room temperature and then place the casserole dish in a hot oven for about 20 minutes until heated through.
I wouldn't recommend assembling the dish and storing it uncooked in the refrigerator as the uncooked potato topping would be inclined to turn black.
Additional resources
Don't forget to check out my handy Cookery Conversion Calculator if you want to convert any of your recipe measurements from grams to cups, ounces, tablespoons or millilitres and vice versa. You can also use the calculator for converting oven temperatures between Fahrenheit, Celsius, and Gas marks.
If you live at a high altitude you may find you need to adjust your baking recipes to compensate for this. You can read all about it in this post on baking at high altitudes.
Related recipes
If you enjoyed this pork and cabbage hotpot, you may also like these other casserole recipes.
Pin for later
Why not pin this recipe for pork and cabbage casserole to your Pinterest board so you can make it later. Just click the image below.
The recipe
If you made this recipe and enjoyed it, I'd love it if you could give me a star rating in the comments below. And if you'd like to get in touch, you can email me at [email protected]. I'd love to hear from you. And don't forget to subscribe to my mailing list so you can grab yourself a copy of my FREE COOKBOOK!
If you'd like to continue browsing, just click on this link to all my recipes.