Juicy chunks of pork, flavoured with paprika in a mouthwatering creamy sauce, packed with onions, peppers and mushrooms, all come together in the yummy creamy paprika pork goulash. Serve over rice or pasta for a delicious family supper.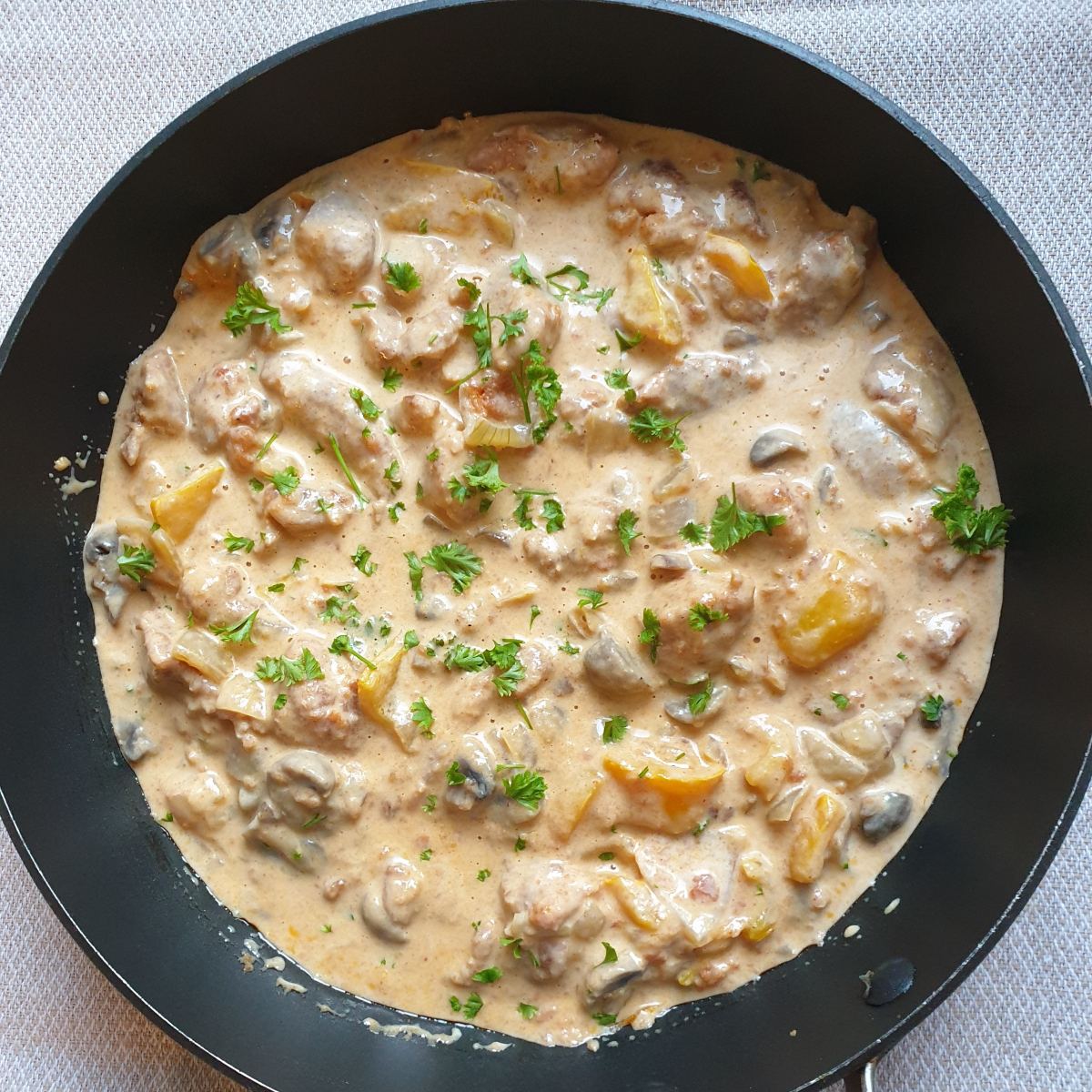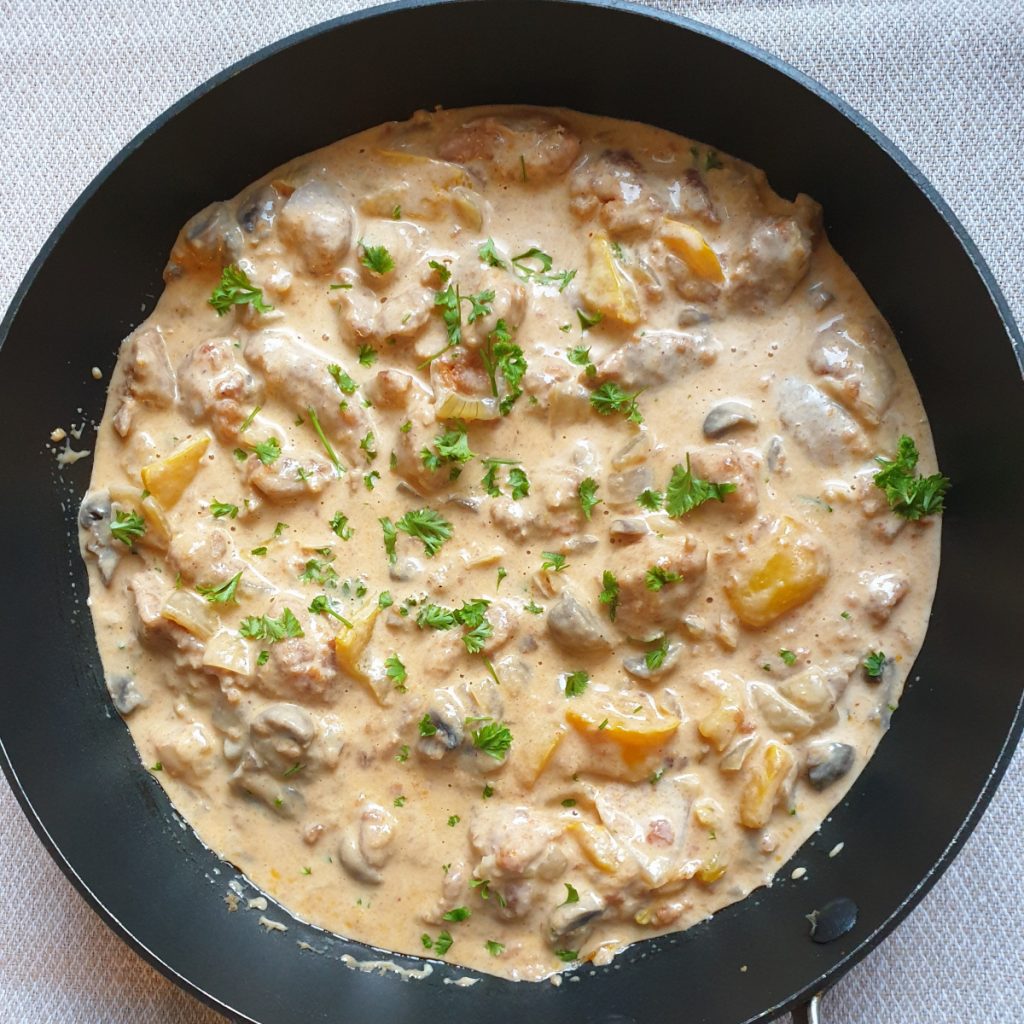 Creamy paprika pork goulash
About seven years ago, I was on an assignment in Cologne, in Germany, with one of my work colleagues. It was a six week assignment that lasted from November to the middle of December. It was winter, and it was cold (it even snowed!). The hotel we were staying at was about a half-hour walk from the town centre. Consequently we tended to eat at the hotel most nights, rather than brave the long, cold walk into town.
During those six weeks we probably ate our way through the hotel dinner menu at least twice. On the last night before I was due to return home, I was alone at the hotel, my colleague having left the previous day. When the waiter came up to take my order I couldn't decide what I wanted to eat, there was nothing left on the menu that I really fancied. I told this to the waiter and his reply was 'don't worry – I'll go and have a word with the chef'. He came back and told me that the chef was going to cook me a special meal.
Fifteen minutes later, my special meal arrived. It was a plate of creamy paprika pork goulash in a cream sauce, served on a bed of soft noodles. The pork was tender and succulent, perfectly complemented by the smoky flavours of the paprika sauce. And it was laden with onions, peppers and mushrooms.
Once I'd licked my plate clean (figuratively speaking) I went in search of the chef to thank him. His reply was 'my pleasure – I also get tired of cooking the same things night after night'.
This is my version of creamy paprika pork goulash (as far as I can remember it). I hope you enjoy it as much as I did!
How to make creamy paprika pork goulash
You can get the complete recipe for creamy paprika pork goulash on the printable recipe card at the end of this post.
For 4 people you will need 500g pork. Pork from the leg or fillet is ideal for this dish as it can be cooked quickly. Don't use shoulder or belly pork as it needs a longer, slower, cooking time and will be quite tough in this recipe.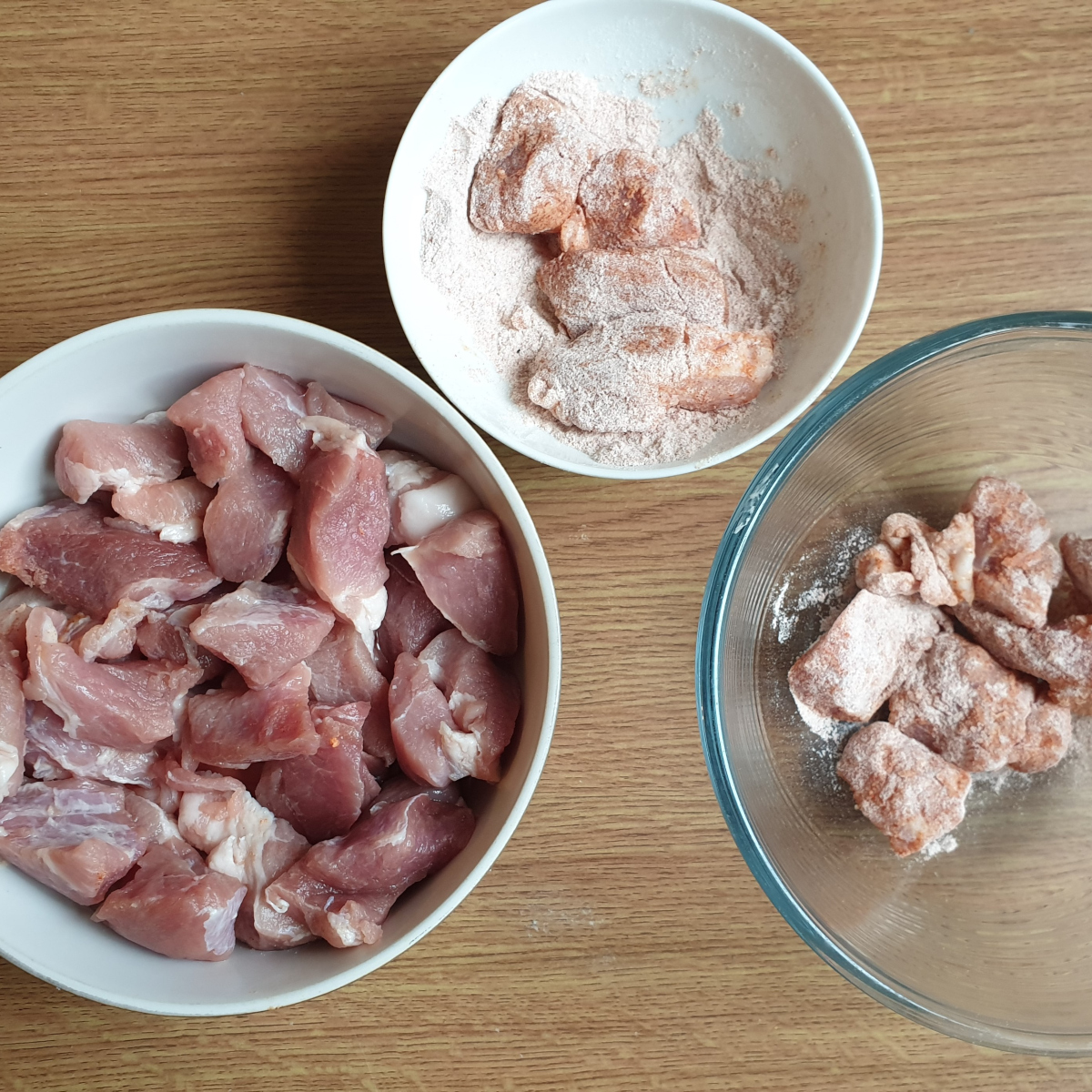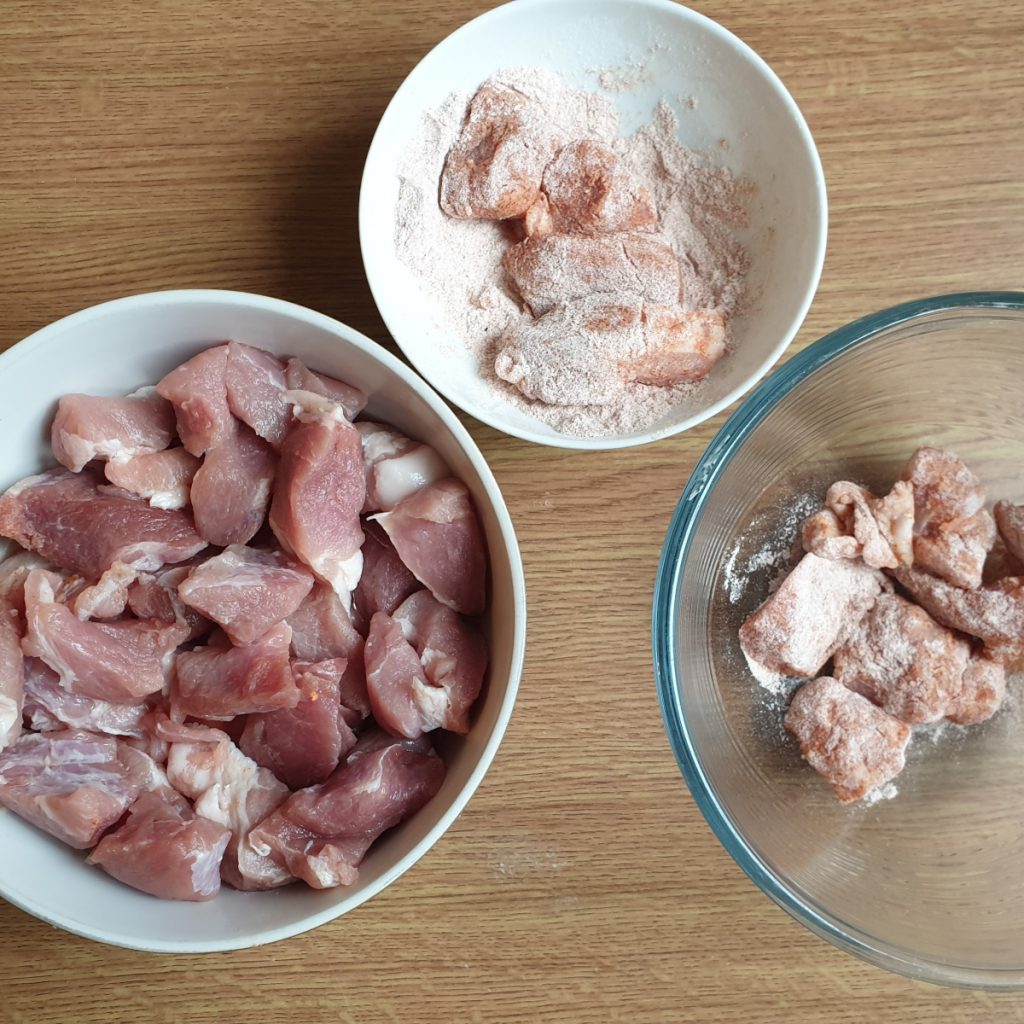 Fry the pork
Start off by cutting a piece of pork into bite-sized pieces. Remove any visible fat.
Mix 4 tablespoons plain flour with 2 tablespoons paprika and 1 teaspoon salt in a bowl. Dip the pieces of pork into the flour mixture to coat.
Coarsely chop 1 large onion, 1 large yellow bell pepper and 150g button mushrooms. For extra colour you could use a mixture of red and yellow peppers. If you don't have button mushrooms, just use white closed-cap or brown chestnut mushrooms.
Heat 2 tablespoons sunflower oil (or any other neutral-flavoured oil) in a large frying pan. Use a frying pan that has a lid as you will need this for the next step.
Fry the pork in batches until golden brown. Don't overcrowd the pan, and get the pan quite hot before adding the pork. You want the pork to brown nicely, not sweat in its own juices. Add more oil if necessary for each batch. Remove from the pan and set aside.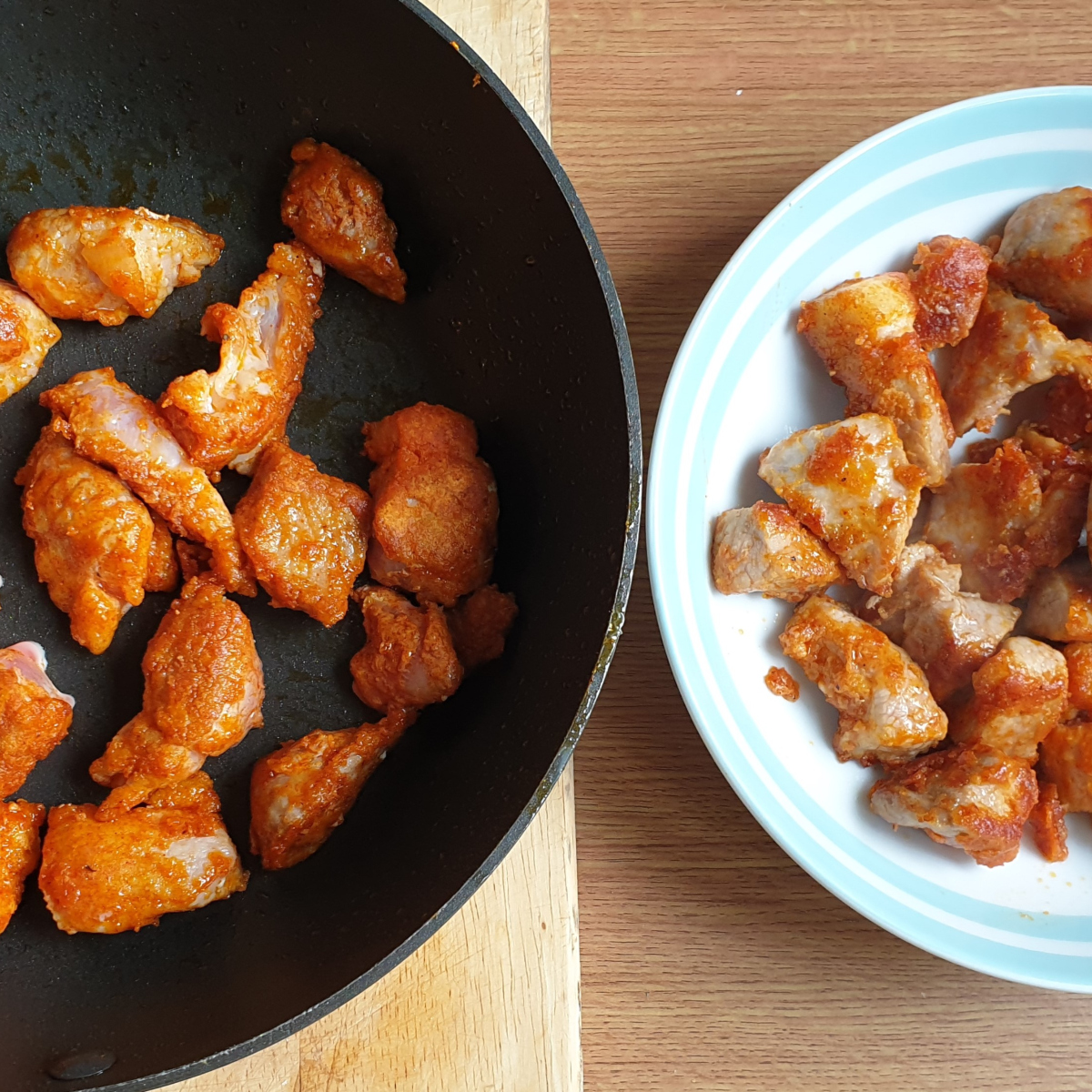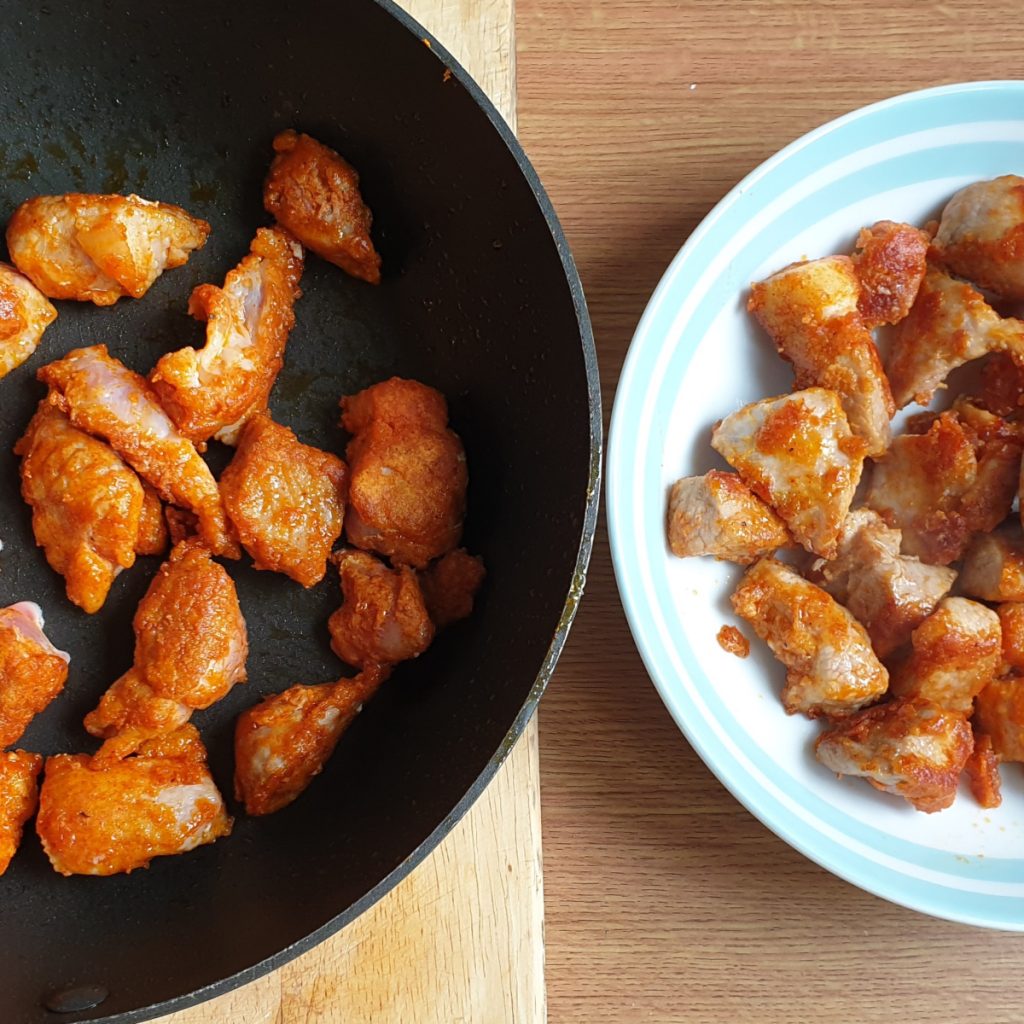 Fry the vegtables
Fry the onion, pepper and mushrooms together in 2 tablespoons sunflower oil until they are starting to soften. (Use any neutral flavoured oil for this).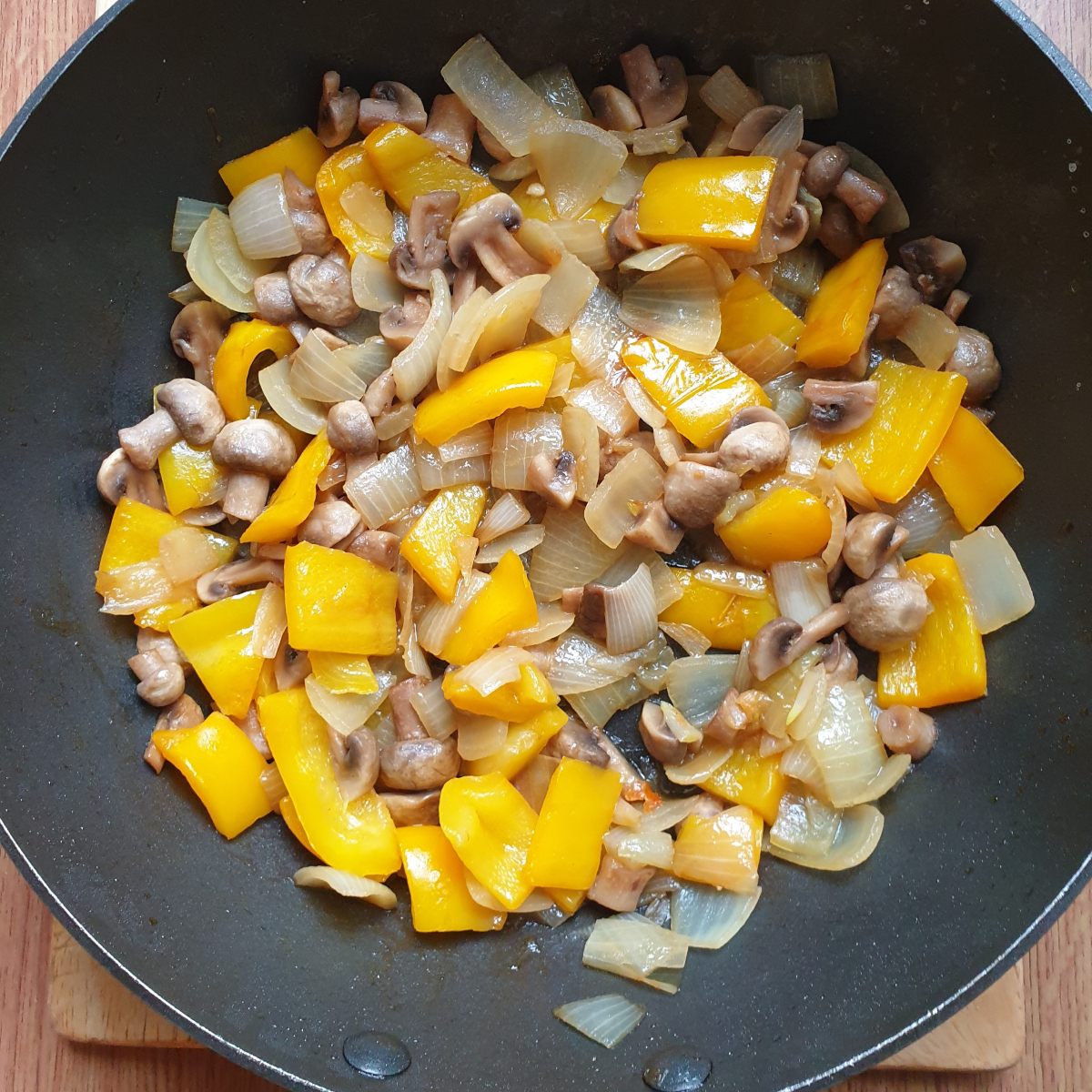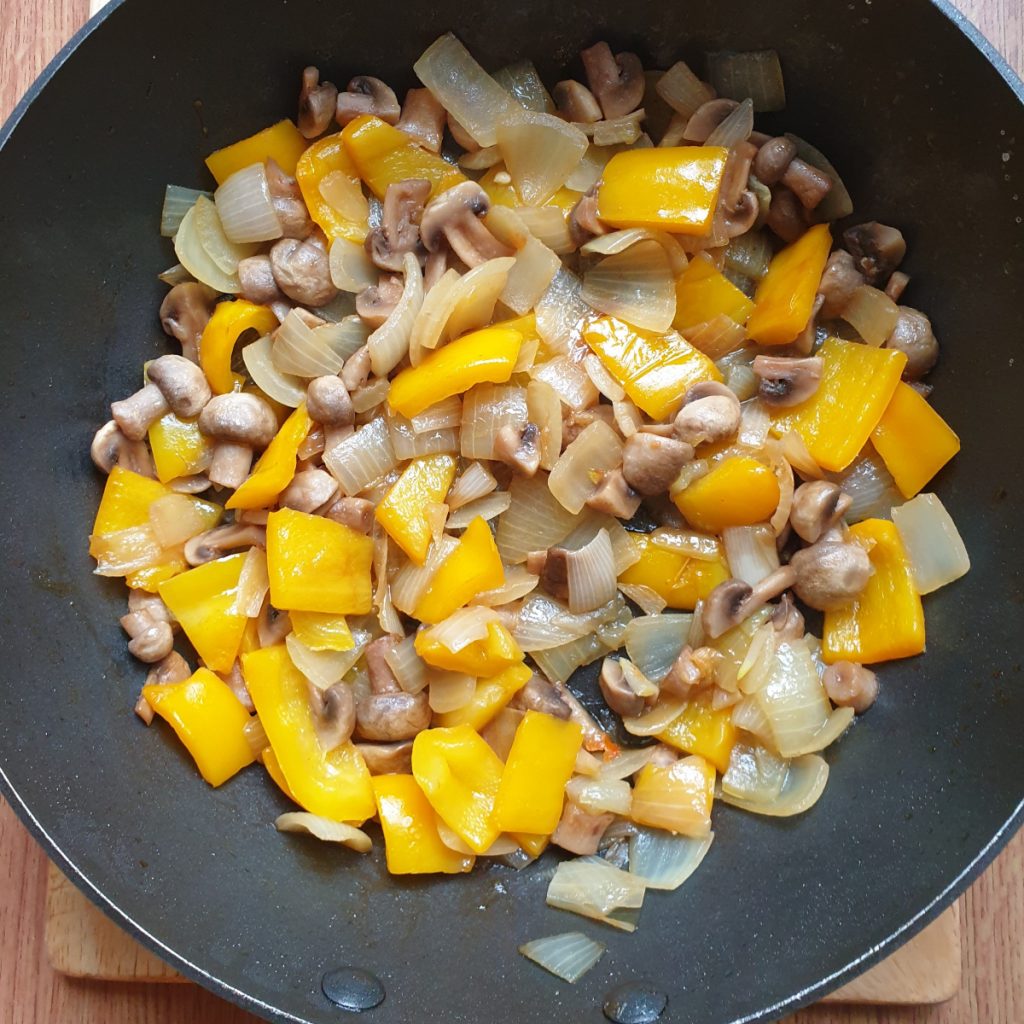 Make the sauce
Add 1 cup of chicken or vegetable stock, stir, then turn the heat down to low, cover with a lid, and leave to simmer until the peppers and onions are soft and the meat is cooked. This will take between 10 and 15 minutes depending on the size of the pork cubes.
The sauce should thicken from the flour coating the pork. If it doesn't thicken sufficiently, make a thin paste with 1 teaspoon cornflour and 2 tablespoons water and stir slowly into the dish over a low heat, until the desired consistency is reached.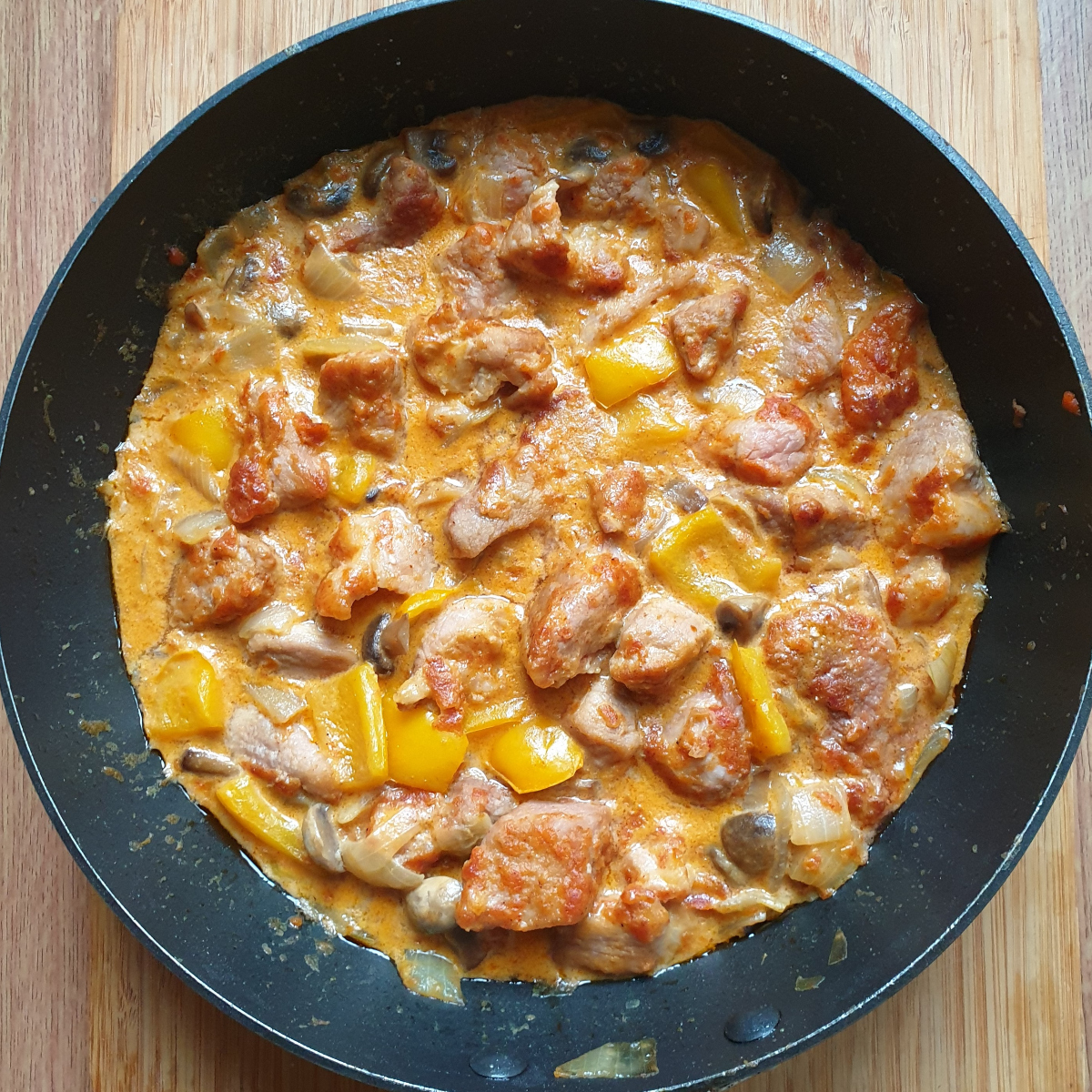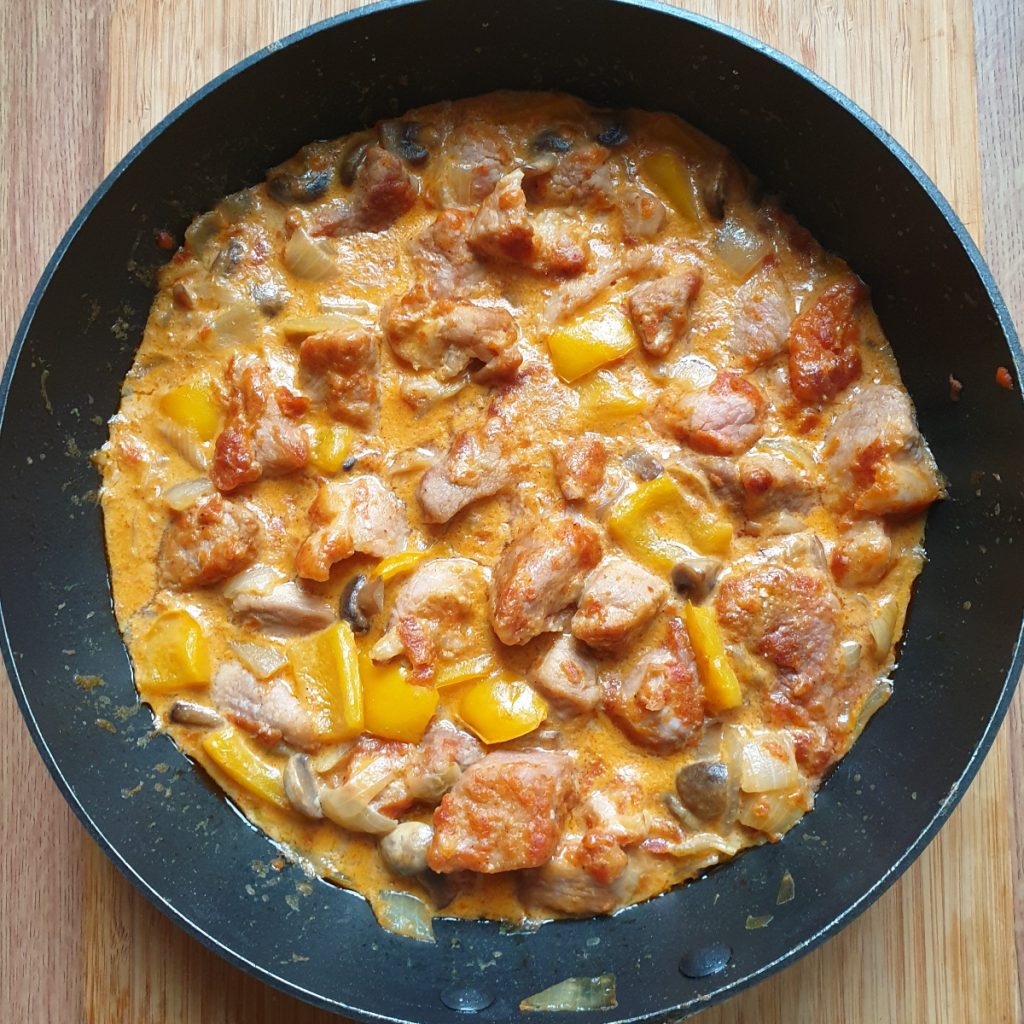 Remove from the heat and stir in 100ml cream.
Garnish with parsley and serve over rice or noodles.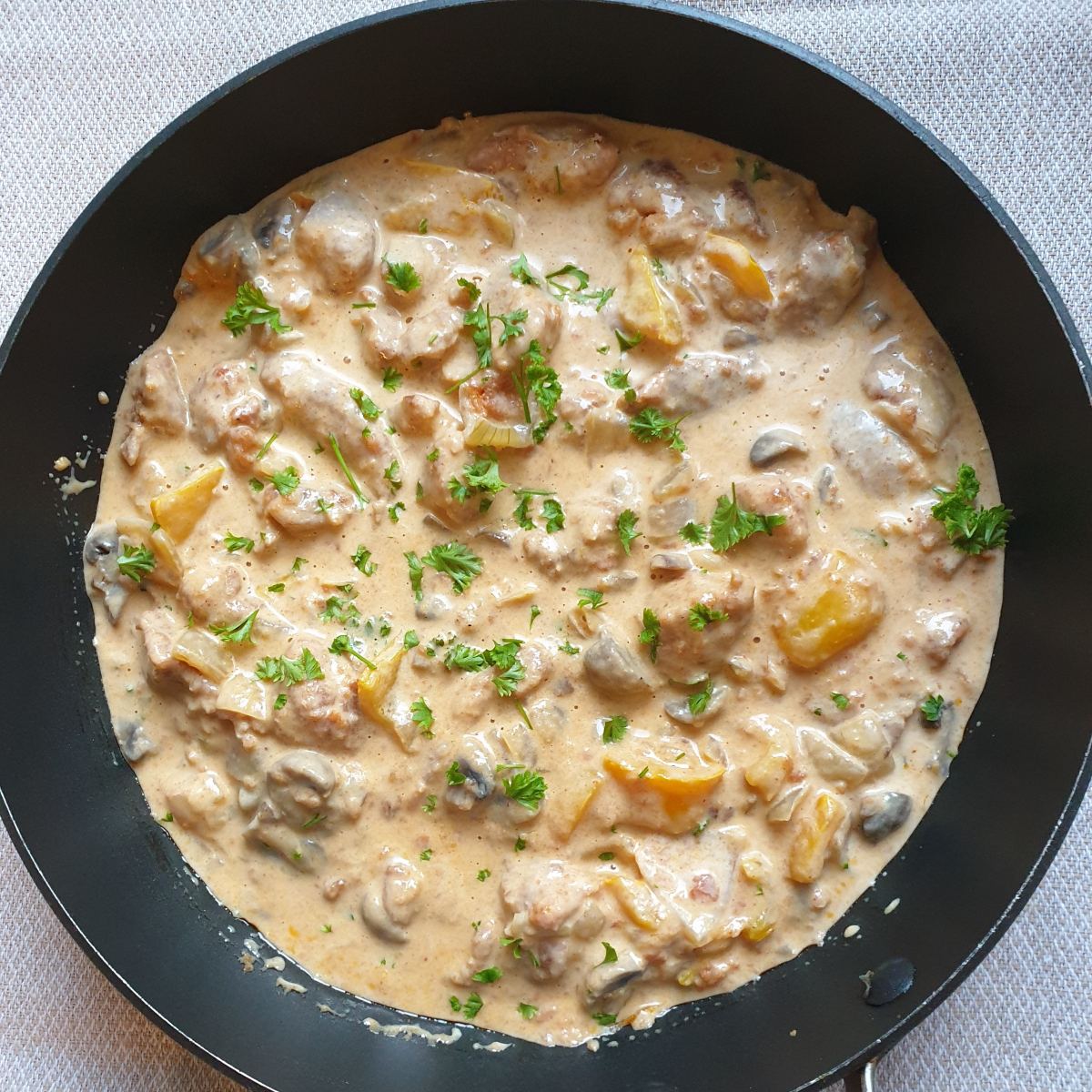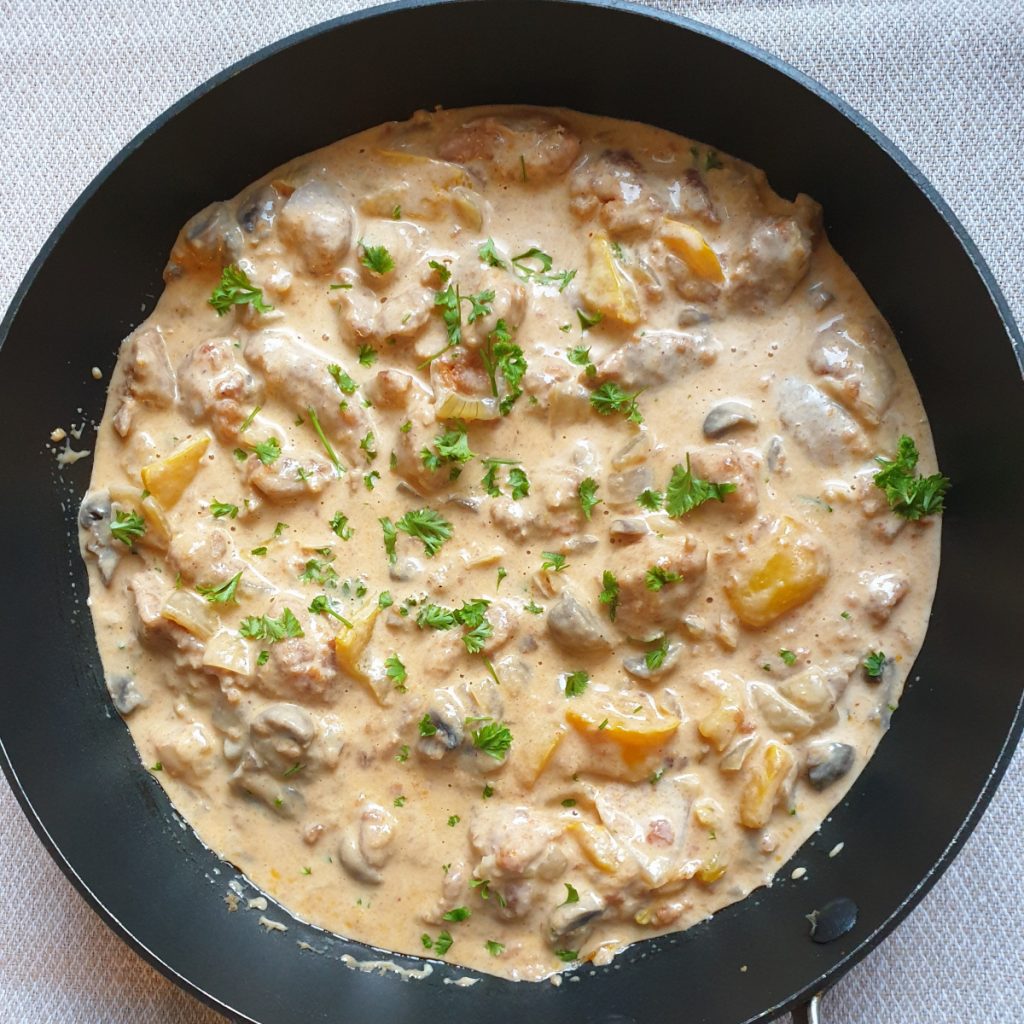 What to serve with creamy paprika pork goulash
As I mentioned above, you can serve this dish on a bed or rice or noodles, or you could even serve it with homemade spaetzle.
If you want additional vegetables with it, a sweet green vegetable such as frozen peas goes well. You could even mix a handful of frozen peas into the dish before adding the cream, for additional pops of colour. Or you could add 1/2 cup of frozen sweetcorn.
Otherwise try the following:
steamed broccoli and/or steamed green beans
sweet potato or butternut
glazed carrots. To glaze carrots, boil peeled, chopped carrots until almost tender. Drain and return to the pan with 1 teaspoon sugar and a knob of butter. Place over a very low heat, cover with a lid and allow to sweat, shaking the pan occasionally, until the carrots are fully cooked.
If you don't want to serve it with vegetables, why not serve with a slice of homemade crusty bread to mop up the sauce?
Can I freeze this dish?
Creamy paprika pork freezes well. Just allow to cool and then ladle into a rigid plastic container and store in the freezer for up to 3 months.
To use, allow to defrost in the fridge, or defrost it in the microwave. Then transer to a saucepan or large frying pan and reheat on the stove until piping hot.
If you want to keep up-to-date with my latest recipes why not follow along on Facebook or Pinterest. And don't forget to subscribe to my mailing list so you can get your FREE COOKERY BOOK
Convert grams to cups
To help you convert your recipes, I have created a handy Cookery Conversion Calculator which will convert ingredients between grams, ounces, tablespoons, cups and millilitres. I hope you will find it useful.
If you live at a high altitude you may find you need to adjust your baking recipes to compensate for this. You can read about how to do this in this post on baking at high altitudes.
Recipe – Creamy Paprika Pork Goulash
Creamy paprika pork goulash
Juicy chunks of pork coated in flour and paprika, then fried with onions, bell peppers and mushrooms before being smothered in a rich creamy sauce.
Servings: 4 people
Calories: 409kcal
Equipment
Frying pan or Wok

Mixing bowl

Sharp Knife

Chopping Board
Ingredients
500 g pork leg meat (or pork fillet) cubed
4 Tablespoons flour
2 Tablespoons ground paprika
1 teaspoon salt
1 large onion chopped
1 large yellow or red bell pepper chopped
150 g button mushrooms chopped
1 cup chicken or vegetable stock
½ teaspoon black pepper
3 – 4 tablespoons sunflower oil for frying the pork and the vegetables
100 ml single cream
Instructions
Cut the pork into bite-sized pieces.

Combine the flour, paprika, salt and pepper. Coat the pork in the flour mixture.

Heat 2 tablespoons sunflower oil in a large frying pan and fry the pork in batches until golden brown. Don't overcrowd the pan. (You may need a little extra oil for subsequent batches).

Remove the pork from the pan and set aside.

Head another 2 tablespoons of oil and fry the chopped onions, peppers and mushrooms until the onions are translucent and the peppers are starting to soften.

Return the pork to the pan and add 1 cup of chicken or vegetable stock and bring to the boil.

Stir and allow the sauce to thicken.

Turn down the heat and allow to simmer, covered with a lid, for 10 to 15 minutes until the meat is cooked through. The time will depend on the size of your pork cubes – larger cubes will take longer.

Add 100 ml cream and sir through.

Garnish with chopped parsley and serve over rice or pasta.
Notes
If you don't have fresh stock you can substitute with 1 stock cube dissolved in a cup of boiling water.
The stock should thicken sufficiently from the flour coating around the pork.  If the stock does not thicken, make a paste of 1 teaspoon corflour and 2 tablespoons of water and drizzle this into the sauce, stirring all the while.
You can use a mixture of red and yellow peppers for extra colour.
I am not a nutritionist. The nutrition information has been calculated using an on-line calculator, and is intended for information and guidance purposes only. If the nutrition information is important to you, you should consider calculating it yourself, using your preferred tool.
If you made this recipe and enjoyed it, please don't forget to give me a star rating in the comments below. And if you'd like to get in touch, you can email me on foodleclub1@gmail.com. I'd love to hear from you. And don't forget to subscribe to my mailing list so you can grab yourself a copy of my FREE COOKBOOK!
If you'd like to continue browsing, just click on this link to all my recipes.