This cheesy mince pasta dish is my go-to recipe when I'm pressed for time but still want to serve up a healthy, tasty supper to the family. The little pasta shells are perfect for holding the sauce, and the addition of sunflower seeds provides extra goodness and texture.
**As an Amazon affiliate, I earn from qualifying purchases.**
What is cheesy mince pasta?
Many years ago, in South Africa, you could buy a box of Meat 'n' Eat, which comprised of a packet of spices, a packet of instant cheese sauce mix and a packet of pasta shapes. The idea was that you just added your own meat, and you had an almost instant one pan pasta supper. I believe that the equivalent in the US is called Hamburger Helper.
As a single mum of three, holding down a full-time job, this was a godsend. Firstly, the children loved it. Secondly, it was cheap. And thirdly, it was on the table in less than half an hour. It came in various flavours too. One was curry, where you added chicken, another was chilli where you added ground pork, but our favourite was spicy tomato, which called for ground beef.
Did I mention that it was easy to make? Nothing could be simpler. Everything is cooked in one pan. The pasta is added to the same pan as the meat and stock, and the pasta cooks in the stock, absorbing the delicious flavours. So you don't even have to drain it. And of course, using only one pan means there's less washing up!
For some reason, this came into my mind the other day, and I thought I'd track down a box and make it for Graham. I searched high and low. I couldn't find anything remotely similar on the shelves in the supermarket, and it didn't come up in an Amazon search. It wasn't even stocked by my local South African shop. Thinking about it, it's not surprising I couldn't find it. It must have been all of 35 years since I last bought it and it has probably been discontinued long ago.
So I popped over into the kitchen to see if I could recreate it from memory. And after a few delicious, but not quite right attempts, I think I've come up with a recipe for Meat 'n' Eat (or Hamburger Helper) which is pretty close to the original. I hope you enjoy it. (I now call it cheesy mince pasta!)
What you will need
**You can find a complete list of all ingredients and measurements, along with detailed instructions for making this cheesy mince pasta on the printable recipe card at the bottom of the post.**
Equipment
Because this is all made in one pan you will need a saucepan large enough to hold everything (including the pasta).
You will also need a sharp knife for chopping up the vegetables and a chopping board to protect your work surface.
Ingredients
This cheesy mince pasta recipe doesn't need many ingredients.
Ground beef. Get good quality beef mince with a low fat percentage (12% maximum).
Vegetables – onions, tomatoes and mushrooms – these should be chopped up quite finely, into 1/2 to 1 cm pieces. Because the mince is so fine you don't want large chunks of vegetables in this dish.
Spices and seasonings – paprika, chilli flakes (optional), tomato paste, worcestershire sauce, garlic, salt and sugar. I always add a small amount of sugar when cooking with tomatoes, as I find it cuts through the tartness. You can use garlic from a jar if you don't have fresh.
Sunflower seeds and pinenuts – the original recipe had some ingredient that gave a bit of a crunch and it may have been pinenuts. I've just added a few sunflower seeds for extra texture and I think it works quite well. If you don't have the seeds you can just leave them out.
Stock – you can use beef, chicken or vegetable stock. If you don't have fresh stock, just mix some up using a stock cube dissolved in a cup of boiling water.
Pasta shells – you should use quite small shapes. I like to use a shell shape (conchiglie) because I like the way the ground meat fills up the shells as they cook, but you can use your own favourite shape.
Grated cheese – no need to mess about making cheese sauce, just stir in a handful of your favourite grated cheese at the end.
How to make cheesy mince pasta
There are only a few easy steps to follow.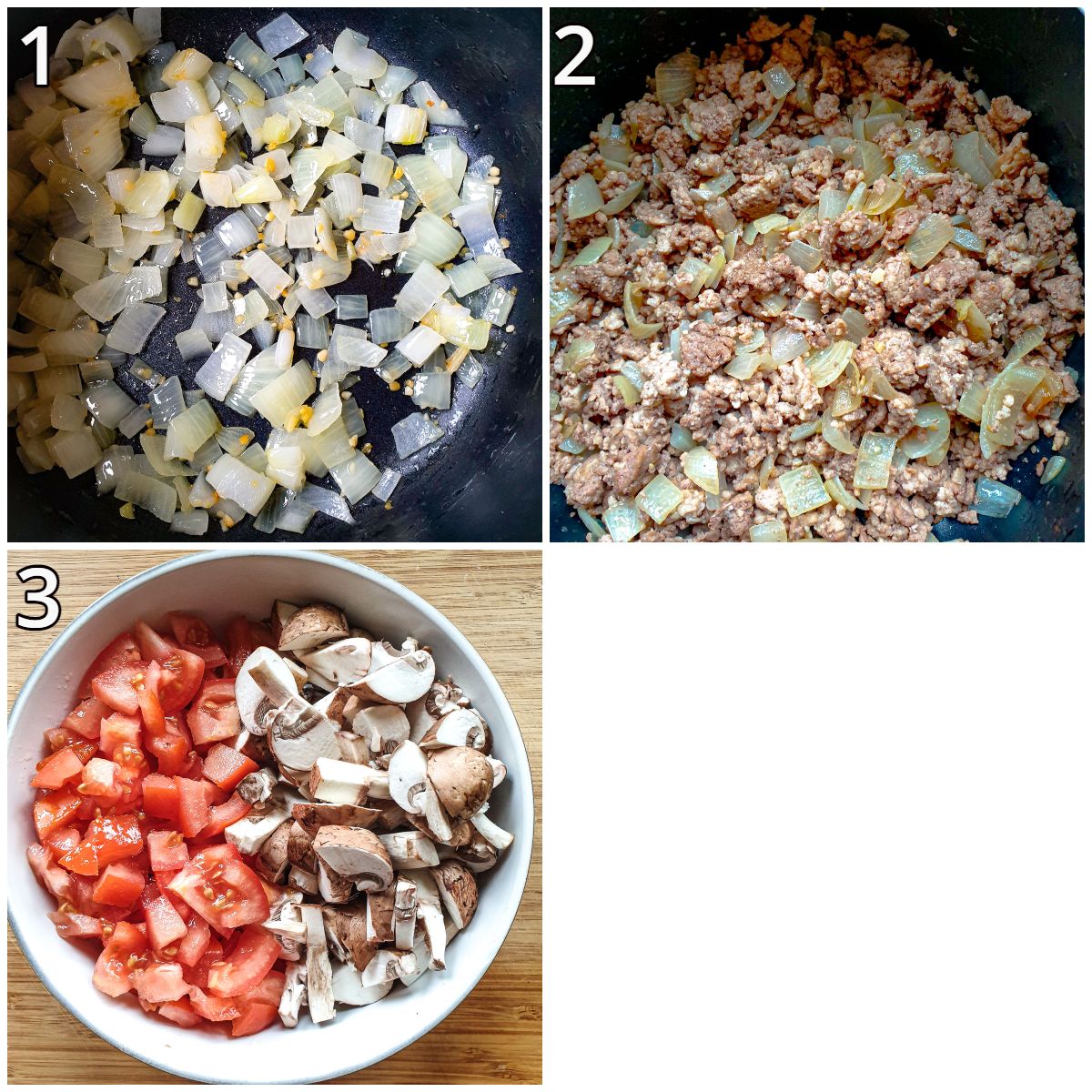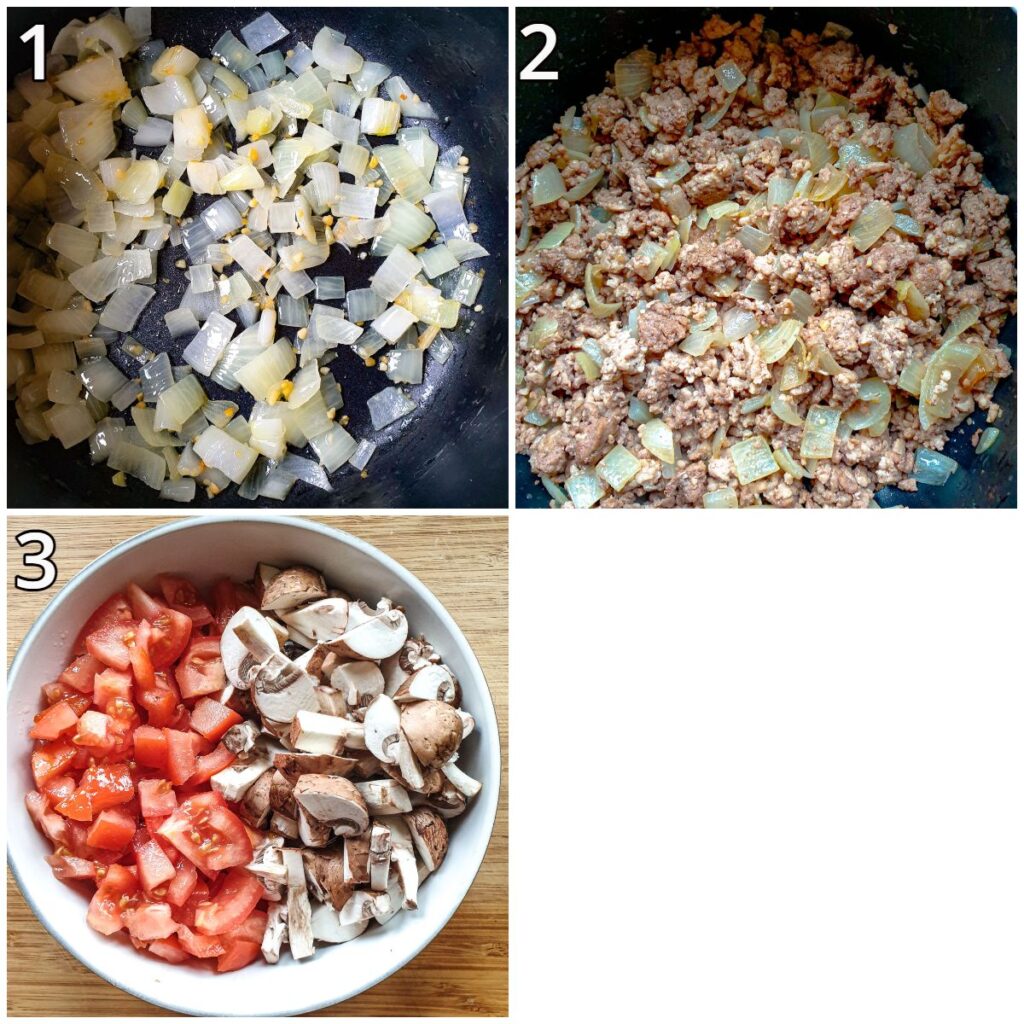 Fry the onions with garlic on a low heat until they are just starting to turn translucent. Don't allow them to brown.
Add the meat to the onions, turn up the heat slightly, and brown the meat stirring all the time until it is crumbly and no longer pink.
Stir in the tomatoes and mushrooms and continue to fry until the tomatoes soften and release their moisture.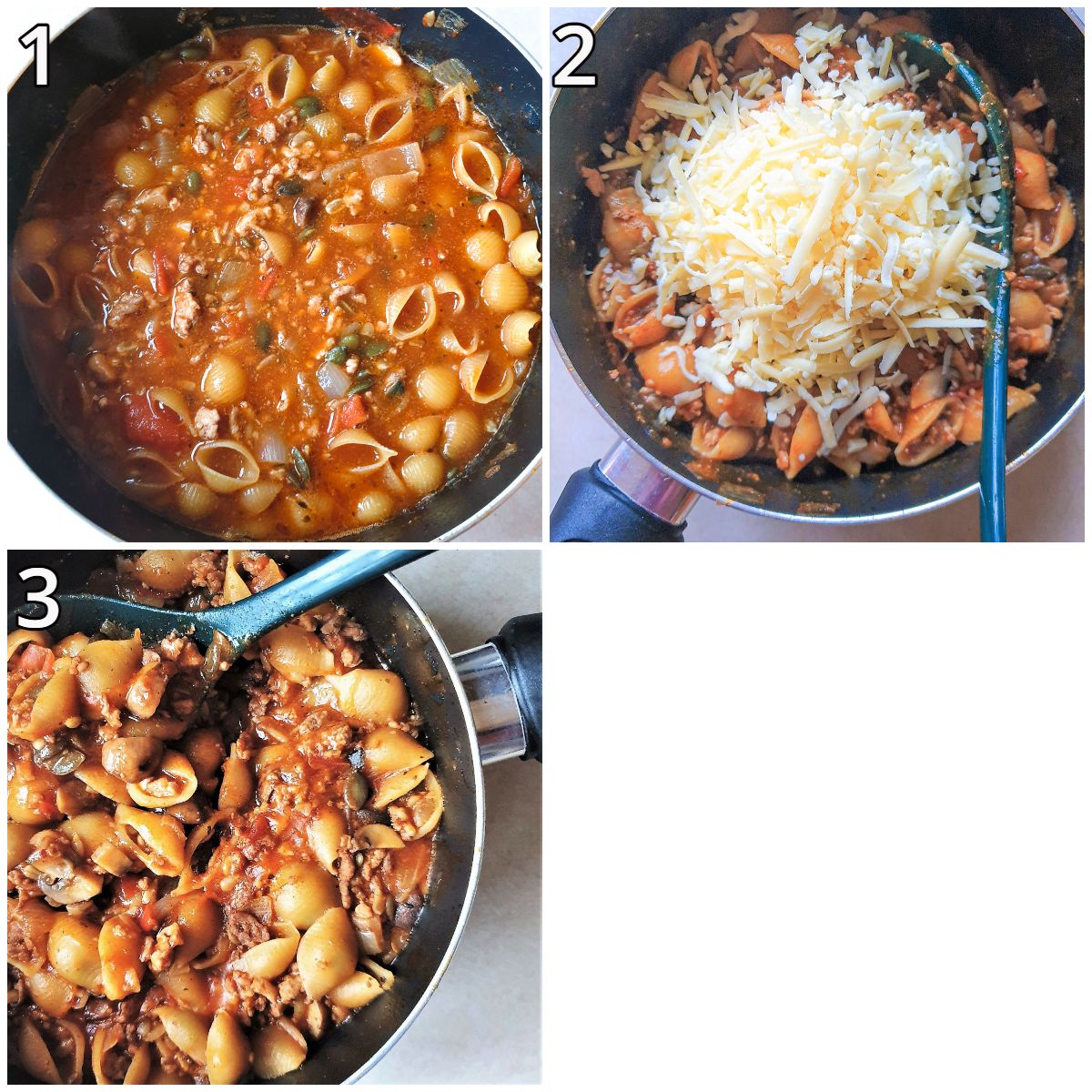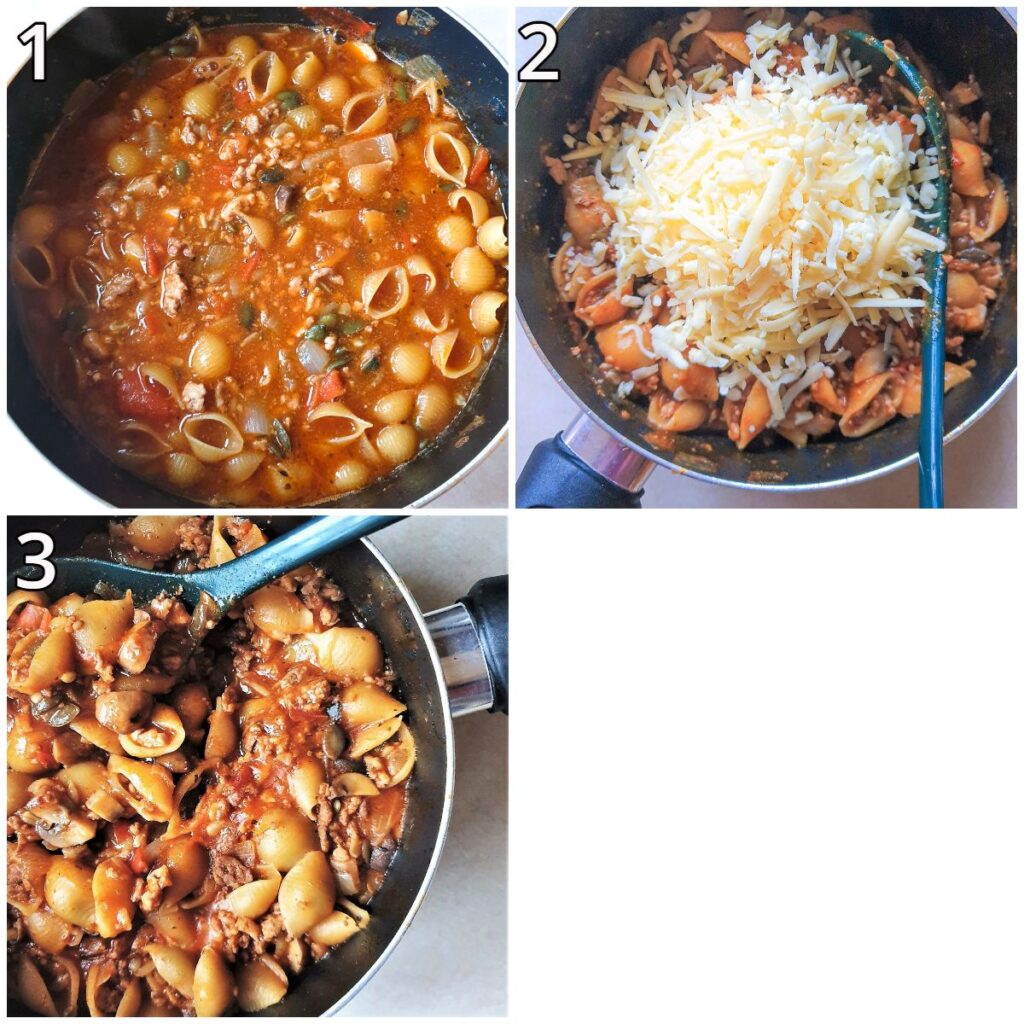 Pour in the stock, seeds and spices and give it a good stir.
Bring to the boil and then add the pasta, cover the pan with a and simmer for about 20 minutes until the pasta is cooked and most of the liquid has been absorbed.
Stir in the cheese and allow it to melt before serving.
I personally don't think this dish needs anything else, but you could serve it with a simple salad made with fresh tomatoes and lettuce, and if you are really hungry, add a slice of garlic bread on the side.
If you'd like to be notified of any new recipes, why not subscribe to my newsletter. As a thank you gift, you will receive a free recipe e-book containing some of my most popular cakes and desserts.
Can I freeze this pasta dish?
Yes, you can freeze it. Just let it cool and then transfer it to a plastic container. You can freeze it for up to 3 months.
To use, let it defrost in the refrigerator and then transfer it to a saucepan and reheat on the stove until piping hot.
You can also store any leftovers in the refrigerator for up to 3 days. Reheat in a saucepan on the stove or in the microwave.
Pin for later
Why not pin this recipe for cheesy mince pasta to one of your Pinterest boards so you can find it later. Just click on the image below.
Other one pan meals
You may also like these other one pan meals
Or why not just have a browse through my section on main meals for a bit of inspiration for your next supper.
The recipe
If you made this recipe and enjoyed it, I'd love it if you could give me a star rating in the comments below. And if you'd like to get in touch, you can email me at [email protected]. I'd love to hear from you. And don't forget to subscribe to my mailing list so you can grab yourself a copy of my FREE COOKBOOK!
If you'd like to continue browsing, just click on this link to all my recipes.