If you like pasta you are going to love this ham and mushroom tagliatelle with black pepper sauce. It's a creamy pasta dish that can be on the table in less than half an hour – perfect for a mid-week supper.
Ham and mushroom tagliatelle with black pepper sauce
Who doesn't love a creamy bowl of pasta. I've been making this recipe for years, ever since I saw it in a magazine as a dip for potato wedges (without the tagliatelle of course). I took one look and decided it would make the perfect pasta sauce – and with a couple of adaptations, a new recipe was born!
It's crammed with ham, mushrooms and sweet juicy onions, which on their own are tasty enough. But the ingredient that makes it zing, is a spoonful of cracked black peppercorns. The heat from the black pepper really lifts this dish from the ordinary to the spectacular.
And it's quick to make too – the preparation time is the time it takes to chop up the ham, onions and mushrooms. The sauce itself only takes 15 minutes start to finish, and if you put the pasta on to boil while you make the sauce, everything can be ready in less than half-an-hour.
Amazingly enough, there is no cream in this recipe – but you wouldn't say so to taste it. If you really wanted to, you could swap some of the milk out for cream when you make the sauce, but to be honest I don't think it's necessary.
And to go back to the origins of this recipe, it makes perfect as a dip for potato wedges. Just halve the quantity of milk and cornflour in this recipe, leave out the pasta, and serve as a dip alongside my cripy potato fries.
How to make ham and mushroom tagliatelle
Ingredients
You can get the complete recipe on the printable recipe card below.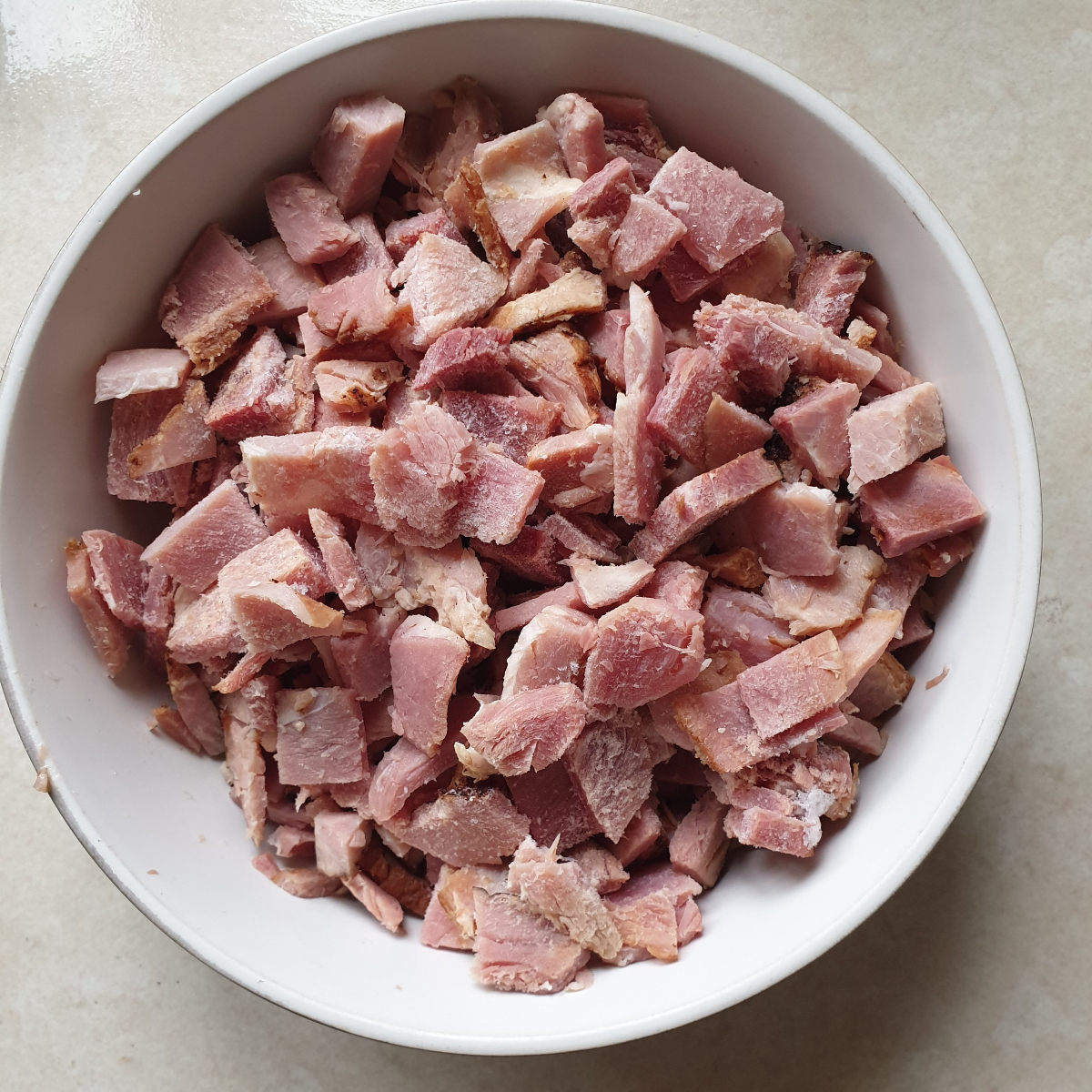 Cubed ham – I use either sliced sandwich ham, or I buy ham off-cuts from my local supermarket. They are super cheap, and one packet is normally sufficient for 2 pasta dishes, so I chop it all up in one go and then freeze half in a plastic bag ready for the next meal. I also find that leftover gammon works really well with this recipe. The ham should be chopped into approximately 1cm pieces.
Mushrooms – I like to use button mushrooms because they are so quick to chop up. Because they are so small you only have to halve or quarter them, and you can even leave the really small ones whole. If you don't have button mushrooms then you can use white closed-cap or brown chestnut mushrooms.
Onion – these should be chopped into 1cm dice.
Garlic – I use my favourite brand of garlic out of a jar because it is easier. If you are so inclined you could chop up a couple of cloves of fresh garlic.
Black peppercorns – you need whole peppercorns, which have been cracked open. You can use a mortar and pestle for this, or if you don't have a mortal and pestle then just pop the peppercorns into a plastic bag and give them a whack with a rolling pin. It works just as well. Don't grind them up too finely though – they should be just cracked open and flattened.
Butter – the butter is used to sweat the onions and garlic. You can use block margarine if you don't have butter in the fridge, but I wouldn't use oil – it won't work with the sauce.
Milk and cornflour – these are used to make the sauce. The cornflour thickens as it cooks. If you want to be really decadent you could replace 100ml of the milk with 100ml of cream. But that's up to you!
Tagliatelle – I like to use flat ribbon noodles or this dish, but you could use your pasta of choice.
Step by step instructions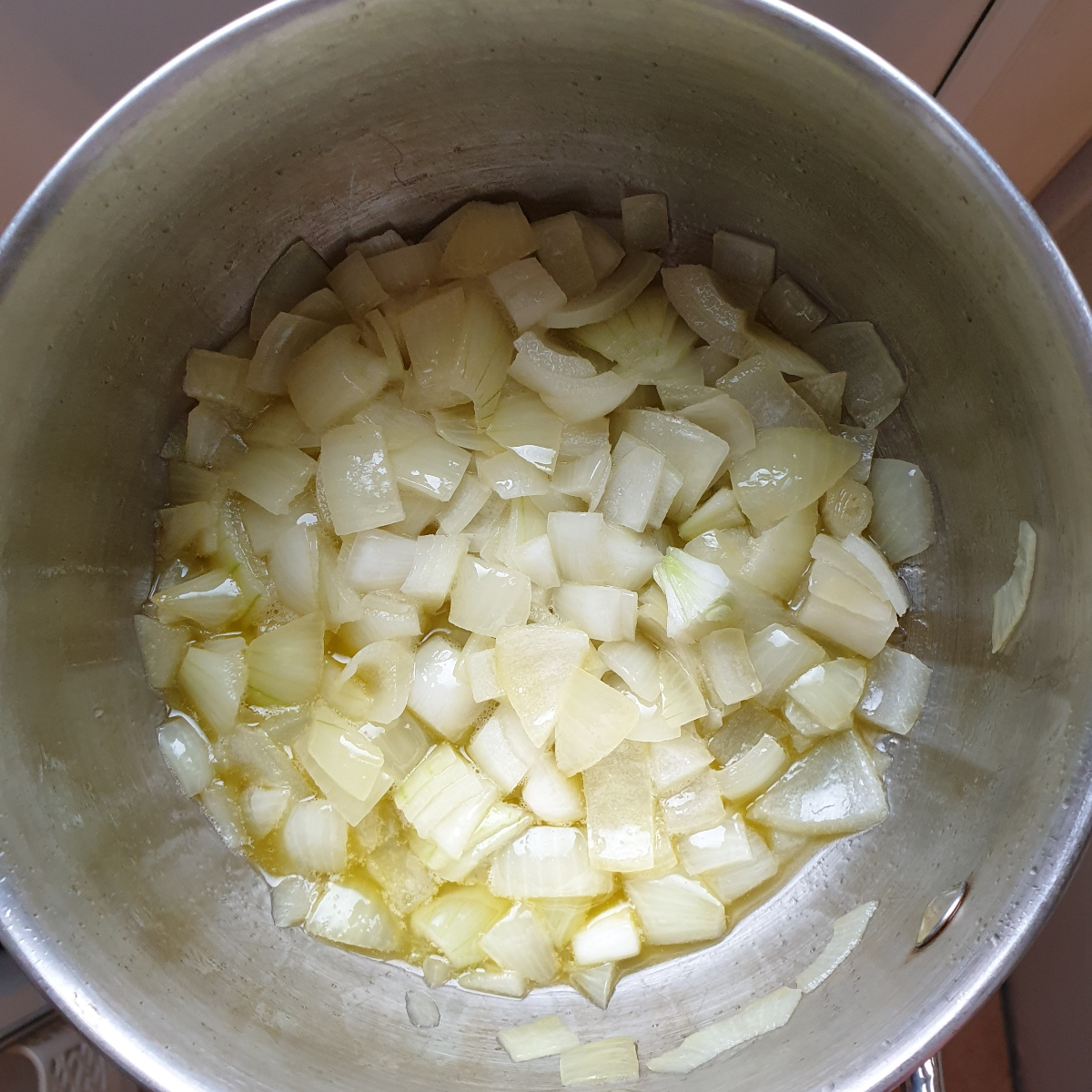 Cook the pasta
Start off by putting the tagliatelle on to cook in a saucepan of boiling salted water. Boil for the time recommended on the packet. Drain the cooked pasta in a colander and then rinse under cold running water to stop the cooking process. Leave aside to drain until needed.
Make the sauce
Fry the onions and garlic in the butter until the onions start to soften and become translucent. I find if I turn the heat down to low and cover with a lid, the onions sweat nicely in the butter and it only takes a few minutes for them to soften. Don't forget to keep your eye on them though – you don't want them to burn.
Add the mushrooms and continue frying until the mushrooms are soft.
Now mix in the ham and peppercorns.
Mix the milk and cornflour together and whisk to remove any lumps. Pour the whole lot into the pan and bring to the boil.
Stir until the mixture is nice and thick and then turn the heat down to a simmer and leave for minutes.
At this point you should taste the dish. I haven't listed salt as an ingredient, but you may find that you need 1/2 teaspoon salt in the sauce. Also taste the strength of the pepper. If it is not peppery enough for your taste you can add freshly ground black pepper to spice things up a bit. Be careful with the pepper if you are going to freeze the sauce; the strength of the pepper does intensify with standing.
Add the cooked pasta and toss with 2 forks to combine. Try to get the ham and mushroom mixture nice and evenly distributed between the pasta. Leave on a low heat for another minute or two to let the pasta heat through.
Tip into a serving dish and garnish with chopped parsley, and optionally sprinkle with grated parmesan cheese.
Can I freeze this dish?
You can freeze any leftovers in a suitable freezer container for up to 3 months. To use, let it defrost in the fridge and then reheat gently in a saucepan until piping hot. You may find the sauce is a bit too thick, in which case you can add a splash of milk to thin it down a bit.
You may also find that if you freeze the dish after you have added the pasta, that the pasta is a bit too soft once it is defrosted. So my preference is to freeze the sauce on its own and cook the pasta from fresh when needed.
If you want to keep up-to-date with my latest recipes why not follow along on Facebook or Pinterest. And don't forget to subscribe to my mailing list so you can get your FREE COOKERY BOOK
Convert grams to cups
To help you convert your recipes, I have created a handy Cookery Conversion Calculator which will convert ingredients between grams, ounces, tablespoons, cups and millilitres. I hope you will find it useful.
If you live at a high altitude you may find you need to adjust your baking recipes to compensate for this. You can read about how to do this in this post on baking at high altitudes.
Recipe – Ham and mushroom tagliatelle with black pepper sauce
Ham and mushroom tagliatelle with black pepper sauce
Ham and mushrooms tagliatelle in a creamy pepper sauce. On the table in less than half an hour
Equipment
Sharp Knife

Chopping Board

Morter and pestle OR rolling pin

Saucepans

Colander
Ingredients
250

g

cooked ham

chopped into 1cm dice

200

g

onions

chopped into 1cm dice

150

g

button mushrooms

quartered

1

teaspoon

garlic paste or crushed garlic

1

tablespoon

crushed black peppercorns

about 15g

75

g

butter

2

heaped tablespoons

cornflour

30g

2

cups

milk

300

g

dried tagliatelle

or your pasta of choice

1

tablespoon

grated parmesan cheese

for garnish

chopped parsley

for garnish
Instructions
Cook the pasta in a saucepan of boiling, salted water according to the instructions on the packet.

When the pasta is cooked, drain in a colander then rinse under cold water to stop the cooking process. Drain well and set aside.

Melt the butter in a saucepan and then fry the chopped onions and crushed garlic gently until the onions are soft and translucent.

Add the chopped mushrooms and continue to fry slowly until the mushrooms soften (about 5 minutes)

Stir in the ham and the crushed peppercorns.

Mix the cornflour into the milk and add. Bring to the boil, stirring occasionally. Then reduce the heat to a simmer and stir until the mixture thickens. Allow to simmer for a further 5 minutes

Taste for seasoning. At this stage you could add 1/2 teaspoon salt. Add ground black pepper according to your own taste.

Add the cooked tagliatelle and mix well to combine, then let it simmer until the pasta is warmed through.

Tip into a serving dish and garnish with chopped parsley, and grated parmesan cheese if desired .

Serve immediately with garlic bread
Notes
To crush peppercorns – grind in a pestal and mortar.  If you don't have a pestal and mortar, place the peppercorns in a plastic bag and crush with a rolling pin.  The peppercorns should be cracked open, but should not be too finely ground.
For a creamier dish – substitute 100ml milk with 100ml cream.
Adjust the seasoning according to your own taste.  If you find the pepper taste is not strong enough, add ground black pepper as required.  I have also not included salt in this recipe,but you can add salt at this stage if required.
Freeze any leftovers in a plastic container for up to 3 months.  To use, defrost in the fridge and then heat gently in a saucepan on the stove until piping hot.  Personally I prefer to freeze the sauce without the addition of pasta, as I find the pasta tends to become a bit too soft after being frozen.  I would cook the pasta fresh as I need it.
I am not a nutritionist. The nutrition information has been calculated using an on-line calculator, and is intended for information and guidance purposes only. If the nutrition information is important to you, you should consider calculating it yourself, using your preferred tool.
If you made this recipe and enjoyed it, please don't forget to give me a star rating in the comments below. And if you'd like to get in touch, you can email me on foodleclub1@gmail.com. I'd love to hear from you. And don't forget to subscribe to my mailing list so you can grab yourself a copy of my FREE COOKBOOK!
If you'd like to continue browsing, just click on this link to all my recipes.