This is my new favourite way of making extra crispy French fries. The potatoes are coated in a spicy flour mix before being twice-fried to give them an extra crunch on the outside, leaving the inside soft and fluffy.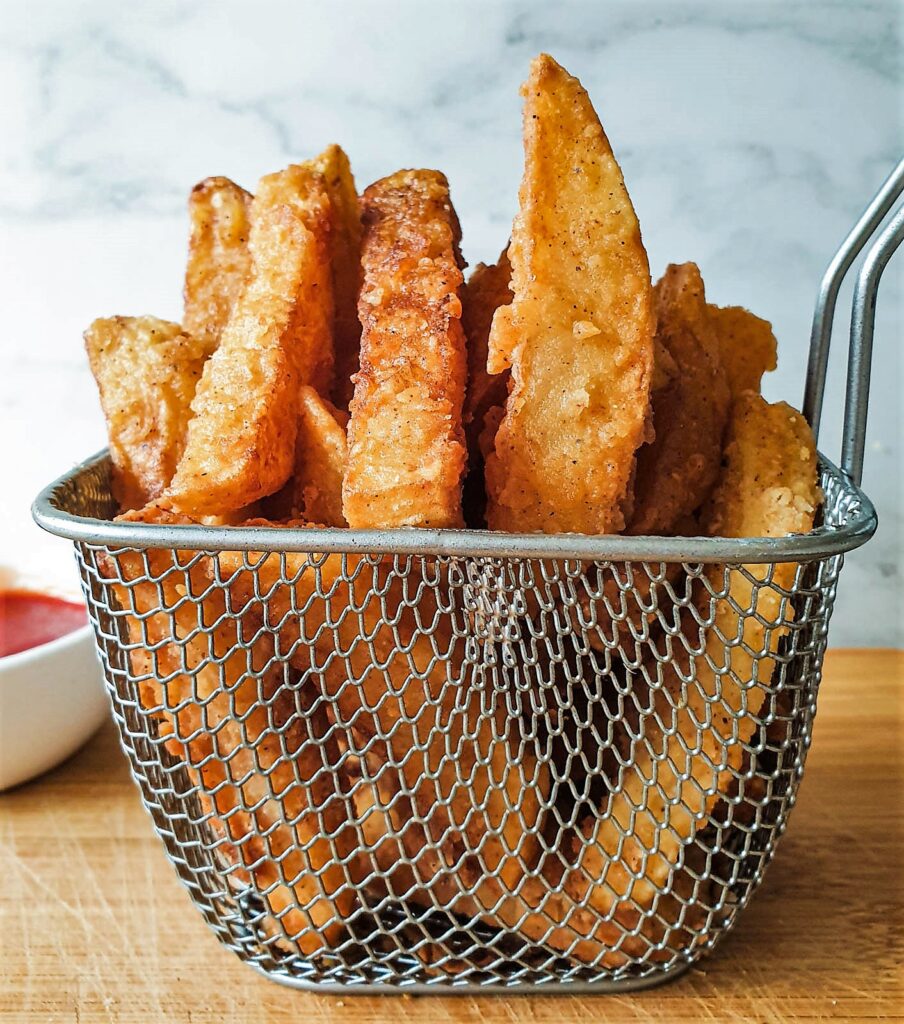 **As an Amazon affiliate, I earn from qualifying purchases.**
Spicy French fries
Who doesn't enjoy a sneaky helping of French fries every now and again. You are going to love these crispy, spicy French fries. They are crunchy on the outside and soft and fluffy on the inside. And they take hardly any time at all to make.
I love the crispy coating on these fries. It is flavoured with garlic and paprika, with just enough salt so that you don't have to reach for the salt cellar before you eat them.
Let me tell you my secrets for making these super crispy French fries.
Firstly, you need to fry them in lard! Seriously. Lard is not as unhealthy as you might think and it gives the fries a great flavour. Also lard has a higher smoke point than regular sunflower oil, so it gets hotter, which means the fries cook faster.
And secondly, you need to fry them twice. This is what makes them super crispy. The first frying is to cook the fries all the way through, and the second fry is to crisp them up.
Frying twice also has the advantage of letting you make them in advance. Just fry them up once, and then leave them to drain on kitchen paper towel until you are ready to finish them off, then pop the fries back into the pan for 2 minutes to allow them to crisp.
These are good served either hot or cold. I find that normal fries turn hard and unappetising if you leave them overnight. These crispy French fries keep their softness. Don't tell anyone, but I've been known to eat the leftovers the next day for breakfast, with a bowl of my homemade mayonnaise for dipping!
Of course, if you've got a lot of time on your hands, you could always try Heston Blumenthal's thrice-cooked chips, which take around 3 hours because you have to freeze them for an hour in between each cook!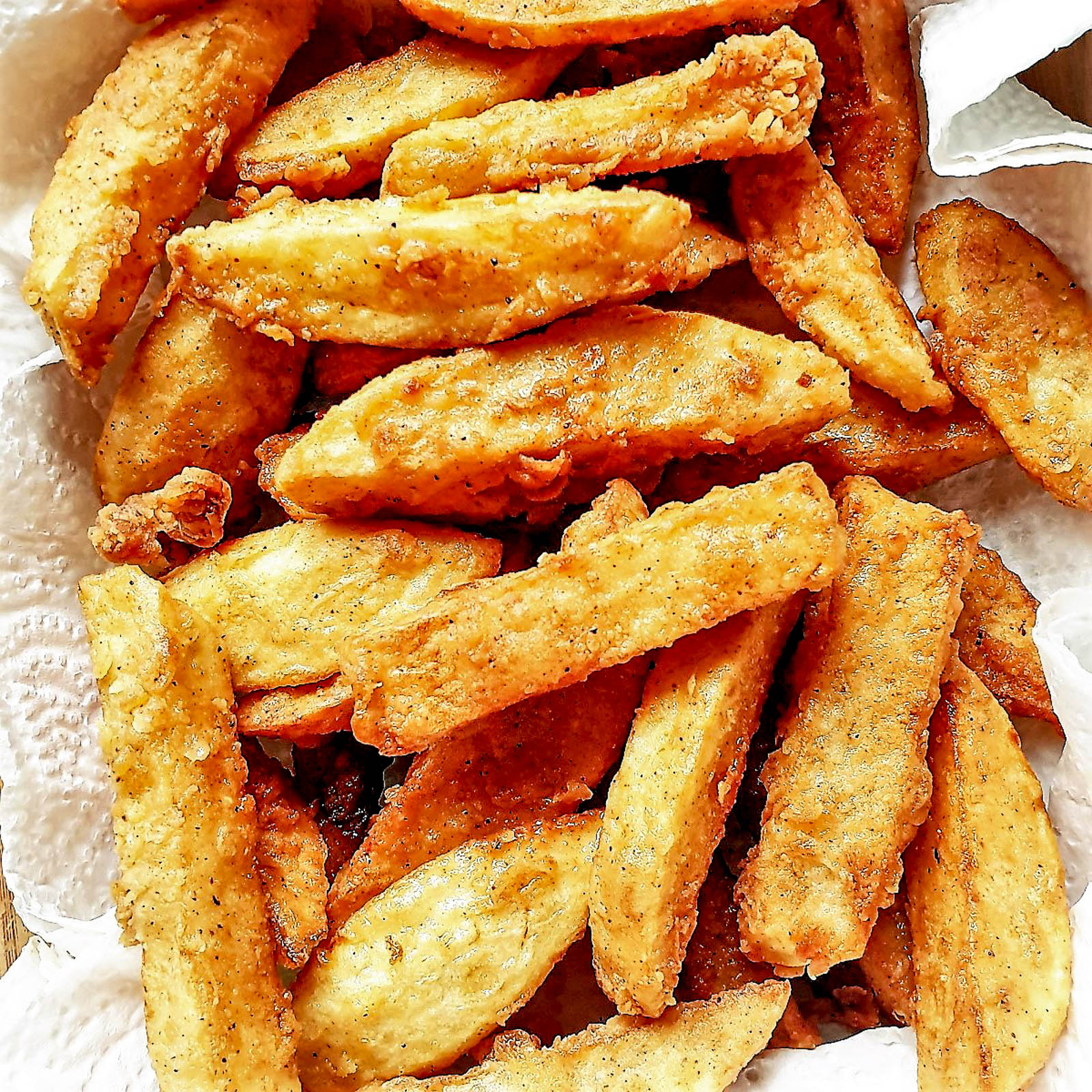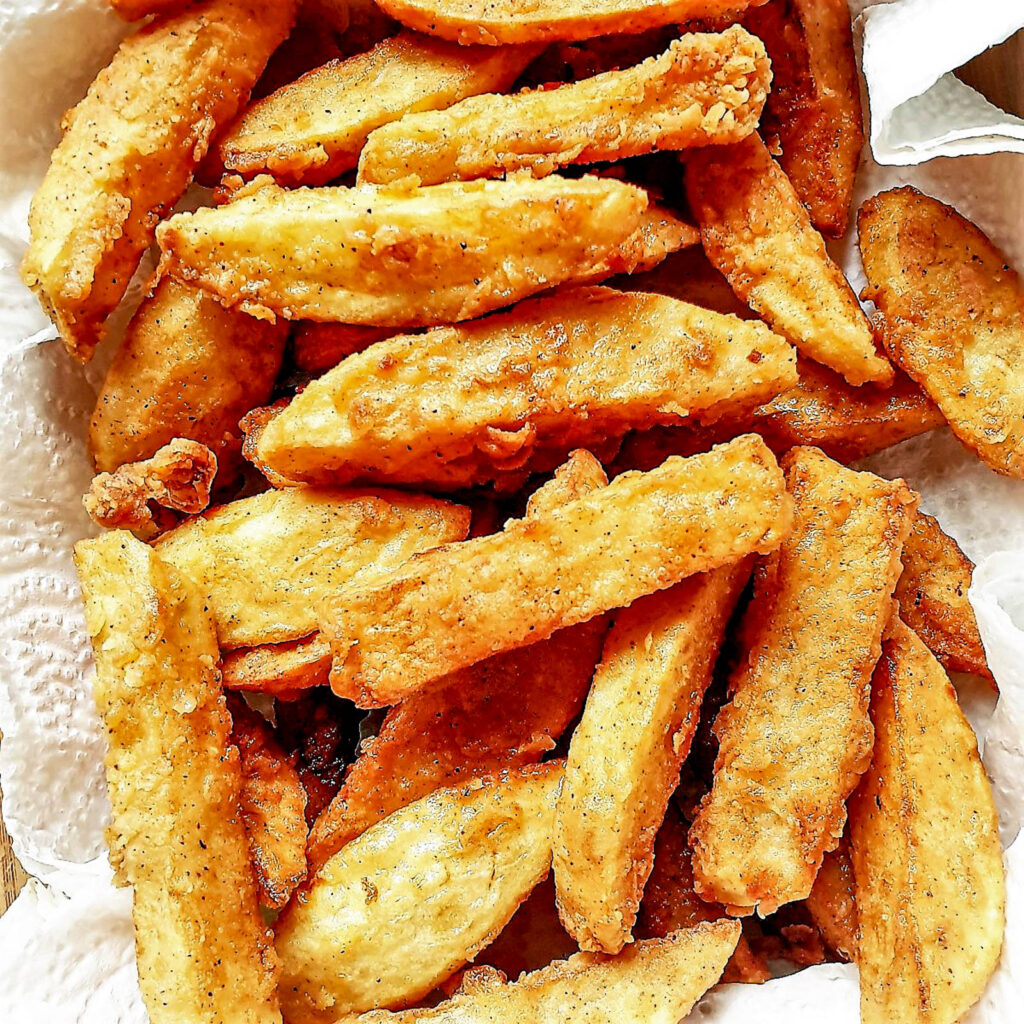 Origin of French fries
And finally, before we get on to making them, did you know French fries did not actually originate in France? No, they originated in Belgium! Apparently, during World War II, American soldiers were stationed in Belgium where moules frites (mussels and fries) is a popular dish. As French is one of the languages spoken in Belgium, the soldiers thought they were in France, and when they got back to America they told everyone about the delicious French fries they had eaten, and the name stuck. I can't vouch for the veracity of this tale, but it's a nice story!
How to make crispy French fries
Ingredients for crispy French fries
You can get the complete list of ingredients and full instructions on how to make these crispy French fries on the printable recipe card at the end of this post.
You will need
One large potato per person. You should use a floury potato like a King Edward, Maris Piper or Russet. These have a high starch content, with a lower water content. Don't use a waxy potato as their water content is too high and this will just evapourate in the hot oil, leaving you with hollow fries.
1 egg and about 1/2 cup of milk mixed together in a large bowl. The amount of milk you will need depends on how many fries you are making.
1 cup of plain white flour seasoned with 1 teaspoon each of paprika, freshly ground black pepper, salt and garlic salt or dried garlic flakes. Once again, the amount of flour will depend on how many chips you are making. I find 1 cup of flour is sufficient for 4 large potatoes. If you are making a larger batch then increase the seasoning accordingly.
250g block of lard – you can use sunflower oil if you prefer, but lard adds extra flavour, and the high smoking point means the fries will cook faster.
How to make spicy French fries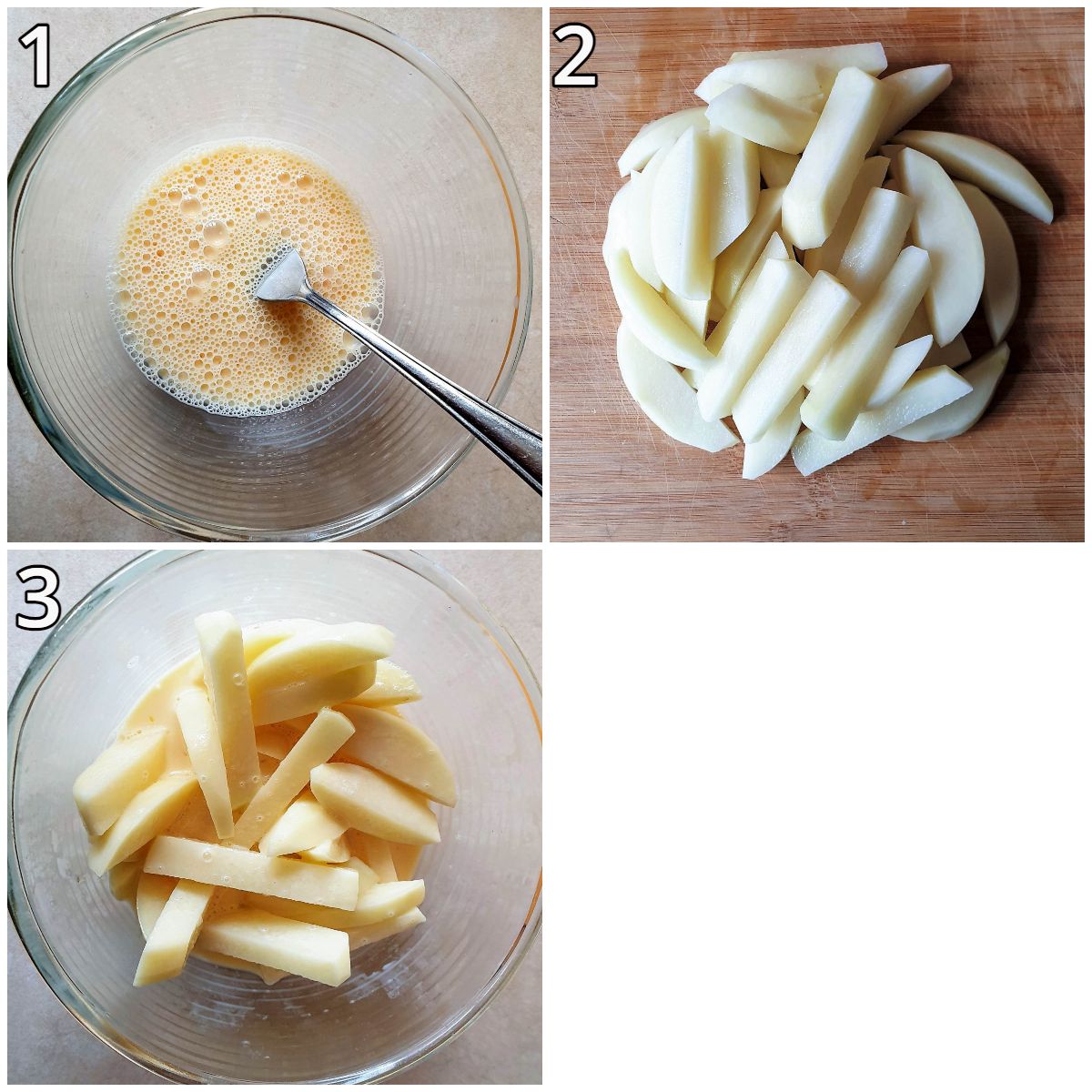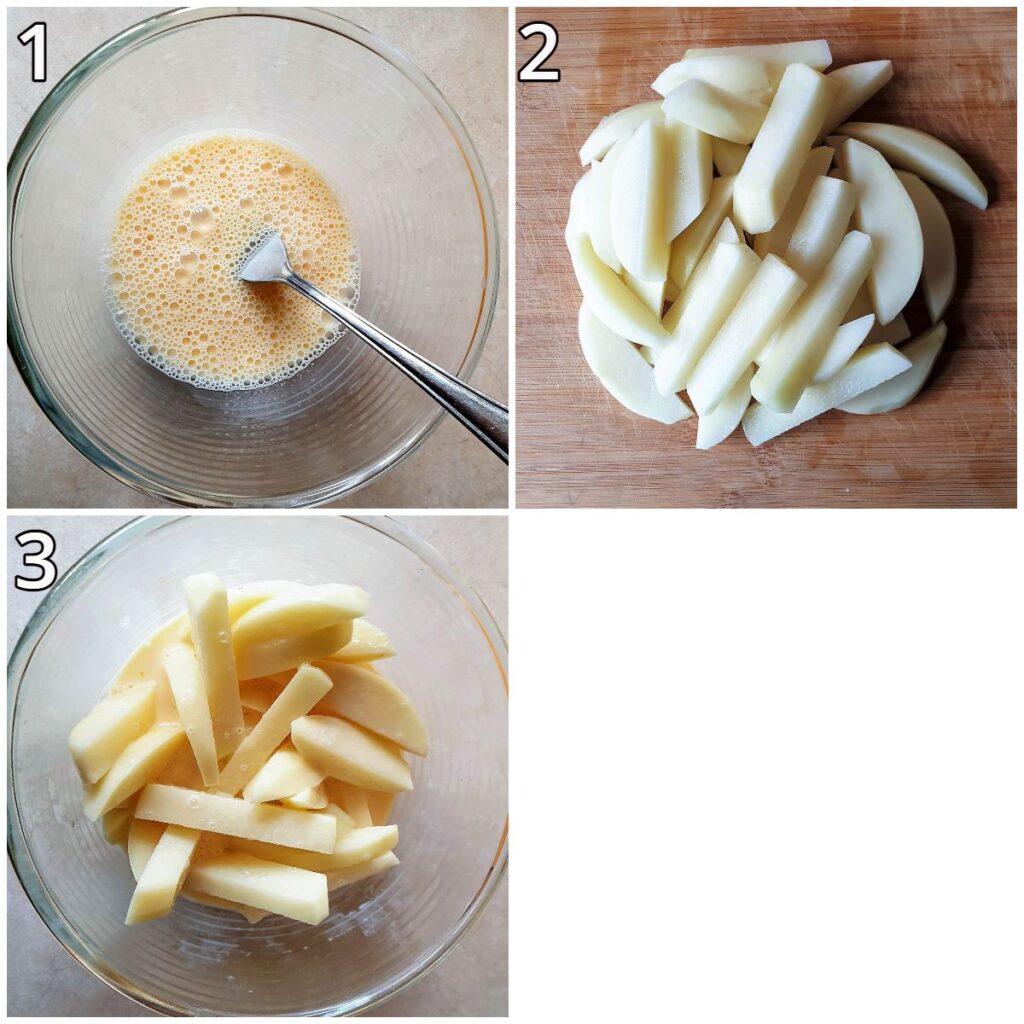 Mix the egg and milk together in a bowl (image 1)
Peel the potatoes and cut them into thickish chip shapes. Don't cut them too thin, about 1cm thickness is a good size (image 2).
Rinse the potatoes in a bowl of cold water to get rid of any excess starch, and then pat dry with kitchen paper.
Place a handful of the cut potatoes in the egg and milk mixture and mix to coat (image 3).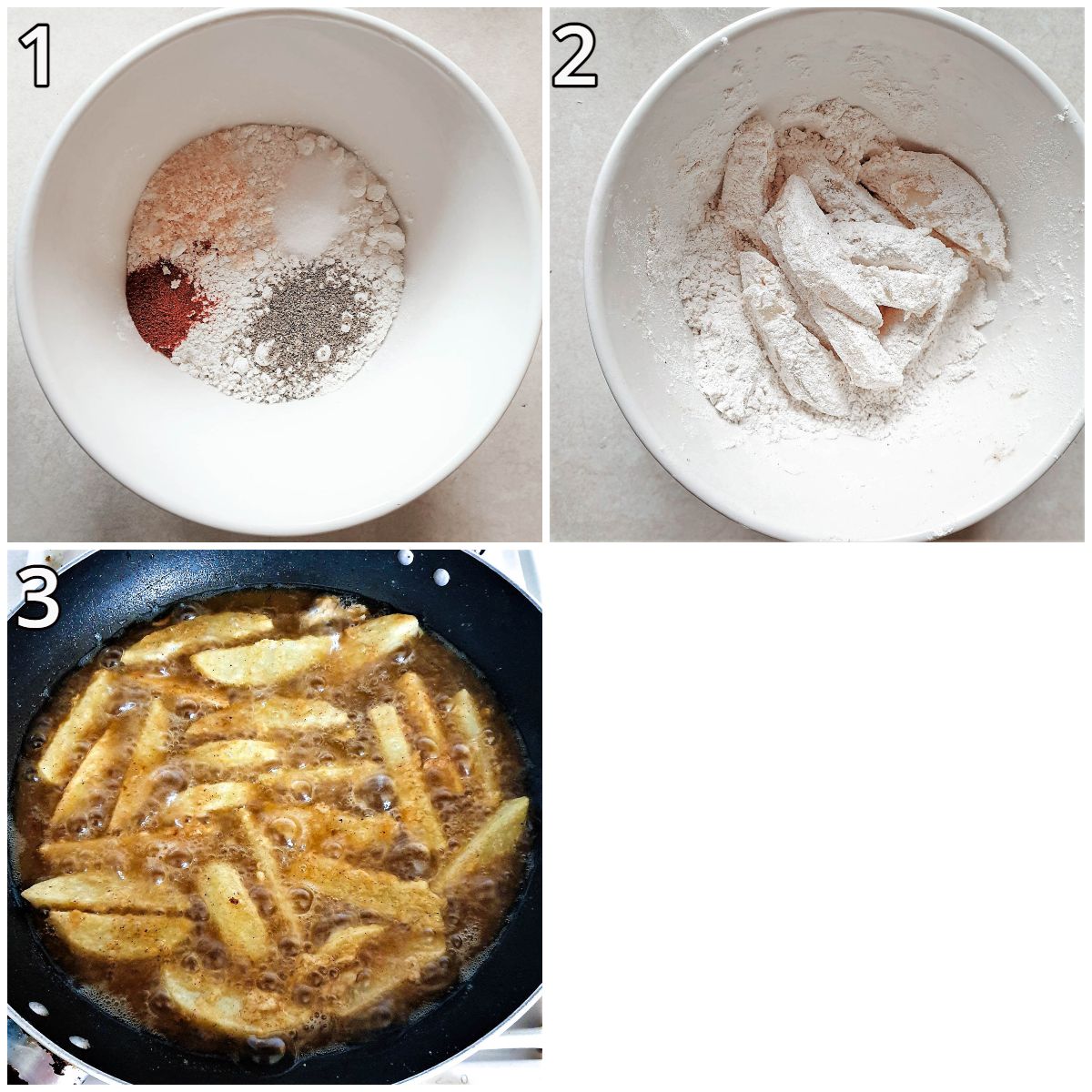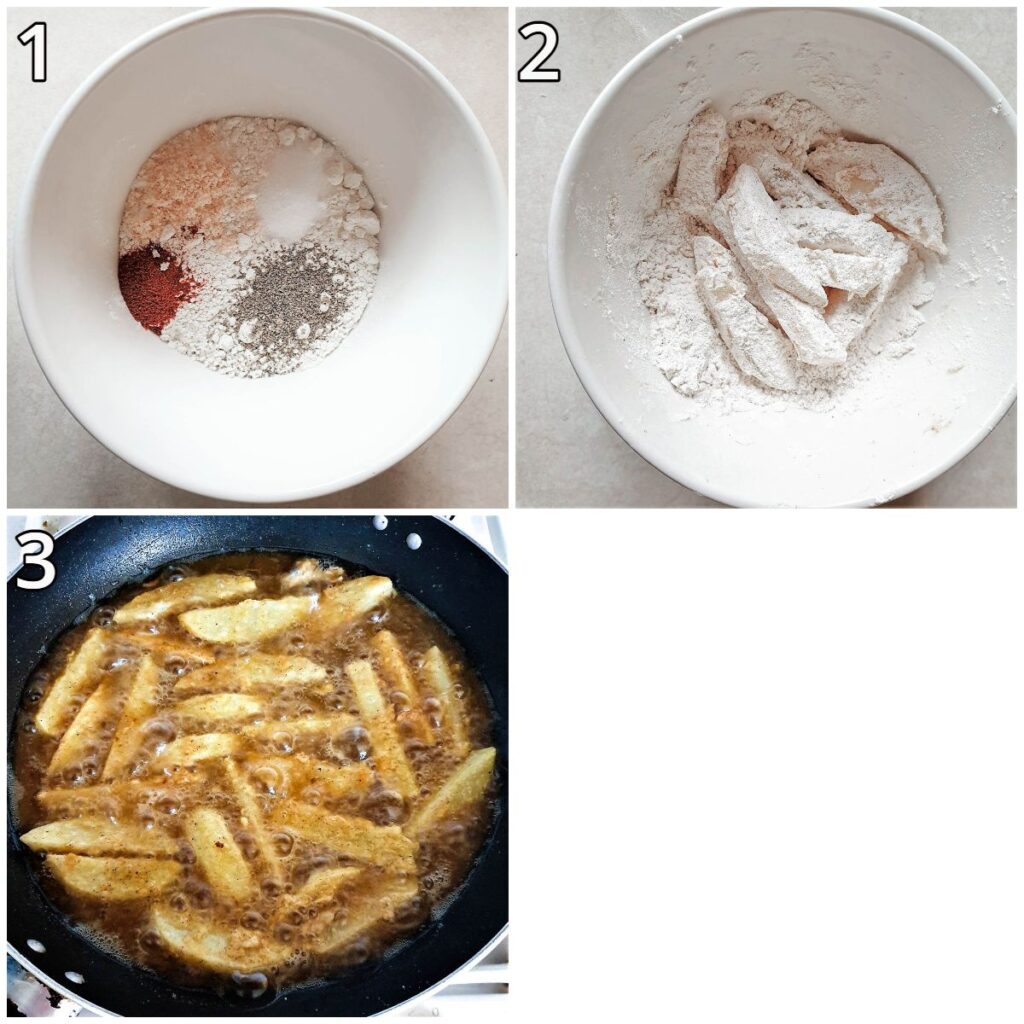 Mix all the spices and flour in a bowl (image 1).
Remove the potatoes from the egg and milk mixture and place in the flour mixture. Mix them around to ensure they are well coated (image 2).
Place the lard in a large frying pan and heat until it has melted. To test for the correct temperature, drop in 1 piece of potato. If the lard sizzles then it is hot enough. If it doesn't sizzle immediately, let it heat a little longer.
Use a slotted spoon to place the coated fries into the hot melted lard. Don't overcrowd the pan, keep the fries to 1 layer (image 3).
Fry for about 5 minutes until they are brown and golden, then remove from the oil, using the slotted spoon, and let them drain on kitchen paper towel. If you are not going to fry the potatoes for a second time then leave them in the hot oil for an extra minute to ensure they are cooked through.
Repeat until all the potatoes have been cooked once.
Now fry the potatoes a second time, in the same pan, for about 2 minutes to allow them to crisp. Remove and drain on kitchen paper towel.
There is only one drawback to this method of cooking French fries, and that is that you are left with a layer of brown, floury sludge at the bottom of the pan, from the excess flour that has fallen from the potatoes. In my mind, it is totally worth it for the delicious crunch and flavour of these crispy potato fries.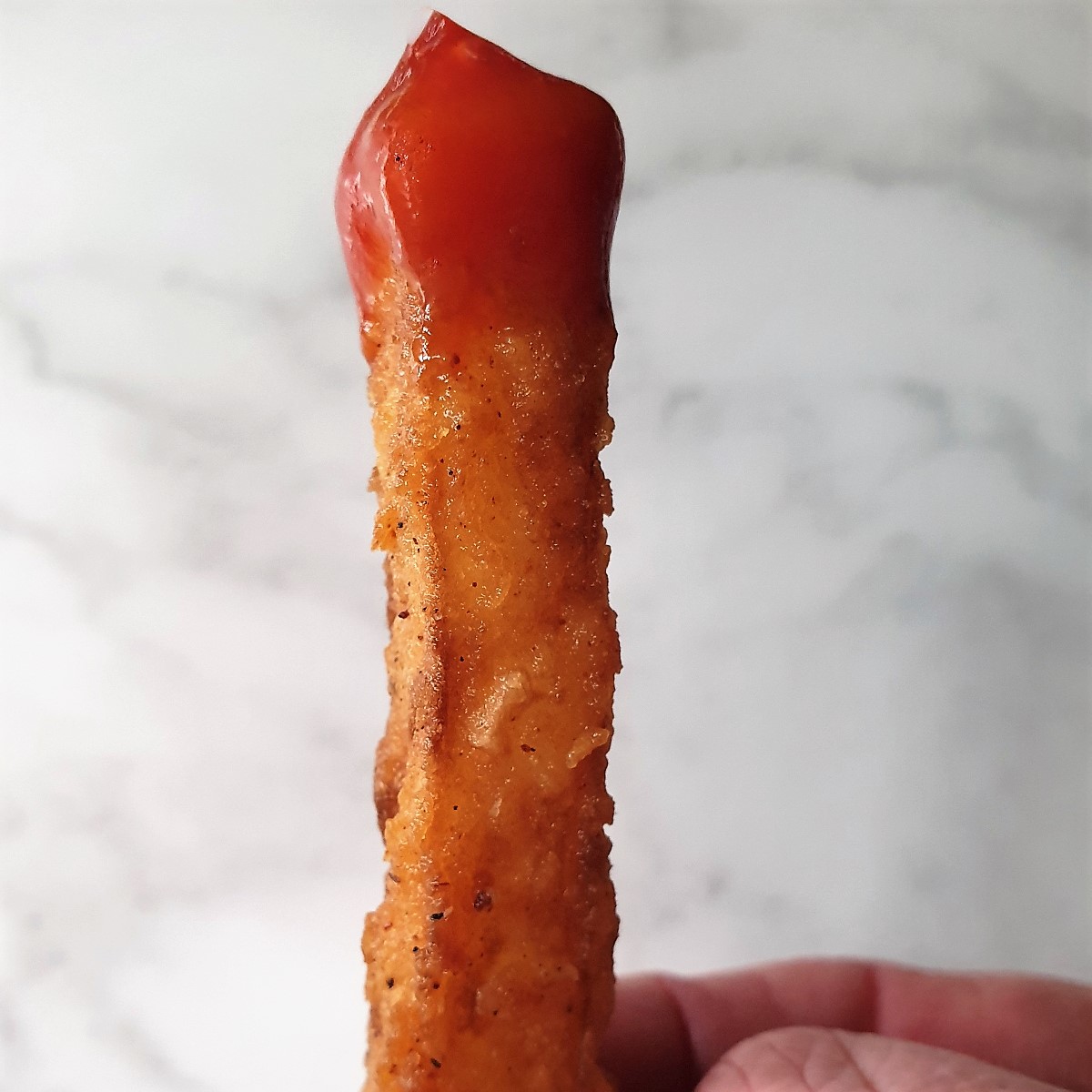 If you'd like to be notified of any new recipes, why not subscribe to my newsletter. As a thank-you gift, you will receive a free recipe e-book containing some of my most popular cakes and desserts.
Why do French fries become crispier if you fry them twice?
When you place food into hot oil it looks as though the oil is boiling. This is not true. It's not the oil that boils, but the moisture near the surface of the food that boils, causing the oil to seem as though it is bubbling.
As the food cools after being fried, internal moisture rises to the surface, so the second frying boils off more moisture. Less moisture left in the food equals a drier and therefore crispier result.
Can I freeze these French fries?
Yes, you can freeze them after the first frying.
Follow the recipe up until all the potatoes have been fried once, then drain them on kitchen paper and leave them until they are cool.
To freeze, arrange them on a single layer on a baking sheet lined with baking parchment to prevent sticking, and place the baking sheet in the freezer to open-freeze. Leave them overnight, or at least for a few hours, until they are frozen solid, then remove them from the baking tray, pack in freezer bags and return to the freezer. The fries can be frozen for 6 months or longer.
To cook, remove from the freezer and fry, from frozen, in hot lard or oil for about 5 minutes.
What can I serve with crispy French fries
These fries are great as a snack, served with a bowl of dipping sauce such as ketchup, or homemade mayonnaise.
Serve topped with a fried egg, alongside a piece of steak, or turn them into a quick supper and serve with sausages and baked beans.
And of course, there's always the traditional fish and chips or homemade fish cakes with mushy peas.
If you enjoyed these fries you may also enjoy my scalloped potatoes – which are slices of potato fried in a crispy batter.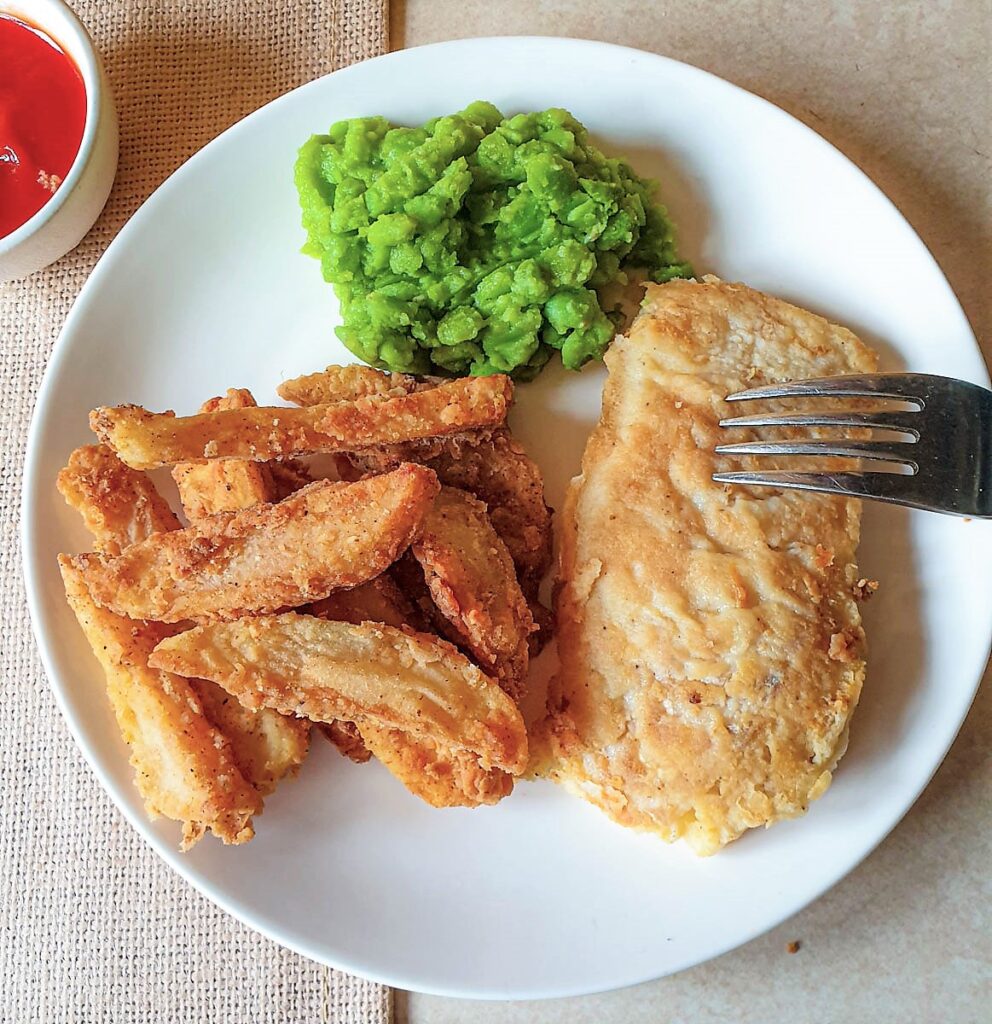 Pin for later
Why not pin this recipe for crispy French fries so that you can make them later.
Recipe – Crispy French Fries
If you made this recipe and enjoyed it, I'd love it if you could give me a star rating in the comments below. And if you'd like to get in touch, you can email me at [email protected]. I'd love to hear from you. And don't forget to subscribe to my mailing list so you can grab yourself a copy of my FREE COOKBOOK!
If you'd like to continue browsing, just click on this link to all my recipes.