Homemade mayonnaise tastes SO much better than shop-bought. And it only takes minutes to make. It's delicious on salads and sandwiches. Read on to see how to make mayonnaise at home, and never run out of mayonnaise again.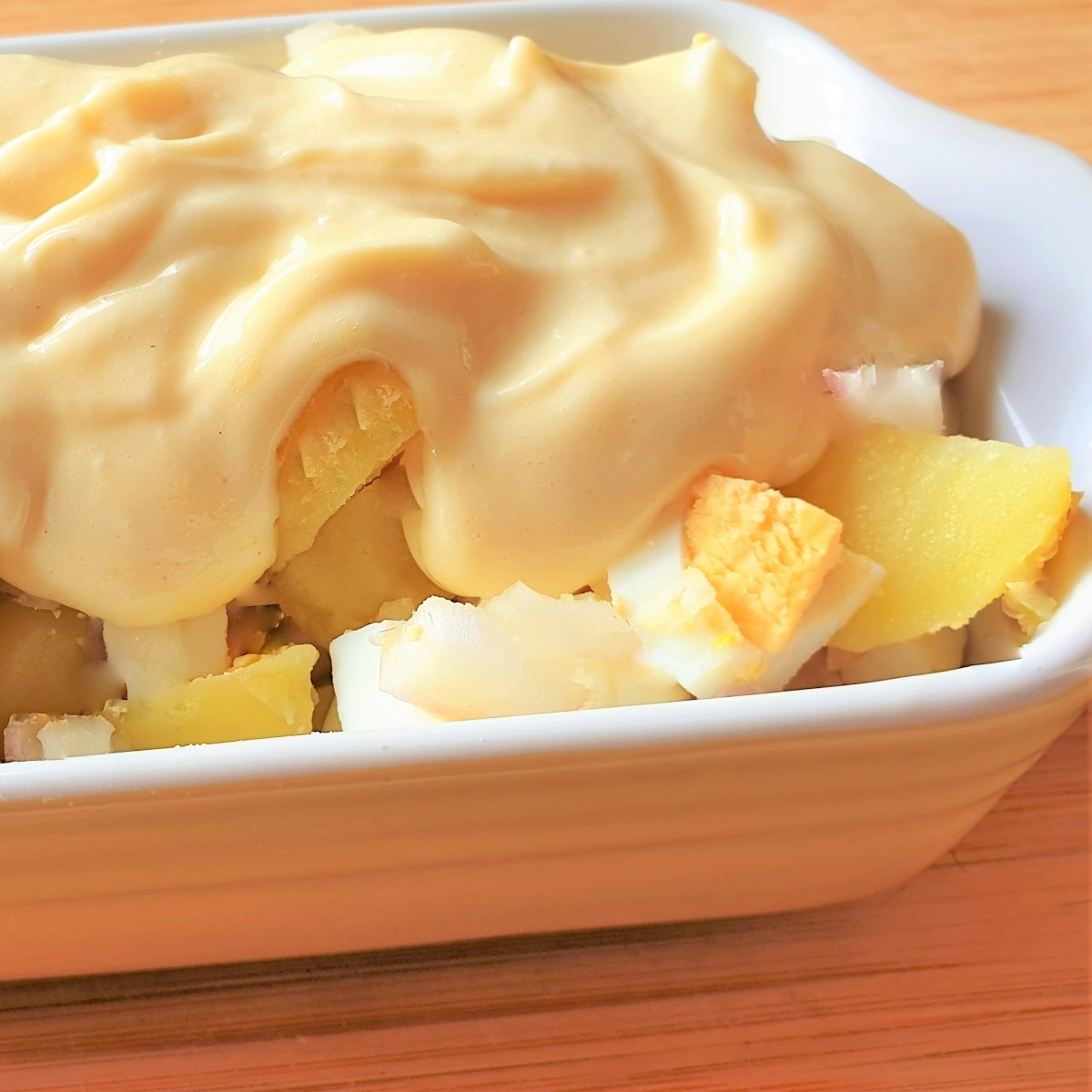 **As an Amazon affiliate, I earn from qualifying purchases.**
Homemade mayonnaise
How many times have you gone to take the bottle of mayonnaise out of the fridge, only to find it was almost empty, and you'd forgotten to buy a new bottle? It's happened to me more times than I care to think about.
Fortunately this guide on how to make mayonnaise will save the day. You only need with only 4 ingredients, which whip up in minutes to a thick, tangy, smooth mayonnaise. This mayonnaise which is perfect for adding to sandwiches or providing an extra zing to salads.
Mayonnaise is really just an emulsion of eggs and oil, with the addition of other flavouring ingredients. The secret to making mayonnaise successfully is simply to beat up the eggs until they become frothy, and then beat in the oil A FEW DROPS AT A TIME. If you add the oil too quickly the mayonnaise will split, but if you add the oil slowly and beat well after each addition, the eggs will gradually emulsify with the oil and thicken. Then, all you have to do is add your preferred flavouring ingredients.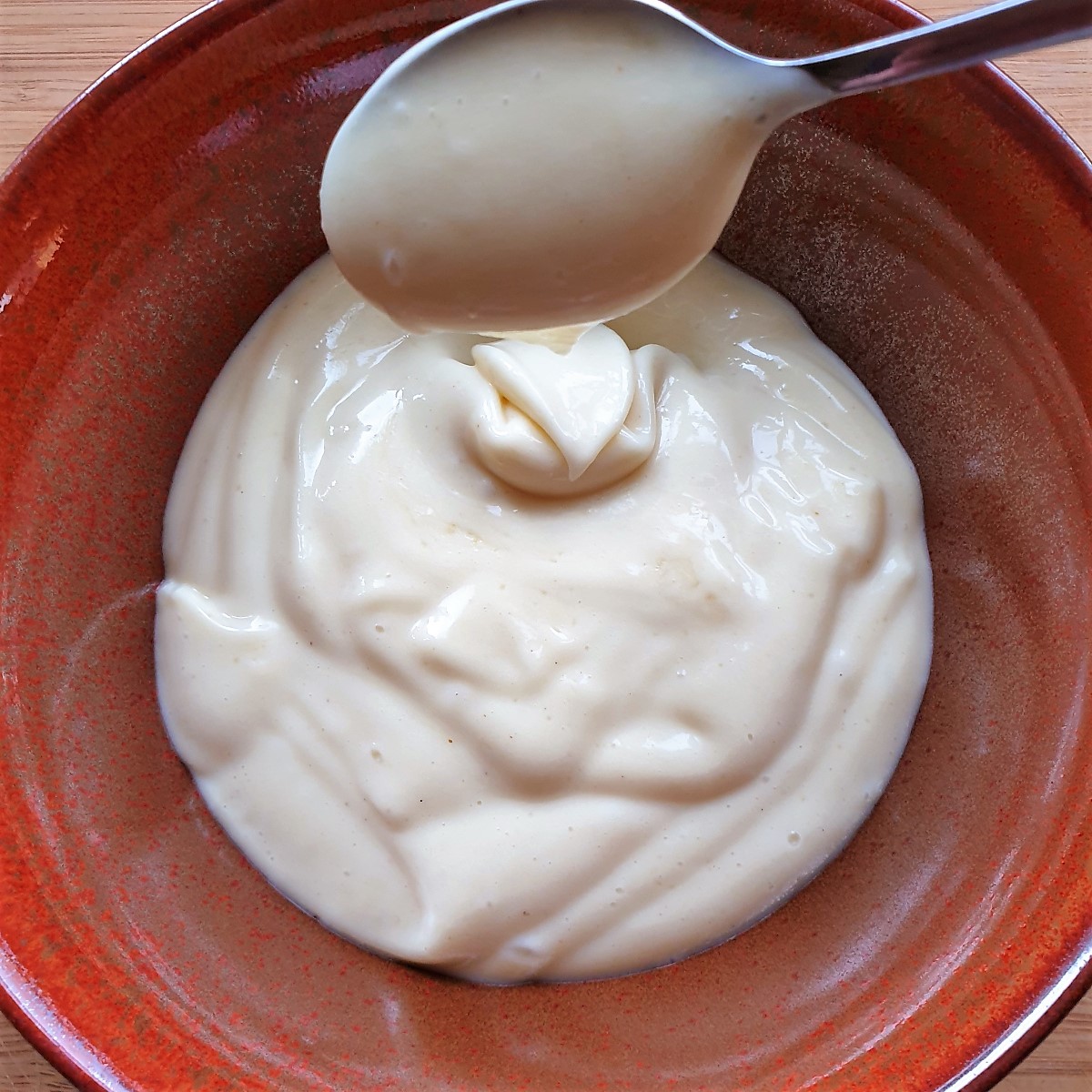 Ingredients for mayonnaise
You can get the complete list of ingredients and full instructions on how to make your own mayonnaise on the printable recipe card at the end of this post.
To start with, you need to gather all your ingredients. For a basic mayonnaise you will need the following.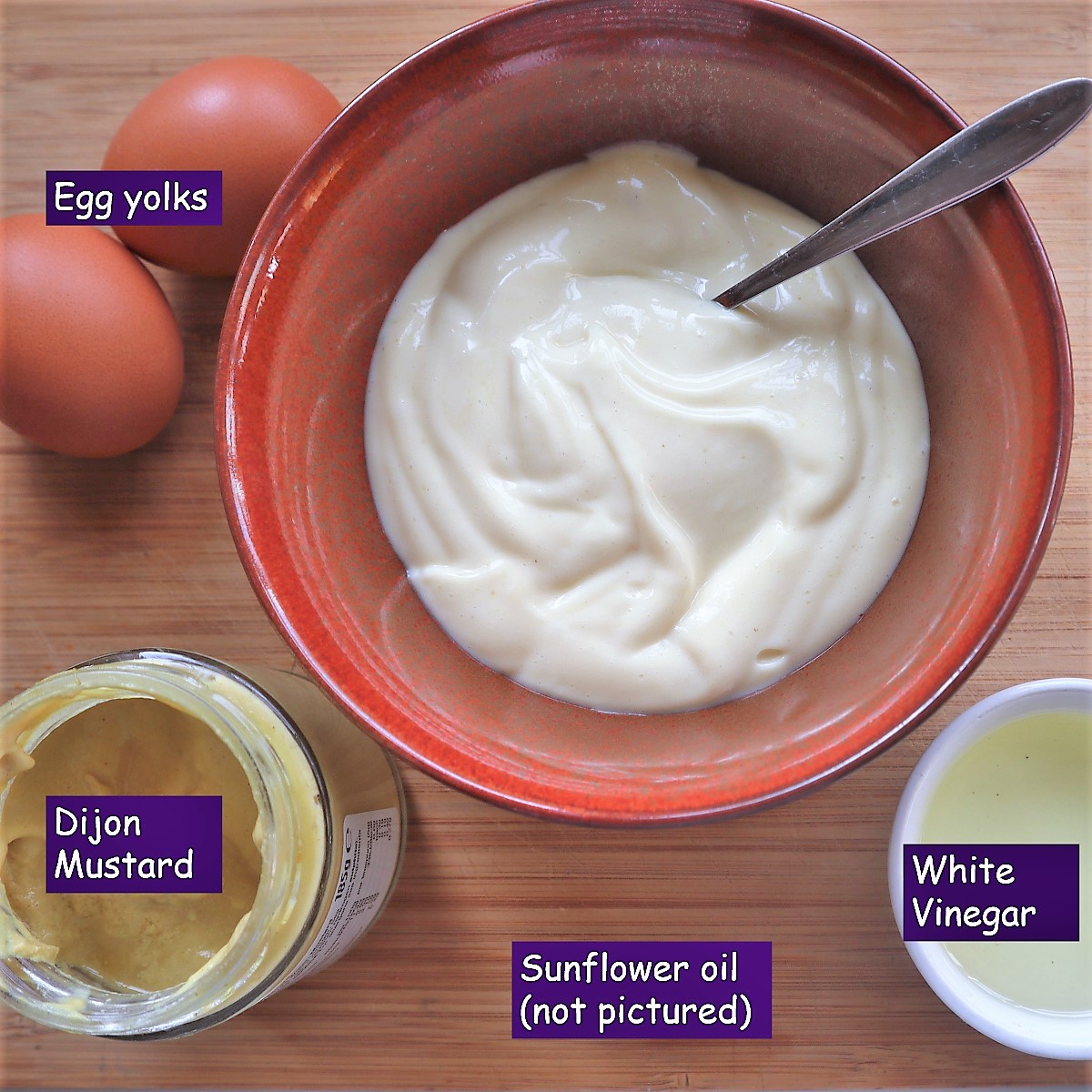 Egg yolks – you need raw egg yolks for this. If you are worried about the risk of salmonella food poisoning by using raw eggs, you can buy pasteurised eggs, or you can click this link to see how to pasturise your own eggs.
I personally don't worry about it. Eggs produced in Britain carry the British Lion mark been produced under the stringent requirements of the British Lion Code of Practice which ensures the highest standards of food safety. The code covers the entire production chain and ensures strict food safety controls including the guarantee that all hens are vaccinated against Salmonella and a 'passport' system ensuring that all hens, eggs and feed are fully traceable.
Sunflower or other neutral flavoured oil – don't use olive oil, unless you are making aioli – the flavour of olive oil is too strong for normal mayonnaise.
Dijon mustard – you will nead 1 teaspoonful per egg yolk.
White vinegar – 1 teaspoonful per egg. Don't use brown malted vinegar, the taste of this is wrong for mayonnaise. Use any mild white wine vinegar. I once used sushi rice vinegar when I'd run out of white wine vinegar and it worked well.
Salt to taste. I also like to add 1 teaspoon of sugar as I think it balances out the acidity of the vinegar, but these are both is totally optional.
How to make basic mayonnaise – step-by-step instructions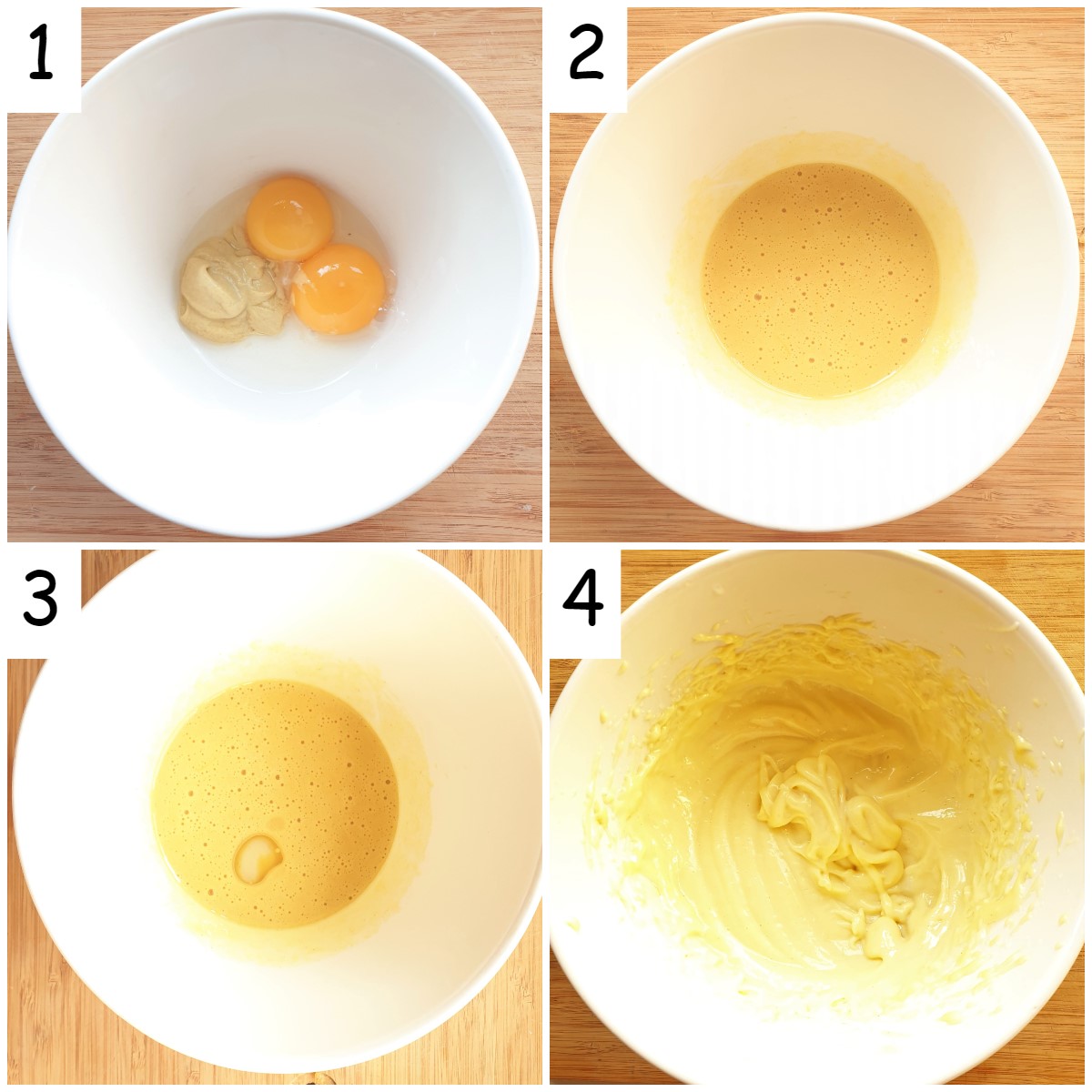 To make basic mayonnaise is simple. The main thing to remember is to add the oil a few drops at a time so that the mixture does not separate.
Place the egg yolks into a bowl and add the mustard. If you prefer to add the mustard at the end with other flavouring ingredients, this is perfectly fine.
Beat the egg yolks with a hand mixer, or if you are feeling energetic, you can use a metal whisk. A food-processor or blender would also be suitable if you have one. The egg should change to a pale yellow colour and become frothy. If you've added the mustard up front, the colour change will not be so noticeable.
Now add the oil A FEW DROPS AT A TIME, and continue to whisk until the oil has emulsified with the eggs. Repeat this step until you have used up about 1/3 of the oil. From this point on you can add the oil a little faster, but keep whisking all the time.
Once the oil is all added you will be left with a thick mayonnaise.
A note on the amount of oil
The amount of oil you will need depends on the size of your egg yolks. You may not need all the oil. Keep adding the oil and whisking until the desired consistency is reached. The mayonnaise should hold its shape in the bowl when it is thick enough.
Mix in half of the vinegar (and mustard if you didn't add it at the beginning) and then taste the mayonnaise. If you need more acidity, mix in the rest of the vinegar.
This is where I add the salt and sugar if I think it needs it. It's all down to your personal preference as to whether you add the salt and sugar or not.
Pour into a clean sterilised jar or container and store in the fridge. It should last for up to a week.
What to serve with homemade mayonnaise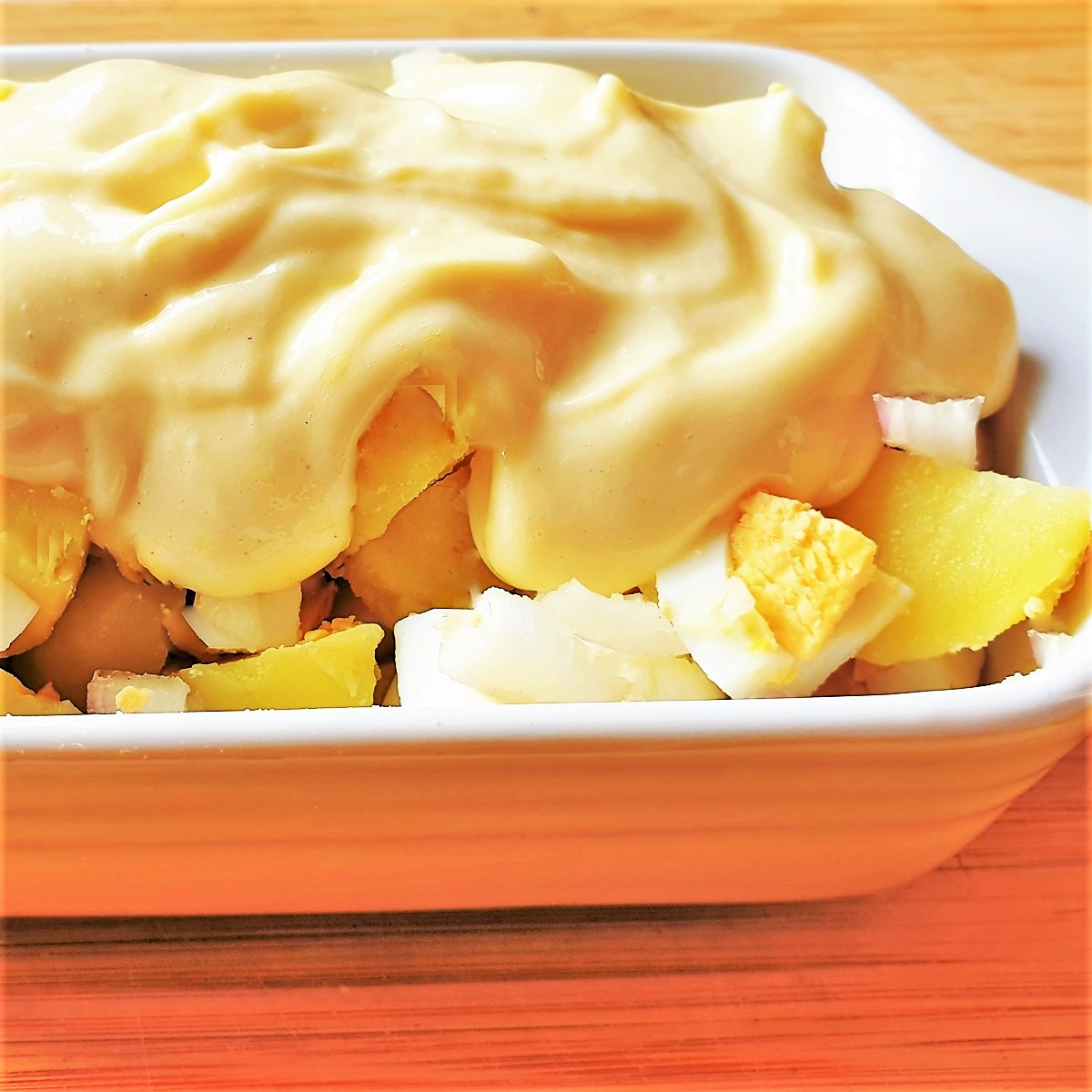 Now that you've learned how to make basic mayonnaise, you need something to serve it with.
I like to make a simple potato salad with baby charlotte potatoes, chopped hard-boiled eggs and very finely chopped onions. Just chop up all your ingredients and ladle the mayonnaise on top.
You could also chop in a bunch of chives for a touch of colour and extra flavour, and stir the mayonnaise through the potatoes. The choice is yours.
This potato salad goes very well with sticky oven-baked pork spare ribs or sticky chicken wings. If you are having a barbeque, why not serve a big bowl of this potato salad with chicken skewers with bacon.
A bowl of this mayonnaise would make a great dip for sesame chicken strips.
You could even mix the mayonnaise with shredded chicken and spoon into homemade vol-au-vents for a delicious party snack.
Variations for homemade mayonnaise
Once you've learned how to make mayonnaise, you can make endless variations of the same recipe. Here are a few ideas to get you started.
Aioli
Aioil is a garlic-based mayonnaise-like sauce popular in Spanish cuisine, and is delicious spread on crusty bread, or used as a dipping sauce for prawns or calamari.
Traditional authentic aioli does not contain eggs, the only ingredients being olive oil, salt and garlic, and it is difficult to get the ingredients to thicken. For an easier version of aioli, simply use this basic mayonnaise recipe and swap out the mustard for an equivalent amount of garlic paste (from a tube, or grind fresh garlic to a paste with a little salt) and omit the vinegar.
Marie Rose Sauce
This is sometimes called seafood sauce and is normally used as a dressing in a seafood cocktail. To make this, emulsify the eggs and oil as per the basic mayonnaise, and once thick, stir in a few drops of tabasco sauce and a tablespoon of tomato ketchup or tomato sauce
Honey Mustard Mayonnaise
Try serving this over a simple salad made with chopped tomatoes, finely sliced onions and lettuce. Or use it as a dip for chicken or cocktail sausages.
To make it , mix up a batch of basic mayonnaise, but swap out the vinegar for a teaspoon (or more to taste) of honey. You might also need to increase the amount of mustard slightly for an extra tang.
If you'd like to be notified of any new recipes, why not subscribe to my newsletter? As a thank-you gift, you will receive a free recipe e-book containing some of my most popular cakes and desserts.
Pin for later
Why not pin this recipe so you can make your own homemade mayonnaise.
Recipe – How to make Mayonnaise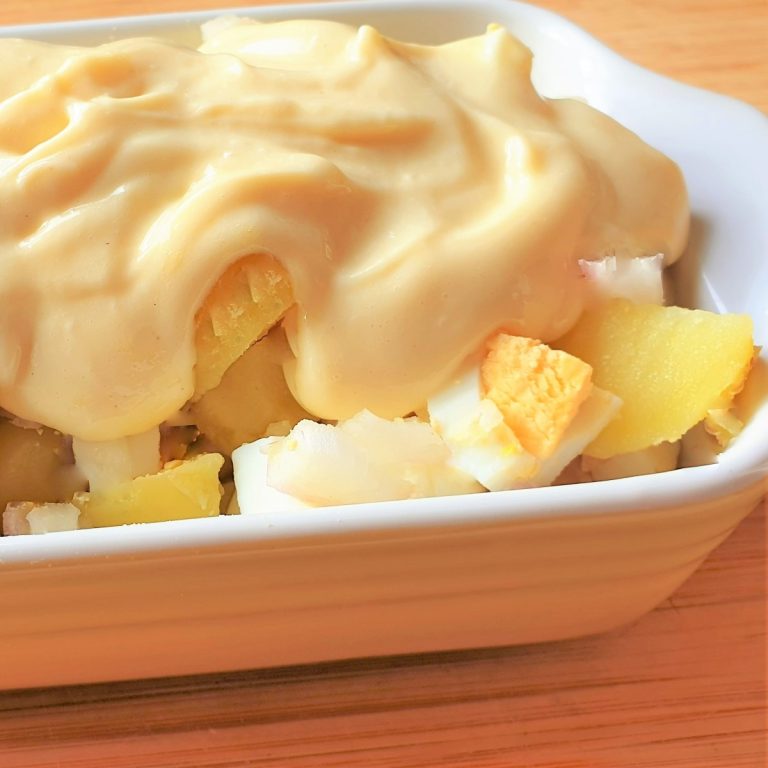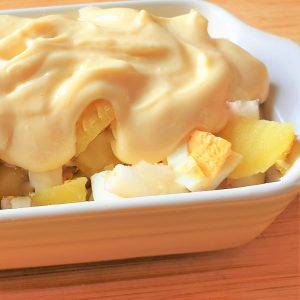 How to make Mayonnaise
Homemade mayonnaise tastes SO much better than shop-bought. And it only takes minutes to make. It's delicious on salads and sandwiches. Read on to see how to make mayonnaise at home, and never run out of mayonnaise again.
Servings:
1
cup (approxiately)
Print
Pin
Comment
Bookmark
Saved!
(Click the stars to rate this recipe)
Ingredients
2

large

egg yolks

1

cup

(

240ml

) sunflower oil

2

teaspoons

Dijon mustard

2

teaspoons

white wine vinegar

¼

teaspoon

salt

optional

1

teaspoon

sugar

optional
Instructions
Place egg yolks and mustard in a mixing bowl

Beat with a balloon whisk or eletric hand-mixer until light and fluffy.

Add 1 or 2 drops of oil and continue beating until combined.

Repeat adding the oil and beating until approximately ⅓ of the oil has been combined.

You can now slowly increase the amount of oil that you add, beating well after each addition, until all the oil has been incorporated and the mixture is thick and holds its shape in the bowl.

Mix in half the vinegar, taste and add the rest of the vinegar if necessary to your own taste.

Add the optional salt and sugar to taste (if using).

Store in a suitable container in the fridge or up to a week.
Notes
Variations
Aioli – Substitute the sunflower oil for olive oil.  Substitute the vinegar for 1 teaspoon garlic paste.
Marie Rose Sauce – Substitute the vinegar for a few drops of tabasco sauce, and one tablespoon tomato ketchup.
Honey Mustard Sauce – Substitute vinegar for 1 teaspoon honey and increase the mustard to taste.
Nutrition has been calculated per 50g
Nutrition
Calories –
445
kcal
|
Carbohydrates –
1.2
g
|
Protein –
1.2
g
|
Fat –
49.2
g
|
Saturated Fat –
5.3
g
|
Cholesterol –
84
mg
|
Sodium –
142
mg
|
Potassium –
12
mg
|
Fiber –
0.1
g
|
Sugar –
0.9
g
|
Calcium –
10
mg
I am not a nutritionist. The nutrition information has been calculated using an on-line calculator, and is intended for information and guidance purposes only. If the nutrition information is important to you, you should consider calculating it yourself, using your preferred tool.
Unless otherwise stated, a cup is the standard US cup containing 240 ml. In all my recipes this cup is assumed to hold 140g of flour. For help converting other ingredients between cups, grams, ounces and other measures, see my recipe conversion calculator.
All my recipes are developed and tested at sea-level. For tips on adjusting recipes for high altitudes see my post on baking at high altitudes.
Tried this recipe?
If you made this recipe I'd love it if you could leave me a comment and let me know how it went!
Share on Facebook
Share on Twitter
If you made this recipe and enjoyed it, I'd love it if you could give me a star rating in the comments below. And if you'd like to get in touch, you can email me at [email protected]. I'd love to hear from you. And don't forget to subscribe to my mailing list so you can grab yourself a copy of my FREE COOKBOOK!
If you'd like to continue browsing, just click on this link to all my recipes.