Vol-au-vents are an impressive party snack to serve when you have guests. Here's how to make the easiest vol-au-vent cases from shop-bought puff pastry. Make a batch today and pack them with your favourite fillings for a quick and easy party canape!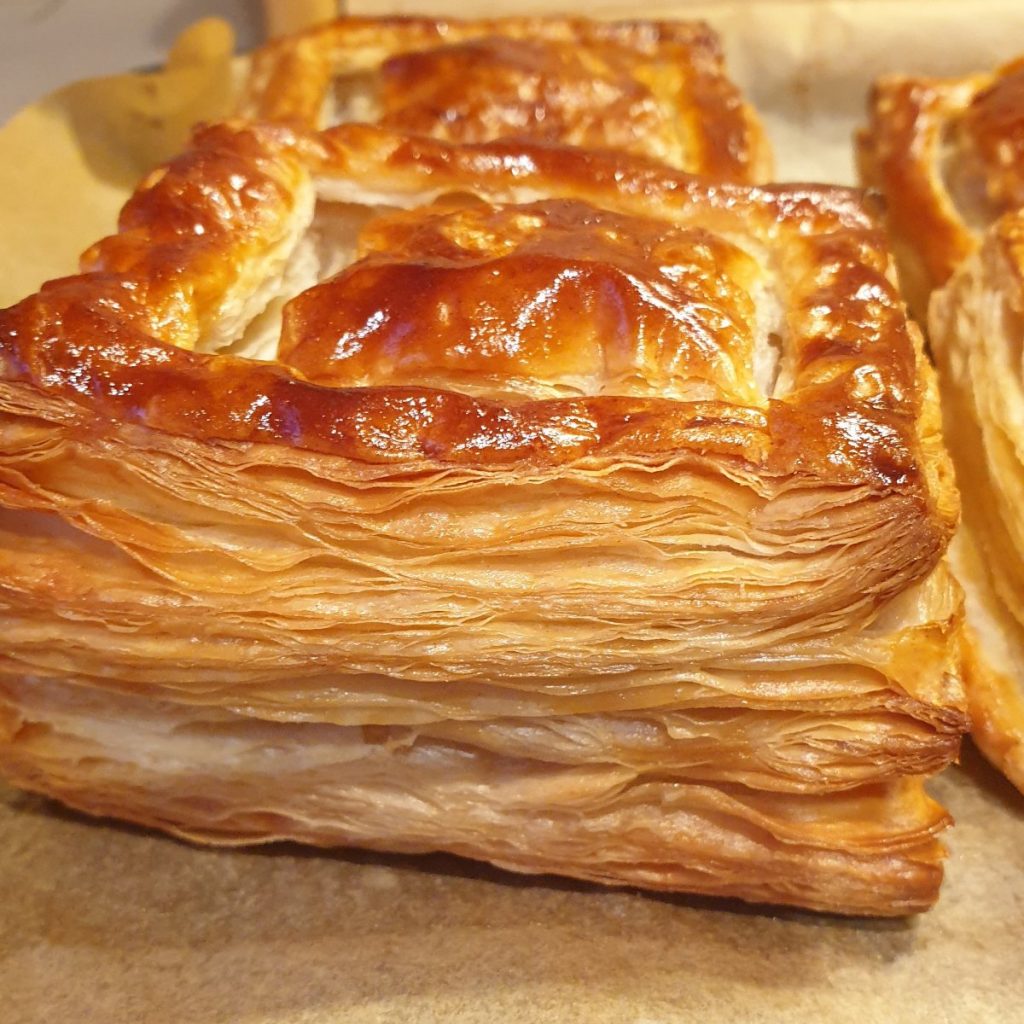 **As an Amazon affiliate, I earn from qualifying purchases.**
Vol-au-Vents
There is a good reason why vol-au-vents were so popular back in the 70s. It is simply because they were so quick to prepare and taste so delicious to eat. Who doesn't love a crispy, melt-in-the mouth puff pastry case packed with mouth-watering fillings of savoury goodness.
It's a pity that these tasty morsels seem to have gone out of fashion, because they are one of the easiest snacks to make and serve. Let me show you how to make your own homemade vol-au-vent cases from shop-bought puff pastry. I've got ideas for loads of delicious fillings too so that you can impress your Christmas guests with plates of tasty snacks.
Ingredients for vol-au-vent cases
Whenever I read a recipe I like to have a look at the ingredients to see whether I have everything I need. To make it easy for you – I've listed the ingredients below. You can get the full list of ingredients and quantities in the printable recipe card further down in the post.
This has got to be the shortest shopping list ever!
Puff pastry – you can buy ready-rolled puff pastry, or you can buy it in a block that you have to roll yourself.
Egg
That's it. That is all you need to make vol-au-vent cases.
Recipe information
Prep time – 10 minutes
Cooking time – 20 minutes
Yield – 6 large vol-au-vents
Calories – 205 each (excluding any filling)
Main equipment – A large baking tray lined with baking parchment. You could also link your baking tray with a non-stick silicone mat.
How to make vol-au-vents
To assemble
Place your puff pastry on a floured board. Using a rolling pin, roll it out into a rectangular shape, roughly 24cm x 36 cm. If you have ready-rolled pastry, you can just unroll it.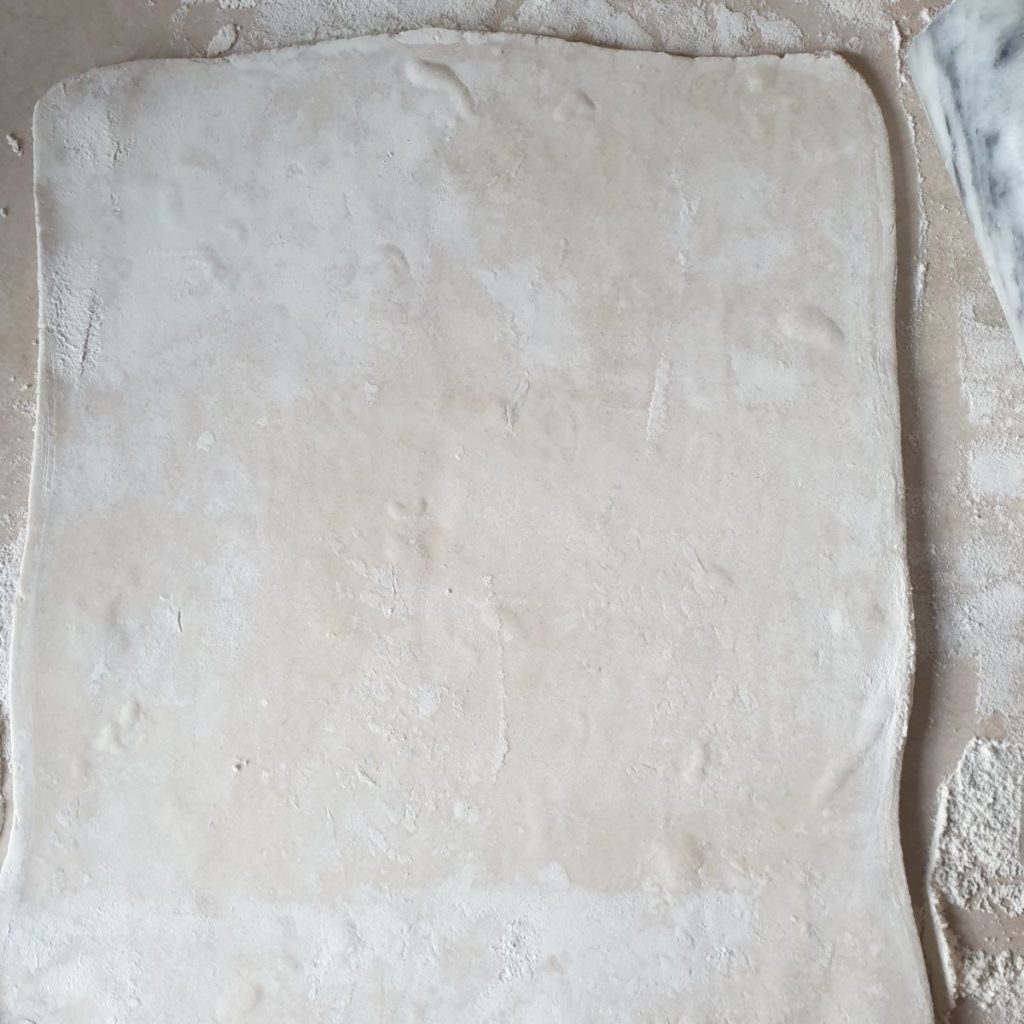 Cut the pastry into equal-sized squares. Make an even number of squares. You will need 2 squares for each vol-au-vent.
Take half of your squares and cut another square on the inside. Leave a rim around the edge. This will form the sides of your vol-au-vent as it cooks.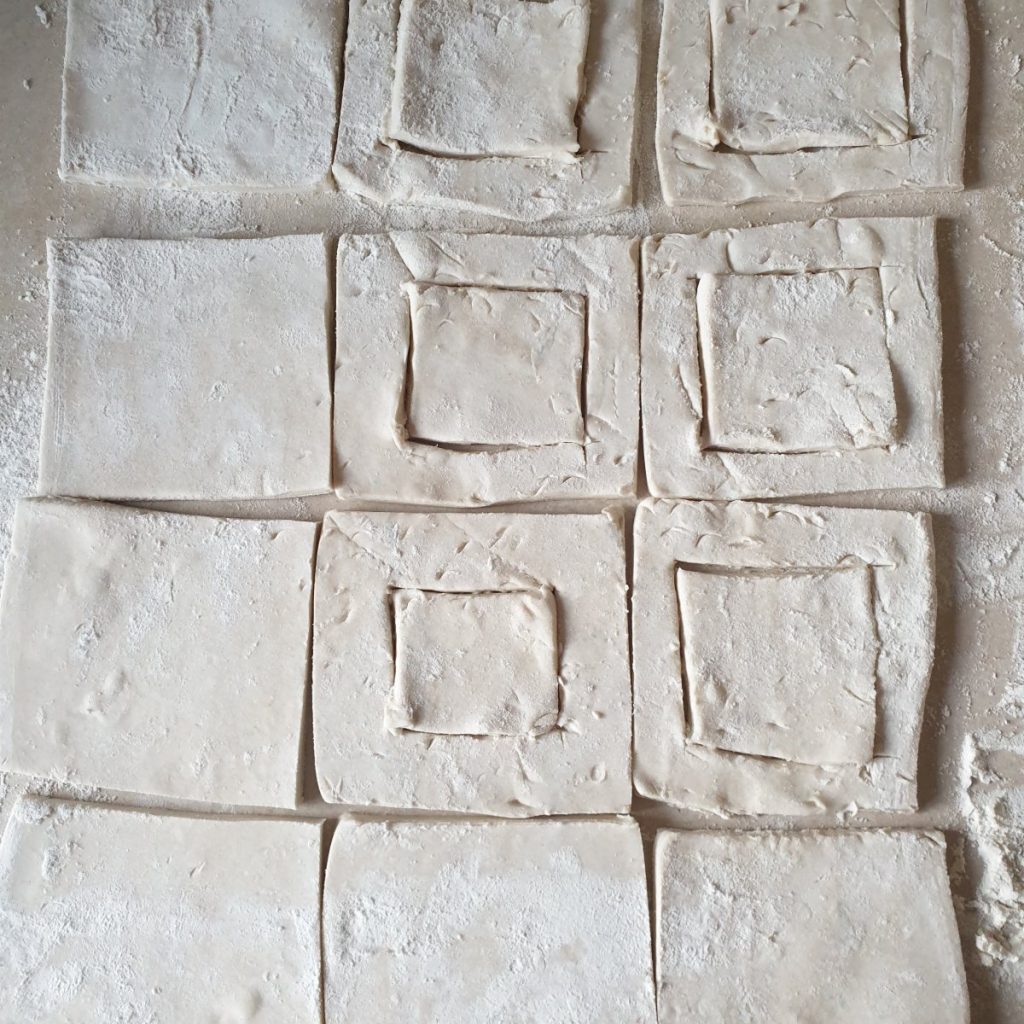 Mix the egg with a little water or milk to form an egg wash. Brush the edges of the UNCUT squares with it.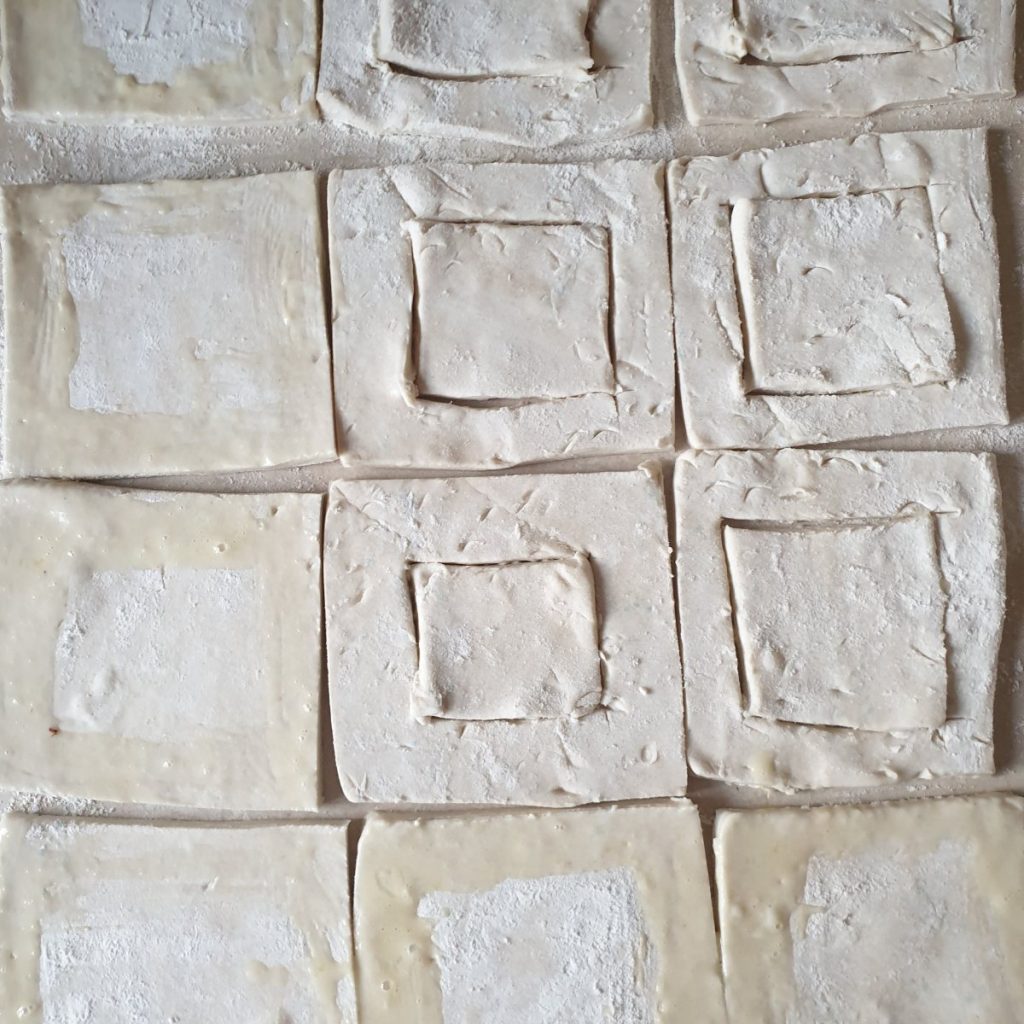 Take the squares with the cut in the centre and arrange them on top of the uncut squares. You will now have squares of pastry with 2 layers each.
Brush these with egg wash, but be careful not to get it on the sides otherwise your vol-au-vents will not rise properly.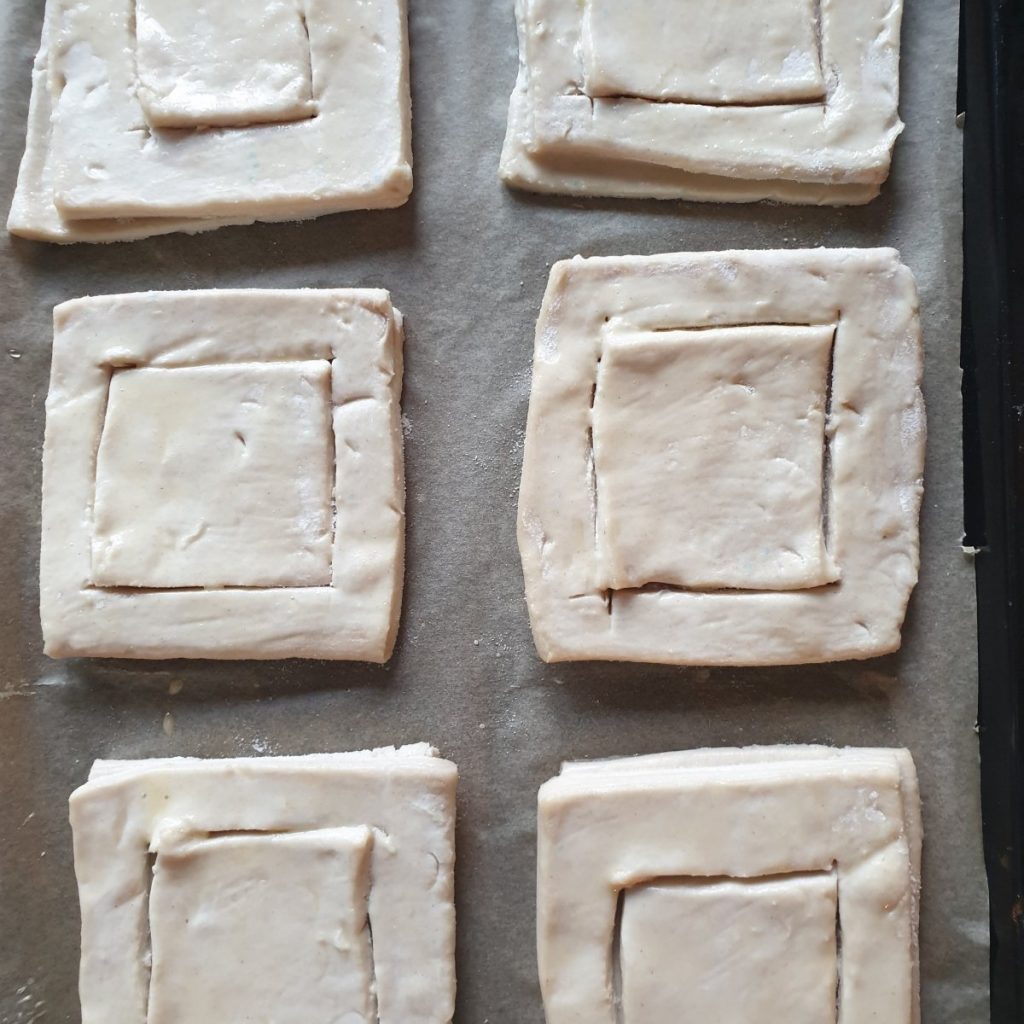 To bake
Pre-heat the oven to 190C/375F.
Line a baking sheet with parchment or baking paper and arrange the squares on it.
Place in the pre-heated oven for 15 minutes until well-risen and golden.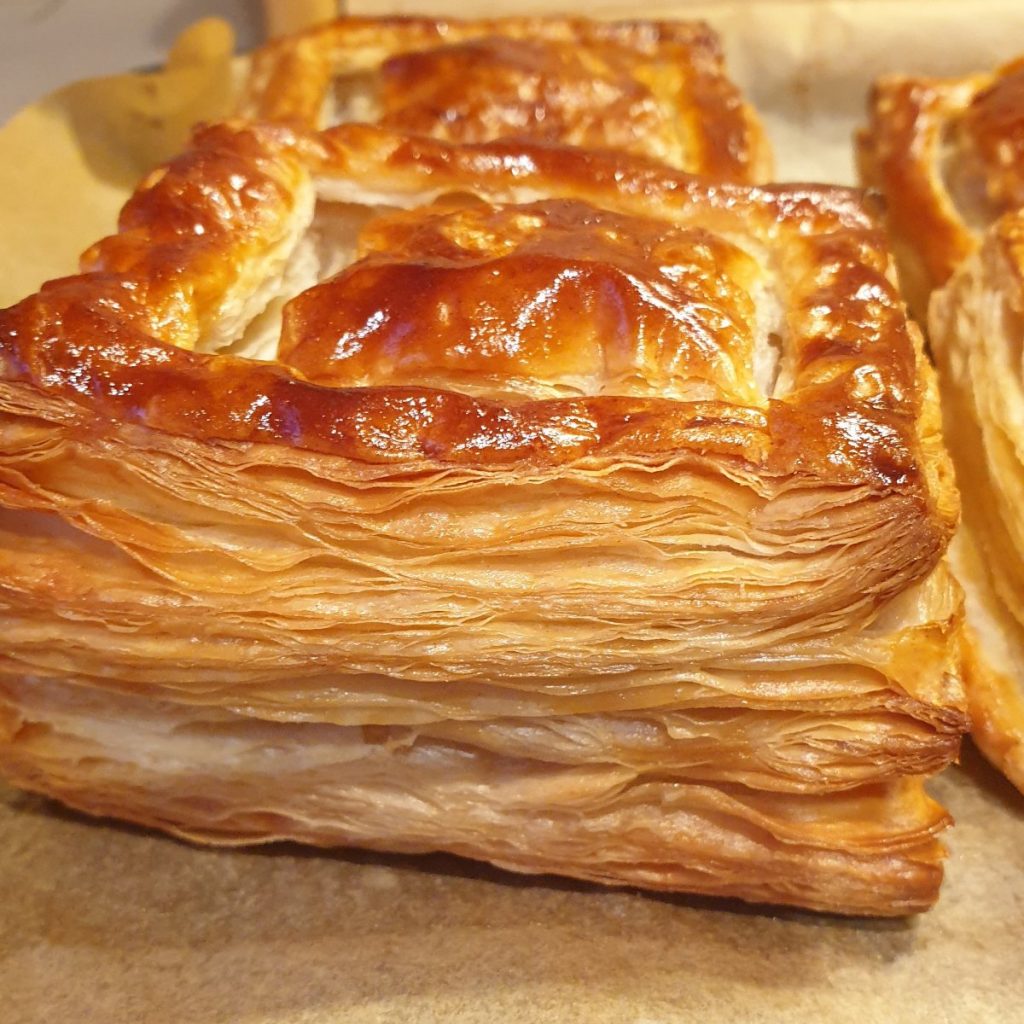 Remove from the oven and allow to cool slightly.
Carefully remove the centre of each vol-au-vent and reserve to place on top of the filled vol-au-vent.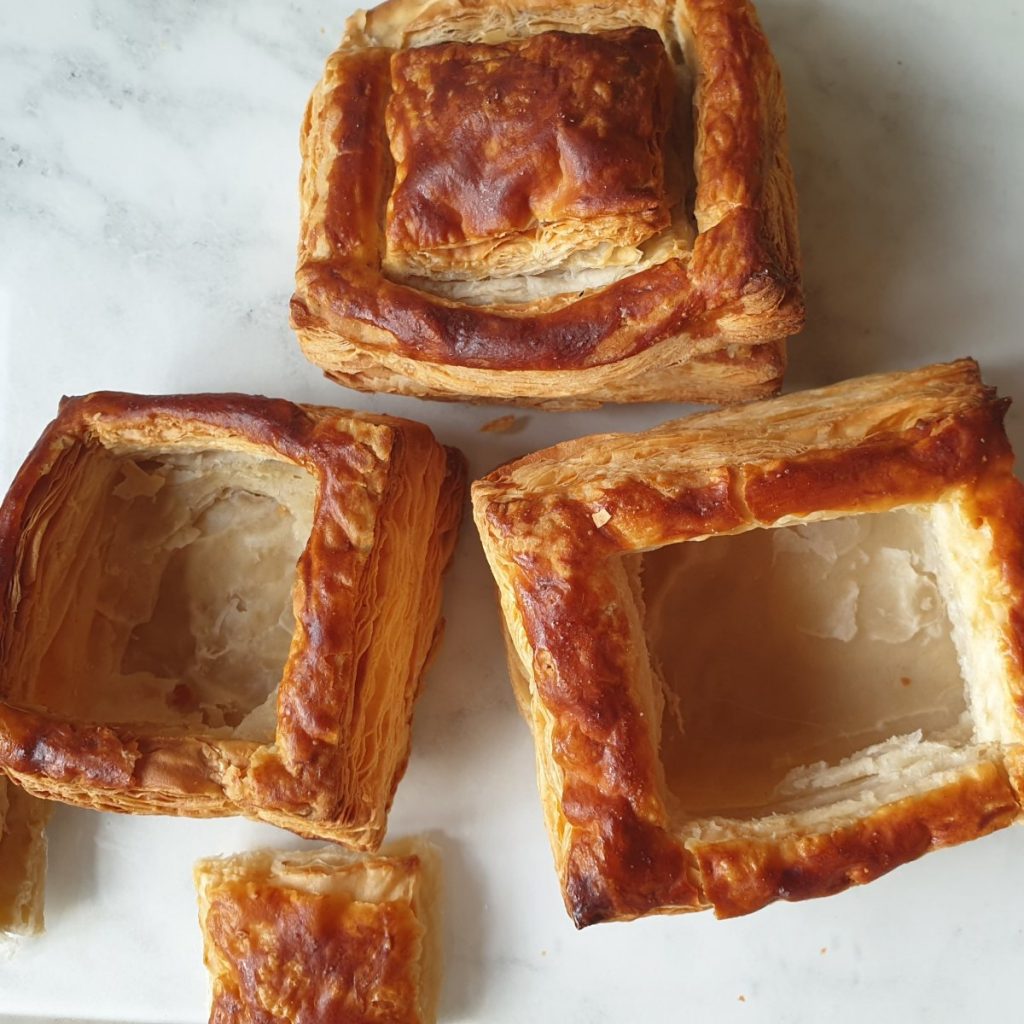 Allow to cool and then fill with your favourite filling.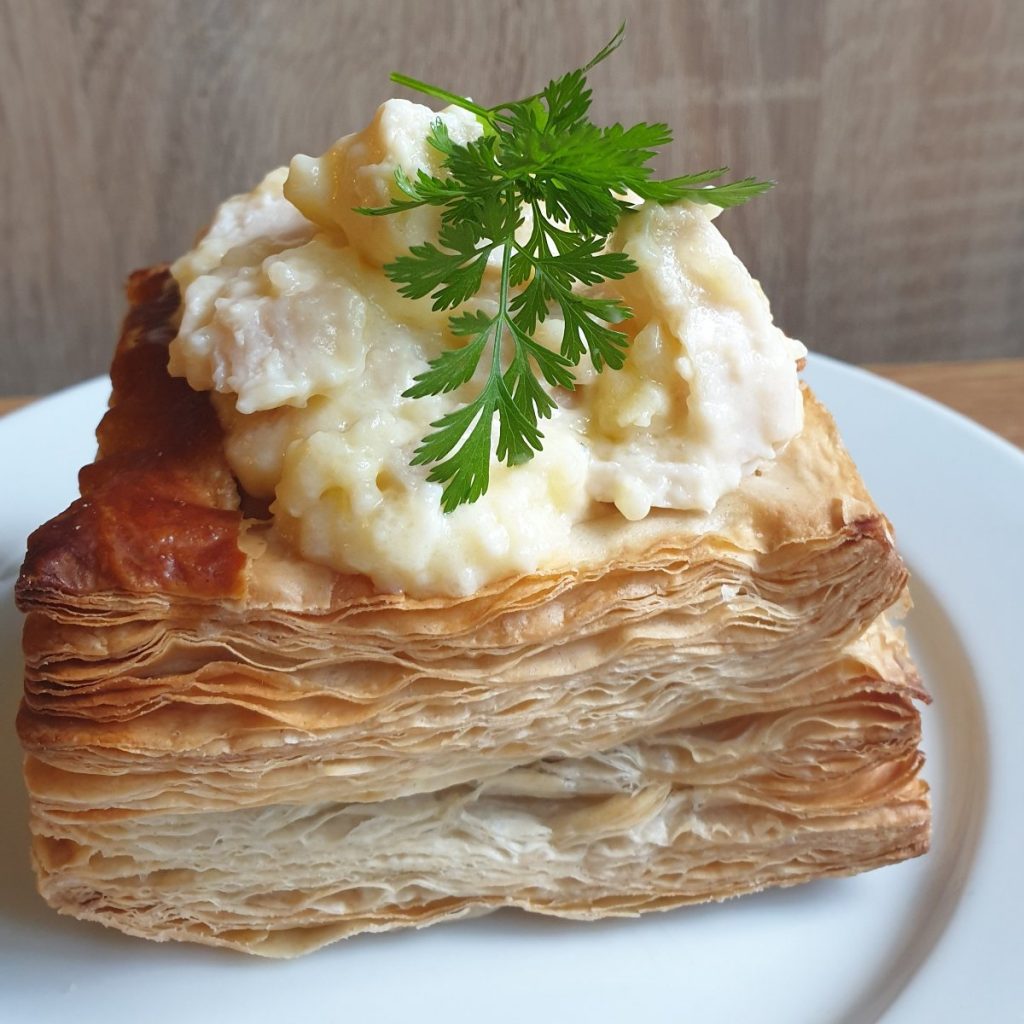 How large should I make the vol-au-vents
How large you make them is entirely up to you. As you will see from the pictures in this post, the ones I made are quite large and are the ideal size to serve as a starter.
You can make much smaller ones for serving as canapes. Just cut your squares to the size you want.
Can I make different shapes?
Yes, you could use a scone cutter to make circular shapes. Use two sizes, one larger one to cut the initial circles, and a smaller one to cut the inner circles.
Can I freeze vol-au-vent cases?
You can freeze the vol-au-vents either cooked or uncooked.
To freeze uncooked vol-au-vents – assemble the vol-au-vents and then freeze them on the baking sheet until they are hard. Transfer to a plastic bag and store in the freezer until you are ready to use them. To use, place the frozen vol-au-vents on a parchment-lined baking tray and let them defrost. Bake as per recipe instructions
To freeze cooked vol-au-vents – place the cooked vol-au-vents in a rigid container and place in the freezer. To use, remove from the freezer and allow to defrost. Then place in a hot oven for a few minutes to warm and crisp. Fill the warm vol-au-vents with your favourite filling and enjoy.
Can I make these in advance?
Do not fill the vol-au-vents too far in advance of serving as they will absorb moisture from the filling and will go soggy.
Instead keep the cooked vol-au-vents and the filling separate until just before you want to eat them, then fill and serve immediately.
Ideas for fillings
There are so many yummy fillings you could put in these vol-au-vents. You are limited only by your imagination.
Here are some savoury ideas to get your started.
chicken and mushrooms in a creamy sauce
chopped hardboiled eggs and ham mixed with mayonaise
cream cheese and smoked salmon topped with chives
shredded beef mixed with horseradish
prawn mayonaise
coronation chicken
chopped cherry tomatoes and black olives mixed with cream cheese
If you wanted to make sweet vol-au-vents then try these
Cream mixed with chopped strawberries or other fruit
Chopped bananas mixed with custard
Chocolate mousse topped with a glace cherry
Homemade orange curd and mandarin oranges
If you want to keep up-to-date with my latest recipes why not follow along on Facebook or Pinterest. And don't forget to subscribe to my mailing list so you can get your FREE COOKERY BOOK
Additional resources
Don't forget to check out my handy Cookery Conversion Calculator if you want to convert any of your recipe measurements from grams to cups, ounces, tablespoons or millilitres and vice versa. You can also use the calculator for converting oven temperatures between Fahrenheit, Celsius and Gas marks.
If you live at a high altitude you may find you need to adjust your baking recipes to compensate for this. You can read all about it in this post on baking at high altitudes.
Pin for later
Why not pin this recipe for home made vol-au-vents so you can make some for your next party.
This recipe was number 4 on my top 10 recipes for December 2019.
Recipe – Homemade vol-au-vents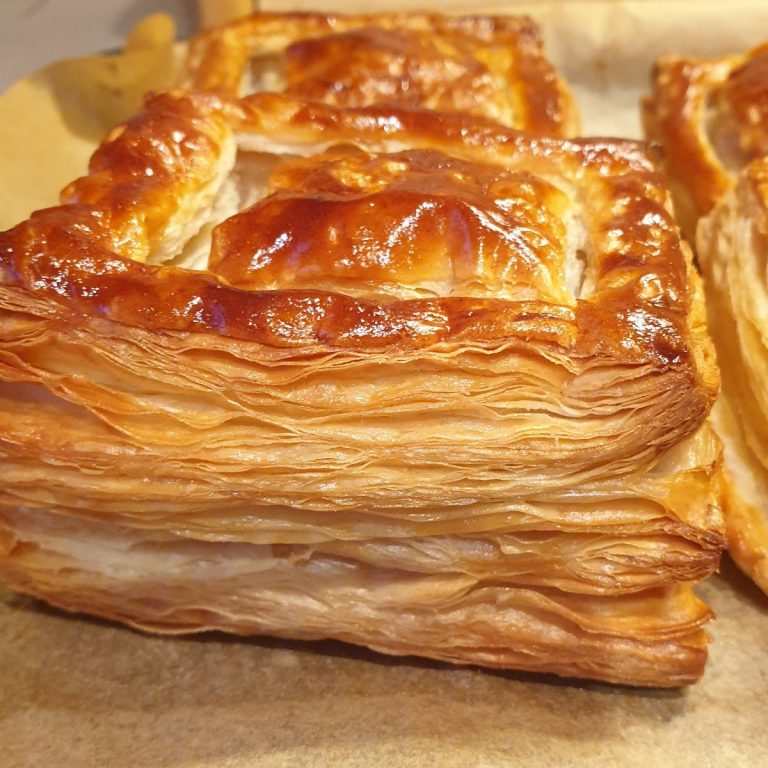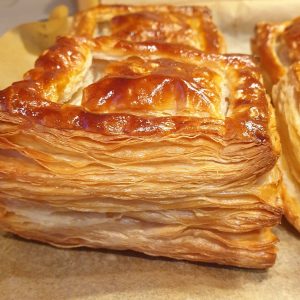 Homemade vol-au-vents
Vol-au-vents are an impressive party snack to serve when you have guests. Here's how to make the easiest vol-au-vent cases from shop-bought puff pastry. Make a batch today and pack them with your favourite fillings for a quick and easy party canape!
(Click the stars to rate this recipe)
Servings:
6
large vol-au-vents
Print recipe
Pin me for later
Leave a comment
Equipment
Rolling Pin

Sharp Knife

Pastry brush

Baking parchment
Ingredients
1

roll

frozen puff pastry

defrosted

1

small

egg

1

Tablespoon

milk or water
Instructions
Allow the puff pastry to defrost.

Preheat oven to 190°C / 375°F

Unroll the puff pastry. If using a block rather than a sheet, roll it into a rectangle, roughly 24cm x 36cm

Cut the puff pastry into equal squares.

Take half of the pastry squares and cut a smaller square from the centre of each one. Leave the cutout piece in place.

Beat the egg lightly with the milk or water to form an eggwash and brush the edges of the uncut squares with the eggwash.

Place each of the squares with the cutout on top of the eggwashed squares

Place each vol-au-vent on a baking tray lined with baking parchment and eggwash the top of each one.

Place the baking tray in the oven and bake for approximately 15 to 20 minutes until well risen and golden

Remove from the oven and switch off the oven.

Allow to cool then carefully cut out the centre square from each vol-au-vent. Set aside for using as a topping when you fill the vol-au-vents

Fill with your favourite fillings and serve.
Notes
If you are using a roll of puff pastry you will not need to roll it with a rolling pin.  Just unroll the pastry onto a flat surface. If you are using a block of puff pastry, you will need a rolling pin to roll it into shape. Keep the squares all the same size so that they fit neatly when you stack them one on top of the other. Fill with your favourite filling and serve whilst still warm. Once you have filled the vol-au-vents, you should serve immediately as they are inclined to lose their crispness if they stand for too long. The calorie count has been calculated for the vol-au-vents only and does not include any fillings you may use.
Nutrition
Calories –
305
kcal
|
Carbohydrates –
24.4
g
|
Protein –
4.8
g
|
Fat –
21
g
|
Saturated Fat –
5.4
g
|
Cholesterol –
23
mg
|
Sodium –
144
mg
|
Potassium –
44
mg
|
Fiber –
0.8
g
|
Sugar –
0.7
g
|
Calcium –
15
mg
|
Iron –
1
mg
I am not a nutritionist. The nutrition information has been calculated using an on-line calculator, and is intended for information and guidance purposes only. If the nutrition information is important to you, you should consider calculating it yourself, using your preferred tool.
Share on Facebook
If you made this recipe and enjoyed it, I'd love it if you could give me a star rating in the comments below. And if you'd like to get in touch, you can email me at [email protected]. I'd love to hear from you. And don't forget to subscribe to my mailing list so you can grab yourself a copy of my FREE COOKBOOK!
If you'd like to continue browsing, just click on this link to all my recipes.