This easy Chicken a la King recipe is made from tender chicken chunks, red peppers and mushrooms in a creamy sauce. It's on the table in 30 minutes – start to finish. Perfect for those days when you don't have much time to spend in the kitchen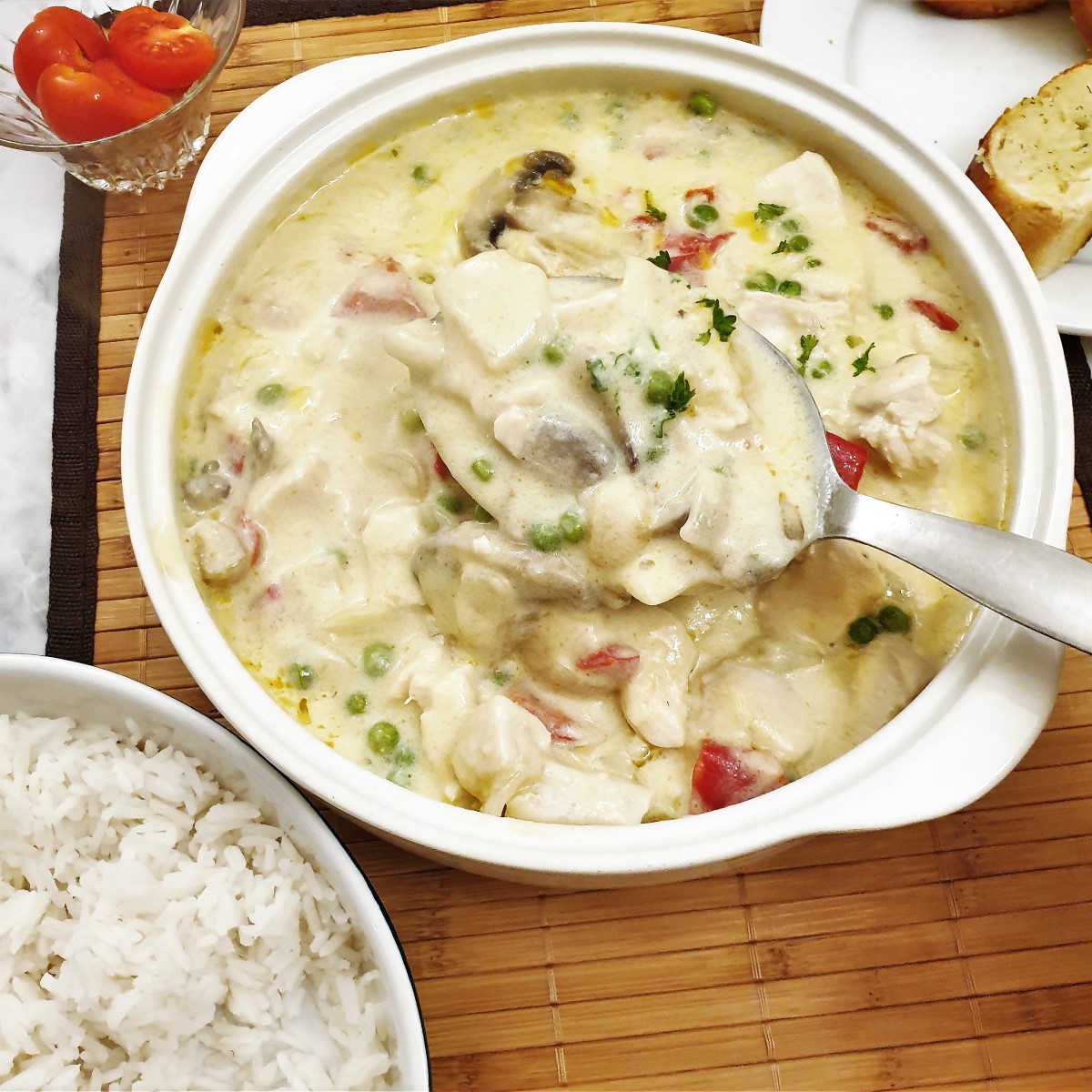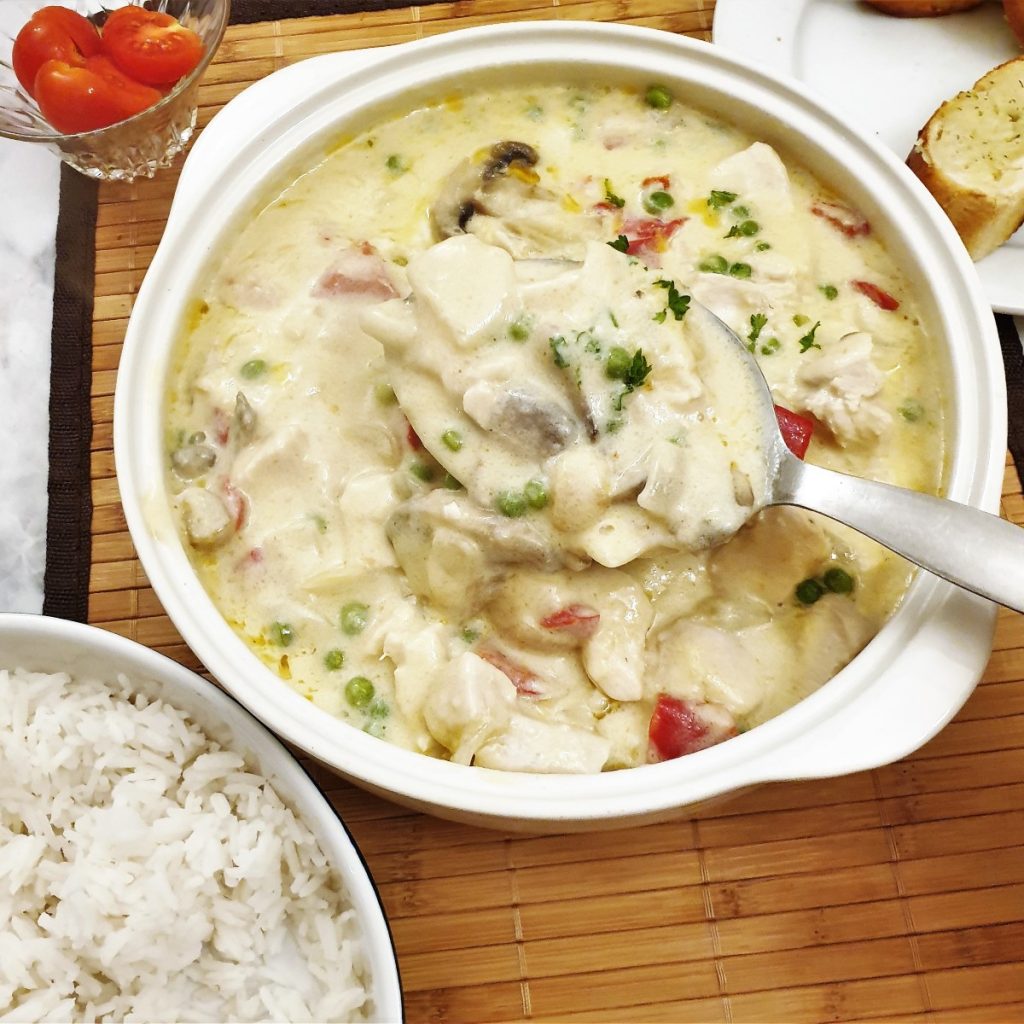 **As an Amazon affiliate, I earn from qualifying purchases.**
Chicken a la King
Who doesn't love a hearty plate of chicken a la king? Deliciously tender chunks of chicken, juicy mushrooms and pops of colour from diced red peppers, all mixed together in a creamy sauce. Serve it over a bed of fluffy white rice (or even a bowl of your favourite pasta) and you will have a meal that is fit for a king.
Chicken a la king is one of those classic dishes that has stood the test of time, and remained reasonably true to the original recipe. My version calls for red peppers rather than green because I like the hint of sweetness the red peppers provide. I also like to add peas for little pops of additional colour and flavour.
Quick and easy
Because this dish is made with leftovers, it is super quick to make. You just fry up the vegetables, whip up a sauce, combine with the chicken and your dish is ready. On the table in less than 30 minutes. What could be easier?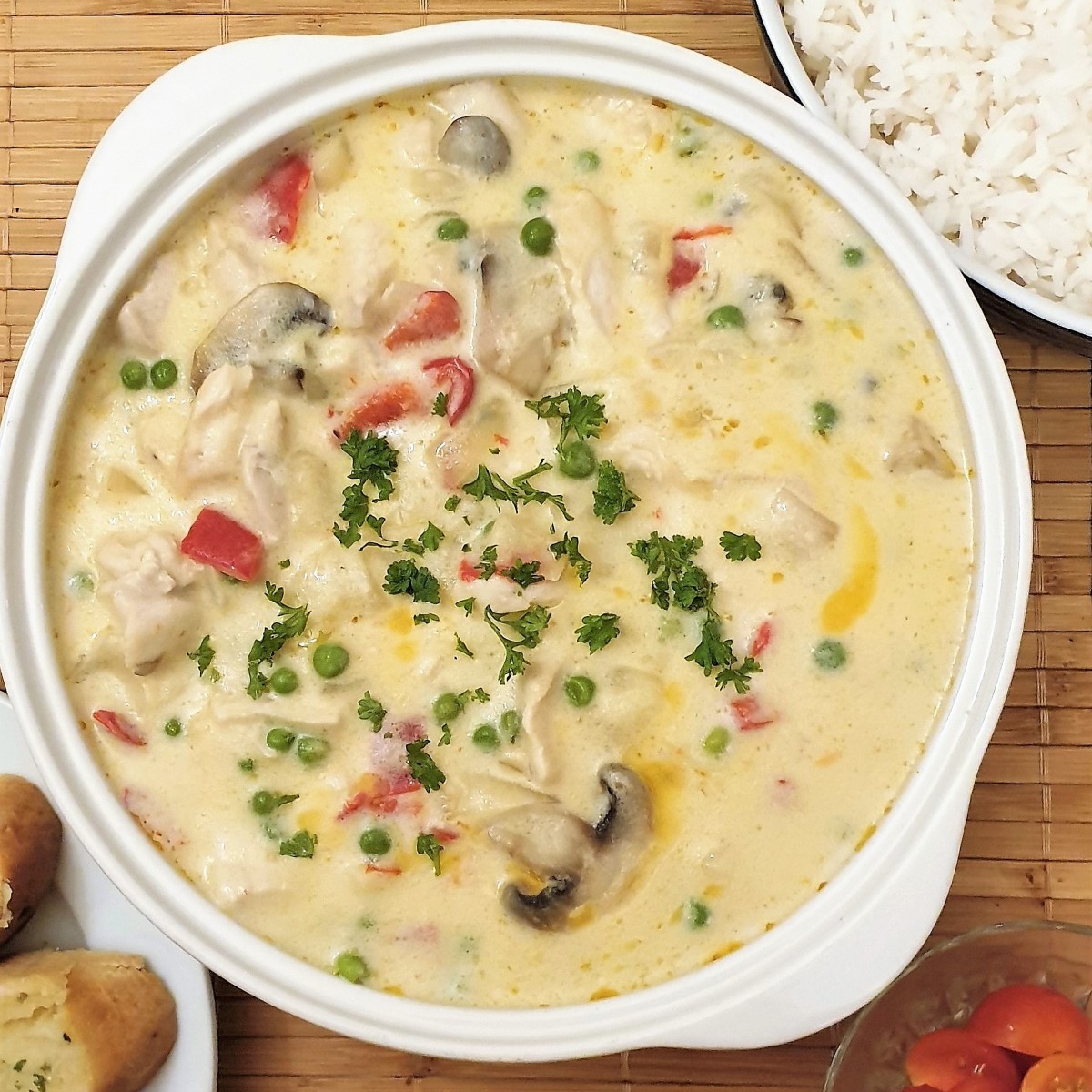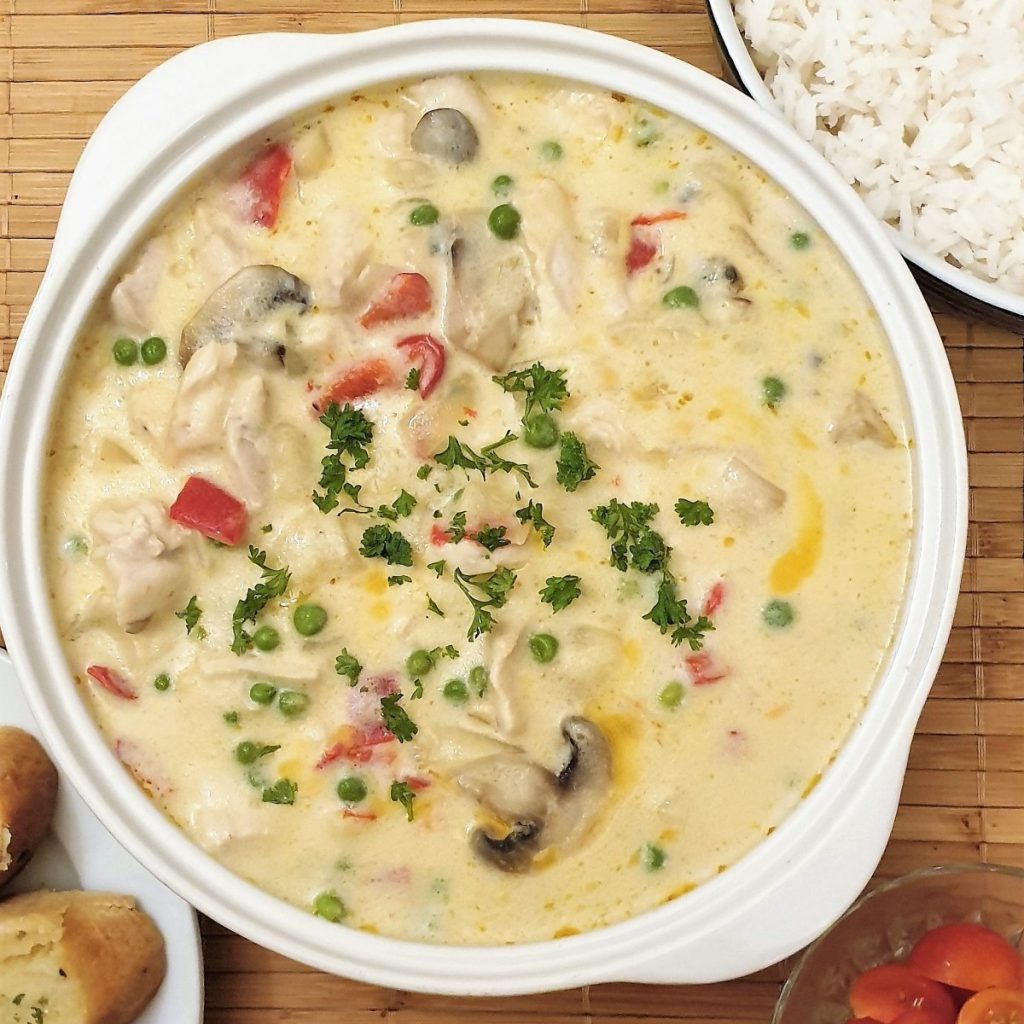 Save time and money
Have you ever made a roast chicken and ended up throwing the carcass away, even though there was still a lot of meat left on it? You probably intended putting it on sandwiches, but just never got around to it and there wasn't quite enough left over to make a full meal.
Here are some handy tips to make sure you save both time and money
Next time you make a roast chicken, just shred and freeze the left-over meat. By the time you've frozen the meat from 2 or 3 leftover chickens you'll have enough meat to combine into a delicious chicken a la king.
If you are like me, you always end up cooking too much rice. Each time you end up with leftover rice, don't throw it in the bin, just let it cool and then pop it into a ziploc bag and freeze. Top up the bag each time you have leftover rice, and in no time you will have a enough cooked frozen rice for a complete meal. Just defrost and heat it in the microwave and serve covered with the delicious chicken a la king.
Ingredients for chicken a la king
**You can get the complete list of ingredients and full instructions on how to make this steak and kidney on the printable recipe card at the end of this post**
You are going to need the following ingredients: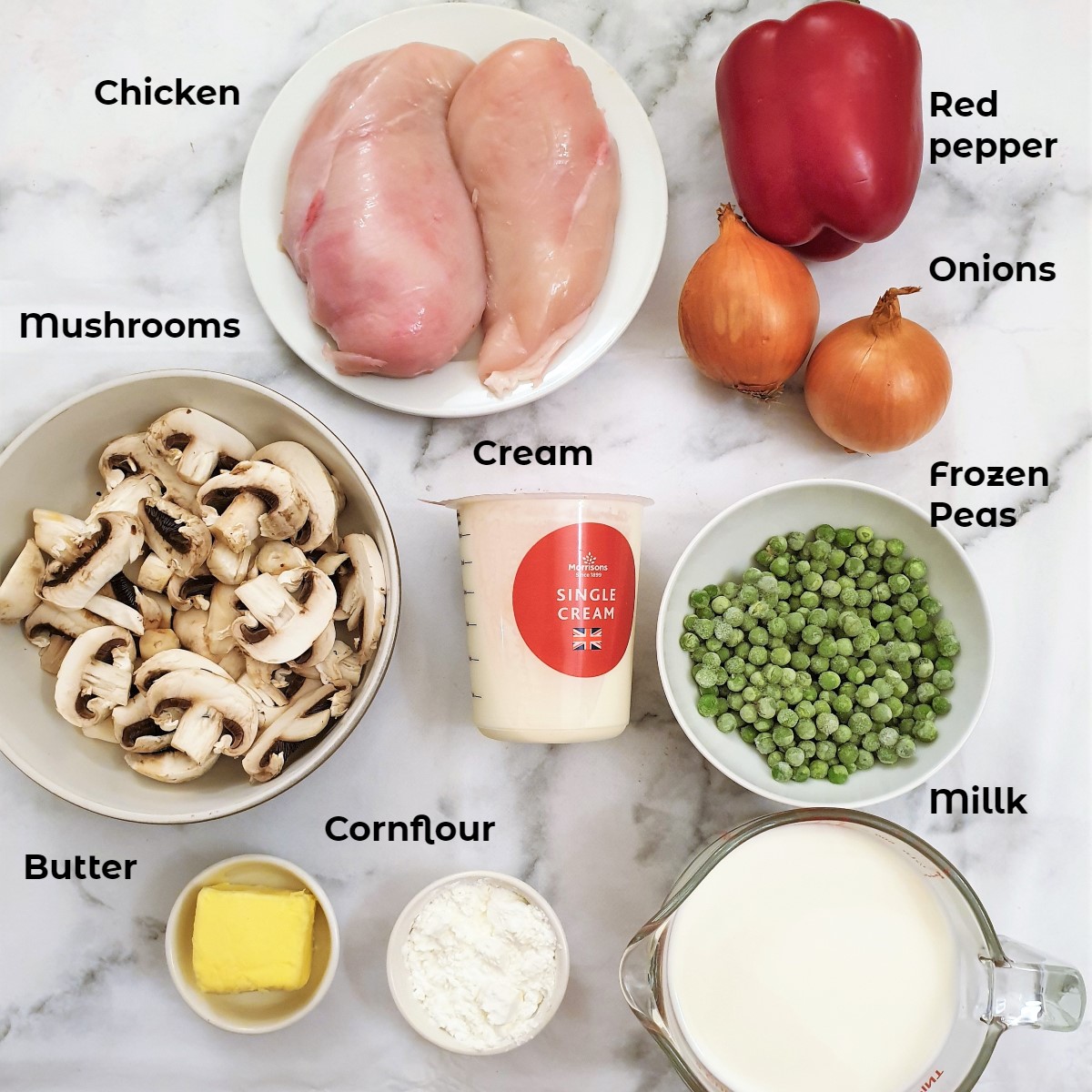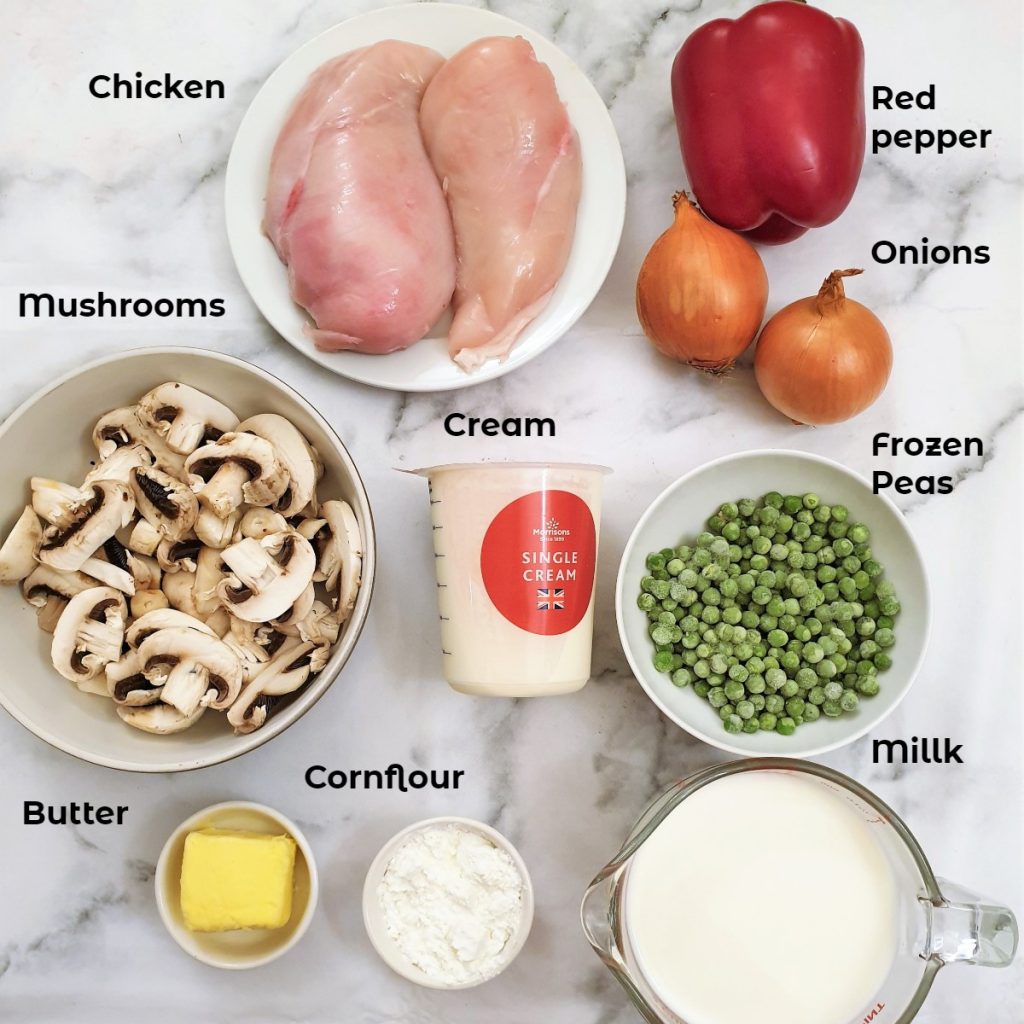 Chicken breast – you can make this dish with leftover chicken, or even shredded rotisserie chicken. However, if you don't have leftover chicken in the fridge, you can easily poach some fresh chicken breasts. I've included instructions on how to do this below. You will need 3 to 4 ounces (250 to 300 g) of chicken per person or about 3/4 cup leftover shredd chicken.
Red pepper – you can use any colour capsicum that you prefer. I like the sweetness and colour provided by the red pepper.
Onions – peeled and cut into 1cm or 1/2 inch chunks.
Mushrooms – white mushrooms are preferable as they won't darken the sauce. However, you could use chestnut mushrooms, or even chopped up portobello mushooms.
Frozen peas – a handful of peas provides sweetness and colour.
For the sauce, you will need butter, milk, cornflour (cornstarch) and single cream. It doesn't matter whether you use full-fat or semi-skimmed milk.
And finally you will need a small amount of sunflower oil for frying the vegetables, and freshly chopped parsley for garnish. For seasoning you will ned salt and black pepper.
The easy way to poach chicken
If you don't have leftover chicken, this is the quickest and easiest way to poach it yourself. It results in beautifully moist and tender chicken.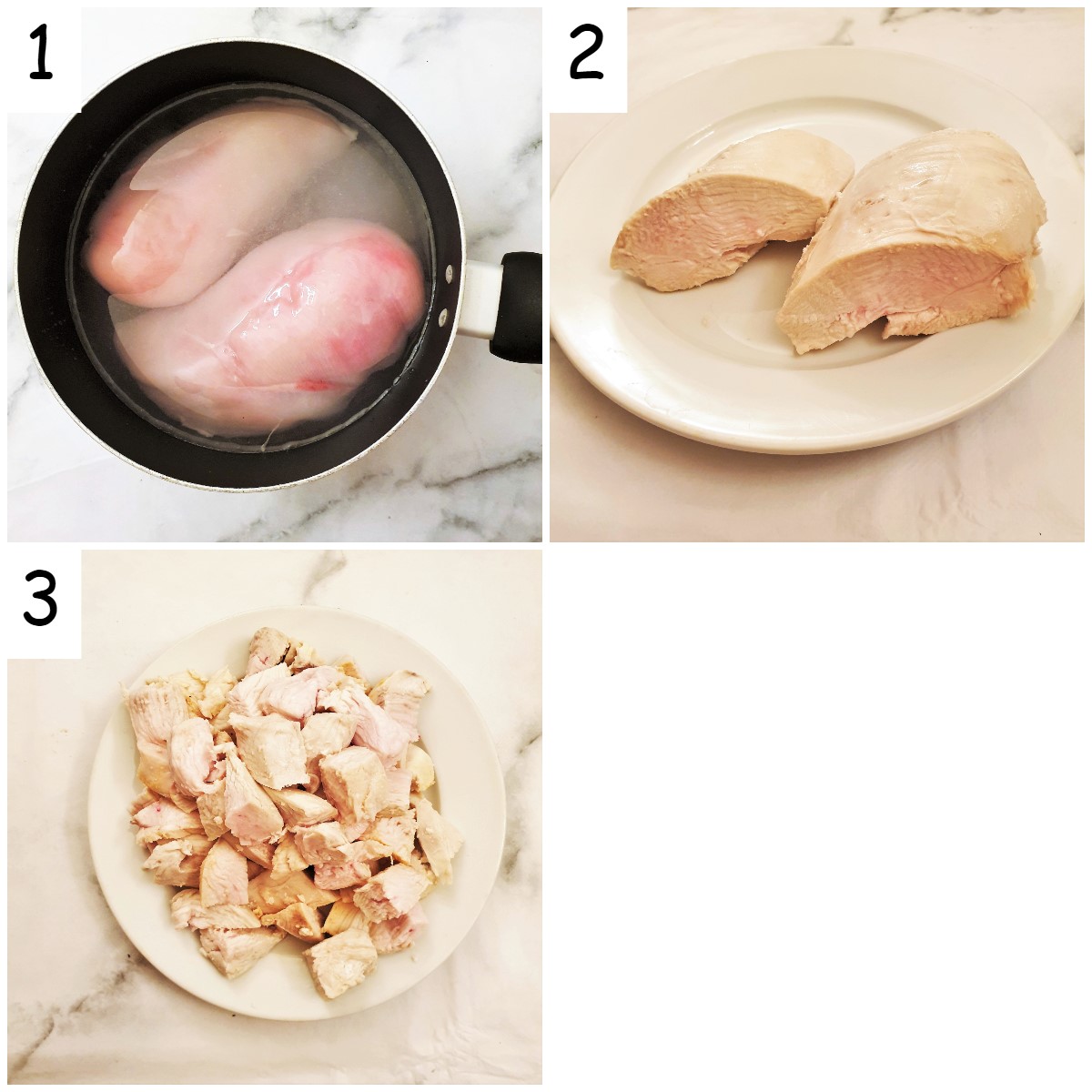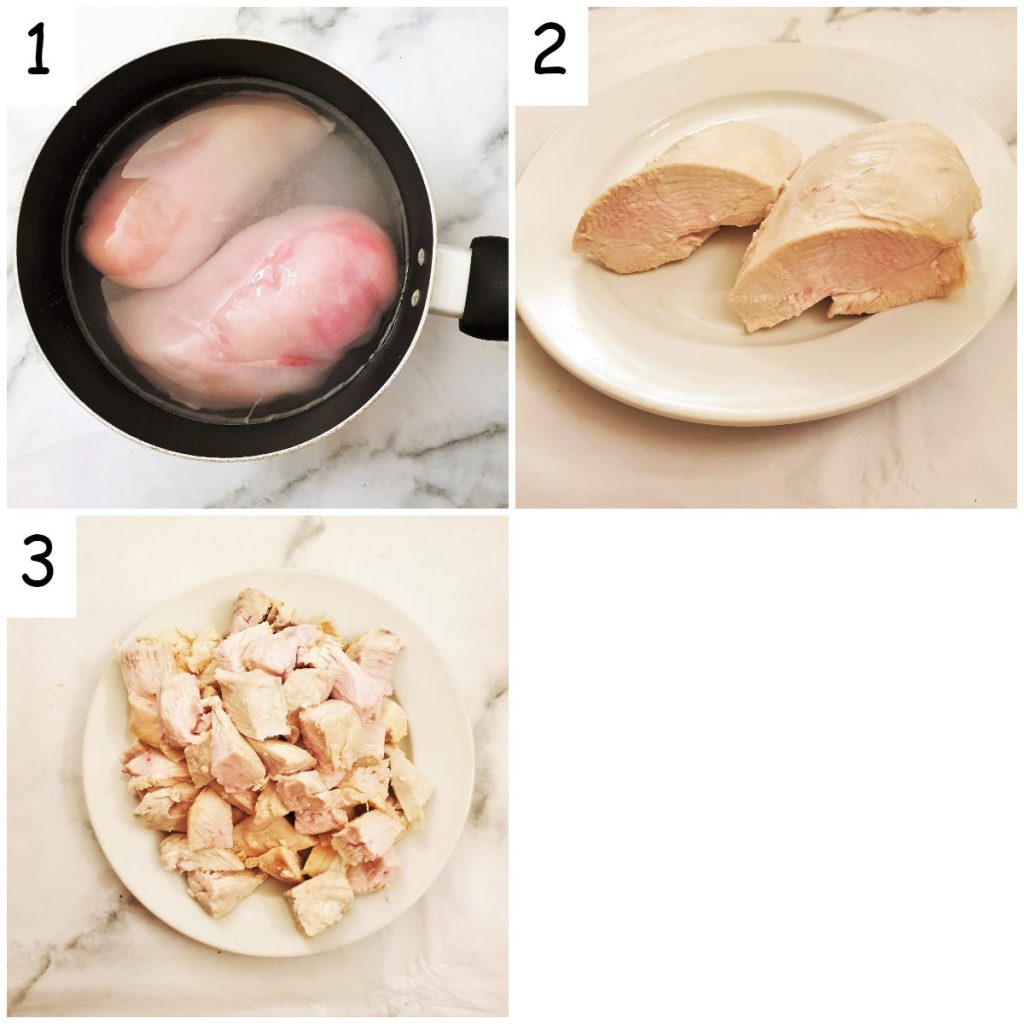 Place the chicken breasts in a saucepan, along with a teaspoon of salt and a few black peppercorns if you have them. If you don't have whole black peppercorns, just add a generous grinding of black pepper.
At just enough water to cover the chicken (image 1 above), then cover with a lid and bring to the boil.
As soon as the water is boiling rapidly, remove the pan from the heat and set aside to cool. The heat from the water will continue to cook the chicken.
Once cool, remove the chicken from the water. The chicken should be quite white on the inside (image 2 above). Don't worry if the chicken is still slightly pink. It will continue to cook once you add it to the sauce.
Slice the cooled chicken into bite-sized chunks (image 3 above).
How to make chicken a la king
If you follow my easy steps you can have this dish on the table in 30 minutes.
Preparation
If you are using leftover chicken – just shred it. For 4 people you will need about 3 cups of chicken.
If you don't have leftover chicken, poach fresh chicken following the instructions above.
Chop the red pepper and onions into 1cm dice. Chop the mushrooms into quarters or slices).
Cook the vegetables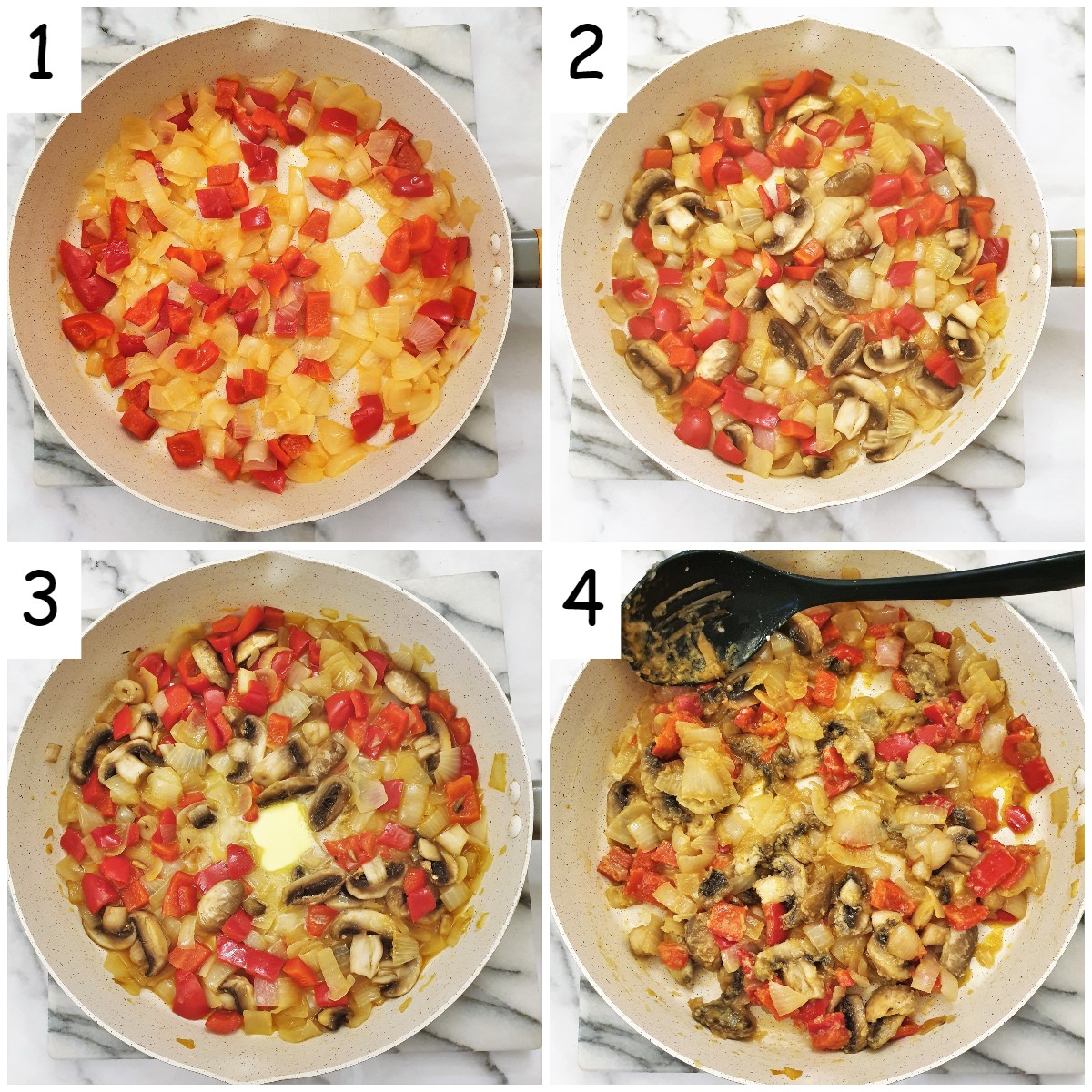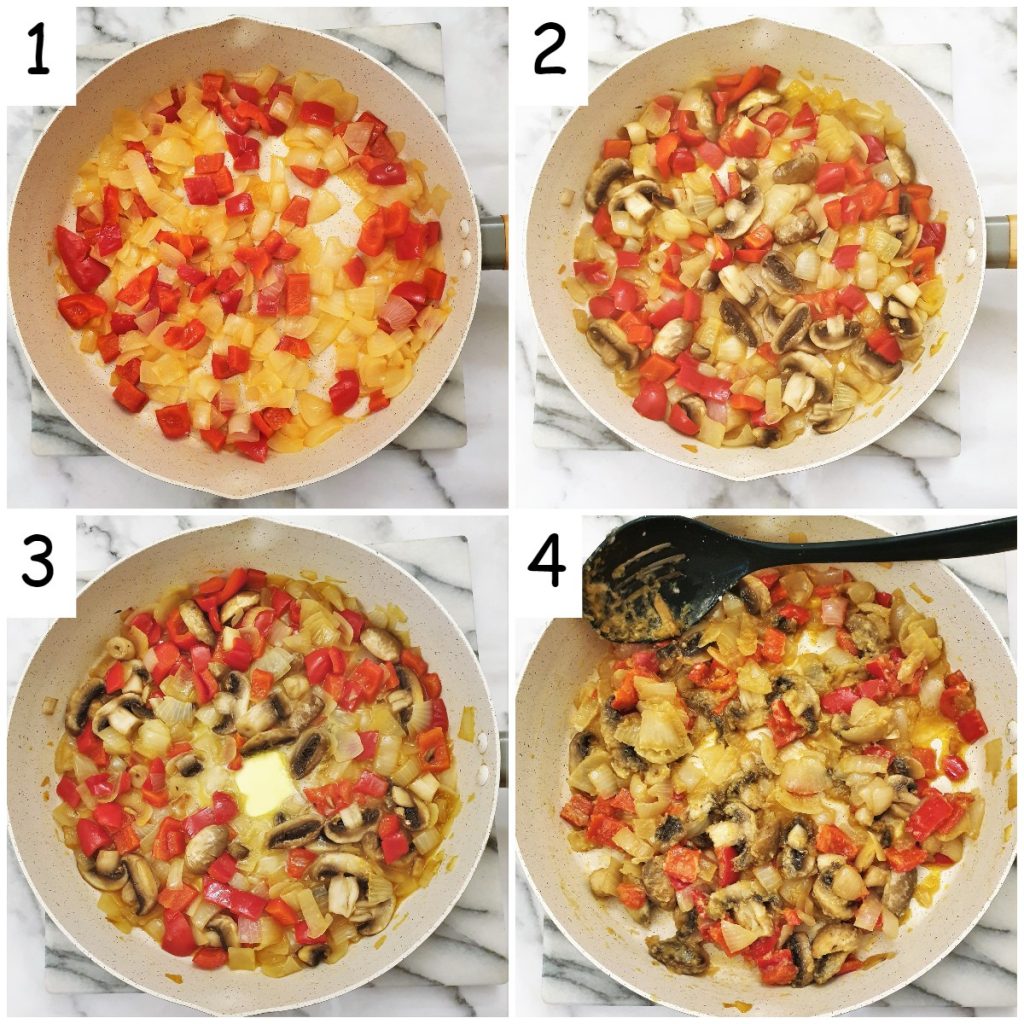 Pour the oil into a frying pan and gently fry the red pepper and onion until soft (image 1 above). Take your time with this step. Don't allow the onions to brown. Brown onions are going to turn the sauce brown and we want the sauce to be lovely and white. To speed up the process, turn the heat down to low, cover with a lid and leave for about 5 minutes.
Add the mushrooms. Put the lid back on the pan, turn down the heat to the lowest setting and let the vegetables continue to cook until the mushrooms have softened (image 2 above).
Add the butter (image 3 above) and let it melt. Then stir in the cornflour (image 4 above). Stir well to remove any lumps.
Make the sauce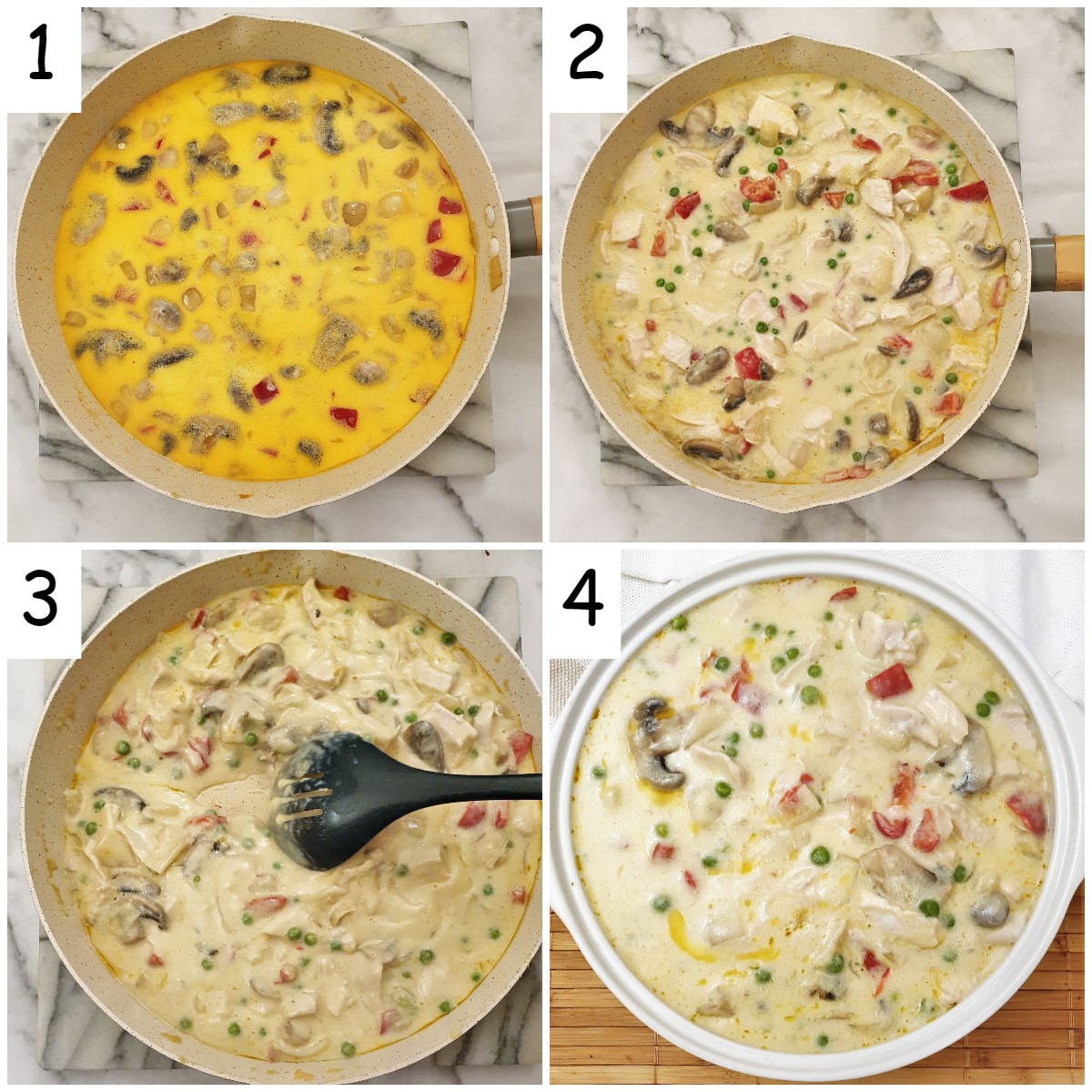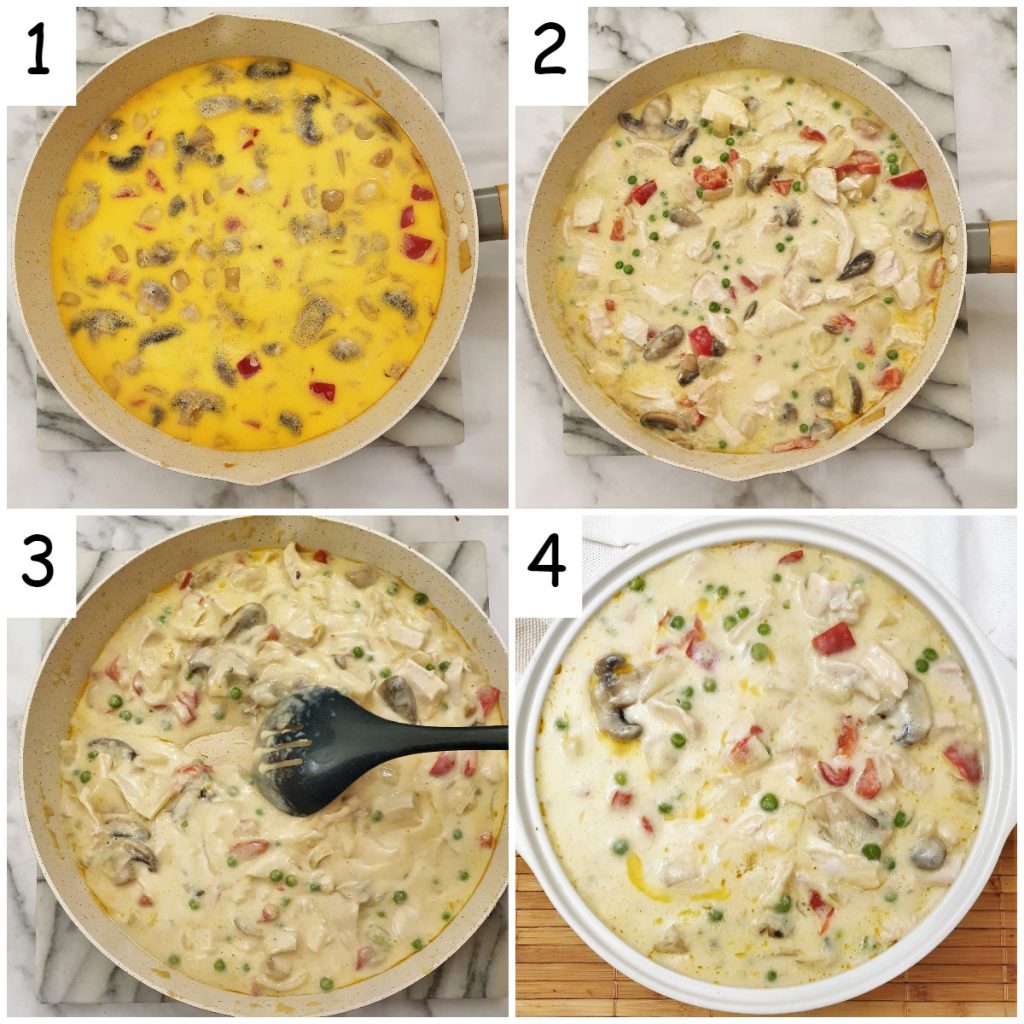 Now pour in the milk (image 1 above) and bring to the boil. Turn down the heat and stir until the mixture thickens.
Add the peas, then return the chicken to the pan (image 2 above).
Leave the chicken a la king to simmer for about 5 minutes.
The sauce will be thick enough if a spoon leaves a trail when you draw it through the sauce (image 3 above).
If the sauce is too runny, make a slurry with another teaspoon of cornflour and a tablespoon of water and stir it in. Allow to simmer for another 2 minutes.
Taste for seasoning and add salt and ground black pepper to taste.
Finally stir in the cream, allow to heat through and then transfer to a serving dish (image 4 above).
Serve over cooked rice or pasta.
For extra accompaniments, add chopped cherry tomatoes or a green leafy salad, and perhaps a slice of crusty garlic bread.
You may also like to serve this dish with spicy mushroom rice.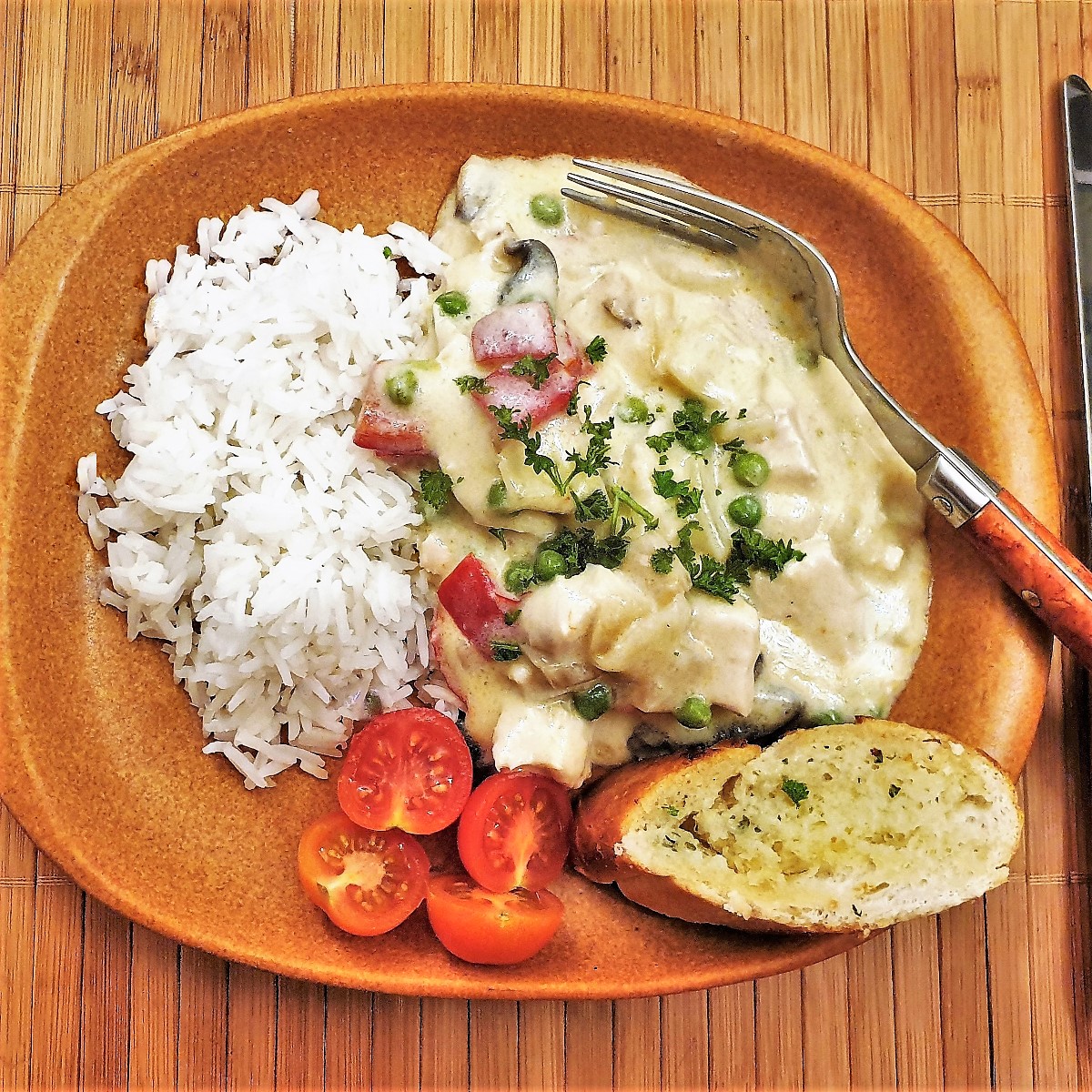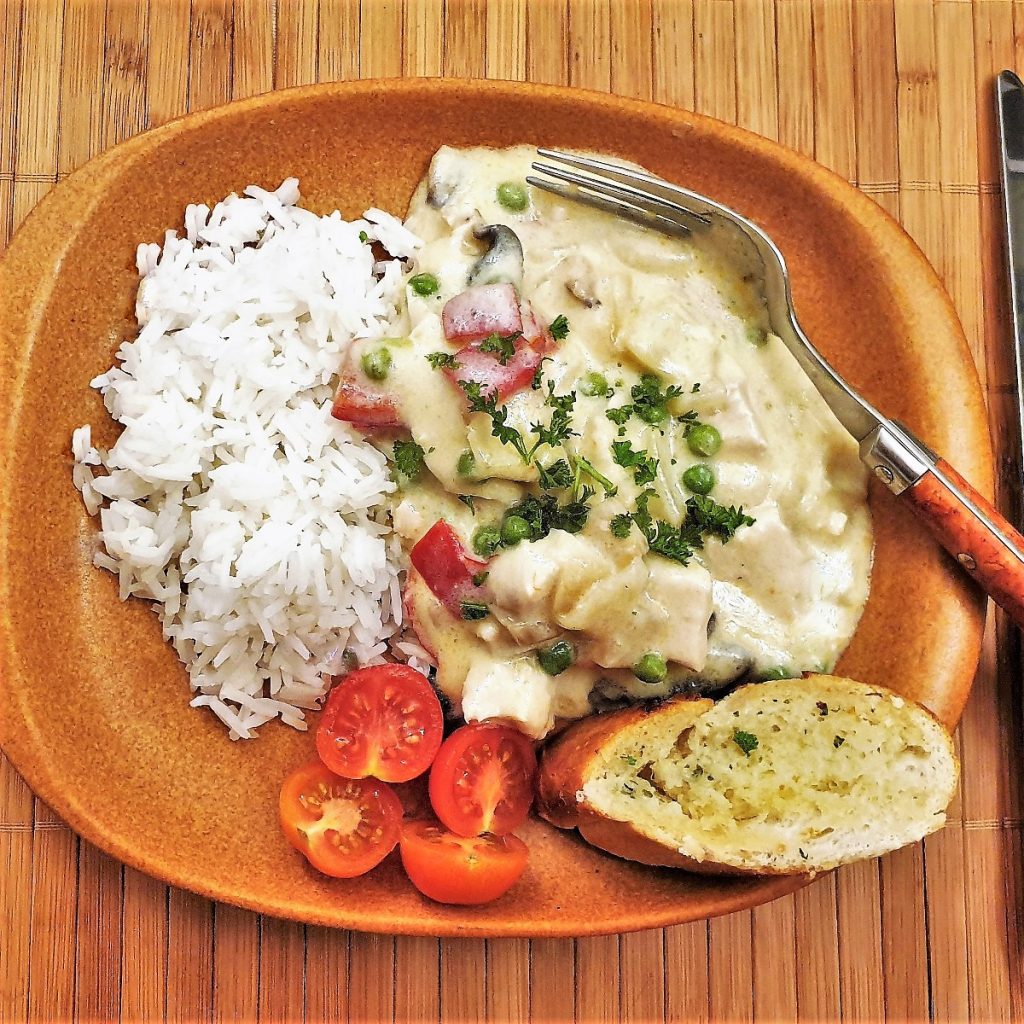 Can I freeze chicken a la king?
Yes – just allow to cool and pack into suitable freezer containers. You can freeze for up to 2 months.
To use, allow to defrost in the refrigerator and then heat in a saucepan until piping hot.
Make in advance
If you are making this dish with leftover or rotisserie chicken, it is not advisable to make it in advance.
If you are making with fresh chicken that you poached yourself, you can make this dish up to 3 days in advance and store covered in the refrigerator.
Re-heat in a saucepan until piping hot and serve immediately.
If you'd like to be notified of any new recipes, why not subscribe to my newsletter. As a thank-you gift, you will receive a free recipe e-book containing some of my most popular cakes and desserts.
Pin for later
Why not pin this easy chicken a la king recipe so you can make it later.
Recipe – Easy Chicken a la King
If you made this recipe and enjoyed it, I'd love it if you could give me a star rating in the comments below. And if you'd like to get in touch, you can email me at [email protected]. I'd love to hear from you. And don't forget to subscribe to my mailing list so you can grab yourself a copy of my FREE COOKBOOK!
If you'd like to continue browsing, just click on this link to all my recipes.
This recipe was updated 28th February 2021 with new photographs and for housekeeping purposes. The recipe ingredients have not been altered.