Creamy chicken, leek and mushroom pie is one of those perfect comfort meals that everyone loves. Tender chunks of chicken, with sweet leeks and tasty mushrooms, swimming in a creamy sauce, and topped with crispy puff pastry. What's not to love!
Creamy chicken, leek and mushroom pie
This recipe comes to you today courtesy of my daughter. We were having our regular daily telephone conversation, which usually centres around food. 'What are you having for supper tonight?'. 'Oh, I haven't decided yet, but we had a lovely supper last night. I made a chicken, leek and mushroom pie'. Of course, my ears pricked up immediately – I don't have a recipe for that on my site so I wanted all the details.
As it turns out, this is such a simple recipe and it tastes amazing. Tender chunks of chicken, in a creamy leek and mushroom sauce, flavoured with mustard and topped with puff pastry. It's the perfect recipe for when the comfort food craving hits.
So I wrote down all the details and made it for supper that night. You don't need a lot of fancy ingredients. I had everything I needed in the pantry. The recipe makes a very generous pie filling, in fact I there was so much that I made 2 pies and put one in the freezer for another day. I tested it out on hubby alongside a pile of mashed potatoes and peas, and he polished off the lot, plus a second helping. Success!!!
How to make creamy chicken, leek and mushroom pie
You can get the complete list of ingredients and full instructions on how to make this recipe on the printable recipe card at the end of this post.
Ingredients
This recipe is sufficient for a pie large enough to feed 4 hungry people. Because there are only 2 of us in our household, I divided the mixture into 2 pie dishes, cooked one, and froze the other for another day.
Chicken breasts – these should be cut into bite-sized pieces and marinated in soy sauce, garlic and cornflour (I believe in the US this is referred to as corn starch). This has the effect of tenderising the chicken, and the cornflour also helps thicken the gravy. You will also need a little butter for frying the chicken. Butter gives a much nicer taste to the finished dish than frying the chicken in oil.
Leeks and chopped mushrooms – once chopped, you end up with a huge mound and it looks as though there are far too many. But don't worry, once cooked, they shrink down to about half of the volume. You will also need a small amount of cooking oil for frying. You can use either sunflower or olive oil for this.
Cream, chicken stock, dijon mustard, salt and copious amounts of black pepper. If you dont have chicken stock you can dissolve 1 chicken stock cube in 1 cup of boiling water. You can also replace the dijon mustard with your mustard of choice.
Milk mixed with extra cornflour, for thickening.
A roll of shop-bought puff pastry for the crust, along with a beaten egg for brushing on top.
Step-by-step instructions
Prepare the ingredients
Start off by cutting chicken breasts into bite-size pieces. Put them into a bowl with the soy sauce and cornflour, and give it a good mix. Leave to marinade while you prepare the leeks and mushrooms (image 1).
Top and tail the leeks and slice them lengthwise, then slice them thinly across the leek, into semi-circles (image 2).
Wipe the mushrooms with a damp cloth to clean of any dirty bits, then chop them into small pieces (image 3).
Heat the oil in a wok, or large frying pan, then add the leeks and mushrooms, cover with a lid and turn down the heat to a simmer. Leave to saute for a few minutes until the leeks are softened and the mushrooms have released all their moisture. Stir occasionally. The mixture should be quite dry, and should have reduced in volume by about half (image 4).
Remove from the pan and set aside.
Make the pie filling
To make the filling, melt a knob of butter in the same pan that you used for the leeks and mushrooms. Add a few pieces of the chicken and stirfry until it changes colour and becomes a nice golden brown (image1).
Don't cook all the chicken at once as this will make the pan cool down too much and the chicken will just draw moisture and will boil rather than fry. This will make the chicken toughen up. Rather fry the chicken in batches.
Once the chicken has all been browned, replace it all in the pan and then add the leeks and mushrooms. Give it a stir to combine (image2).
Stir in the mustard and then add the stock, cream and seasoning. Be generous with the black pepper. Mix the milk and cornflour and stir through.
Allow to cook until the mixture has thickened (image3).
Pour the mixture into a pie dish large enough to hold all the filling. It should fit into a dish about 8″ x 8″ square or 9″ x 7″ rectangular, and 2″ deep.
Roll out the puff pastry, and place it on top of the pie. Press the pastry against the edges of the dish to seal, then prick the pastry with a fork to allow any steam to escape during baking. Brush the top of the pastry lightly with beaten egg, to encourage the pastry to brown (image 4).
Bake
Pastry neeeds quite a high temperature to cook properly, so pre-heat the oven to 200C / 400F.
Place the pie dish on a baking sheet to catch any drips that may overflow during baking.
Bake the chicken leek and mushroom pie for 20 minutes until the pastry is well risen and golden.
Remove from oven and serve hot with mashed potatoes and your choice of vegetables.
Leftovers can be stored covered, in the fridge, for up to 3 days.
Can I freeze chicken, leek and mushroom pie?
Yes, you can freeze this dish either completely assembled, or just freeze the filling for later use.
To freeze assembled – follow the instructions up until the chicken leek and mushroom pie has been egg-washed. Wrap the pie in a layer of tinfoil and then wrap in clingfilm and place in the freezer.
To use – defrost overnight in the fridge, then cook as per the recipe instructions. Don't cook from frozen because the pastry will be cooked before the filling has had time to defrost properly and you will end up with overcooked pastry and a cold filling.
To freeze just the filling – ladle the cooled filling into a large freezer container, label and place in the freezer.
To use – derost overnight in the fridge, or if you are in a hurry, in the microwave. Tip into a baking dish, cover with a layer of puff pastry and bake as per the recipe instructions.
Whichever method you choose, you can freeze this for up to six months.
Variations
This is a very versatile recipe, and there are many different ways that you could serve the filling – it doesn't only have to be in a pie!
Serve on a bed of spaghetti or tagliatelle.
Serve over rice.
Mix the filling with cooked pasta shells, cover with grated cheese and bake in a hot oven for about 15 minutes for a delicious cheesy pasta bake.
Make a large vol-au-vent and fill with the chicken leek and mushroom mixture.
Serve the chicken leek and mushroom filling on a bed of homemade spaetzle.
Cover with scalloped potatoes instead of puff pastry as a variation on Lancashire hotpot.
Make individual chicken leek and mushroom pies similar to my recipe for beef pot pies.
Serve the filling on its own as a chowder with slices of seeded Irish soda bread.
You could even roll the filling in crepes or pancakes (just cut the chicken into smaller pieces so that it will fit nicely into the rolled pancake)
And finally, what about using the filling to make this cheesy gougeres.
However you eat it, I'm sure you'll agree that this is totally delicious.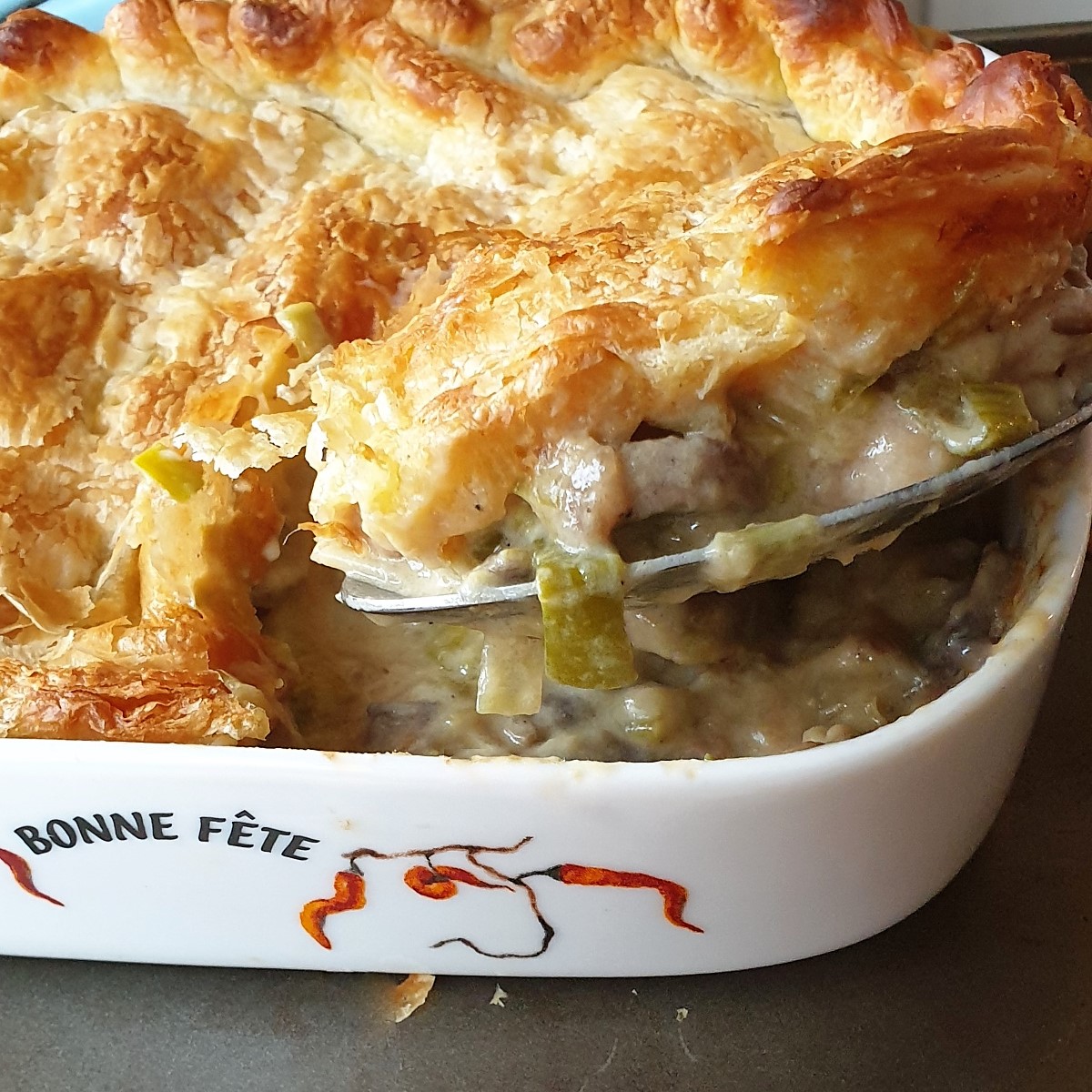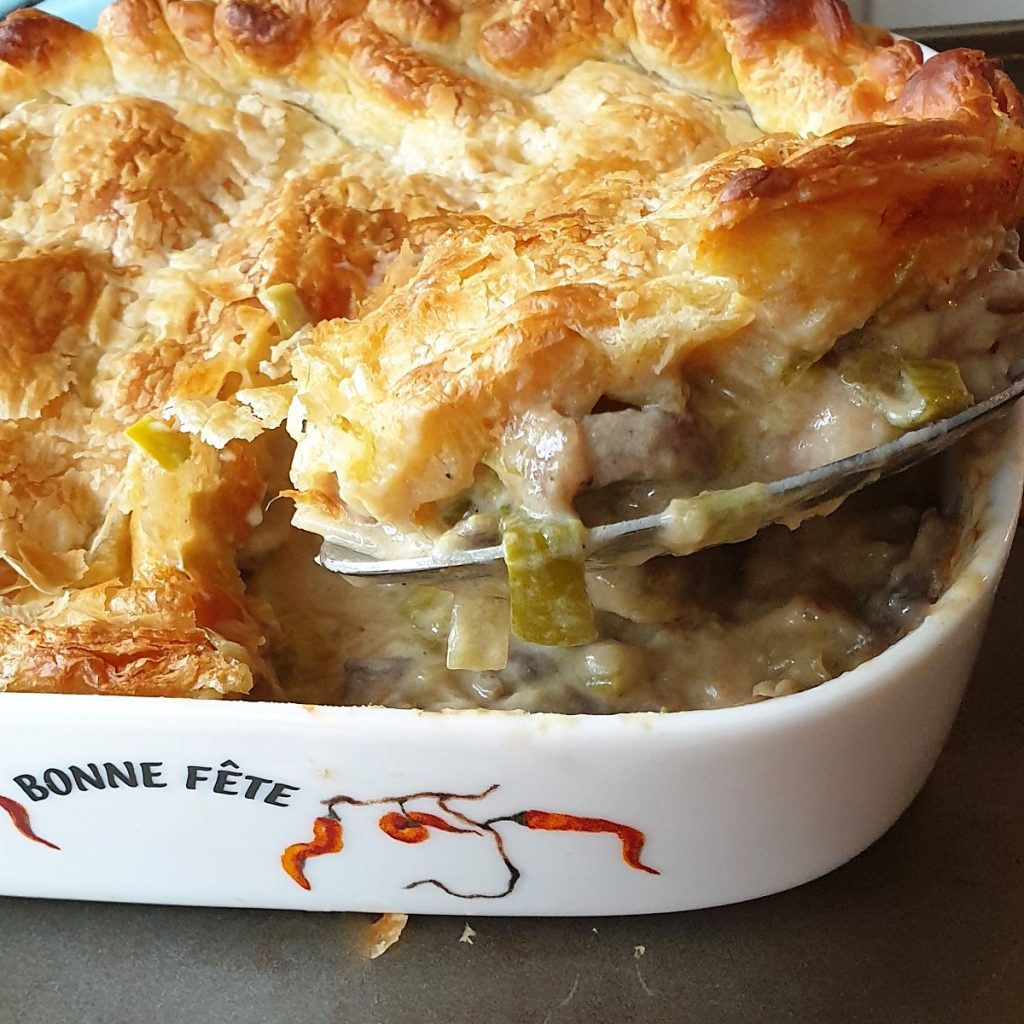 If you want to keep up-to-date with my latest recipes why not follow along on Facebook or Pinterest. And don't forget to subscribe to my mailing list so you can get your FREE COOKERY BOOK
Convert grams to cups
To help you convert your recipes, I have created a handy Cookery Conversion Calculator which will convert ingredients between grams, ounces, tablespoons, cups and millilitres. I hope you will find it useful.
If you live at a high altitude you may find you need to adjust your baking recipes to compensate for this. You can read about how to do this in this post on baking at high altitudes.
Recipe – Creamy chicken, leek and mushroom pie
I am not a nutritionist. The nutrition information has been calculated using an on-line calculator, and is intended for information and guidance purposes only. If the nutrition information is important to you, you should consider calculating it yourself, using your preferred tool.
If you made this recipe and enjoyed it, please don't forget to give me a star rating in the comments below. And if you'd like to get in touch, you can email me on foodleclub1@gmail.com. I'd love to hear from you. And don't forget to subscribe to my mailing list so you can grab yourself a copy of my FREE COOKBOOK!
If you'd like to continue browsing, just click on this link to all my recipes.