Stock up your freezer with these leftover lamb pies. They are made with succulent leftover leg of lamb and tender diced vegetables in a thick gravy encased in crispy buttery shortcrust pastry. Eating these pies is a bit like having a roast dinner in pie form!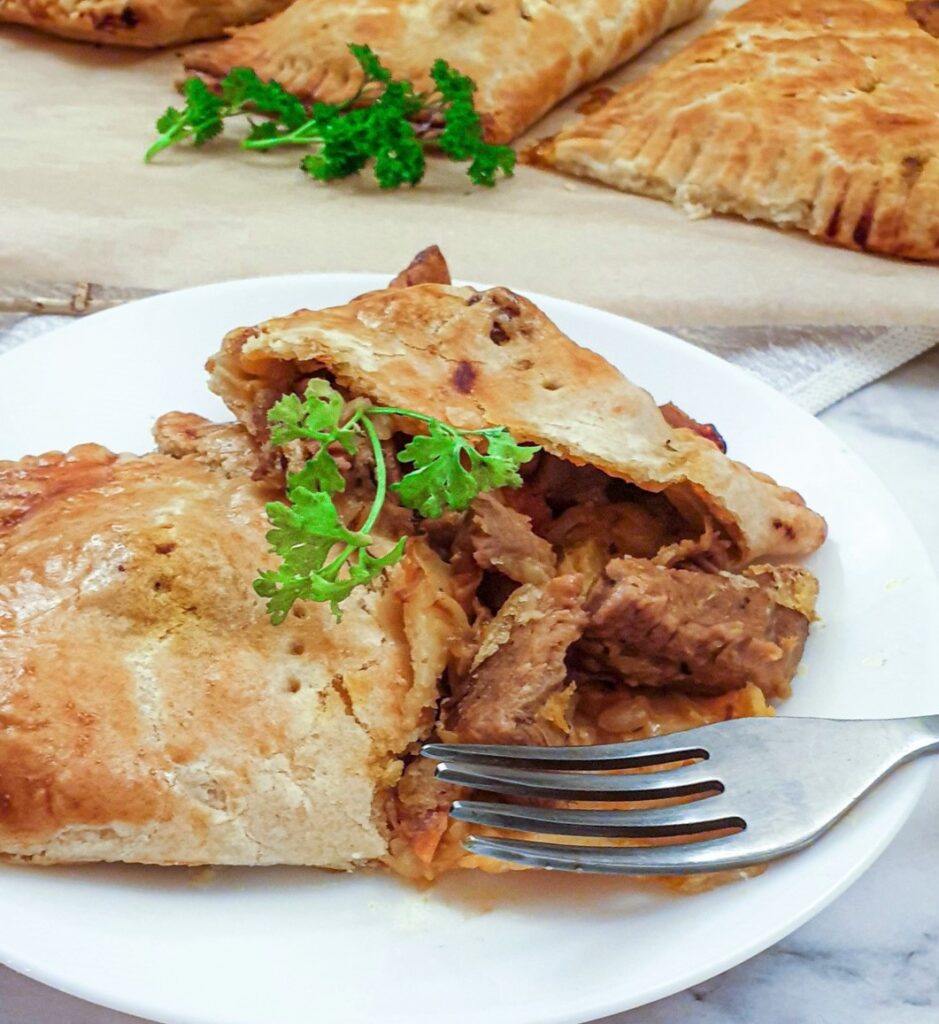 **As an Amazon affiliate, I earn from qualifying purchases.**
Leftover lamb pies
I think I've mentioned before that lamb is hubby's favourite meal, but because there are only the 2 of us left at home, there's always a lot leftover whenever we have a leg of lamb.
What I normally do is cut any leftover lamb into small cubes, pack it into meal-sized freezer bags and store it in the freezer. Cooked lamb freezes beautifully, and it's so convenient to have on hand.
I use it for making these leftover lamb pies, and it also makes a delicious lamb curry or a lamb stew.
I absolutely love these lamb pies. There are quite a lot of vegetables in the filling, so a little lamb goes a long way. And even though I don't go to the extreme of following Veganuary, I do try to cut down on meat in January to compensate for the over-indulgence of the Christmas season.
For convenience, I use shop-bought shortcrust pastry to make these leftover lamb pies, but if you want to make your own pastry you can do that too. If you need a pastry recipe, there's a recipe for shortcrust pastry in my bacon and egg pie recipe.
The other ingredient I like to add is a tin of Heinz chunky lamb soup. It not only adds extra flavour, but it also acts to thicken the filling, so you don't have to mess about with cornflour and water. I don't normally add canned food to my recipes, but hubby suggested adding it, and it turned out really well.
These leftover lamb pies are almost a meal in themselves, but I do like to add extra vegetables on the side, and lashings of gravy.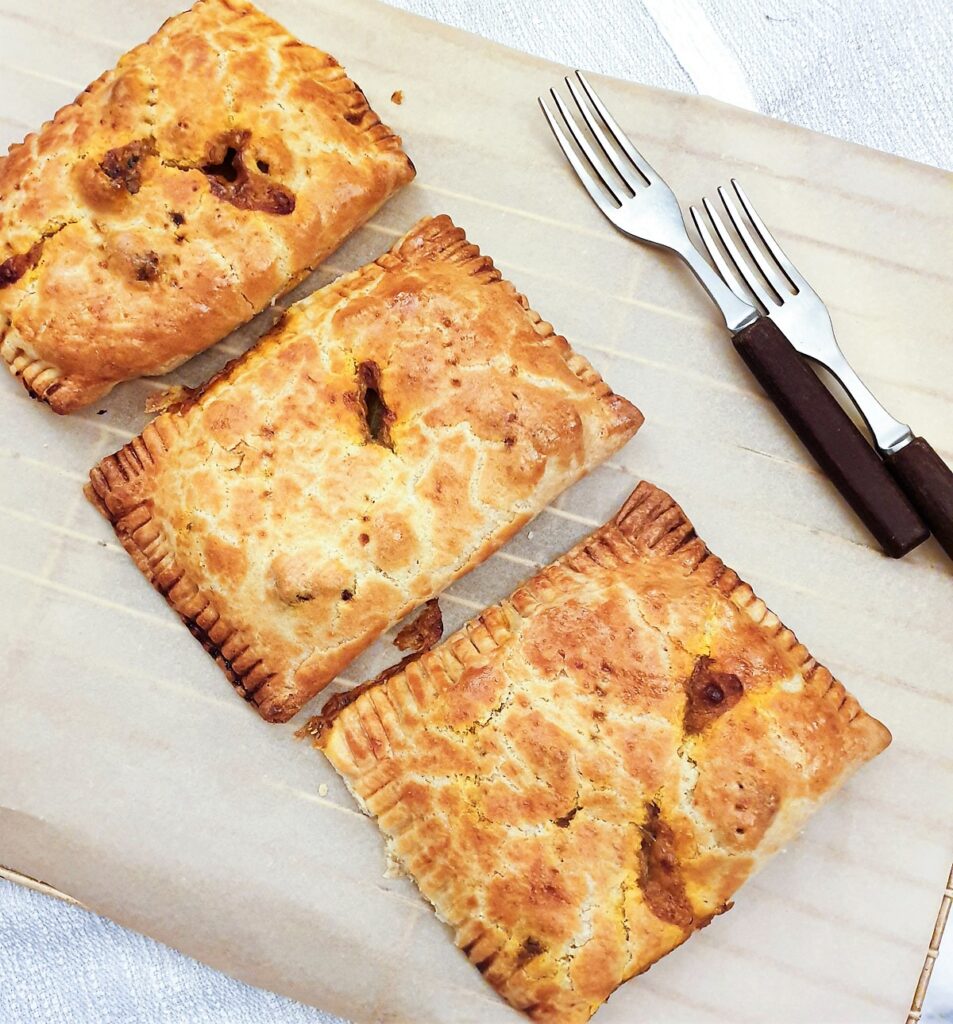 Ingredients
**You can get the complete list of ingredients and concise instructions for making these leftover lamb pies on the printable recipe card at the end of this post. For additional tips and hints for making this dish please continue to read the post**
This recipe will make 6 to 8 pies, but it really depends on how much leftover lamb you have. This is more of a method than an actual precise recipe.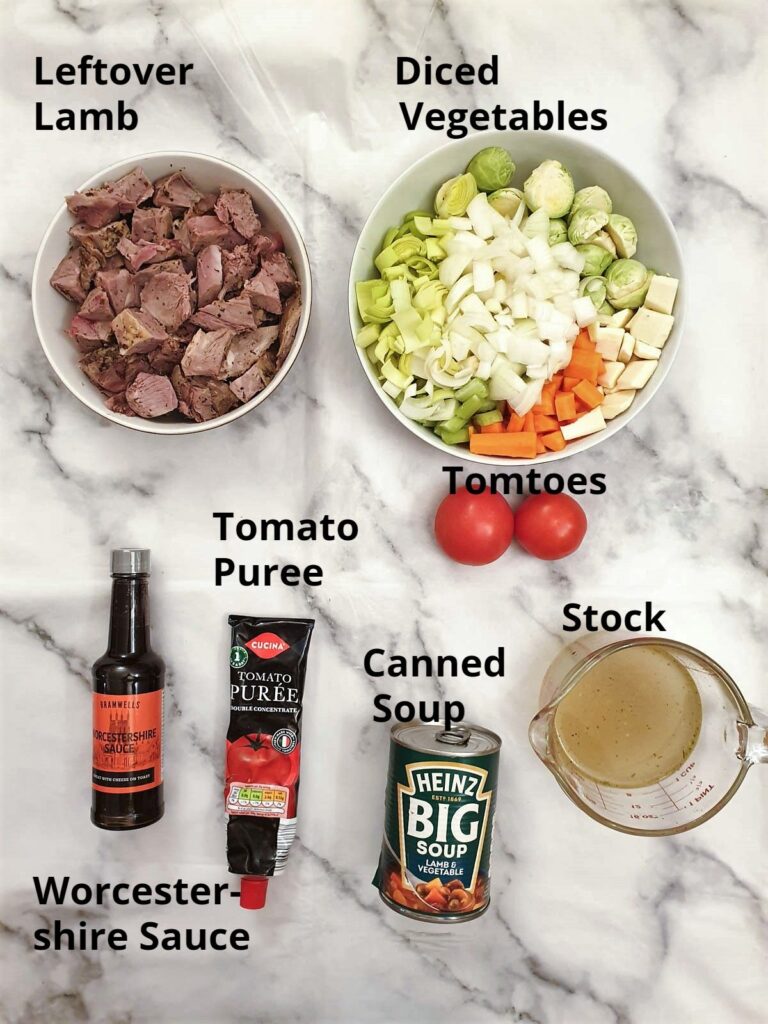 Lamb – you should cut the leftover leg of lamb into bite-sized pieces, but don't make them too large or they will be difficult to fit into the pastry – half-inch to one-inch cubes is about right. The exact amount you will need isn't too important, I had about four cups of diced lamb. You can use either leg or shoulder of lamb for this dish – lamb chops won't be suitable.
Vegetables – you can add whatever vegetables you happen to have in your refrigerator, and you will need approximately the same amount of diced vegetables as you do of lamb. I used a mixture of leeks, onions, carrots, brussels sprouts, celery, and parsnips. For extra moisture content, I also added two finely chopped tomatoes. You could also try sliced mushrooms, chopped green beans, swedes, diced or red peppers. I would tend to steer clear of softer vegetables such as broccoli or cauliflower as they would tend to become mushy during the cooking process.
Stock – not too much, half a cup is ample. We don't want a lot of gravy leaking out of the pies. You can make the stock using a vegetable stock cube dissolved in half a cup of boiling water.
Worcestershire sauce and tomato puree – adds richness and flavour. Tomato puree is highly concentrated tomatoes – and is also known as tomato paste.
Canned Heinz Big Soup – added at hubby's request, and I was surprised at how well it went with the rest of the ingredients. I've Googled this, and for my US readers, if you can't get Heinz big soup, I believe Walmart stocks Campbell's chunky soup which is very similar. If you prefer not to use this, you can leave it out, but it does help to thicken the filling. If you leave the soup out you should increase the stock to about half a cup and you may have to thicken the filling with a teaspoon of cornflour mixed to a smooth paste with 2 tablespoons of water.
You will also need one or two tablespoons of sunflower oil for frying the vegetables, and salt and black pepper in case you need to adjust the seasoning.
Pastry (not shown) – you will also need one to two rolls of shop-bought shortcrust pastry – depending on how much filling you have (or you can make your own pastry).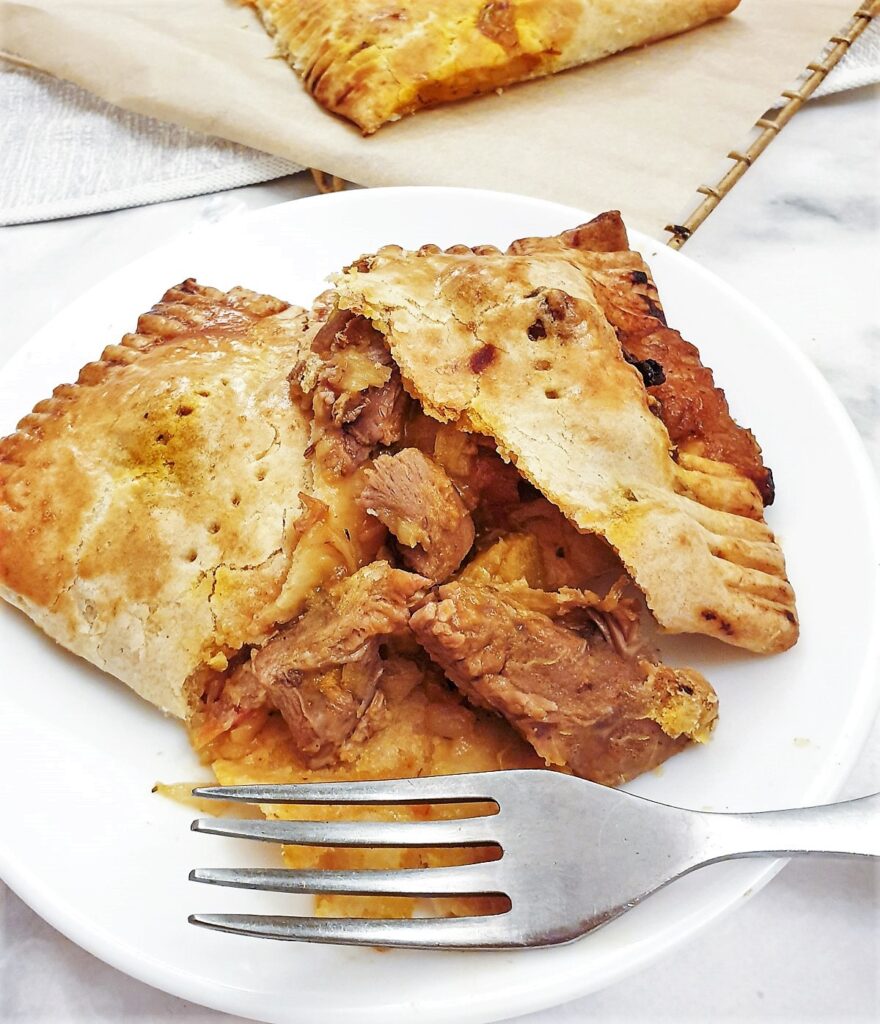 What to do

Vegetables
We'll start with the vegetables.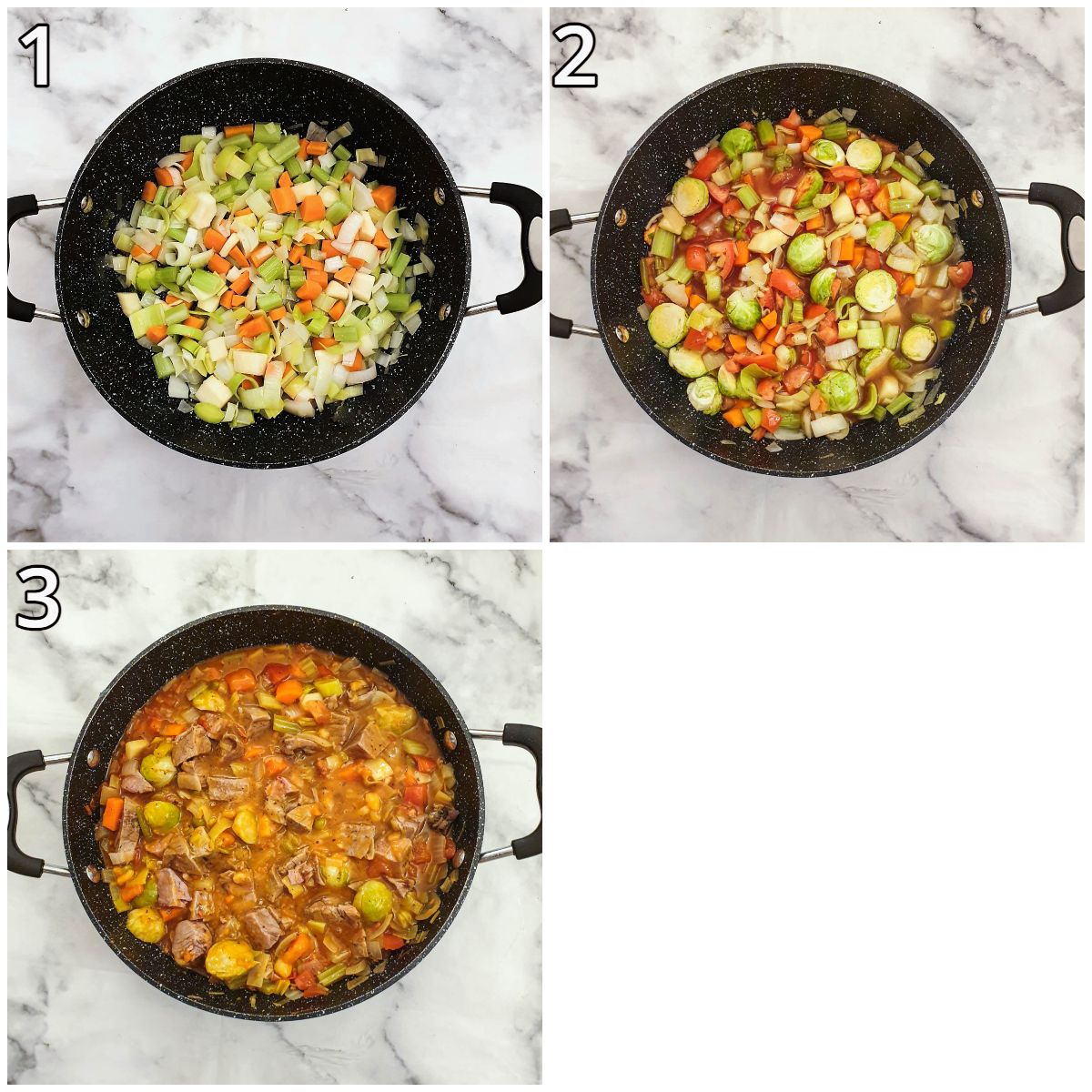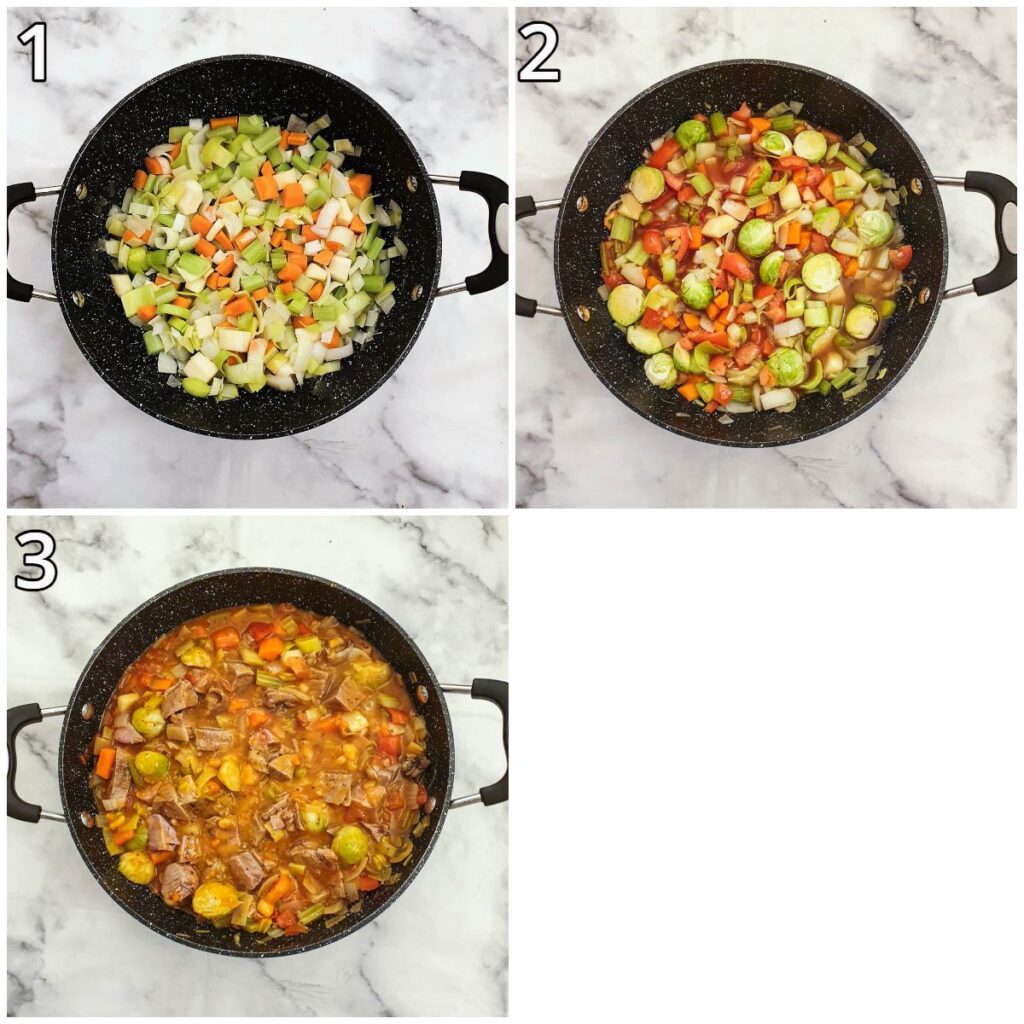 Peel and chop all the vegetables.

cut the leek lengthwise and the slice into semi-circles.
chop the onion, carrots, parsnips and celery into half-inch dice.
remove the outer leaves from the brussels sprouts and either halve them or cut into quarters, depending on the size.

Heat one to two tablespoons of sunflower oil in a large frying pan and fry all the vegetables except the brussels sprouts and tomatoes until the onions become translucent and the other vegetables start to soften (image 1). This will take about 5 minutes.
To speed up the process, keep the heat on simmer and cover the frying pan with a lid so that the vegetables steam in their own juices. Stir occasionally.
Once the vegetables are softened, add the worcestershire sauce, tomato puree, stock and the brussels sprouts and tomatoes and bring to the boil. Turn the heat down to a strong simmer, cover with a lid and leave for 5 minutes (image 2).
Add the can of soup and the chopped lamb. Stir well to combine and continue to simmer until well heated through (image 3).
Taste for seasoning and season with salt and black pepper if necessary.
The mixture should be thick enough to form a thick filling for the pies. If it is still a little runny, leave the pan on the heat without a lid so that some of the liquid can evapourate. If necessary, thicken with a slurry of cornflour mixed with a little water to a smooth paste.
Allow the mixture to cool before using it to make the pies.
Assemble the pies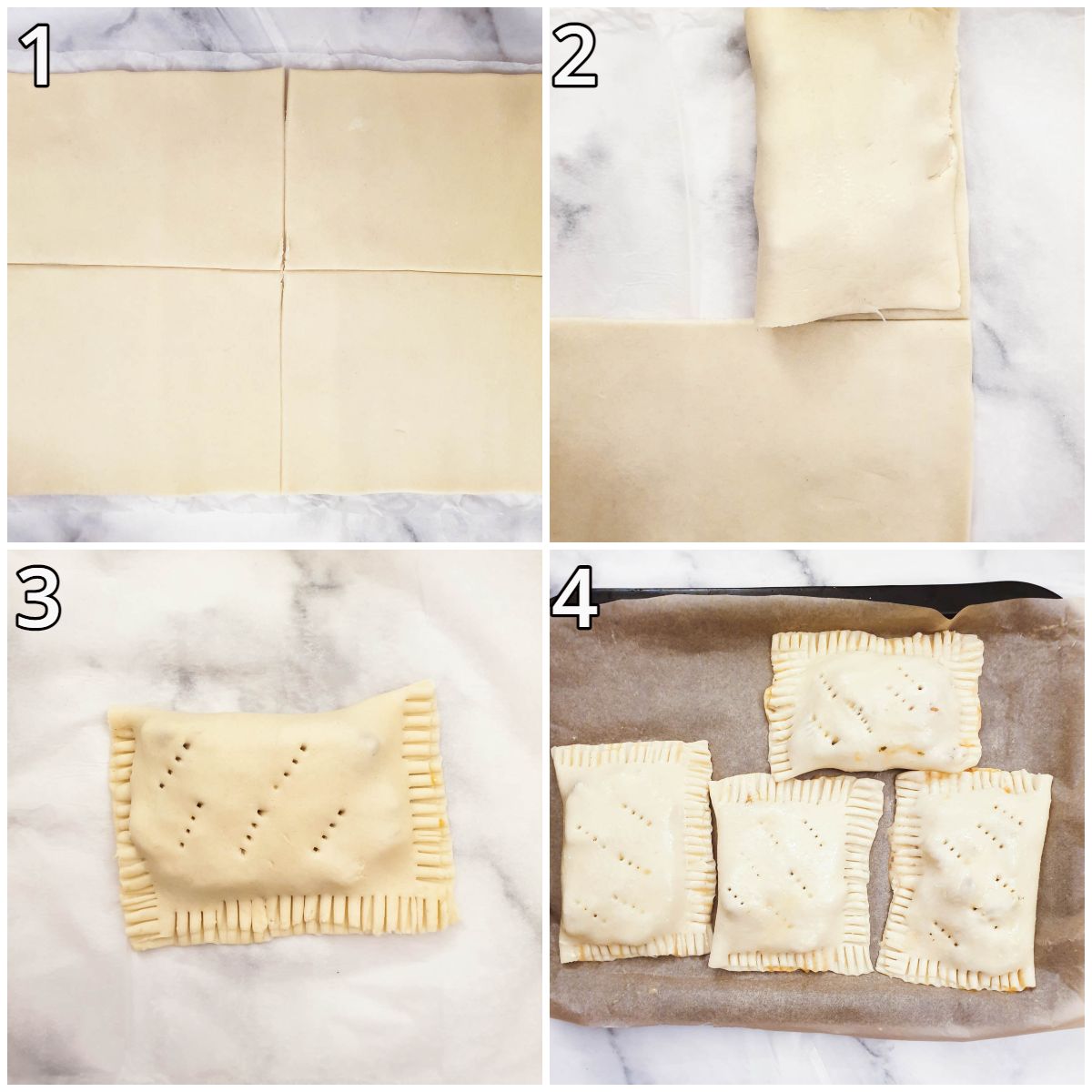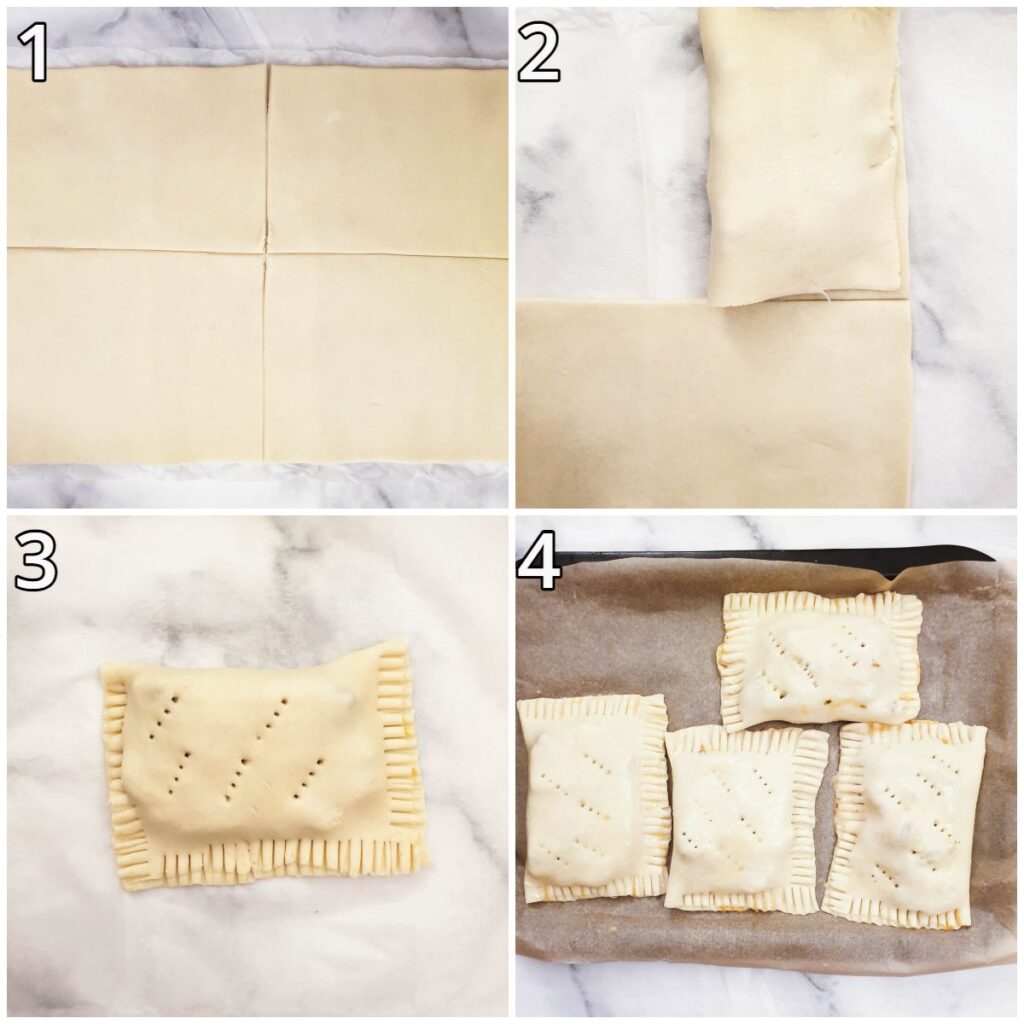 Unroll the pastry and cut it into 4 equally-sized rectangles (image 1). If you are using your own homemade pastry, roll it out into a 14″ x 10″ rectangle, approximately one-eights of an inch in thickness.
Spoon a generous portion of the filling onto one of the pieces of pastry and fold the pastry over to enclose. Leave a small border around the filling (image 2).
Use a fork to seal the pastry, and prick a few holes on top (image 3).
Transfer the pastry to a baking tray lined with baking parchment (to stop the pastries from sticking) (image 4). If you don't have baking parchment, brush the baking tray lightly with sunflower oil instead.
Brush the pies with lightly beaten egg.
Preheat the oven to 200C/400F
Bake the pies for 20 to 25 minutes until the pastry is crisp and golden brown.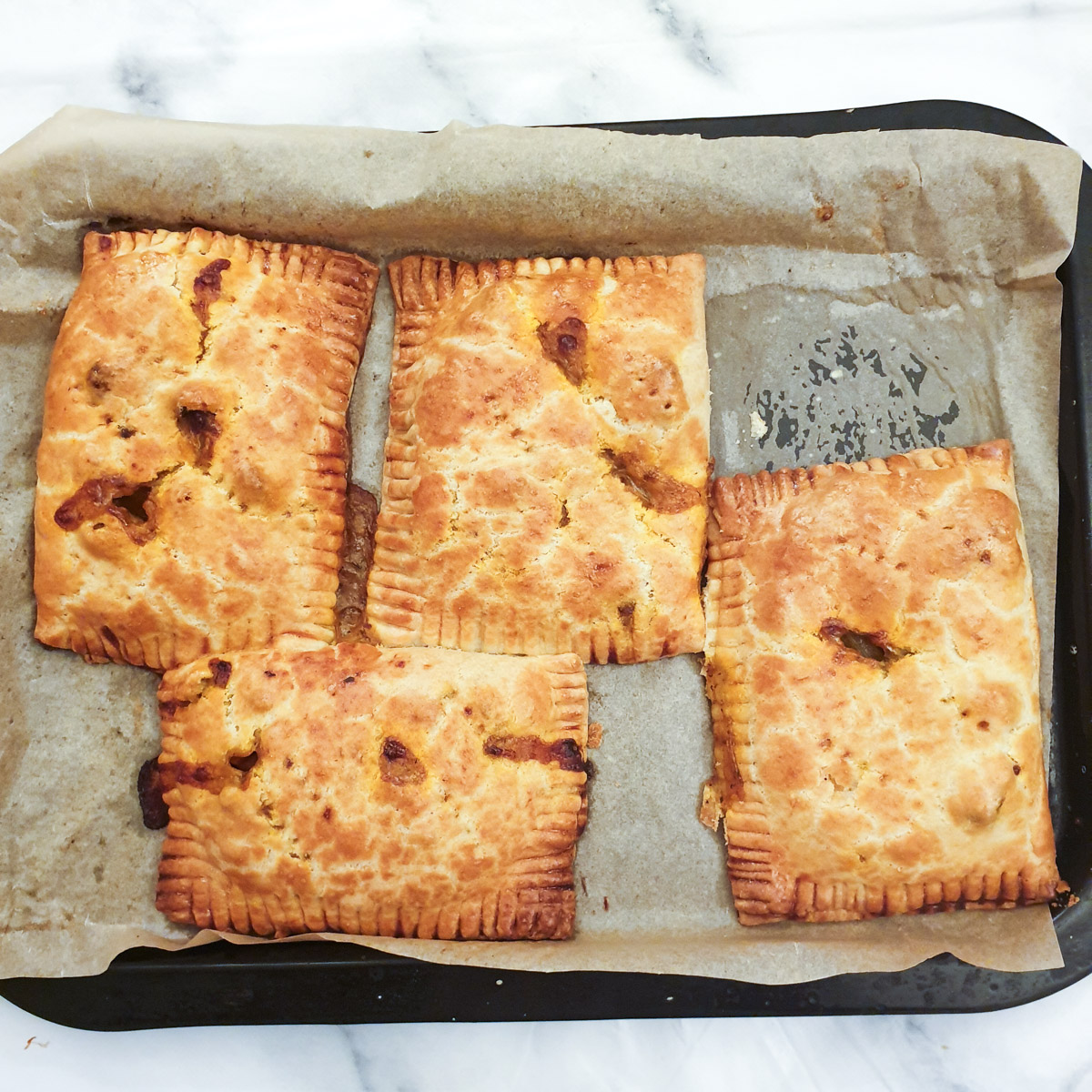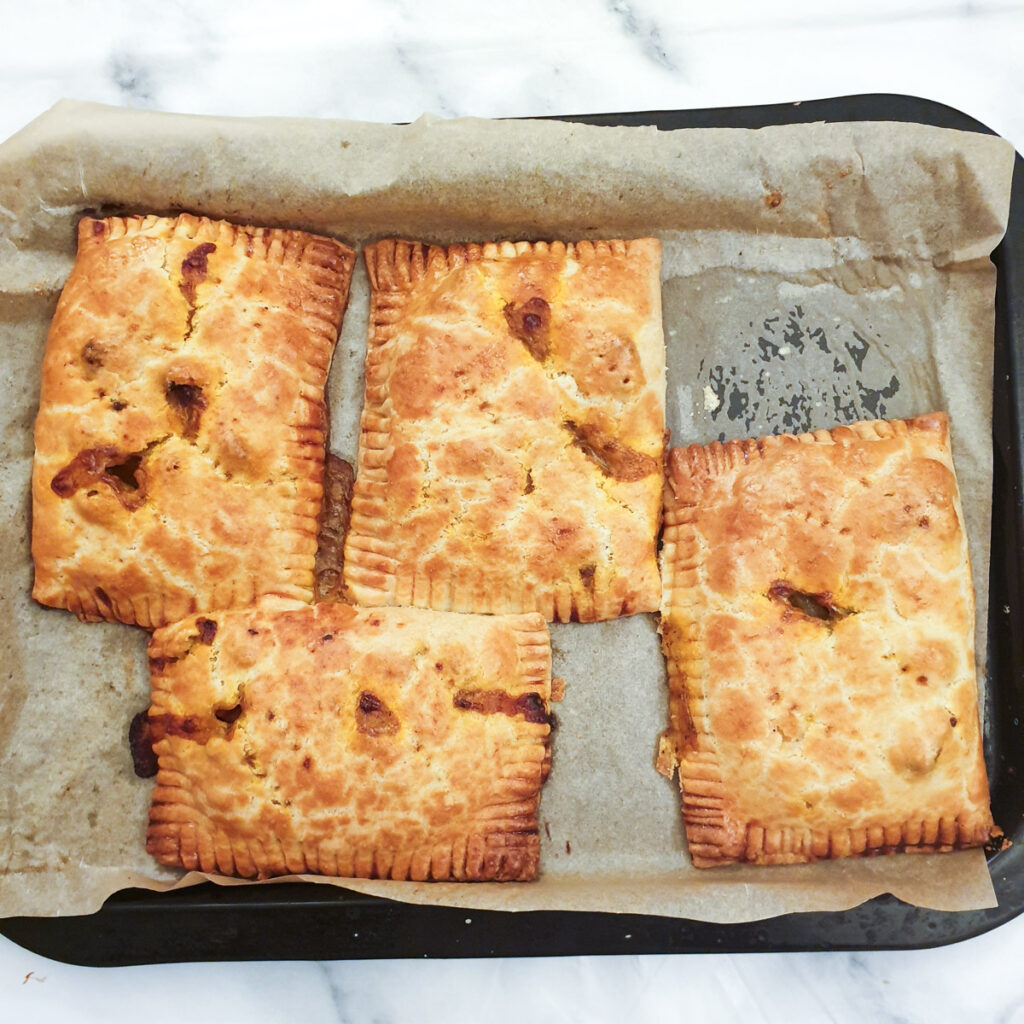 If you'd like to be notified of any new recipes, why not subscribe to my newsletter. As a thank-you gift, you will receive a free recipe e-book containing some of my most popular cakes and desserts.
How to freeze
You can freeze these lamb pies because the lamb has been re-cooked.
Allow them to cool and then wrap each pie in tin foil and place it into a plastic bag.
The pies can be frozen for up to three months.
To use, place the frozen pies on a baking sheet in a medium-hot oven (175C/350F) for about 15 minutes until completely heated through and piping hot.
Pin for later
If you would like to try your hand at making these leftover lamb pies why not pin the recipe to one of your Pinterest boards so you can find it easily. Just click on the image below.
Other lamb recipes
If this isn't quite what you are looking for, why not try some of my other lamb recipes.
The recipe
If you made this recipe and enjoyed it, I'd love it if you could give me a star rating in the comments below. And if you'd like to get in touch, you can email me at [email protected]. I'd love to hear from you. And don't forget to subscribe to my mailing list so you can grab yourself a copy of my FREE COOKBOOK!
If you'd like to continue browsing, just click on this link to all my recipes.