Authentic South African lamb curry, made with leftover lamb and served in a crispy pita bread – the easiest mid-week supper ever!
When you are only cooking for 2 people it is a bit of a waste to make an entire leg of lamb. Unfortunately, Graham loves lamb so it does feature on the menu quite often. I'm never quite sure what to do with the leftovers. My Yorkshire heritage won't let me throw them away, and there are only so many cold lamb sandwiches you can eat.
I've devised this recipe for leftover lamb curry, based on a traditional South African curry recipe and it is delicious. Bonus – Graham gets to eat lamb more often, and I don't have to throw anything away.
An additional bonus is that it is made in an electric pressure cooker (instant pot) so it is ready to serve in next to no time.
A brief history of South African curry
In England, there are many different curries – Korma, Madras, Tikka Masala, Jalfrezi, Vindaloo… the list goes on. In South Africa, there are 2 main variants, Durban curry, and Cape Malay curry.
Durban curry, probably the only curry in the world to be named after a city, is a reddish-coloured, slightly oily and extremely hot and spicy curry, its origins going back to 1860 when the first Indian labourers arrived to work on the sugar plantations. Legend has it that when the labourers went to work they took left-over curry from the previous night's supper for their lunch. Instead of a container, they carried their curry in a hollowed-out loaf of bread, and so the famous South African bunny chow was born.
Cape Malay curry is a much milder curry, known for combining sweet and savoury flavours and often contains dried fruit such as apricots and sweet spices such as cinnamon. Traditionally the spices are first fried in a little oil to release their flavour, before they are mixed with the rest of the ingredients
Cape Malay curry has its origins in the cuisine of the slaves who were brought from Indonesia and parts of Africa in the early 17th century to work on the farms in Cape Town.
I have based my lamb curry on the traditional Cape Malay recipe, using Mango Chutney to provide a hint of sweetness.
Tips for making my Lamb Curry in an electric pressure cooker
When making any curry you should always fry the spices together in a little hot oil. This releases the flavour and makes for a tastier dish. You can use the 'Browning' or 'Saute' function on the pressure cooker to do this.
Stir the meat into the spices to ensure that all pieces are well coated with the spice mixture
After adding the vegetables let it all come to the boil before putting on the lid and setting the steam function
Keep the potatoes aside and only add them after the first cooking time – this will make sure they keep their texture and don't become mushy
Don't have an electric pressure cooker?
You can make this on the stove top in a suitably big enough pan with a tight-fitting lid. Just follow the first 6 steps of the recipe. When you get to point 7 just let it simmer until the carrots and celery are almost done then add the potatoes and simmer until they are soft. Then continue from point 9.
If you are thinking of getting an electric pressure cooker then take a look at these electric pressure cookers on Amazon.
I've had mine for ages and use it all the time. It has settings that allow you to use it either as a pressure cooker or a slow cooker, which makes it great value for money. Two appliances for the price of one!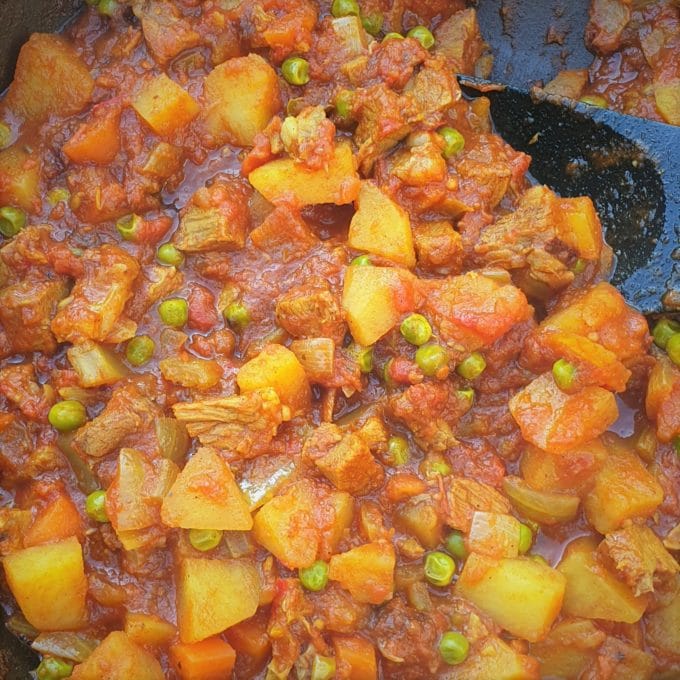 Recipe
Lamb curry in Pita
Spicy lamb curry served in pita bread
Ingredients
2

cups

Roast Lamb

cubed

2

medium

Potatoes

cut into 2 cm dice

1

largish

Carrot

cut into 1 cm dice

1

stick

Celery

cut into 1 cm slices

2

medium

Onions

cut into 1 cm dice

2

cloves

Garlic

chopped

2

fresh

Tomatoes

chopped

1

400g tin

Chopped Tomatoes

1/2

cup

Frozen Petit Pois or Garden Peas

2

Tablespoons

Mango Chutney

2

Tablespoons

Sunflower Oil

for frying spices and onion

2

cups

Chicken Stock

You can substitute chicken stock with 2 stock cubes dissolved in boiling water

2

Tablespoons

Cornflour mixed with a little water

for thickening

Salt and pepper

to taste
Spices
2

Tablespoons

medium strength Curry Powder

2

Tablespoons

Garam Masala

1

teaspoon

Chilli flakes

optional

1

teaspoon

Mustard Seeds

1

teaspoon

Fennel Seeds

1

teaspoon

ground Corriander

1

teaspoon

Turmeric

1

teaspoon

Cinnamon

2

Bay Leaves

remove before serving
Instructions
Heat the oil in your instant pot. Add all the spices and fry, stirring continuously, for 1 minute (See note 1)

Add the onions, celery and garlic and continue frying over a gentle heat, stirring continuously, until the vegetables are coated with the spice mix

Add the meat and stir well to coat

Add the fresh tomatoes and mix well. Continue frying and stirring until the tomatoes release their moisture

Add the carrots, tinned tomatoes, mango chutney and chicken stock

Season with salt and pepper

Set the instant pot to the meat function and cook under pressure for 12 minutes. See note 2

Release the steam, add the potatoes and cook on the same function for a further 10 minutes. See note 3

Add the cornflour and water mixture and allow to simmer for a few minutes until thickened

Warm the pitta bread in the oven for a few minutes and then fill the warmed pita bread with the curry mixture
Notes
My instant pot has a browning function which I use for frying.  If your pot doesn't have this function then you can use a large frying pan for this.
Since the meat is already cooked, it will only require a short cooking time.
I find that if I add the potatoes at the beginning of the cooking process they over-cook, which is why I add them half way through
You could serve this on a bowl of white rice instead of in the pita bread
If you enjoyed this recipe why not save it for later?
Related recipes
What do you make with leftover lamb? Let me know in the comments below. I'd love to hear from you.