No fail microwave rice, light and fluffy every time. Read on to learn how to cook rice in the microwave . You will find this is the easiest way to cook perfect rice!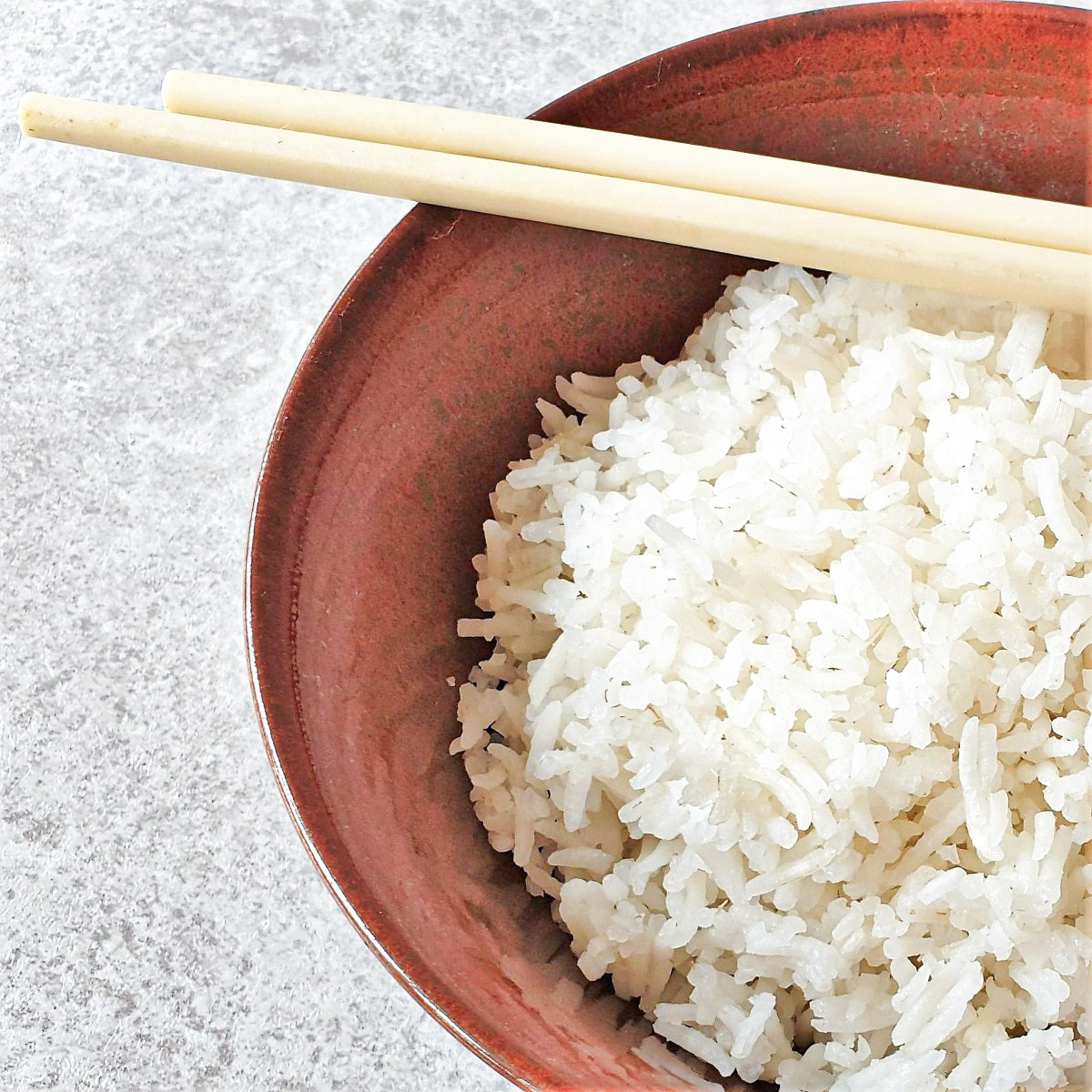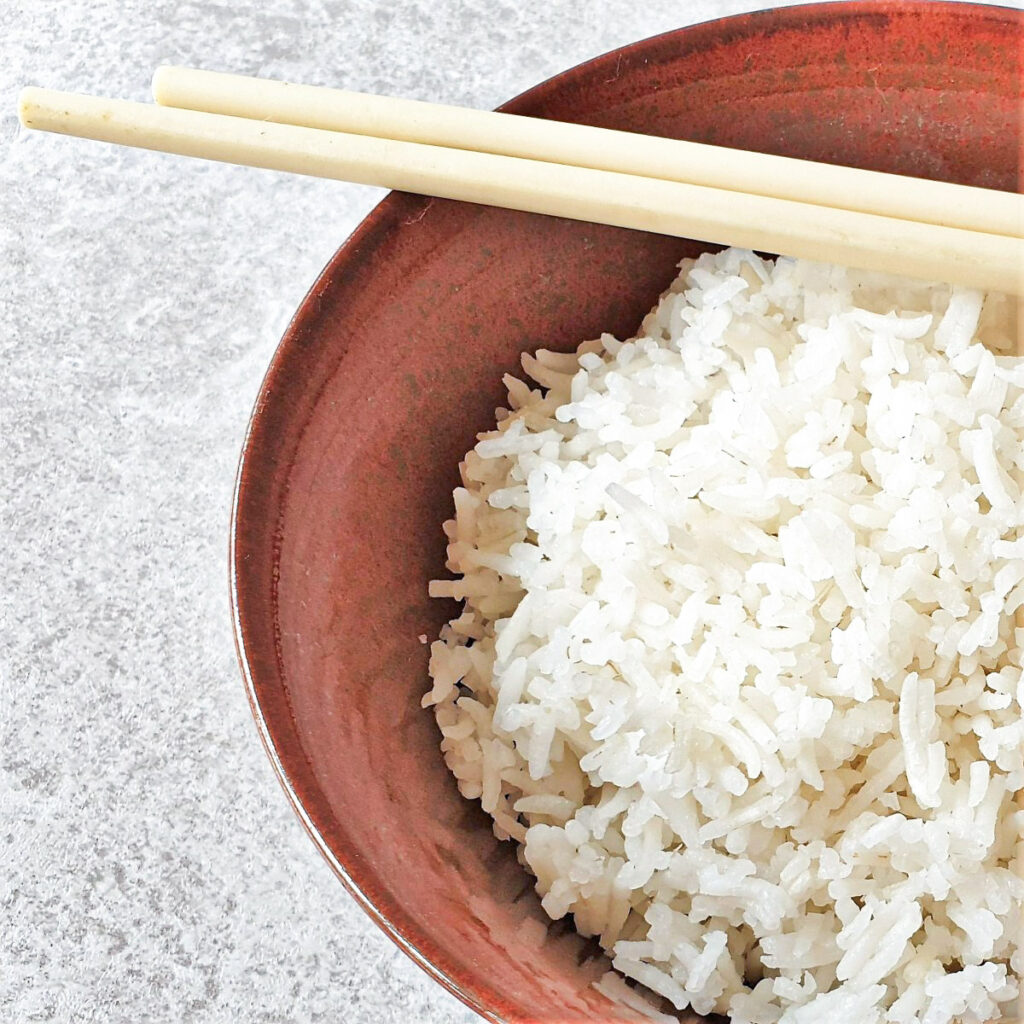 **As an Amazon affiliate, I earn from qualifying purchases.**
Perfect white rice every time
How many times have you tried to cook rice in a saucepan on the stove, only to have it either burn on the bottom of the pan or come out over-cooked and stodgy?
When I lived in South Africa, there were many different types of rice, but there was only one brand that everyone used. Its catchphrase was 'Cooks perfectly – every time'. It didn't matter how you cooked it, it always delivered the goods.
When I came back to the UK I really missed that rice! No matter what I tried, I always ended up with a stodgy mess – in fact, I stopped eating rice for a while. I even considered getting my daughter who still lives in South Africa, to post some over to me.
Then I experimented with cooking rice in the microwave, and guess what? Perfect rice.
With my quick and easy microwave recipe, you will get perfectly cooked rice every time. There is no need to rinse the rice first either – so this is a real time-saver.
The rice comes out perfectly cooked with every grain fluffy and light.
Word of warning – for best results use good quality rice. You can use a supermarket 'own' brand – but I've found the supermarkets normally have 2 'own' brands – a cheap one and a better quality, so go for the better quality, it's worth it.
I have tested this recipe using Basmati rice, but it will work just as well for any long-grained rice.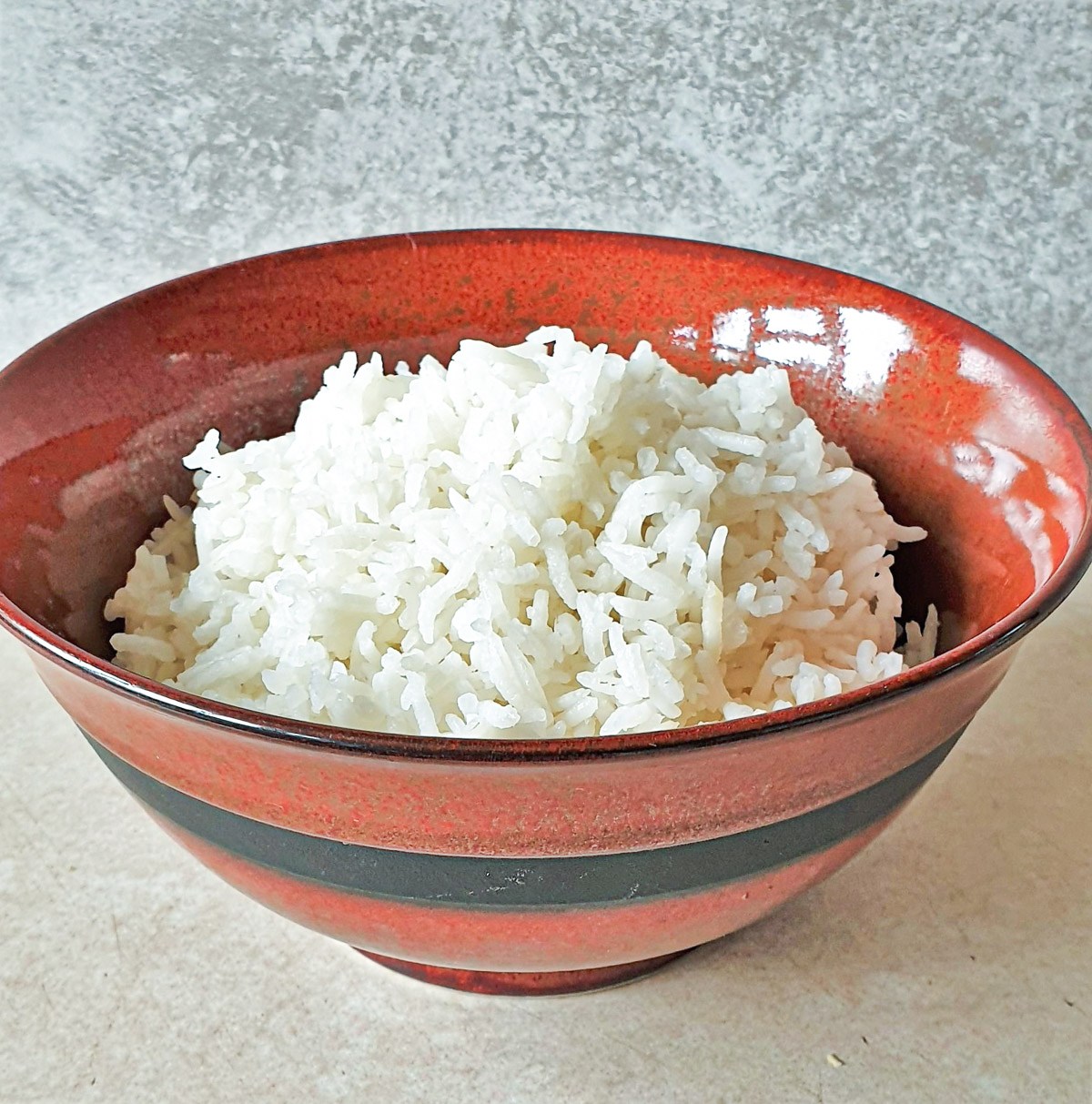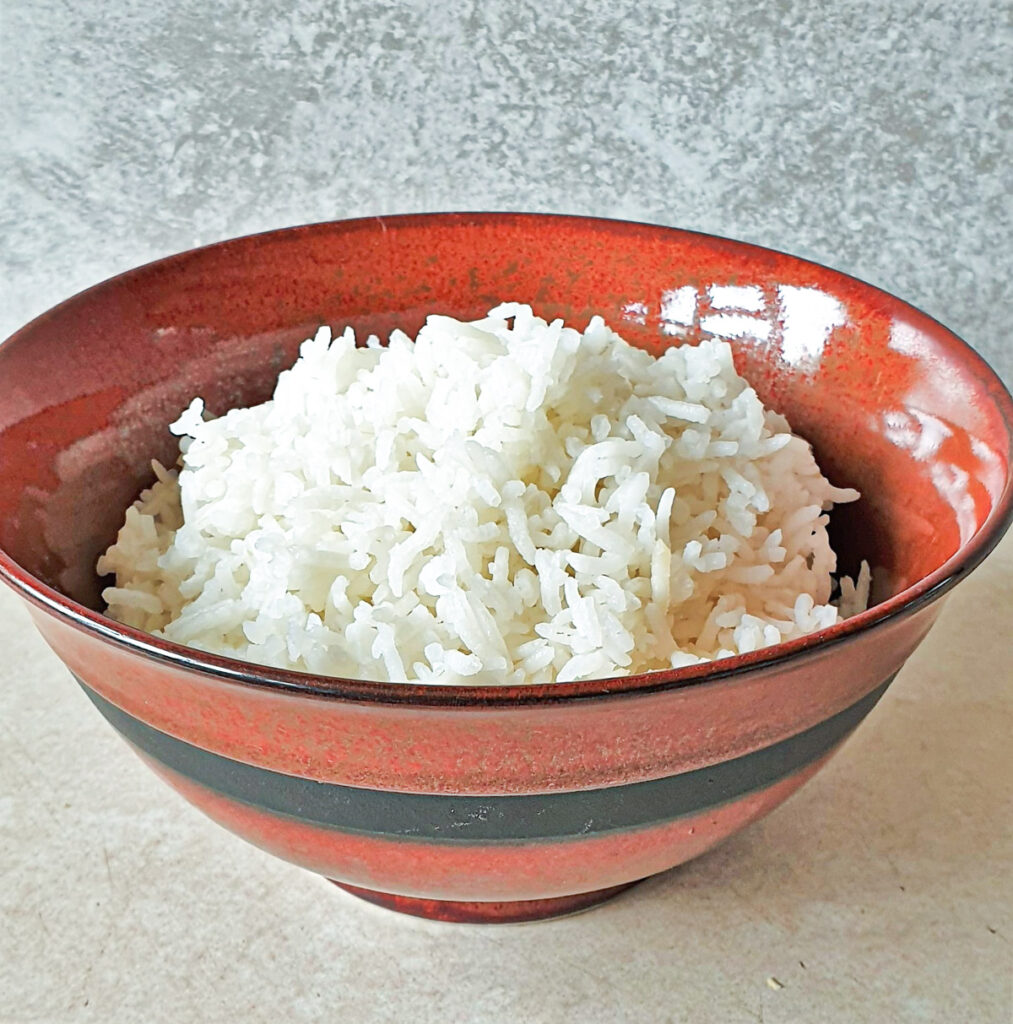 How to cook rice in the microwave
Equipment
The only equipment you will need is a glass bowl with a tight-fitting lid. I have a set of pyrex bowls which are great for cooking in the microwave.
Ingredients
You can get the complete list of ingredients and full instructions for how to make rice in the microwave on the printable recipe card at the end of this post.
To cook perfect rice, you will need the following ingredients: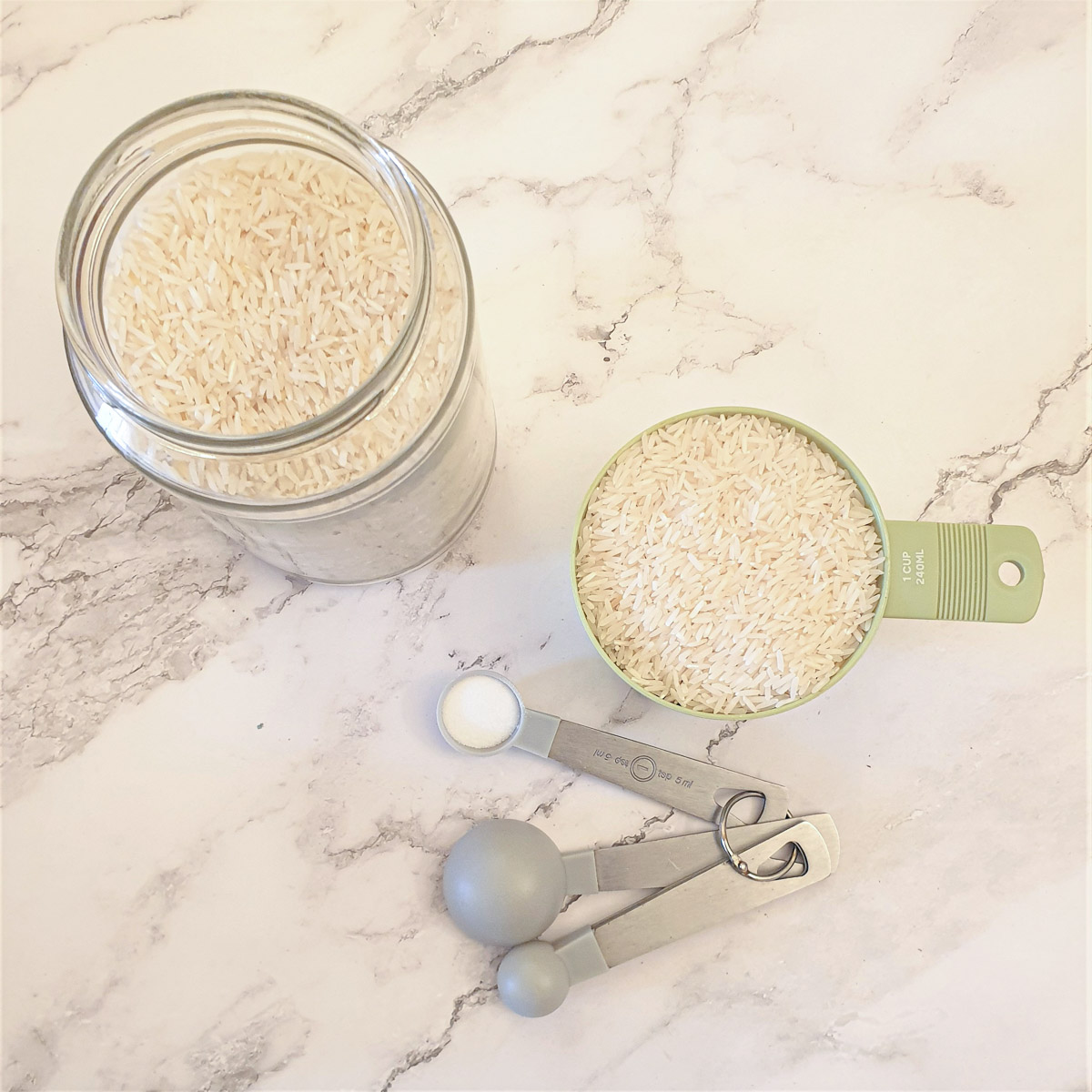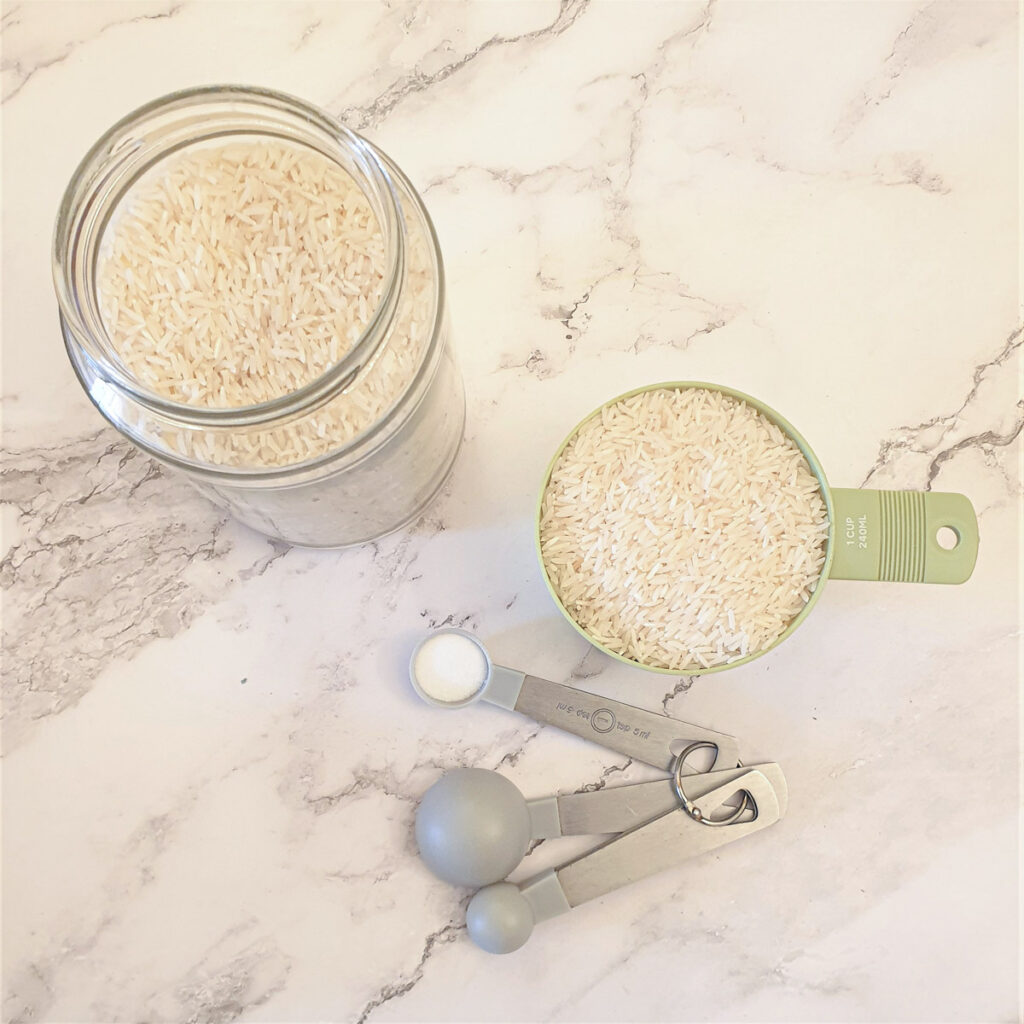 Rice – any long-grain rice is suitable for this cooking method.
Water – use cold tap water. Don't use hot or boiling water as this will alter the cooking time.
Salt – use salt according to your own taste. I find half a teaspoon of salt is sufficient for my taste.
The ratio of rice to water is 1 : 2 (ie 1 cup of rice and 2 cups of cold water). It doesn't matter whether you use a measuring cup or a normal kitchen teacup. Just use the same cup for measuring both the rice and the water.
One cup of dried uncooked rice will yield 3 cups of cooked rice.
Steps
Measure the rice into your container and add the water and salt.
Put the lid on the dish, place it in the microwave and cook on full power for 8 minutes.
After 8 minutes take the rice out of the microwave and give it a stir. It should still be wet.
Replace the lid and return the dish to the microwave. Cook on full power for another 3 minutes.
Give it a stir with a fork – it should be light and fluffy with every grain separate.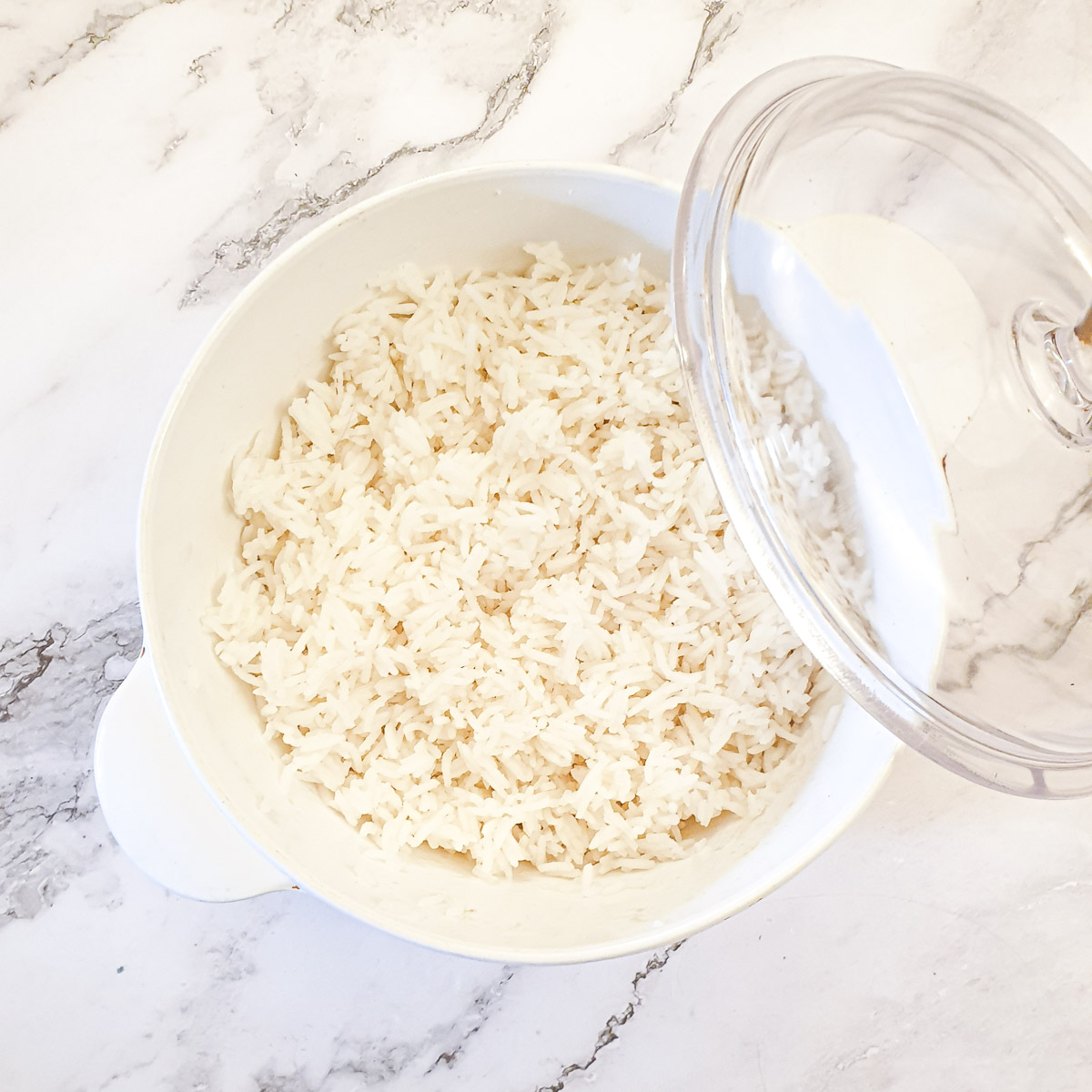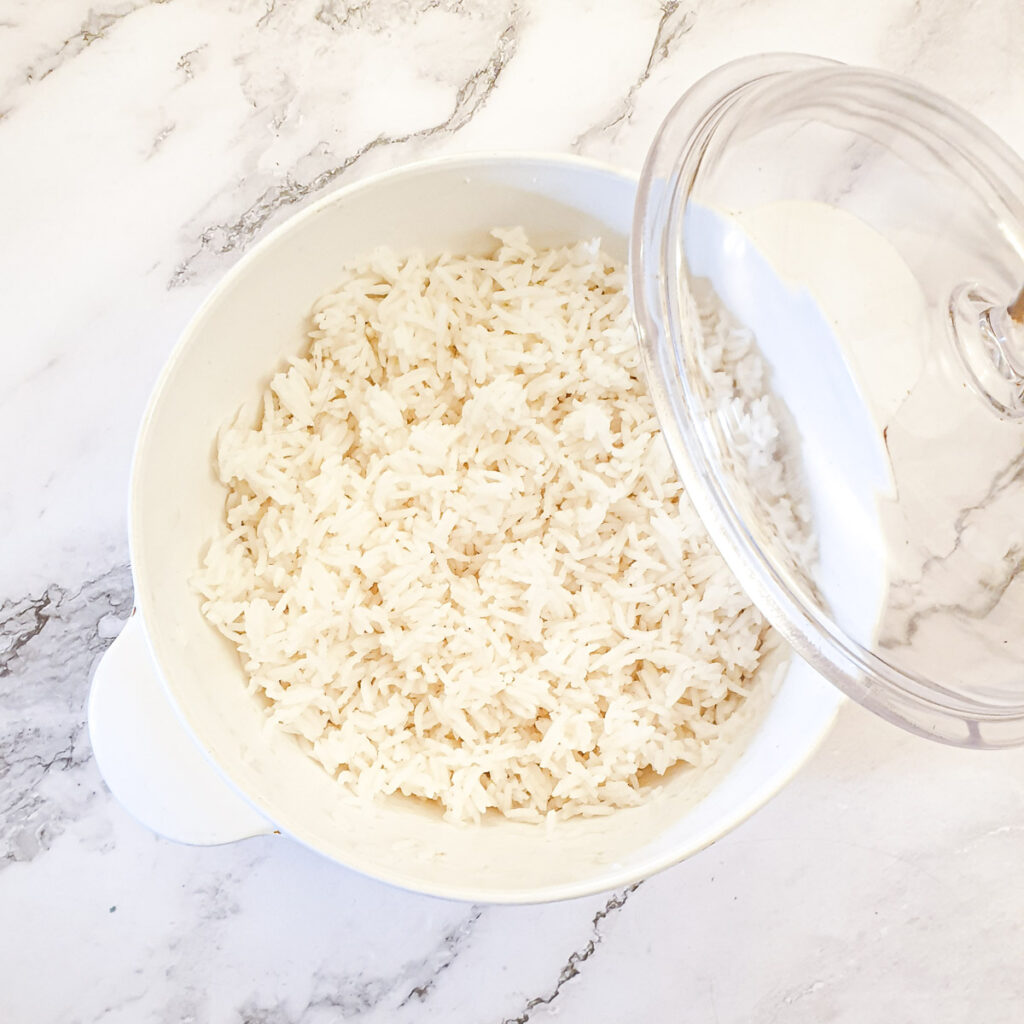 If you'd like to be notified of any new recipes, why not subscribe to my newsletter? As a thank-you gift, you will receive a free recipe e-book containing some of my most popular cakes and desserts.
Storage and reheating
You can freeze the cooked rice either in a plastic freezer bag or in a plastic container such as Tupperware. Rice can be frozen for up to 6 months.
To use, allow to defrost in the refrigerator and then place it in the microwave (in a covered container) and heat at 30-second bursts on full power until the rice is piping hot.
If you are in a hurry you could use the microwave to defrost the rice first.
You can also store the cooked rice in a covered container in the refrigerator for up to 4 days.
Should I rinse the rice before cooking?
If you have bought your rice pre-packaged from the supermarket, there is no need to rinse it first.
On the other hand, if you've bought the rice loose from a market, I'd be inclined to rinse it before using it for hygiene reasons.
If you do rinse the rice before you cook it, then reduce the cooking water by 2 tablespoons as the rinsed rice will have retained a little water.
Pin for later
Why not pin this post on how to cook rice in the microwave rice to one of your Pinterest boards so you can make it later. Just click the image below.
Other recipes with rice
Recipe – How to cook rice in the microwave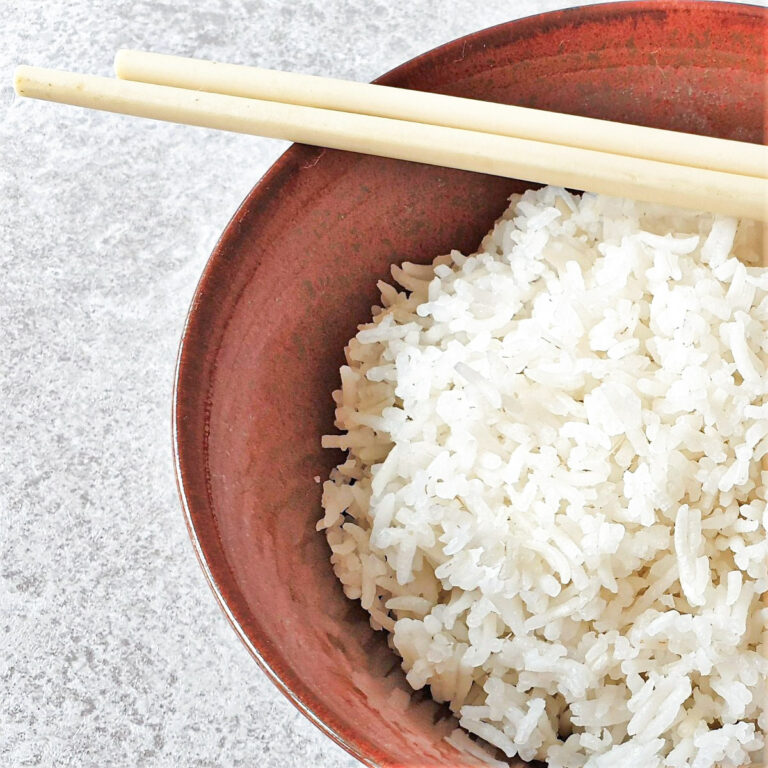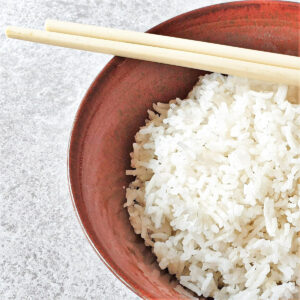 How to cook rice in the microwave
No fail microwave rice, light and fluffy every time. Read on to learn how to cook rice in the microwave . You will find this is the easiest way to cook perfect rice!
Print
Pin
Comment
Bookmark
Saved!
(Click the stars to rate this recipe)
Ingredients
1

cup

/ 180 grams white rice

I use Basmati

2

cups

/ 480 ml water

1

teaspoon

salt

You can adjust this to your own taste
Instructions
Place the rice in a ceramic or glass bowl with a lid

1 cup / 180 grams white rice

Cover bowl with the lid and place in the microwave

Microwave on high for 8 minutes

Remove from microwave and stir.

Replace the lid and return the bowl to the microwave. Cook on high for 3 minutes longer or until the water has all been absorbed and the rice is dry
Notes
I use a pyrex dish with a lid, but you can use any glass or ceramic dish as long as the lid fits snugly.  If the lid is loose the water will seep out during cooking and your rice won't cook properly If all the water has been absorbed and the rice is not completely cooked you can add 1 or 2 Tablespoons of water, stir and cook for 1 minute longer. This recipe has been tested in a 900W microwave – different wattages of microwaves may produce different results.  You may have to adjust the timing slightly to compensate.
Nutrition
Calories –
169
kcal
|
Carbohydrates –
37
g
|
Protein –
3.3
g
|
Fat –
0.3
g
|
Saturated Fat –
0.1
g
|
Sodium –
587
mg
|
Potassium –
55
mg
|
Fiber –
0.6
g
|
Sugar –
0.1
g
|
Calcium –
17
mg
|
Iron –
2
mg
I am not a nutritionist. The nutrition information has been calculated using an on-line calculator, and is intended for information and guidance purposes only. If the nutrition information is important to you, you should consider calculating it yourself, using your preferred tool.
Unless otherwise stated, a cup is the standard US cup containing 240 ml. In all my recipes this cup is assumed to hold 140g of flour. For help converting other ingredients between cups, grams, ounces and other measures, see my recipe conversion calculator.
All my recipes are developed and tested at sea-level. For tips on adjusting recipes for high altitudes see my post on baking at high altitudes.
Tried this recipe?
If you made this recipe I'd love it if you could leave me a comment and let me know how it went!
Share on Facebook
Share on Twitter
If you made this recipe and enjoyed it, I'd love it if you could give me a star rating in the comments below. And if you'd like to get in touch, you can email me at [email protected]. I'd love to hear from you. And don't forget to subscribe to my mailing list so you can grab yourself a copy of my FREE COOKBOOK!
If you'd like to continue browsing, just click on this link to all my recipes.