Elevate a bowl of plain rice from the mundane to the extraordinary by the addition of mushrooms onions and a few basic flavouring ingredients. Give your meals some extra oomph by serving a bowl of spicy mushroom fried rice as a delicious side dish.
Spicy mushroom fried rice
There are few things as versatile as rice. You can serve it either sweet or savoury, hot or cold, plain or dressed up – like this recipe for spicy mushroom fried rice. I just love how the flavour of the mushrooms and onions coats every grain of rice. And it also contains soy sauce and crushed chili for extra oomph.
This spicy mushroom fried rice goes with everything. I like to serve it hot with a roast dinner. If you are watching the carbs you can leave out the roasties, or do as I do, and serve both! (Don't judge me 🙂 ) Served cold, it makes a delicious side salad at a barbeque. You could even toss in some shredded leftover chicken and serve it with crusty bread for a quick and easy one pan meal.
How to make spicy mushroom fried rice
You can get the complete list of ingredients and full instructions on how to make this recipe on the printable recipe card at the end of this post.
This recipe serves 4 people as a side dish.
You start by chopping mushrooms and onions. Any type of mushroom that you happen to have in your fridge will be suitable for this dish. You just need to slice them quite thinly, about 1/8″. For this recipe I used brown skinned chestnuts, but firm white mushrooms work well, as do the large flat portobello mushrooms. Just remember if you use the darker mushrooms (like portobello) the juices will stain the rice brown, but there's nothing wrong with that!
The onions should be chopped to about 1cm dice.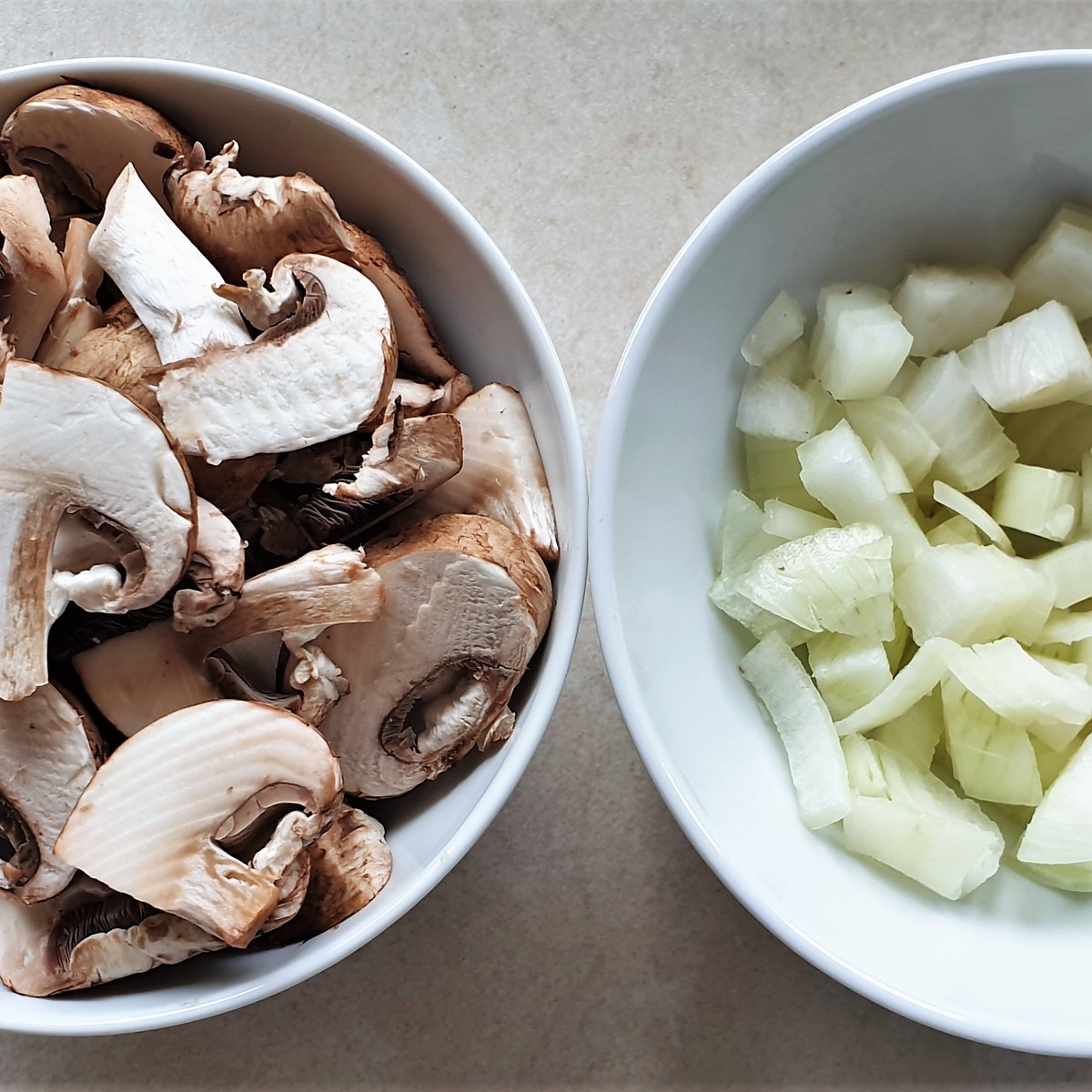 Fry the onions with crushed garlic in a little olive oil. If you don't have olive oil, don't worry – you can use sunflower or canola instead.
You can use either fresh garlic cloves finely chopped, or crushed garlic from a jar.
Let the onions sweat slowly until they are translucent and nicely softened. You don't want to brown them.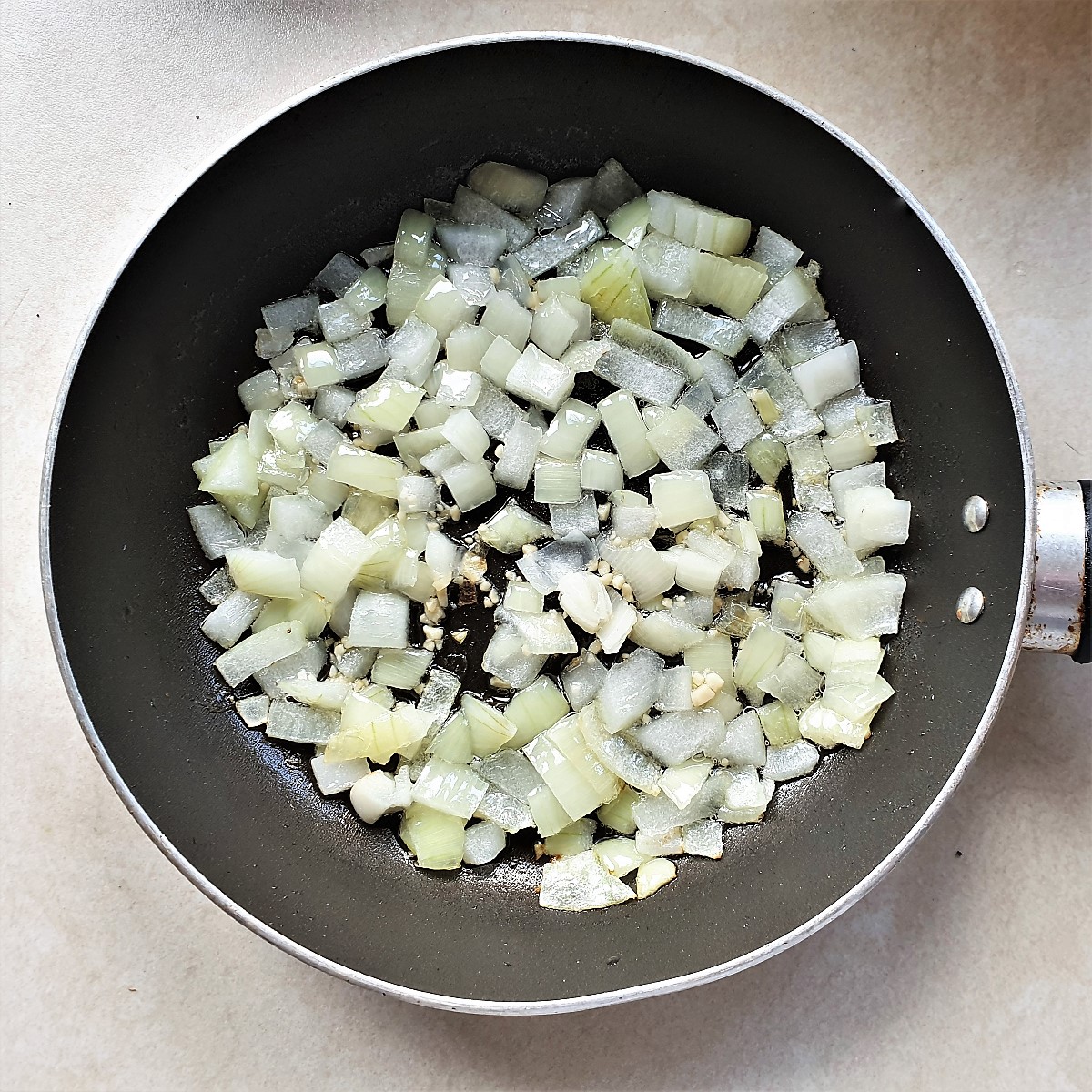 Now add the sliced mushrooms to the onions in the pan along with some crushed chili and continue to cook slowly. At this point I cover the pan with a lid so that the mushrooms steam in their own moisture. This takes about 5 minutes. Then remove the lid and continue to cook until most of the moisture has evapourated.
You can use freshly chopped red or green chilis if you prefer. I just used my favourite brand from a jar. I added about 1/2 teaspoon, but you can adjust the chili according to your own taste.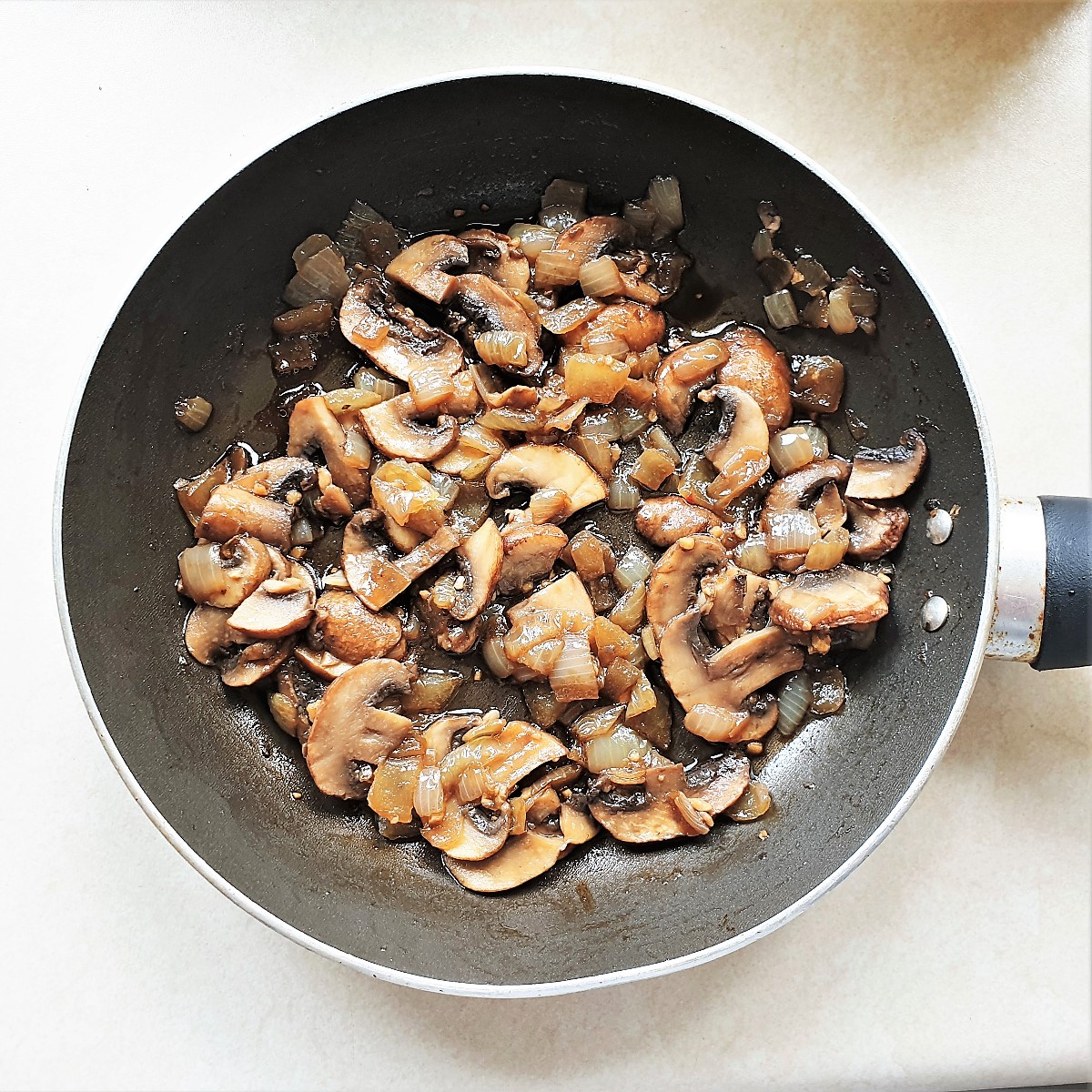 Add the rice
Once the mushrooms and onions have softened, add about 3 cups of cooked white rice. I have 2 posts on cooking rice that you might find useful.
Also add 3 tablespoons dark soy sauce. Don't use light soy sauce as it will be too salty.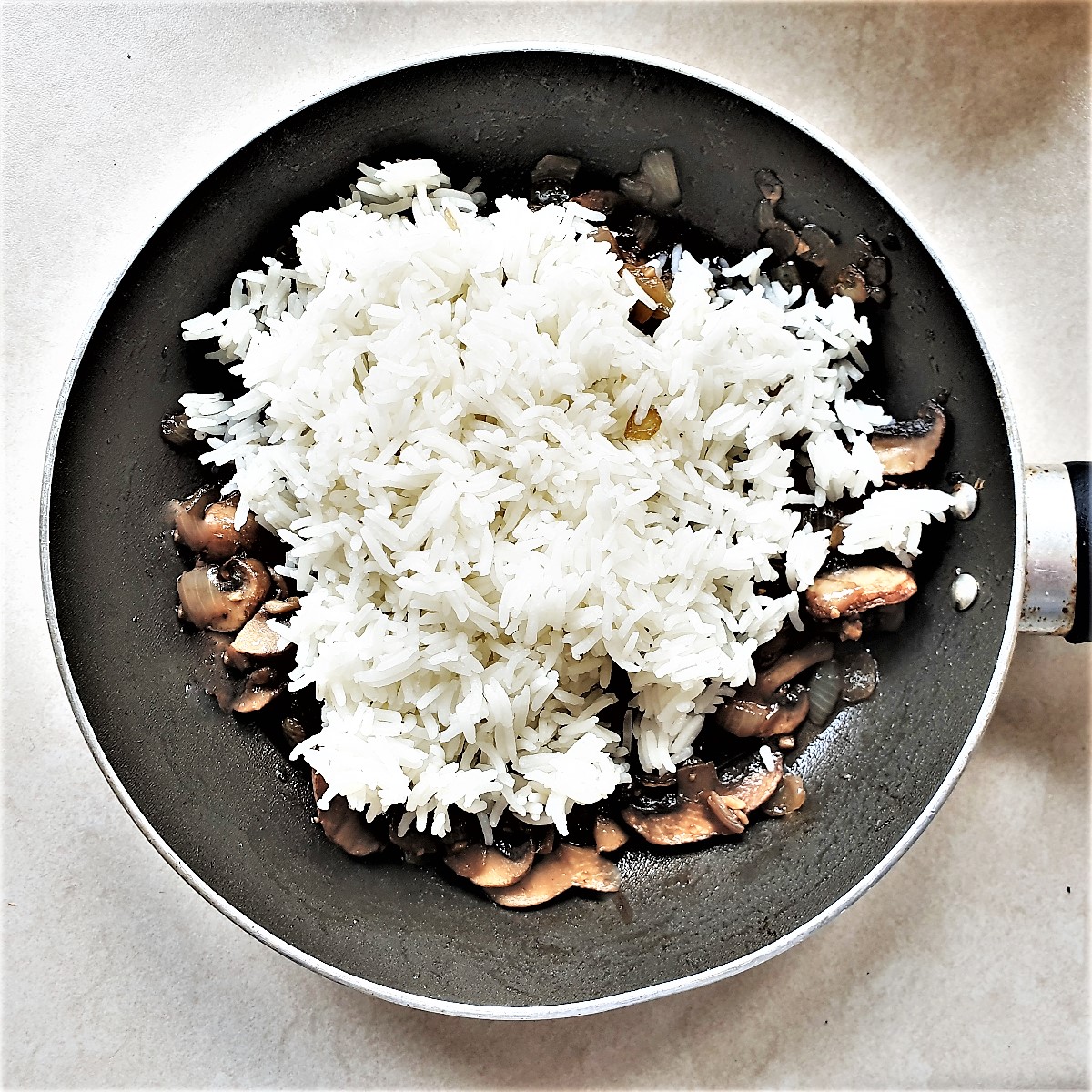 Stir it all around to coat the rice and pick up all the flavours, then let the pan sit on a very low heat until the rice is heated through.
Taste for seasoning and add salt to your own taste if necessary.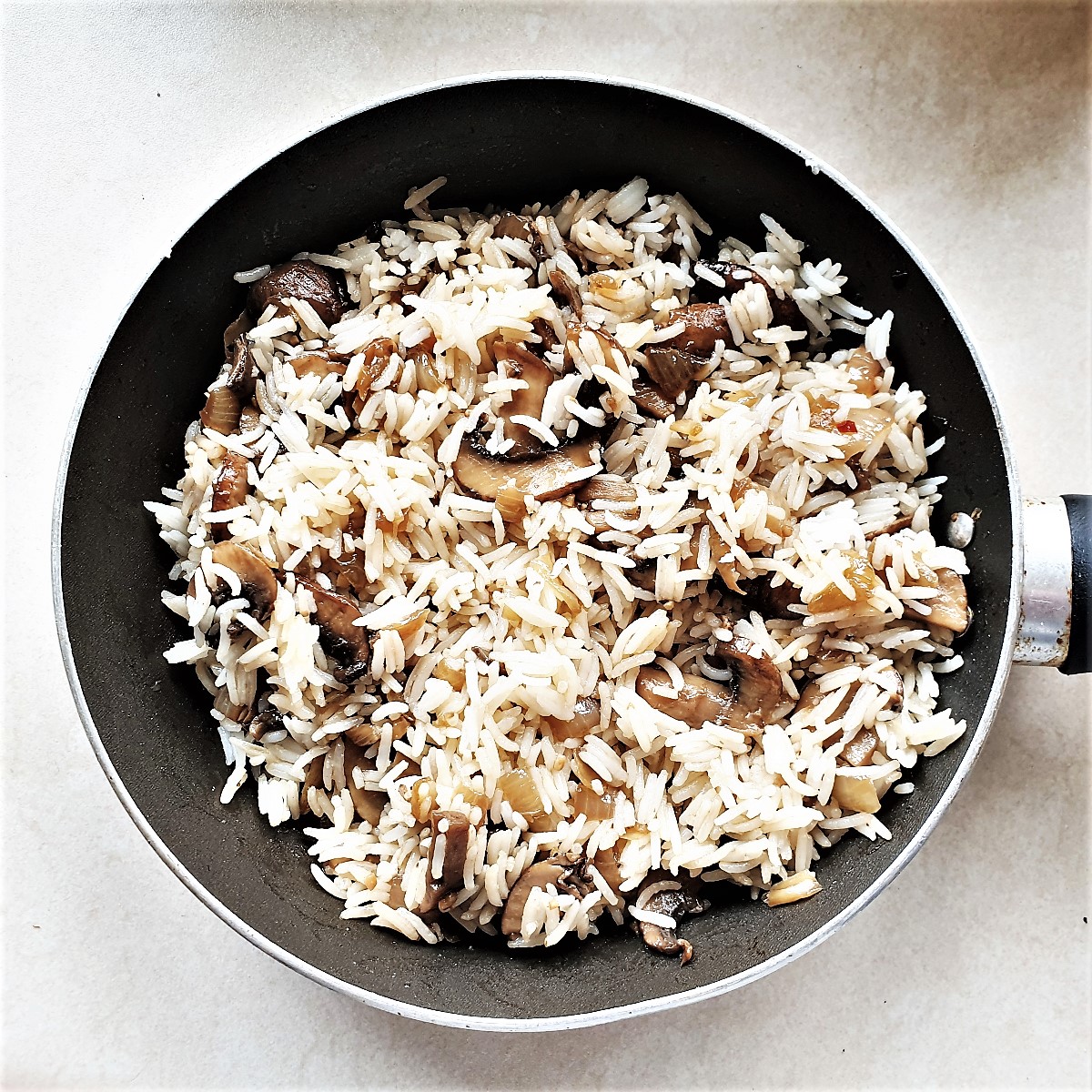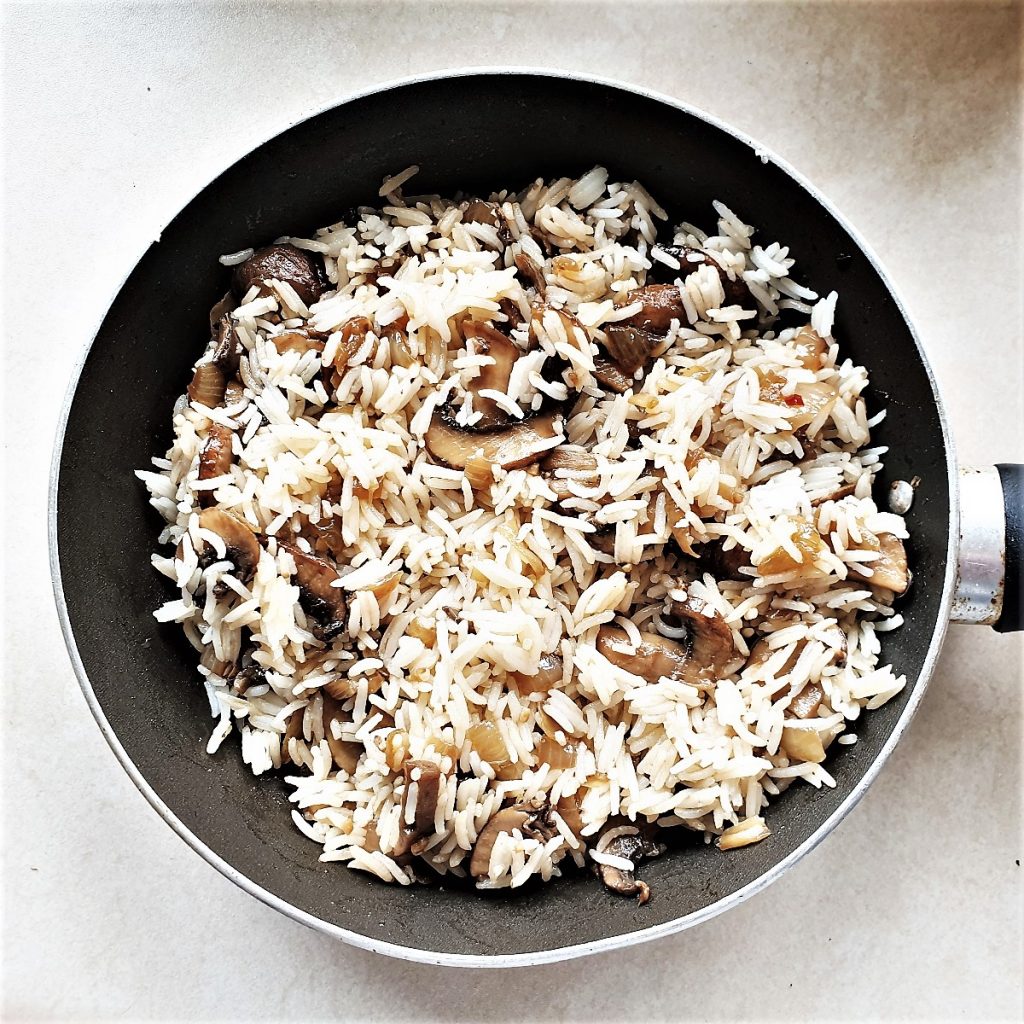 Transfer to a serving dish and serve.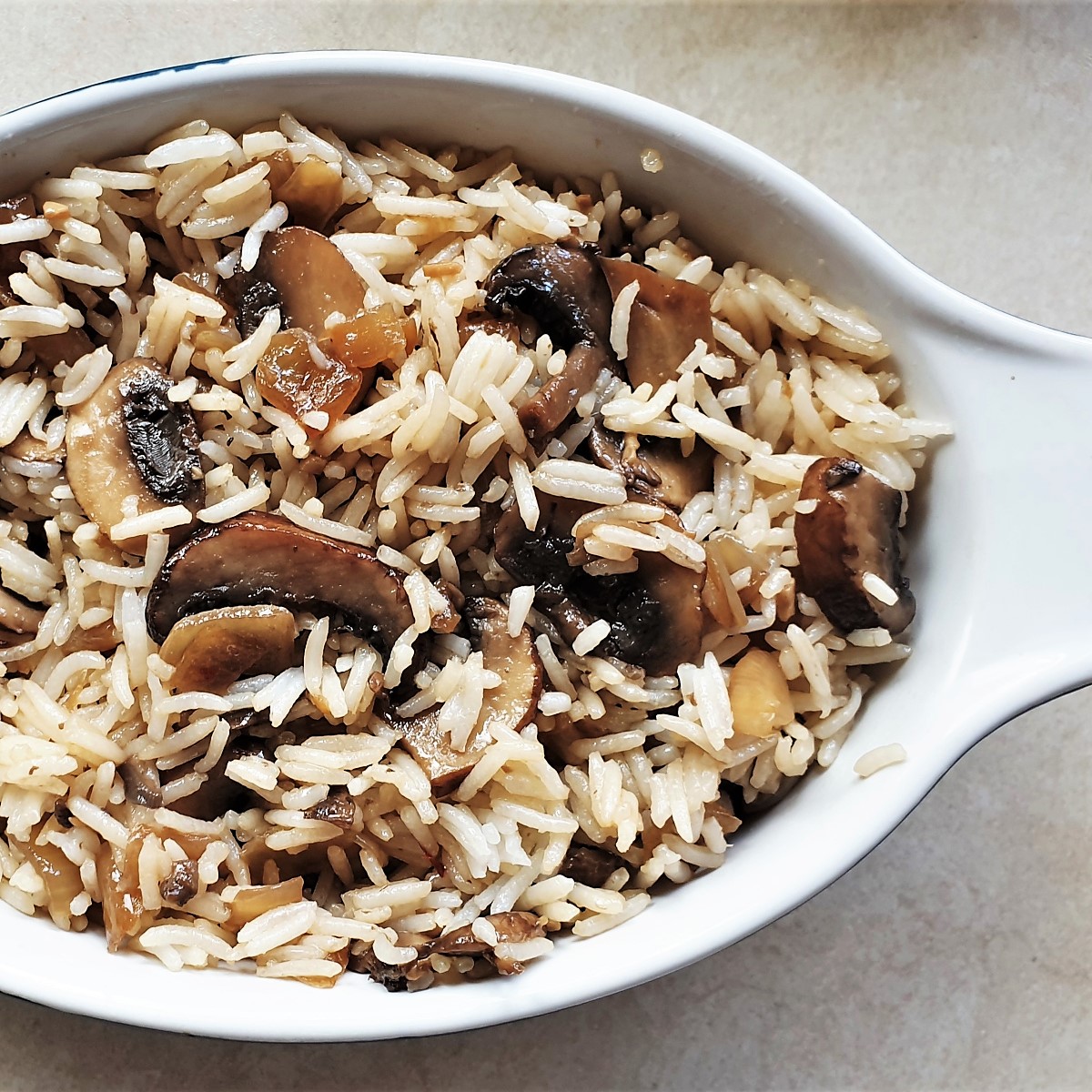 Can I make this dish in advance?
Yes, you can make this mushroom rice in advance. Just let it cool, then cover the serving dish with a lid, or a layer of cling film and store in the refrigerator for up to 3 days.
You can reheat it in the microwave, or tip the rice into a frying pan and reheat over a low heat until the rice is piping hot, then return it to the serving bowl and serve.
Can I freeze mushroom fried rice?
Yes – rice freezes very well.
Allow to cool and then ladle it either into a rigid plastic container, or a ziploc bag and freeze for 6 months or longer.
To use, let the rice defrost, either in the microwave, or overnight in the refrigerator then re-heat as above.
What can I serve with spicy mushroom fried rice?
I love to serve this rice with my honey lemon roast chicken, along with a selection of vegetables.
It also goes well with chicken a la king or bobotjie, which is a South African mince curry bake. And it would make a great side dish for this chicken, leek and mushroom pie.
If you want to turn the mushroom rice into a Chinese meal, you could serve it with
The possibilities are endless.
And finally, if you are a lover of mushrooms, why not try these other delicious mushroom recipes – air fryer mushrooms with balsamic and garlic, or ham and cheese stuffed mushrooms.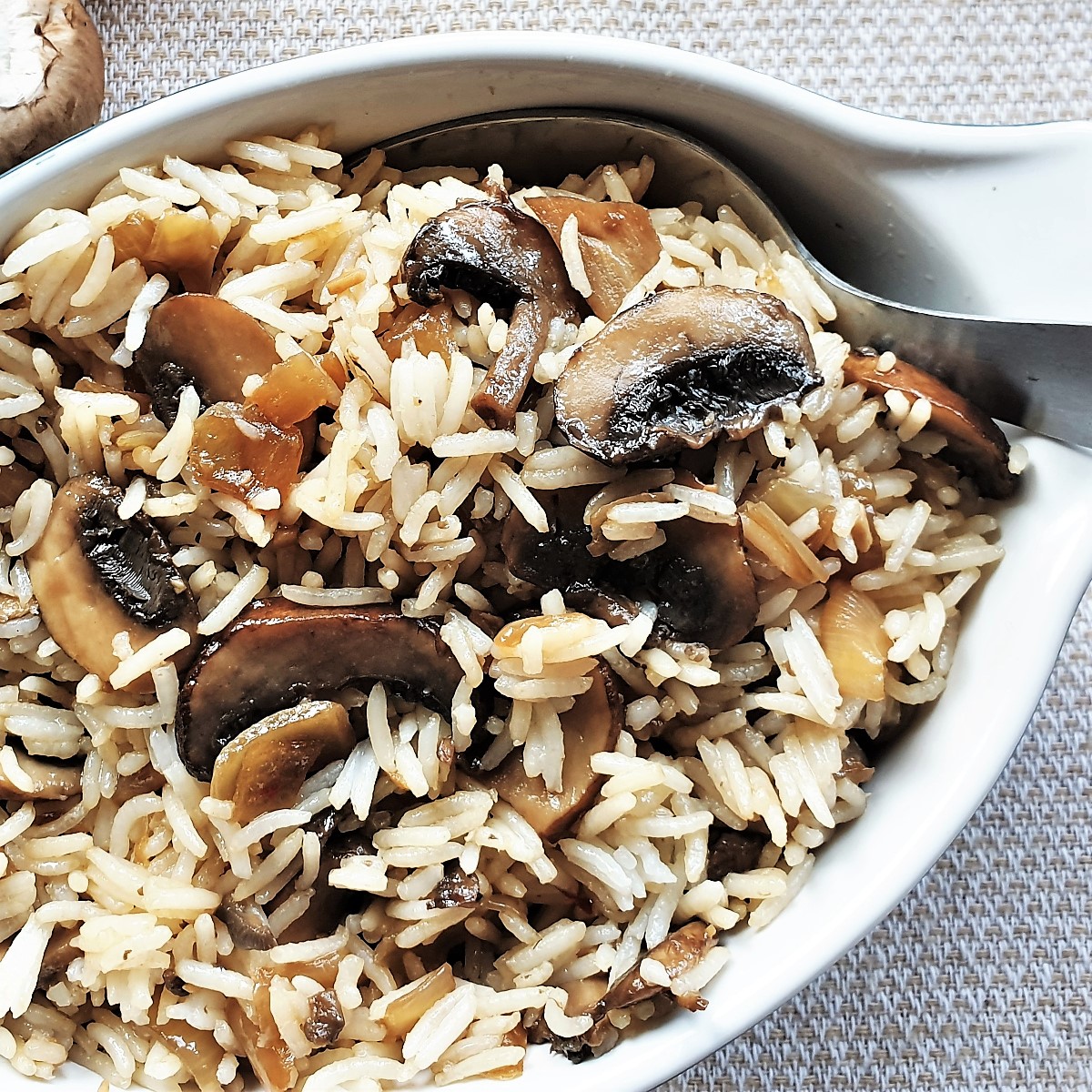 Convert your recipes
To help you convert your recipes, I have created a handy Cookery Conversion Calculator which will convert ingredients between grams, ounces, tablespoons, cups and millilitres. I hope you will find it useful.
If you want to keep up-to-date with my latest recipes why not follow along on Facebook or Pinterest. And don't forget to subscribe to my mailing list so you can get your FREE COOKERY BOOK
Pin for later
Why not pin this recipe to your pinterest board so you can make it later. Just click the image below.
Recipe – Spicy Mushroom Fried Rice
Spicy mushroom fried rice
Spicy mushroom fried rice is a delicious side dish, flavoured of rice, flavoured with mushrooms and soy sauce, with a hint of chili
Equipment
Sharp Knife

Chopping Board

Frying pan with lid

Spatula

Serving dish
Ingredients
6

oz

fresh mushrooms

(170g) sliced

1

large

onion

cut into 1cm dice

2

cloves

garlic

minced (or use crushed garlic from a jar)

3

cups

cooked white rice

½

teaspoon

chili paste or chopped chili

to your own taste

3

tablespoons

dark soy sauce

2

tablespoons

olive oil

or sunflower or canola oil

salt to taste
Instructions
Slice the mushrooms to about 1/8" thickness

Chop the onion to approximately 1cm dice

Heat the oil in a frying pan and fry the onions and garlic gently until the onions start to soften and become translucent

Add the mushrooms and chili. Cover with a lid and leave to steam on a very low heat for about 5 minutes. Remove the lid and cook until most of the moisture from the onions has evapourated.

Add the rice and soy sauce and stir through to coat. Leave on a low heat until the rice is piping hot.

Taste for seasoning and add salt to taste if necessary

Transfer to a serving dish and serve immediately.
I am not a nutritionist. The nutrition information has been calculated using an on-line calculator, and is intended for information and guidance purposes only. If the nutrition information is important to you, you should consider calculating it yourself, using your preferred tool.
If you made this recipe and enjoyed it, please don't forget to give me a star rating in the comments below. And if you'd like to get in touch, you can email me on foodleclub1@gmail.com. I'd love to hear from you. And don't forget to subscribe to my mailing list so you can grab yourself a copy of my FREE COOKBOOK!
If you'd like to continue browsing, just click on this link to all my recipes.