Succulent pan-fried fish fillets take a lot of beating when you are looking for a quick and easy family supper. These pan-fried fish fillets are coated in my special light batter, which is so much healthier than the usual beer batter normally used to coat fried fish. Once you've tried my easy way of frying fish, I'm sure you're going to love it. PS – it's gluten-free too!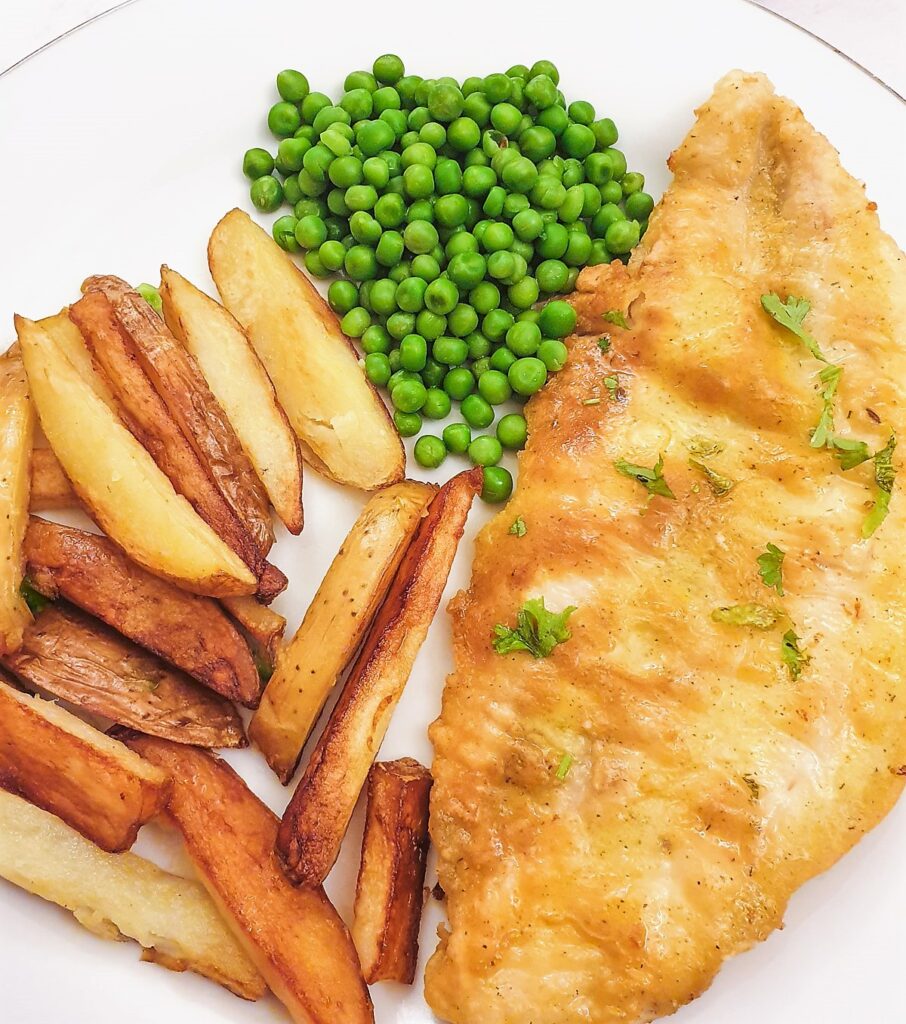 **As an Amazon affiliate, I earn from qualifying purchases.**
The best fish batter
I have to admit it, I do love a plate of good old British fish and chips from the local chippie, but only very occasionally. I don't think that all the oil that gets absorbed into the batter can be very good for you.
So I've devised this recipe for pan-fried fish fillets in a light and crispy batter that I can enjoy any time I feel like it, but without the guilt trip.
The batter is made with eggs and cornflour – so it's extra light and crispy, and as a bonus, it happens to be gluten-free.
What's more, if you follow my tips below, I'll show you how to get the batter to stick to the fish, and not to the pan.
Tips for frying fish
The pan that you use is very important. You should use a frying pan with a heavy base that distributes the heat evenly without creating any hot-spots. This will allow the fish to brown evenly.
The fish should be completely dry before you coat it in batter. I like to place my fish fillets between a double layer of paper towel and then press them gently to absorb any excess moisture.
The oil should be hot before you add the fish. If you add the fish to cold oil then the oil will just get absorbed into the batter, resulting in greasy fish. Heat the oil in the pan until the oil is just shimmering, then test it by dropping a teaspoonful of batter into the oil. It should start to turn brown in 40 seconds. (You can do the same test with a small cube of bread).
You should hear a gently sizzle when you add the fish. If it doesn't sizzle then the pan is not hot enough and you should let it heat a few seconds longer.
The fish should be at room temperature. If you fry fish directly from the refrigerator it will cool the oil down.
Don't try to turn the fish before it has browned on one side. Give the fish a gently nudge – if it moves on the pan it is ready to turn. If it stick, give it a few seconds longer.
Use a flat spatula to turn the fish. You need to support the fish as you turn it. Trying to turn the fish with a fork or a pair of tongs is an invitation for the fish to break up.
Use fillets of fish which are the same thickness all the way through. This ensures the fish will cook evenly. Cod especially is much thicker around the loin area than the tail. Rather cut the fillets in half before frying as the thicker loin pieces will need a slightly longer cooking time than the thinner tail pieces. As a rule of thumb you will need to fry the fish for between 3 and 4 minutes per side.
Don't overcrowd the pan – leave enough room around the fish fillets so that you can turn them easily. I normally fry fish in two batches and keep the first batch warm in the oven (100C / 212F) in a dish lined with kitchen towel. (Keep the kitchen towel away from the heating element or bring the oven up to temperature and then switch it off before putting the dish in the oven).
Ingredients
**The complete list of ingredients and concise instructions for making this pan-fried fish can be found on the printable recipe card at the end of this post**
To start with you will need some skinless fish fillets. I used basa fillets because that's what I had in the freezer, but you could substitute this with any firm white fish such as cod or haddock.
A typical serving of fish is between 3 to 4 ounces per person (or 85 to 110 grams) so you can take this into account when deciding how much fish you need to cook.
For the batter
The batter is sufficient to coat enough fish for 4 people – you can double up on the batter ingredients if you are cooking for more.
You will only need three ingredients for the batter.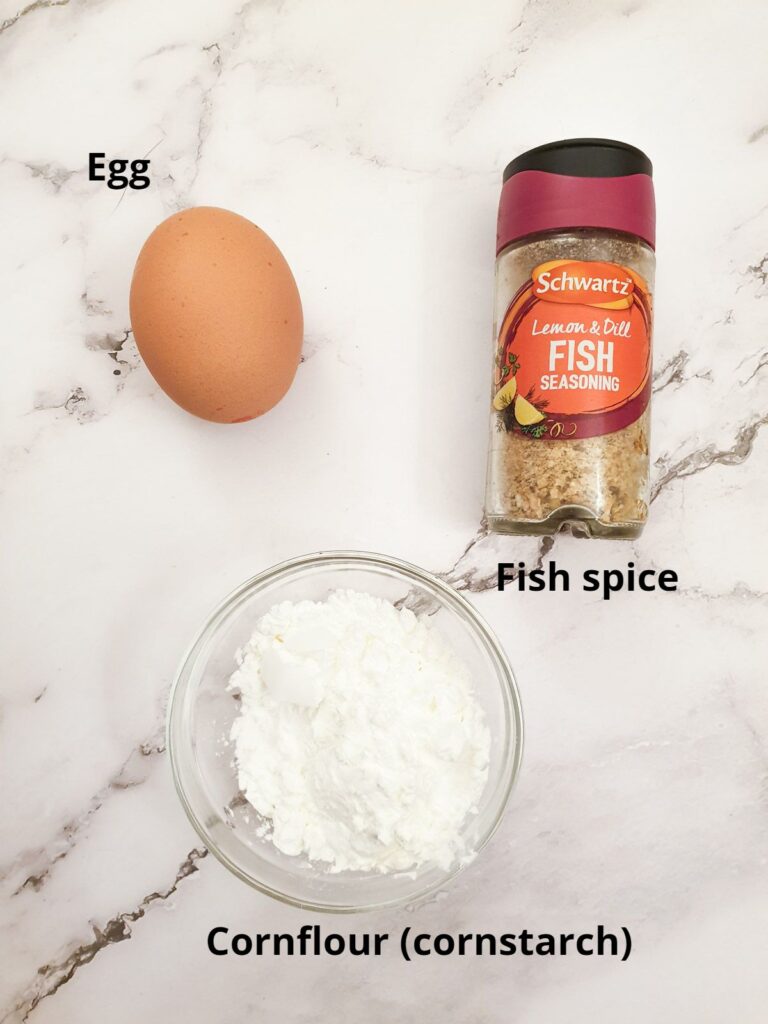 1 large egg – I weighed my egg and it weighed 2.5 ounces (70 grams). The reason I'm telling you this, is firstly you need a large enough egg to make sufficient batter, and secondly, the amount of cornflour you will need depends on the size of the egg.
6 tablespoon cornflour (or cornstarch) – 60 grams – you will need roughly the same weight of cornflour as the weight of the egg. The consistency of the batter should be a thick pouring consistency – a bit like double cream.
1 teaspoon Schwartz fish spice – this is a mixture of citrus flavours, dill, black pepper, and salt and goes really well with fish. You can use your own favourite fish spice.
1/2 teaspoon salt – this is optional.
You will also need sunflower oil for frying – you will need enough oil to just cover the base of the frying pan (approximately one-eighth of an inch deep).
How to make pan-fried fish fillets
Place the fish between 2 layers of kitchen towel and press lightly to remove any moisture.
Mix the batter by combining all the ingredients in a mixing bowl. Whisk with a balloon whisk until there are no lumps and the batter is the consistency of thick cream. If the batter seems a little thin, add extra cornflour a teaspoon at a time, whisking well after each addition.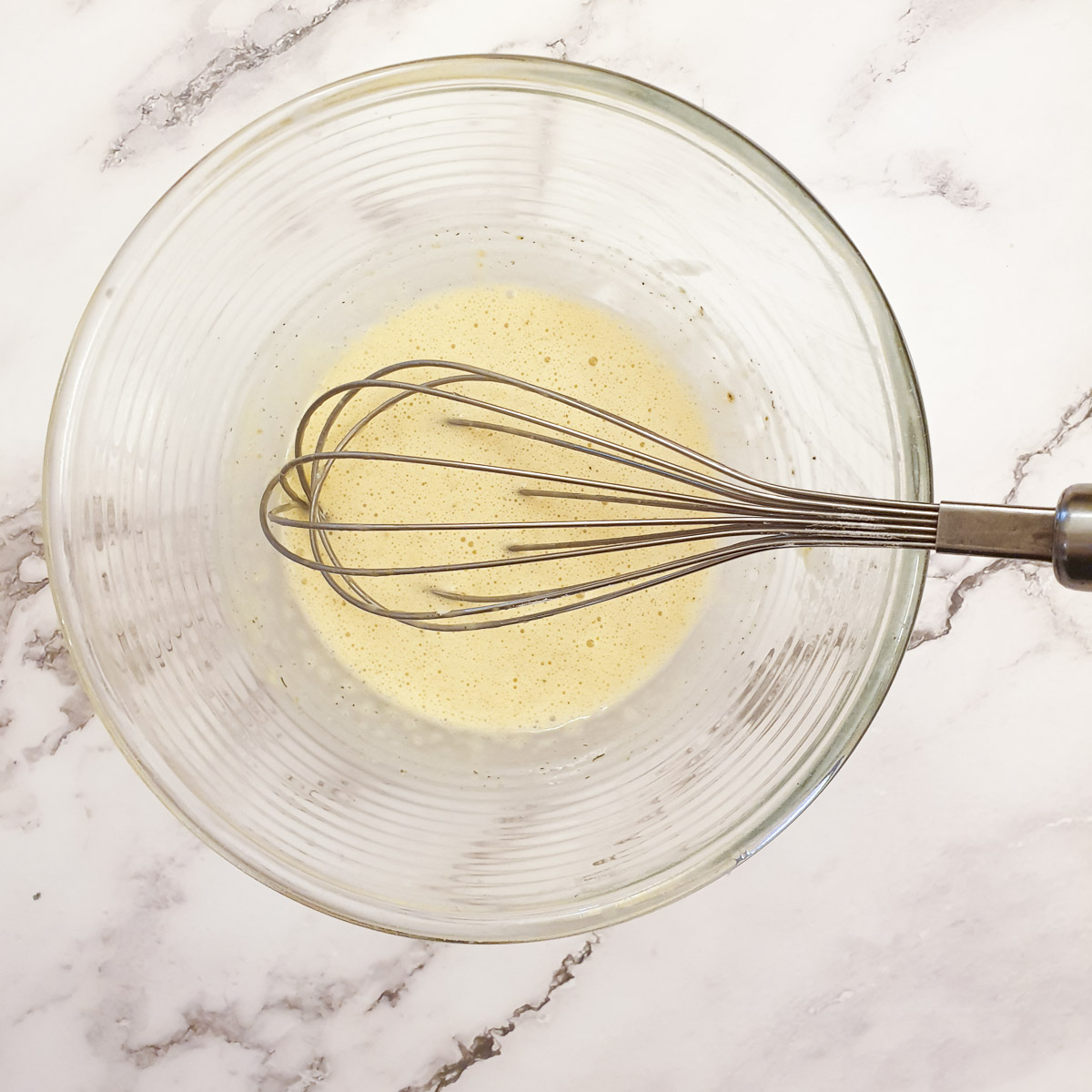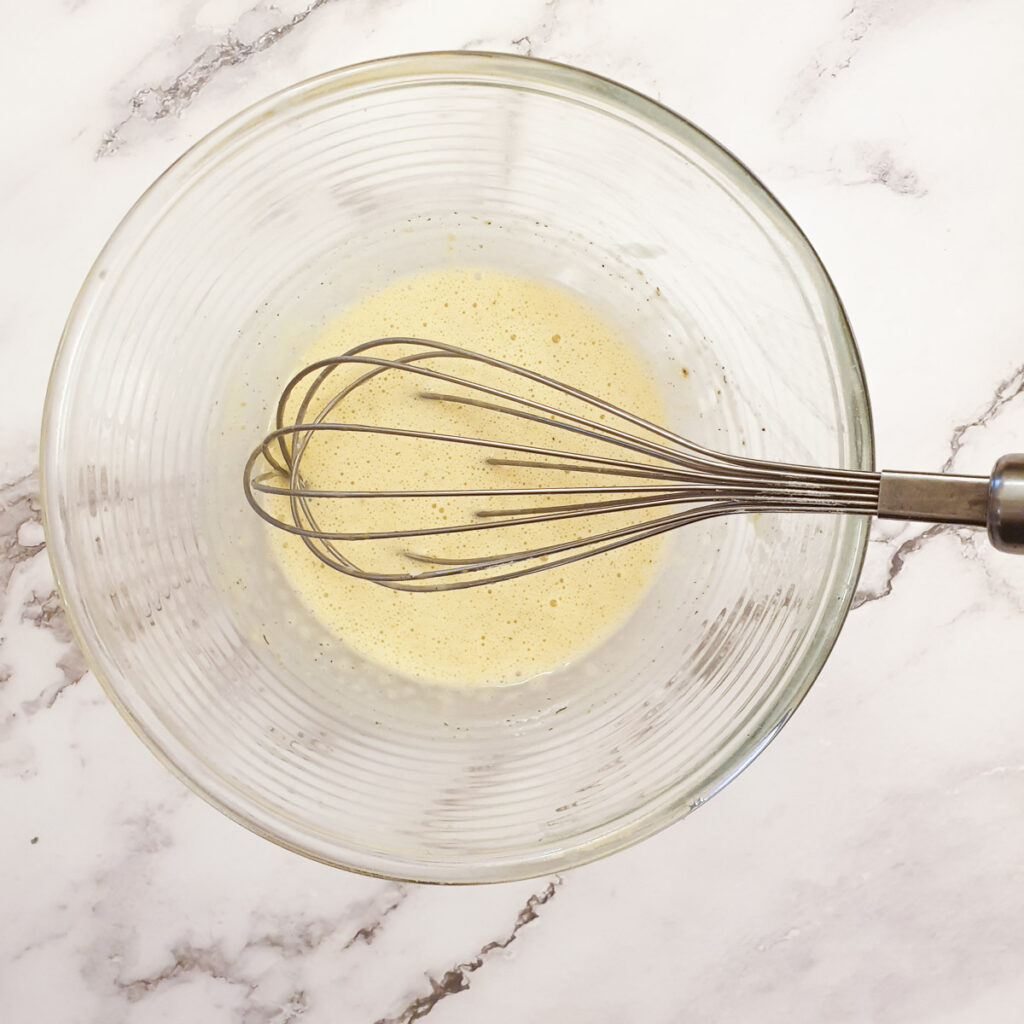 Heat the oil in a heavy-based frying pan until it starts to shimmer. Test that it is hot enough by dropping a few drops of batter into the oil. They should start to turn brown within 40 seconds.
Dip the fish fillets in the batter and let any excess batter run off back into the bowl.
Carefully lay the fish into the frying pan. If the oil is hot enough, you should hear a gentle sizzle.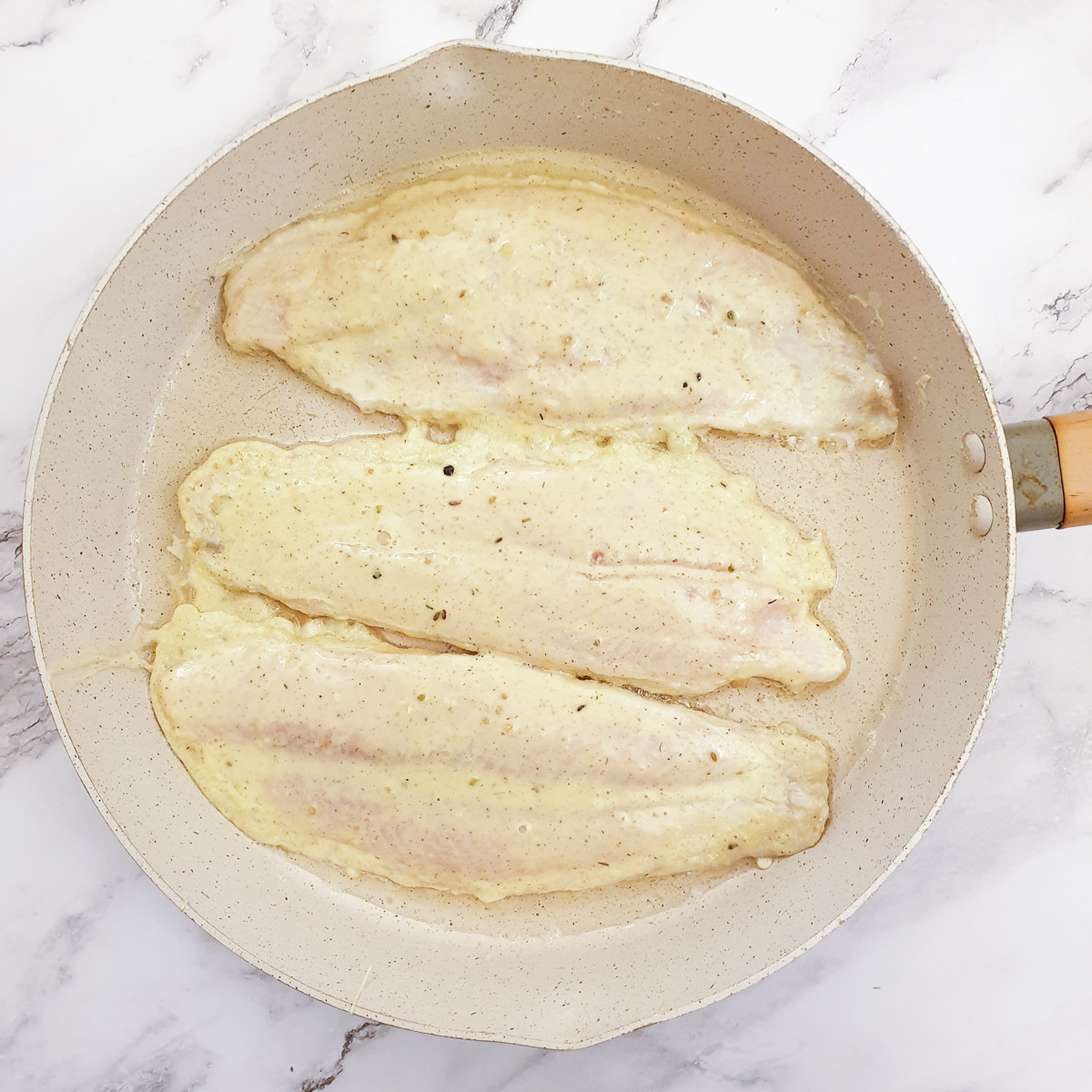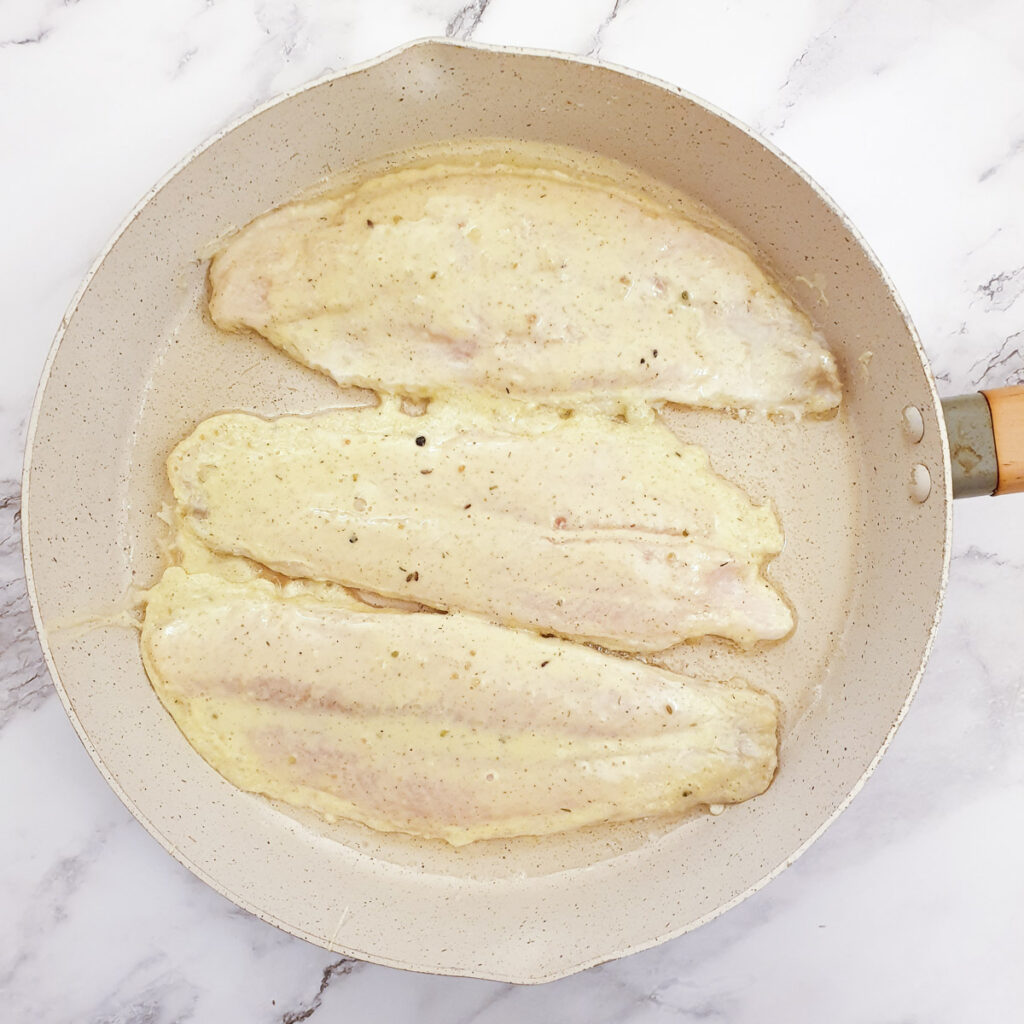 Thinner fillets will take about three minutes per side. Thicker pieces (eg Cod loin) will take slightly longer.
Carefully turn the fish with a spatula and fry the other side for the same length of time.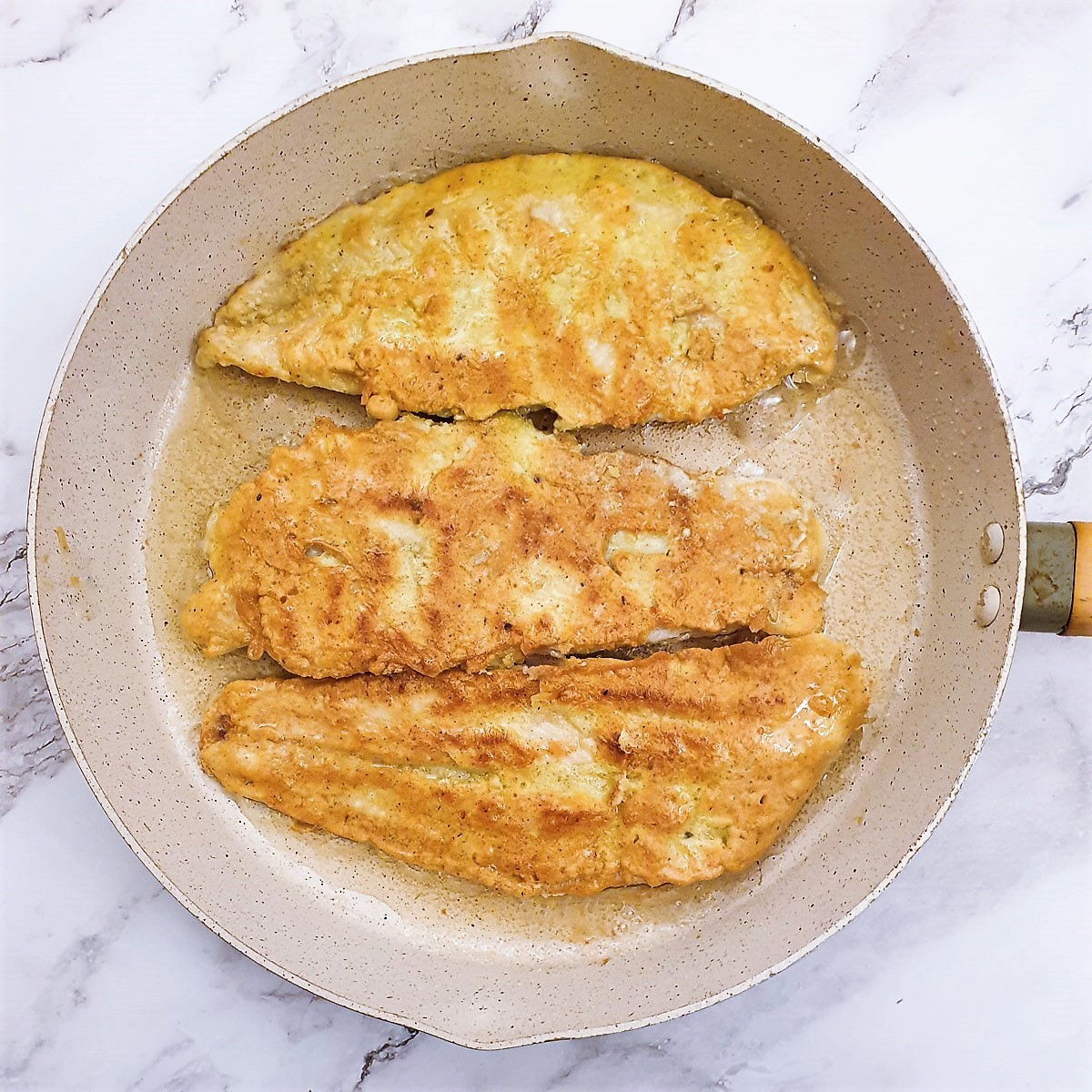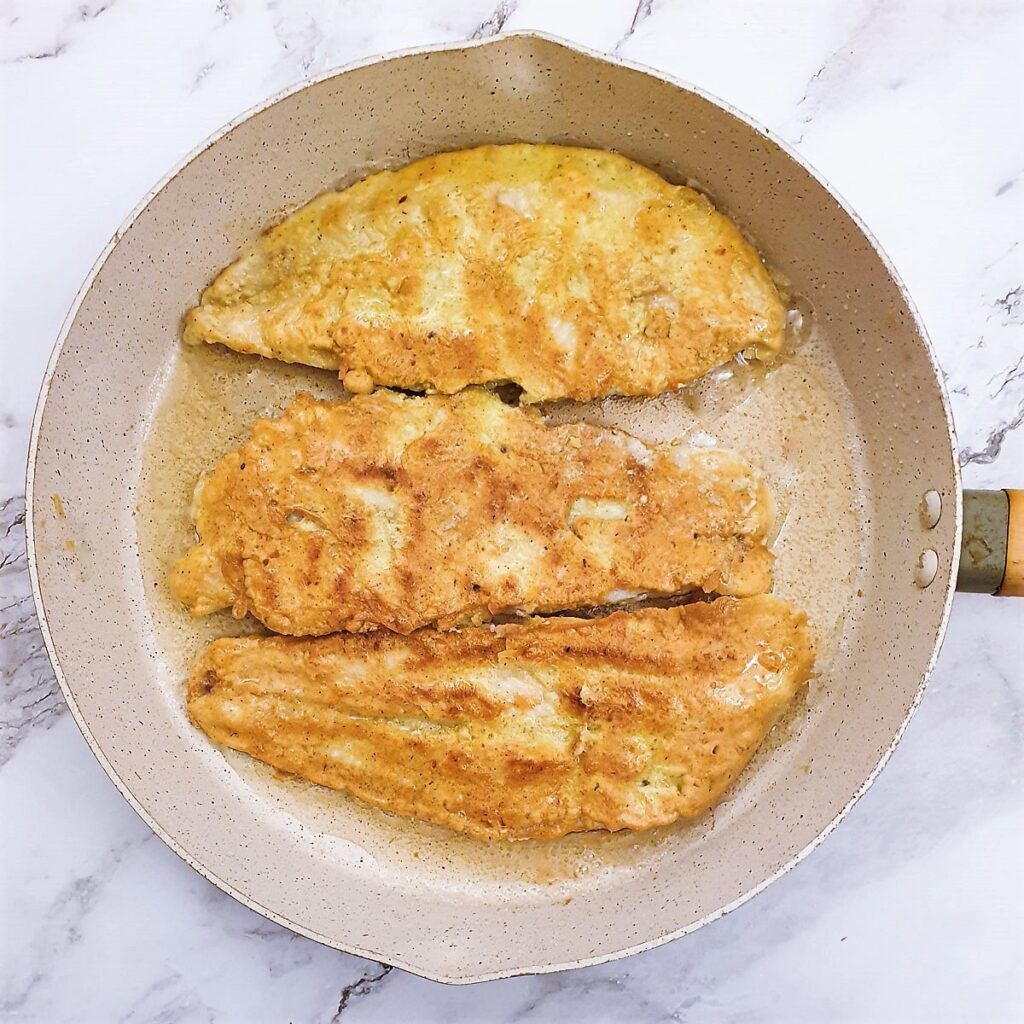 Remove the fish from the frying pan and place it on paper towels to absorb any excess oil.
Garnish with chopped parsley and serve immediately.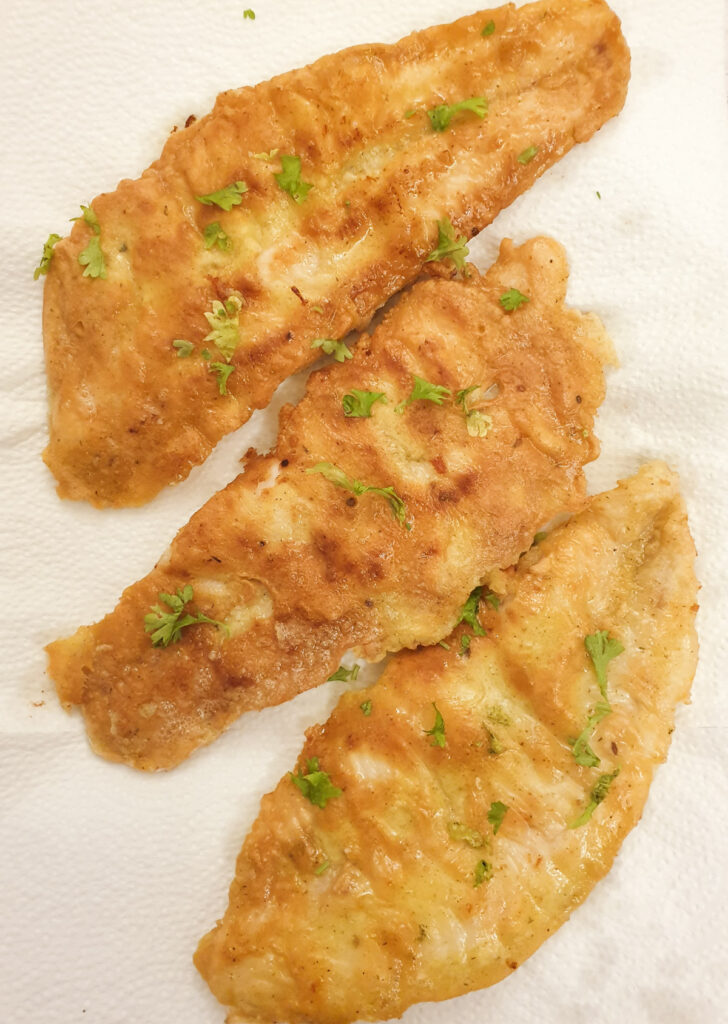 If you'd like to be notified of any new recipes, why not subscribe to my newsletter. As a thank-you gift, you will receive a free recipe e-book containing some of my most popular cakes and desserts.
Serving suggestions
It goes without saying that in the UK, fish is normally served with chips and either garden peas or mushy peas.
However, that said, there are lots of ways to serve a perfectly fried piece of fish. Here are some of my suggestions:
Freezing and storage
This dish is best eaten freshly cooked and is not suitable for freezing.
You can mix the batter one or two hours ahead of time and let it stand in the refrigerator. Whisk the batter well before using it.
Once coated in batter, the fish should be fried immediately.
You can store any leftover fish in a covered container in the refrigerator overnight. It makes delicious sandwiches (perhaps with a smear of mayonnaise) for lunch the next day.
Pin for later
If you'd like to try these pan-fried fish fillets yourself, why not pin it to one of your Pinterest boards so you can find it again easily. Just click on the image below.
Other fish recipes
If these pan-fried fish fillets aren't quite what you are looking for, why not take a look at some of my other fish recipes.

The recipe
If you made this recipe and enjoyed it, I'd love it if you could give me a star rating in the comments below. And if you'd like to get in touch, you can email me at [email protected]. I'd love to hear from you. And don't forget to subscribe to my mailing list so you can grab yourself a copy of my FREE COOKBOOK!
If you'd like to continue browsing, just click on this link to all my recipes.