This is one of my favourite ways of using up leftover boiled potatoes. German fried potatoes with bacon and onions makes a delicious side dish that goes so well with anything from schnitzels and sausages to steaks and hamburgers (hamburger and chips anyone?). Once you've made fried potatoes in this way, you'll be making them over and over again!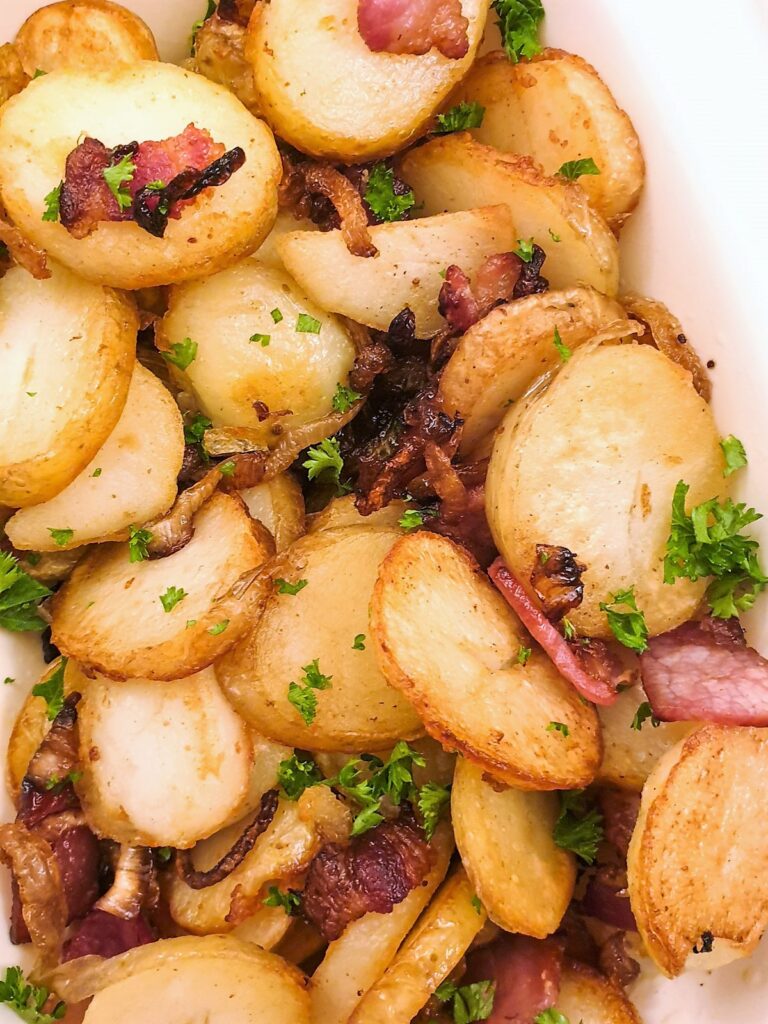 I make these German fried potatoes (or bratkartoffeln) with leftover cooked potatoes. If you don't have any leftover potatoes you can just boil a few up first and let them cool before using them in this recipe.
This is such a tasty way of serving potatoes. This dish of crispy bacon and onion combined with the buttery fried potatoes has to be experienced at least once in a lifetime!
What sort of potatoes should I use?
To make German fried potatoes you will need a waxy potato as opposed to the more floury type. A waxy potato is low in starch and high in moisture has a creamier texture, firmer flesh, and thinner skin than floury potatoes. Waxy potatoes hold their shape well when cooked, making them ideal for slicing. Examples of waxy potatoes are Charlotte, Maris Peer, and Jersey Royals in the UK and Yukon Gold in the US.
If you are unsure of whether your potatoes are waxy or floury you can test them by mixing one part of salt with 11 parts of water in a jug. Place an uncooked potato in this solution. A floury one will almost always sink to the bottom of the jug, while a waxy one will float.
I also find that the more yellow the flesh of the potato, the waxier it will be. The whiter potatoes tend to be more starchy.
Secrets for making perfect German fried potatoes
Even if the potatoes don't turn out perfectly, they are still pretty good. However, if you want perfect potatoes, here's how to do it.
The first secret is to fry the potatoes in butter (or a combination of butter and oil). The butter adds a delicious nuttiness to the taste of the potatoes.
The second secret is to fry the potatoes in a single layer. Don't overcrowd the pan and don't turn the potatoes until they are starting to brown on the underside. Turning the potatoes too often will break them up and they will become mushy.
So without further ado, let's see how to make these German fried potatoes.
Ingredients
**You can get the complete list of ingredients and full instructions for making German fried potatoes on the printable recipe card at the end of this post.**
This recipe will serve 4 people as a side dish.
You will need 3 main ingredients: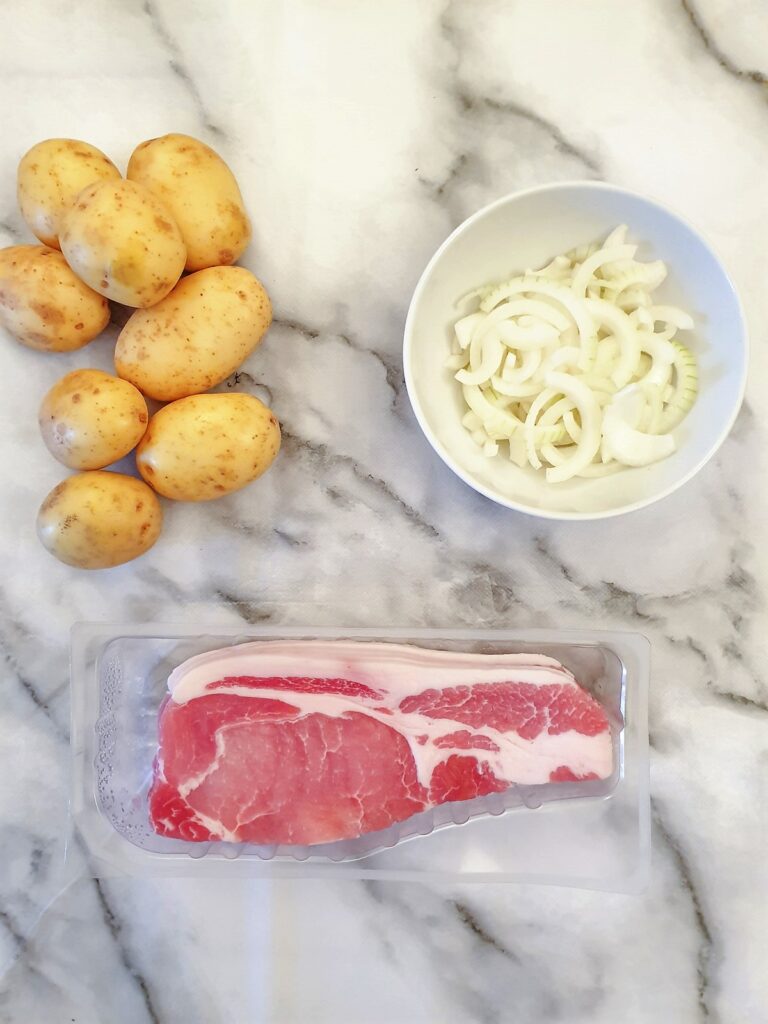 Potatoes – as mentioned above these should be waxy potatoes. If you have leftover boiled potatoes, these will be perfect to use. Otherwise, just boil the potatoes in salted water until you can pierce them easily with the point of a knife, then drain them and let them cool. You can leave the skins on the potatoes or peel them, the choice is yours. If the skins are very thin, I like to leave them on, as they crisp up nicely when the potatoes are frying.
Onions – I prefer to use white or yellow onions, but you could use red onions if you prefer. The onions should be peeled and thinly sliced.
Bacon – the bacon should be cut into approximately half-inch (just over 1cm) dice. You can use either back bacon or streaky bacon, but be aware that streaky bacon contains a lot more fat.
In addition to the above you will also need the following:
Sunflower oil – for frying the onions and bacon. You can use any neutral flavoured oil.
Butter – for frying the potatoes.
Seasoning – you may like to add salt and pepper to the potatoes, but this is entirely optional.
What to do
Start off by slicing your cold boiled potatoes into approximately one-quarter of an inch thick slices (that's just over half a centimetre).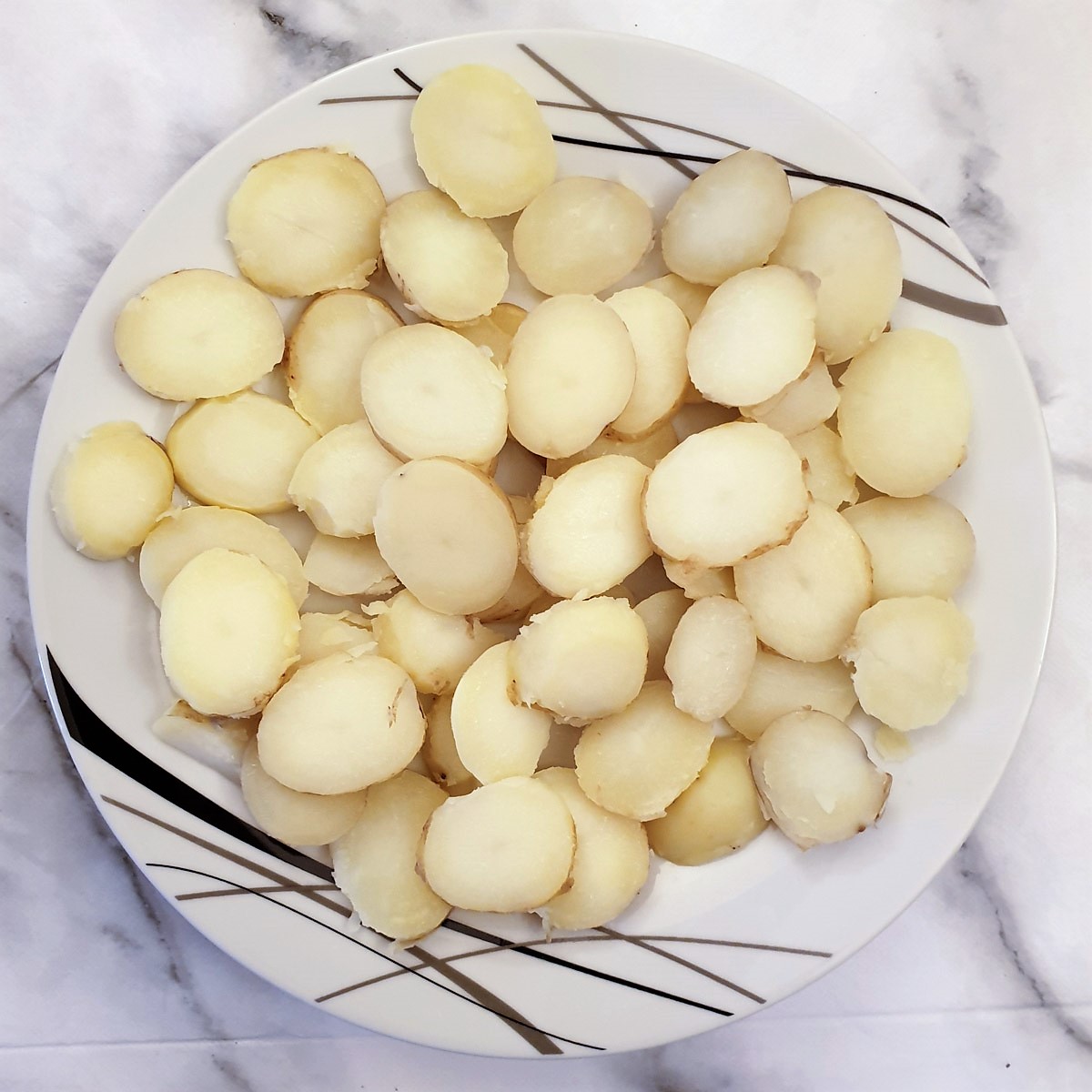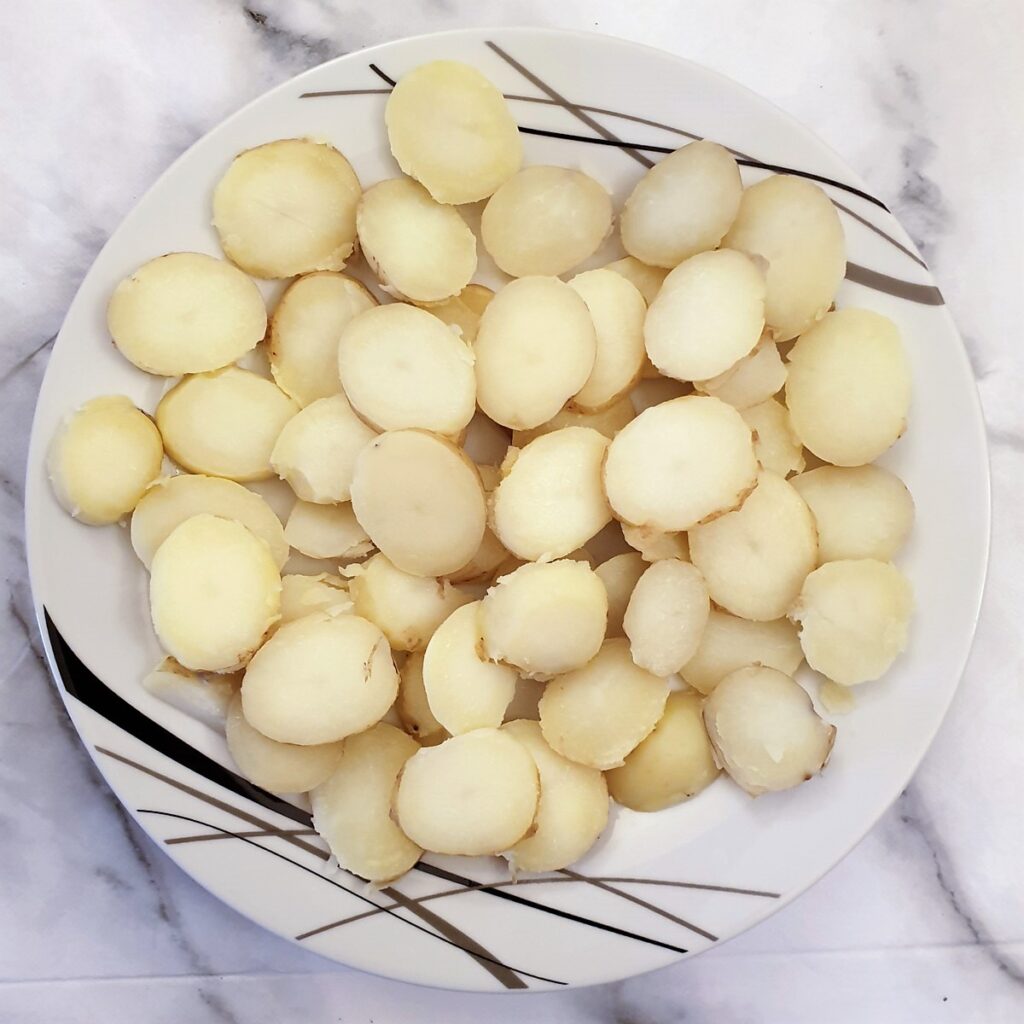 Heat the sunflower oil in a frying pan and fry the sliced onions and diced bacon on a gentle heat until the onions are starting to caramelise and the bacon is crispy. This will take between 5 and 8 minutes. Transfer the cooked onions and bacon to a plate, but leave any remaining oil in the pan.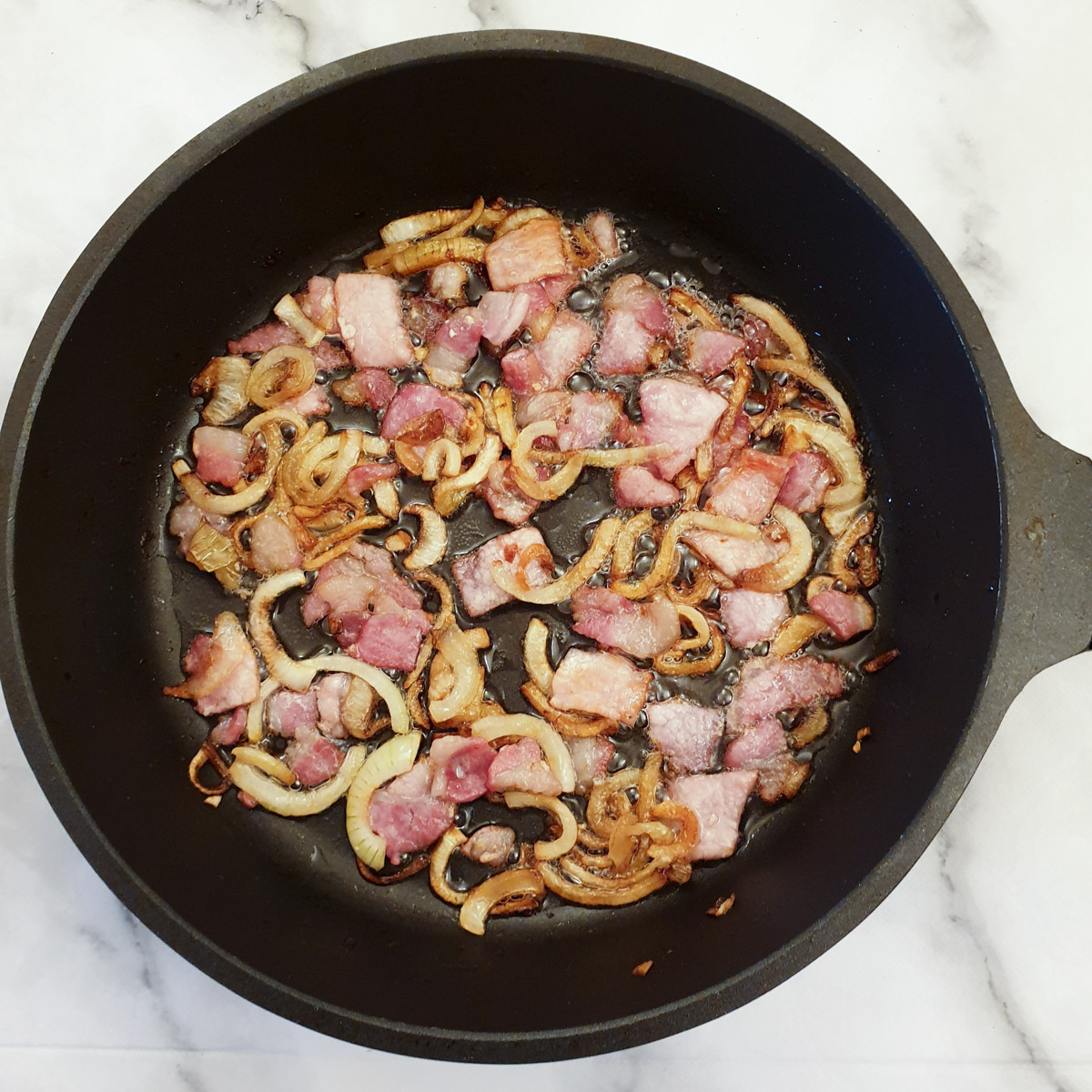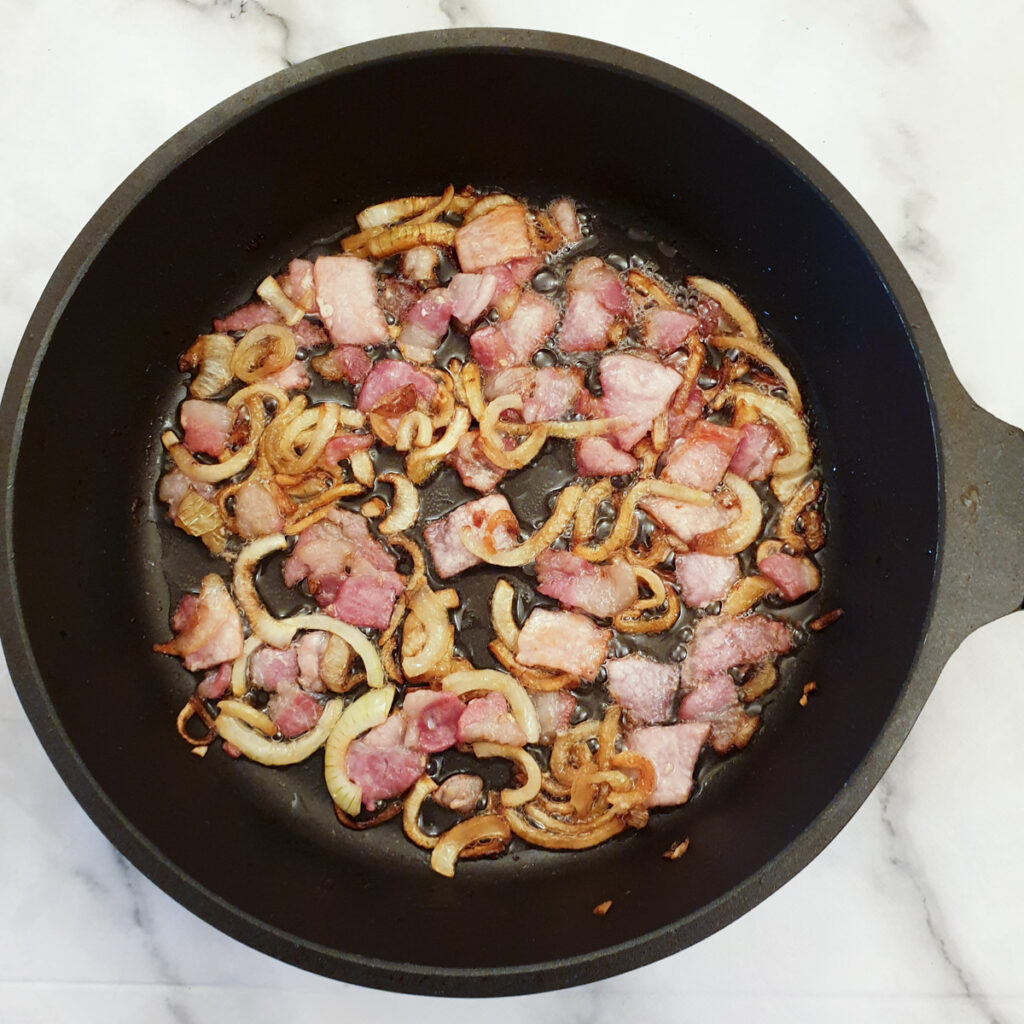 Now add the butter to the oil in the pan and allow it to melt. Arrange slices of potato in a single layer in the frying pan and season with salt and pepper (if using). Fry on a medium heat until the potatoes start to brown, then turn them with a spatula and brown the other side. You may have to do this in batches if you have too many potatoes to fit in the pan. The potatoes should take about 4 minutes per side to crisp and brown.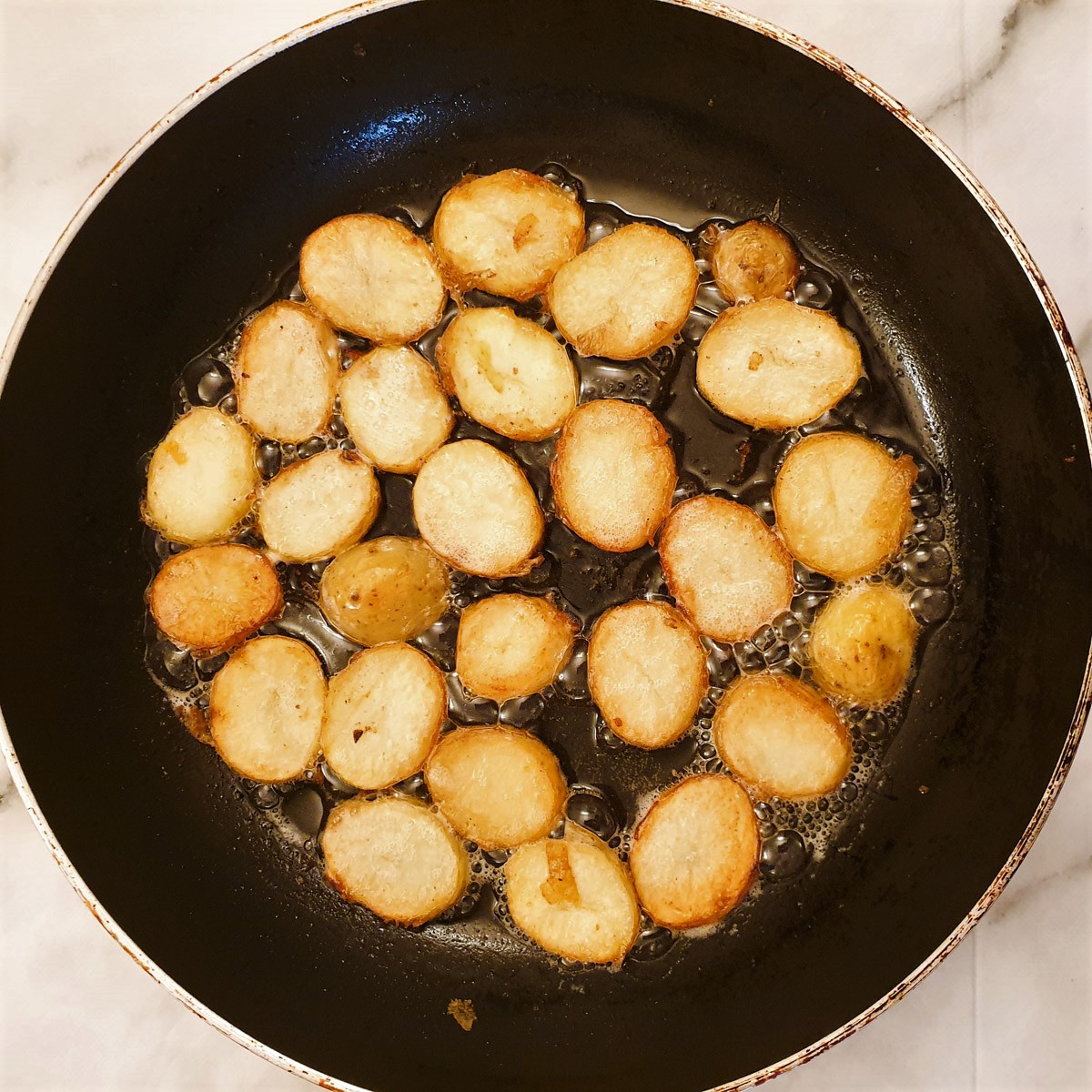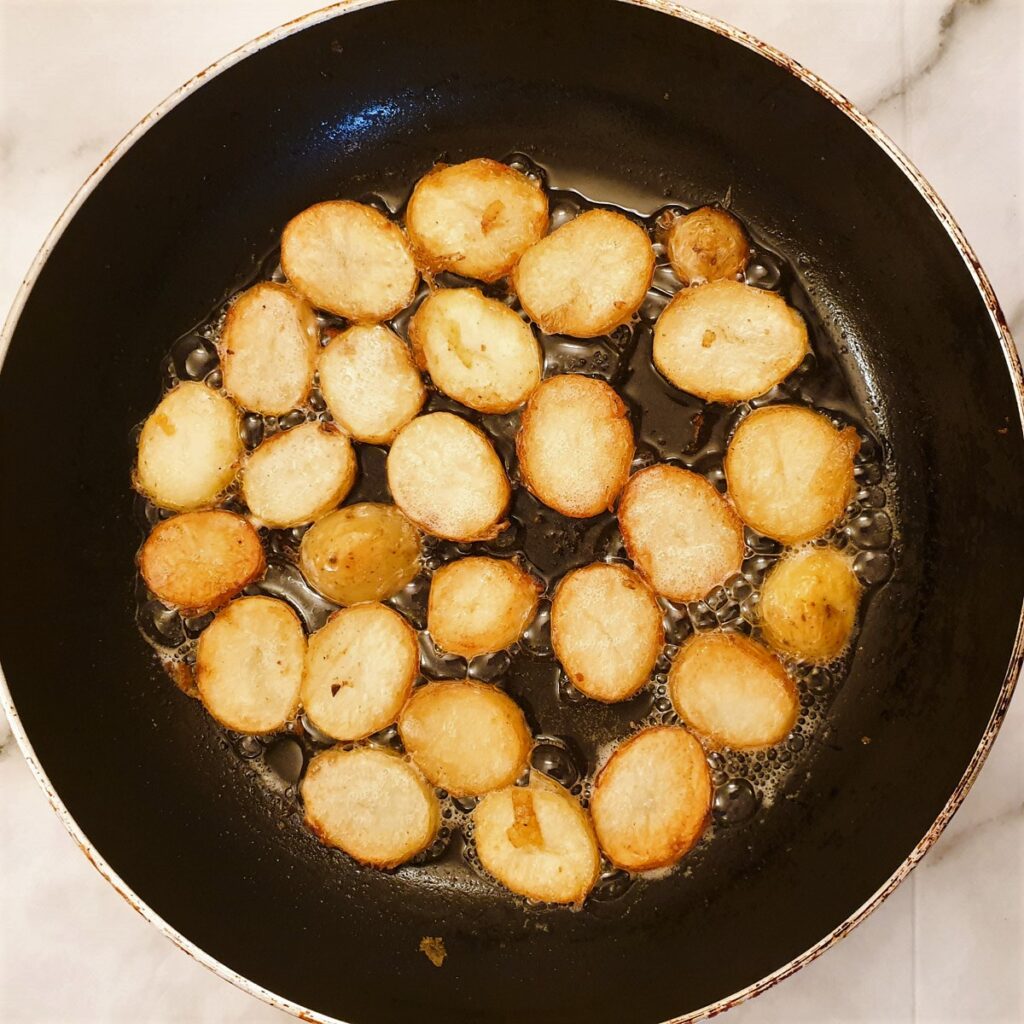 Once the potatoes are nicely browned, remove them from the pan and allow them to drain on paper towels.
Transfer the potatoes to a serving dish and mix in the bacon and onions. Garnish with chopped parsley and serve hot.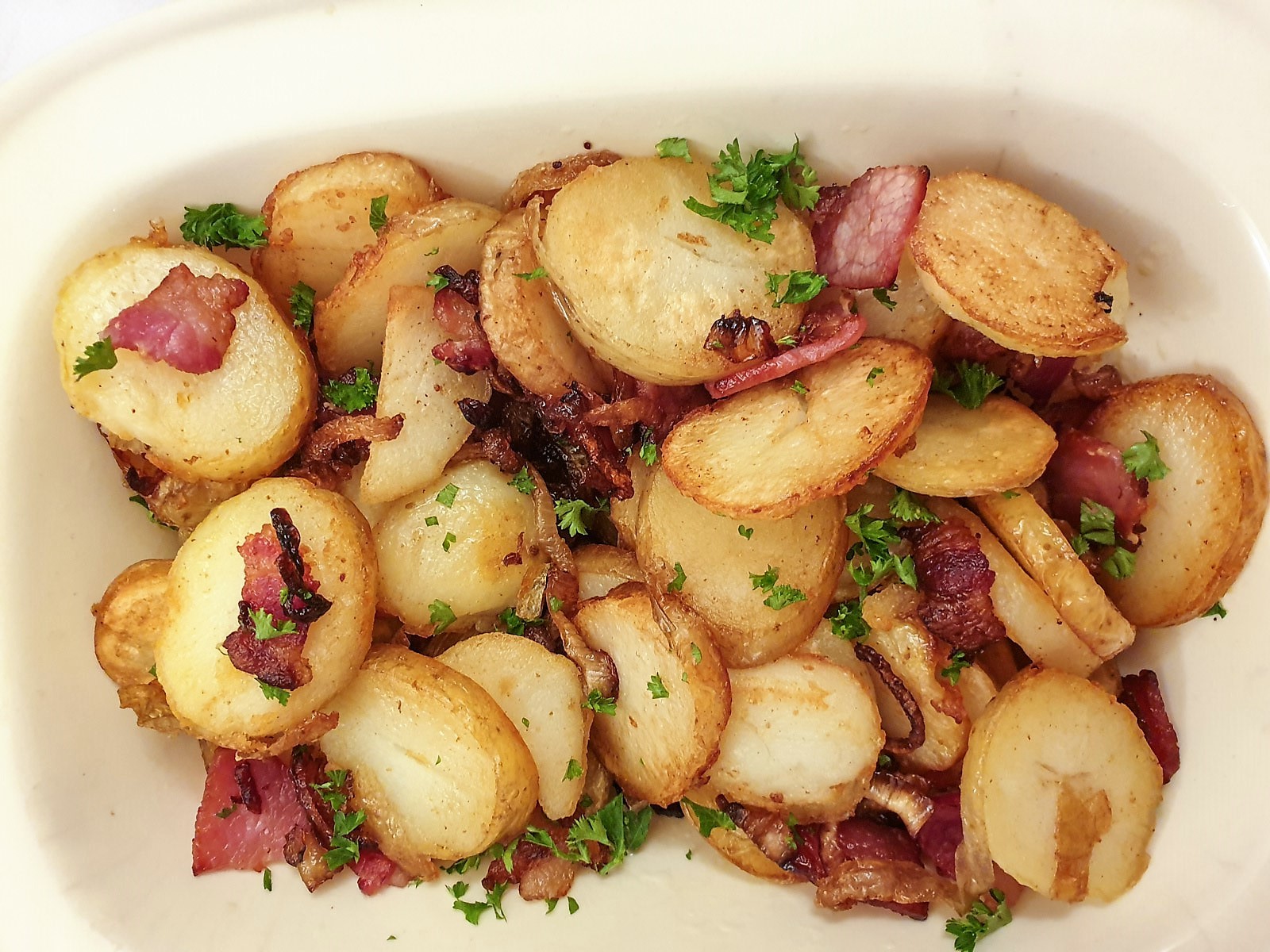 If you'd like to be notified of any new recipes, why not subscribe to my newsletter. As a thank-you gift, you will receive a free recipe e-book containing some of my most popular cakes and desserts.
Ideas for serving German fried potatoes
These German fried potatoes are so good, you could be excused for just eating a plateful of them on their own.
However, if you'd like to serve them as part of a meal, here are a few suggestions you may enjoy: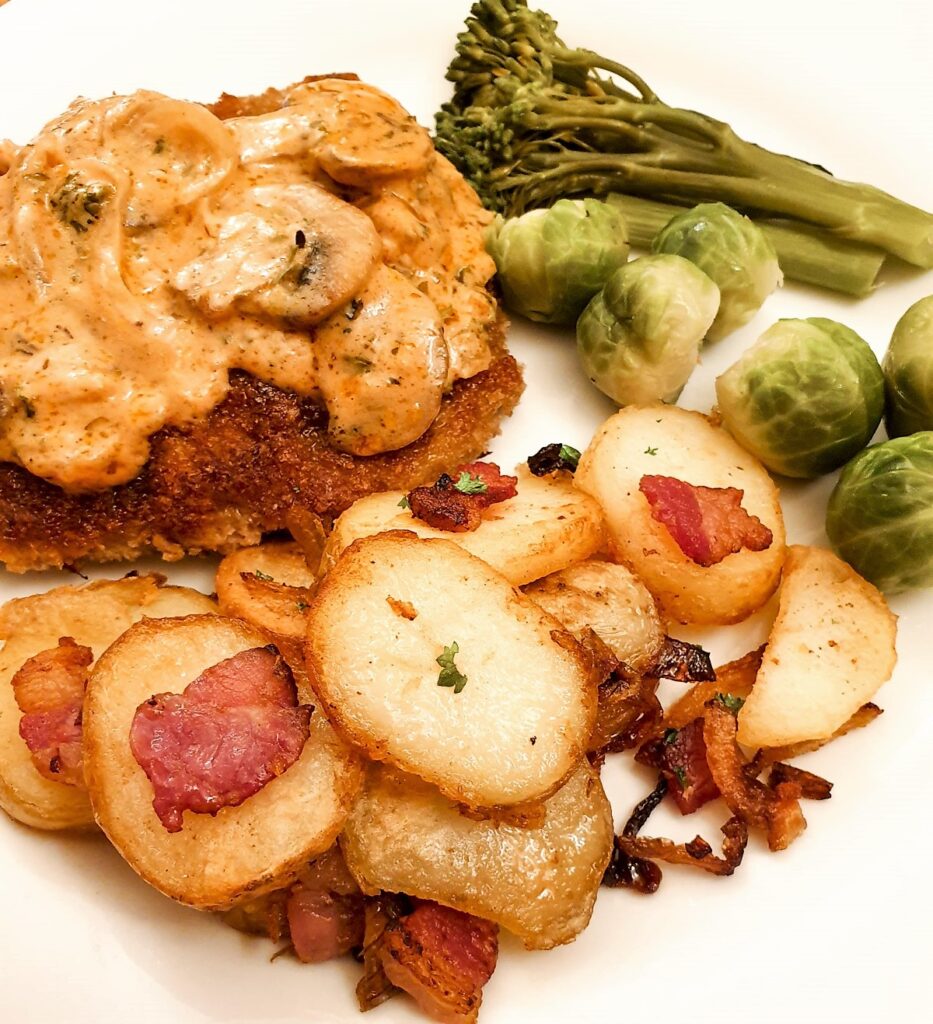 Freezing, storing and reheating
To freeze these German fried potatoes, let them cool and pack into meal-sized freezer containers and freeze for up to 4 months.
To use, let them defrost and then heat them in a frying pan until piping hot. You may find the potatoes are not quite as crispy once they have been re-heated, but they are still delicious.
You can also reheat them in the oven. Spread them on a single layer on a baking tray and reheat in the oven at 200C / 400F for about 10 minutes.
I wouldn't reheat them in the microwave as they will go soft and lose their crispness.
You can store leftover potatoes in a covered container in the refrigerator for up to 3 days. Reheat using one of the above methods.
Pin for later
If you'd like to try these German fried potatoes for yourself, why not pin the recipe to one of your Pinterest boards so you can find it easily. Just click on the image below.
Other recipes with potatoes
You may also like to try these other potato recipes:
The recipe
If you made this recipe and enjoyed it, I'd love it if you could give me a star rating in the comments below. And if you'd like to get in touch, you can email me at [email protected]. I'd love to hear from you. And don't forget to subscribe to my mailing list so you can grab yourself a copy of my FREE COOKBOOK!
If you'd like to continue browsing, just click on this link to all my recipes.