I think everyone enjoys a schnitzel, and what's not to love? Tender beef schnitzels, crumbed in crispy breadcrumbs and fried to golden brown perfection make the perfect meal. Follow my easy instructions and you can be enjoying your very own crispy crumbed beef schnitzel tonight!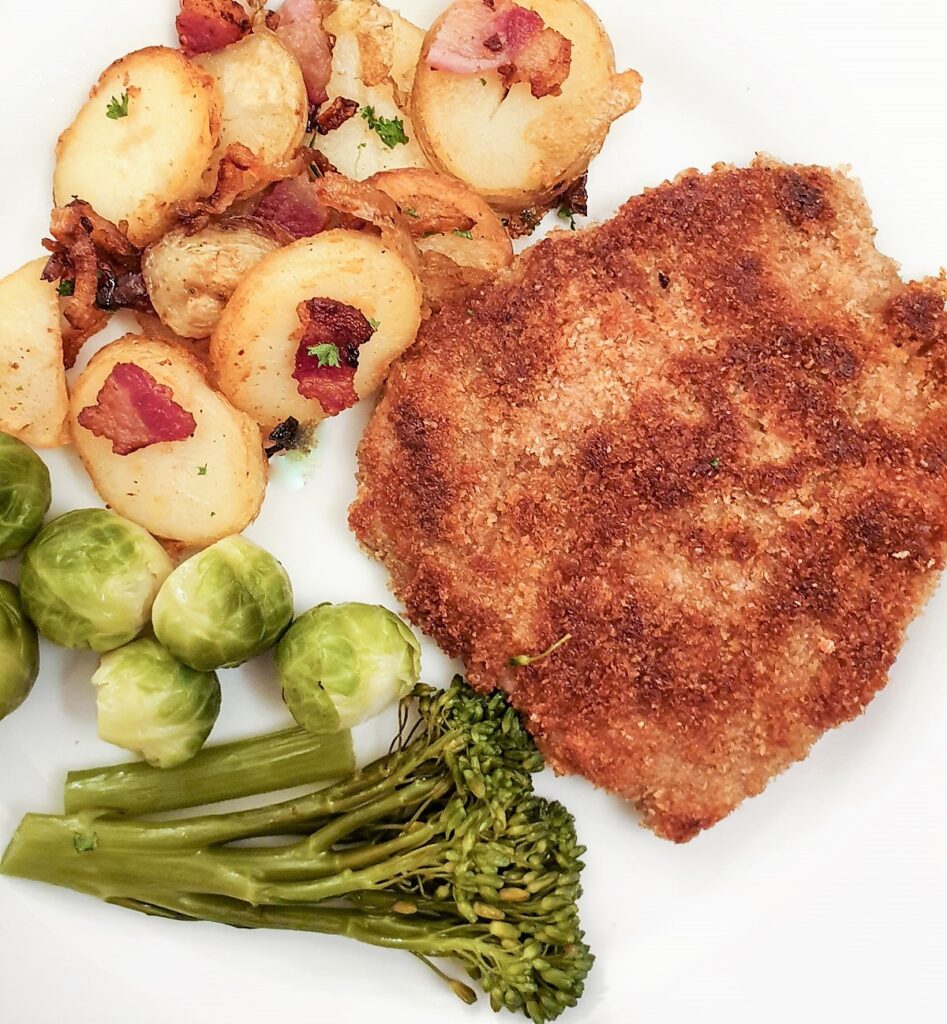 **As an Amazon affiliate, I earn from qualifying purchases.**
What is a schnitzel?
A schnitzel is simply a thin slice of meat that has been coated in flour, egg and breadcrumbs and then fried in oil until the coating is crispy and the meat is cooked. Because the meat is pounded with a meat mallet (or rolling pin) until it is very thin, a schnitzel only takes a few minutes to cook. This makes it the ideal meal for busy weeknights when you need to get something on the table in a hurry.
Traditionally schnitzels were made with veal, and known as Wiener Schnitzel, but the dish has evolved over the years to include other meats such as beef (Jäger Schnitzel), pork (Schweine Schnitzel), turkey or chicken (Hänchen Schnitzel) – I have a recipe for chicken schnitzel here if you'd like to try that too.
This crispy beef schnitzel is coated in toasted breadcrumbs. Toasting the breadcrumbs before using them to coat the schnitzel serves two purposes:
it makes the coating extra crispy, providing a satisfying 'crunch' as you bite through it;
the toasted breadcrumbs prevent too much oil from being absorbed during cooking.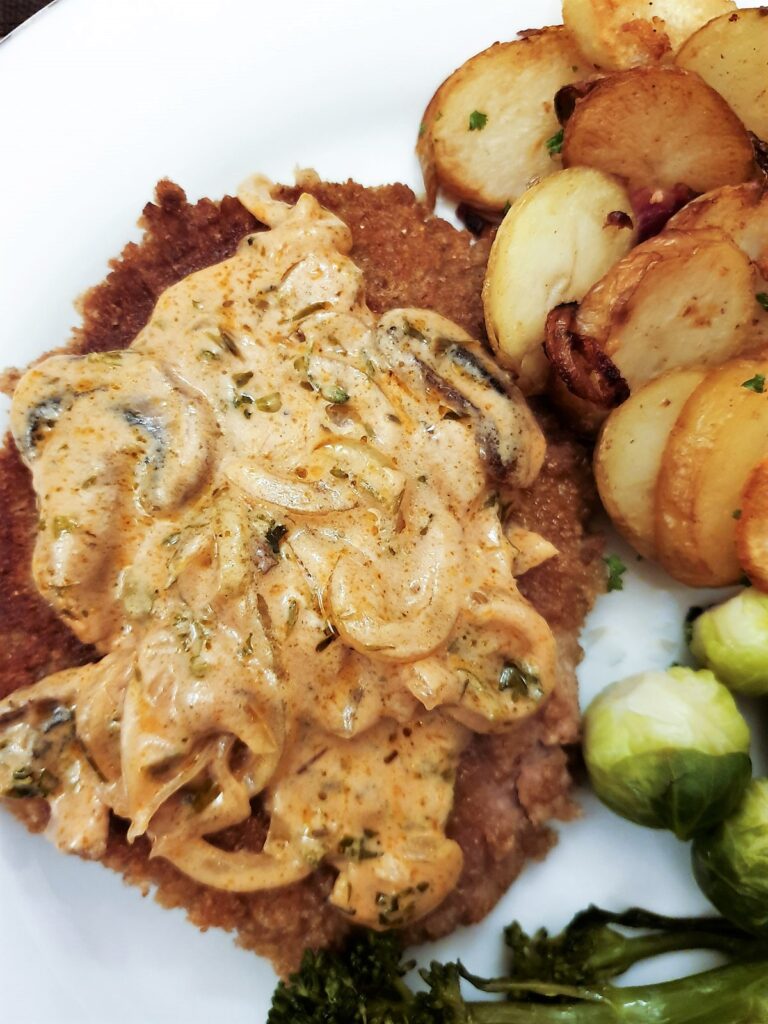 And in case you were wondering, schnitzel is a German word that simply means 'cutlet' in English.
Ingredients you will need
**Get the complete list of ingredients and full instructions for making these crispy crumbed beef schnitzels on the printable recipe card at the end of this post**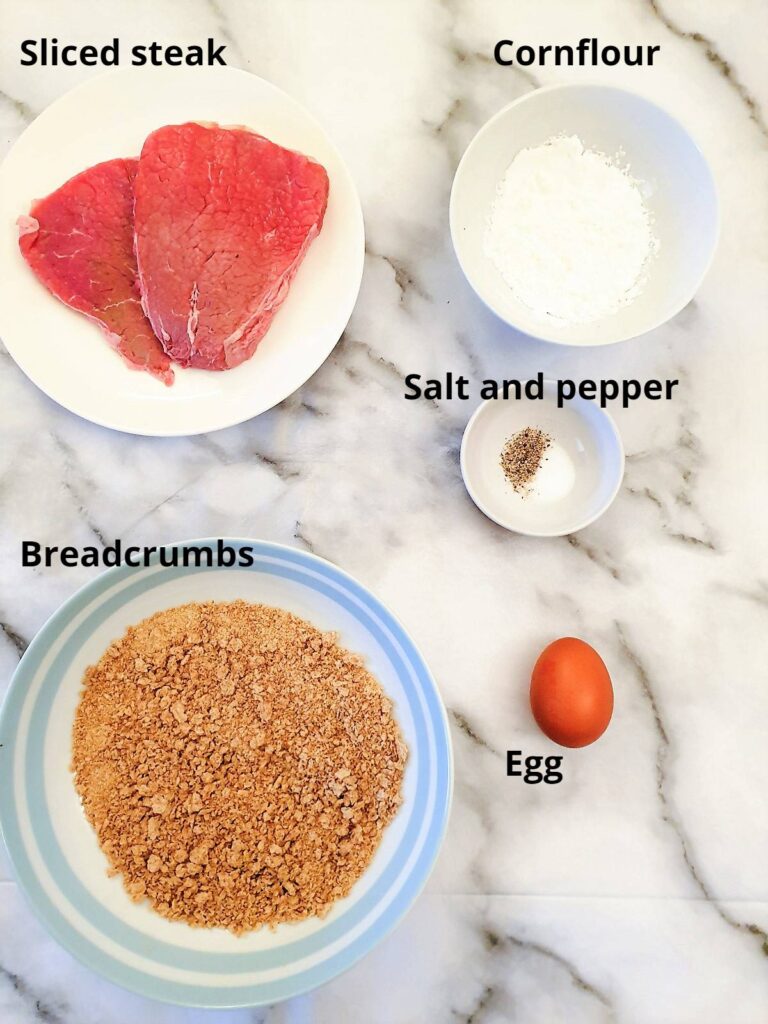 Steak – You will need about 120 grams or 4 ounces of beef per schnitzel. There are various cuts of beef that you can use, and you may know them by various names depending on where in the world you live. Here are some of the more common terms used in the UK – minute steaks, beef escalopes, beef medallions, frying steak. You could also cut your own thin steaks from a piece of topside.
Cornflour or cornstarch – This is used for the first layer of coating on the schnitzels. You can substitute this for plain all-purpose flour, but cornflour tends to make the schnitzels more crispy.
Egg – The second layer of coating and should be lightly beaten.
Breadcrumbs – The final layer of the coating. You can make your own breadcrumbs by grating slices of bread on a box grater (or just whizz them in a food processor). Toasting them in a dry frying pan crisps dries out the breadcrumbs and provides a much crispier coating that soft breadcrumbs. I used brown bread, but you could use white or even wholemeal bread.
Salt and pepper – for seasoning. This is mixed with the cornflour before coating the steak. You could also add other herbs and spices to the cornflour such as paprika or oregano, but this is totally optional.
Sunflower oil (not pictured) – used for frying the schnitzels. You can use any neutral-flavoured oil. I wouldn't use olive oil as it has quite a strong taste.
Instructions
It only takes 8 minutes to fry 2 schnitzels, but they do have to be chilled in the fridge for half an hour to let the coating settle. Why not save yourself some time by preparing them the night before, then all you have to do is fry them up and have a delicious family supper in next to no time.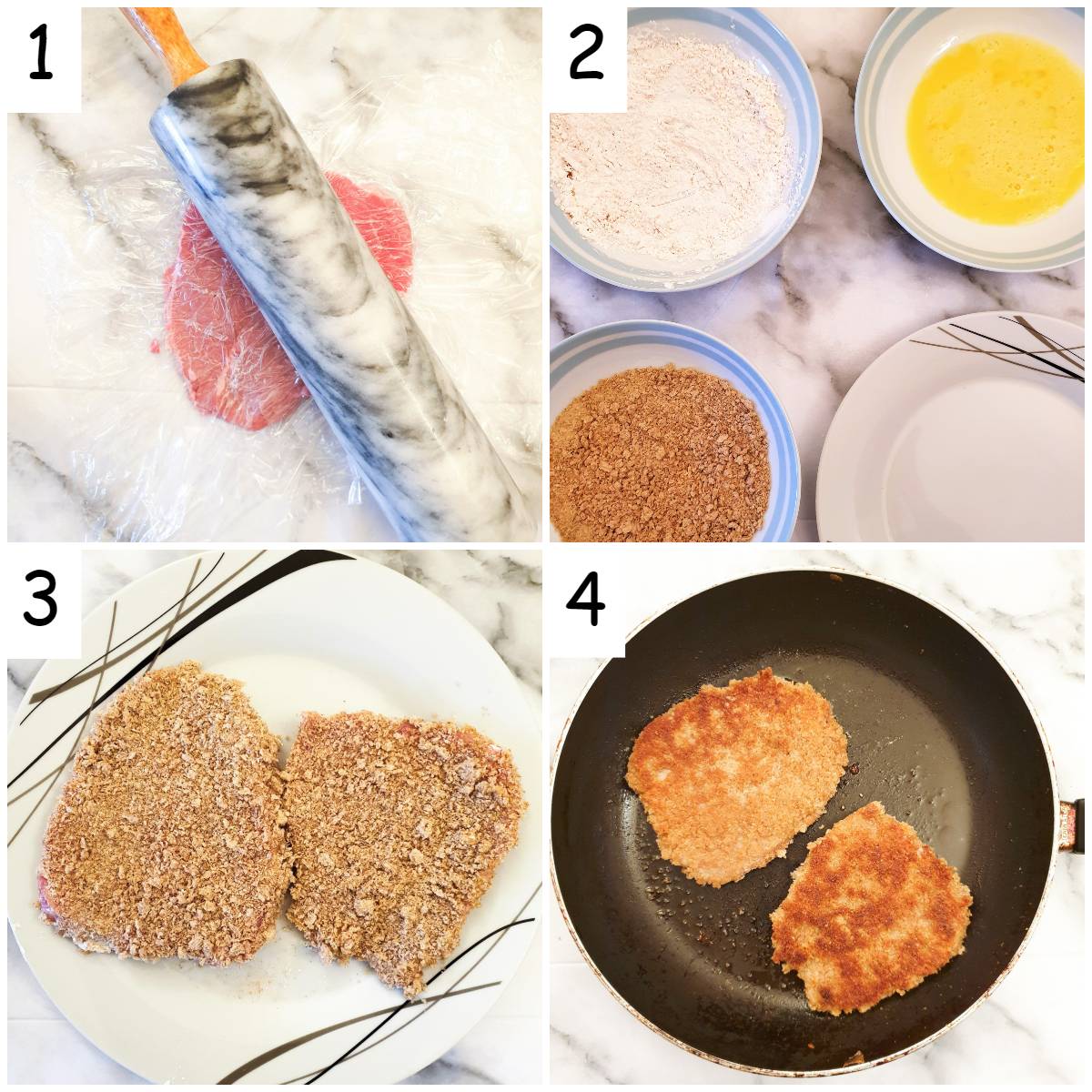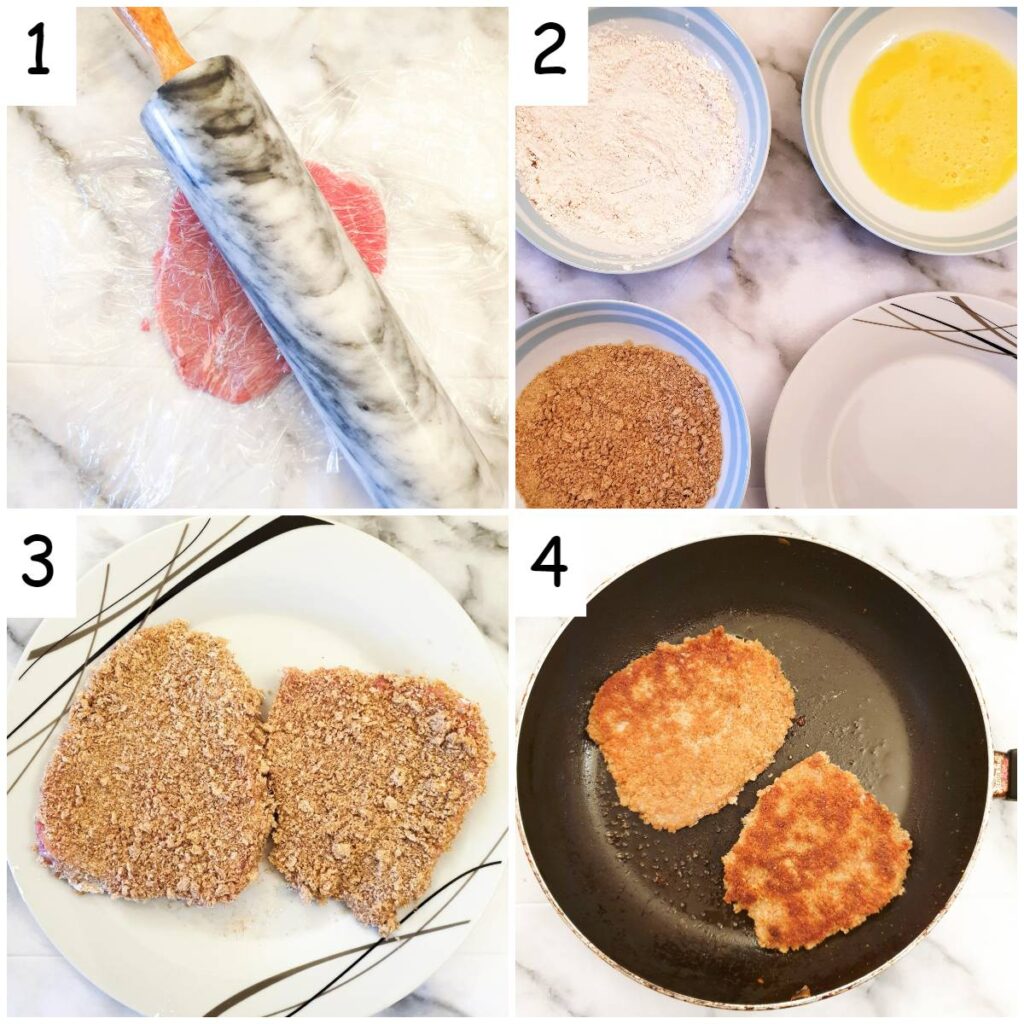 Start off by placing each piece of steak between two sheets of plastic wrap and pounding with a heavy rolling pin to flatten the steak. If you have a meat mallet you could use this instead. The steak should be pounded to about 1/4 inch (about three-quarters of a centimetre) in thickness. Pounding the meat in this way not only thins the meat out, but also tenderises it.
Prepare 3 shallow bowls and a large plate to hold the crumbed schnitzels.

In the first bowl combine the cornflour with salt and pepper, and also any herbs and spices (paprika/oregano) you may be using.
Lightly beat the egg into the second bowl.
Make the breadcrumbs (just grate slices of bread on a box grater) and toast them lightly in a dry frying pan until they start to turn brown and lose their moisture. Keep your eye on them – they burn easily. Place these in the third bowl.

Coat the steak.

Dip the slices of steak first into the cornflour, taking care to coat the steak completely. Shake off any excess cornflour.
Now dip the steak into the egg and let the excess drip off.
Finally coat each piece of steak in the breadcrumbs, pressing them on well.
Put the coated steak onto a plate, cover with plastic wrap and refrigerate for about 30 minutes. Don't skip this step. Letting the coated steak rest in the refrigerator allows the coating to 'set' and it will be less likely to come off as you fry the steak.

Heat the sunflower oil in a large frying pan and then fry the steaks for 3 to 4 minutes on each side until crispy and golden. You don't need lot of oil for this. 4 tablespoons (or a quarter of a cup) will be more than sufficient. If you have a non stick pan you may be able to get away with less.
Drain on paper towel before serving.
Top tips for frying the schnitzel
Let the oil come to temperature. It should reach 165 degrees Celsius or 330 degrees Fahrenheit before adding the steak. If you don't have a thermometer you can drop a few breadcrumbs into the hot oil. The oil will be hot enough when the breadcrumbs sizzle and start to turn brown after 15 seconds.
If you put the schnitzels into cold oil they will absorb the oil and become soggy, and the coating may fall off.
Don't turn the schnitzels until they have been in the hot frying pan for at least 3 minutes. If you turn them too soon you run the risk of the coating falling off.
If you'd like to be notified of any new recipes, why not subscribe to my newsletter. As a thank-you gift, you will receive a free recipe e-book containing some of my most popular cakes and desserts.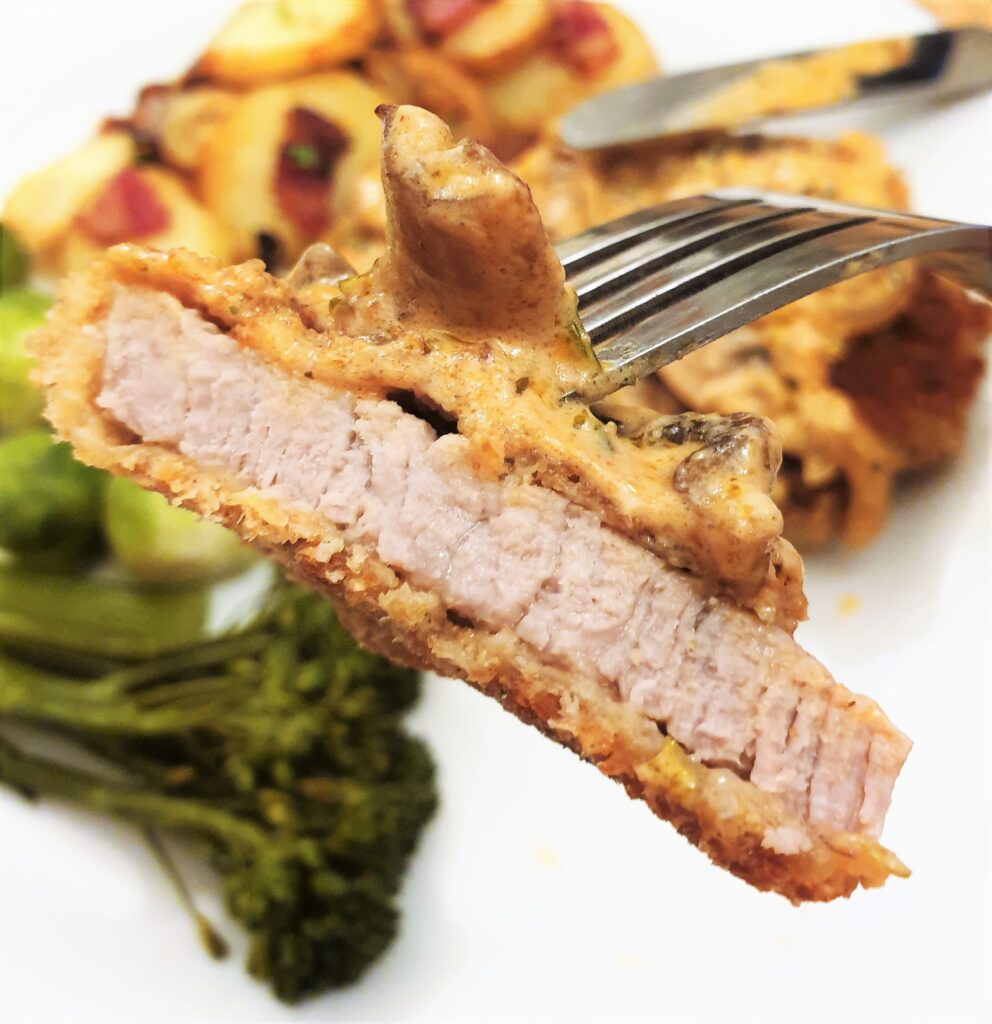 Questions
Pin for later
If you would like to try this recipe for crispy crumbed beef schnitzels, why not pin it to one of your Pinterest boards so you can find it easily. Just click on the image below.
Other German-inspired recipes
Why not take a look at some of my other German-inspired recipes while you are here.
The recipe
If you made this recipe and enjoyed it, I'd love it if you could give me a star rating in the comments below. And if you'd like to get in touch, you can email me at [email protected]. I'd love to hear from you. And don't forget to subscribe to my mailing list so you can grab yourself a copy of my FREE COOKBOOK!
If you'd like to continue browsing, just click on this link to all my recipes.