Hunter's sauce is a rich creamy mushroom sauce, packed with flavour. Pour it over schnitzels, steaks or chops, or simply mix it with pasta for a delicious meatless Monday meal.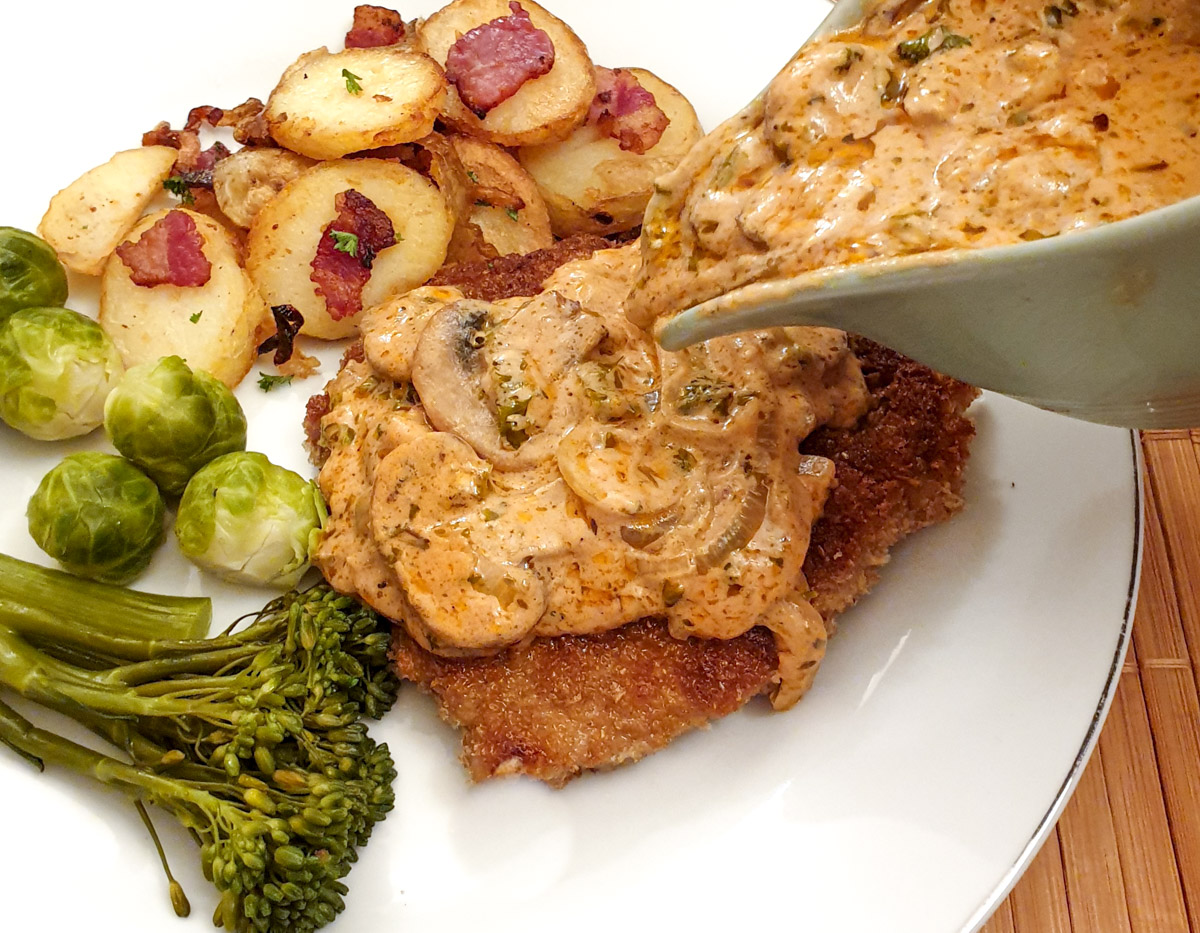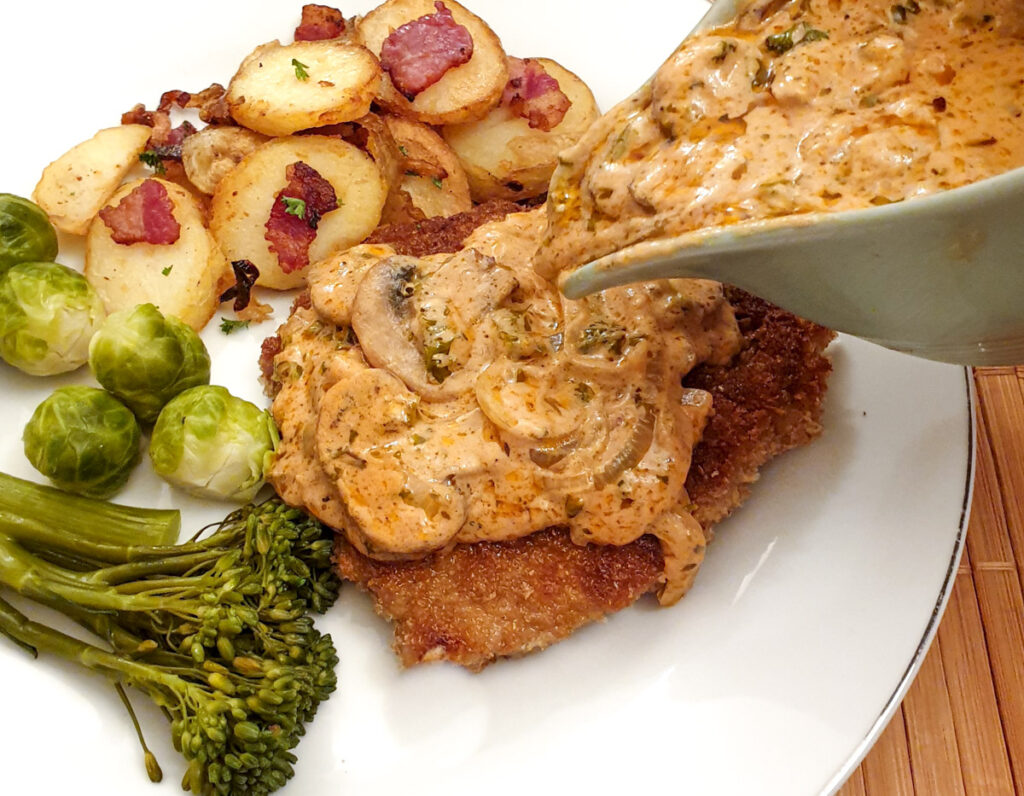 **As an Amazon affiliate, I earn from qualifying purchases.**
Chasseur means 'huntsman' in French, and it is said that in the 1600s when the French hunters were returning home from the hunt they would stop off and forage for wild mushrooms to make this hunter's sauce to accompany their wild boar (or whatever it was they'd been hunting!
According to Wikipedia, Chasseur sauce was invented by Frenchman Duke Philippe de Mornay, who also invented Mornay sauce and Bechamel sauce (amongst others).
This dish is also known as Jager sauce in Germany and is normally served poured over schnitzels.
Anyway, enough of the history! Let's talk about the hunter's sauce instead.
Homemade mushroom sauce
I already have a recipe for mushroom sauce on my website – crispy chicken schnitzel with creamy mushroom sauce. And while that sauce tastes great, this hunter's sauce is completely different in that it doesn't have a bechamel sauce base. Instead, hunters sauce is thickened by the addition of double (or heavy whipping) cream and allowed to simmer until it has reduced to the desired consistency. The result is a creamy pourable sauce, with a robust flavour that pairs beautifully with steak or roast meat. It also makes a great sauce for pasta.
I think everyone needs a recipe for mushroom sauce in their repertoire. So without further ado, let me tell you how to make it.
Ingredients and substitutions
**Get the full recipe for hunters sauce on the printable recipe card at the end of this post**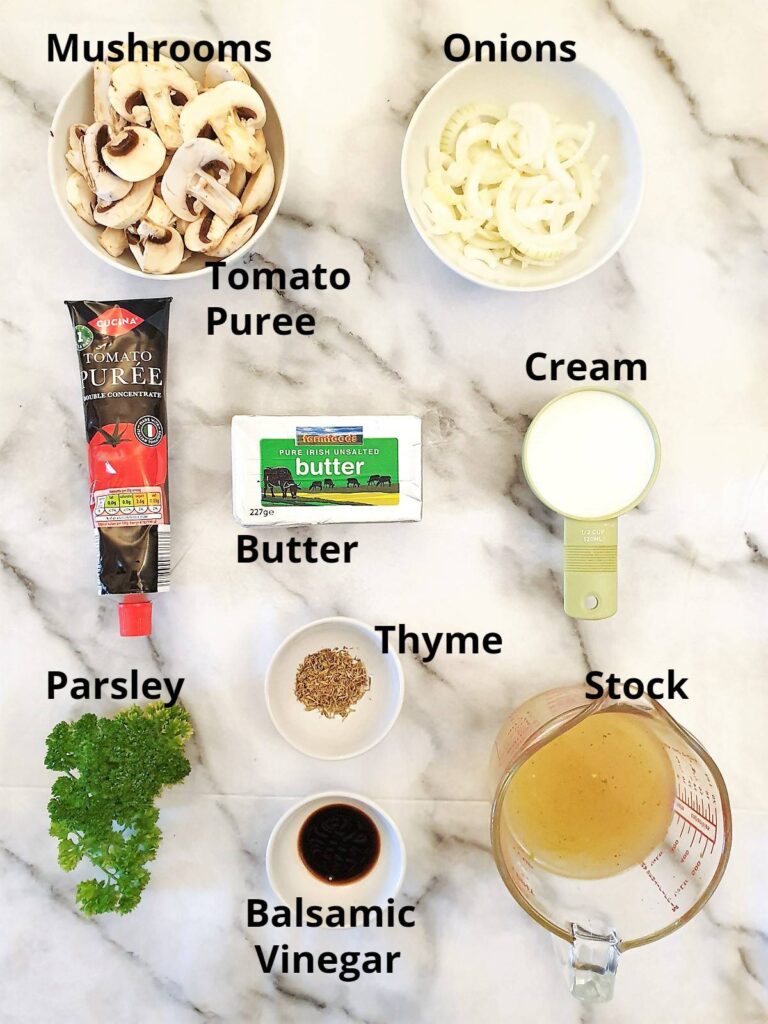 Mushrooms – you can use whatever mushrooms you prefer for sauce. I used simple white mushrooms, but you could use any mushrooms really. Chestnut mushrooms give a stronger flavour, or if you are looking for a 'meatier' option you could use sliced portobello mushrooms instead. Or how about going with the exotic option and using oyster mushrooms or even shiitake.
Onions – use either red or white onions, as long as they are finely sliced. You could substitute these for shallots if you prefer a milder flavour, or leeks for a sweeter sauce.
Tomato puree – to add a touch of colour and extra flavour. Tomato puree is simply concentrated tomatoes. You my also know it as tomato paste. Substitute with tomato passata or even tomato ketchup.
Butter – this is for browning the onions and the mushrooms. Mushrooms are like little sponges, and they will soak up all the butter, but don't worry – they will release all that flavour back into the sauce once you have added the stock. If you are watching your weight, substitute with olive oil or a low fat spread.
Cream – I used double cream (or heavy whipping cream). If you are calorie conscious you could substitute this with either single cream, or even milk. You may find that you have to thicken the sauce with cornflour if you do this though.
Dried thyme – I love the combination of thyme and mushrooms, but you do need to be careful not to overpower the delicate flavour of the mushrooms. A large pinch (or a quarter of a teaspoon) will be more than enough. You can leave it out altogether if you don't like the taste.
Balsamic vinegar – Once again, not too much. You will only need a small amount to balance out the richness of the cream. You can substitute this with Worcestershire sauce.
Stock – the liquid component of the sauce. I used all vegetable stock, but you could use beef stock instead. If you prefer, you can substitute half of the stock for white wine. If you don't have fresh stock, just dissolve one stock cube in one cup of boiling water.
Parsley – this is finely chopped and stirred through right at the end.
I haven't included salt and pepper in the photo – but I always taste right at the end and add seasoning if I think it needs it.
Cornflour (or cornstarch) – not pictured and optional. Used to thicken the sauce if it does not reduce to the right consistency.
What to do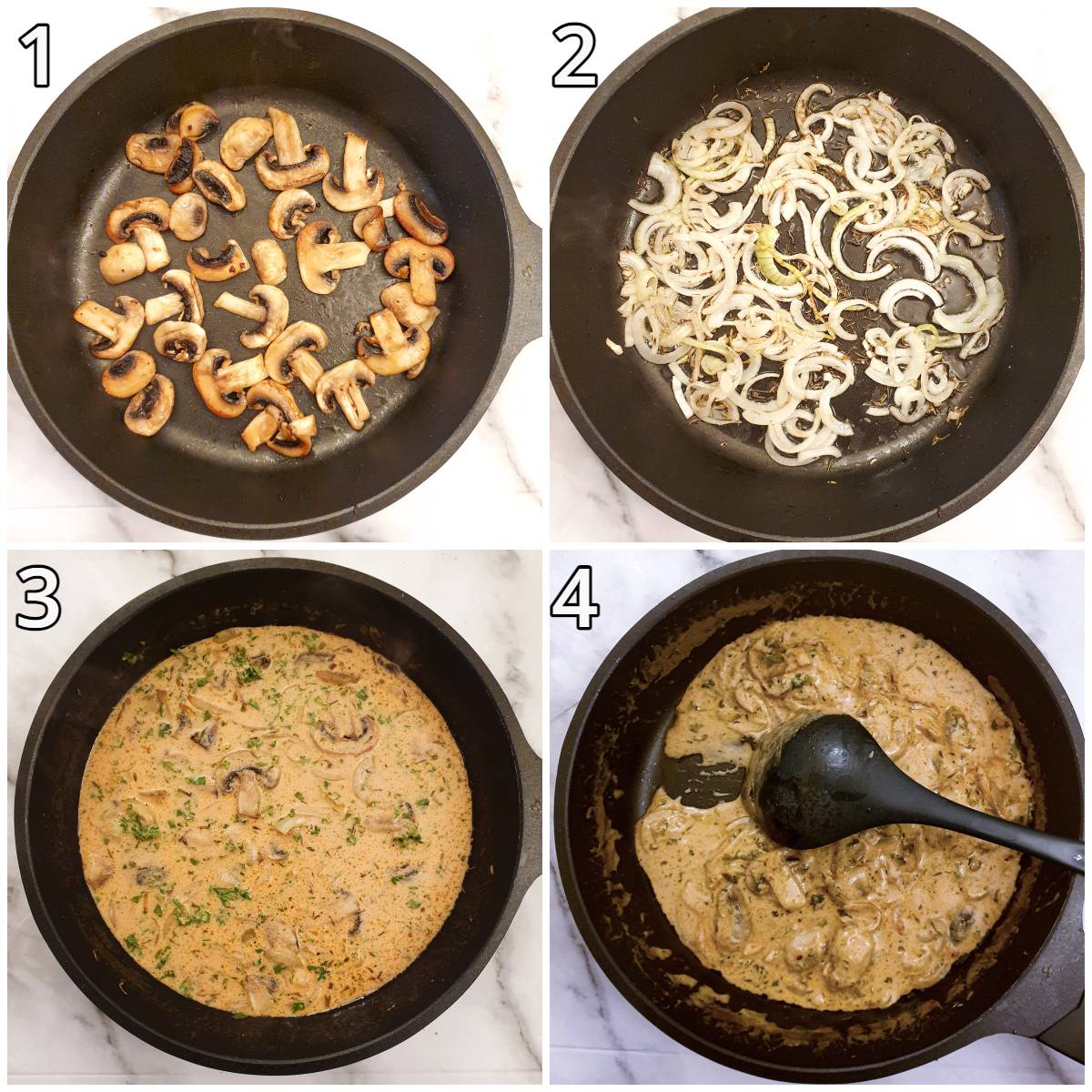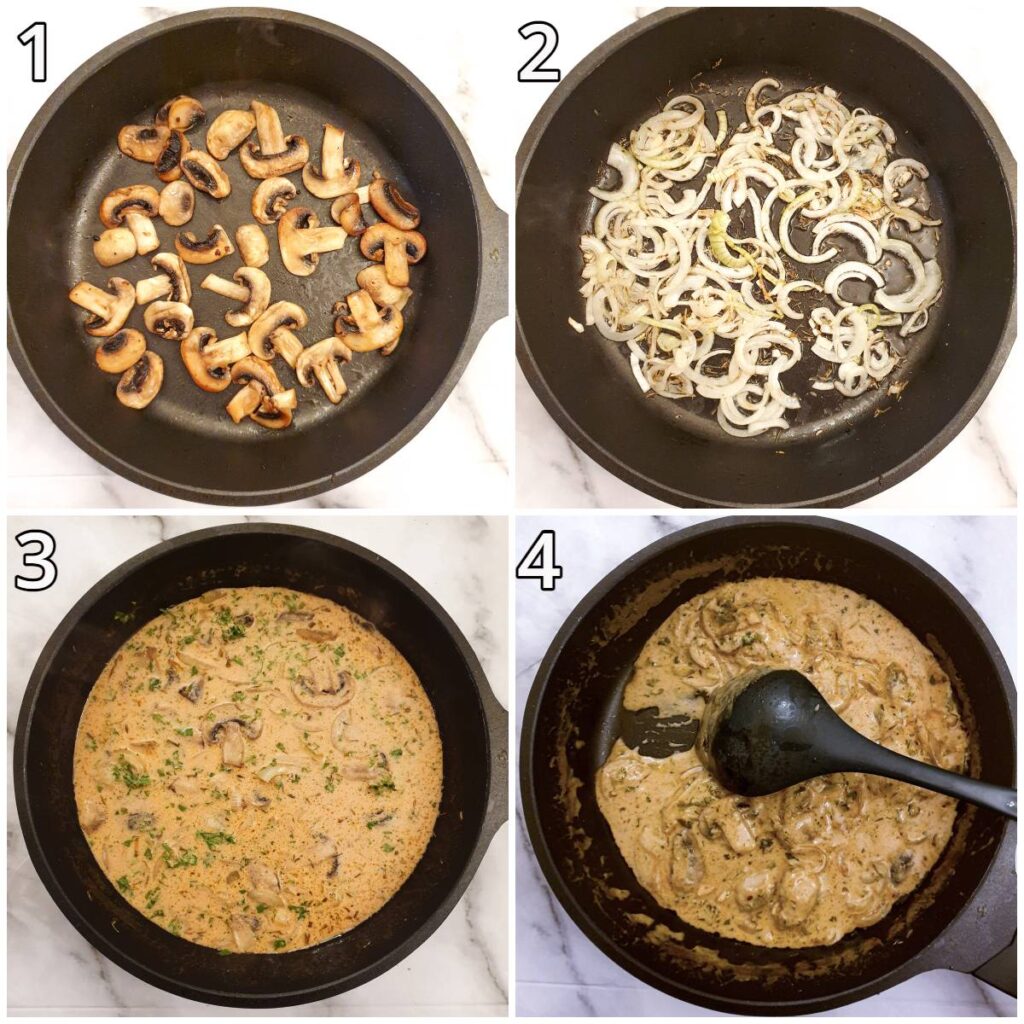 Melt half of the butter in a large frying pan. Add the mushrooms and fry them on a medium heat until they just start to turn brown (1). Remove to a plate and set aside.
Melt the rest of the butter in the same pan, then add the sliced onions and dried thyme. Fry them gently, stirring continuously, until they turn translucent and start to brown (2). Take your time, this step should take about 5 minutes. Don't allow them to brown too much.
Stir in the tomato puree, then add the stock, cream and balsamic vinegar. Bring to the boil, then turn the heat down to a gentle simmer and add the fried mushrooms and onions. Leave to simmer until the sauce has thickened and the onions are soft (3). This will take between 5 and 10 minutes.
Stir in the parsley, taste for seasoning and adjust if necessary.
The sauce should leave a trail when you draw a spoon through it (4). If you have substituted milk for the cream you may find you need to thicken the sauce with cornflour. To do this mix one tablespoon of cornflour with 2 tablespoons of water to make a smooth paste. Drizzle this into the sauce, stirring continuously over a low heat until the sauce reaches the desired consistency. You may not need all of the cornflour mixture.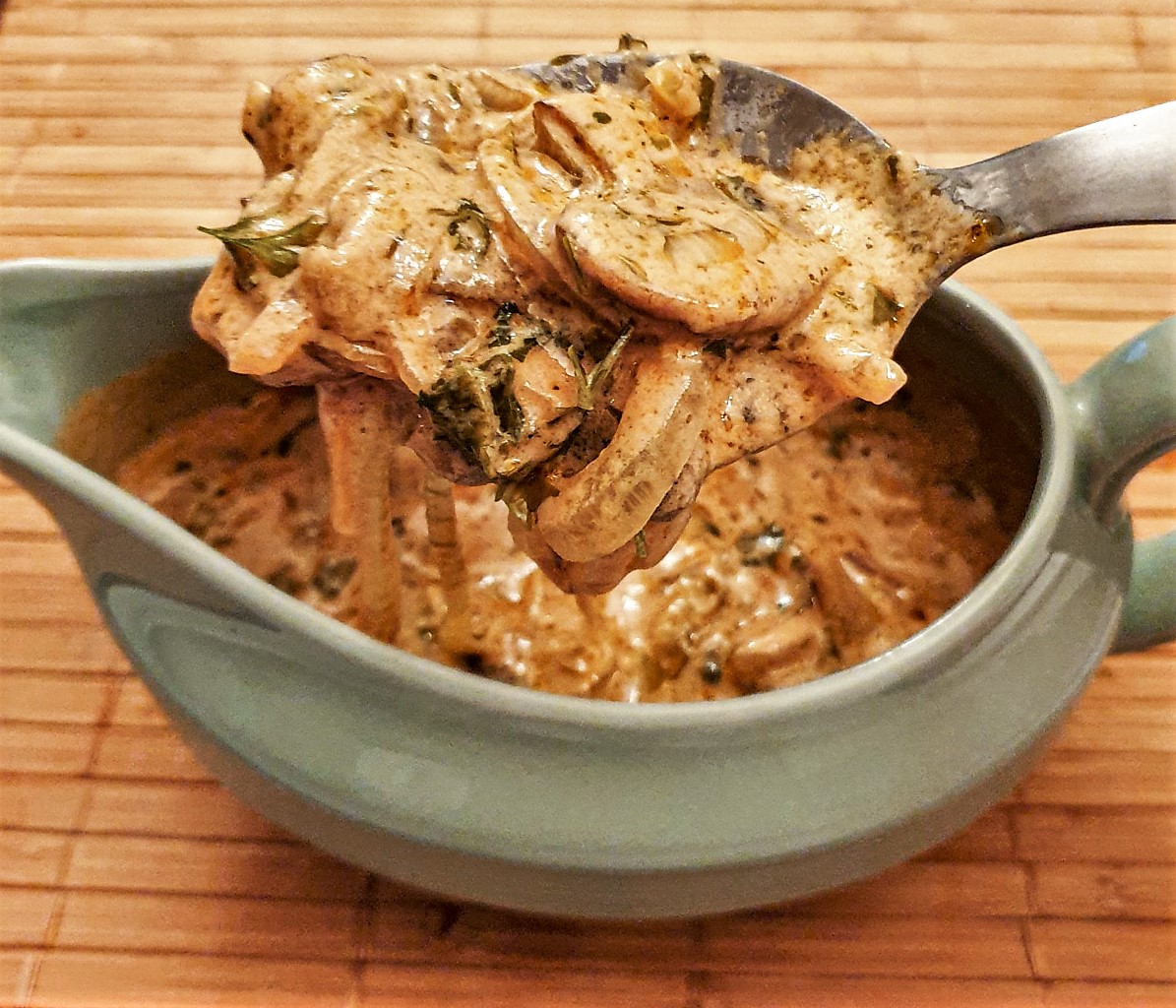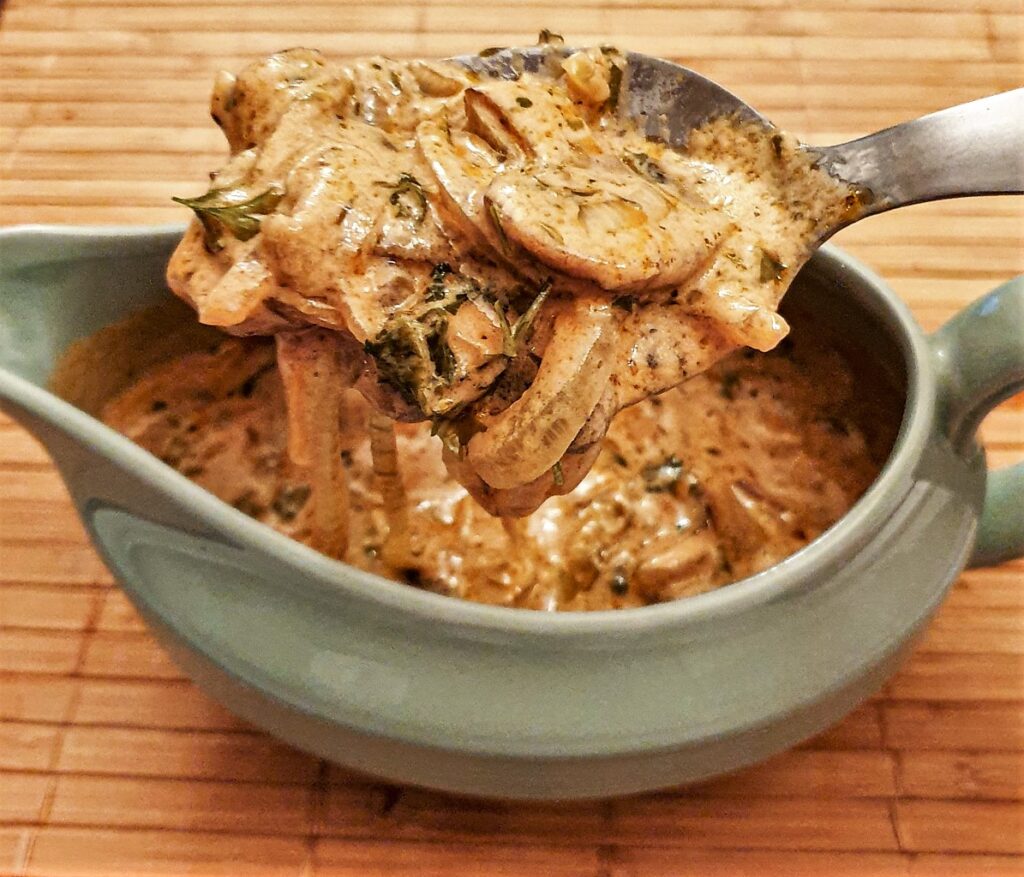 If you'd like to be notified of any new recipes, why not subscribe to my newsletter. As a thank-you gift, you will receive a free recipe e-book containing some of my most popular cakes and desserts.
Storage
You can freeze hunter's sauce for up to 4 months, or you can make it up to 3 days in advance and store it in a covered container in the refrigerator.
Defrost the hunter's sauce in the refrigerator (if it was frozen). Reheat in a saucepan on the stove-top or in the microwave.
Save for later
If you'd like to try this hunter's sauce for yourself, why not pin the recipe to one of your Pinterest boards so you can find it easily? Just click the image below.
Alternatively, you can save the recipe by clicking on the floating heart icon on the right-hand side of the screen.
Serving suggestions
Why not try serving hunters sauce with one of these dishes:
The recipe
If you made this recipe and enjoyed it, I'd love it if you could give me a star rating in the comments below. And if you'd like to get in touch, you can email me at [email protected]. I'd love to hear from you. And don't forget to subscribe to my mailing list so you can grab yourself a copy of my FREE COOKBOOK!
If you'd like to continue browsing, just click on this link to all my recipes.