A delicious German meat salad, made with tasty Geman sausage, tangy pickled cucumbers and onions, creamy hard-boiled eggs, and piquant mayonnaise dressing. This meat salad is perfect for putting on sandwiches or serving as a quick and easy appetiser. You can even turn it into a complete meal by serving it alongside a dish of tender boiled potatoes or buttery noodles.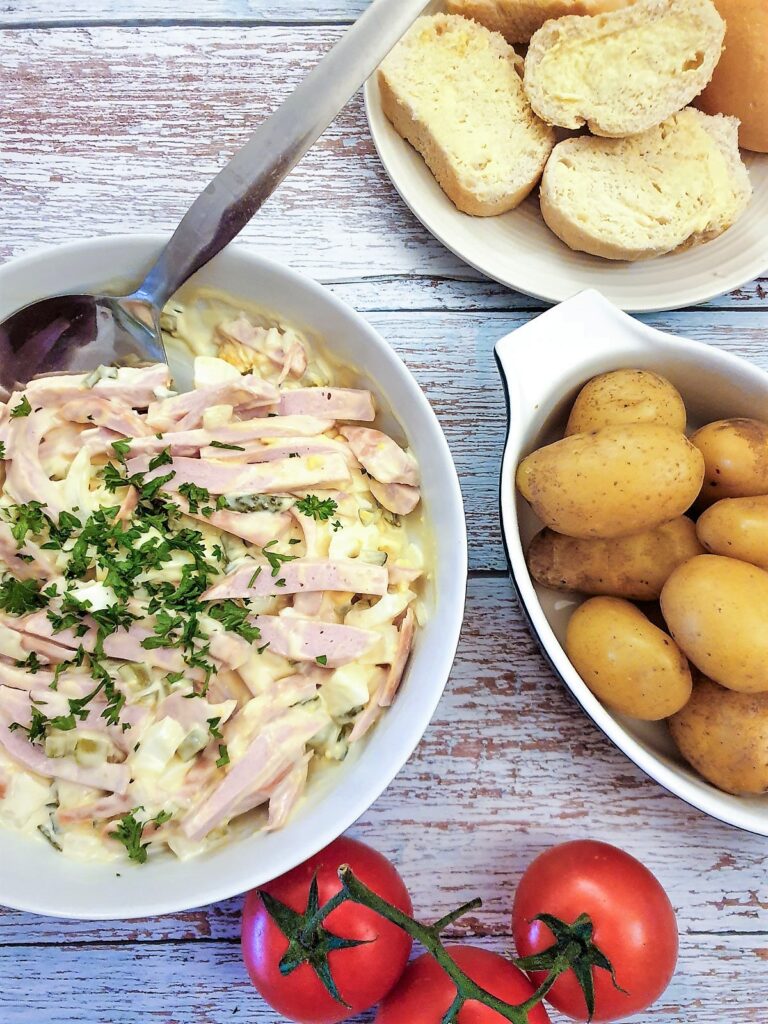 **As an Amazon affiliate, I earn from qualifying purchases.**
What is fleischsalat?
Fleischsalat or German meat salad is traditionally made with bologna or mortadella sausage, mixed with a copious amount of chopped pickled gherkins or cucumbers, and finely chopped onions. It's then smothered in a tangy, creamy mayonnaise mixture, flavoured with mustard and a spoonful of liquid from the pickle jar.
It's one of my favourite summer salads, not least because it's so easy to throw together. Honestly, it only takes 15 minutes start to finish. Once made, it stays fresh in the refrigerator for over a week. In fact, the flavours improve on standing so it's the perfect dish to make in advance.
To make it, you only need 5 main ingredients, unless you are like me and prefer to add chopped hard-boiled eggs – then you'll need 6 ingredients!
It has a slightly tangy taste, thanks to the pickled gherkins, and it's so creamy you can be excused for eating spoonfuls directly out of the fridge.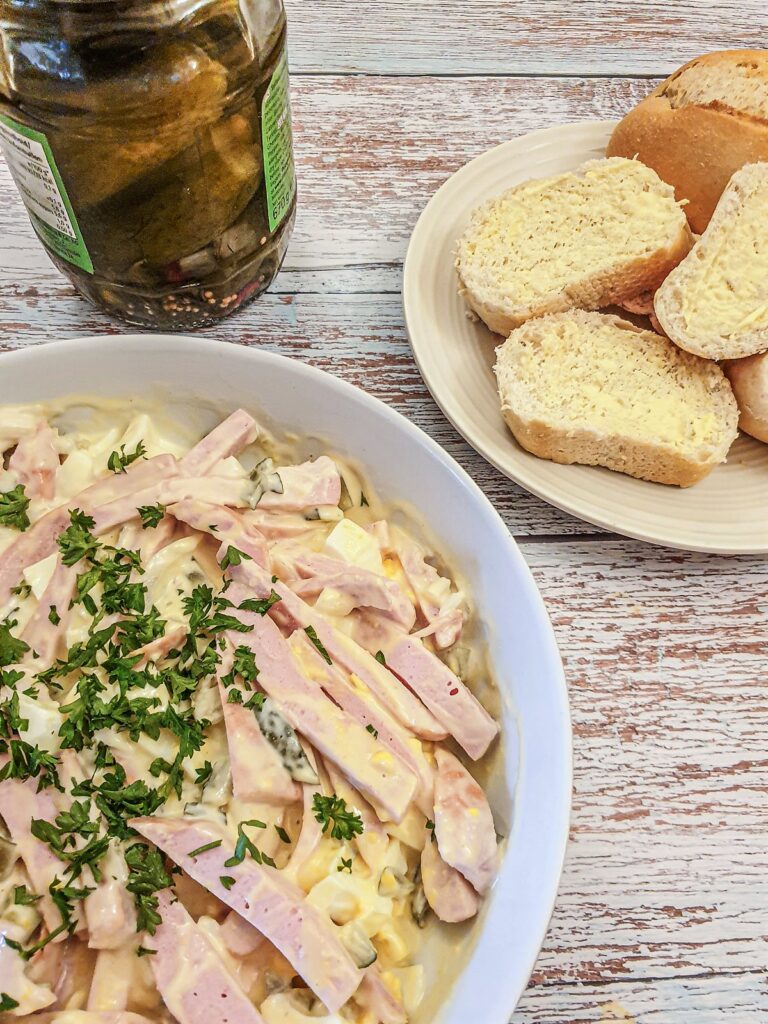 What you will need
Equipment
You don't need much by way of equipment.
All you will need a sharp knife and a chopping board for cutting up the sausage and other ingredients. You will also need a small mixing bowl for preparing the mayonnaise dressing. I like these mixing bowls because they can double up as serving dishes as the lids make them ideal for keeping food fresh.
Ingredients
**You can get the complete list of ingredients and instructions for making German meat salad on the printable recipe card at the end of this post**
The ingredients in the recipe card will make a meat salad large enough for 4 people as a starter or 2 to 3 people as a main. You can easily adjust the measurements to make a smaller or larger batch.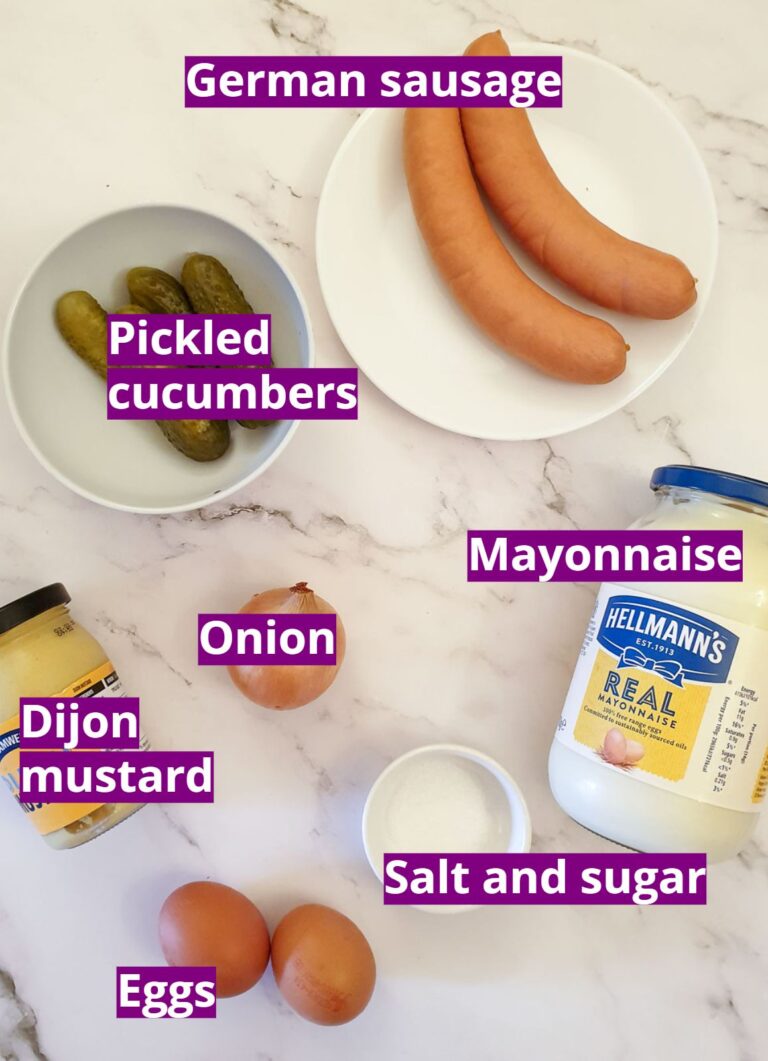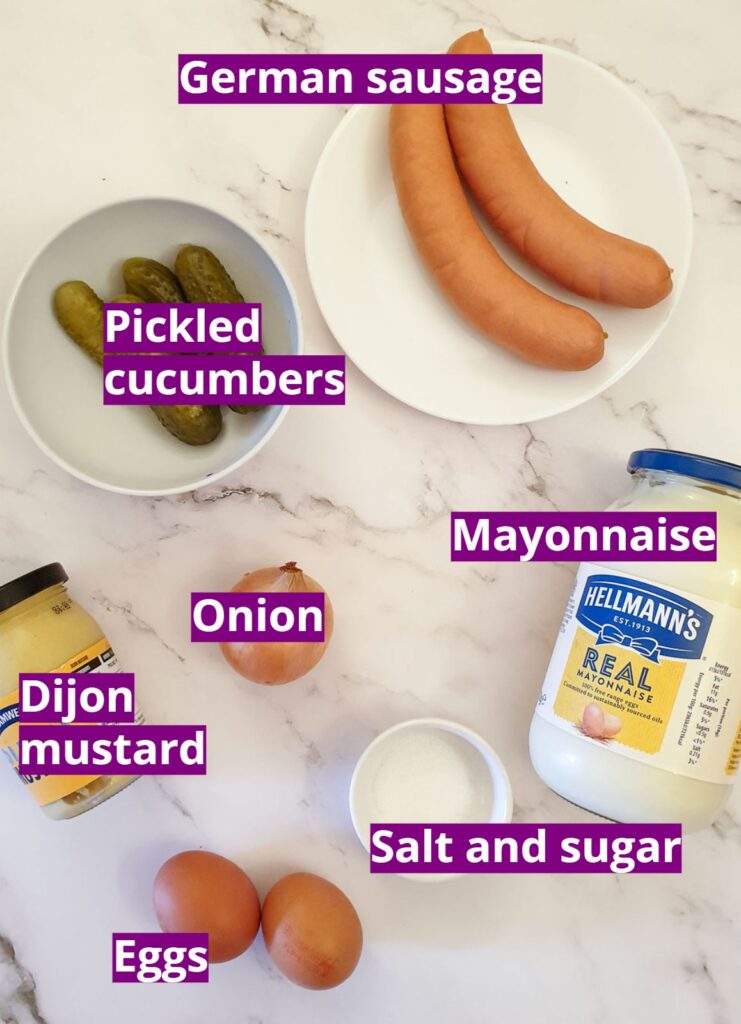 German sausage – as I mentioned earlier, traditional German meat salad is made with bologna or mortadella sausage. However this is not always readily available in the UK and I have found that the large knackwurst or bockwurst sausages sold in Lidl make a perfectly acceptable substitute.
Pickled cucumbers (or gherkins) – if you can get cucumbers flavoured with dill then I would recommend those, otherwise, just use your favourite brand. You will need approximately half the amount of cucumbers as that of sausage.
Onion – this should be very finely chopped and you will need half as much onion as cucumber.
Mayonnaise – use a good quality mayonnaise that is thick enough to spoon out of the jar, not a runny mayonnaise. The mayonnaise is going to be thinned down with some of the juices from the jar of pickles so it needs to be thick to start with.
Dijon mustard – you will need 1 teaspoon of Dijon mustard for each half cup of mayonnaise. You can substitute the Dijon mustard with English mustard (or your own favourite brand) but English mustard is hotter than Dijon mustard so be careful not to use too much.
Eggs – I know the purists are going to shout at me and say that hard-boiled eggs don't belong in a German meat salad, but I like them and this is my version. You can leave them out if you prefer. If you do decide to add them you will need 1 hard-boiled egg for each 100 grams (3.5 ounces) of sausage.
Salt and sugar – both optional, but a small amount of each does improve the flavour (in my opinion).
Chopped parsley or dill (not shown) – for garnish.
How to make German meat salad
This is a very easy salad to make. There are only 3 easy steps:
cut up the meat and vegetables
mix up the dressing
combine everything together and leave it in the refrigerator for an hour for the flavours to mingle.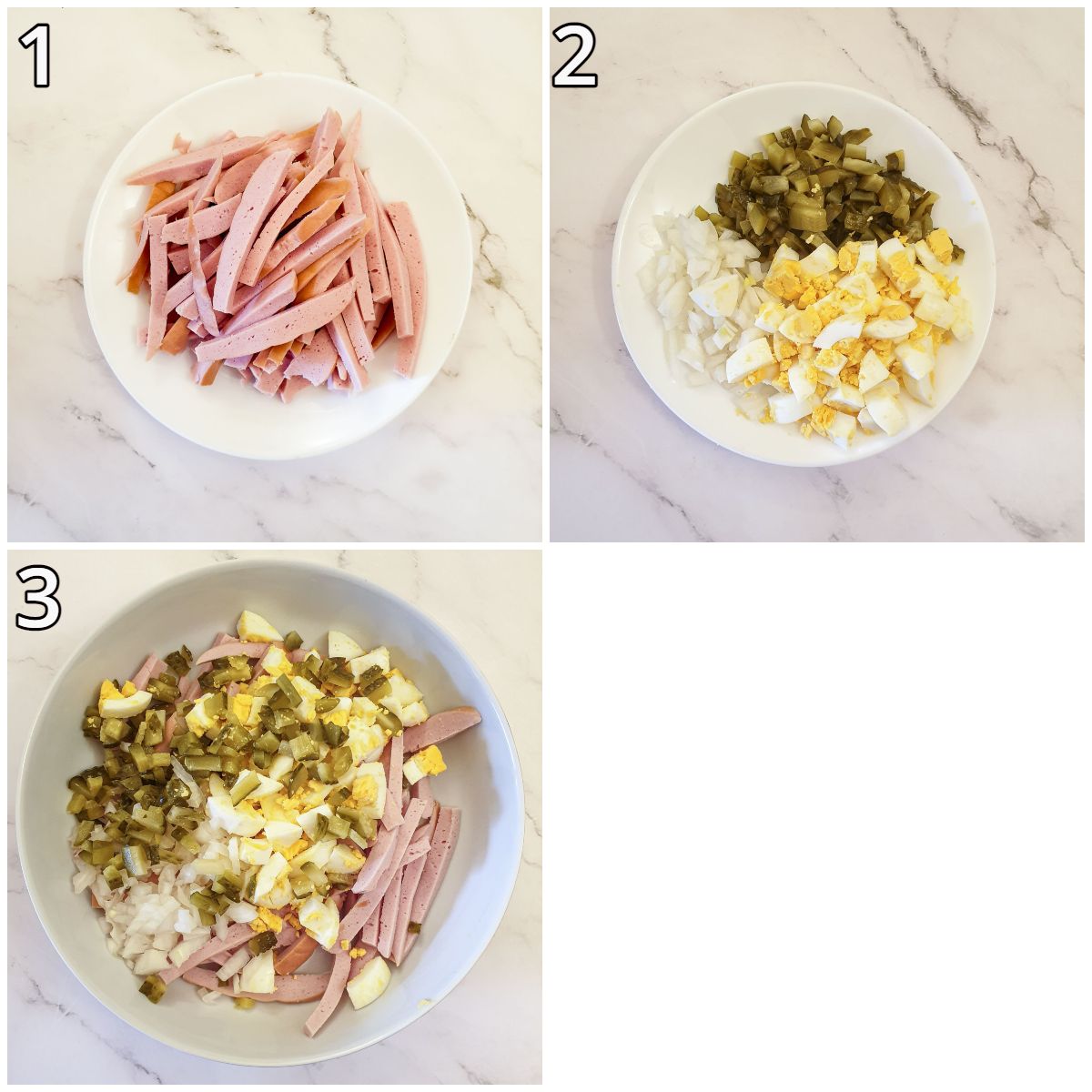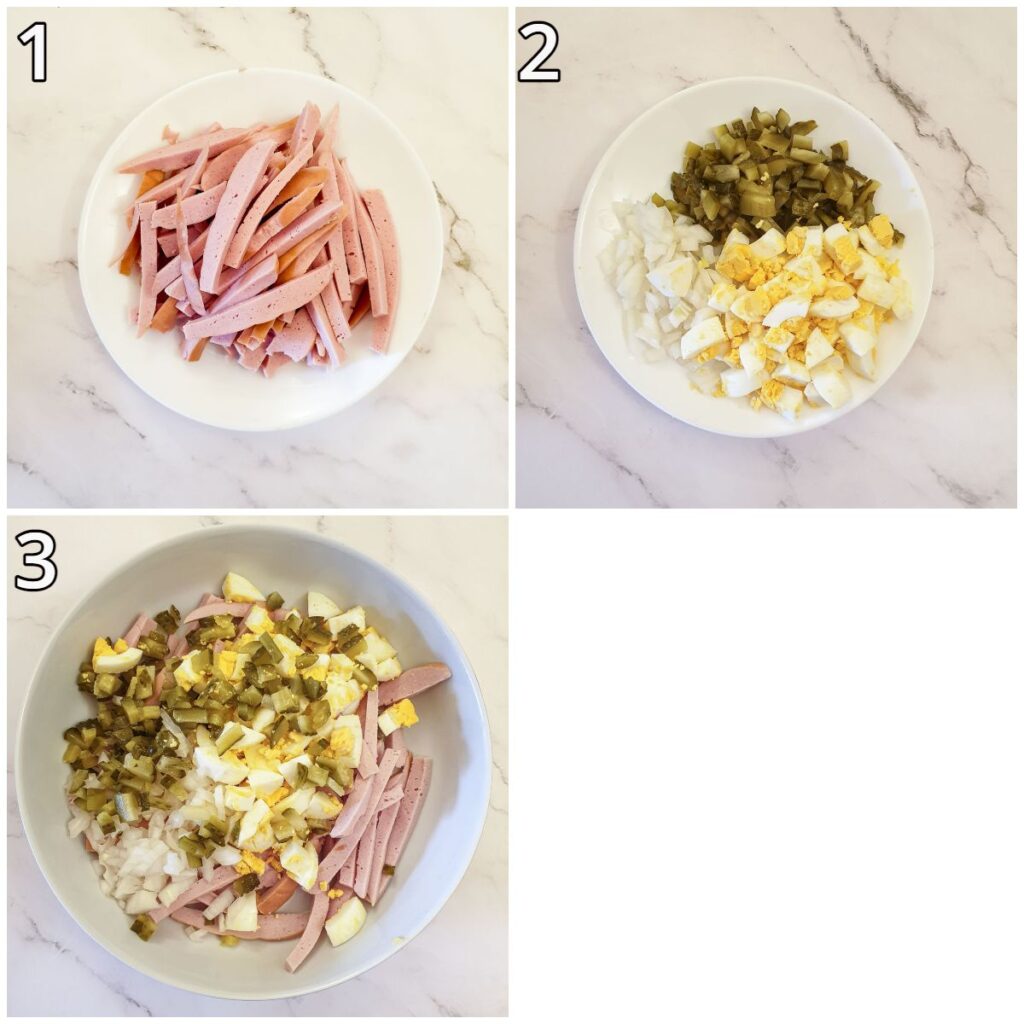 If your sausage has a hard skin, remove it first and then cut the sausage into thin strips. It depends on how you intend to serve this German meat salad as to how you cut up your sausage. For instance, if I were serving this as a starter, or adding pasta to make a salad, I would cut the sausage into blocks rather than strips.
Cut the gherkins and onions into a very fine dice. You can use a food processor to do this but be careful not to over-process. You are looking for about one-quarter of an inch in size. To be honest I find I can have them cut up in less time than it takes to get the food processor out!
Chop the eggs roughly (about half-inch pieces).
Transfer everything to a serving bowl.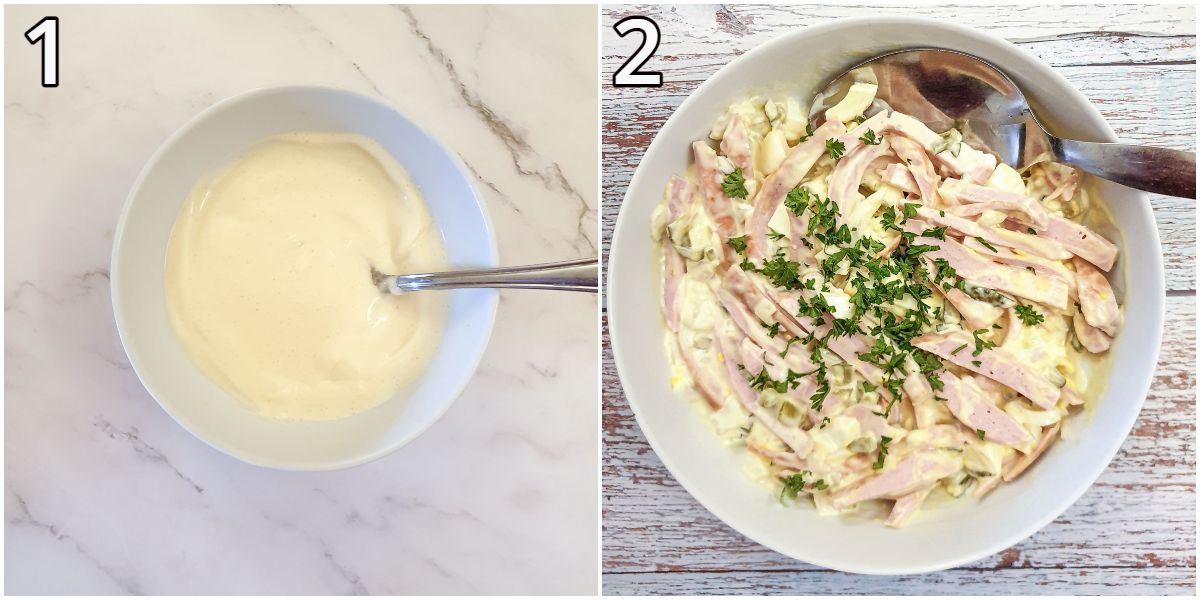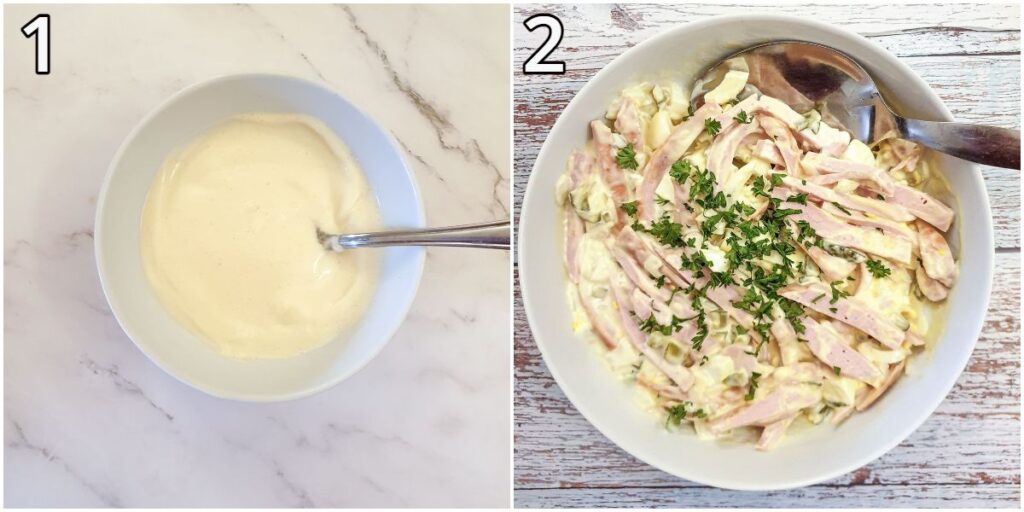 Combine the mayonnaise, pickle juice, mustard, salt, and sugar in a mixing bowl.
Pour the dressing over the sausage and vegetables and mix well to combine.
Cover the dish and place it in the refrigerator for at least an hour to give the flavours time to develop. This is not strictly necessary as it will taste good anyway, but the flavours do improve with standing.
Garnish with chopped parsley or dill before serving.
If you'd like to be notified of any new recipes, why not subscribe to my newsletter. As a thank-you gift, you will receive a free recipe e-book containing some of my most popular cakes and desserts.
How do you serve it?
Apart from sneaking the odd spoonful from the fridge, you can serve this German meat salad in so many ways:
Slathered on top of a slice of crusty bread, or made into a tasty sandwich for your lunch box.
Piled on a bed of shredded lettuce as a quick and easy appetiser.
Served with boiled potatoes, fresh tomatoes, and slices of avocado for a light main meal.
You can even serve it with your other salads as a side dish at a barbeque.
I also like to turn it into a more substantial salad by mixing it with freshly cooked noodles and a handful of peas.
Storage
Unfortunately, this dish is not suitable for freezing.
You can make it in advance and store it in a covered container in the refrigerator for up to a week.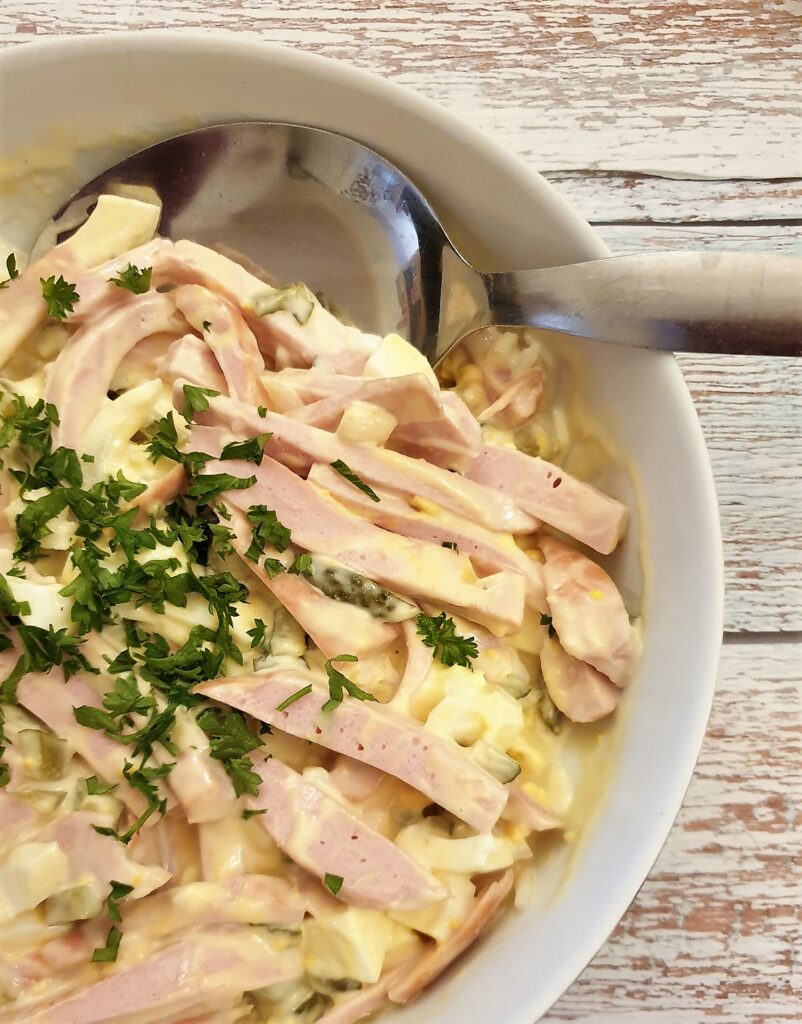 Pin for later
If you'd like to make this German meat salad why not pin the recipe to one of your Pinterest boards so you can find it easily. Just click on the image below. Alternatively, you can save it to your Grow Me account by clicking on the heart icon in the bottom right-hand corner of the screen.
Other recipes
You may also like to try some of my other German-inspired recipes:
The recipe
If you made this recipe and enjoyed it, I'd love it if you could give me a star rating in the comments below. And if you'd like to get in touch, you can email me at [email protected]. I'd love to hear from you. And don't forget to subscribe to my mailing list so you can grab yourself a copy of my FREE COOKBOOK!
If you'd like to continue browsing, just click on this link to all my recipes.
I have linked this recipe to #CookBlogShare run by Sisley & Chloe which was which was hosted by Jo at The Family Food Kitchen