This is a recipe that has stood the test of time. An old fashioned bacon and egg pie as made by my Granny. A light-as-a-feather shortcrust pastry case, packed full of tasty bacon and whole eggs, baked in a creamy egg custard filling. Hand on heart, this is the best bacon and egg pie you will ever eat!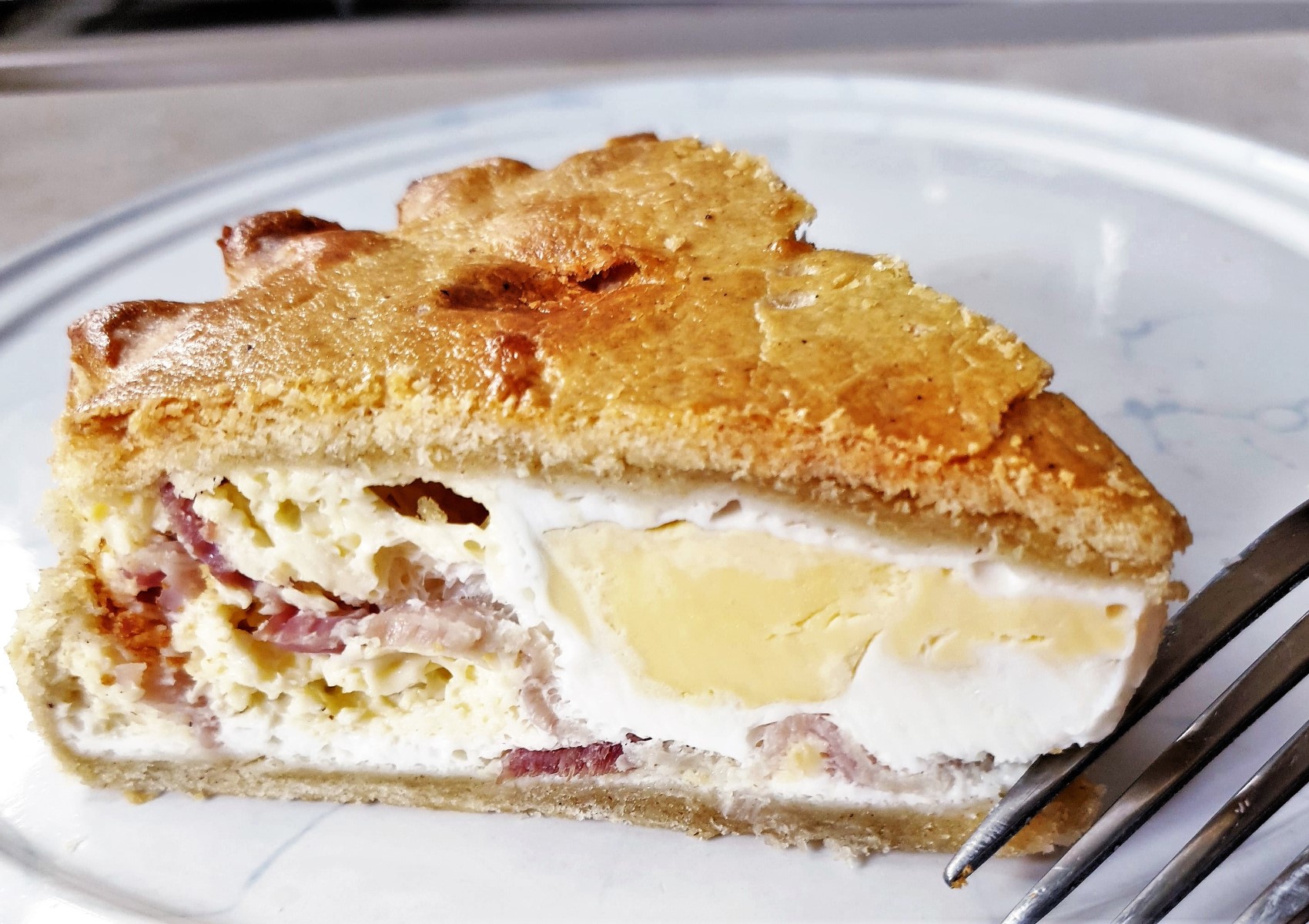 **As an Amazon Associate I earn from qualifying purchases.**
Old Fashioned Bacon and Egg Pie
There's a bit of debate around whether this is a bacon and egg pie, or an egg and bacon pie! To be honest, it doesn't really matter. As long as you have a light flaky pastry crust, filled with tasty rashers of bacon and whole eggs, you can call it whatever you like. I've even heard it being referred to as a breakfast pie! One thing is for sure though – once you've tasted a slice of this bacon and egg pie, you will be calling it your 'favourite pie'.
When I was about 7 or 8 my Granny came to live with us. She loved baking and Fridays very quickly became 'Granny's baking day'. I used to look forward to Friday and getting home from school to see what she'd been baking.
One of the things she made was her 'Feather Cake'. Unfortunately, I never got the recipe for that, but it was the lightest of cakes, baked in a square tin and served by the chunk instead of a slice. A slab of that cake was just what you needed after a day at school.
When blackberries were in season I was sent out with a jam-jar to collect the essential ingredient for her blackberry and apple pie. I still remember the taste of it to this day. Rich flaky pastry filled with slices of tart baking apples fresh from the market and oozing with purple juice from the blackberries.
I remember baked egg custard covered in nutmeg. She always kept a whole nutmeg in the pantry to grate over the top. And rice pudding covered with a brown skin… the list goes on.
A proper pie
My favourite, however, was her old fashioned homemade bacon and egg pie. I call it old fashioned, but to me, that was a proper pie. With shortcrust pastry on both the top and the bottom. A slice of that pie was a meal in itself and you needed very little in the form of accompaniments.
The bacon and egg pie was reserved for special occasions when we had guests. It was placed in the centre of the table, decorated with a pastry leaf and surrounded with salads. Sticks of celery in a glass of cold water to keep them crispy. Lettuce, tomatoes and baby potatoes. Simple fare by today's standards, but to me, in those days, it was a feast.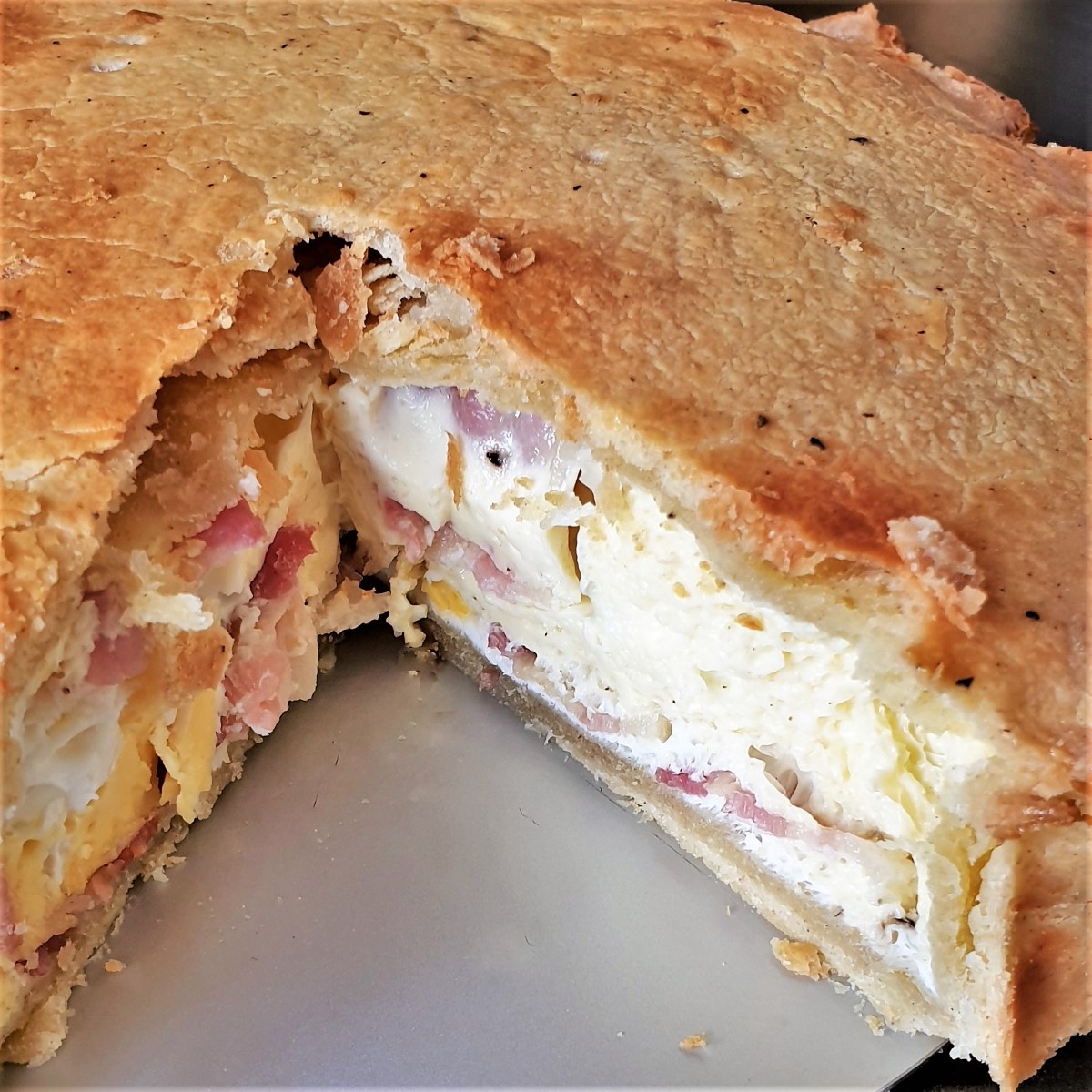 Recipe notes
Prep time – 30 minutes
Cooking time – 30 minutes
Yield – 1 x 9″ diameter pie
Calories – 333 per slice
Main equipment – Food processor for making the pastry. This is similar to the one I have. I've had it for over ten years and it's still going strong. Of course, you don't have to use a food processor, you can mix the pastry by hand, but I find a food processor makes such light work of making the pastry.
How to make a bacon and egg pie
You can get the full list of ingredients and quantities in the printable recipe card at the end of this post.
To make a bacon and egg pie you will need pastry and some bacon, eggs, milk and cream. The pastry can be shop-bought if you prefer, or you can make your own. If included my recipe for shortcrust pastry below.
This is the ultimate bacon and egg pie. It's what I call a proper pie, in that it has pastry on the top and the bottom so that you can pick a slice up in your fingers to eat it. It also contains whole eggs, broken on top of crispy fried bacon that is layered on a pastry base. The whole dish is then filled with a mixture of beaten eggs, milk and cream, before being allowed to bake and set in the oven. The eggs cook inside the pie and end up looking as though you have filled the pie with hard-boiled eggs.
How to make the pastry
Making your own pastry is so rewarding, especially when you have a recipe as easy as this one, which is guaranteed not to fail.
There are only 5 easy steps to follow and you can have this mixed in no time.
Tips for perfect pastry
Make sure your ingredients are as cold as possible. Keep the eggs and butter in the fridge and use ice cold water for mixing.
Handle the pastry as little as possible.
Leave the pastry to relax in the fridge for at least half an hour once it has been mixed. This last step is important as it allows the gluten to relax, and helps to prevent the pastry shrinking during cooking.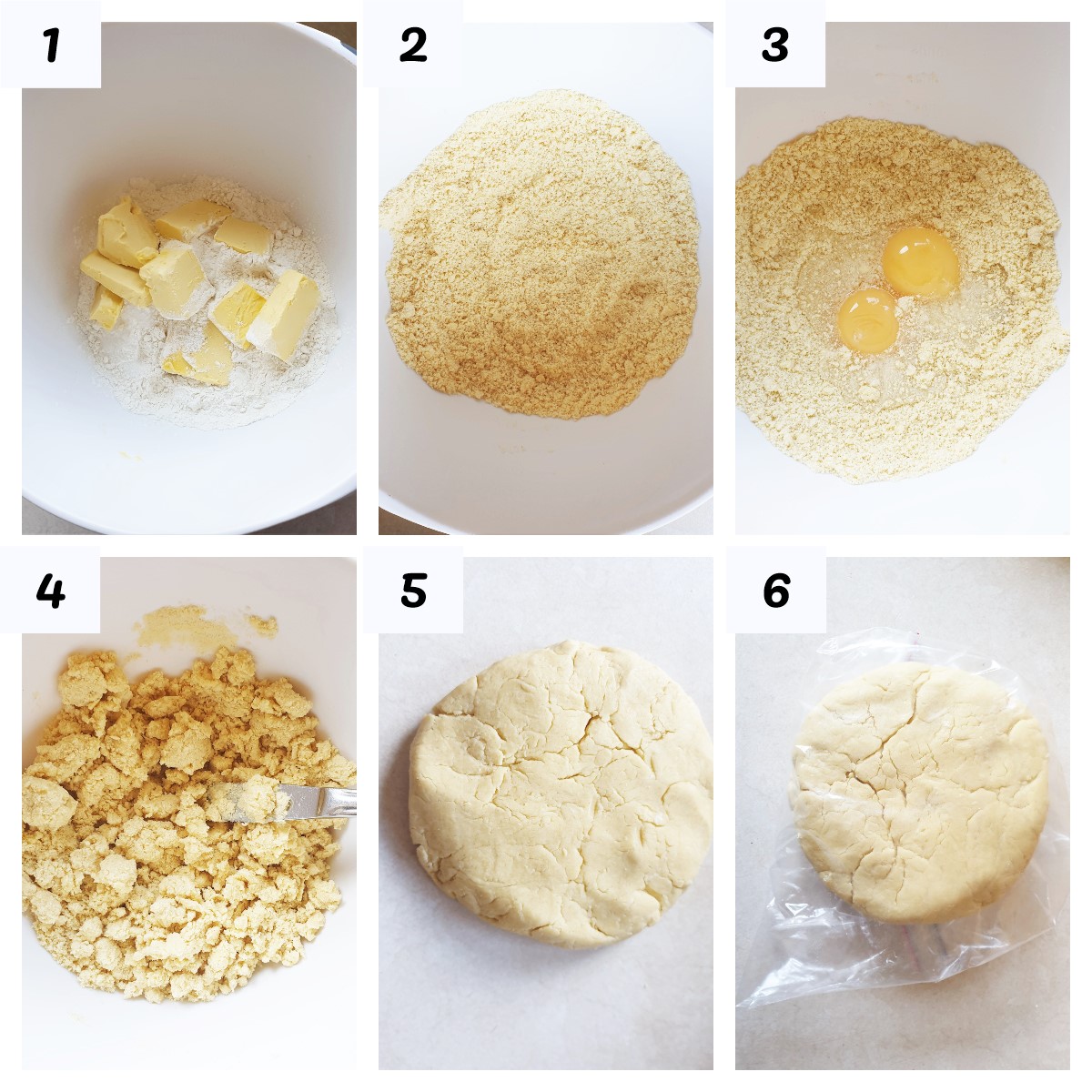 Sift 240g (2 cups) of all-purpose flour into a mixing bowl and add 125g (4.5ounces) of cubed butter and 1/2 teaspoon salt (optional)1 (image 1). Don't add any baking powder. We don't want the pastry to puff up during cooking. For this reason, you should not use self-raising flour.
Rub the butter into the flour with your fingertips until the mixture resembles fine breadcrumbs (image2). Lift the butter and flour above the bowl and let it drop back as you rub. This will ensure you incorporate plenty of air into the mixture, which will result in a lighter pastry.
Now separate 2 large eggs and add the yolks to the flour. You can use the whites to make meringues or to make these coconut meringue topped jam tarts. Add 4 tablespoons ice-cold water (image 3).
Use a flat-bladed knife to cut the eggs and water through the flour until the pastry starts to come together in lumps (image 4).
Now use your hands to gently press the pastry together into a flat disk. Do not knead. Handle the pastry as little as possible – over-worked pastry will be tough.
Place the disk of pastry into a plastic bag, or wrap with clingfilm and place in the fridge to relax for half an hour.
Make the filling for the bacon and egg pie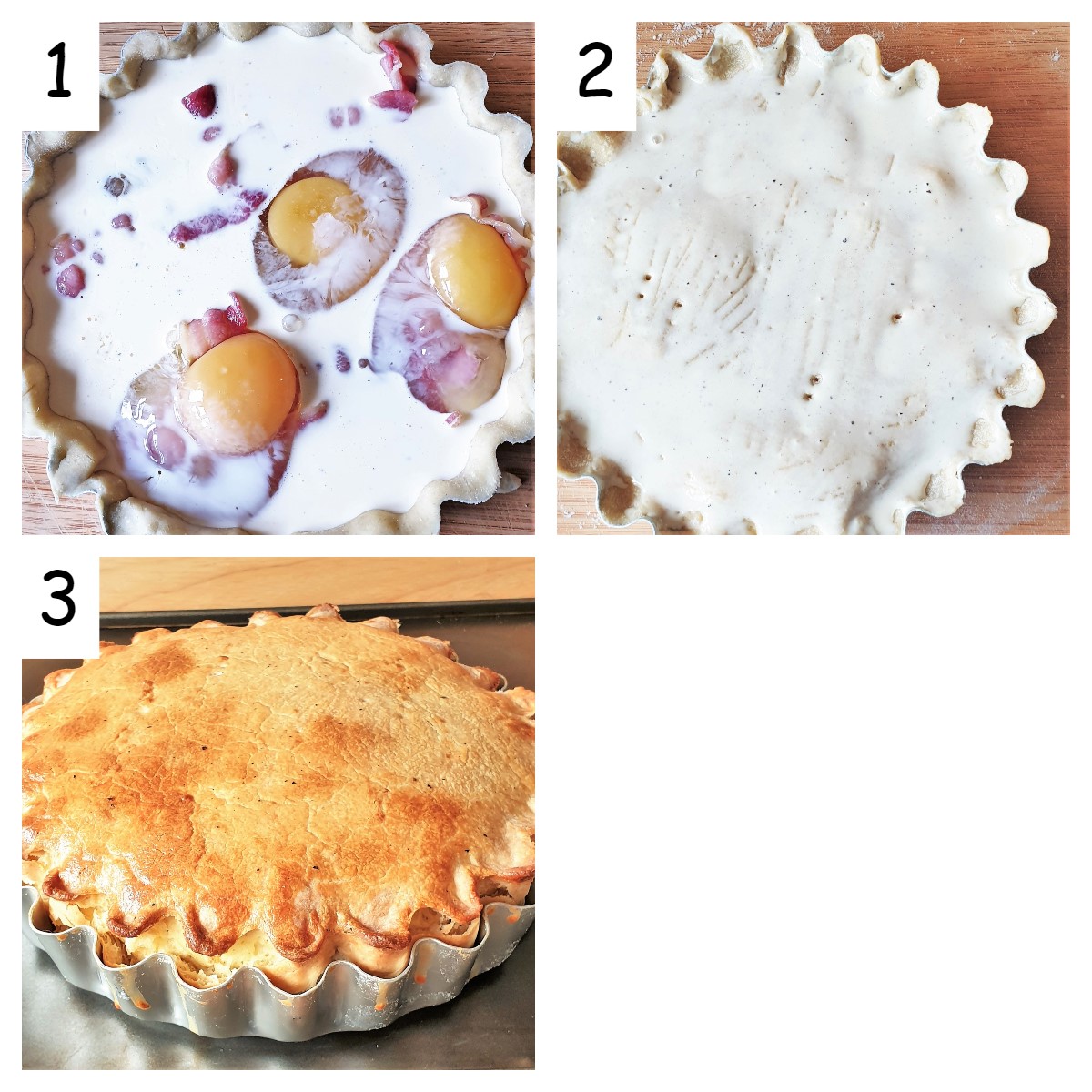 Roll out 2/3 of the dough to about 1/4 inch thickness, and use it to line your baking dish. You will need an 9″ (22cm) diameter, round baking dish for this recipe.
Fry the bacon in a frying pan, or cook it in the microwave between 2 paper towels. Don't over-cook it. It will continue to cook in the oven when you bake the pie. Just allow most of the fat to fry out. I like to use streaky bacon but back bacon works just as well.
Let the bacon cool and then layer it on the bottom of your lined baking dish. Break 6 eggs at even intervals over the top.
Mix the milk, cream and remaining 2 eggs together. Season with salt and pepper and pour over the eggs and bacon (image 1 above).
You might not need all the liquid. Don't over fill the pastry case. You can use any left over egg mixture for glazing.
Now roll out the rest of the pastry, and use it to form a lid. Crimp the edges to seal, then prick with a fork and glaze with a little beaten egg and milk (image 2 above).
If you want to be fancy you can cut leaves from the pastry trimmings and decorate the top of the pie.
Bake
Place in a pre-heated oven (180C / 375F) and bake for about 30 minutes until the pie is puffed and golden (image 3 above).
You need to keep your eye on it. The cooking time can vary depending on various factors such as altitude or whether you have a fan-assisted oven. If you think the pie needs a little longer then leave it in the oven for a few more minutes.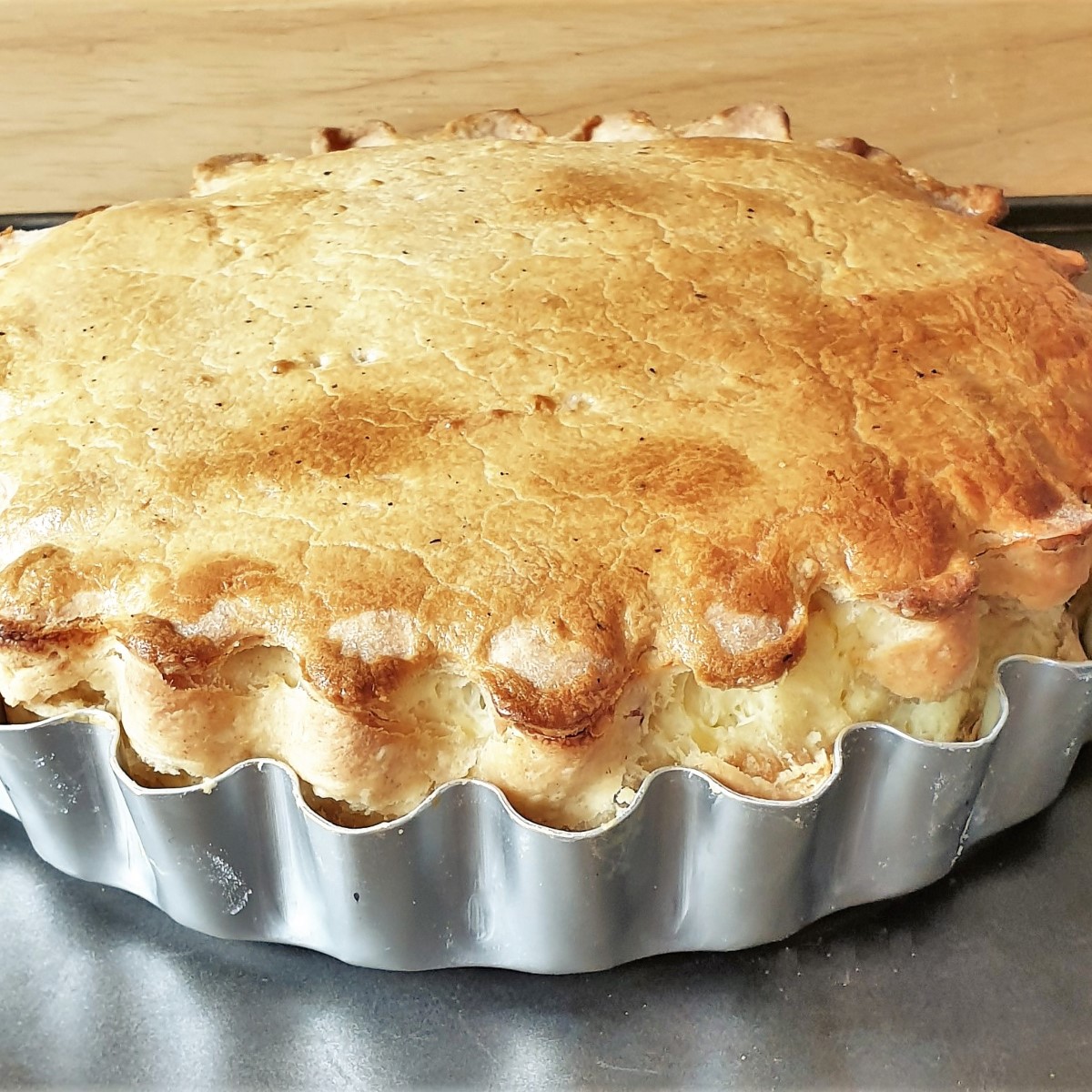 Can I freeze bacon and egg pie?
Yes, you can freeze the finished pie.
Just allow it to cool, then remove from the baking dish and wrap in a layer of tinfoil, covered with a layer of clingfilm. Place in the freezer for up to 6 months.
To defrost, leave it in the refrigerator.
Serve cold. Or to warm, place on a baking tray in a medium oven for about 10 minutes until warmed through.
I wouldn't warm this pie in the microwave as the pastry will not be crispy.
The pastry freezes really well too.
If you like, you could double the recipe for the pastry and freeze half for another day. Just wrap the ball of pastry in cling film and put it into a freezer bag in the freezer.
To use, let the frozen pastry defrost in the fridge, then remove from the fridge and let the pastry return to room temperature before rolling out.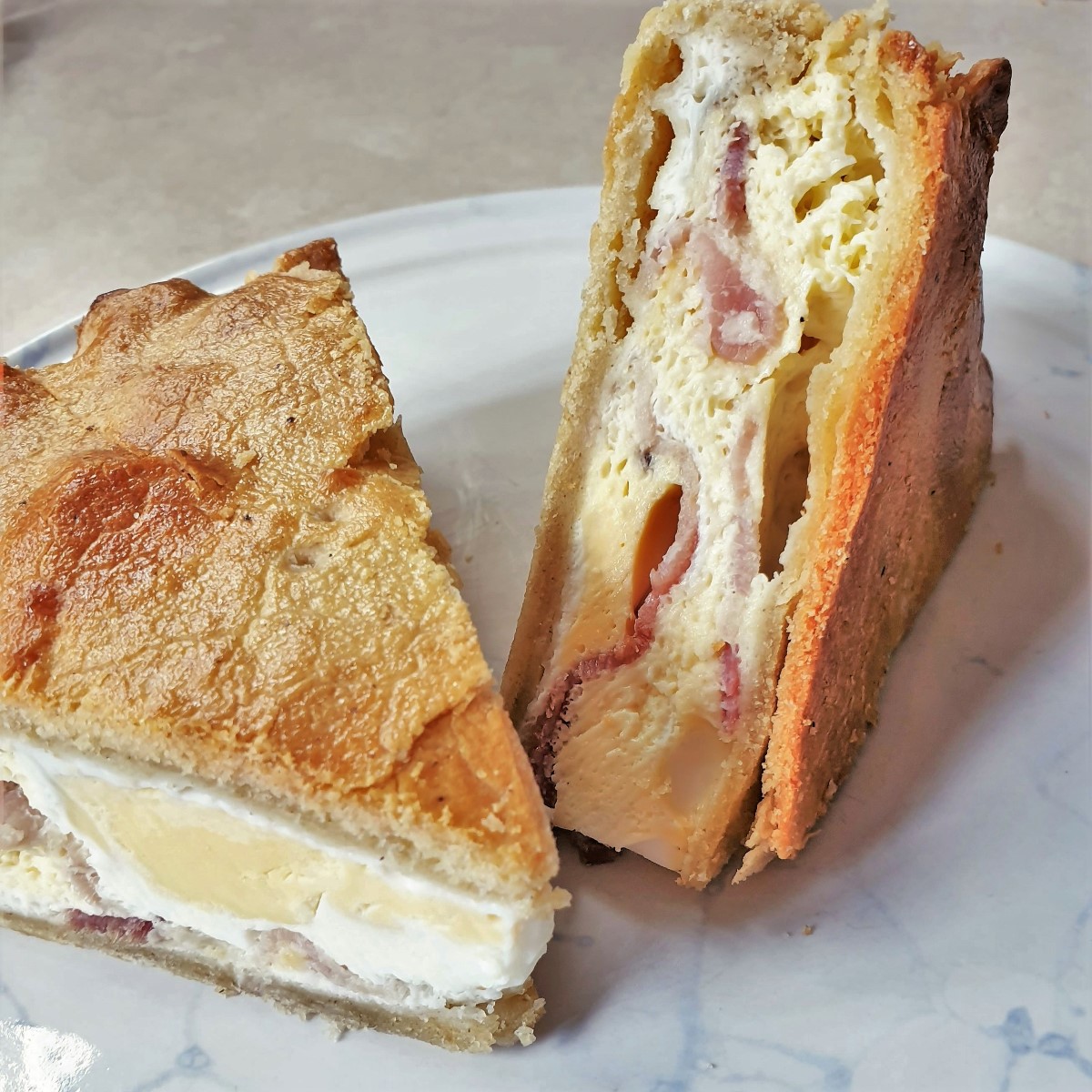 How do you serve bacon and egg pie
This pie can be served at any meal.
Warm a slice in the microwave and eat for breakfast – a sort of instant bacon and eggs.
Have a slice cold for lunch or a mid-morning snack.
Eat it for a light supper with a selection of salads.
This bacon and egg pie is also ideal to pack into a picnic hamper with your other outdoor food goodies!
If you'd like to be notified of any new recipes, why not subscribe to my newsletter. As a thank-you gift, you will receive a free recipe e-book containing some of my most popular cakes and desserts.
Pin for later
Why not pin this recipe so you can make it later.
Recipe – Old fashioned bacon and egg pie
If you made this recipe and enjoyed it, I'd love it if you could give me a star rating in the comments below. And if you'd like to get in touch, you can email me at [email protected]. I'd love to hear from you. And don't forget to subscribe to my mailing list so you can grab yourself a copy of my FREE COOKBOOK!
If you'd like to continue browsing, just click on this link to all my recipes.
This recipe has been shared to CookBlogShare