This savoury tart (or sout tert) is a traditional South African recipe, made with chopped sausages and hard-boiled eggs, mixed in a creamy cheese sauce, and baked in a pastry shell. It's a favourite at any get-together, and a slice of this tart makes delicious quick and easy lunch.
**As an Amazon affiliate, I earn from qualifying purchases.**
South African Sout Tert Recipe
When my daughter Kathy, who lives in South Africa, was over for a visit not too long ago, her first words to me were 'please put that savoury tart up on your website – you know the one – the sout tert that ouma used to make'.
This savoury tart has long been a family favourite, making its appearance at various get-togethers over the years. It's made by chopping sausages and hard-boiled eggs, and mixing these with a creamy cheese sauce. It is then baked in a crispy shortcrust flan. To be honest, it is so easy to make, I'm surprised she can't remember how to make it.
Sout tert (pronounced Sowt Tert) is the Afrikaans name for this recipe. Sout means either salt or savoury depending on the context in which you use it. So in this case, sout tert simply means savoury tart.
Red viennas
Back in the day, when my mother-in-law first showed me how to make it, a savoury tart was made with red vienna sausages. In those days, vienna sausages were of very dubious origin. The outer skin was a lurid pinkish-red colour, and the inner meat was a very highly processed 'something'. It was probably best that we didn't know what that 'something' was. I believe that there are regulations in place now, to prohibit the addition of all the colourings that were added.
Red viennas were very popular, however. I remember many times buying 'viennas and chips' at the local cafe after school. The chips were fried in an enormous vat of oil. Two red vienna sausages were added when the chips were almost done, and then the whole lot was tipped into a greaseproof bag. Finally it was sprinkled with copious amounts of salt and vineger.
We survived, but I'm not too sure that I could eat it today.
Luckily, I've found a substitute for the viennas. Lidl does a very nice range of German bockwurst which I use instead. And even if I say it myself, I think it tastes better than the original version.
So Kathy, here is the sout tert recipe you asked for.
What you will need
You can get the complete list of ingredients and full instructions on how to make this savoury tart on the printable recipe card at the end of this post.
For the filling for the sout tert you will need these ingredients. I'm sure you have all of them in your pantry anyway.
Hard-boiled eggs – shelled and chopped into small chunks
Bockwurst sausages (or good quality vienna sausages) – chopped into 1/2cm lengths.
Grated cheddar cheese – you can use your favourite cooking cheese.
Butter – don't use margarine, butter gives a much better flavour.
Cornflour/cornstarch – this is used for thickening the filling
Milk – full-cream or semi-skimmed, it doesn't matter.
Salt – this is optional
Ground black pepper – black pepper always goes well with eggs
You will also need
1 quantity of shortcrust pastry – you can get instructions for making shortcrust pastry from this Bacon and Egg Pie recipe, or you can buy a roll of ready-made shortcrust pastry in the supermarket.
How to make a Savoury Tart
Cut the sausages and hard-boiled eggs into approximately 1cm pieces (image 1 below).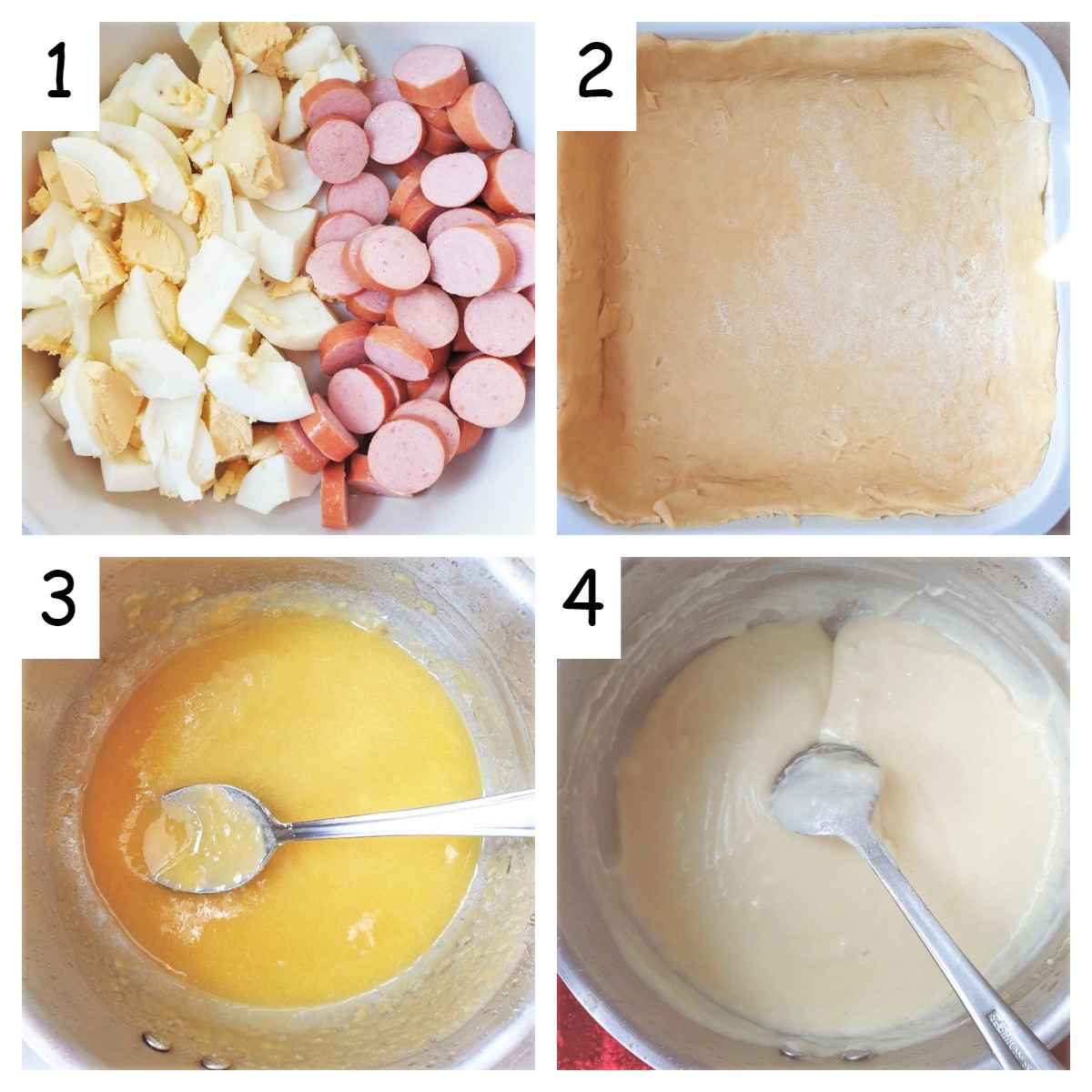 Line the pie dish
Roll out the pastry and line a 30cm x 20cm baking dish (image 2 above). You should aim for 1/4″ thickness. This pastry doesn't need to be pre-baked – you just pile in the filling and pop into the oven!
Make the sauce
Melt the butter in a saucepan and stir in the cornflour (image 3 above).
Add the milk, salt and pepper and bring to the boil stirring continuously until the mixture thickens.
The sauce will be thick enough if it leaves a trail then you draw a spoon through it (image 4 above).
If the sauce does not thicken sufficiently just mix an additional teaspoon of cornflour with a little milk and drizzle it in slowly, mixing all the time, until the desired consistency is reached.
Add the filling ingredients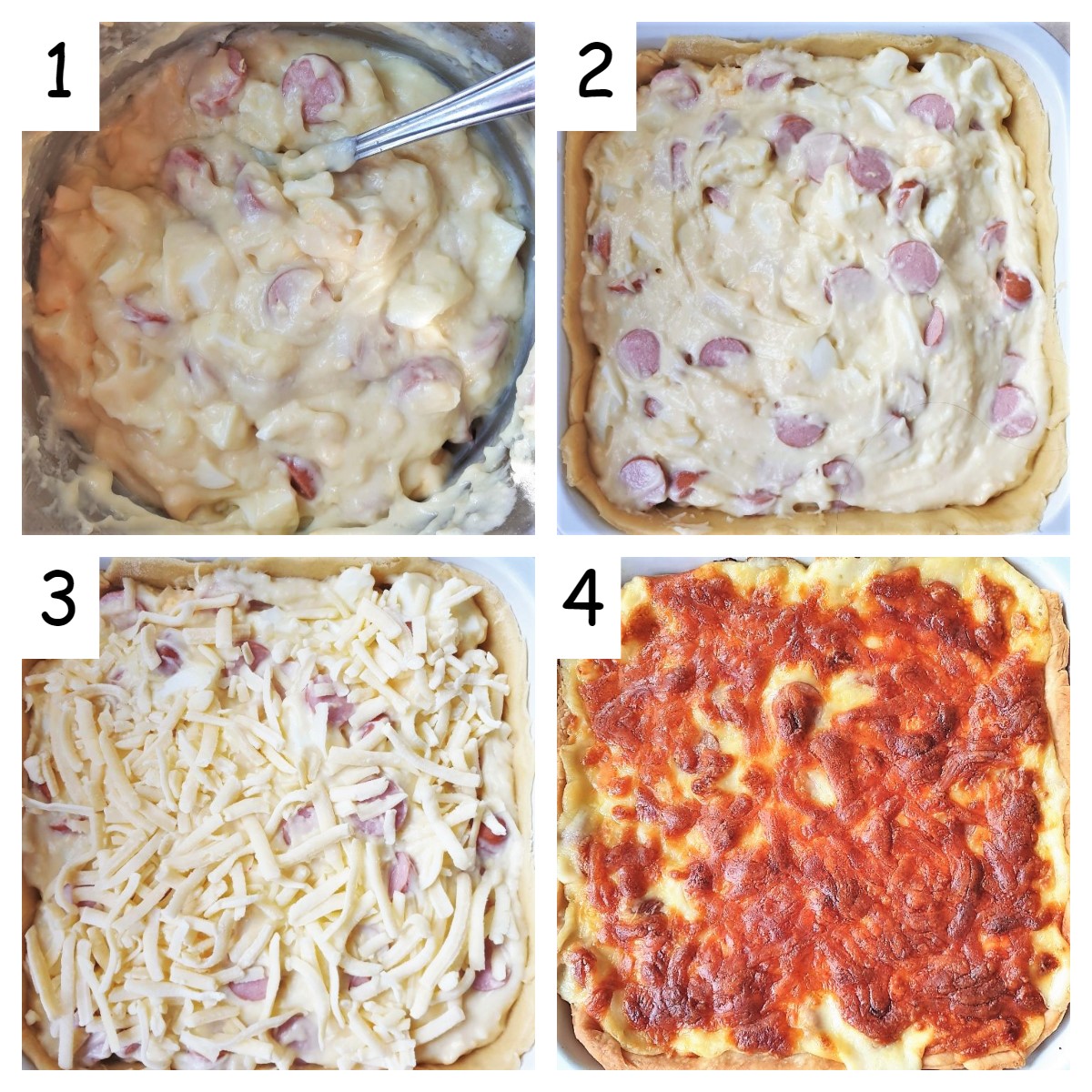 Reduce the heat and add most of the grated cheese. Reserve a small amount of cheese to sprinkle on top. Stir until the cheese has melted.
Mix the chopped egg and sausages into the sauce (image 1 above)
Allow to cool and then spoon the filling into the prepared pastry case (image 2 above).
Sprinkle with the remaining cheese (image 3 above).
Bake
Pre-heat the oven to 200C / 400F.
Place the pie in the oven and bake for 30 minutes until the edges of the pastry are a light golden brown (image 4 above).
Remove from the oven and allow to cool.
This tart is delicious eaten either warm or cold. When the tart is warm, the filling is slightly runny, but it firms up nicely as the tart cools.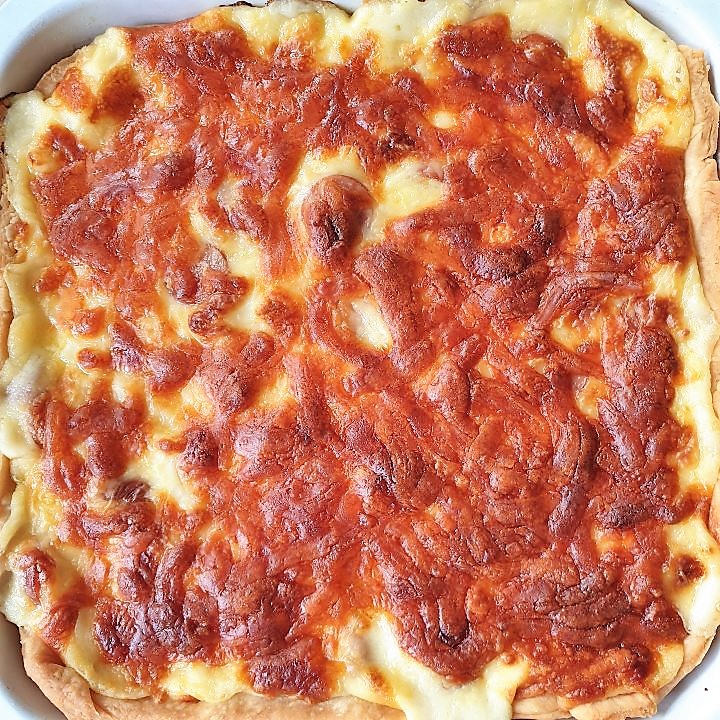 Storage and reheating
This dish is not suitable for freezing as it may split and become watery once defrosted.
However, you can make it up to 3 days in advance and store covered in the refrigerator.
It can be reheated in either in a hot oven for about 8 minutes or in the microwave.
If you'd like to be notified of any new recipes, why not subscribe to my newsletter. As a thank you gift, you will receive a free recipe e-book containing some of my most popular cakes and desserts.
Pin for later
Why not pin this savoury tart recipe so you can make it later.
Recipe – South African Savoury Tart (Sout Tert)
If you made this recipe and enjoyed it, I'd love it if you could give me a star rating in the comments below. And if you'd like to get in touch, you can email me at [email protected]. I'd love to hear from you. And don't forget to subscribe to my mailing list so you can grab yourself a copy of my FREE COOKBOOK!
If you'd like to continue browsing, just click on this link to all my recipes.