A koeksister (pronounced cook sister) is a popular South African delicacy, made from plaited, deep fried dough, which is dunked in ice-cold syrup, flavoured with lemon and cinnamon. Traditional koeksisters are very time-consuming to make, but this recipe for easy koeksisters is made with 2-ingredient dough, so you can be tucking into one of these in no time.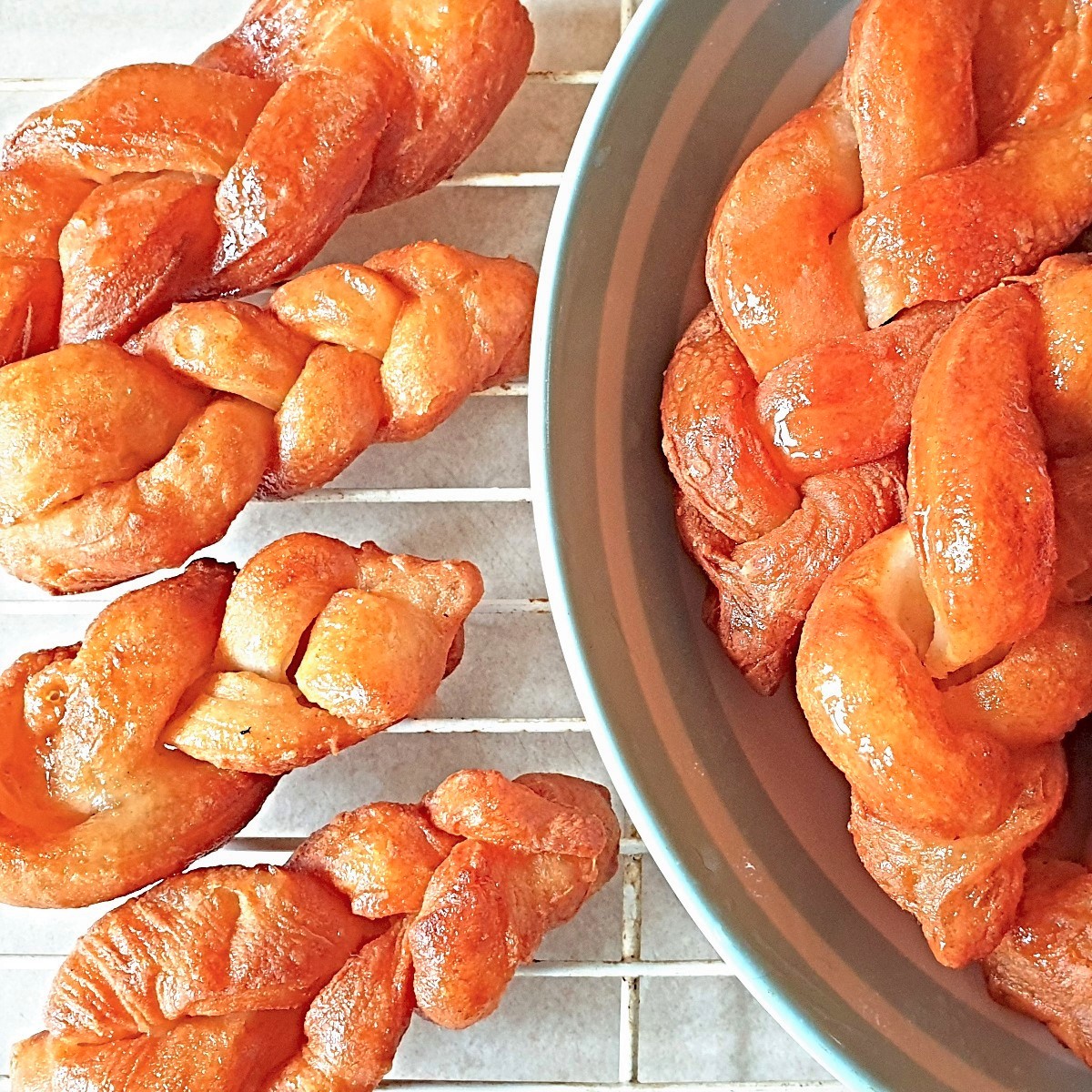 Koeksisters with 2-ingredient dough
A koeksister (sometimes spelled koeksuster) is a traditional South African sweet treat, and is similar to a doughnut in that it is deep fried. But that's where the similarity ends. Koeksisters are dunked into ice cold syrup as they come out of the frier, which gives them a crispy exterior with a delicious syrup-soaked, soft inside. They could be likened to a Greek Baklava, which is also soaked in syrup. These little treats are sticky, syrupy and totally moreish. Just keep a damp cloth handy when you are eating them, to wipe sticky fingers!
Traditional koeksisters are made with a yeast-based dough, which has to be left to rise for a few hours, before being plaited into the distinctive koeksister braid. They are then left to rise again, before being deep fried and dunked into ice cold syrup. The traditional method is quite time-consuming because you have to wait for the dough to rise, and although the end result is totally worth it, I prefer a much quicker method.
I've been experimenting with the famous weight-watcher's 2-ingredient dough, and I've found that it is ideal for making koeksisters. It's so easy to mix, which means you absolutely can't go wrong – you get crispy, luscious koeksisters every time. And you honestly can't tell the difference between a traditional yeast-based koeksister and these easy koeksisters made with this quick and easy dough.
What I love about this koeksister recipe
Today, I'm sharing my recipe for easy koeksisters made with 2-ingredient dough so that you can experience the amazing taste of koeksisters for yourself. What I love about this recipe is:
there is no yeast involved – you only need 2 basic ingredients – Greek yoghurt and self-raising flour.
there is minimum kneading – all you have to do is knead the dough lightly until it forms a soft ball.
you don't have to leave the dough to rise – somehow (as if by magic) the yoghurt reacts with the flour and the dough swells up to more than double its original size when it cooks.
the koeksisters taste as though they have been made in the traditional way – yes really!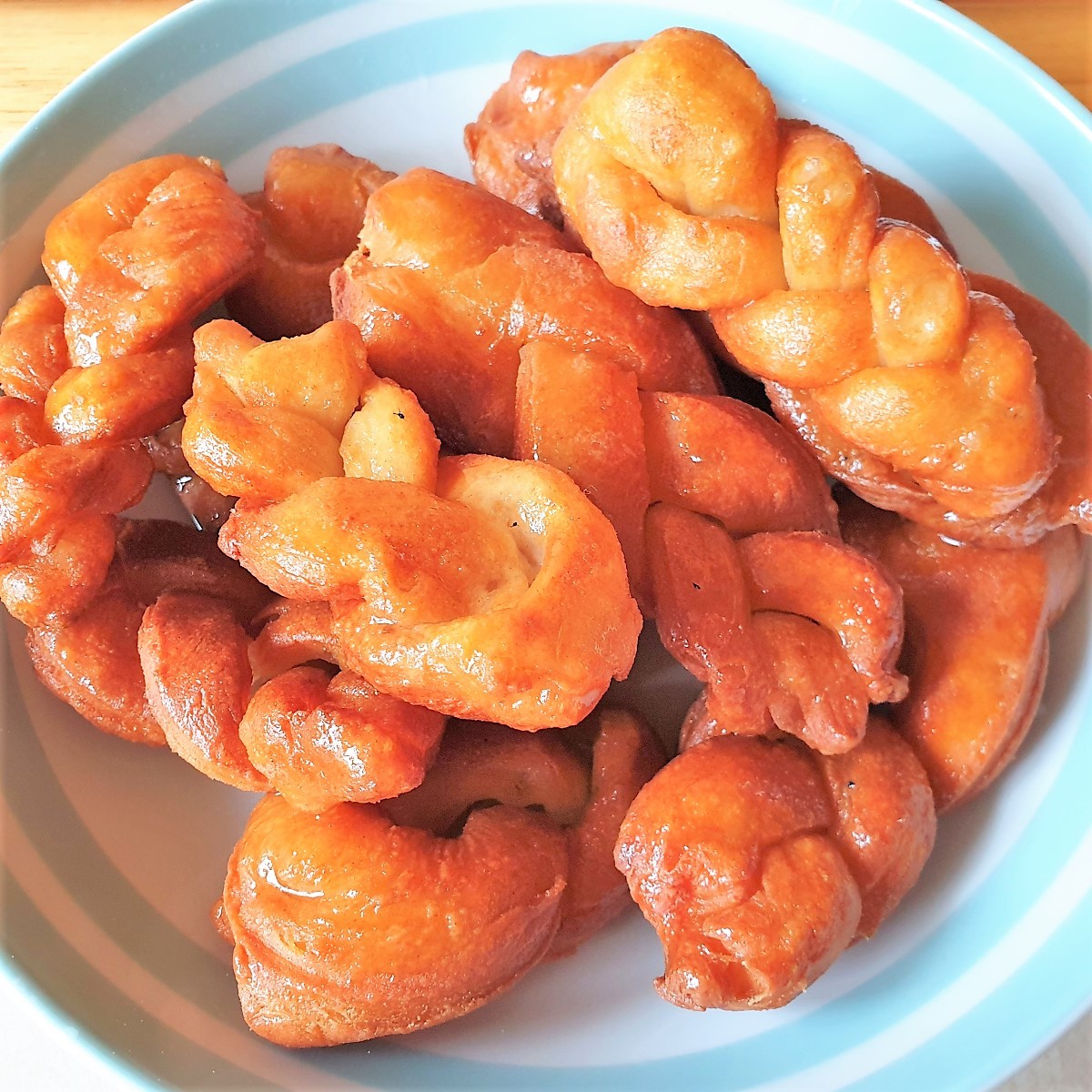 How to make easy koeksisters
You need very few ingredients. For exact measurements see the printable recipe card at the end of this post.
Ingredients
For the dough you need self-raising flour, thick Greek yoghurt and a pinch of salt. Don't think you can get away with using the flavoured yoghurt that you get in the supermarkets, this won't work at all.
You do need self-raising flour for this recipe. If you don't have any, you can use all purpose flour, but add 1 teaspoon baking powder for each cup of plain flour.
For the dunking syrup you need sugar and water, lemon juice, cream of tartar and ground cinnamon or a cinnamon stick. Some recipes call for the addition of a half teaspoon of ginger. I haven't included ginger in this recipe, but feel free to add it it you like.
For a traditional koeksister you should use ordinary white granulated sugar. You can use brown sugar, but it will change the taste slightly.
Also, don't leave out the cream of tartar. This is used to prevent the sugar from crystalising.
You will also need oil for frying the koeksisters. Olive oil will not work. The best oil is sunflower, or canola, or any other neutral flavoured oil with a high smoke point. Olive oil will not get hot enough, and the flavour will be wrong.
Step-by-step instructions
A koeksister is made by plaiting the dough into a braid shape, deep-frying in hot oil and then dipping immediately into ice cold syrup.
Make the syrup
The syrup needs to be ice-cold so you should make it in advance and then store it in the freezer until you are ready to use it.
Quick tip to cool the syrup in a hurry. Place a deep flat metal tray in the freezer. Once you've made the syrup and it has cooled, pour it into the metal tray and leave it in the freezer. Because there is a larger surface area on the syrup in the tray it will cool down much faster. When you are ready to use it, carefully pour it from the tray into a bowl deep enough to allow you to dunk the koeksisters completely.
Measure 225g sugar and 200 ml of water into a saucepan. Add 1 tablespoon lemon juice, 1/2 teaspoon cream of tartar and 1/2 teaspoon ground cinnamon or 1 cinnamon stick.
Heat and stir until the sugar is all dissolved then remove from the heat and leave to cool. Remove the cinnamon stick if using.
Pour into a suitable container and then either refrigerate overnight, or place in the freezer until ice cold.
As I mentioned, the syrup should be ice cold when dipping the koeksisters, as it does warm up as you place the hot koeksisters into it. To get around this you do one (or all) of the following:

divide the syrup into two bowls, place both in the freezer and alternate each bowl between batches as you fry them.
keep the syrup in one bowl, but replace it in the freezer between frying each batch, to allow it to cool down again.
use my tip above and pour the syrup back into the metal tray in the freezer in between batches.
place the bowl of syrup in a larger bowl of water filled with ice cubes to help keep it cool.
Make the dough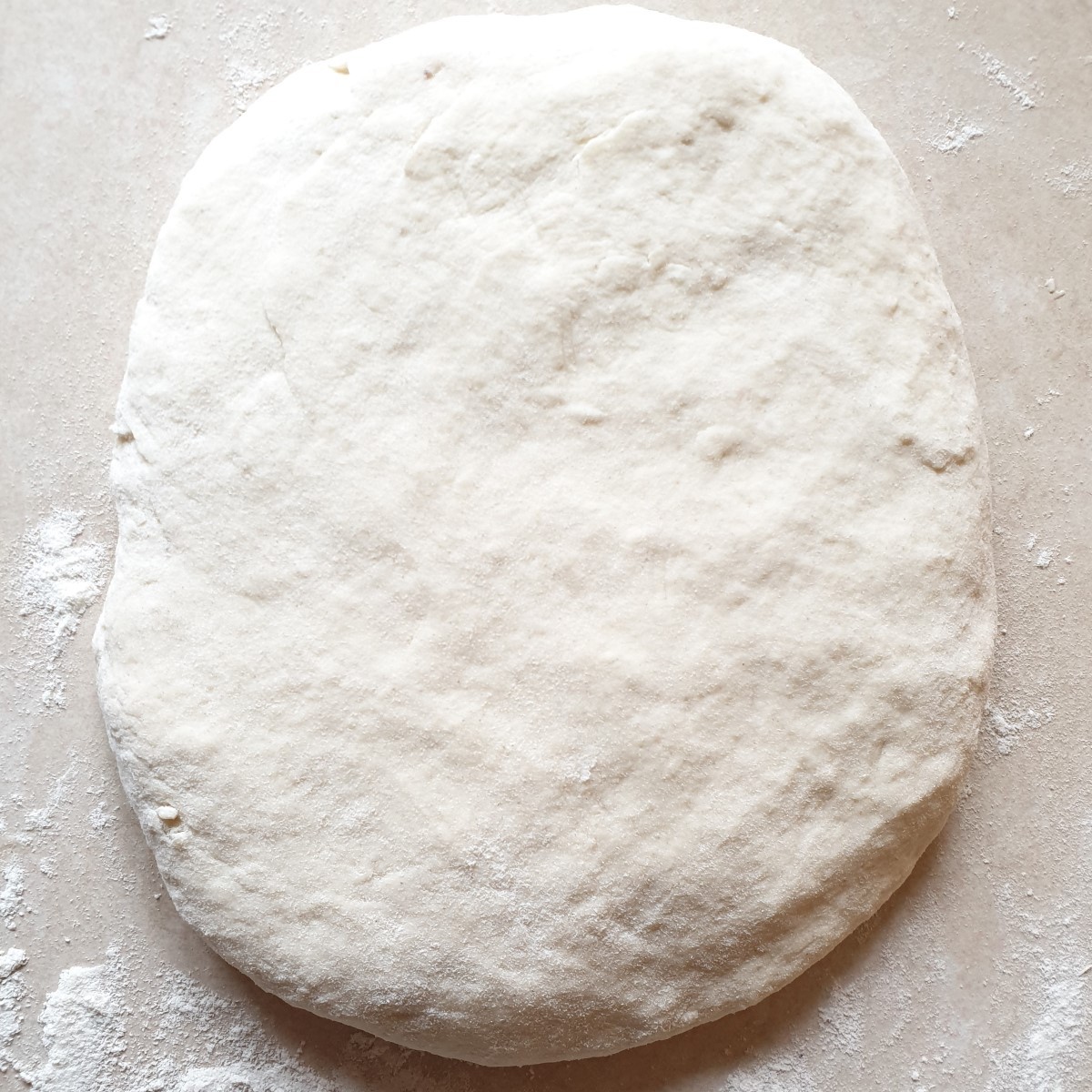 Measure out 280g (2 cups) self-raising flour into a mixing bowl, add a pinch of salt and 250 ml (1 cup) thick Greek yoghurt. Mix with a fork to combine, then tip out onto a floured surface and knead until it forms a smooth ball of dough.
This dough can be very sticky, so you may need to add a little extra flour so that it does not stick to your hands.
Form the koeksisters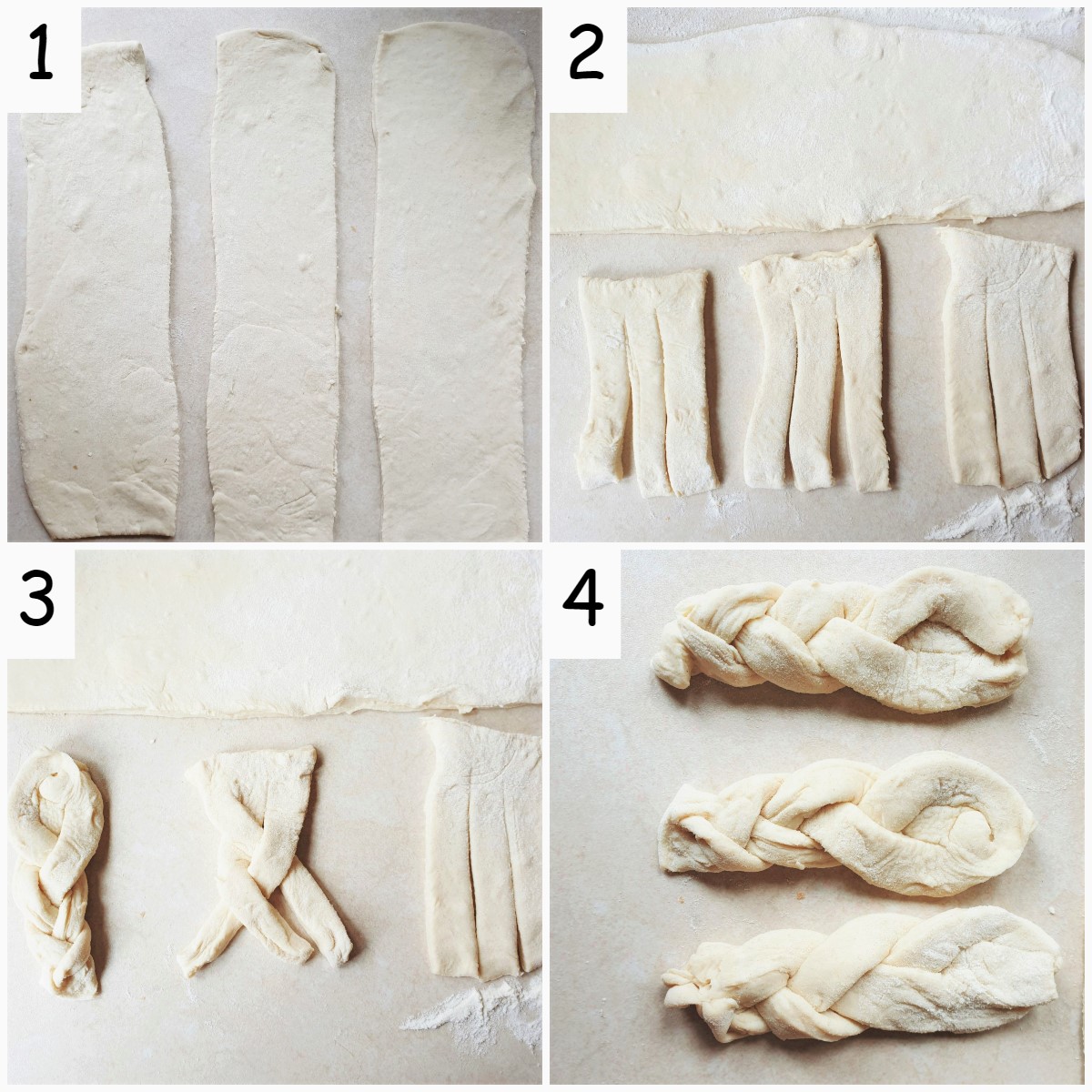 Take half of the dough and roll it out into a rough rectangle, approximately 1/8″ thickness, then cut into strips approximately 3″ / 7cm wide.
Trim the edges of the strips to neaten them.
Cut each strip into 2″-wide pieces then make 2 cuts in each piece, leaving the top edge intact.
Plait each piece, pressing together at the bottom to seal, and squeeze the top edge together to form a point.
Repeat this for all the dough.
Fry the koeksisters
Once all the koeksisters have been formed, you are ready to fry them.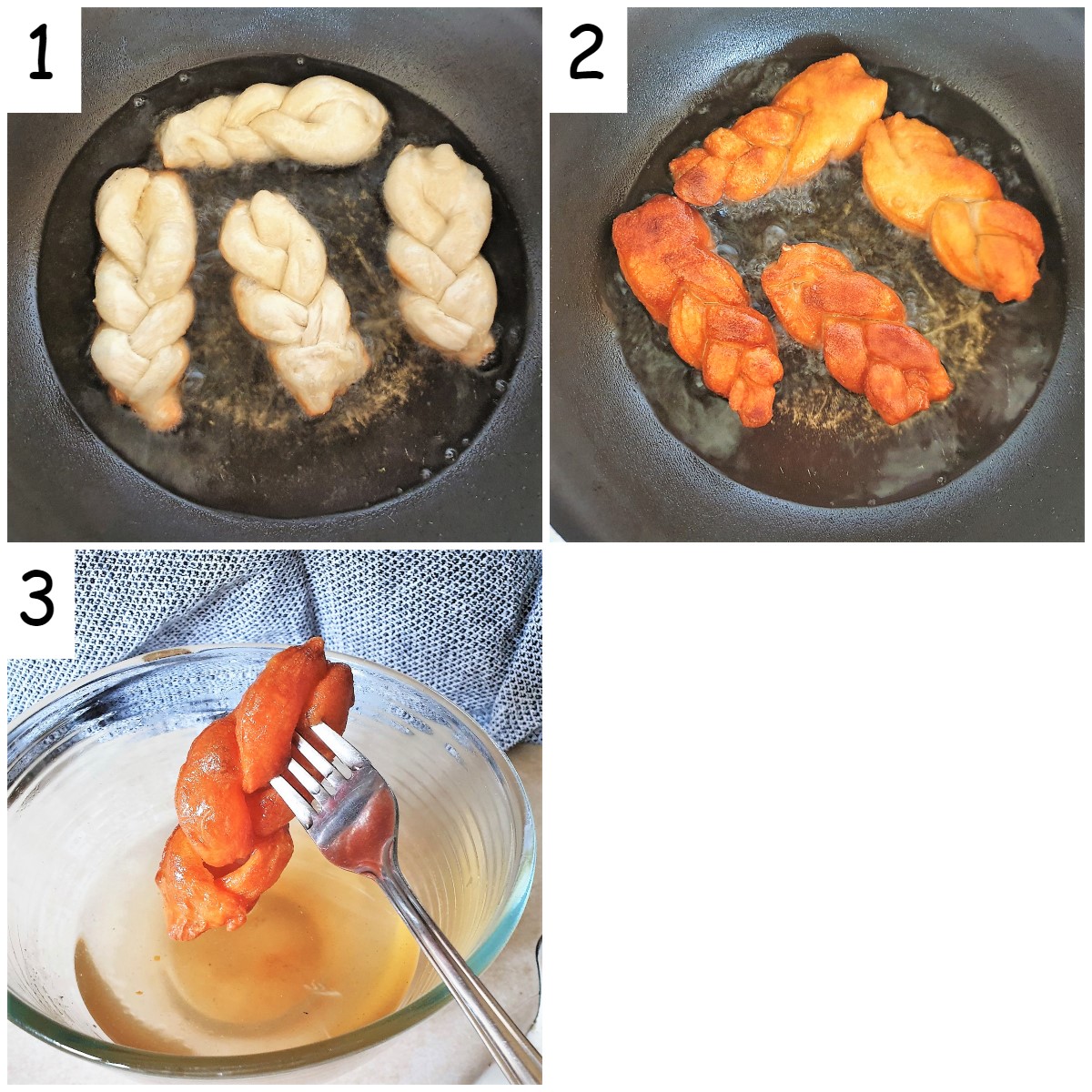 Heat approximately 1 cup of oil in a wok or a large frying pan. I like to use my wok because it has deep sides that allow me to tilt it as I'm cooking.
The oil should be about 1/2″ or 1 cm deep.
If you prefer to use a deep-fat fryer you can do. Just follow the manufacturer's instructions for the temperature settings.
Test the oil by adding a small ball of dough. It should sizzle when dropped into the oil, and should turn light brown after about 15 seconds.
Do not allow the oil to get too hot or the koeksisters will brown too quickly on the outside and the inside will still be 'doughy'. If the koeksisters brown too quickly, turn the heat down slightly.
Carefully place a few koeksisters into the oil and allow to brown on one side. Turn with a slotted spoon or spatula and brown the other side. Leave them in the oil long enough for the inside to cook through.
While the koeksisters are frying, remove the syrup from the freezer and place alongside the stove.
Once the koeksisters are nicely browned, remove them one at a time from the pan and dip immediately into the syrup. Use a fork to remove the koeksister from the syrup , and hold it over the bowl to allow the excess syrup to drip back.
Place on a plate and dip the remaining koeksisters.
After each batch, return the syrup to the freezer to cool down while the next batch cooks, or swap with the second bowl if you are using two bowls of syrup.
Store the cooled koeksisters in the fridge. These are best eaten icy cold.
Make different shapes
If you prefer you can make round koeksisters, without braiding them.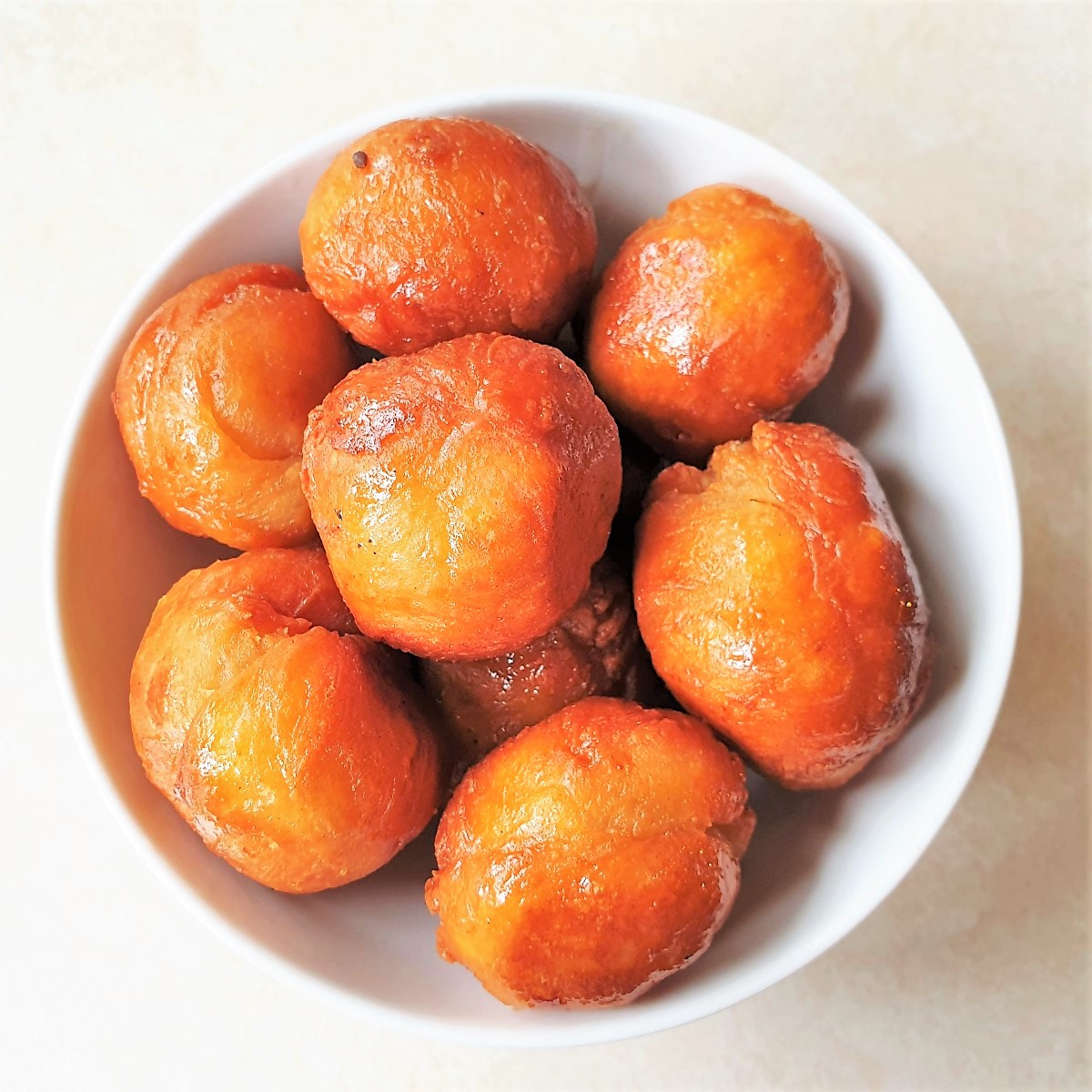 To do this, just roll small balls of dough, and fry in the same way as the braided koeksisters. Dip in syrup once brown. Some people like to roll these little balls in grated coconut once they have been dipped in syrup.
Don't make these balls too large or the syrup will not soak all the way through and the inside will be dry and tasteless.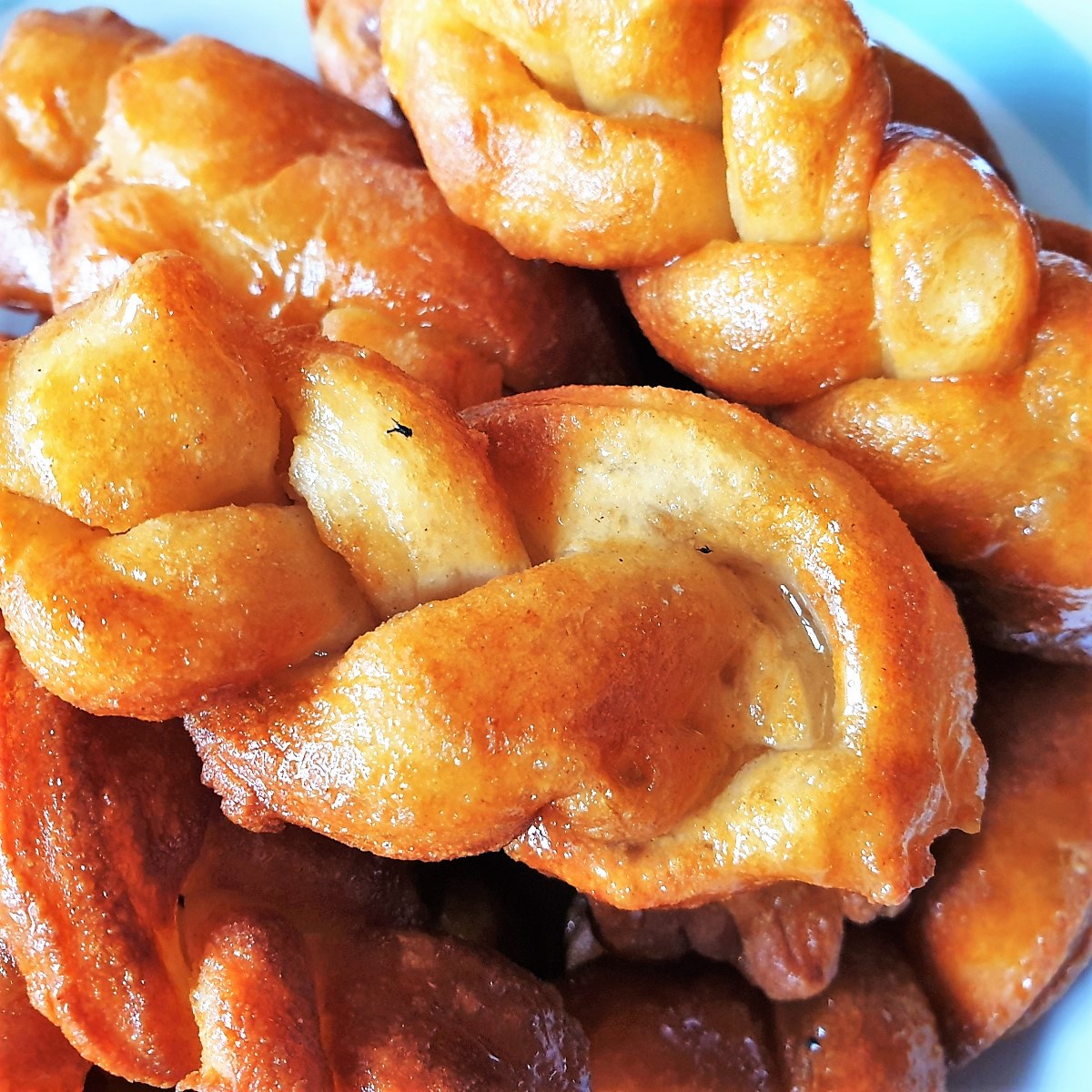 If you want to keep up-to-date with my latest recipes why not follow along on Facebook or Pinterest. And don't forget to subscribe to my mailing list so you can get your FREE COOKERY BOOK
Convert grams to cups
To help you convert your recipes, I have created a handy Cookery Conversion Calculator which will convert ingredients between grams, ounces, tablespoons, cups and millilitres. I hope you will find it useful.
If you live at a high altitude you may find you need to adjust your baking recipes to compensate for this. You can read about how to do this in this post on baking at high altitudes.
Pin for later
Why not pin this recipe to your pinterest board so you can make it later. Just click the image below.
Recipe – Easy koeksisters with 2-ingredient dough
Easy koeksisters with 2-ingredient dough
Delicious koeksisters, dripping with syrup. Easily made with 2-ingredient dough – no yeast or kneading required.
Equipment
Wok or deep frying pan

Saucepan

Mixing bowl

Rolling Pin

Knife

Bowl
Ingredients
Dough
280

g

sellf-raising flour

2 cups

250

ml

Greek yoghurt

1 cup

1/2

teaspoon

salt

1 – 2

cups

sunflower oil

for frying
Syrup
225

g

white sugar

1 cup

200

ml

water

1

tablespoon

lemon juice

1/2

teaspoon

cream of tartar

1/2

teaspoon

ground cinnamon

or 1 cinnamon stick

1/2

teaspoon

ground ginger

optional
Instructions
Syrup
Mix all the ingredients for the syrup in a saucepan and bring to the boil, stirring continuously until the sugar has dissolved.

Remove from the heat, allow to cool, then pour into a bowl and place in the refrigerator overnight to cool. Alternatively place in the freezer for a couple of hours until well chilled.
Dough
Measure the flour, yoghurt and salt into a large mixing bowl and mix with a fork until well combined.

Tip out onto a floured surface and knead gently for a few minutes until the dough is smooth and elastic. You may need to add a little extra flour if the dough is too stickly to handle.

Roll our the dough into a rough rectangle shape and trim the edges.

Cut into 3" wide strips, then cut each strip into approximately 2" wide pieces and make 2 cuts in each piece so you have three strands of dough which are still attached at the top (a bit like an inverted capital 'E') (see illustration in the body of this post)

Plait each piece of dough and press together to seal at the bottom. Squeeze the top edge together to form a point.
Frying
Heat the oil in a large frying pan or wok until a small piece of dough dropped into the oil sizzles and turns light brown after about 15 seconds.

Place a few of the braids of dough into the oil. Do not overcrowd the pan. Allow to brown on one side and then turn and brown the other side.

Leave them in the pan for a few minutes, turning as necessary, to ensure they are cooked through. If the koeksisters get too brown, turn the heat down.

Get the syrup from the freezer and place alongside the stove.

Once the koeksisters are brown, remove one at a time from the pan and dunk into the syrup. Use a fork to remove from the syrup, let the excess syrup drain back into the bowl, and then place each koeksister onto a plate.

Repeat until all the koeksisters have been fried and coated with syrup.

Place the koeksisters into the fridge to chill. These are best eaten icy cold.
I am not a nutritionist. The nutrition information has been calculated using an on-line calculator, and is intended for information and guidance purposes only. If the nutrition information is important to you, you should consider calculating it yourself, using your preferred tool.
If you made this recipe and enjoyed it, please don't forget to give me a star rating in the comments below. And if you'd like to get in touch, you can email me on foodleclub1@gmail.com. I'd love to hear from you. And don't forget to subscribe to my mailing list so you can grab yourself a copy of my FREE COOKBOOK!
If you'd like to continue browsing, just click on this link to all my recipes.
This recipe has been shared with #CookBlogShare