Delicious, golden brown and chewy. These quick and easy vetkoek are unbelievable. They taste just like the original version made with yeast, but these are mixed in just 5 minutes using only 2 ingredients. No yeast, kneading or rising time required. Just mix and fry for the tastiest, chewiest vetkoek ever – you won't believe how quick and easy these are to make!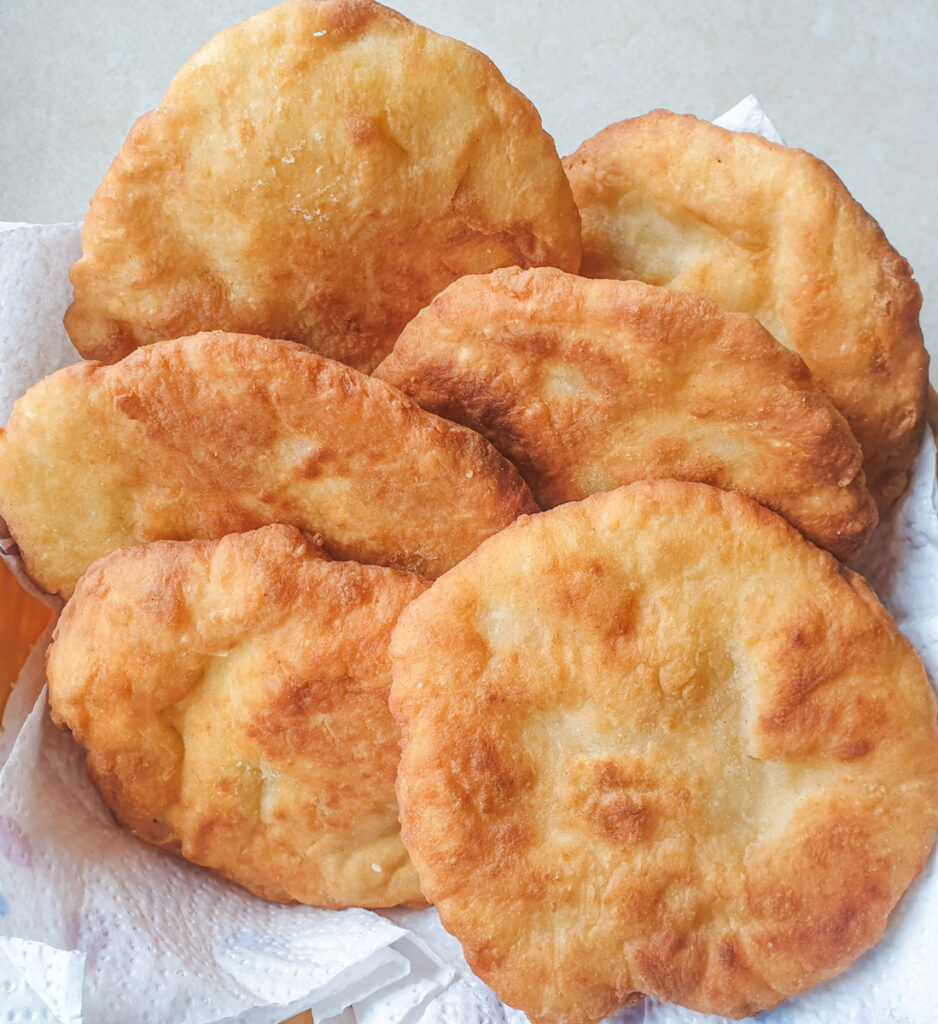 **As an Amazon Associate I earn from qualifying purchases.**
2-ingredient vetkoek
Ever since the success of my easy koeksisters with 2-ingredient dough recipe I've been meaning to try out the same concept to make vetkoek. The only reason it's taken so long is because I didn't really believe it was possible to make delicious, chewy vetkoek without yeast.
But oh boy, I wish I'd tried this years ago. I would have saved hours of my life spent mixing and kneading the dough, and then waiting around for it to rise in order to get the perfect vetkoek.
This recipe is amazing. All you need is some self-raising flour and Greek yoghurt, and you can have these perfect vetkoek on the table in less than half-an-hour. And these vetkoek have all the texture and taste of the real deal – but with none of the effort involved.
Of course, you can still make vetkoek in the original way if you have loads of time on your hands. I have a recipe on my site for Vetkoek and Curried Mince that you can try. But why would you want to do this, when you can make these quick and easy vetkoek in the time that it will take you to read this post.
Just look at the texture to these perfectly cooked vetkoek, then try them for yourself. You won't be disappointed. They are not QUITE as puffed up as traditional vetkoek, made with yeast, but they come very close!!!
Recipe notes
Prep time – 5 minutes
Cooking time – 20 minutes
Calories – 130 per vetkoek (depending on how big you make them)
Main equipment

Wok – I like to use a wok for frying the vetkoek because it is deep enough to hold quite a lot of oil. I like this one because it has a non-scratch surface. You could use a deep-fat-frier instead, but as I don't have one I don't feel qualified to recommend one.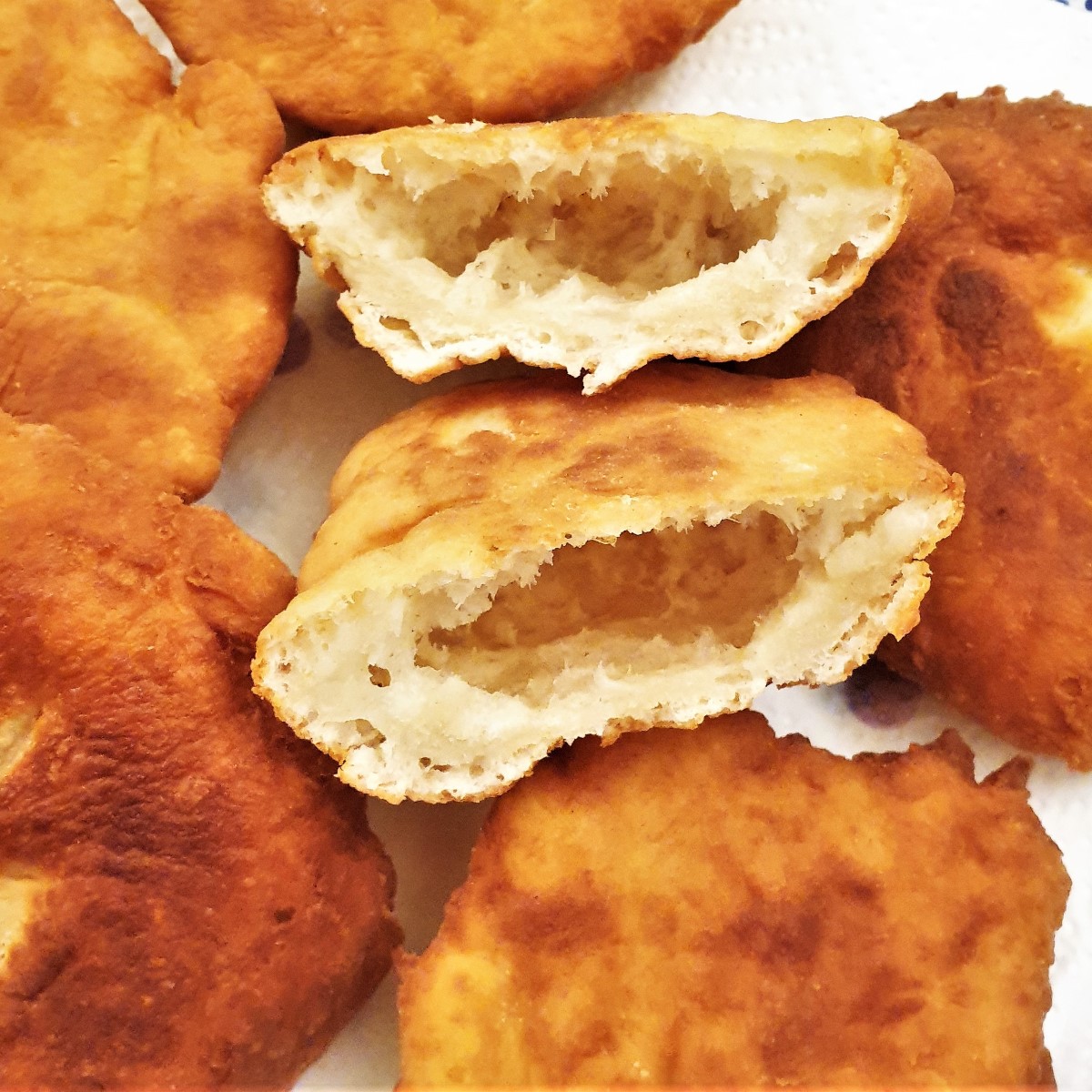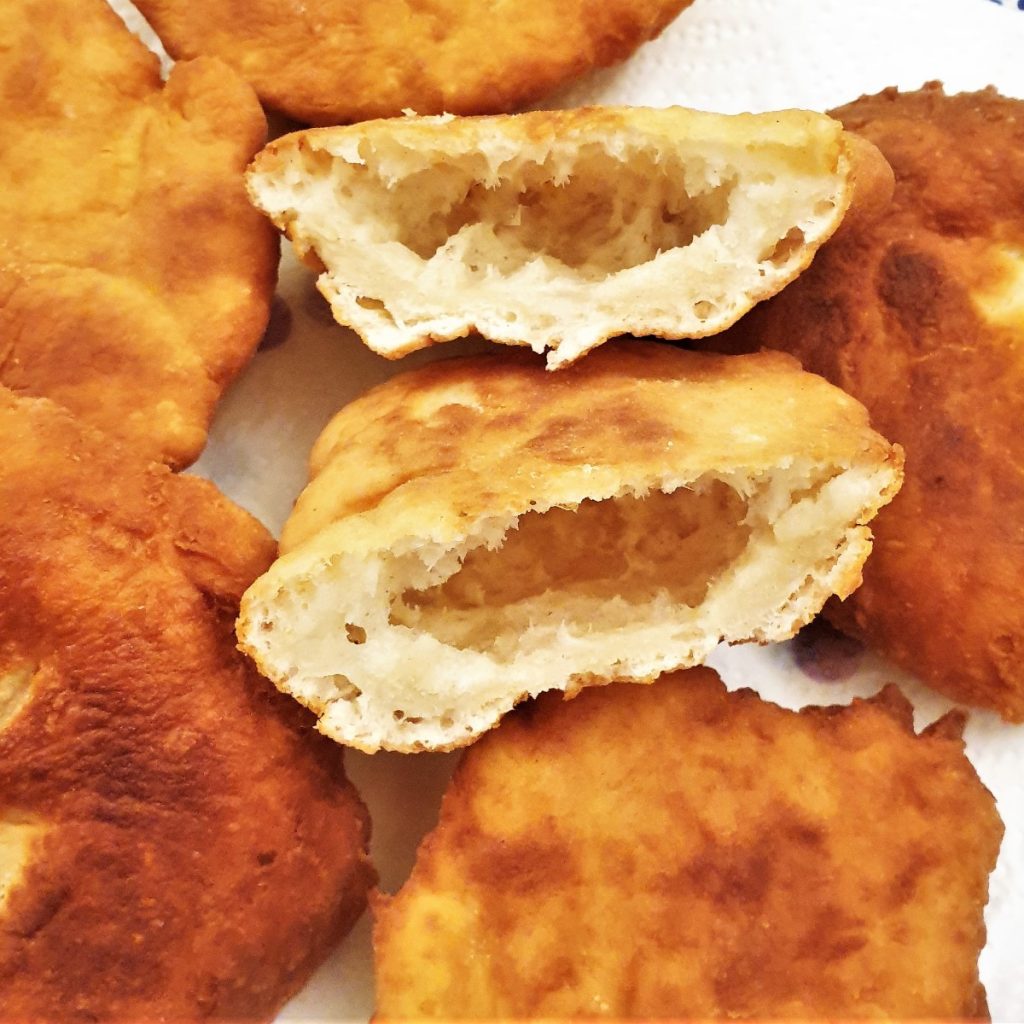 How to make quick and easy vetkoek
This recipe makes 6 medium-sized vetkoek. To make a larger batch you can just double up on the ingredients. The complete list of ingredients and full instructions for making these 2-ingredient vetkoek can be found on the printable recipe card at the end of this post.
To make these vetkoek you will need equal quantities of self-raising flour and Greek yoghurt. If you can't get hold of Greek yoghurt, you can use thick natural yoghurt instead. Just don't use the fruit-flavoured yoghurt that you can get in the supermarkets – you need the very thick unflavoured type of yoghurt.
If you don't have self-raising flour you can just use plain all-purpose flour (or cake flour) and add one teaspoon of baking powder per cup of flour.
The final ingredient is optional. I like to add 1 teaspoon of salt to the mixture to add a little extra flavour. If you have issues with using salt you can leave it out.
For frying the vetkoek you will need sunflower, canola or any neutral-flavoured oil. Don't use olive oil as it won't get hot enough to fry the vetkoek properly, and will also alter the taste.
Mix the dough and shape the vetkoek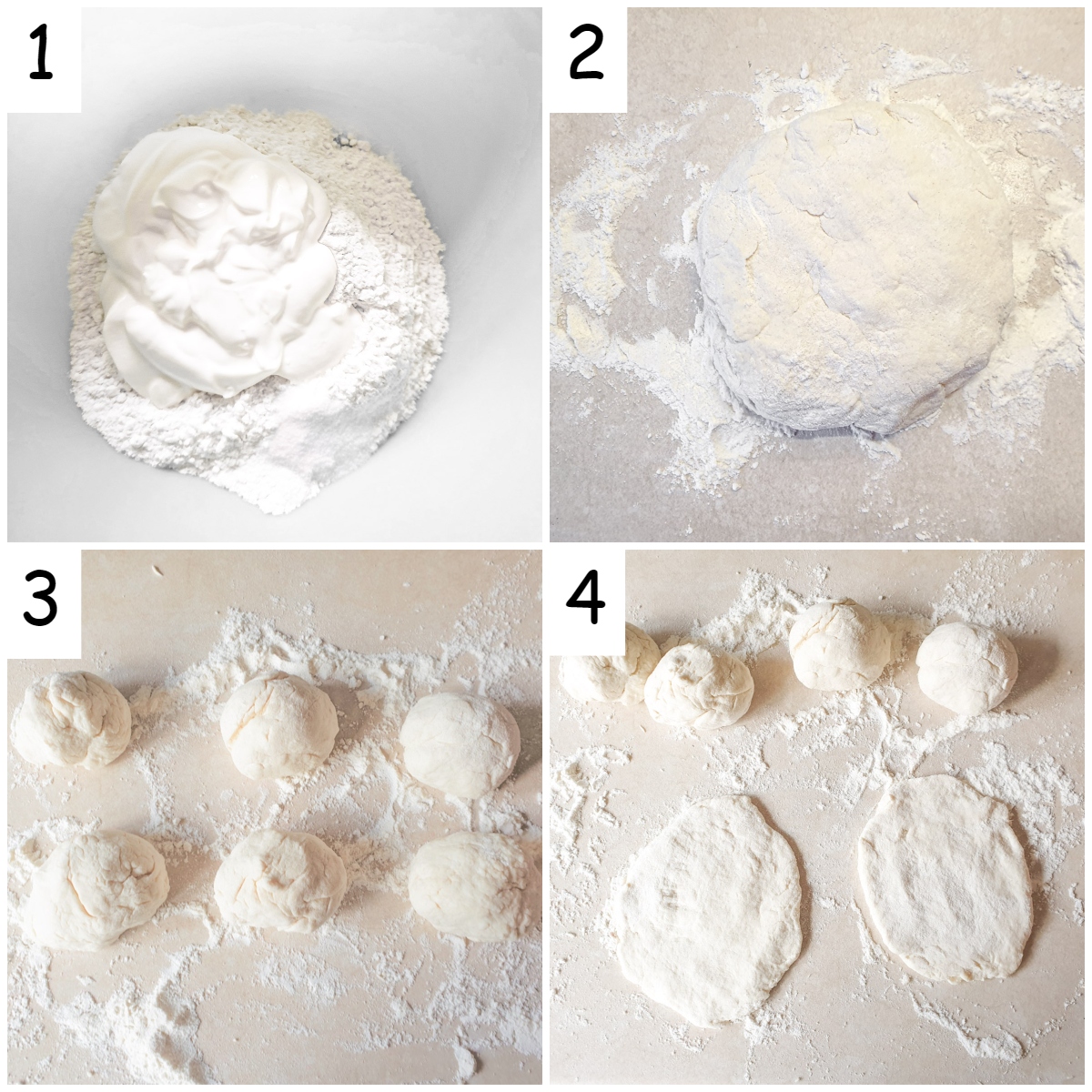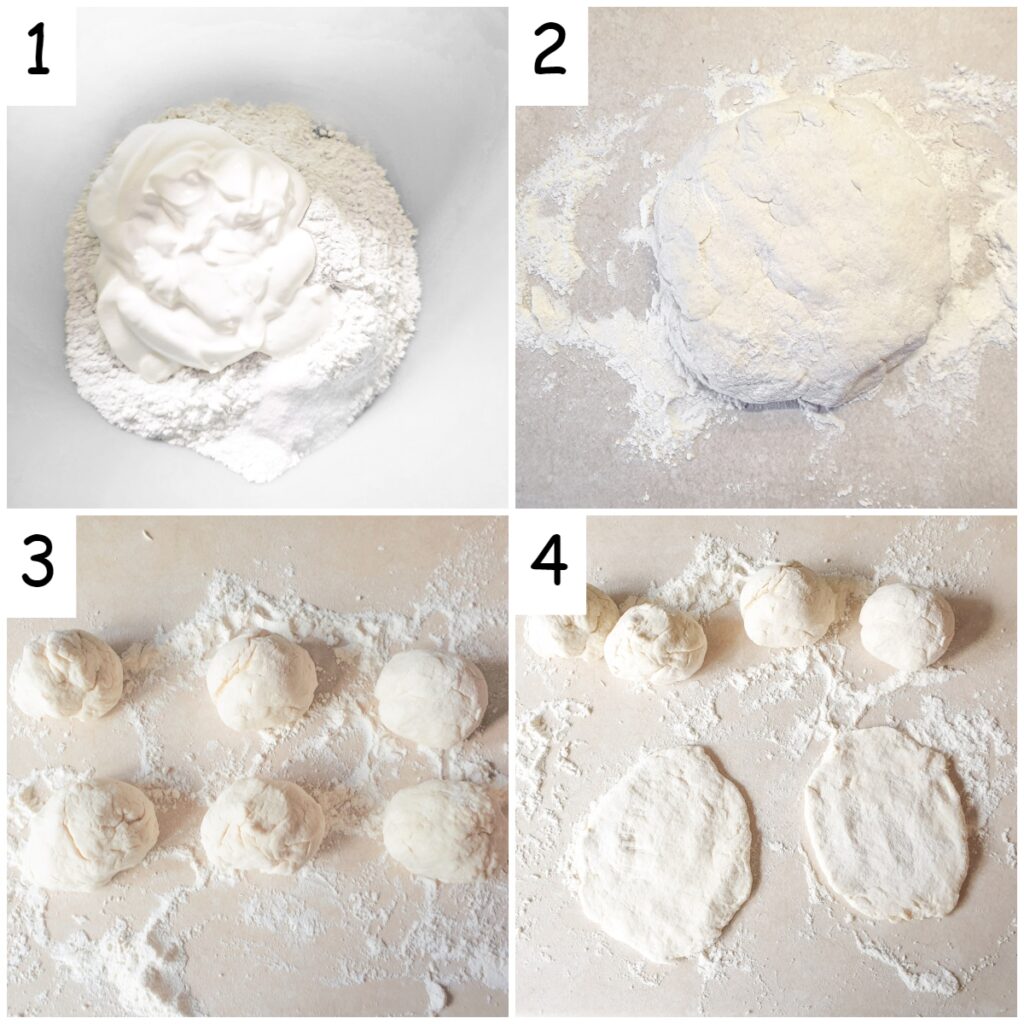 For this recipe I have used the standard US measuring cup. For those of you who like to measure by weight or metric, rather than volume, this is the equivalent of 140g or 240 ml of flour and 240 ml of yoghurt.
Measure out the self-raising flour into a mixing bowl and add the Greek yoghurt and salt (if using). Use a flat-bladed knife the mix the yoghurt into the flour, then get your hands in and press the dough together until it forms a smooth ball.
The basic recipe is for one cup each of flour and yoghurt. If the yoghurt is a little on the thin side, you may find that the dough becomes too sticky to form into a ball. If this happens, just add another tablespoon of flour. This is a very forgiving recipe, and a little extra flour won't hurt.
Once the dough has been formed into a ball, tip it out of the mixing bowl onto a floured surface and divide it into 6 equal pieces. Press each piece out into a flat oval shape, approximately 1/2cm (or about a quarter of an inch) thick.
Fry the vetkoek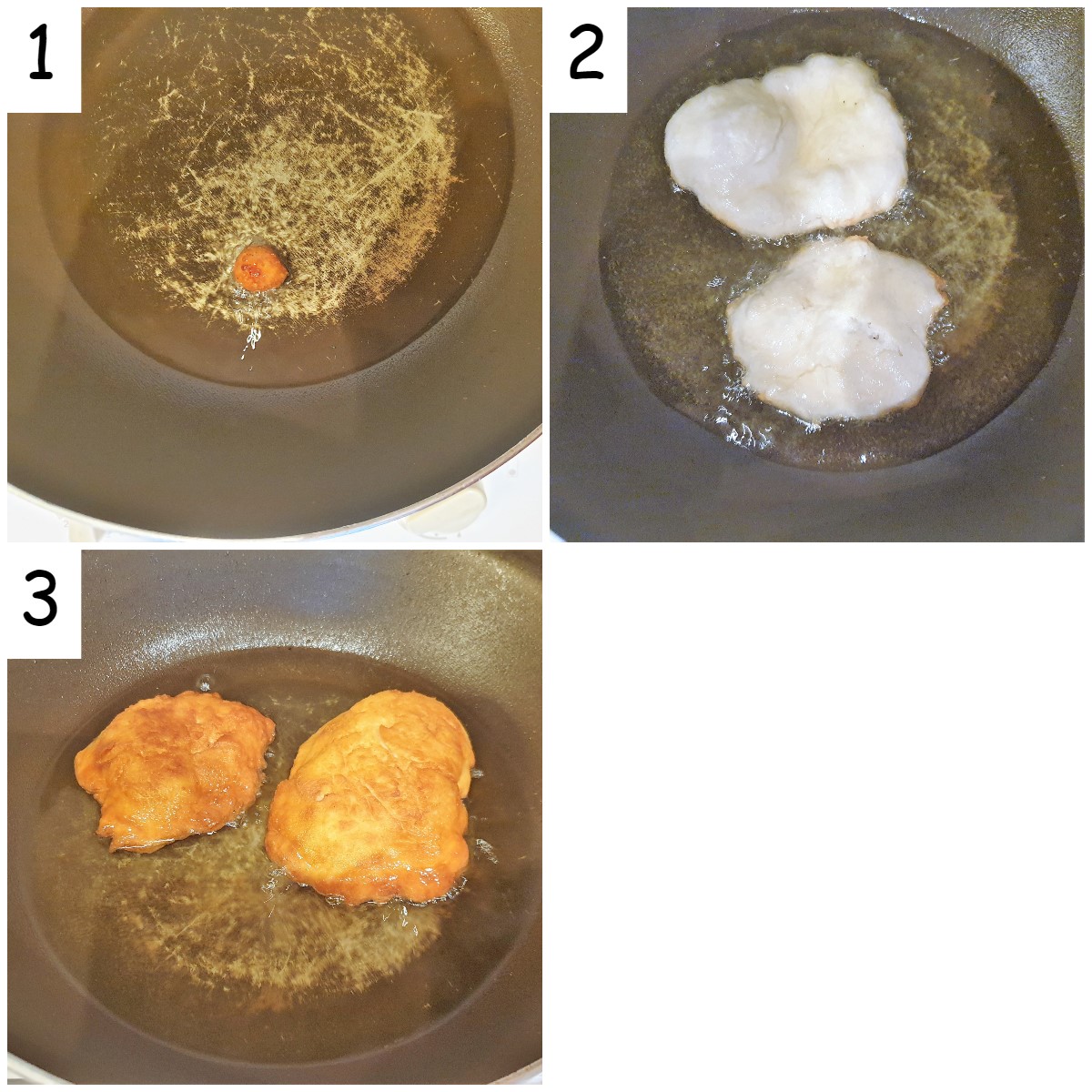 For frying the vetkoek I like to use my wok. As you will see in the above photos this is a very old wok that I've had for years. You can use a large frying pan instead.
There's no need to deep-fry these vetkoek. You will only need about an inch of oil in the bottom of the pan.
Heat the oil until a small piece of dough dropped into the hot oil sizzles and turns brown in about 15 seconds. Then carefully lower as many pieces of dough as your pan will take into the hot oil. Don't overcrowd the pan – the vetkoek will puff up as they fry and you will need room to turn them over easily.
Allow the vetkoek to brown on one side, them over and brown the other side. Fry them slowly – you may need to adjust the heat down slightly. If the oil is too hot they won't cook through in the centre and there is nothing worse than uncooked batter in the middle of your vetkoek! I leave them in the oil, turning often until they are done. You will probably find that they will be cooked through in less than 5 minutes.
Once the vetkoek are done, remove them from the oil and place on paper kitchen towel to drain.
What to serve with vetkoek
I like to serve fresh hot vetkoek with curried mince or chili con carne. They are also good served alongside my beef vegetable winter soup instead of bread.
If you have any vetkoek left over, they make a lovely sandwich with just a slice of ham or cheese (or both). I find you don't even need to spread them with butter first – just add the filling.
And if you have a sweet tooth, try spreading them with apricot jam or honey.
How do I store vetkoek?
Leftover cooled vetkoek can be stored in a plastic bag in the breadbin. They will stay fresh like this for a day, but after that they will tend to go stale.
Can I freeze them?
Technically you can freeze the cooled fried vetkoek in a plastic bag in the freezer, and then just place them on a baking tray in a hot oven until they are warmed through..
Practically – they take such a short time to make that I wouldn't bother. I prefer to make them fresh as I need them.
Can I make them in advance?
You can make the pastry up to 3 days in advance. Just store the ball of pastry in the fridge wrapped in lightly greased clingfilm. When you are ready to use it, tip the pastry onto a floured surface, shape into vetkoek and fry as per the recipe.
Can I double the recipe?
Yes, you can double the ingredients for this recipe. Just keep the ratio of 1:1 for the flour and Greek yoghurt. If you are using salt, adjust the salt to taste. Don't double up on the salt or the vetkoek will become too salty.
Other recipes for 2-ingredient dough
Once you have mastered the art of making 2-ingredient dough, the sky is the limit.
If you'd like to be notified of any new recipes, why not subscribe to my newsletter? As a thank-you gift, you will receive a free recipe e-book containing some of my most popular cakes and desserts.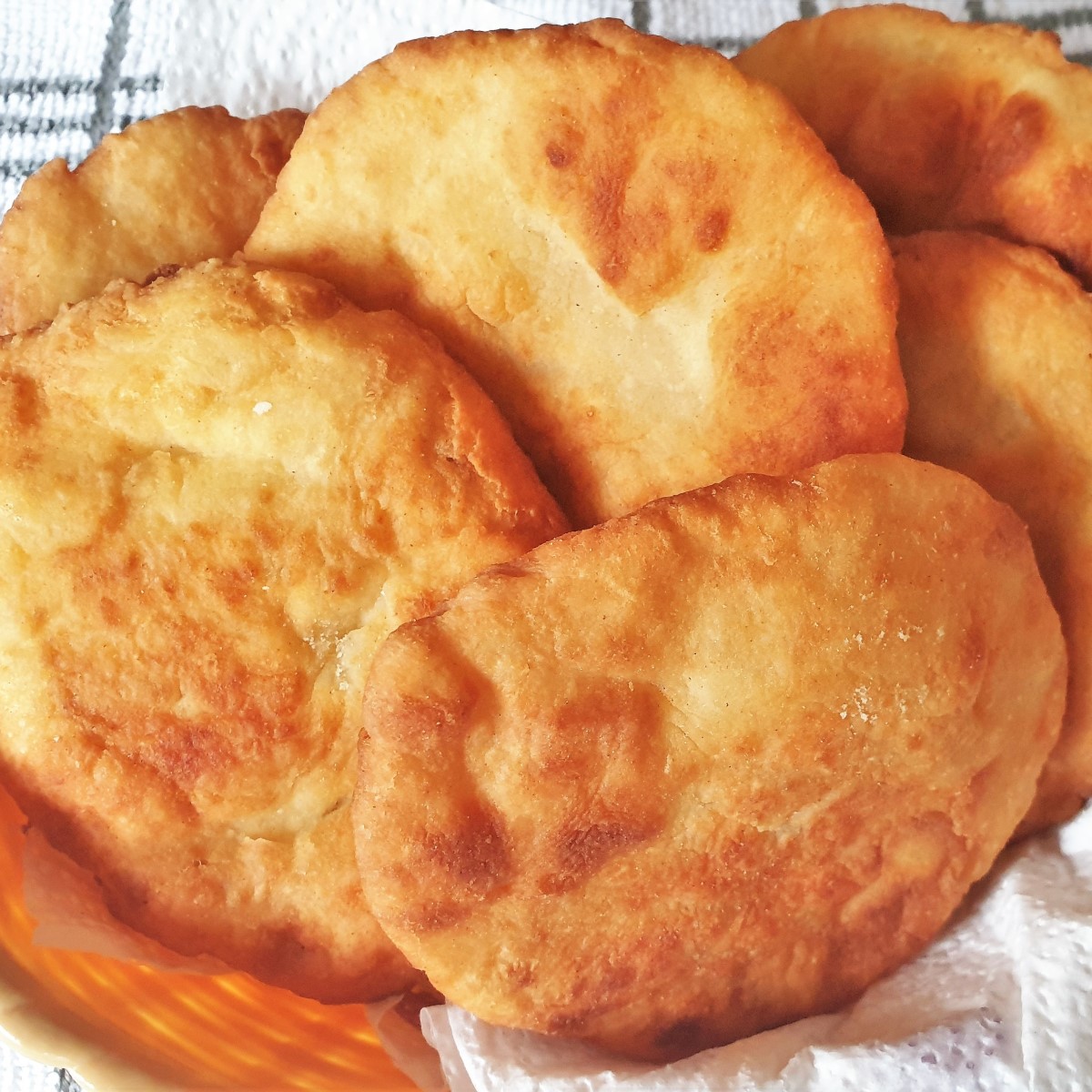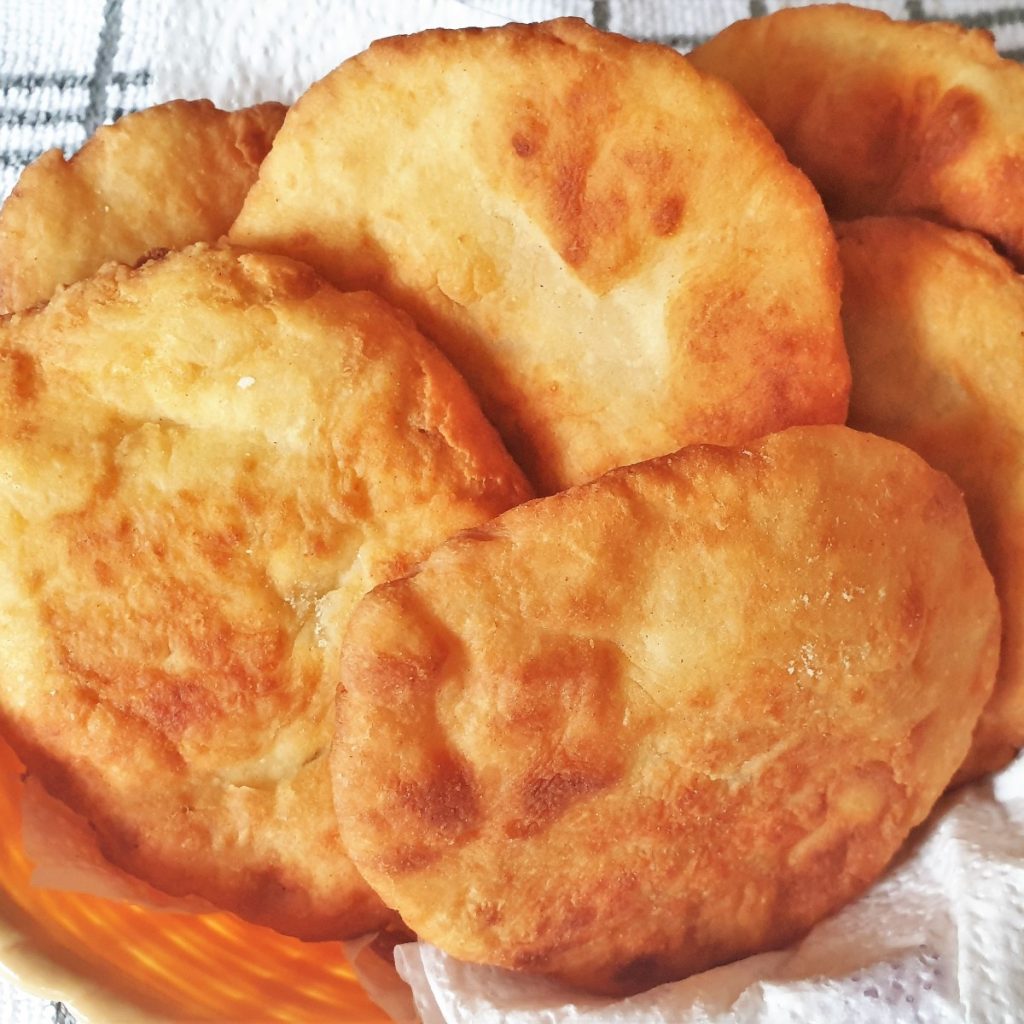 Pin for later
Why not pin this recipe to your pinterest board so you can make it later. Just click the image below.
Recipe – quick and easy vetkoek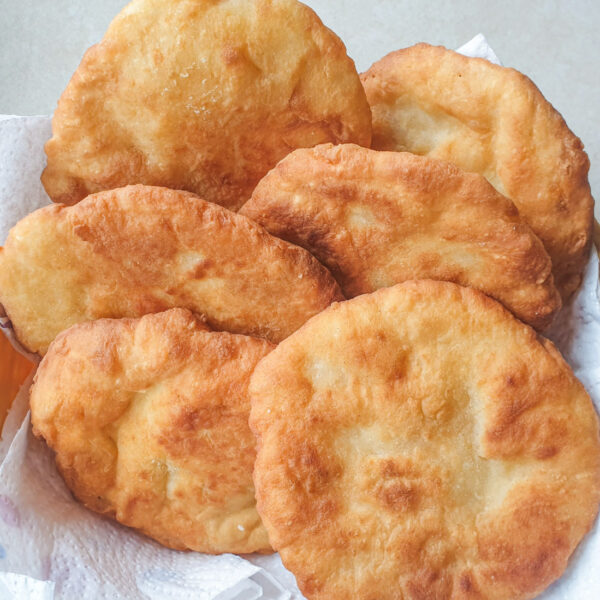 Quick and easy vetkoek
Delicious, golden brown and chewy. These quick and easy vetkoek are unbelievable. They taste just like the original version made with yeast, but these are mixed in just 5 minutes, with no yeast, kneading or rising time required. Just mix and fry for the tastiest, chewiest vetkoek ever – you won't believe how quick and easy these are to make!
Print
Pin
Comment
Bookmark
Saved!
(Click the stars to rate this recipe)
Equipment
Flat-bladed knife or spatula
Ingredients
1

cup

self-raising flour

(

140g

)

1

cup

Greek yoghurt

(

240ml

)

1

teaspoon

salt

2

cups

sunflower or canola oil

for frying
Instructions
Measure the flour into a mixing bowl

Add the Greek yoghurt and salt (optional)

Mix with a flat-bladed knife until the Greek yoghurt is combined with the flour

Press together with your hands until the mixture forms a soft ball. Add more flour a tablespoon at a time if necessary.

Tip onto a floured surface and divide into

6

equally sized balls.

Flatten each ball to approximately 1/2 cm thickness

Heat the oil in a wok or frying pan until a small piece of dough dropped into the oil turns brown in about 15 seconds.

Carefully lower the flattened vetkoek into the oil, and fry, turning occasionally, until golden brown on both sides and cooked through.

Drain on paper towel, then serve.
Notes
To make a larger batch – just double the quantities of the flour and Greek yoghurt, but don't double the salt or the vetkoek will be too salty.
If the mixture is too sticky just add extra flour 1 tablespoon at a time, until it becomes manageable.
When frying – don't allow the oil to become too hot or the vetkoek may burn on the outside, but still be raw on the inside.  If the oil seems to be getting too hot, adjust the temperature down slightly.
The calories have been calculated excluding the oil used for frying as not all the oil will be absorbed.
Nutrition
Calories –
130
kcal
|
Carbohydrates –
17.2
g
|
Protein –
5
g
|
Fat –
4.4
g
|
Saturated Fat –
3.3
g
|
Sodium –
388
mg
|
Potassium –
22
mg
|
Fiber –
0.6
g
|
Sugar –
0.1
g
|
Calcium –
47
mg
|
Iron –
1
mg
I am not a nutritionist. The nutrition information has been calculated using an on-line calculator, and is intended for information and guidance purposes only. If the nutrition information is important to you, you should consider calculating it yourself, using your preferred tool.
Unless otherwise stated, a cup is the standard US cup containing 240 ml. In all my recipes this cup is assumed to hold 140g of flour. For help converting other ingredients between cups, grams, ounces and other measures, see my recipe conversion calculator.
All my recipes are developed and tested at sea-level. For tips on adjusting recipes for high altitudes see my post on baking at high altitudes.
Tried this recipe?
If you made this recipe I'd love it if you could leave me a comment and let me know how it went!
Share on Facebook
Share on Twitter
If you made this recipe and enjoyed it, I'd love it if you could give me a star rating in the comments below. And if you'd like to get in touch, you can email me at [email protected]. I'd love to hear from you. And don't forget to subscribe to my mailing list so you can grab yourself a copy of my FREE COOKBOOK!
If you'd like to continue browsing, just click on this link to all my recipes.