Curried dough balls are ideal for when the carb-craving hits. Made with the famous 2-ingredient dough, baked in the oven and filled with spicy curry, they have all the taste and texture of South African Vetkoek, but none of the deep-fried side effects (like a guilt-trip). Perhaps I should have called these Instant Healthy Vetkoek!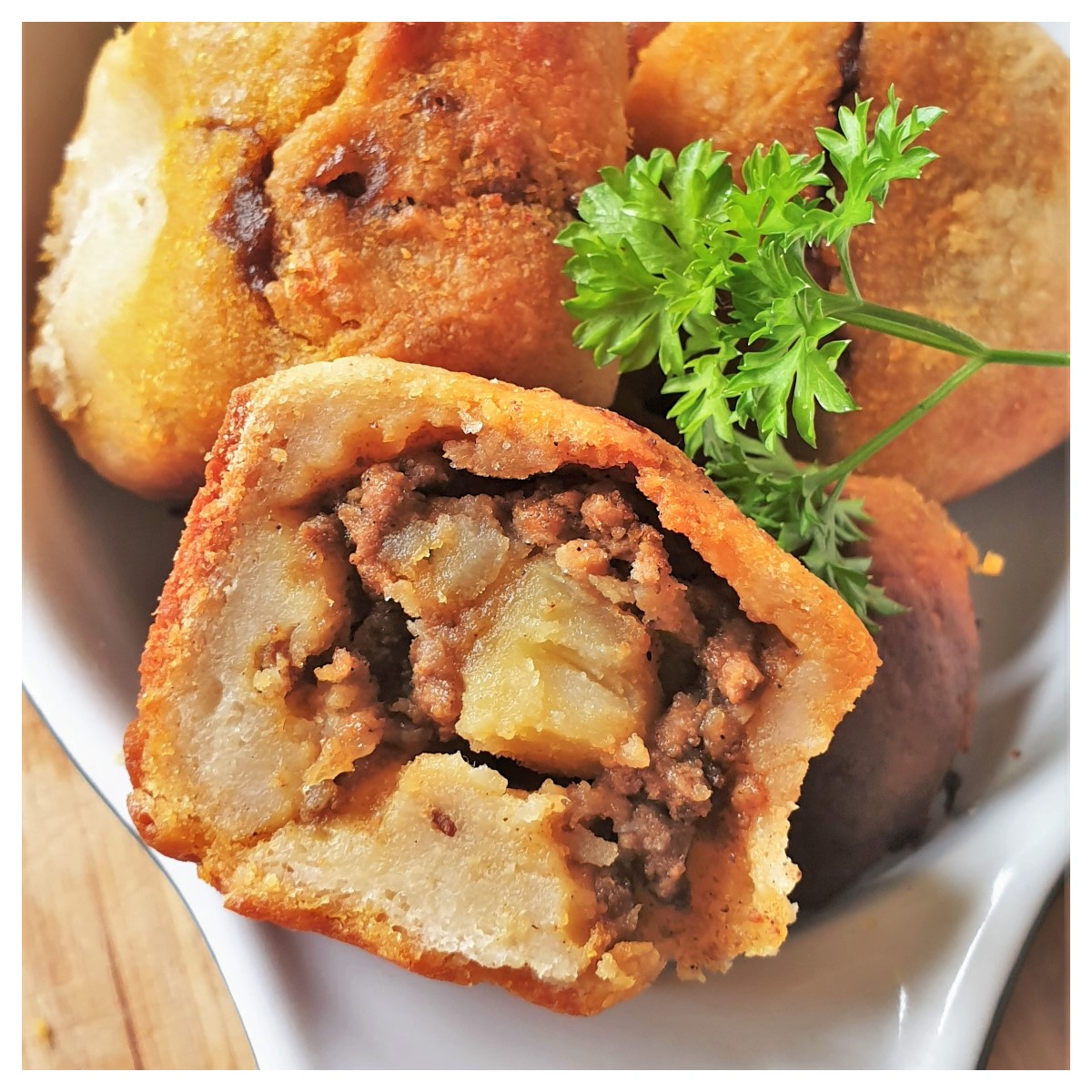 **As an Amazon affiliate, I earn from qualifying purchases.**
Curried Dough Balls
I got the inspiration for these curried dough balls from this recipe for chilli stuffed dough balls by DontGoBaconMyHeart. I was experimenting with the 2-ingredient dough and I wondered how it would turn out if I made a similar recipe, using curried mince. To my absolute amazement, they turned out looking and tasting just like mini vetkoek, but with sooooooo much less effort.
I was going to update the vetkoek recipe to add these instructions, but then I thought as they are so tasty, they deserve a recipe page of their own.
What is 2-ingredient dough?
For those of you who don't know, the 2-ingredient dough is a miracle-mixture of just 2 ingredients. You just mix equal quantities of plain flour and Greek yoghurt together. You might need a little extra flour if it is too sticky. The ingredients are mixed together until the dough forms a soft pliable ball. You can use it for a pizza base, which I think, was the original intention, but there is so much more you can do with it. I made these Ham and Cheese Pinwheels which turned out so well. And it's perfect for making sweet treats too like these South African koeksisters.
There is no yeast in this dough, so you don't have to wait for it to rise – bonus – instant dough – literally in a couple of minutes.
This dough can be quite sticky, so make sure you have plenty of flour on hand for dusting your work surface and putting onto your hands.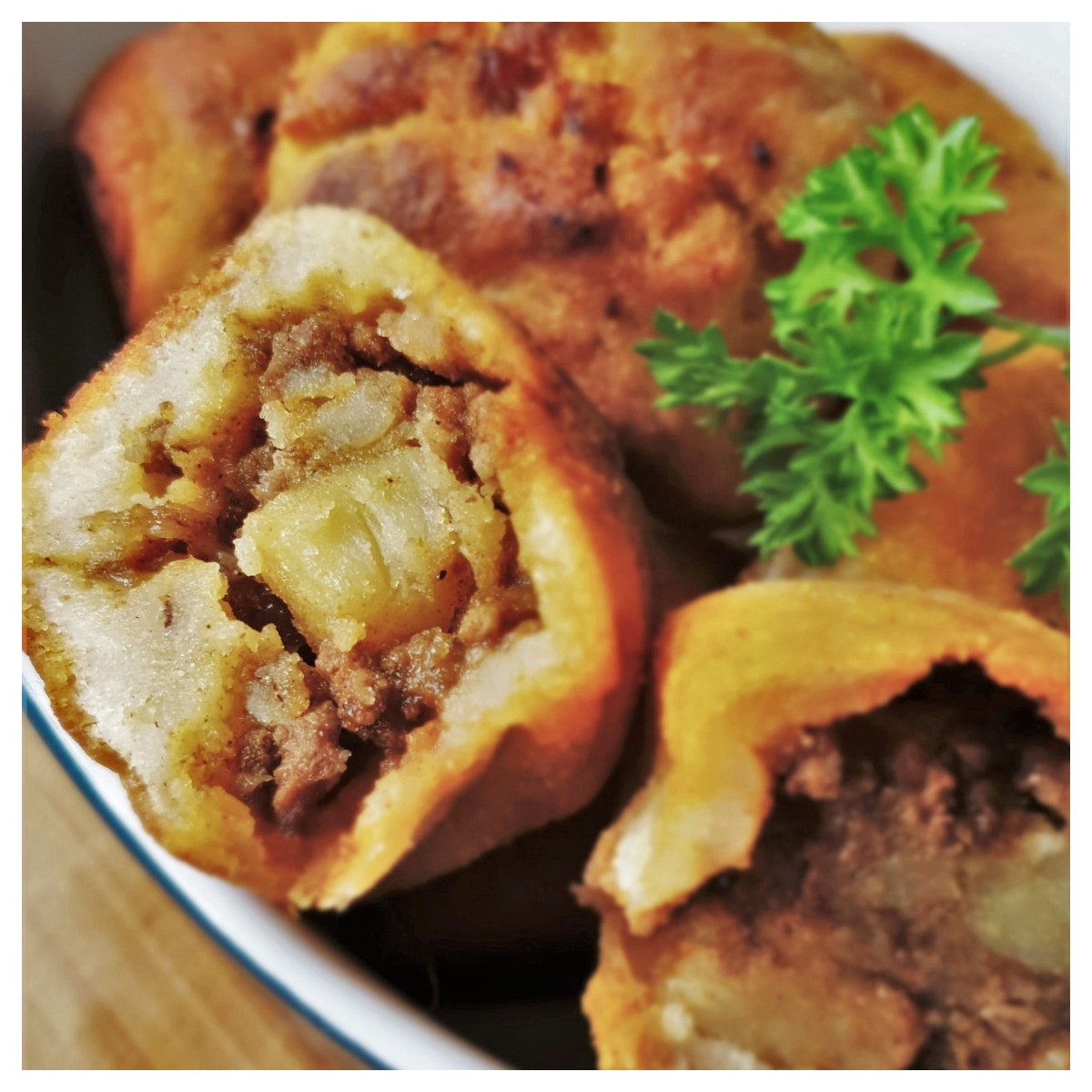 Ingredients for curried dough balls
For the dough you will need the following ingredients:
Plain Flour
Greek Yoghurt
A little melted butter mixed with garlic for brushing on top
For the filling you will need curried mince as per my recipe from Vetkoek and Curried Mince. You can make a fresh batch or use leftovers if you have any.
If you prefer chili to curry, you could use any leftover chili that you have in the fridge. This Homemade Chilli Bolognese Sauce would be perfect.
How to make curried dough balls
You can get full instructions and the complete list of ingredients on the printable recipe card at the end of this post.
Mix the dough
To make the dough, simply combine equal quantities of plain flour and Greek yoghurt in a mixing bowl. Mix with a spatula or wooden spoon until it all comes together in a ball.
This is a very sticky dough, so you may find you may need a little extra flour. Don't worry – it is a very forgiving recipe and a little extra flour won't hurt. That said however, the dough is supposed to be very soft, so don't add too much extra flour.
One cup each of flour and Greek yoghurt will be sufficient for 16 smallish dough balls. If you want more just double the recipe.
Roll the dough
Dust your work surface with a little flour. Using a floured rolling pin, roll the dough out to approximately 1/4 inch thickness. Cut circles into the pastry (image 1 below). You can use a proper cutter, or do what I do and use a large cup, or even a small bowl.
The size of the circles depends on how large you want your dough balls to be. I find an approximate 4″ (10cm) diameter is a nice size.
You can gather up the pastry trimming and re-roll to cut more circles.
Alternatively, you can break off golf-ball sized pieces of dough and flatten it in your hand.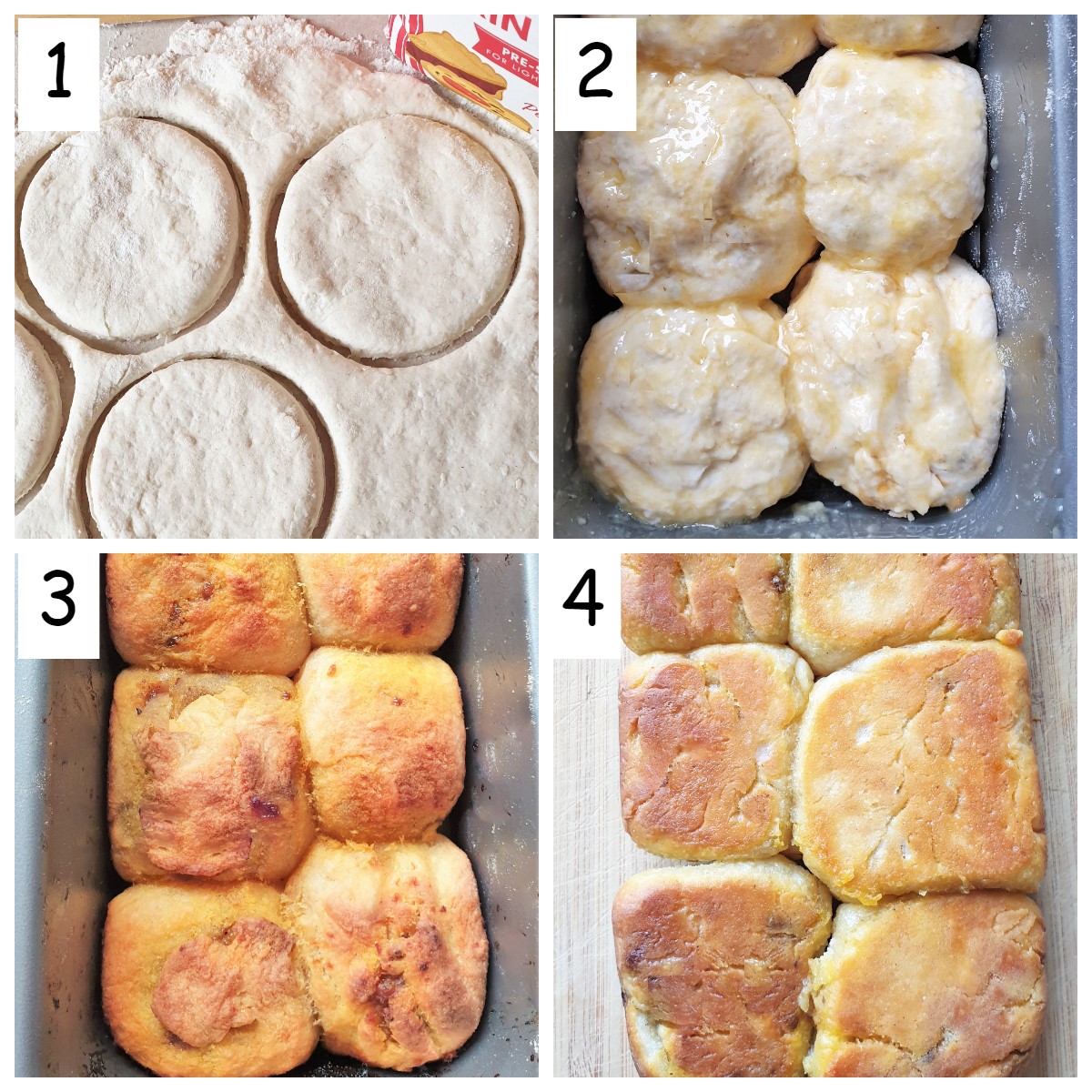 Fill the curried dough balls
Take each circle and stretch it over your hand. You will probably have to flour your hands well because this dough is quite sticky.
Place a large tablespoonful of curried mince in the centre and bring the edges together around the dough to form a ball. Make sure to seal it well so that the filling doesn't escape during baking.
Alternatively, you could just leave the circles flat on the work surface, place a spoonful of mince in the centre and bring the outside edges together on top.
It depends on which method you feel more comfortable with. I find it is easier to lift the circles off the work surface first, because they are inclined to stick a little.
Bake
Place each dough ball in a greased baking pan, with the join at the bottom (image 2 above). I used a small loaf tin and could only fit eight at a time in – but you can use a larger baking tin.
You can also put them individually on a greased baking sheet. You don't have to clump them all together.
Brush the top with a mixture of melted butter and garlic.
If you happen to make a hole in the dough while you are forming the dough balls, just patch it up with another piece. It will stick together as the balls are baking in the oven.
Bake them for approximately 20 minutes at 200C/400F until they turn golden and smell amazing (image 3 above).
Allow them to cool slightly in the tin, then tip them out. The bottom of the dough balls should be nicely browned (image 4 above).
Did I mention how delicious they are? The pastry is crunchy on the outside, with a slightly chewy texture – just like a vetkoek.
If you make them quite small, as I did, they made a great appetiser or party snack. If you want a more substantial main meal, then just make them larger.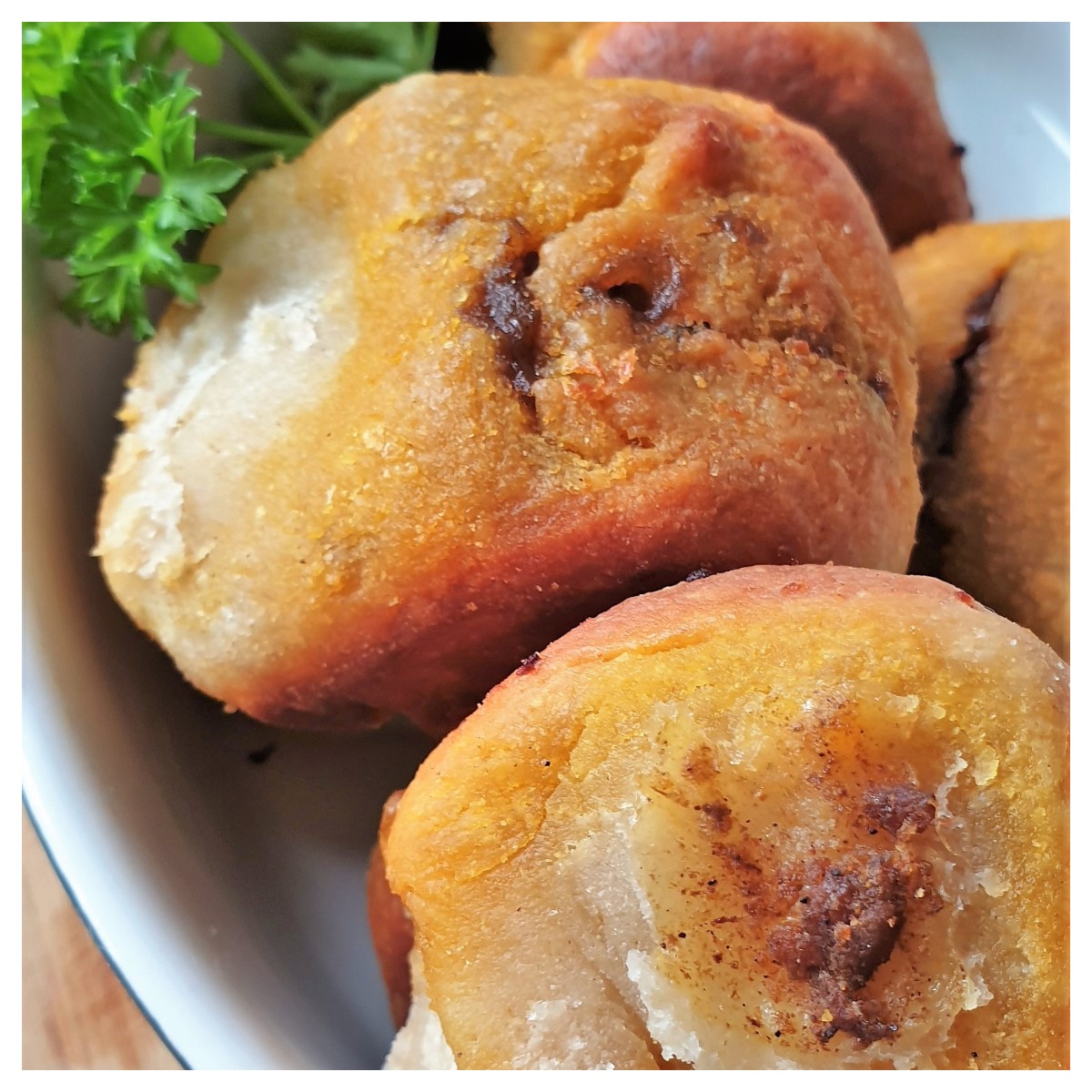 If you'd like to be notified of any new recipes, why not subscribe to my newsletter? As a thank-you gift, you will receive a free recipe e-book containing some of my most popular cakes and desserts.
Pin for later
Why not add this recipe for curried dough balls to your pinterest board so you can make it later. Just click the image below.
Recipe – Curried Dough Balls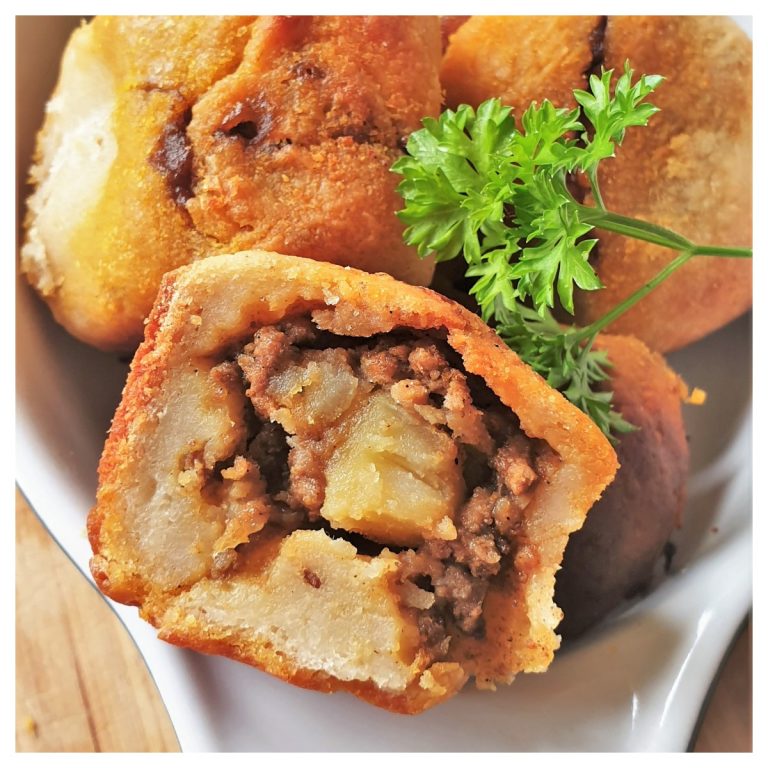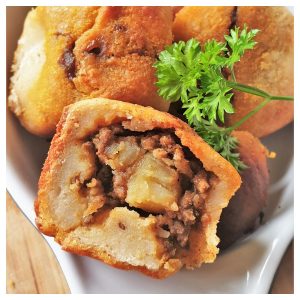 Curried Dough Balls
Curried dough balls are ideal for when the carb-craving hits.  Made with the famous 2-ingredient dough, baked in the oven and filled with spicy curry, they have all the taste and texture of South African Vetkoek, but none of the deep-fried side effects (like a guilt-trip).  Perhaps I should have called these Instant Healthy Vetkoek!
Print
Comment
Bookmark
Saved!
(Click the stars to rate this recipe)
Equipment
7" x 3" loaf tin or baking sheet
Ingredients
For the dough
2

cups

(280 g) Plain Flour

plus extra for rolling

2

cups

500 ml Greek Yoghurt

Salt if you think it needs it
For the filling
1

quantity

Mince from curried mince or bolognese recipe

2

Tablespoons

Melted Butter

2

cloves

Crushed Garlic
Instructions
Preheat oven to 200°C/400°F

Put the flour and Greek Yoghurt (and salt if using) into a mixing bowl and mix thoroughly to combine.

If the mixture is too wet to form into a ball, add a little extra flour

Sprinkle work surface with a little extra flour and place the dough on the work surface

Roll out approximately ¼ inch thick

Cut into large circles using a cutter or a large cup

Pick up one of the dough circles and place a tablespoonful of filling on to it

Gather the edges together and seal, being careful not to leave any gaps.

Place dough balls into a loaf tin or arrange close together on a baking tray

Mix melted butter and garlic together and brush over dough balls

Place tin in oven and bake for 25 to 30 minutes until golden.
Notes
You can use the curried mince from this recipe to stuff the doughballs – Vetkoek and Curried Mince , or bolognese from this Chilli Bolognese Sauce recipe.  Alternatively you can use leftovers from your favourite curry recipe.
Baking times for different ovens may vary – keep your eye on them – they will be done when they are golden brown on top.
Calories have been calculated on the assumption that you will make 10 small dough balls and the calorie count is for 1 dough ball.  This is an approximation only, as it does not take into account the ingredients used for the curried mince.
Nutrition
Calories –
132
kcal
|
Carbohydrates –
11.3
g
|
Protein –
4.8
g
|
Fat –
7.4
g
|
Saturated Fat –
5.4
g
|
Cholesterol –
6
mg
|
Sodium –
17
mg
|
Potassium –
16
mg
|
Fiber –
0.4
g
|
Calcium –
56
mg
|
Iron –
1
mg
I am not a nutritionist. The nutrition information has been calculated using an on-line calculator, and is intended for information and guidance purposes only. If the nutrition information is important to you, you should consider calculating it yourself, using your preferred tool.
Unless otherwise stated, a cup is the standard US cup containing 240 ml. In all my recipes this cup is assumed to hold 140g of flour. For help converting other ingredients between cups, grams, ounces and other measures, see my recipe conversion calculator.
All my recipes are developed and tested at sea-level. For tips on adjusting recipes for high altitudes see my post on baking at high altitudes.
Tried this recipe?
If you made this recipe I'd love it if you could leave me a comment and let me know how it went!
Share on Facebook
Share on Twitter
If you made this recipe and enjoyed it, I'd love it if you could give me a star rating in the comments below. And if you'd like to get in touch, you can email me at [email protected]. I'd love to hear from you. And don't forget to subscribe to my mailing list so you can grab yourself a copy of my FREE COOKBOOK!
If you'd like to continue browsing, just click on this link to all my recipes.