This traditional South African meal of vetkoek and curried mince makes a great alternative to the normal curry and rice. Crispy on the outside and soft and chewy on the inside, vetkoek are delicious when served filled with a spicy ground beef curry. Why not try something different for your next curry meal!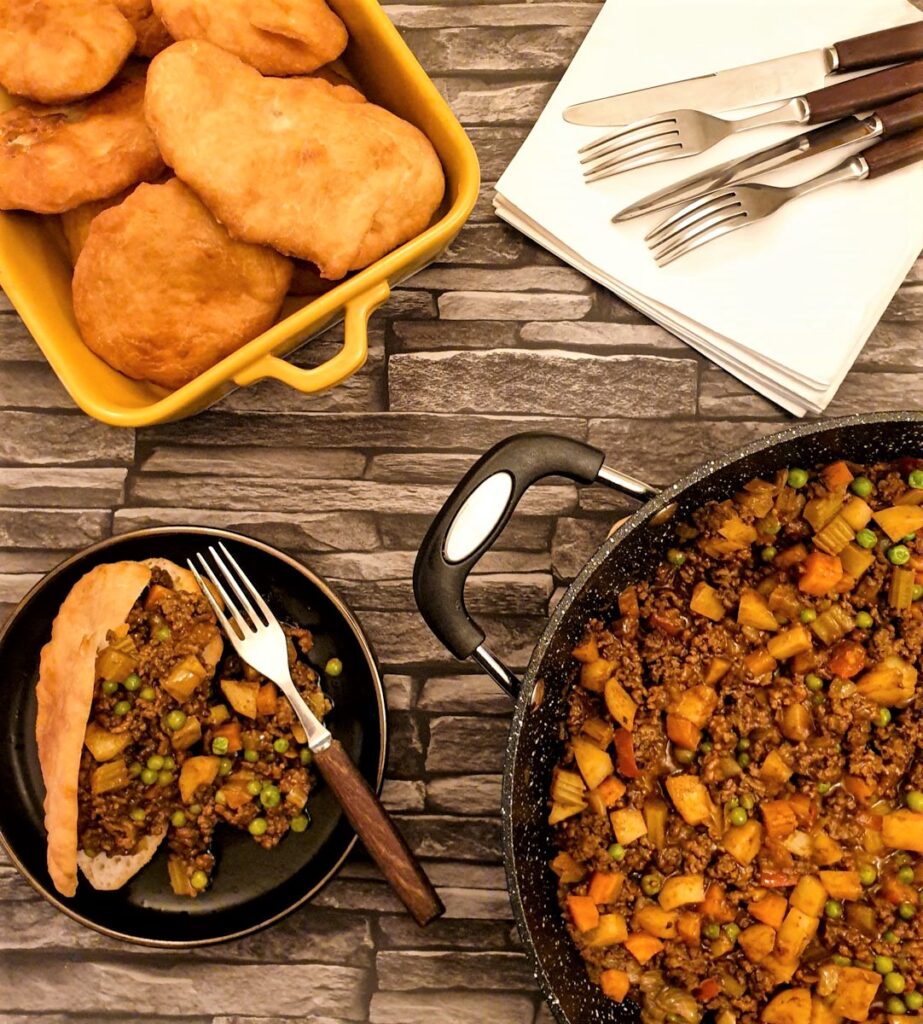 Updated August 2021 with new photos – the original recipe remains unchanged.
**As an Amazon affiliate, I earn from qualifying purchases.**
What is a Vetkoek?
In South Africa, a Vetkoek is a ball of bread dough, deep-fried until it is crispy on the outside and soft and chewy on the inside. A vetkoek is delicious, served split in half and filled with your favourite curry. I love to serve them with a mince curry, made with lots of juicy sauce that soaks into the vetkoek, and drips out down your chin as you bite into the spicy goodness. You will need to keep plenty of serviettes handy 🙂 !
Vetkoek is an Afrikaans word, and translates into English as Fat Cake, pronounced 'Fet Cook'. It is a bit like sheep, in that the word can be used as both singular and plural.
Vetkoek originated with the Dutch settlers, back in the 17th Century. As they explored further and further away from Cape Town into the interior in their covered wagons, the settlers had no fresh bread and they didn't have ovens to bake in. The alternative was to make deep-fried dough balls instead. Filled with meat they made a quick and satisfying (and very tasty) meal.
Nowadays vetkoek is a popular South African dish. No self-respecting school or church fete would be complete without a Vetkoek stall.
Vetkoek are normally filled with curried beef mince, but lamb would go really well with them. Try them with my lamb curry in pita, using vetkoek instead of pita bread. They would go down a treat at a barbeque, filled with sausage and smothered in chilli tomato sauce.
You can also eat vetkoek smeared with butter and apricot jam (or honey, or maple syrup, or cheese, or anything else that takes your fancy). My daughter puts golden syrup on hers.
For another traditional South African curry recipe, why not have a look at this Bunny Chow recipe. This is made by filling a hollowed-out half-loaf of bread with spicy beef or mutton curry.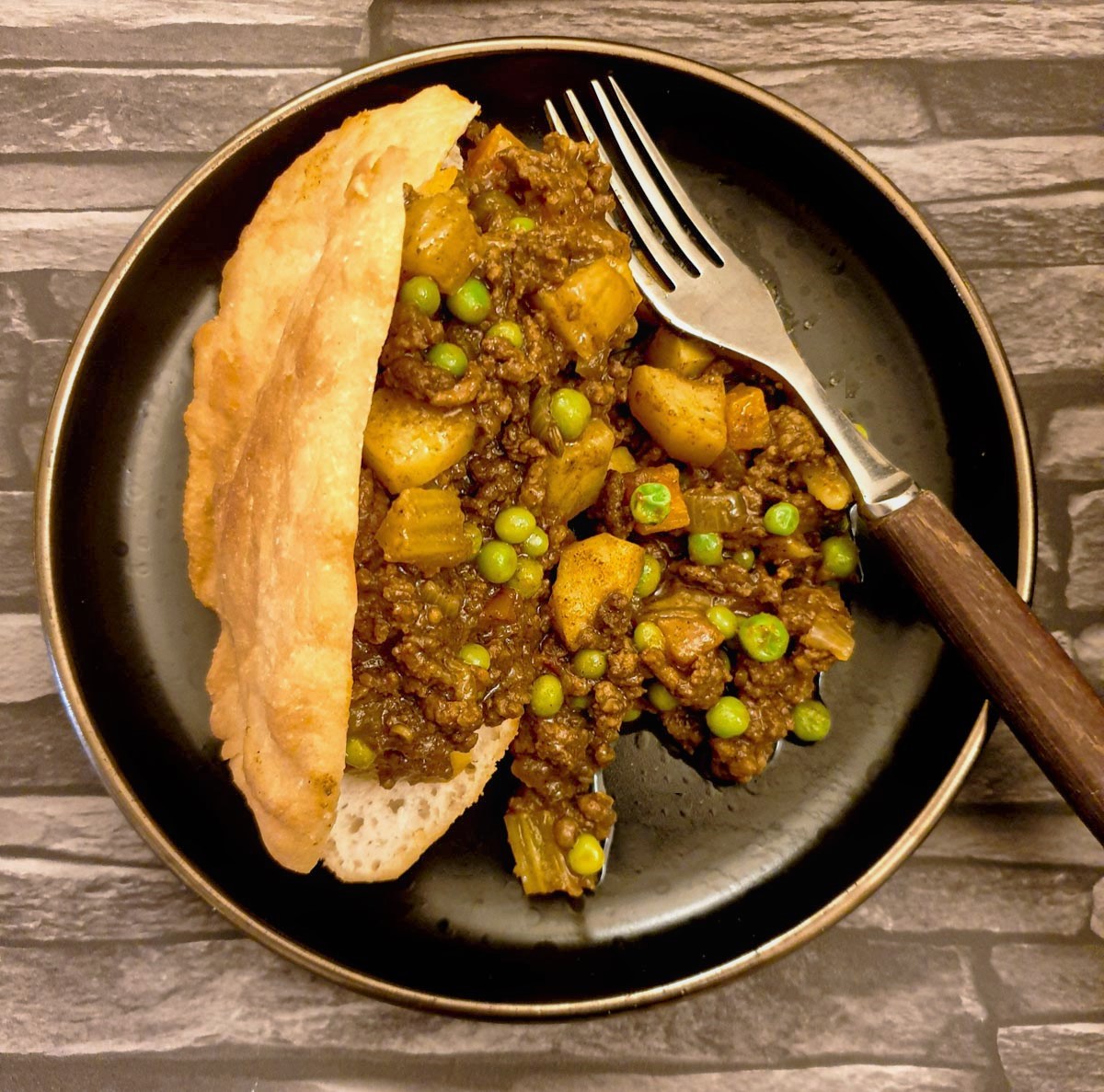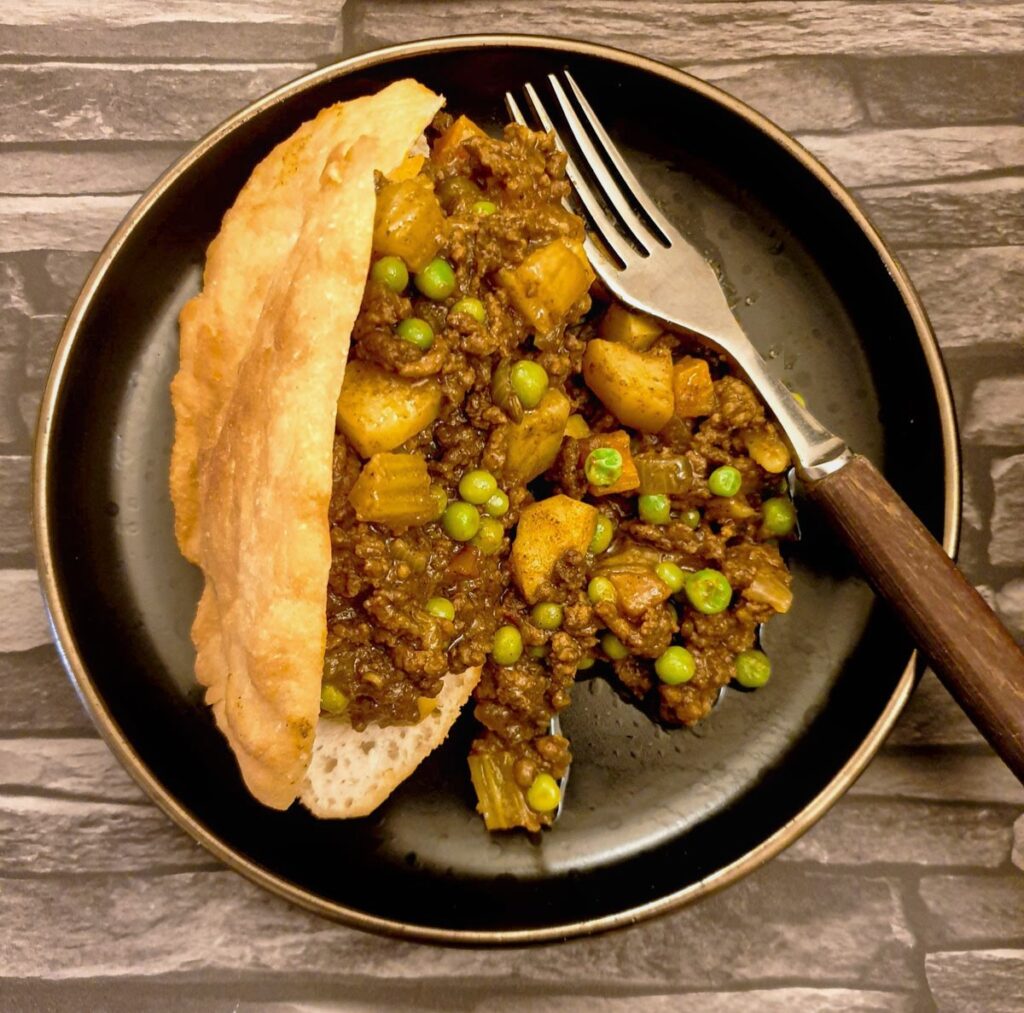 Are Vetkoek unhealthy?
Now I know you are going to think that deep-fried dough balls are really unhealthy and fattening, but to be honest, they don't absorb all that much oil from the frying. The oil should be hot enough to crisp the outside immediately after the vetkoek are placed into it. This prevents the oil from being absorbed. They are then allowed to fry gently to cook the inside until they are soft and spongy with little pockets of air bubbles.
Also, they are placed on kitchen paper immediately after being cooked, which helps to soak off any excess oil.
They have a slightly chewy texture which means the muscles in your face get lots of exercise from all the chewing you have to do. There is a saying that eating a stick of celery burns off more calories than are actually in the celery itself. I like to believe that Vetkoek falls into this category (I know it doesn't but it takes away the guilt trip when I eat them).
I'm a firm believer that everything should be done in moderation. If you eat vetkoek every day, you will end up looking like one, but one or two every now and then won't do any harm.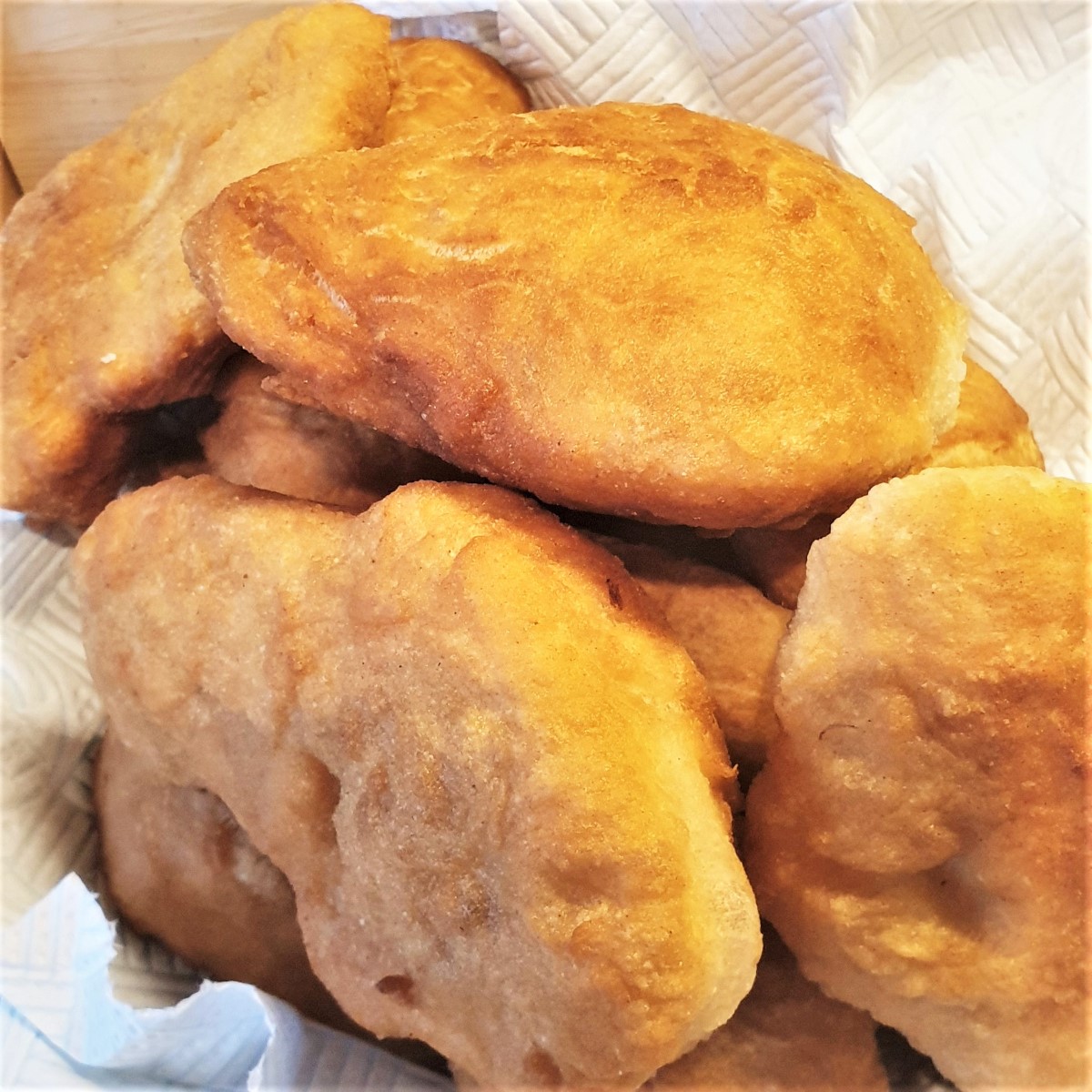 Recipe notes
Prep time – 30 minutes
Rising time – 1 hour
Cook time – 1 hour
Calories – 719 per serving (assuming everything is eaten)
Main Equipment

Kenwood Chef. I've had my Kenwood Chef for close on 20 years (I even packed it up and brought it with me when I moved from South Africa to the UK) and it's still going strong. It's invaluable when it comes to making dough because you just dump all the ingredients into the bowl and let it do all the hard work of kneading for you.
Wok – this is for frying the vetkoek. I like this one because it has a 'speckled' finish which means it doesn't scratch easily. You could also use a deep-fat fryer for frying the vetkoek, but as I don't have one I can't really make a recommentation.
Ingredients for Vetkoek and Curried Mince
Whenever I read a recipe I like to have a look at the ingredients to see whether I have everything I need. To make it easy for you – I've listed the ingredients below. You can get the full list of ingredients and instructions to make this recipe on the printable recipe card further down in the post.
This looks like a lot of ingredients, but most of them are vegetables and spices that you probably have in your pantry anyway.
For the Vetkoek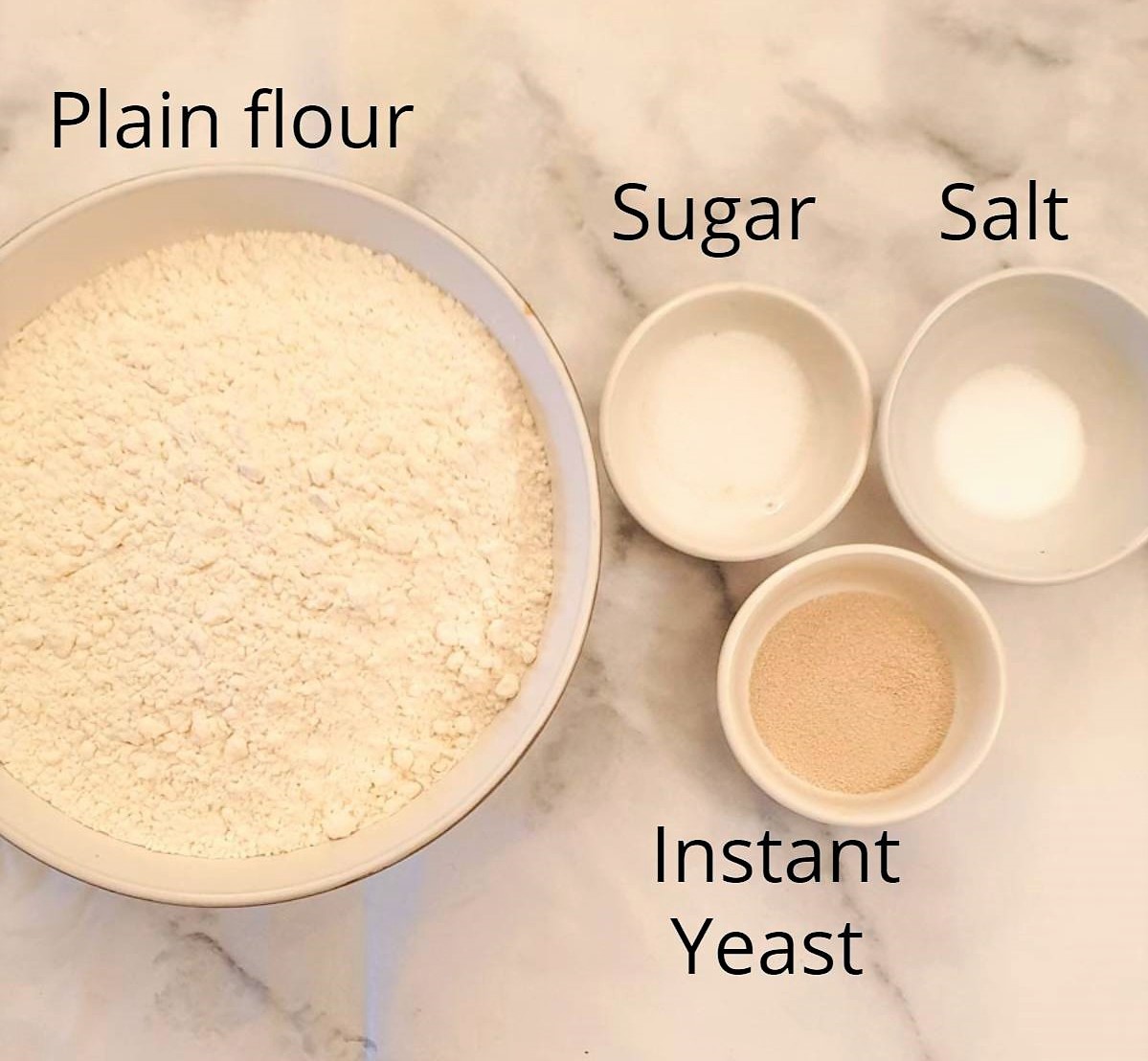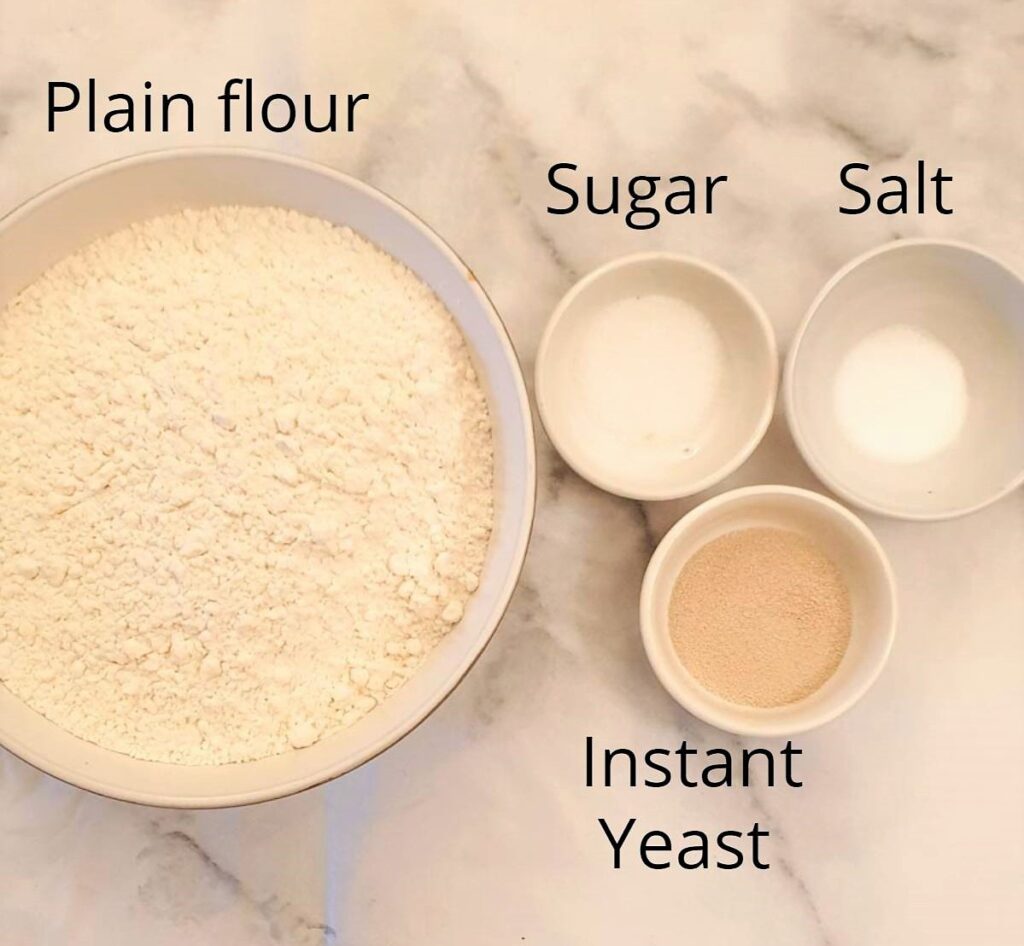 Plain Flour – otherwise known as All Purpose flour. Don't use self-raising flour, the yeast takes care of the rising .
Dried instant Yeast – you can buy this in packets in the supermarket, and you just tip it into the mixing bowl with the flour.
Update – one of my lovely readers pointed out that the packets of yeast sold in the supermarkets in South Africa contain 10g. In the UK, instant yeast is sold in 7g packets, and that is what I have used for this recipe. Using the larger packets will cause the vetkoek to rise too much and consequently, the vetkoek may have large pockets of air. Make sure you only use 7g of instant yeast (that's 2 teaspoons).
Water – you should use lukewarm water as this will assist in activating the yeast.
Salt – this is optional, but it does make the vetkoek taste better.
Sugar – there is an old wives tale that says sugar will assist in the activation of yeast, but this not true. The yeast will activate perfectly well without sugar, so you can omit this if you want to.
Sunflower oil – this is used to fry the vetkoek, and you need an oil with a high smoke point. Olive oil will not be suitable for this, so you will need to use sunflower or canola.
For the Curried Mince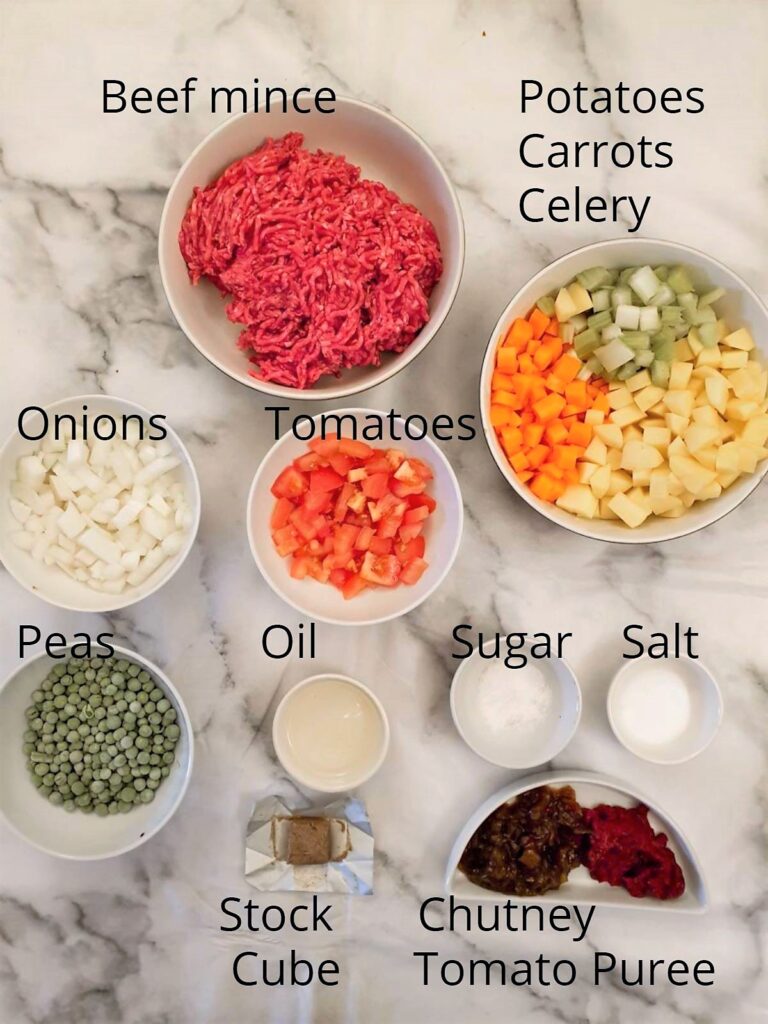 Beef Mince (or ground beef if you live in the US) – get a good quality beef mince with a low percentage of fat. I like to buy mince with a 5% fat content.
Pork Mince (or ground pork) – I use half pork and half beef as I feel the pork adds an additional layer of flavour . It is perfectly fine to substitute the pork with extra beef if you prefer.
Potatoes – because this curried mince is served inside a vetkoek, the vegetables should all be chopped into small pieces, so that you can pack plenty in. Chop the potatos into small dice, approximately 1cm in size.
Onions – chopped into 1cm dice
Celery – chopped into small dice
Carrots – chopped into small dice
Fresh Tomatoes– finely chopped
Tomato Puree – I buy my tomato puree in tubes because you can reseal it and it stays fresh if you keep it in the fridge
Chutney – use your favourite brand – or make your own homemade chutney
Sugar – when cooking with tomatoes I like to add a sall amount of sugar as it brings out the flavour of the tomatoes
Frozen petit pois – optional – but they add additional pops of sweetness
Salt – optional if you don't like adding salt to food.
Beef Stock – if you don't have any you can make this with a stock cube and a cup of boiling water
Olive Oil – for browning the meat.
For the Spice Mix
Garam Masala
Curry Powder – you can use the strength you prefer. We like it hot, you could use a medium blend for a milder taste
Mustard Seeds
Fennel Seeds
Turmeric
All Spice
Ground Coriander
How to make Vetkoek and Curried Mince
Prepare the Vetkoek
Vetkoek are made with yeast. There, I've said it, but don't let it put you off. They are made with instant yeast, not the sort that you have to mix with lukewarm water and flour and wait until it gets all frothy on top before you can use it. With instant yeast, you just tear open a packet (7g) and add it to the flour, and you won't even realise you are using yeast.
I use my trusty Kenwood Chef to do the mixing, but you can easily knead the dough by hand.
The quantities given in the recipe will make 10 to 12 vetkoek, but you can easily double up the ingredients to make a double batch.
Knead the dough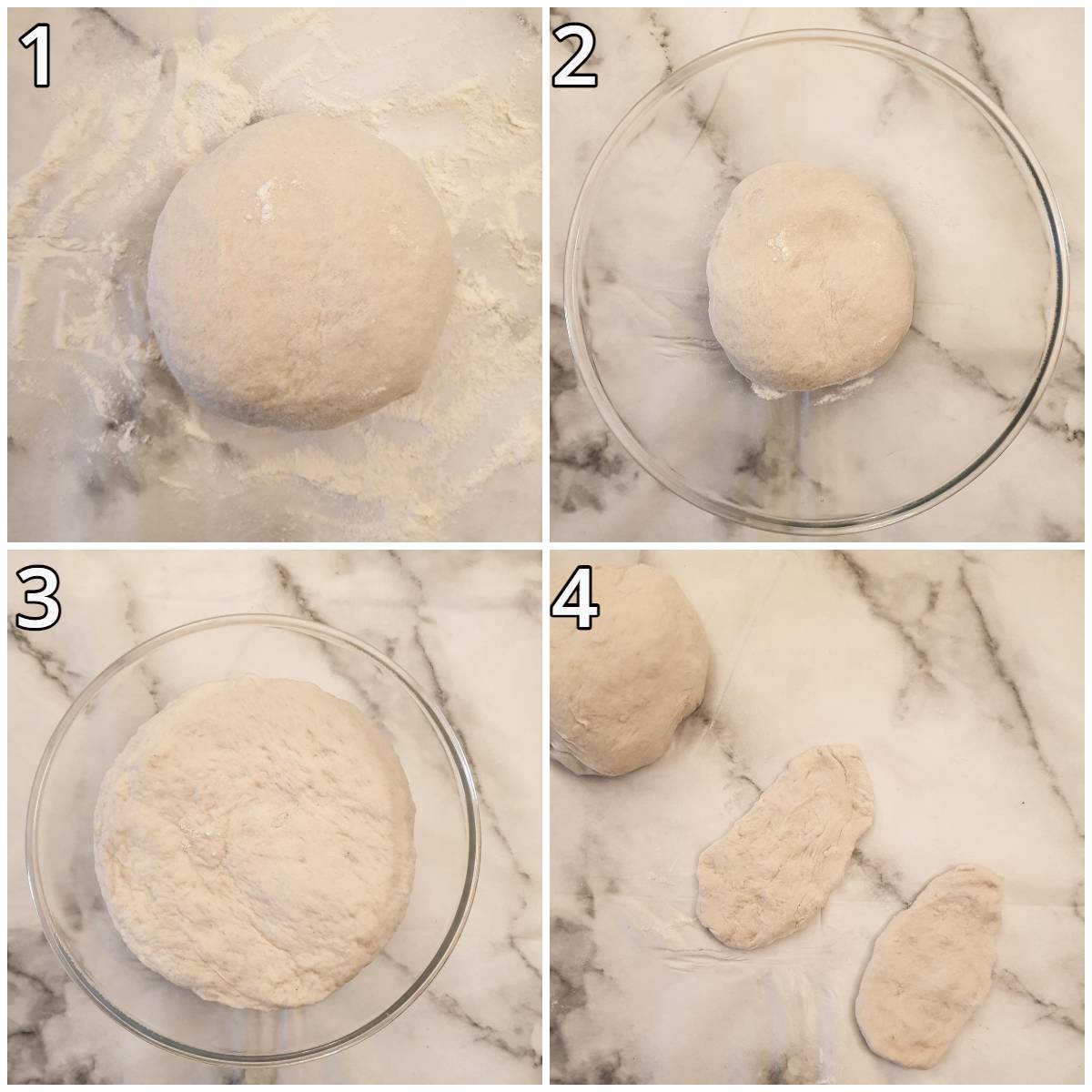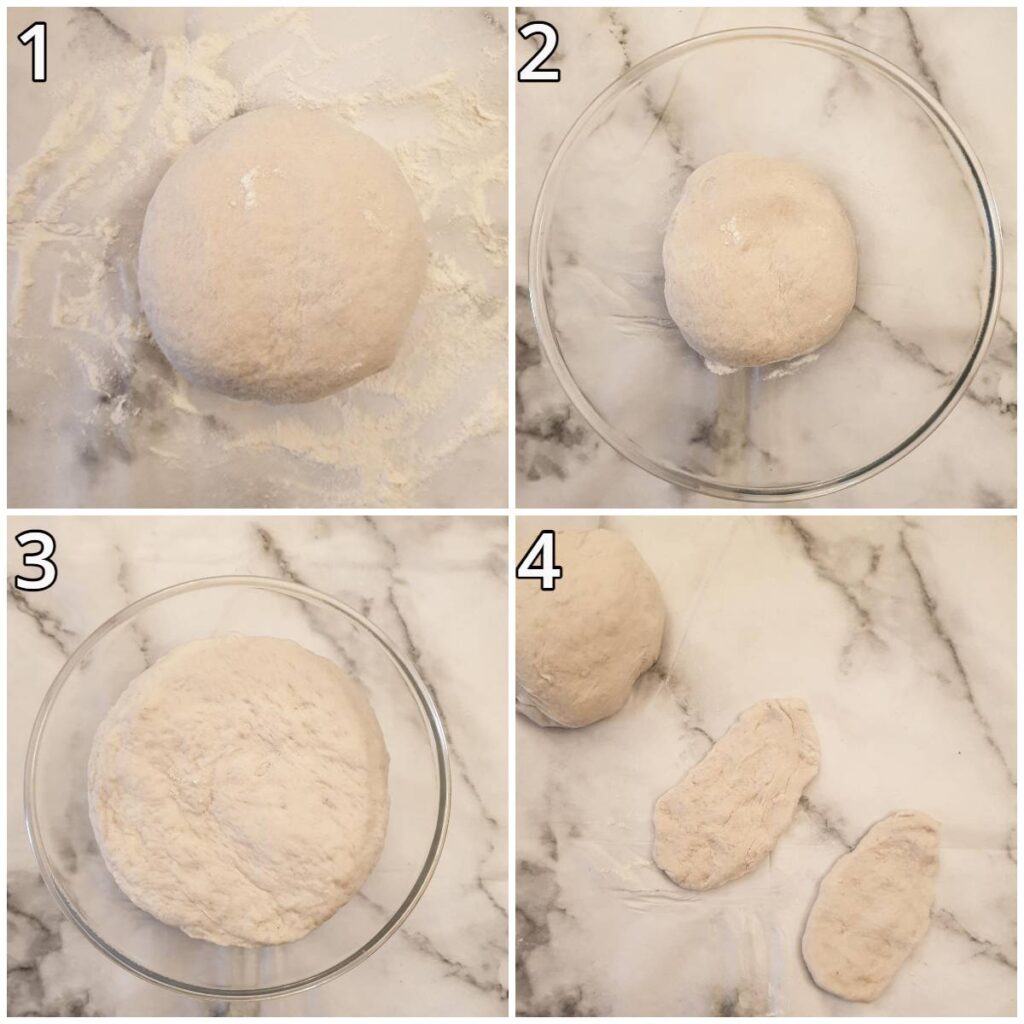 Tip the flour into a nice big mixing bowl, sprinkle the yeast on top and give it a bit of a mix. Then add the salt. Don't let the yeast come into direct contact with the salt.
Add most of the water, give it a good stir until it all comes together and then knead for 10 to 15 minutes until you have a nice smooth elastic dough. You can use a food mixer with a dough hook to take all the hard work out of this.
Don't worry if you don't have a food processor, you can just knead the dough by hand. Keep a little extra flour close by in case the dough is too sticky to handle.
The reason you don't add all the water is that it all depends on the flour you are using. You might not need all the water, and once you've put it in, you can't take it out again. If you find you do need more water, just add it one tablespoon at a time until the dough is nice and soft. On the other hand, if you have used too much water and the dough is too sticky, you can just knead in an extra tablespoon of flour at a time.
The ratio of flour to water should be approximately 2 parts flour : 1 part water.
Leave the dough to rise
Once the dough has been kneaded, form it into ball and place in a clean bowl. Cover the bowl with cling film, then cover it with a towel to keep it nice and warm. Put it in a warm place to allow the yeast to work its magic. I put mine on the kitchen window sill. Leave for about an hour. The dough should rise up and become spongy. It won't come to any harm if you leave it longer – you can leave it for up to 2 hours with no problems.
Once the dough has risen, punch it down into a smooth ball and tip it out on a floured board.
Break off golf-ball sized pieces of dough and press them into flat rounds. Stretch them a little and place on a floured surface. They should be just less than 1cm or approximately a quarter of and inch thick. You could roll the dough out and cut circles with a pastry cutter if you prefer, but I like the irregular-

sized pieces.

Depending on how large you make them, you should get 10 to 12 vetkoek from this dough recipe.
If you make the vetkoek too thick they stand the chance of not cooking through completely and may be cripsy on the outside, but still 'doughy' on the inside.
Fry the vetkoek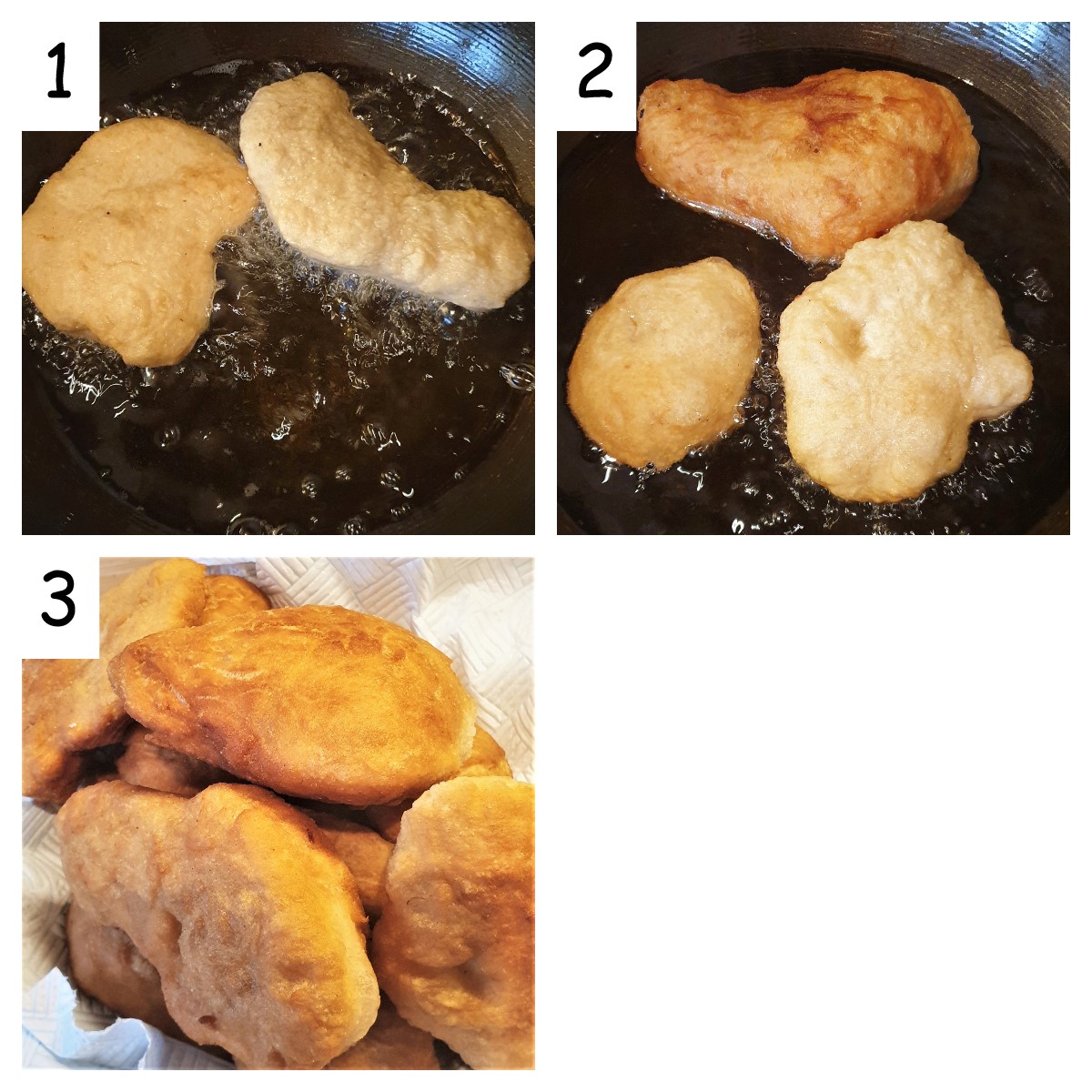 Take a wok, or a large saucepan, and pour in enough oil to cover the vetkoek. You will probably need at least 5cm oil.
Allow the oil to heat. The oil will be hot enough when a small piece of dough 'sizzles' and rises to the top when you add it. If the dough just sinks to the bottom of the oil, it is not hot enough.
Carefully add as many vetkoek as will fit in a single layer. Don't overcrowd the pan, leave enough room so you can turn them easily. The vetkoek will puff up as they fry, so allow enough room for this.
Deep fry in hot oil, turning occasionally, until nicely puffed and golden. I find it takes between 4 and 5 minutes per batch.
Tip, don't let the oil get too hot or you will find the outside burns and the inside is still doughy.
Cut a vetkoek in half to test whether it is done. It should be cooked through and full of air bubbles. If there is any raw dough in the centre you need to cook for a further few minutes.
Place the vetkoek on paper towels once they are cooked. Keep warm until you are ready to fill them with the curried mince.
Make the mince curry
While the dough is rising, you can make the curry.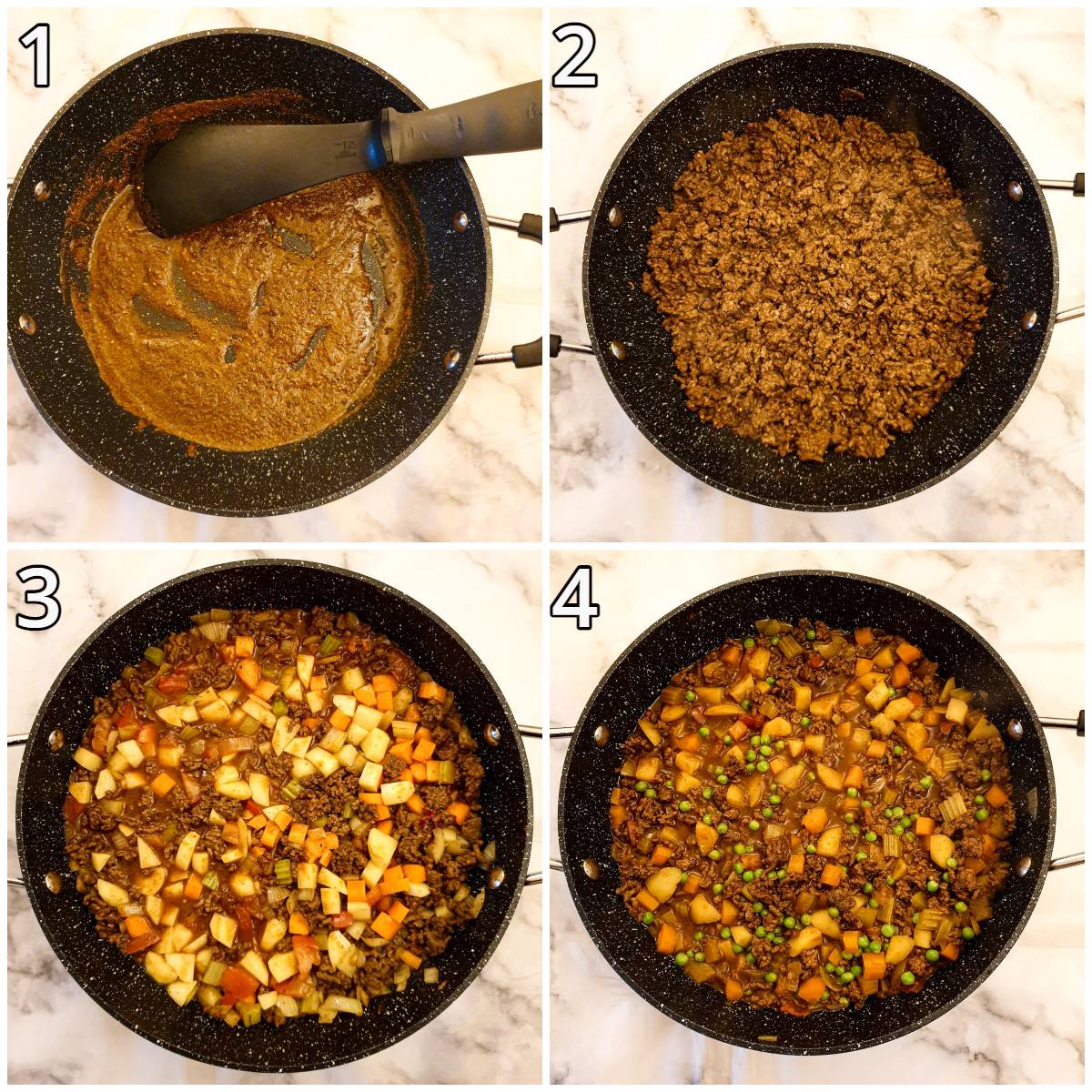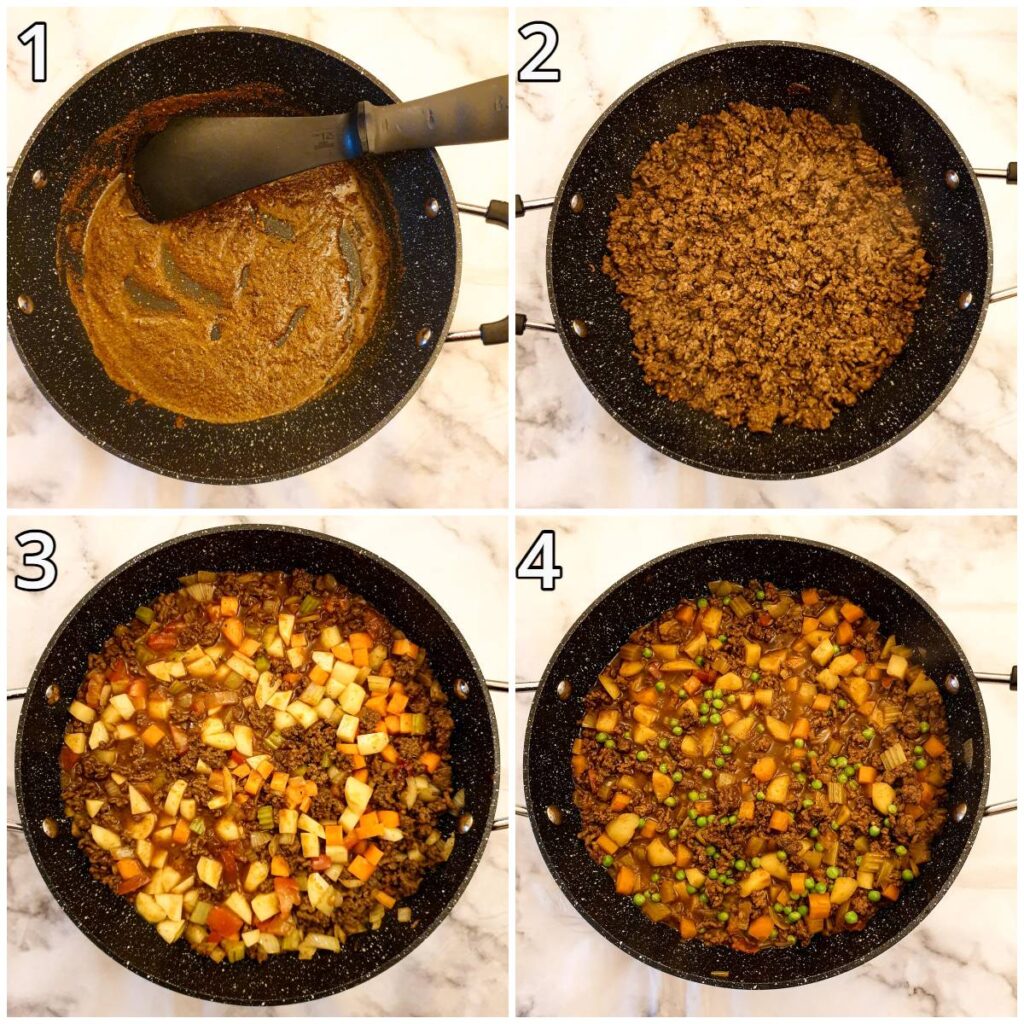 Gently fry the spices in a little olive oil in a large frying pan (1). This releases all the aromas.
Add the mince and allow it to brown with the spices. You will have to keep stirring and break up the lumps of mince with a wooden spoon. Keep frying and stirring until the mince is brown and crumbly (2).
Next add the onions and celery and fry with the mince until the onion starts to soften. I find that the onions soften nicely if I cover the pan with a lid and leave it on a low heat for 3 to 4 minutes.
Add the tomatoes and tomato puree, the chutney and the sugar and salt. Stir well and continue frying until the tomatoes start to soften.
Then add the carrots, potatoes and beef stock (3).
Leave it to simmer, with the lid on, for 45 to 50 minutes until everything is all cooked through and is nice and juicy.
If there is too much liquid in the mince, remove the lid for the last 10 minutes or so to allow some of the liquid to evapourate
Finally add the frozen peas and stir through (4). Keep the curry warm while you fry the vetkoek.
Serving
To serve, split each vetkoek in half and fill with the curry mixture. There is no need to butter the vetkoek.
A spoonful of chutney on top makes a nice addition. You could eat this with a knife and fork, but I think it tastes better if you pick it up in your hands and eat it like a hamburger. Just keep plenty of serviettes handy to wipe the juices off your chin!
If you'd like to be notified of any new recipes, why not subscribe to my newsletter. As a thank-you gift, you will receive a free recipe e-book containing some of my most popular cakes and desserts.
Pin for later
Why not pin this recipe for vetkoek and curried mince to your Pinterest board so you can make it later. Just click the image below.
This recipe was number 3 on my top 10 recipes for December 2019.
Recipe – South African Vetkoek with Curried Mince
If you made this recipe and enjoyed it, I'd love it if you could give me a star rating in the comments below. And if you'd like to get in touch, you can email me at [email protected]. I'd love to hear from you. And don't forget to subscribe to my mailing list so you can grab yourself a copy of my FREE COOKBOOK!
If you'd like to continue browsing, just click on this link to all my recipes.