Ham and cheese pinwheels are a delicious party snack and the dough is made with only 2 ingredients!  You can't get easier than that.
Delicious crispy pinwheels filled with ham and cheese
Ham and cheese pinwheels – made in minutes with only 4 ingredients – watch the magic happen!
Yes, that's right, only 4 ingredients (including the filling) to make these delicious ham and cheese pinwheels.
The dough is made from a WeightWatchers recipe and uses only 2 ingredients – Greek yoghurt and self-raising flour in equal quantities.  Somehow (by magic?) the yeast in the yoghurt reacts with the flour to transform everything instantly into a ball of dough that would normally take hours to knead, prove and rise by making the dough in the traditional way.
One dough – many dishes
Once you've mixed the dough, there is so much you can do with it – pizza base, garlic dough-balls, breadsticks, or my favourite – these delicious ham and cheese pinwheels.  You could also shape balls of dough into bread rolls, bake in the oven and then fill with left-over bolognaise sauce for a quick and easy supper dish.  Why not try Curried Dough Balls they taste just like Vetkoek and Curried Mince but without all the effort.
Simplicity in itself
Making the dough is simplicity in itself.   You just mix the flour and Greek yoghurt with a wooden spoon until it comes together in a ball.  You could do this in a food processor, using the dough hook – but then there would be extra washing up and to be honest, the dough comes together beautifully when you just mix it by hand so I don't bother with the food processor.
Once it's mixed, the dough will be quite sticky so you may (or probably will) need to sprinkle some extra flour before rolling it out.
I roll the dough out into a large rectangle and then layer with a mixture of grated mozzarella and cheddar cheese, and slices of ham, before rolling everything up into a long sausage shape and then slicing into pinwheels.
I then arrange the pinwheels on a baking sheet lined with greased tinfoil or baking paper and bake in a hot oven for about 20 minutes.
These are a delicious snack, served either hot or cold.
Ham and Cheese Pinwheels
Quick and easy ham and cheese pinwheels - made with only 4 ingredients
Ingredients
1

cup

Self-raising flour

1

cup

Greek yoghurt

Slices

Ham

for filling

1

cup

Grated cheese

I like a mixture of cheddar and mozzarella
Instructions
Preheat oven to 200 degrees C. (400 degrees F / gas mark 6)

Line a baking sheet with tinfoil or baking parchment. If using tinfoil, spray lightly with cooking spray to prevent sticking

Sift the flour into a bowl and add the yoghurt

Mix well with a wooden spoon until the mixture comes together in a ball. If the mixture is too sticky you can add extra flour (1 tablespoon at a time) until the desired consistency is reached

Sprinkle the work surface with a little extra flour and roll the dough into a rectangle shape.

Place the slices on ham on the dough and sprinkle with grated cheese

Roll into a sausage shape and then cut into pinwheel slices

Place onto the prepared baking tray.

Place into the oven and bake for approximately 20 minutes, or until golden.
Notes
If you don't have self-raising flour you can add 1 teaspoon of baking powder for each cup of flour when you sift the flour into the bowl
I personally don't think these need any egg-wash, but you could brush with beaten egg before baking if you prefer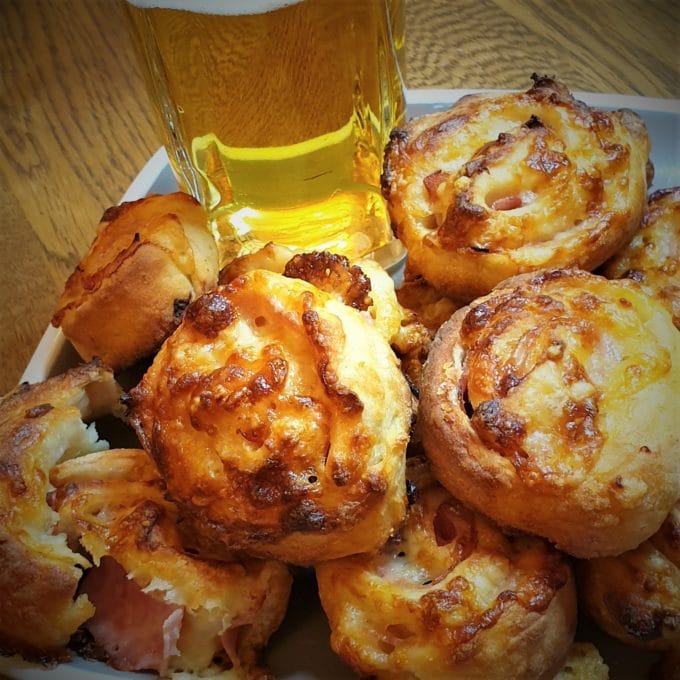 Delicious with an ice-cold beer!