Ham and cheese pinwheels are a delicious party snack and the dough is made with only 2 ingredients! You can't get easier than that.
Ham and cheese pinwheels
Made in minutes with only 4 ingredients – watch the magic happen!
Yes, that's right, only 4 ingredients (including the filling) to make these delicious ham and cheese pinwheels.
The pinwheels are made with the WeightWatchers 2-ingredient dough. If you haven't heard of this before, it is a mixture of Greek yoghurt and self-raising flour in equal quantities. Somehow (by magic?) the yeast in the yoghurt reacts with the flour to transform everything instantly into a ball of dough that would normally take hours to knead, prove and rise by making the dough in the traditional way.
One dough – many dishes
Once you've mixed the dough, there is so much you can do with it
pizza base
garlic dough-balls
breadsticks
and my favourite – these delicious ham and cheese pinwheels.
You could also shape balls of dough into bread rolls, bake in the oven and then fill with left-over bolognaise sauce for a quick and easy supper dish. Why not try Curried Dough Balls they taste just like Vetkoek and Curried Mince but without all the effort.
Ingredients for ham and cheese pinwheels
Whenever I read a recipe I like to have a look at the ingredients to see whether I have everything I need. To make it easy for you – I've listed the ingredients below. You can get the full list of ingredients and quantities in the printable recipe card further down in the post.
For the dough:
1 cup self-raising flour – if you only have plain flour, add 2 level teaspoons of baking powder per cup of flour.
1 cup Greek yoghurt – the thick unflavoured variey.
If you don't have self-raising flour you can use plain flour and add 1 teaspoon of baking powder per cup of flour.
For the filling:
Grated cheese – I've used a mixture of cheddar and mozzarella. You can use your own favourite cheese here.
Slices of ham – sandwich ham is fine.
Alternative fillings:
Why not try these alternative fillings
Spicy tomato sauce layered with salami and cheese
Split open some good quality pork sausages and mix with 2 tablespoons of mustard
A mixture of grated cheese and onion
Sundried tomatoes, grated cheese and sliced mushrooms, with a sprinkling of mixed herbs
How to make ham and cheese pinwheels
Mix the dough
Measure one cup of self-raising flour into a mixing bowl and add one cup Greek yoghurt. You need the thick, unflavoured Greek Yoghurt, not the fruity flavoured yoghurt.
Mix with a wooden spoon until it comes together in a ball.
You could do this in a food processor, using the dough hook – but then there would be extra washing up and to be honest, the dough comes together beautifully when you just mix it by hand so I don't bother with the food processor.
Once it's mixed, the dough will be quite sticky so you may (or probably will) need to sprinkle some extra flour before rolling it out. Don't worry – this is a very forgiving recipe – you don't need to be too precise – a little extra flour won't hurt.
The dough should be very soft.
Layer ham and cheese on the rolled pastry

Roll into a sausage shape and slice
Sprinkle your work surface with a little extra flour.
Take half of the dough and roll it out into a large rectangle. Roll it out quite thinly as it will swell during baking.
Add the ham and cheese filling
Cover with a mixture of grated mozzarella and cheddar cheese, and slices of ham.
Be generous with the filling, but at the same time, be careful not to overfill or you will have trouble rolling the dough into a sausage shape.
Tip – leave about 1″ of pastry uncovered at one side of the rectangle so you have a bit of pastry free to seal the pinwheel.
Roll the pinwheels
Brush the uncovered edge of pastry with egg wash. Starting at the opposite edge, roll everything up into a long sausage shape, towards the egg-washed side.
Seal the roll on the egg-washed side and then slice into pinwheels.
Repeat the process with the other half of the dough.
Bake the pinwheels
Arrange the pinwheels on a baking sheet lined with greased tinfoil or baking paper and bake in a hot oven for about 20 minutes.
Allow to cool slightly before serving.
I like to serve them whilst they are still warm, but they are just as delicious served at room temperature.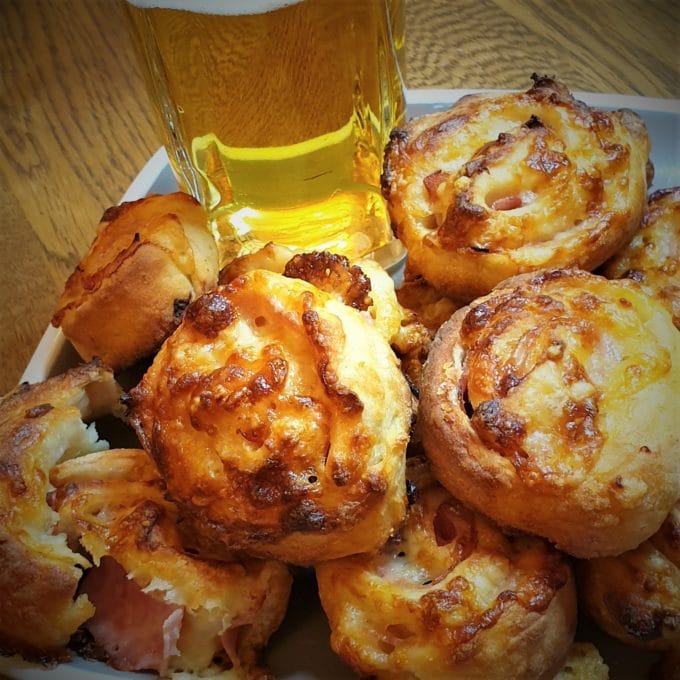 Other quick snacks to try
Breadcups – day-old bread is toasted in a muffin tin, and these breadcups are filled with your favourite quiche ingredients for a tasty party snack.
Eggy Cheesy Things – these are instant mini quiches filled with egg and sausage, using a pasty shell cut from fajita wraps.
Pork and apple sausage rolls – if you have a roll of shop-bought puff pastry in the fridge, and a packet of pork sausages you can whip up a batch of these in no time.
Equipment
As an Amazon Associate I earn from qualifying purchases.
You probably have all of this equipment in your kitchen already. In case you are missing something, I've included some handy links to items on Amazon that you may find useful.
Did you know you can get free delivery with Amazon Prime. Click below to start your free trial.
If you want to keep up-to-date with my latest recipes why not follow along on Facebook or Pinterest. And don't forget to subscribe to my mailing list so you can get your FREE COOKERY BOOK
Recipe – Ham and Cheese Pinwheels
Ham and Cheese Pinwheels
Quick and easy ham and cheese pinwheels – made with only 4 ingredients
Ingredients
1

cup

Self-raising flour

1

cup

Greek yoghurt

8 – 10

Slices

Ham

for filling

1

cup

Grated cheese

I like a mixture of cheddar and mozzarella

Extra flour for rolling
Instructions
Preheat oven to 200 degrees C. (400 degrees F / gas mark 6)

Line a baking sheet with tinfoil or baking parchment. If using tinfoil, spray lightly with cooking spray to prevent sticking

Sift the flour into a bowl and add the yoghurt

Mix well with a wooden spoon until the mixture comes together in a ball. If the mixture is too sticky you can add extra flour (1 tablespoon at a time) until the desired consistency is reached

Sprinkle the work surface with a little extra flour and roll the dough into a rectangle shape.

Place the slices on ham on the dough and sprinkle with grated cheese

Roll into a sausage shape and then cut into pinwheel slices

Place onto the prepared baking tray.

Place into the oven and bake for approximately 20 minutes, or until golden.
Notes
If you don't have self-raising flour you can add 1 teaspoon of baking powder for each cup of flour when you sift the flour into the bowl.
This makes a quite sticky dough and you may need to add a little extra flour to make it easier to handle.  Don't add too much though – the dough should be very soft.
I personally don't think these need any egg-wash, but you could brush with beaten egg before baking if you prefer.
I am not a nutritionist. The nutrition information has been calculated using an on-line calculator, and is intended for information and guidance purposes only.  If the nutrition information is important to you, you should consider calculating it yourself, using your preferred tool.
If you made this recipe and enjoyed it, please don't forget to give me a star rating in the comments below. And if you'd like to get in touch, you can email me on [email protected] I'd love to hear from you.
You can click the buttons below if you'd like to save the recipe to Pinterest or your Yummly recipe box. And don't forget to subscribe to my mailing list so you can grab yourself a copy of my FREE COOKBOOK! And if you'd like to continue browsing, just click on this recipe link.