A scotch egg is one of those great classic English dishes that have to be eaten freshly homemade to be appreciated. Just imagine a perfectly boiled egg, surrounded by juicy pork sausage meat, encased in the crispiest coating of fried breadcrumbs. Read on for my step-by-step guide on how to make scotch eggs, and you could be eating one for your supper tonight.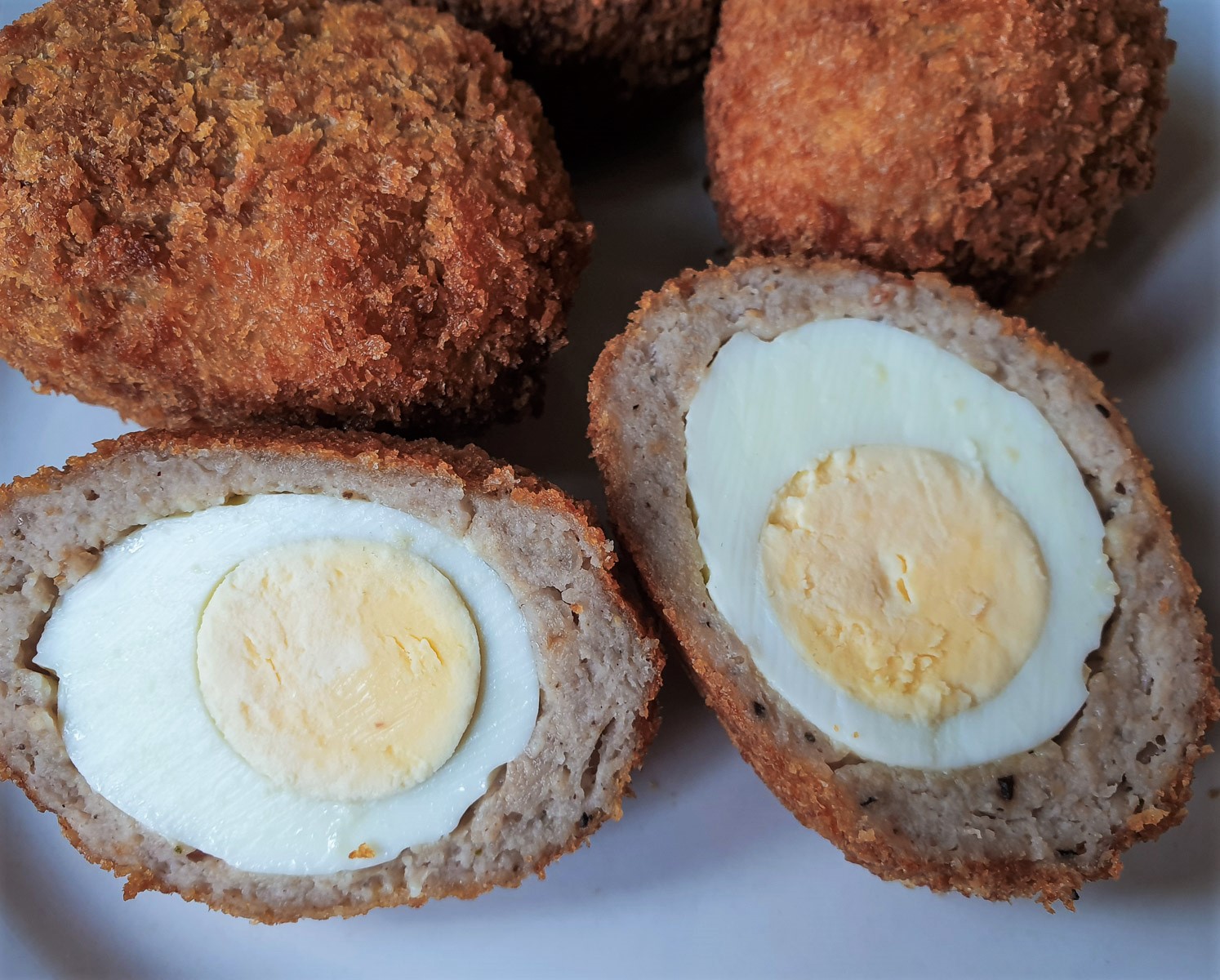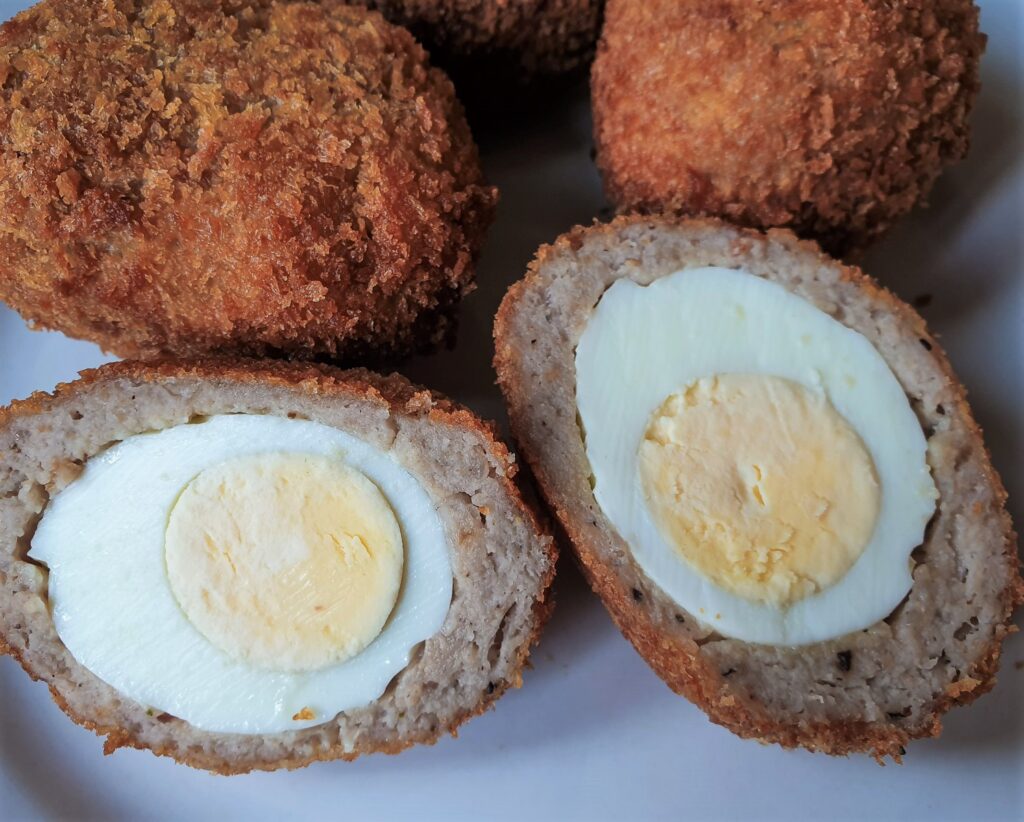 **As an Amazon affiliate, I earn from qualifying purchases.**
Origin of the scotch egg
Contrary to popular belief, the Scotch egg did not originate in Scotland. There are many theories as to the true origin, but not one of them mentions Scotland.
The most likely story is that a scotch egg is an abbreviation for 'scotched egg'. Scotched meat was meat that had been finely cut (or minced as we call it today), and an egg wrapped in scotched meat became a scotched egg, which over the years has become a scotch egg.
Another theory is that scotch eggs originated in the North Yorkshire seaside town of Whitby, where they were made by William J Scott & Sons. These eggs were known as Scotties and were originally encased in a creamy fish paste. Once these eggs started being sold on the high street, the fish paste was replaced by pork mince which made the eggs easier to handle, and less prone to breaking apart.
A third theory, and one that I quite like, is that scotch eggs were invented in London by Fortnum and Mason as a delicacy for the gentry to take with them in their carriages when travelling. The idea being that the mince coating would help to hide the rather distinctive aroma of a plain boiled egg.
But regardless of the origin, the good old scotch egg stands alongside other British classics such as Meat and Potato Pie with Mushy Peas, or Toad-in-the-hole, or even Lancashire Hotpot. And let's not forget the great British pork pie!
Read on for instructions on how to make scotch eggs for yourself.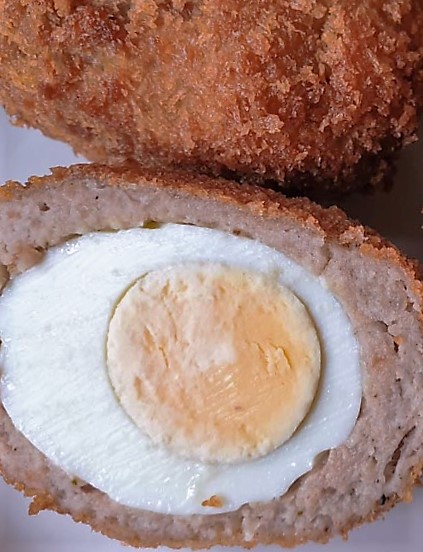 What are scotch eggs?
Scotch eggs are simply hard or soft-boiled eggs wrapped in pork sausage meat and coated with egg and breadcrumbs. They are then deep-fried until the breadcrumb coating forms a crispy outer shell, and the pork sausage layer on the inside is cooked through.
A scotch egg is perfect for packing into a picnic, or for eating as part of a ploughman's lunch, with pickles and a bowl of relish for dipping. It can even be eaten with a plate of crispy potato fries and a helping of baked beans for a quick and easy supper.
How to cook your boiled eggs
The consistency of the yolk is a matter of debate. Some people prefer a runny yolk, whereas others, like myself, prefer the yolk to be more firmly set.
To cook your boiled eggs exactly as you like them, follow the instructions and timing below.
The eggs should be at room temperature. If you take your eggs directly from the fridge then these timings will not be accurate.
Bring a pan of water to a rolling boil.
Using a slotted spoon, gently lower the eggs into the water.
Leave the eggs in the water for the time indicated below:

5 to 6 minutes – for soft-boiled with a runny yolk
7 minutes – for a soft sticky yolk
8 minutes – for a completely set but still soft yolk
9 to 10 minutes – for a completely hard-boiled yolk

At the end of the cooking time, remove the eggs from the water with a slotted spoon and place into a bowl of ice-cold water to stop the cooking process
Note, these times are based on an altitude of sea level. If you live at a higher altitude, you may need to increase the cooking time for the eggs. See my post on baking at high altitudes for more information.
Pork sausage layer
To make a basic scotch egg, which is what this recipe is about, you can just take your favourite pork sausage and remove the skin. Then carefully wrap the sausage around the egg.
If you want to add extra flavour to the sausages you can add one or more of the following to the sausage meat before wrapping it around the egg:
Finely chopped onions, fried gently until soft
1 or 2 teaspoons of mustard, depending on your taste
A teaspoon of your favourite herb. Sage goes well with pork, as does fennel.
A handful of good quality grated cheese such as cheddar to make cheesy scotch eggs.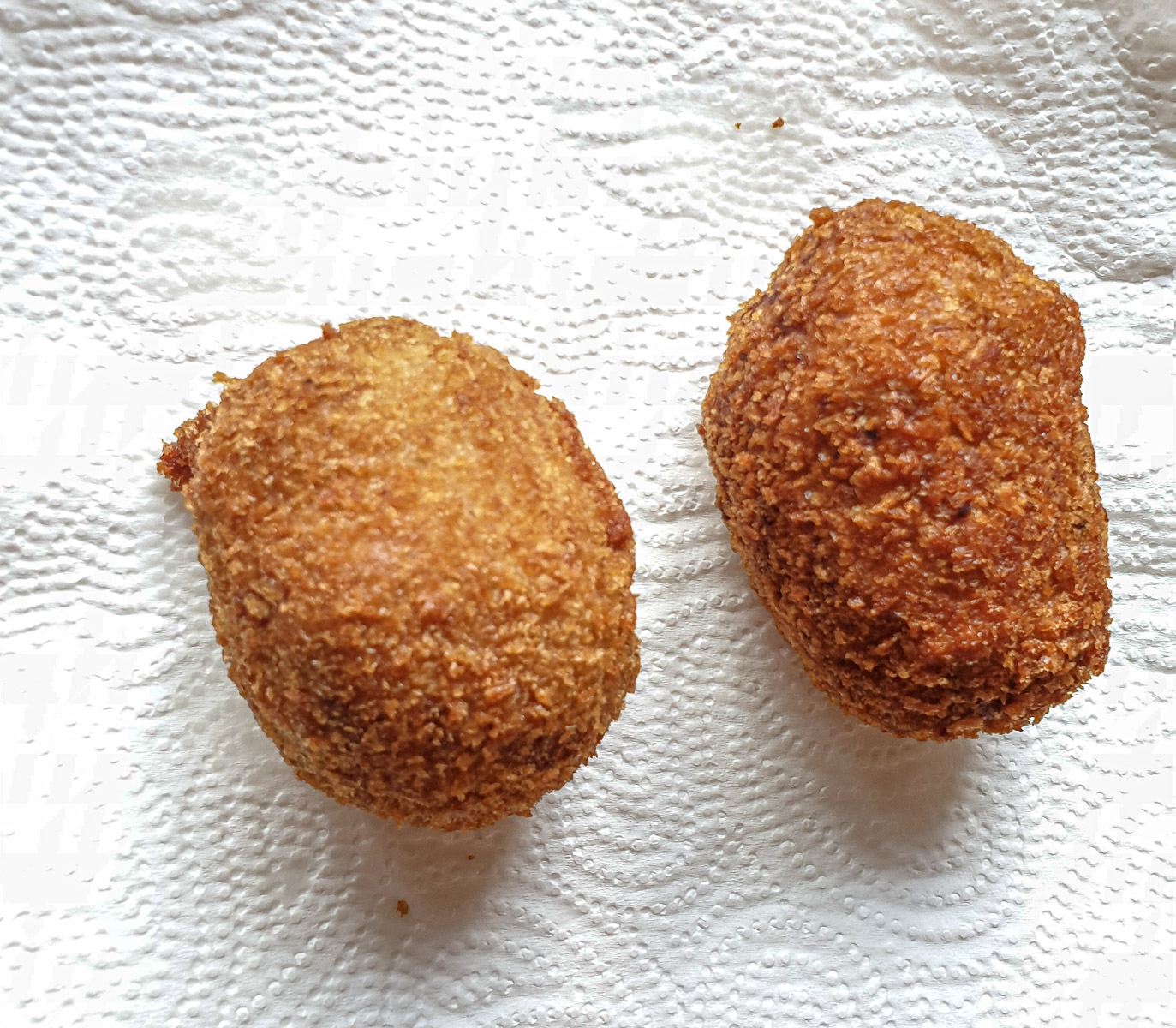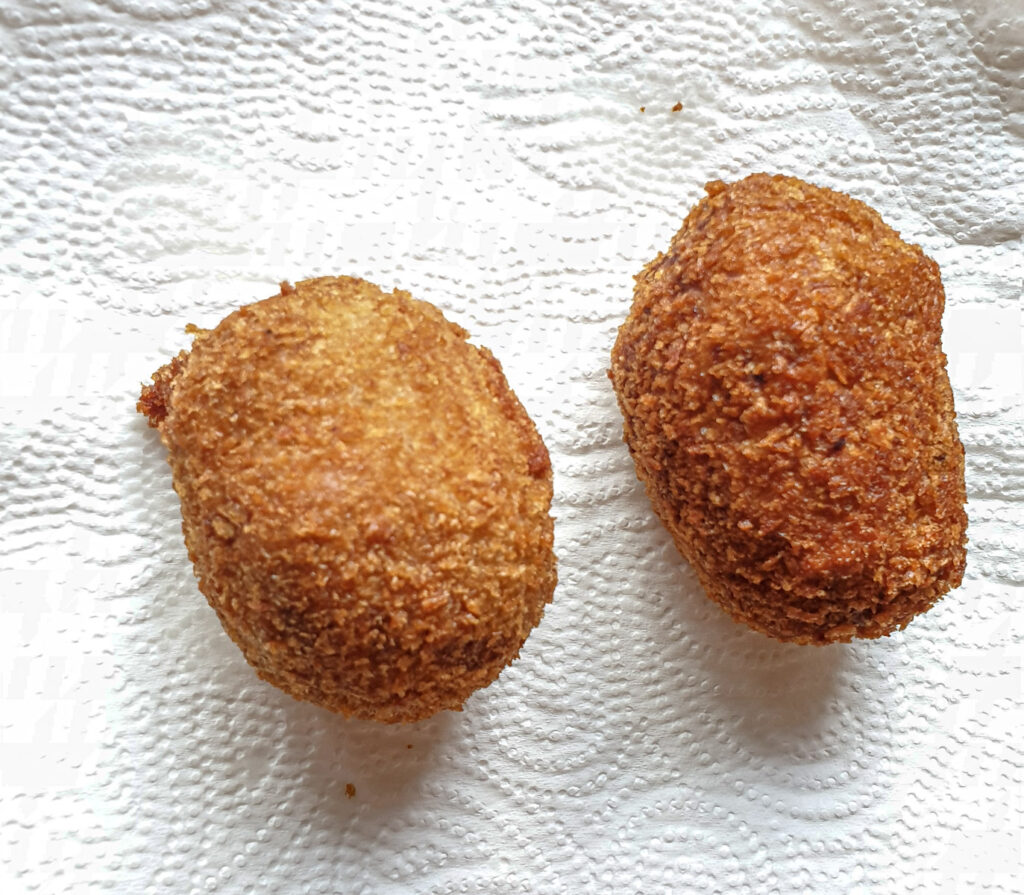 The crispy outer shell
Some people say this is the best part! A crispy layer of delicious golden deep-fried breadcrumbs stuck onto the sausage with beaten egg provides a satisfying crunch as you bite into the scotch egg.
You can use normal breadcrumbs if that's all you have to hand, but I find that panko breadcrumbs give a bit of extra crunch.
If you want to make an even thicker shell around your scotch egg, you can coat them twice, but I find that one layer of panko is sufficient.
If you really have to, you can skip the deep-frying, and bake these in the oven. But believe me, you will not get the same crispy crunchiness on the shell if you do this.
Ingredients to make scotch eggs
You can get the complete list of ingredients and full instructions on how to make these scotch eggs on the printable recipe card at the end of this post.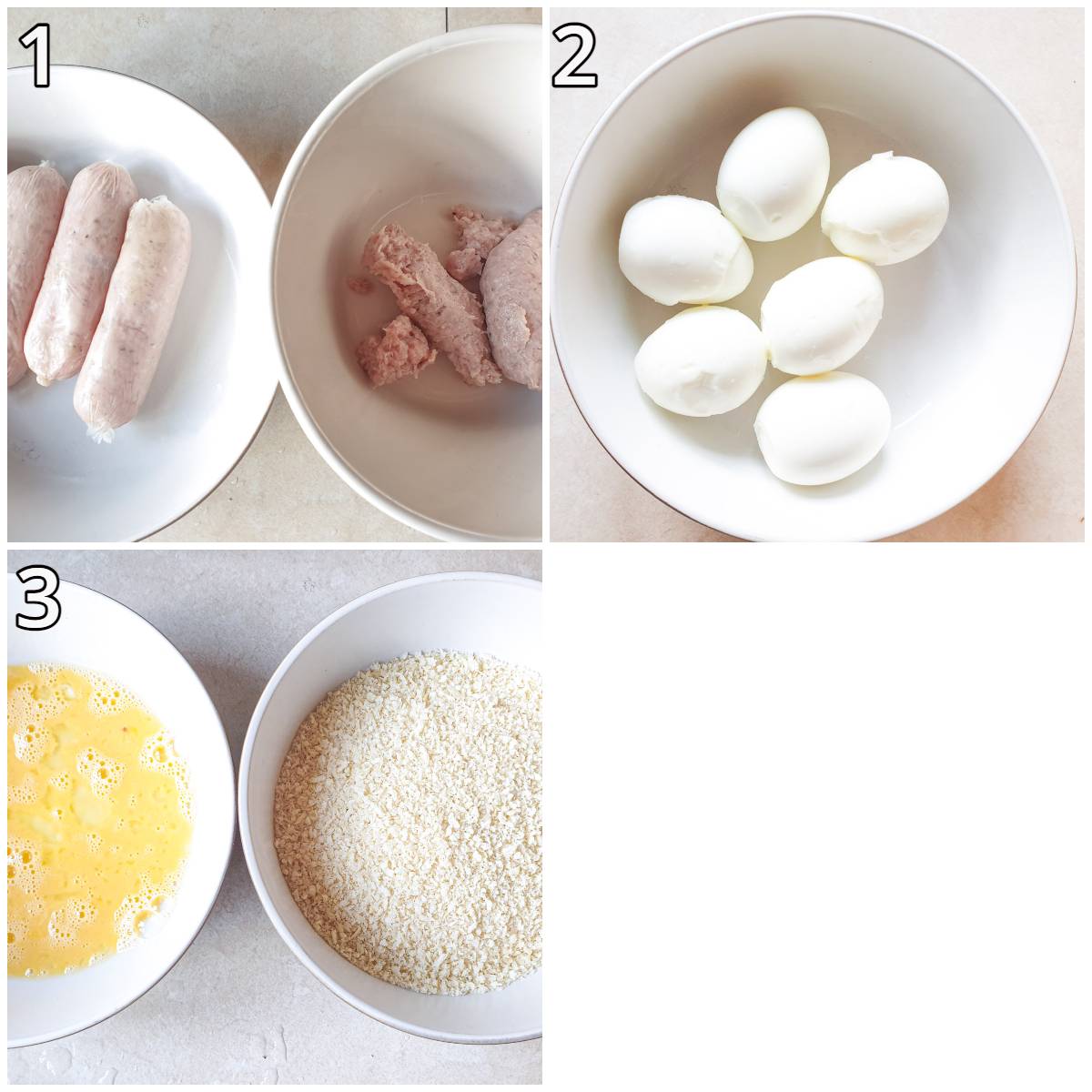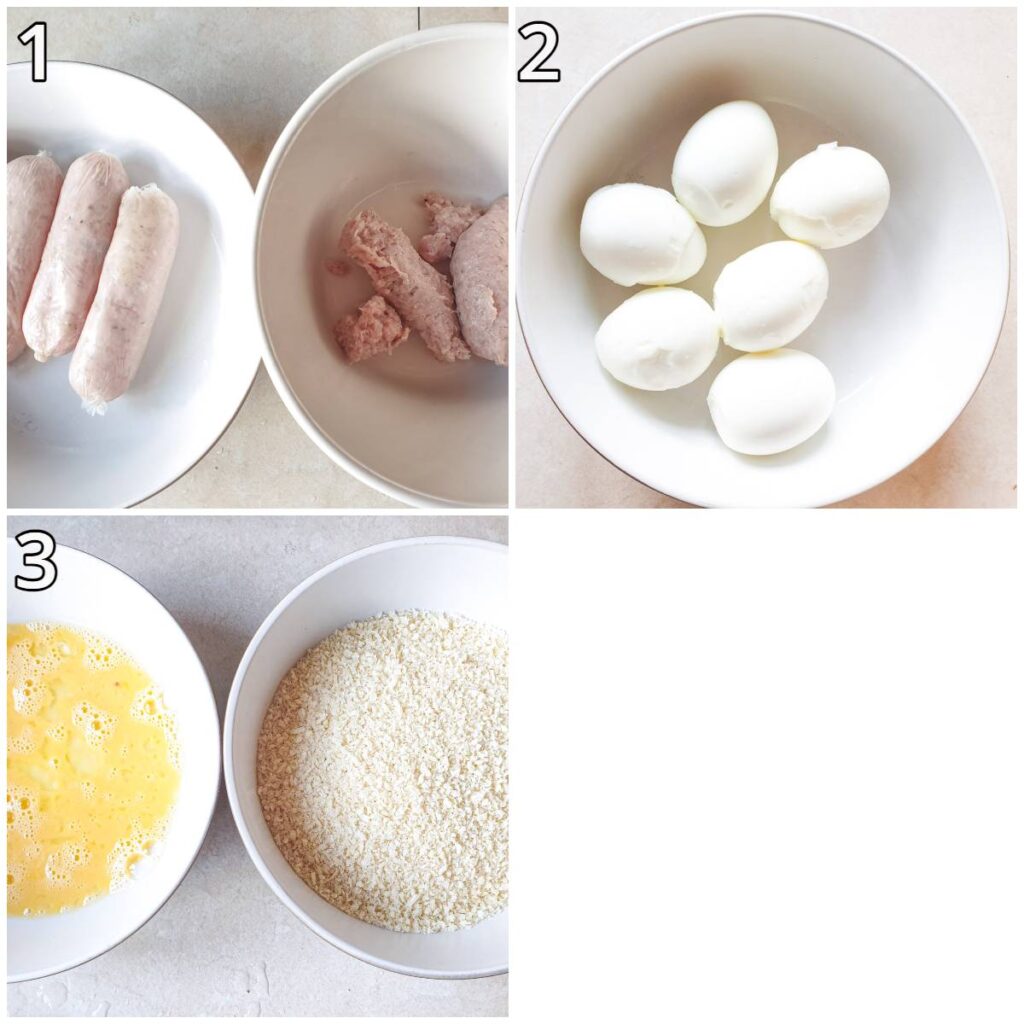 Pork sausages – it goes without saying that you need to get good quality sausages. If you wouldn't eat the sausage on its own then it's not going to improve by being wrapped around an egg! Depending on the size of the sausages, you will probably need one and a half sausages to cover each egg.
Hard-boiled eggs – or soft-boiled to your own preference. Peeled, of course.
A little flour – which will help you mould the pork around the egg
Beaten egg – for dipping the egg so that the breadcrumbs will stick.
Breadcrumbs – my choice would be panko, but any breadcrumbs will do.
Oil – for frying.
How to make Scotch Eggs
For the filling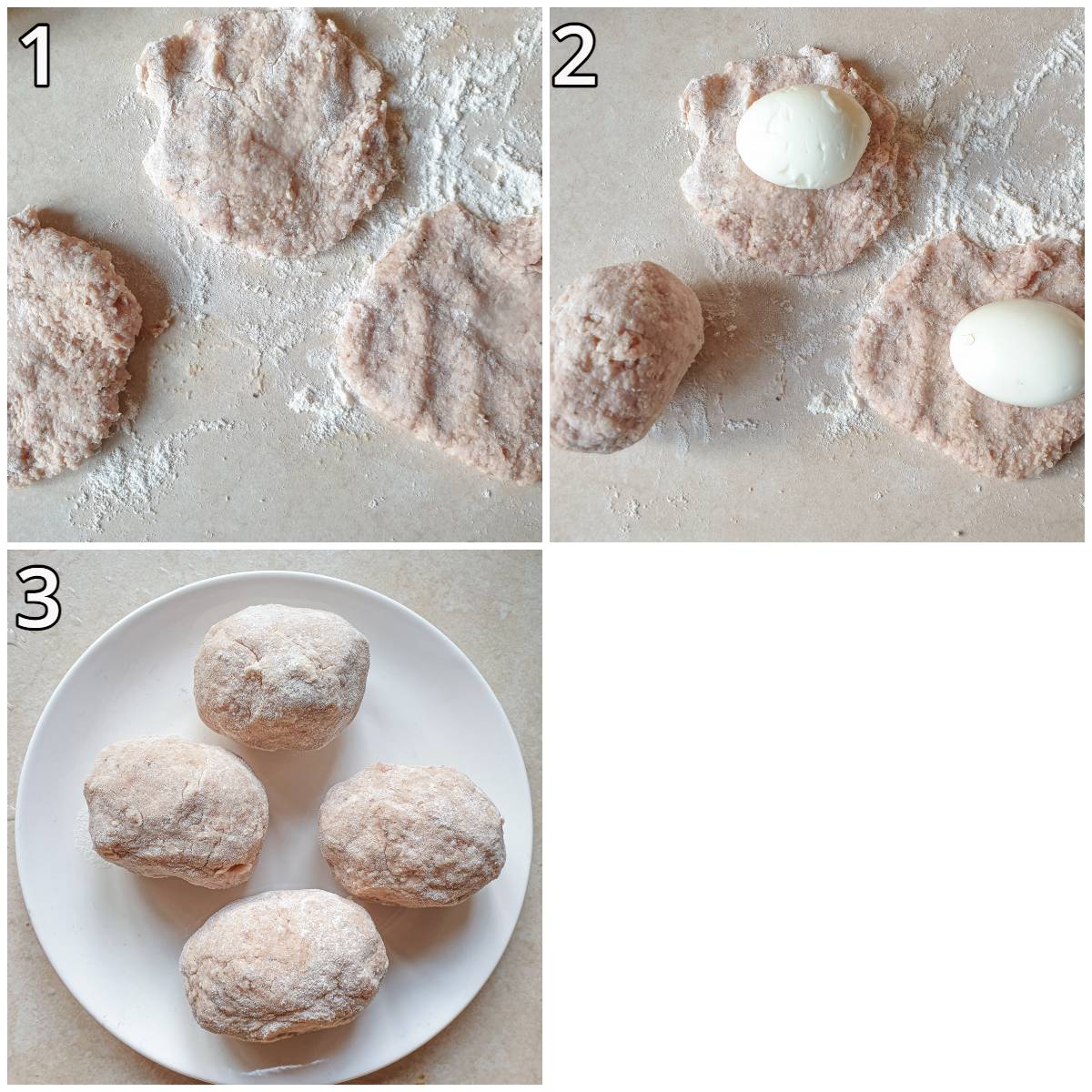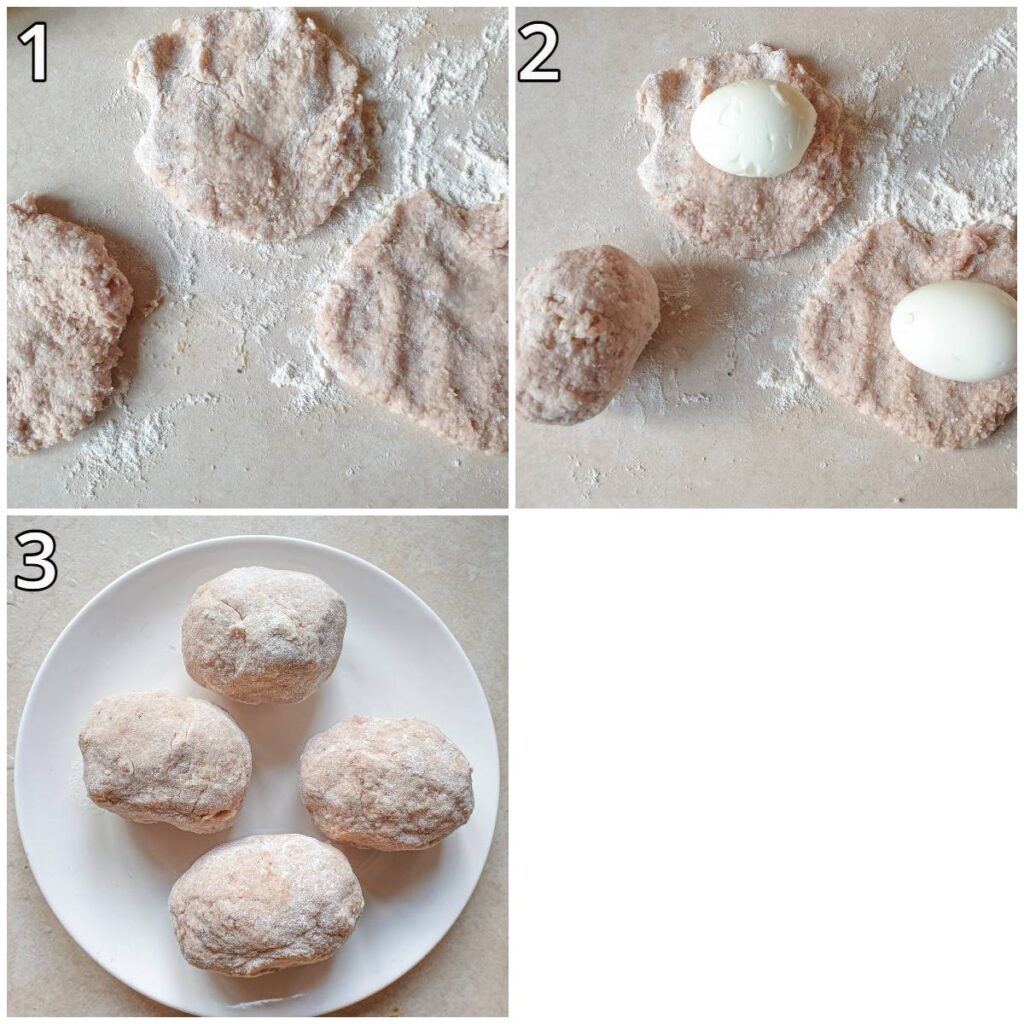 Boil the eggs to your liking. Use the timings above as a guide. Then cool and remove the shell.
Remove the skins from the sausages
Place the sausage meat onto a floured surface and rub your hands with a little flour. Sausage meat can be a bit sticky and this will prevent the sausage meat from sticking to your hands.
Take a handful of sausage meat and press it out into a flat patty. It should be about 1/4″ or 1/2 cm in thickness, and large enough to enable you to cover the egg.
Place an egg in the middle of the patty and gently mould the sausage meat around the egg, enclosing it completely. Try to keep the meat to an even thickness all around.
Roll the covered egg in some of the flour on your work surface to coat lightly.
Coat and fry the scotch eggs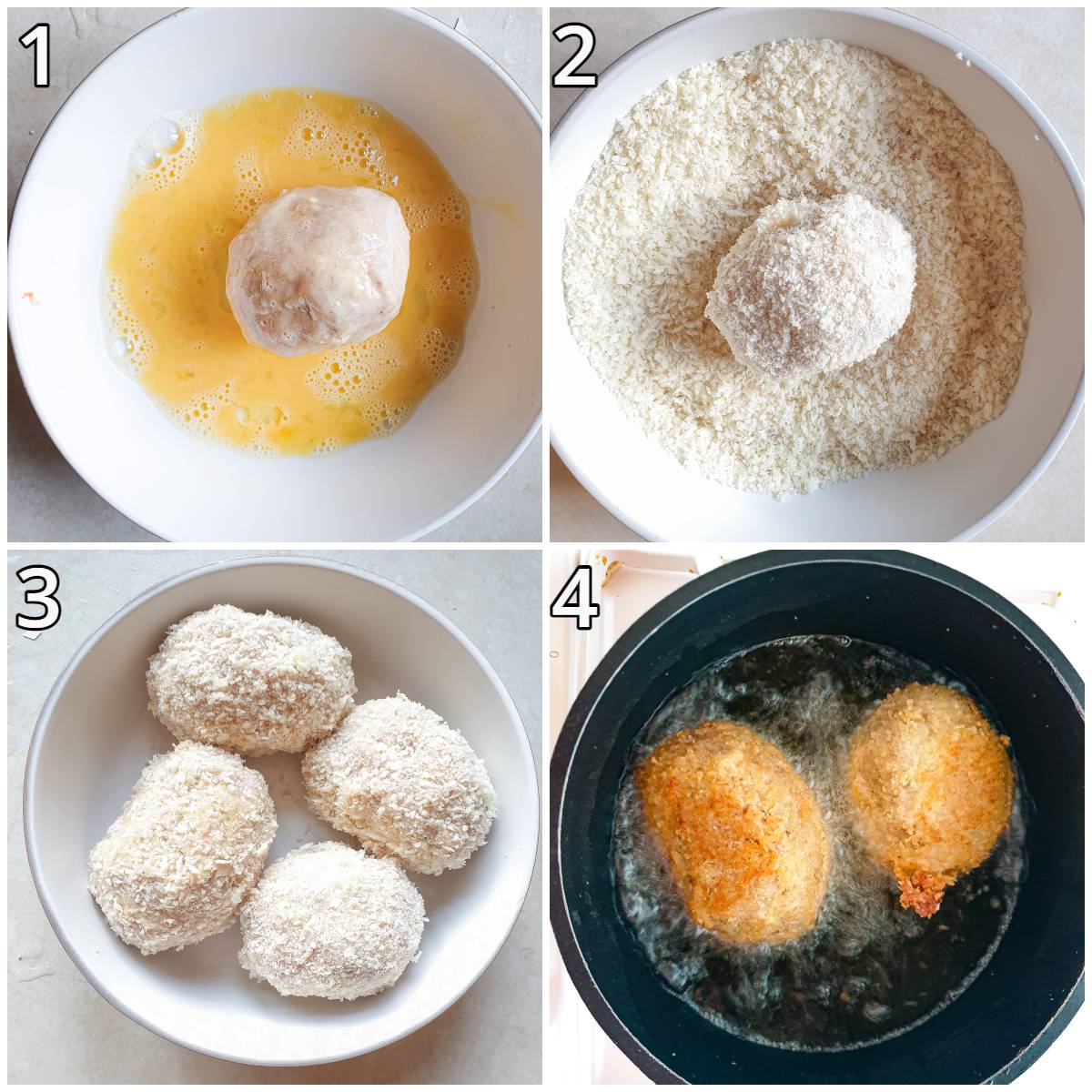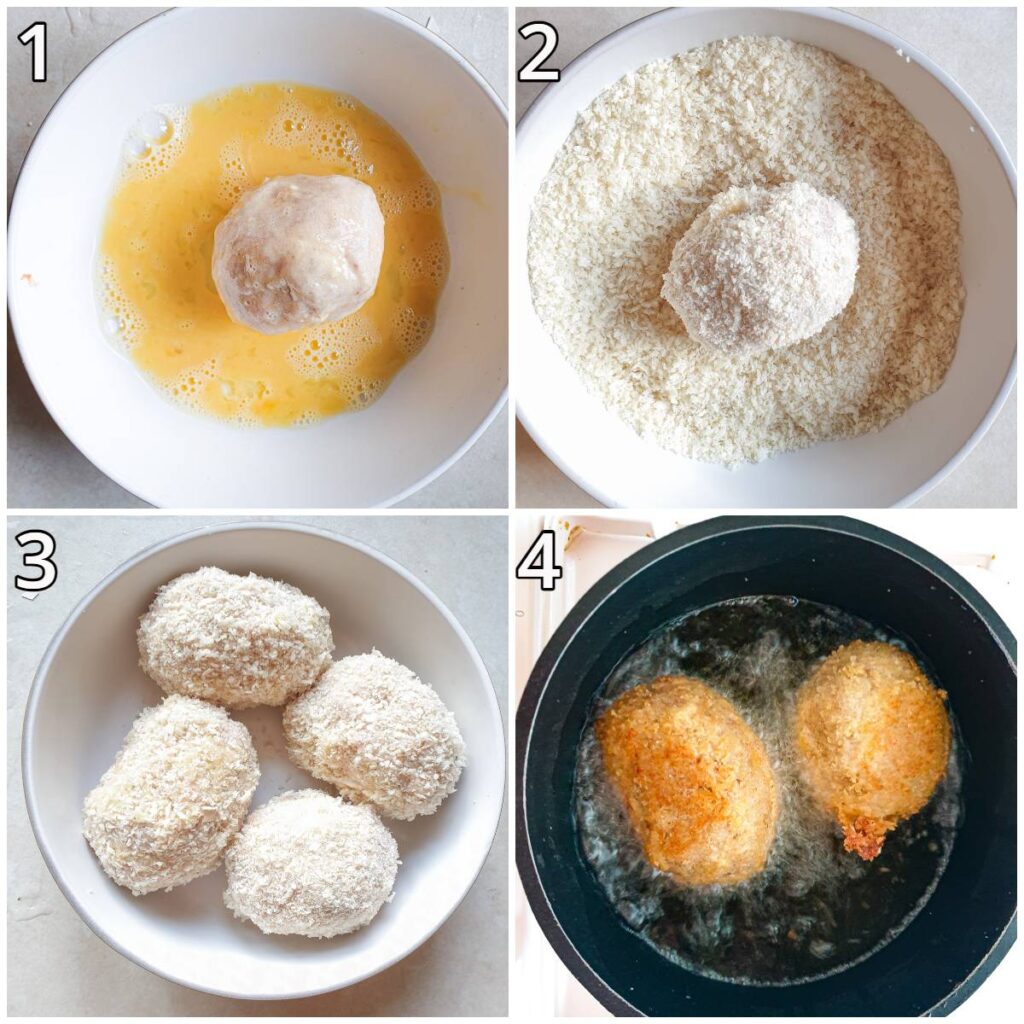 Dip each ball into beaten egg, and then dip them in the breadcrumbs. Press the breadcrumbs firmly onto the egg and make sure each egg is well coated.
Place the coated eggs into the fridge for about 10 minutes to chill. This 'sets' the breadcrumbs and they will be less likely to fall off when frying.
If you have a deep-fryer you can use that to fry the eggs. Just follow the manufacturer's instructions to bring it to temperature (170C / 340F), then lower the eggs into the oil and fry for about 4 minutes until golden brown
If you don't have a deep-fryer, you can use a saucepan. Heat about 2″ oil in the saucepan. It will be hot enough when a small cube of bread dropped in sizzles, and starts to turn golden after about 10 seconds.
Carefully lower one of the coated eggs into the oil, using a slotted spoon. Depending on the size of your saucepan you can add more eggs, but don't overcrowd the pan. As you can see from the photo above, my pan was large enough for 2 eggs.
Allow the eggs to fry until golden brown, turning occasionally to ensure an even colouring all round. This should take about 4 minutes.
Once the eggs are fully browned, remove from the hot oil and drain on kitchen paper towel.
If you'd like to be notified of any new recipes, why not subscribe to my newsletter. As a thank-you gift, you will receive a free recipe e-book containing some of my most popular cakes and desserts.
Pin for later
Why not pin this recipe for Scotch Eggs so that you can try them for yourself.
Recipe – How to make scotch eggs
If you made this recipe and enjoyed it, I'd love it if you could give me a star rating in the comments below. And if you'd like to get in touch, you can email me at [email protected]. I'd love to hear from you. And don't forget to subscribe to my mailing list so you can grab yourself a copy of my FREE COOKBOOK!
If you'd like to continue browsing, just click on this link to all my recipes.