Pork and apple sausage rolls are made with real pork mince (not shop-bought sausage meat). Finely diced red peppers provide an additional burst of flavour. Perfect for a picnic or a party, or pack some in your lunch box for a quick and easy midday snack.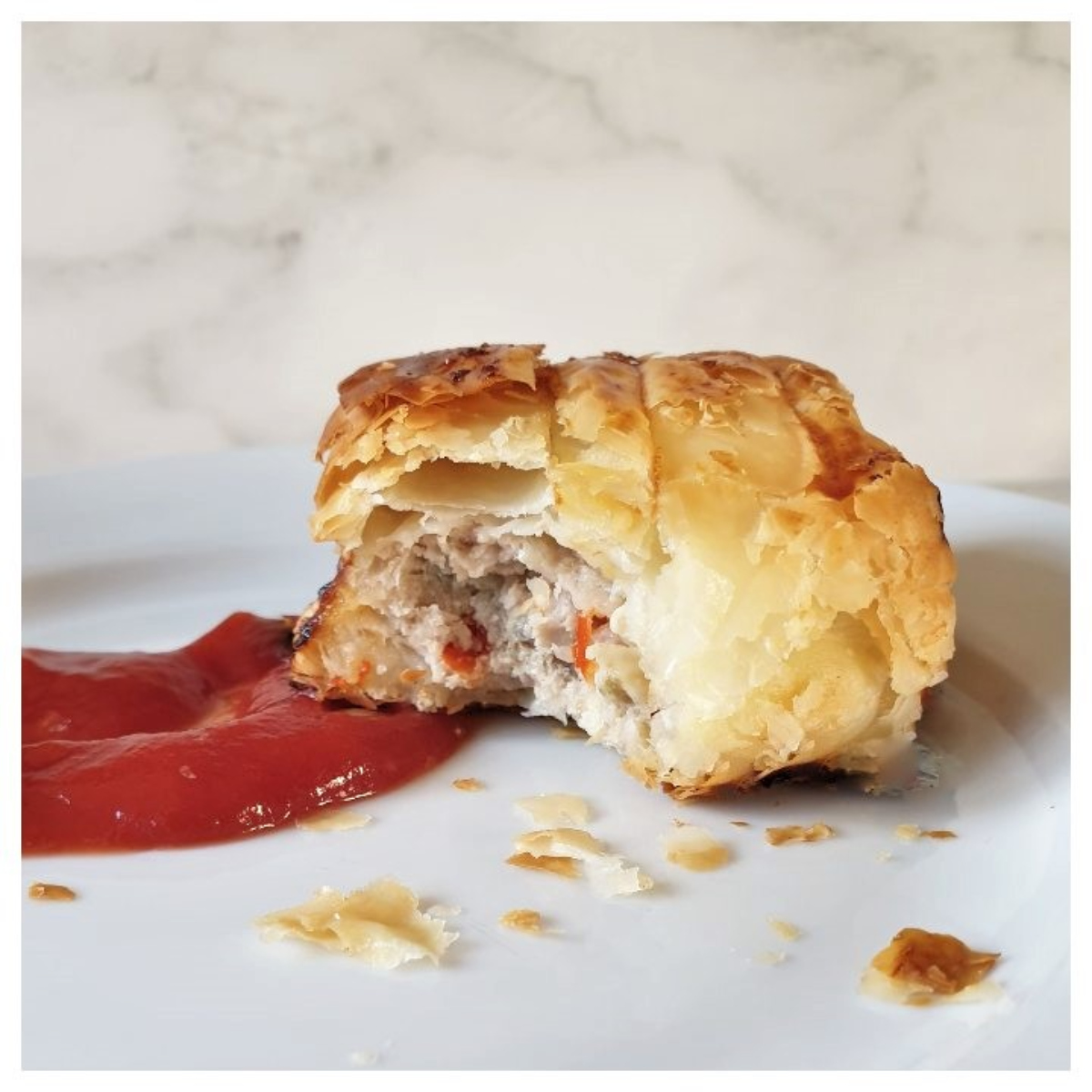 **As an Amazon affiliate, I earn from qualifying purchases.**
The great British sausage roll
Ah, the humble sausage roll – as British as fish and chips or bangers and mash. Where would we be without it? We make them for parties and get-togethers, we eat them for snacks and quick lunches. They even make a great quick supper with baked beans and chips. According to Wikipedia. Greggs, the famous British bakery group, sold 140 million sausage rolls in 2017.
At its simplest form, a sausage roll is what its name implies – a sausage wrapped in a roll of crispy flaky puff pastry. The flakier the better. I've been known to eat a sausage roll on the train for breakfast, only to get to work and discover my jumper was still covered in crumbs.
This recipe for pork and apple sausage rolls takes the sausage roll one step further. It calls for proper pork mince rather than just squeezing the filling out of a raw sausage. I've added grated apple and finely chopped red pepper for additional flavour. Pork and apple are meant to go together. Who doesn't love a slice of roast pork with apple sauce?
Why not put them to the test – I'm sure you'll agree with me that these pork and apple sausage rolls are absolutely scrummy.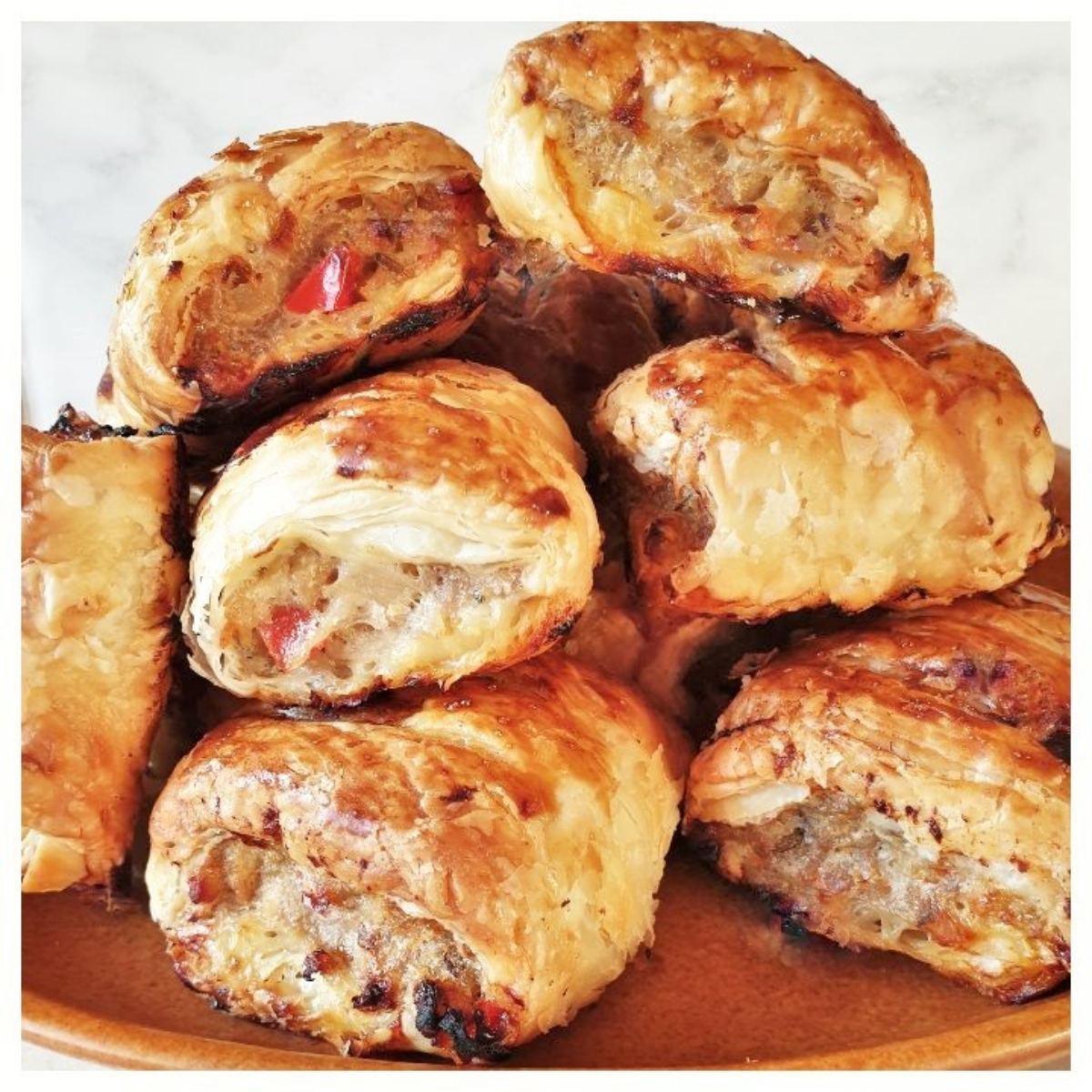 Ingredients for pork and apple sausage rolls
Whenever I read a recipe I like to have a look at the ingredients to see whether I have everything I need. To make it easy for you – I've listed the ingredients below. You can get the full list of ingredients and instructions to make this recipe on the printable recipe card further down in the post.
Ground Pork – buy pork with the lowest fat content you can get. You don't want your baking tray covered in pork fat as the sausage rolls cook.
1 medium-sized onion and 1 medium-sized red pepper – both chopped into a fine dice
Grated apple. I used a Granny Smith apple, but a Bramley or any crisp apple would work just as well.
Panko breadcrumbs. They absorb some of the juices from the meat and help to bind the filling. You can whizz up a couple of slices of stale bread in a food processor if you can't get Panko. I've used wholewheat bread with great success – the seeds in the wholewheat bread add a nice texture.
1 clove of garlic – minced or finely chopped
A lightly beaten egg
Shop-bought puff pastry – you can make your own if you like, but shop-bought works perfectly well.
Olive Oil – for frying the vegetables. You can use vegetable oil if you prefer.
Salt and pepper – to taste
How to make Pork and Apple Sausage Rolls
This should be sufficient for 18 sausage rolls.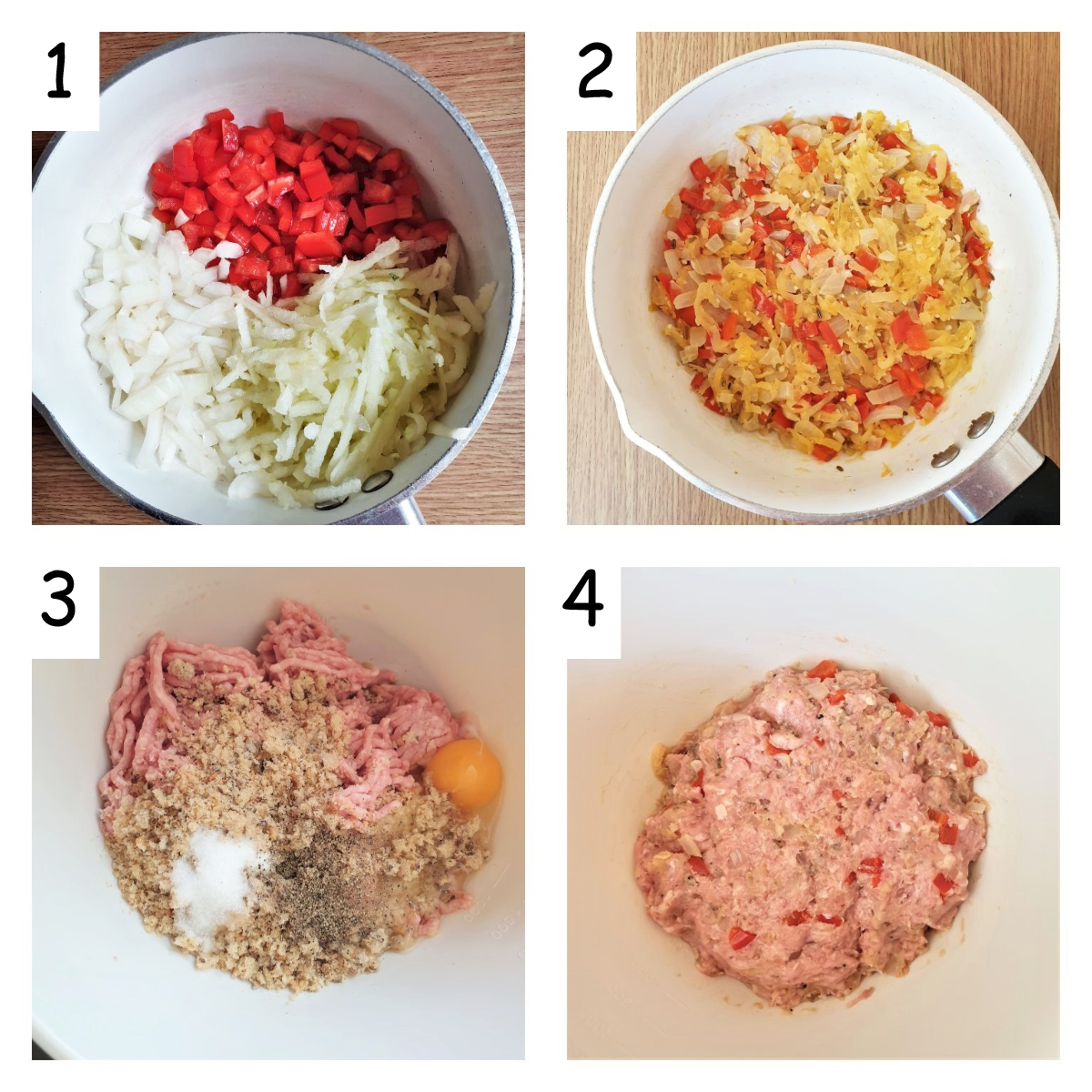 Prepare and fry the vegetables
Finely dice the onions and pepper and grate the apple (image 1), then fry the gently in the olive oil until they are soft, and the moisture has evapourated (image 2). Allow to cool.
This step is important – if you add raw vegetables to the mince they will produce a lot of moisture when they cook. And moisture in sausage rolls equals soggy pastry. Not good.
Mix the ingredients together
Place the remaining ingredients and the cooled vegetables in a mixing bowl (image 3) and mix well to combine (image 4). You will probably find it easiest to use your hands rather than a spatula.
Form the sausage rolls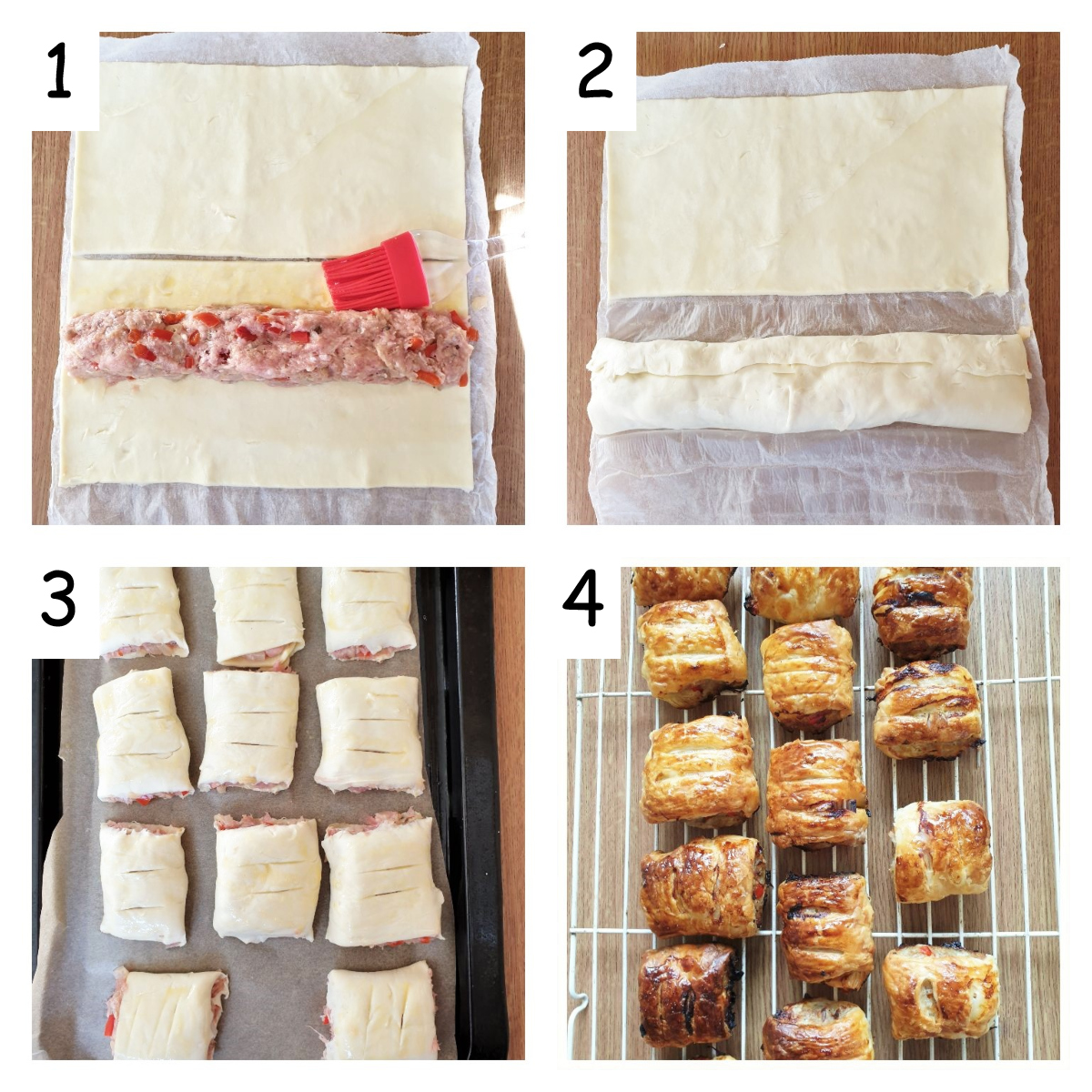 Unroll the pastry on a flat surface and cut into 3 (not shown).
Take 1/3 of the meat mixture and form it into a long sausage shape. Lay it on one of the pieces of puff pastry and brush one side of the pastry with egg-wash (image 1).
Bring the other side of the pastry up over the meat and then bring the egg-washed side up and seal into a long cylindrical shape (image 2).
Repeat twice more with the rest of the meat.
Bake
Cut each of the rolls into 6 pieces and arrange on a baking tray lined with baking parchment (image 3). The baking parchment stops the sausage rolls sticking to the baking tray.
Bake in a hot oven (200C / 400F) for 30 minutes until the sausage rolls are golden. Remove from oven and cool on a wire rack (image 4).
Leftover filling?
If your pastry runs out before you have used up all the filling, just roll the leftovers into small meatballs and place on a separate baking sheet in the oven along with your sausage rolls. Instant meatballs!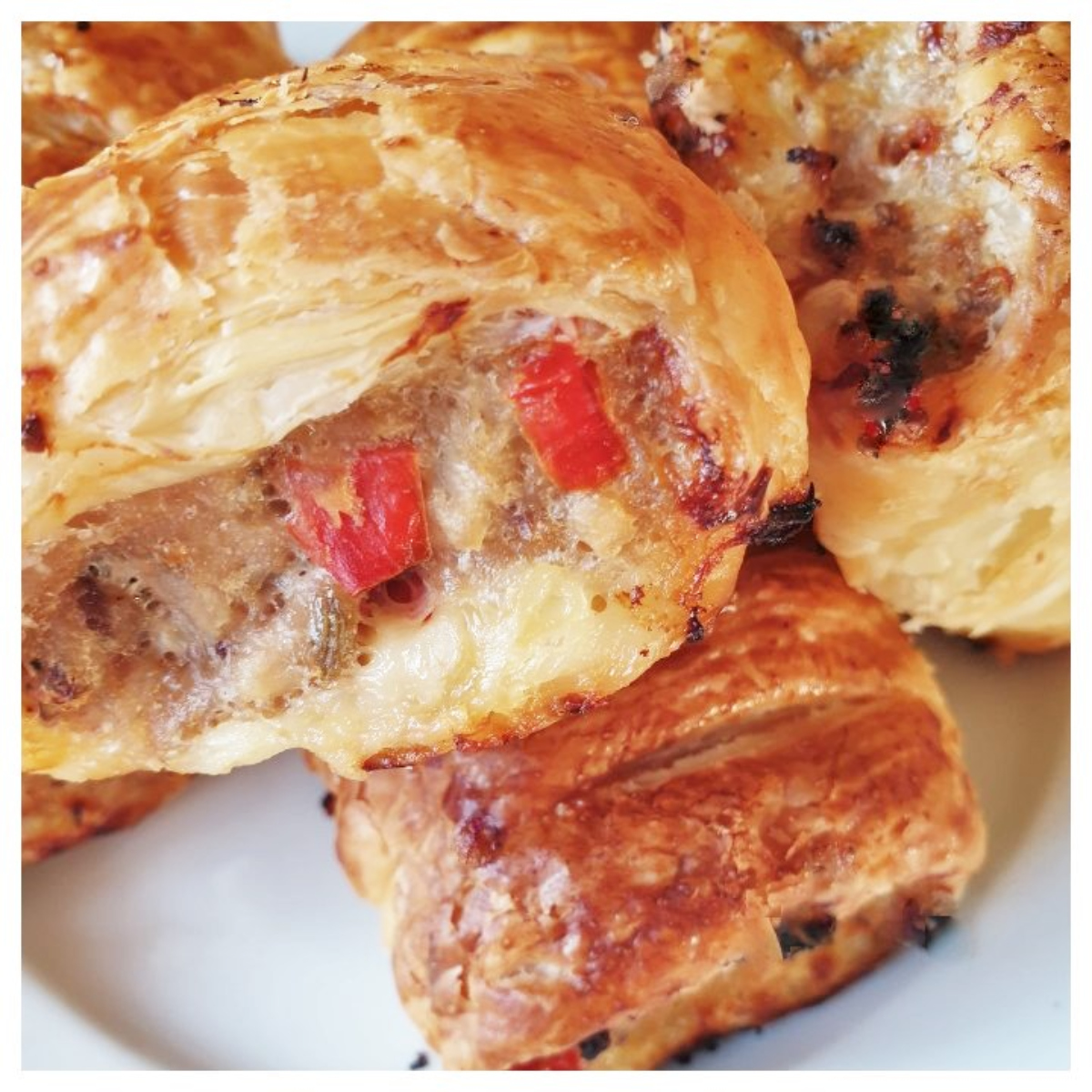 To serve
Serve these pork and apple sausage rolls with a big bowl of tomato ketchup. If you don't like the bottled sauce, try this recipe for homemade chilli tomato sauce.
They would also go really well with my homemade chutney.
And of course you can just eat them plain.
If you'd like to be notified of any new recipes, why not subscribe to my newsletter. As a thank-you gift, you will receive a free recipe e-book containing some of my most popular cakes and desserts.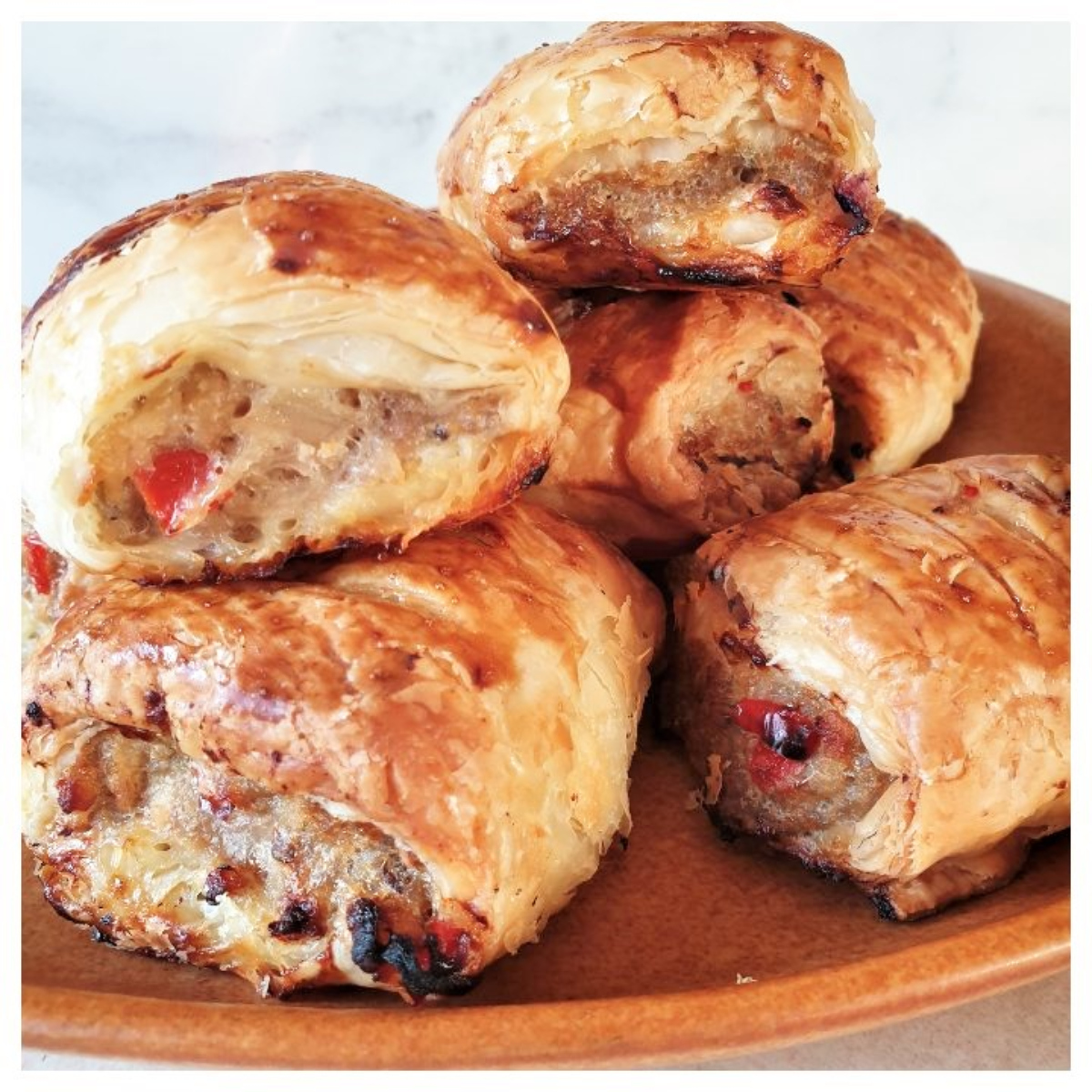 Pin for later
Why not pin this pork and apple sausage roll recipe so you can make it later.
Recipe – Pork and Apple Sausage Rolls
If you made this recipe and enjoyed it, I'd love it if you could give me a star rating in the comments below. And if you'd like to get in touch, you can email me at [email protected]. I'd love to hear from you. And don't forget to subscribe to my mailing list so you can grab yourself a copy of my FREE COOKBOOK!
If you'd like to continue browsing, just click on this link to all my recipes.
This recipe has been shared with #CookBlogShare