Sweet juicy tomatoes and tangy onions combine so well together in this chilli tomato and onion sauce. It's my favourite sauce for serving at a barbeque. It's delicious when piled onto a crispy bread roll with a grilled sausage and it complements my Boerewors Patties perfectly.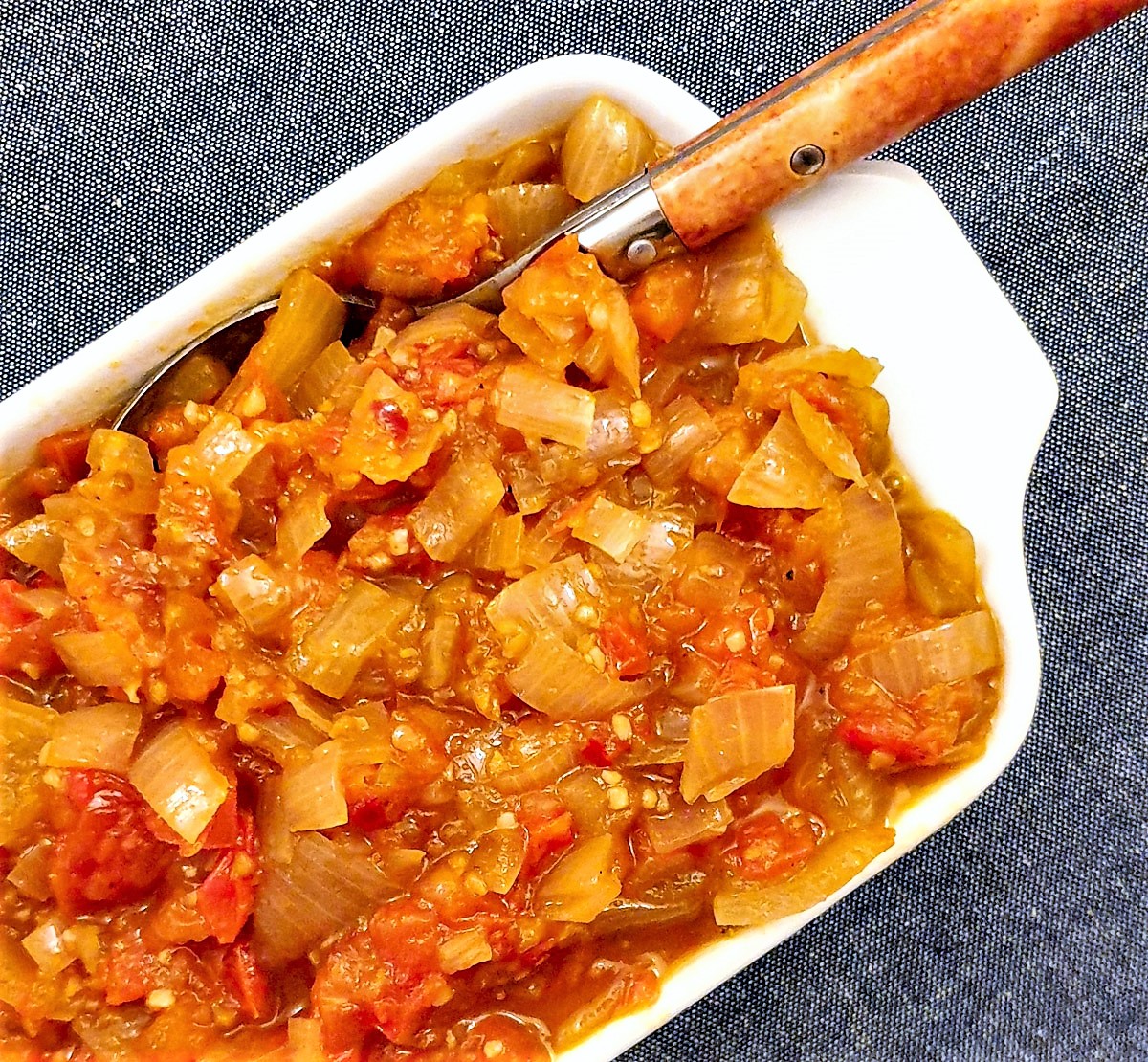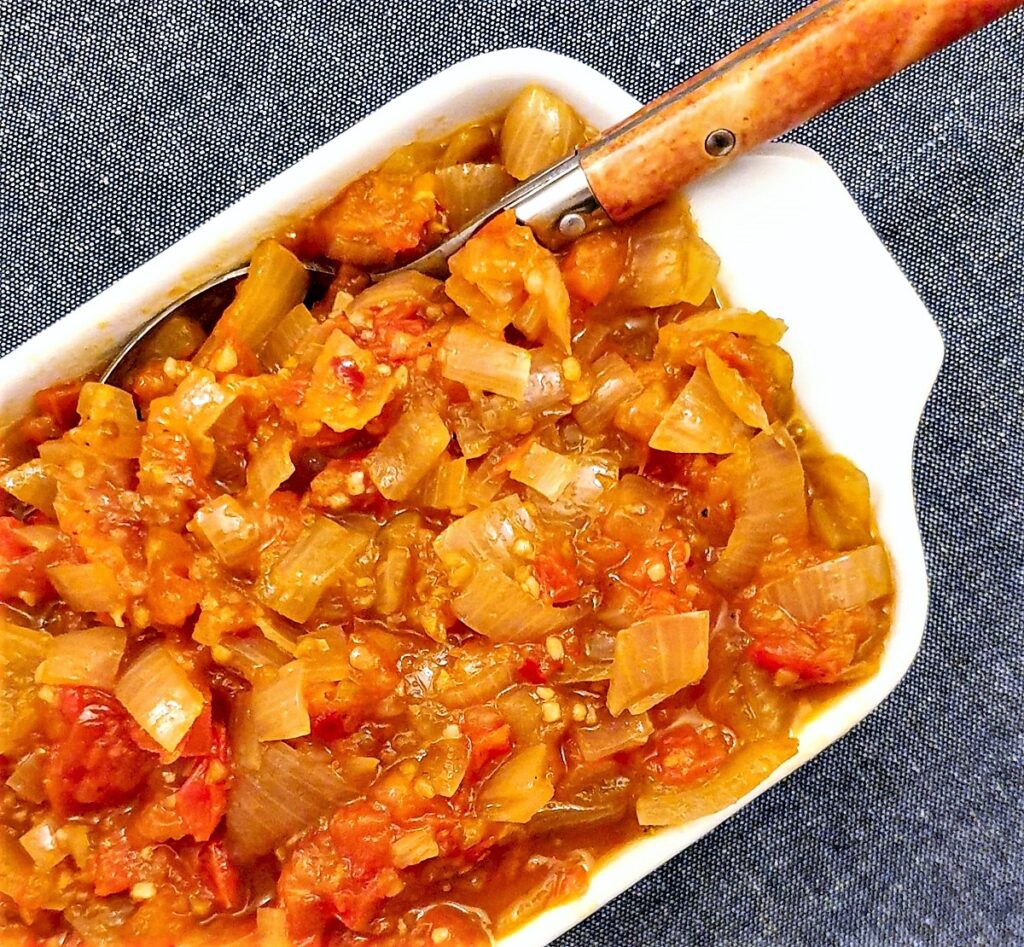 **As an Amazon affiliate, I earn from qualifying purchases.**
Chilli tomato and onion sauce
Chilli tomato and onion sauce is made from only 2 main ingredients, tomatoes and onions. It is super quick to make and freezes beautifully. I always wait until tomatoes are being sold cheaply in the supermarket and then I stock up on them and have a cookfest in the kitchen to fill my freezer with handy meal-sized bags.
This sauce packs so much more flavour than just opening a can of chopped tomatoes, and because it is homemade it has no preservatives whatsoever.
I normally make big batch and freeze in meal-sized portions. You can use it in any recipe that calls for tinned tomatoes. I use it as a base when I make my spicy fish and rice bake. It makes a great addition to chilli bolognese or you could add it to a pasta and mince bake for an extra kick. In South Africa, it is served as a side dish at barbeque alongside meat and salads and is so tasty when being mopped up with a piece of crusty bread.
Ingredients you will need
Shopping List
Whenever I read a recipe I like to have a look at the ingredients to see whether I have everything I need. To make it easy for you – I've listed the ingredients below. You can get the full list of ingredients and instructions to make this chilli tomato sauce on the printable recipe card further down in the post.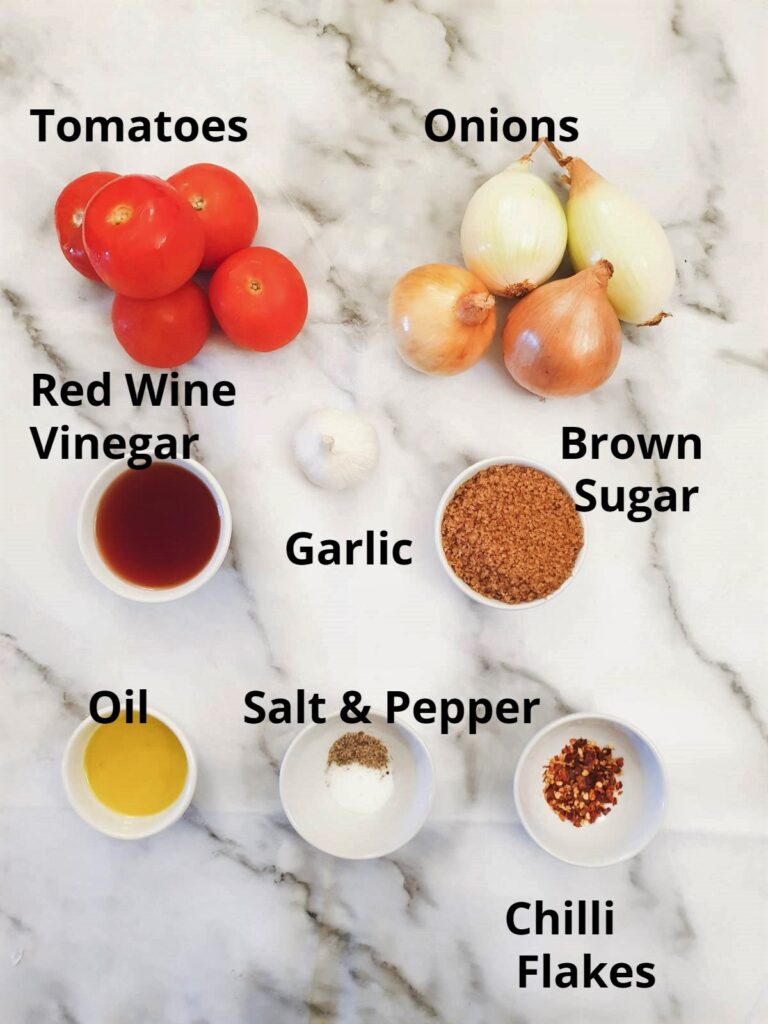 Main Ingredients
You will need double the amount of tomatoes as onions by volume once they have been chopped.
Flavourings
Olive oil – for sweating the onions
Red wine vinegar – this provides tartness. You could use grape vinegar, or any other fruity vinegar. Don't use malt vinegar as this is quite sharp and might spoil the taste
Brown sugar – this counteracts the tartness of the vinegar and also enhances the flavour of the tomatoes.
Chilli flakes – this provides the heat – vary the quantity according to your taste. If you prefer you can use freshly chopped chillis.
Garlic – because garlic goes so well with tomatoes
Salt and pepper to taste
How to make chilli tomato sauce
I like to chop my tomatoes and onions quite coarsely as I like a chunky texture, but you can make a smoother chilli tomato sauce by chopping them in a blender. The cooking time and the ingredients remain the same.
Instructions
Heat the olive oil in a suitable large saucepan and sweat the onions with the crushed garlic gently until they turn translucent.
Add the tomatoes and bring to the boil (1).
Now add the rest of the ingredients, turn the heat down to a simmer and cover the pan with a lid.
Leave to simmer for about an hour until the tomatoes have disintegrated and the onions are cooked (2).
Remove the lid and let it continue to simmer until most of the liquid has evaporated and the tomato sauce is thick and glossy.
Depending on how much liquid is released by the tomatoes this whole process will take quite a long time. But I'm sure you'll agree, once you've tasted it – that it is worth the wait!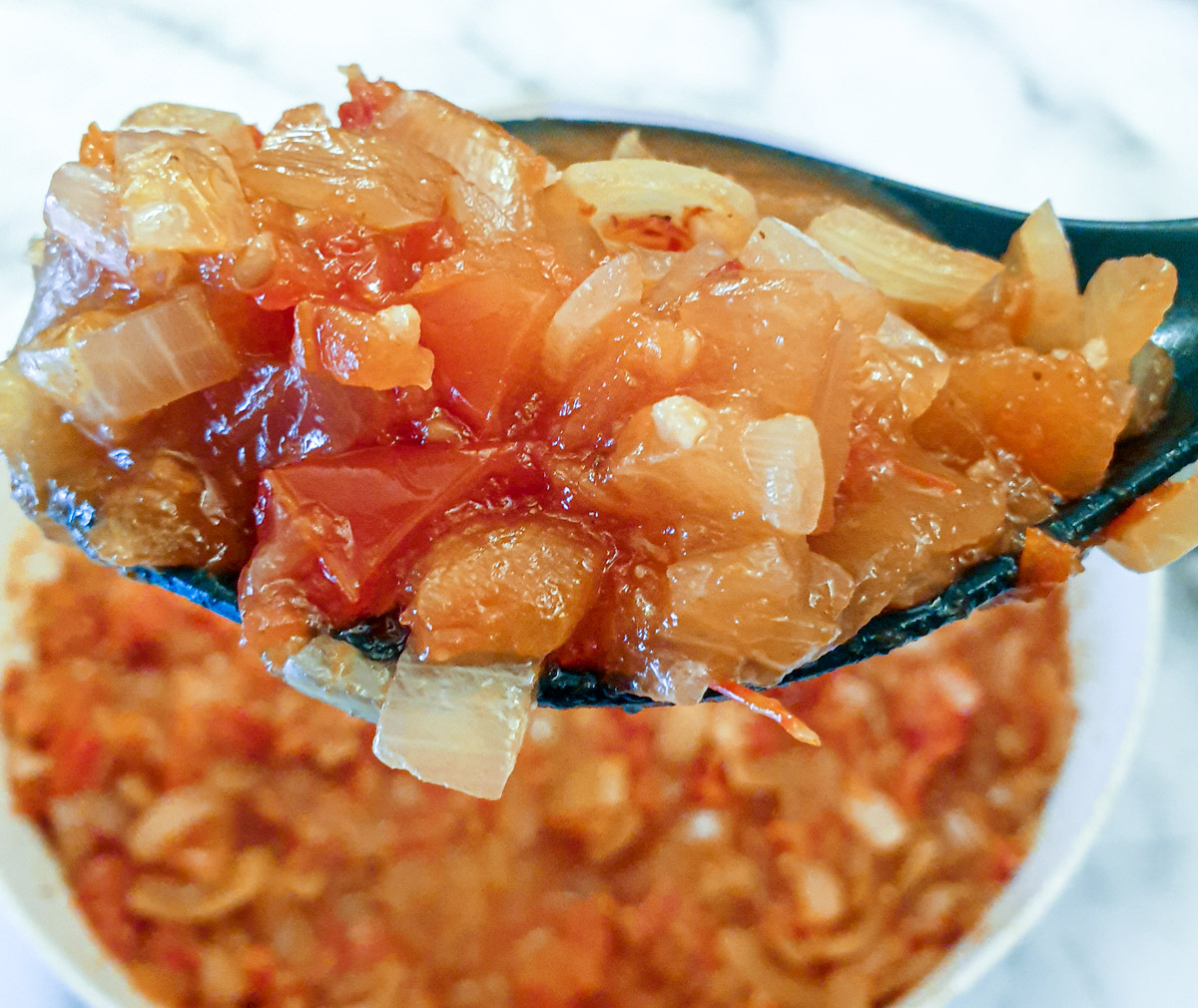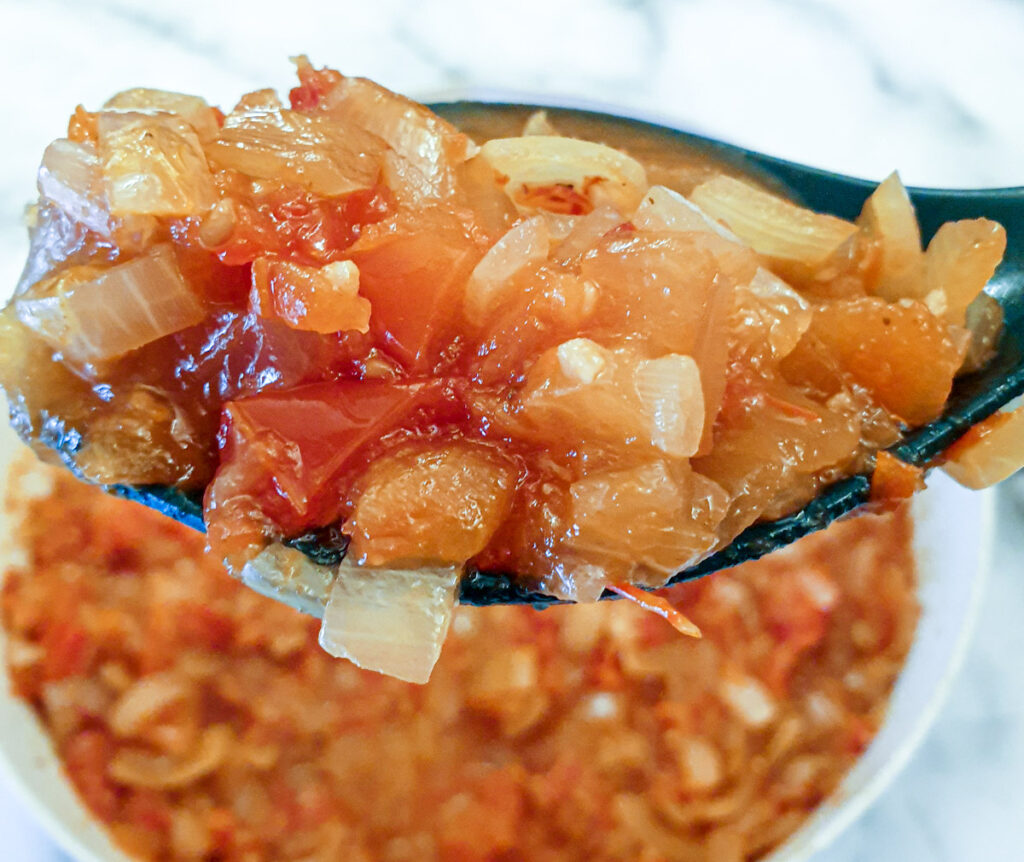 If you'd like to be notified of any new recipes, why not subscribe to my newsletter. As a thank-you gift, you will receive a free recipe e-book containing some of my most popular cakes and desserts.
Make a larger batch and freeze
To make a large batch, for freezing, follow the guidelines below:
Make sure you have double the quantity of chopped tomatoes as onions
Use 4 tablespoons vinegar per 6 tomatoes
Use an additional 30g brown sugar per each additional 6 tomatoes. If you double the sugar the sauce will be too sweet.
You can double the garlic, or add to your own taste
Start by using only 1 teaspoon chilli flakes, bring to the boil and then taste. Add additional chilli to your own taste.
Freezing the chilli tomato sauce
If you have made a large batch, you will probably want to freeze this sauce for later use.
Divide it into portions, approximately the size of a can of tomatoes, and ladle it into individual Ziploc bags. Lable with the date and store in the freezer. It will keep for at least 6 months in the freezer.
To use, allow it to defrost in the fridge or microwave and use in the place of a can of tomatoes in your recipes.
What to serve with chilli tomato and onion sauce
Why not serve this sauce as a side dish with Toad in the Hole. It would go really well with the batter and sausages instead of onion gravy.
You could also substitute the can of tomatoes in this chilli bolognese sauce with a helping of this tomato sauce.
Use it as a relish on steak or sausages, and it makes a great addition to a pasta bake.
Pin for later
If you would like to try this chilli tomato and onion sauce for yourself, why not pin it to one of your Pinterest boards so you can find it easily. Just click on the image below.
The recipe
If you made this recipe and enjoyed it, I'd love it if you could give me a star rating in the comments below. And if you'd like to get in touch, you can email me at [email protected]. I'd love to hear from you. And don't forget to subscribe to my mailing list so you can grab yourself a copy of my FREE COOKBOOK!
If you'd like to continue browsing, just click on this link to all my recipes.