If you are looking for a different way to cook fish, you are going to love this easy one-dish fish and rice bake. Succulent white fish fillets are nestled on a bed of rice, and oven-baked in a spicy tomato sauce. Just put it in the oven and then relax while it cooks itself!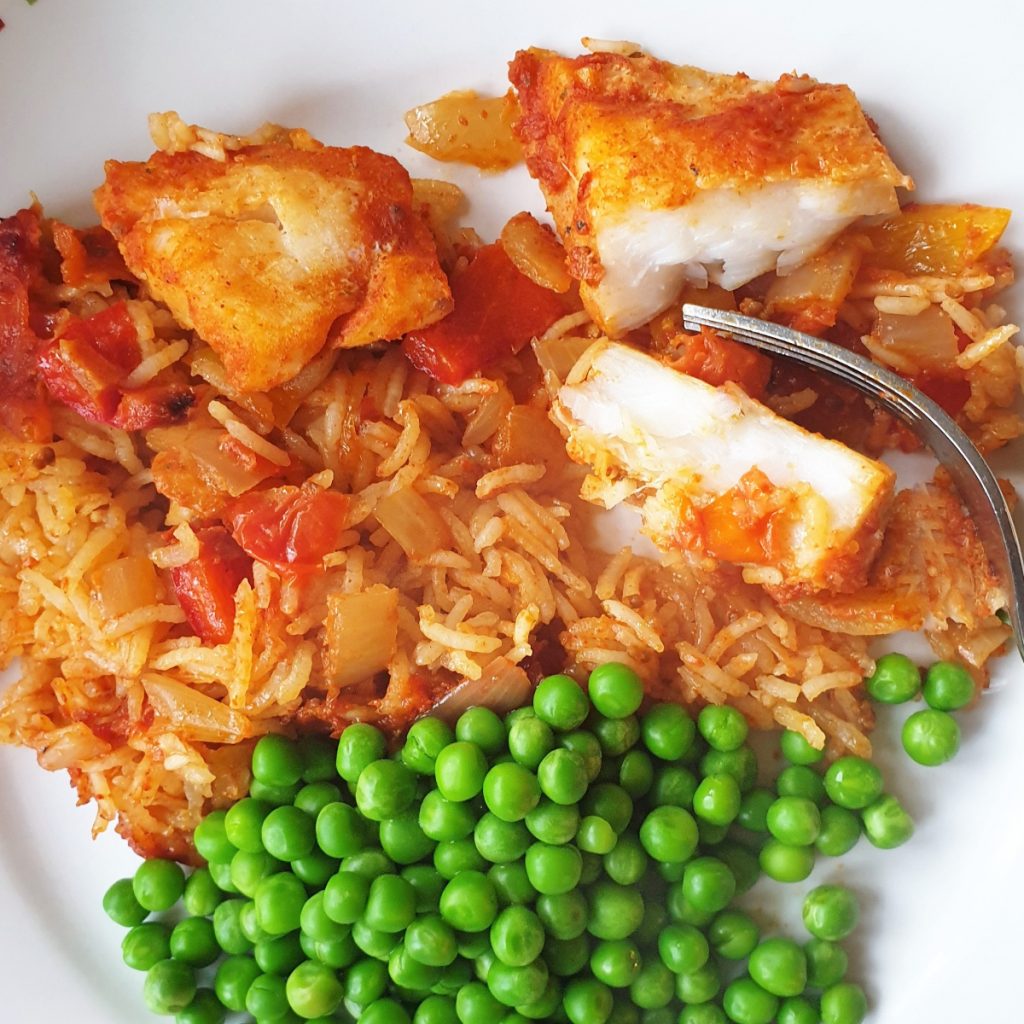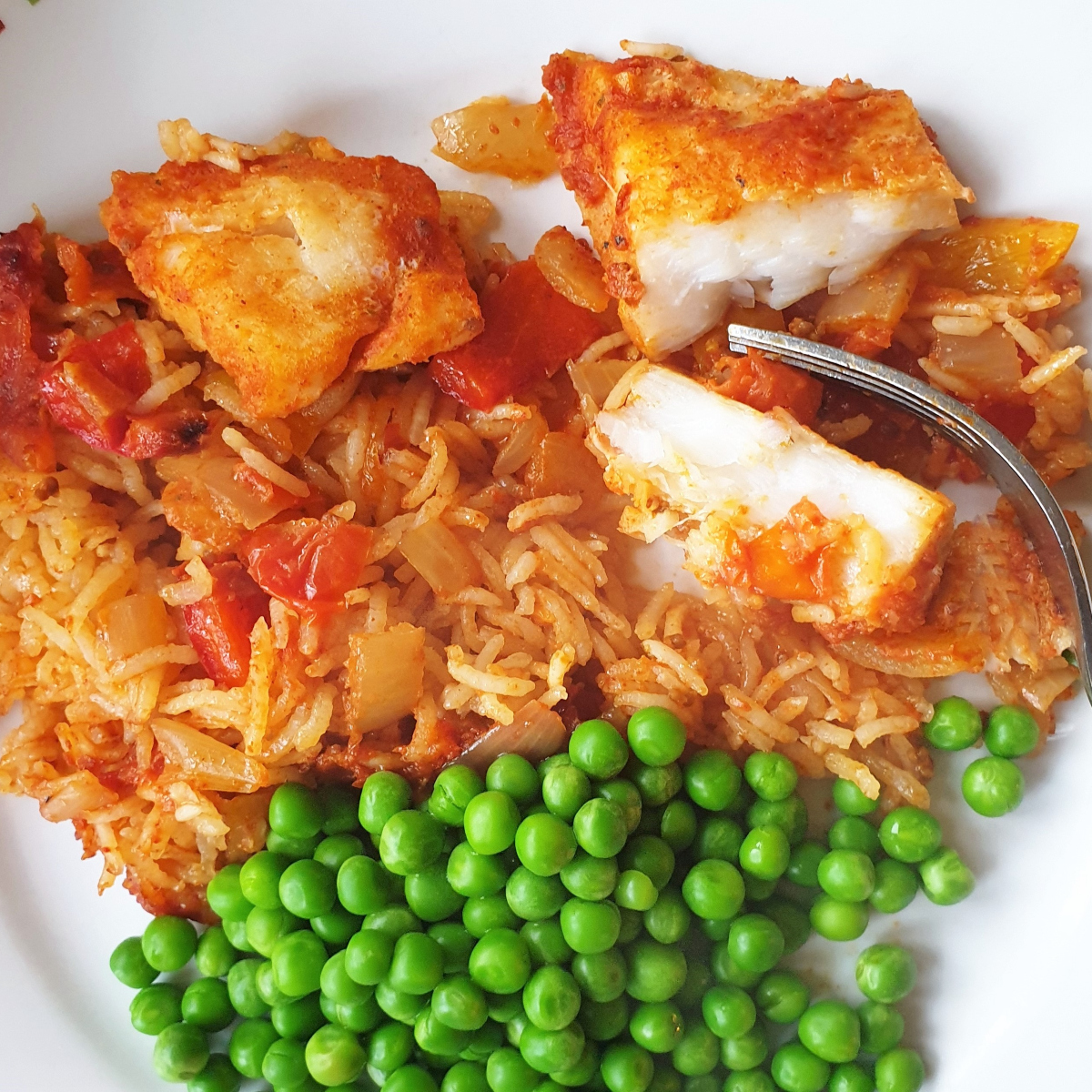 Spicy fish and rice bake
I grew up in the north of England where a plate of fish and chips formed the staple part of most people's diet. I remember being sent to the fish shop to fetch the family supper and watching as the golden chips and crispy battered fish were scooped out out of the warmer onto a sheet of newspaper, before being wrapped up and handed over to me. How times have changed. My local chippy now packs the fish and chips into a polystyrene box!
But I think those early days must have been where I developed my love of fish. It's still one of my favourite foods and it features on my menu, in one form or another, at least once a week.
The recipe I'm sharing today is for a spicy one-dish fish and rice bake. It's super quick and easy to prepare, and tastes amazing. The fish is baked in the oven along with the rice in a spicy tomato and onion sauce, until it is fork-tender and the rice has absorbed all the lovely flavours from the sauce.
And because the sauce is packed with onions, tomatoes and red and yellow peppers you don't need much by way of side dishes. A bowl of peas is probably sufficient, and perhaps a fresh green salad if you are feeling really energetic!
This is a meal that basically cooks itself, so without any further ado, let's get on to the recipe, so I can show you how quick and easy it is to make.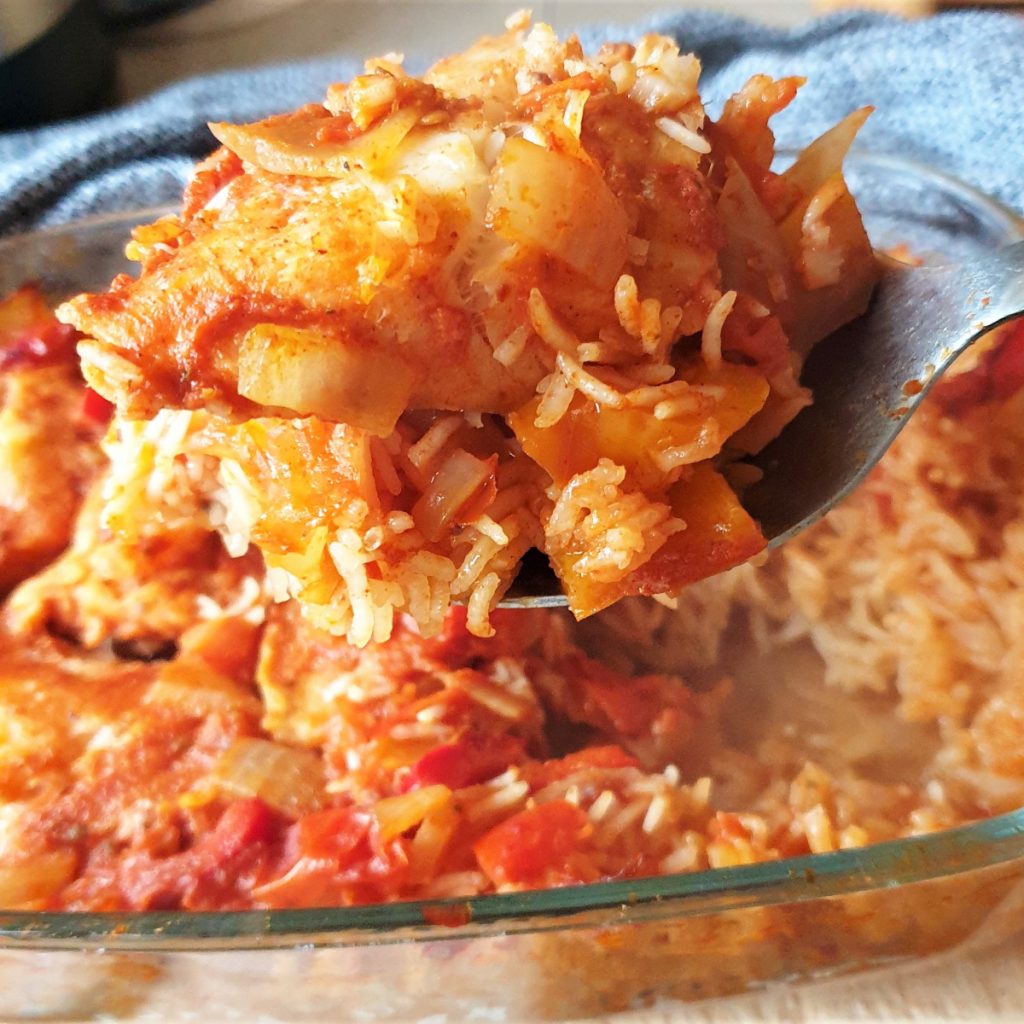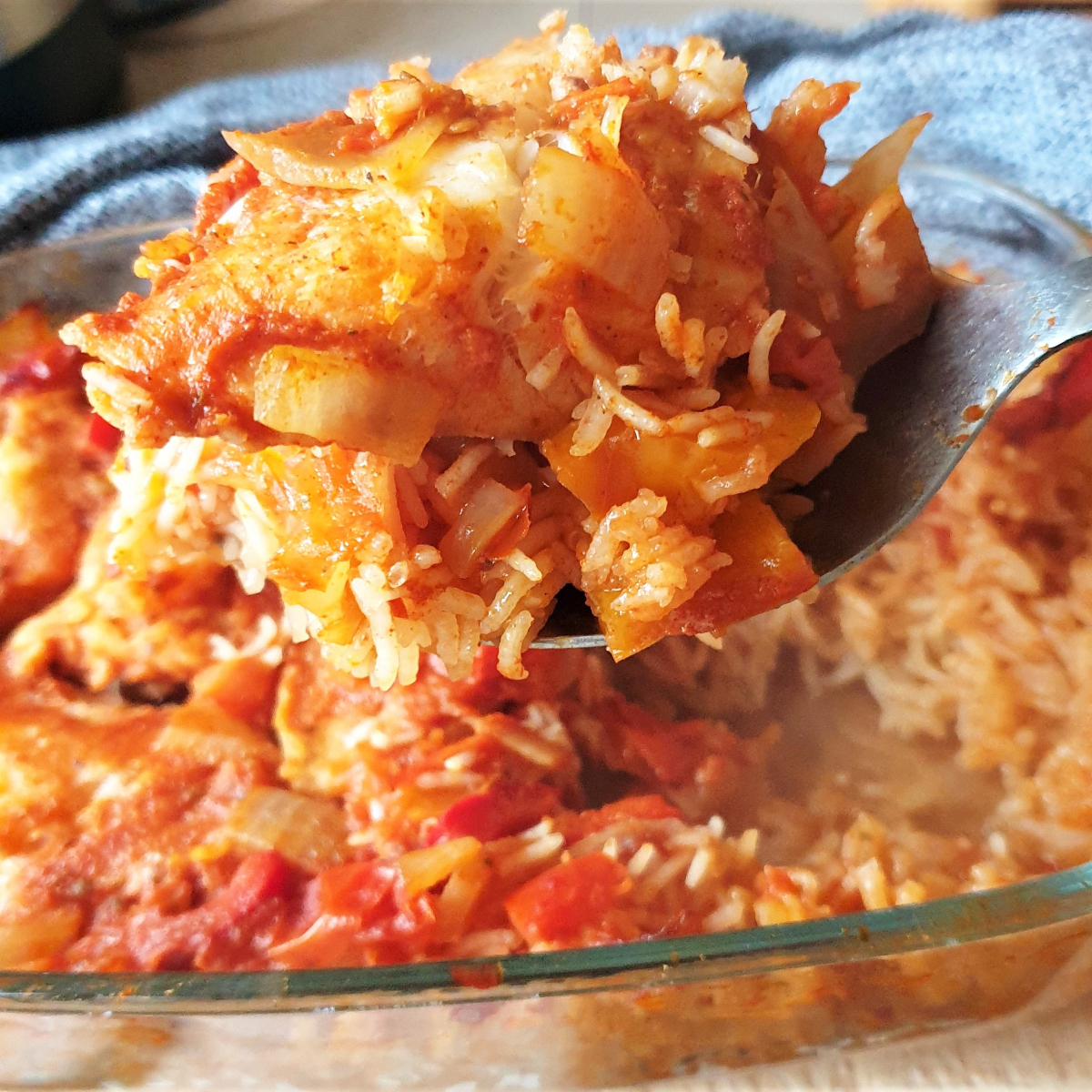 How to make spicy fish and rice bake
The ingredients given in this recipe are sufficient for 2 people. If you are feeding more people you can just double the quantities.
You will need a 7″ x 9″ baking dish. However if you are making a larger quantity you will need to increase the size of the baking dish.
Fish
You will need one large or 2 small fillets of firm white fish (about 200g / 7 oz) per person. Cod or haddock is a good choice, but any firm white fish will be suitable for this recipe. I wouldn't use a delicate fish like sole though, because this will just fall apart during cooking. You need a nice firm chunky fish.
Also check the fish carefully to ensure that there are no bones.
Rice
I used basmati, but you can use any long-grained white rice. Don't use brown rice because the longer cooking time for brown rice would mean that the fish would be cooked long before the rice was cooked.
For 2 people you will need 3/4 cup (150g) uncooked white rice.
Stock
For this recipe you need 1 1/4 cups of stock. You can make the stock with a stock cube. I like to use a vegetable stock cube for this recipe because I don't want to introduce any other meaty flavours. If you don't have vegetable stock cubes then a chicken cube would be the best alternative.
The ratio of liquid to rice is 2 : 1 – ie double the amount of liquid by volume. So for 3/4 cup of rice you would normally use 1 1/2 cups of liquid. However, because of the liquid that is present in the tomatoes I reduced the liquid by 1/4 of a cup to compensate. The aim of this recipe is to have just enough liquid to be fully absorbed by the rice. Too much liquid and the dish will be 'runny'; not enough liquid and the rice will be hard.
Dissolve the stock cube in 1 and 1/4 cups of boiling water and then mix in 1/2 teaspoon chilli paste or crushed chilli. This will add a little heat. You can adjust this to your own taste. Do take care if you are doubling the recipe that you don't overdo the chilli. Then add 1 teaspoon paprika, 1/2 teaspoon salt and 2 tablespoons tomato puree.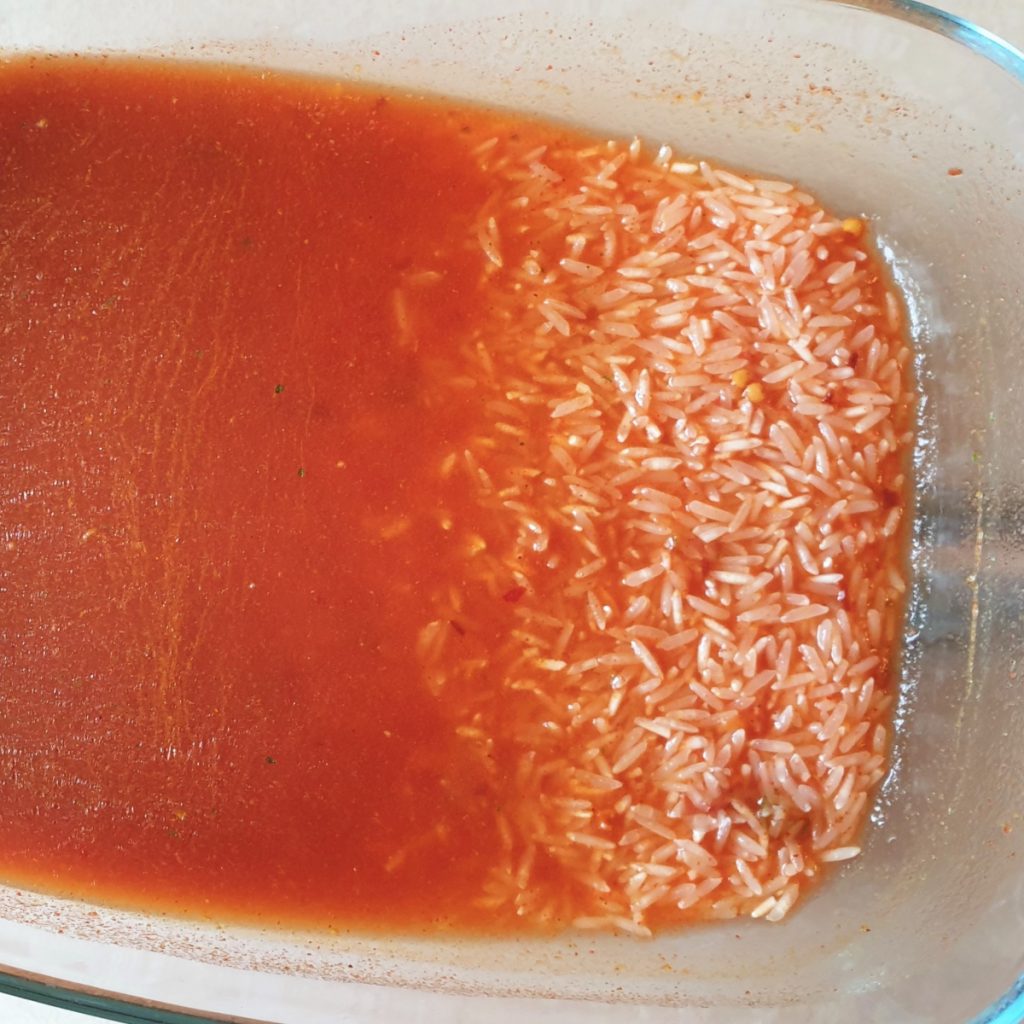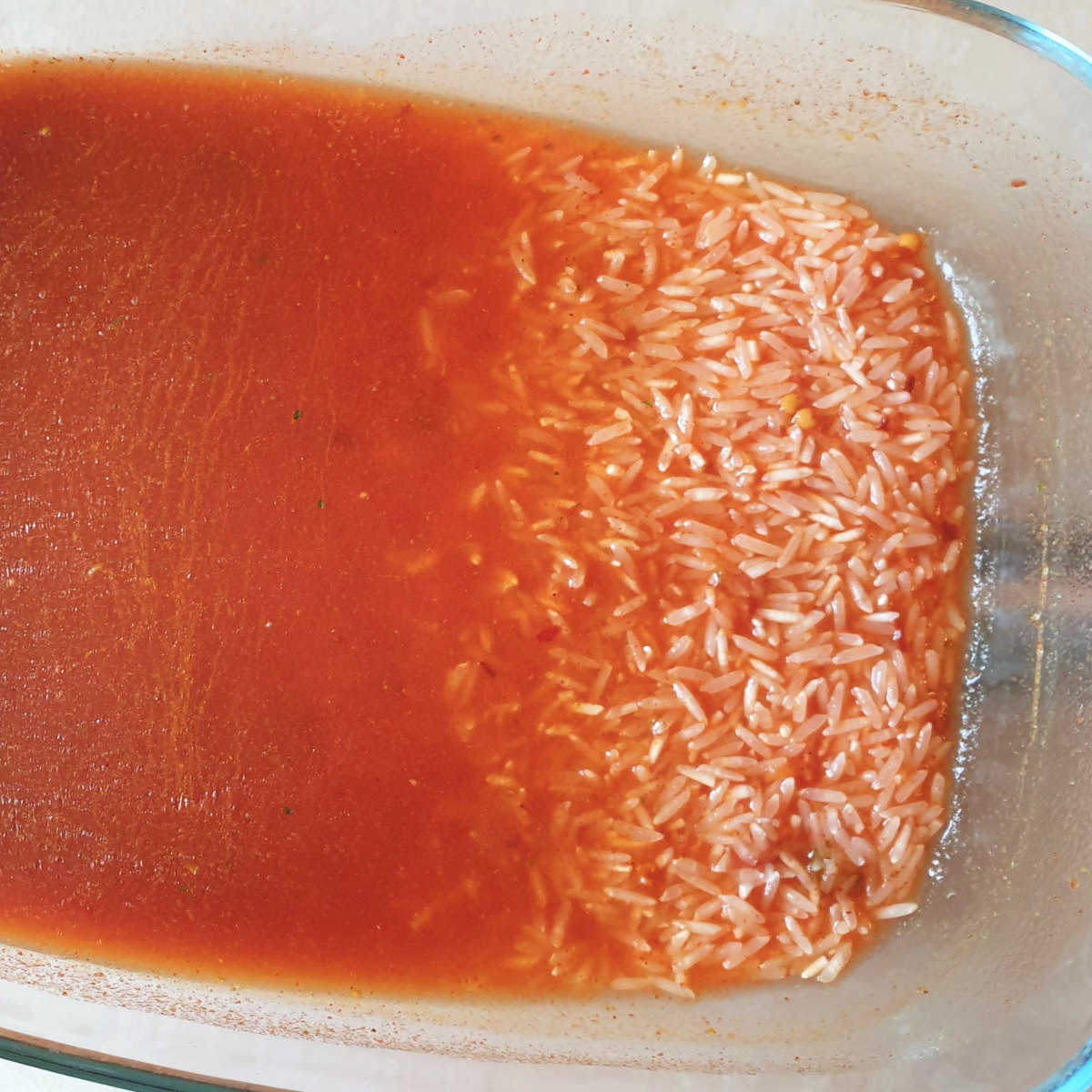 Place the rice into the baking dish and cover with the hot seasoned stock. The heat from the boiling water will give the rice a head start in the cooking process.
Vegetables
You will need one large onion, two large tomatoes and half each red and yellow bell peppers. These should be cut into approximately 1cm pieces. and then fried in a little olive oil until the onions are translucent and the peppers have softened. I find that if I leave the lid on the pan and turn the heat down to the lowest setting that the vegetables sweat nicely, and take about 5 minutes to soften. They don't need to be completely cooked. They will finish off the cooking process once they are in the oven.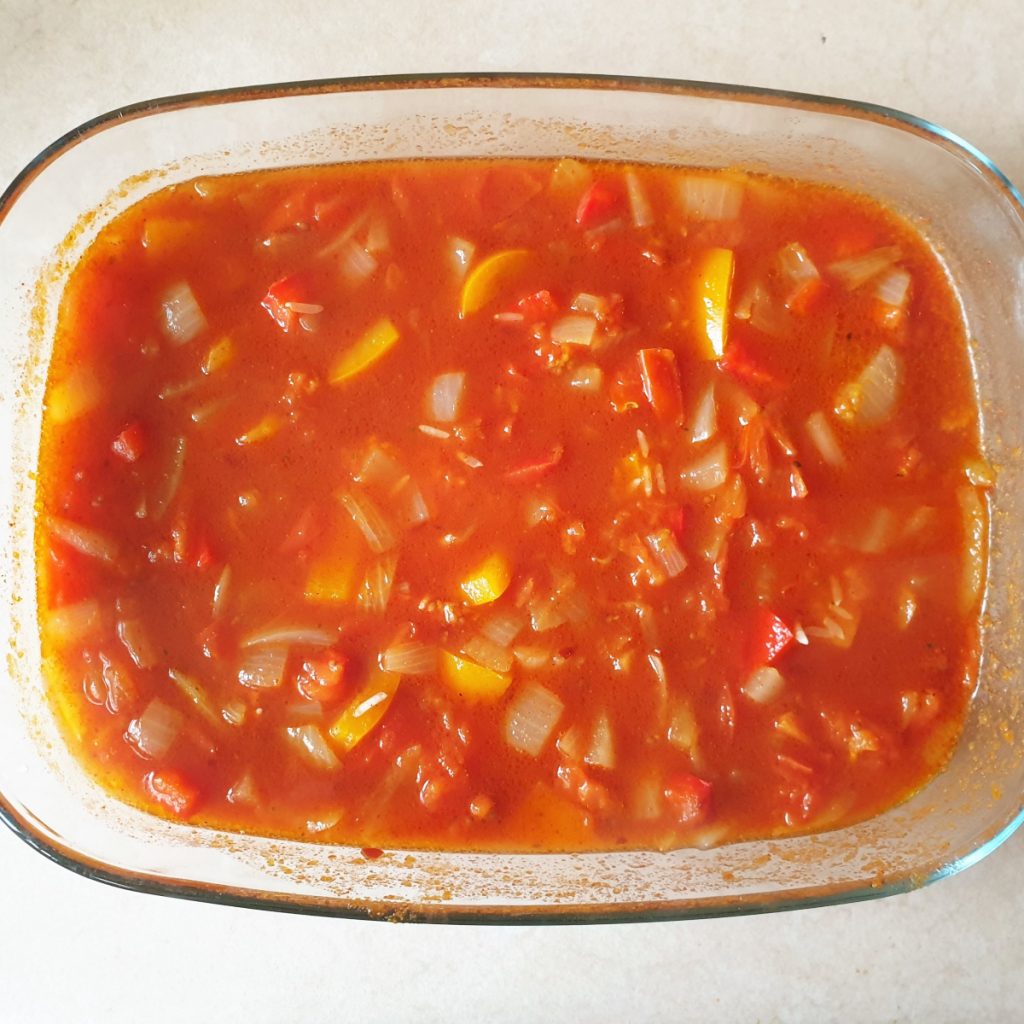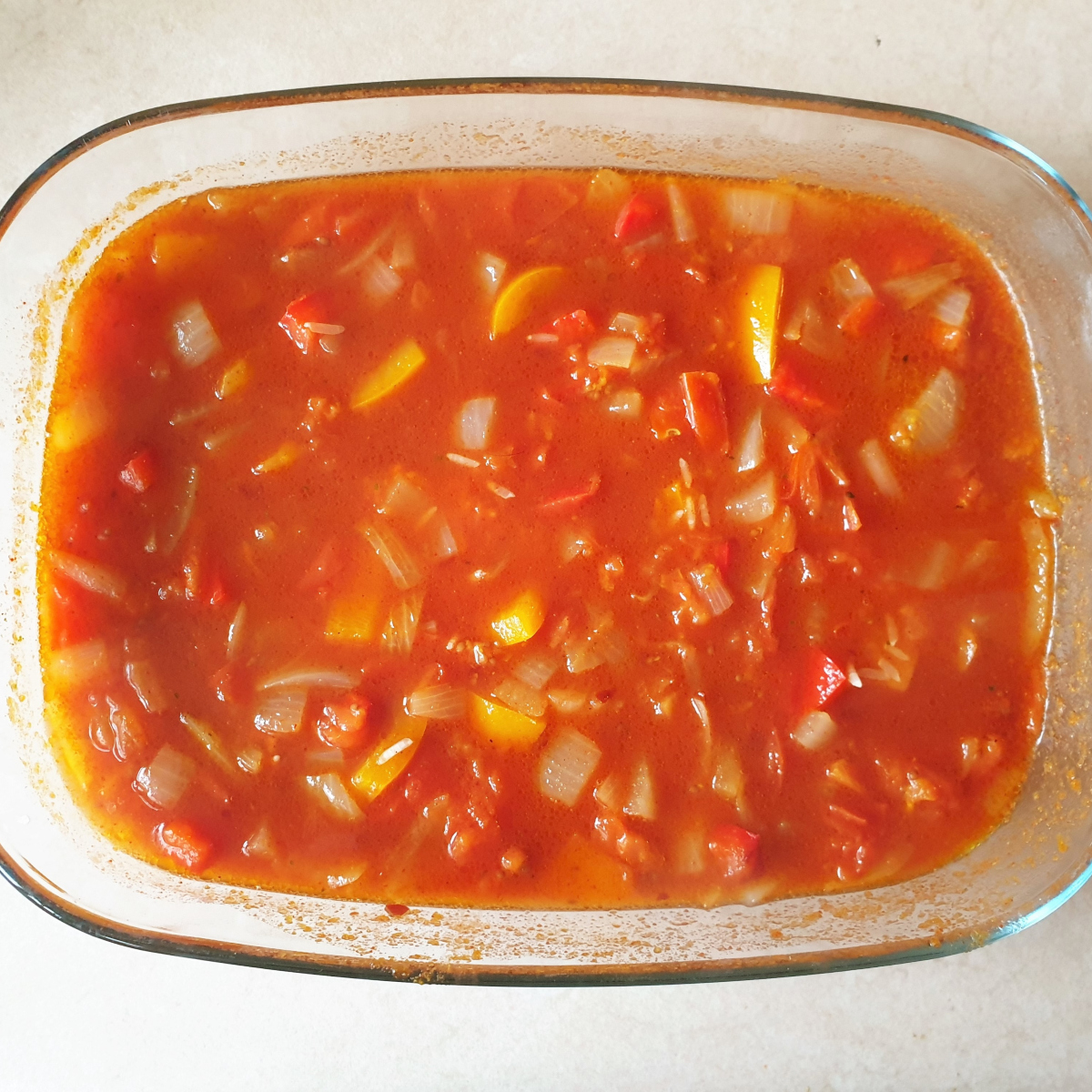 Mix the onions, peppers and tomatoes into the stock and rice mixture.
Add the fish
If the fillets are very large cut into smaller pieces and then submerge them in the rice/sauce mixure.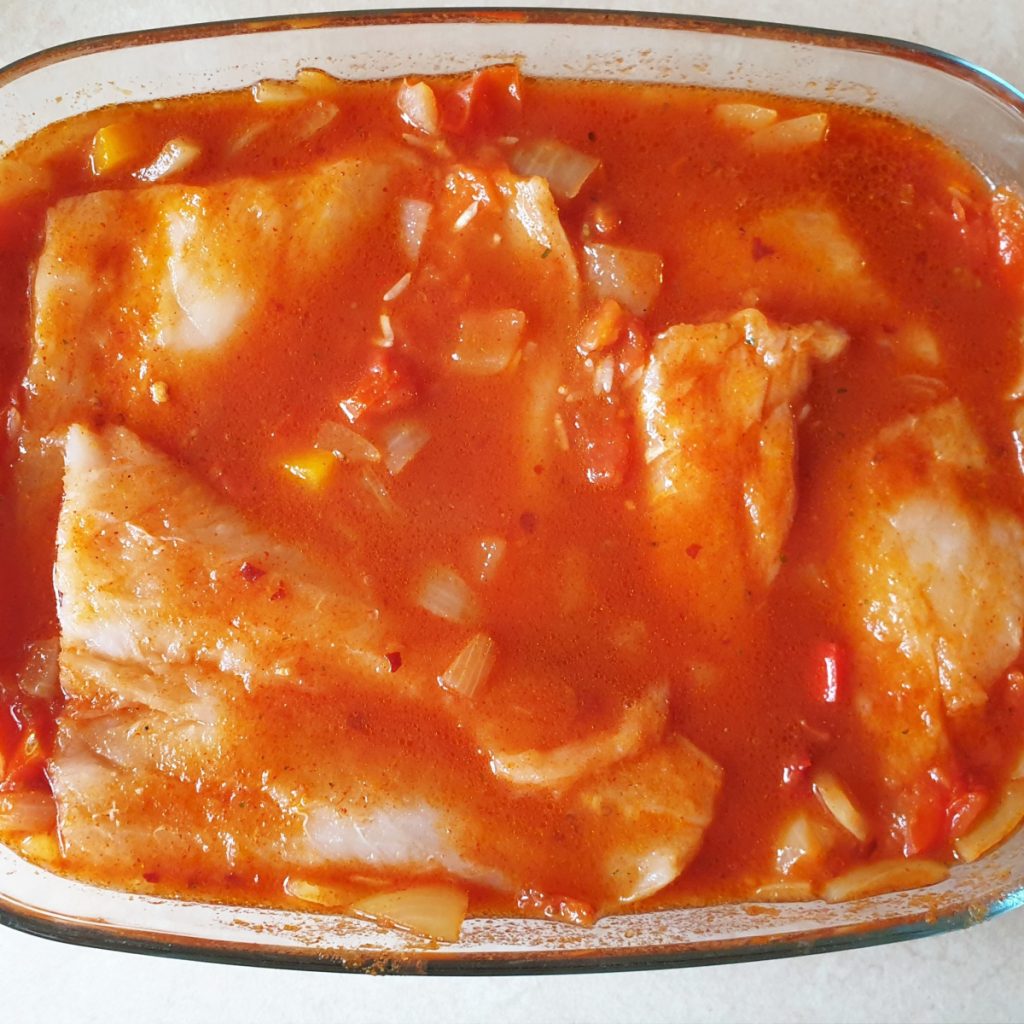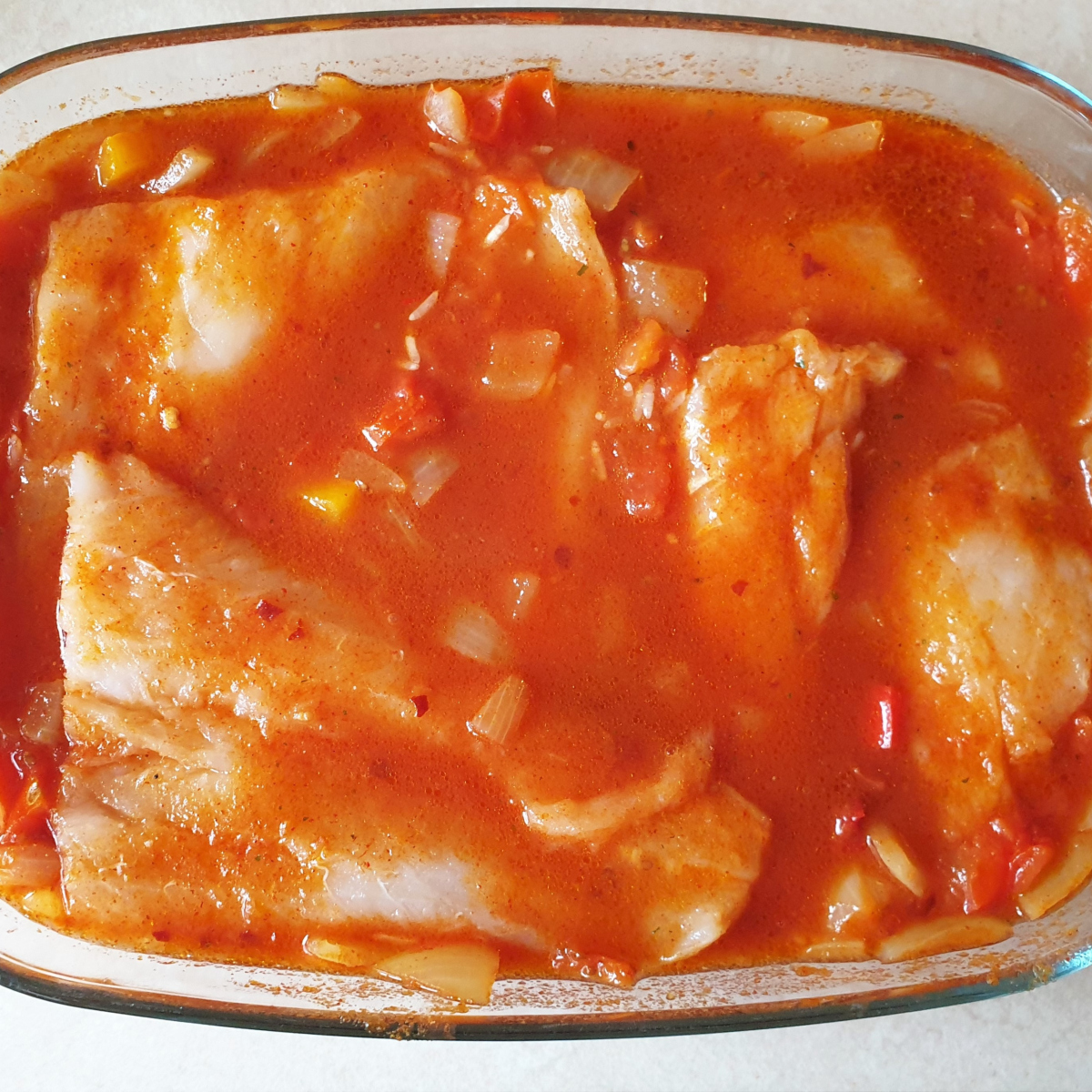 Cover the dish with a sheet of tinfoil and place in a pre-heated oven (290C / 350F) for 30 minutes. Try to fold the tinfoil as tightly as possible over the edges of the dish to keep as much steam as possible inside.
After 30 minutes remove the dish from the oven and carefully remove the tinfoil lid. I speak from experience when I say the steam will be very hot, so take care not to burn yourself!
Taste the rice to make sure it is cooked. It should be soft and the liquid should have been completely absorbed. If the rice is still hard, and the liquid is not all absorbed, replace the tinfoil lid and cook for a further couple of minutes.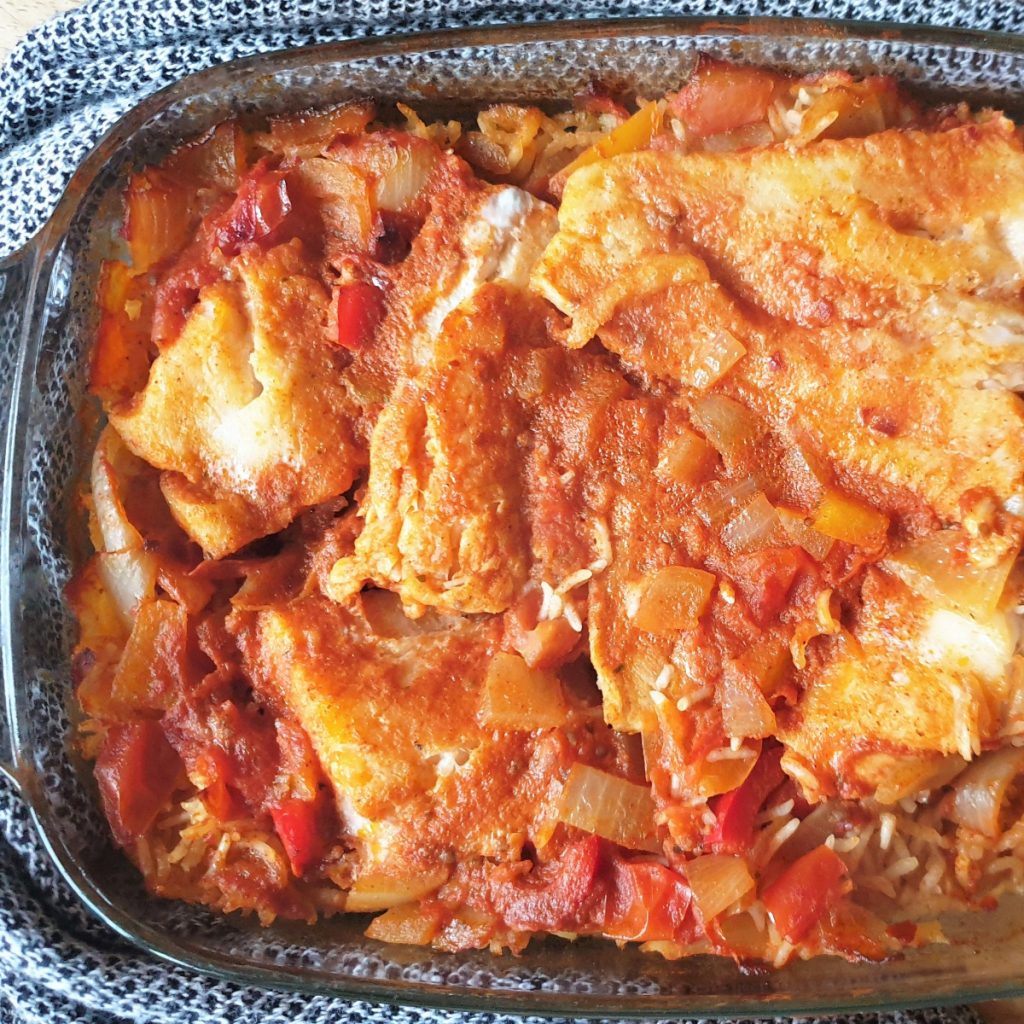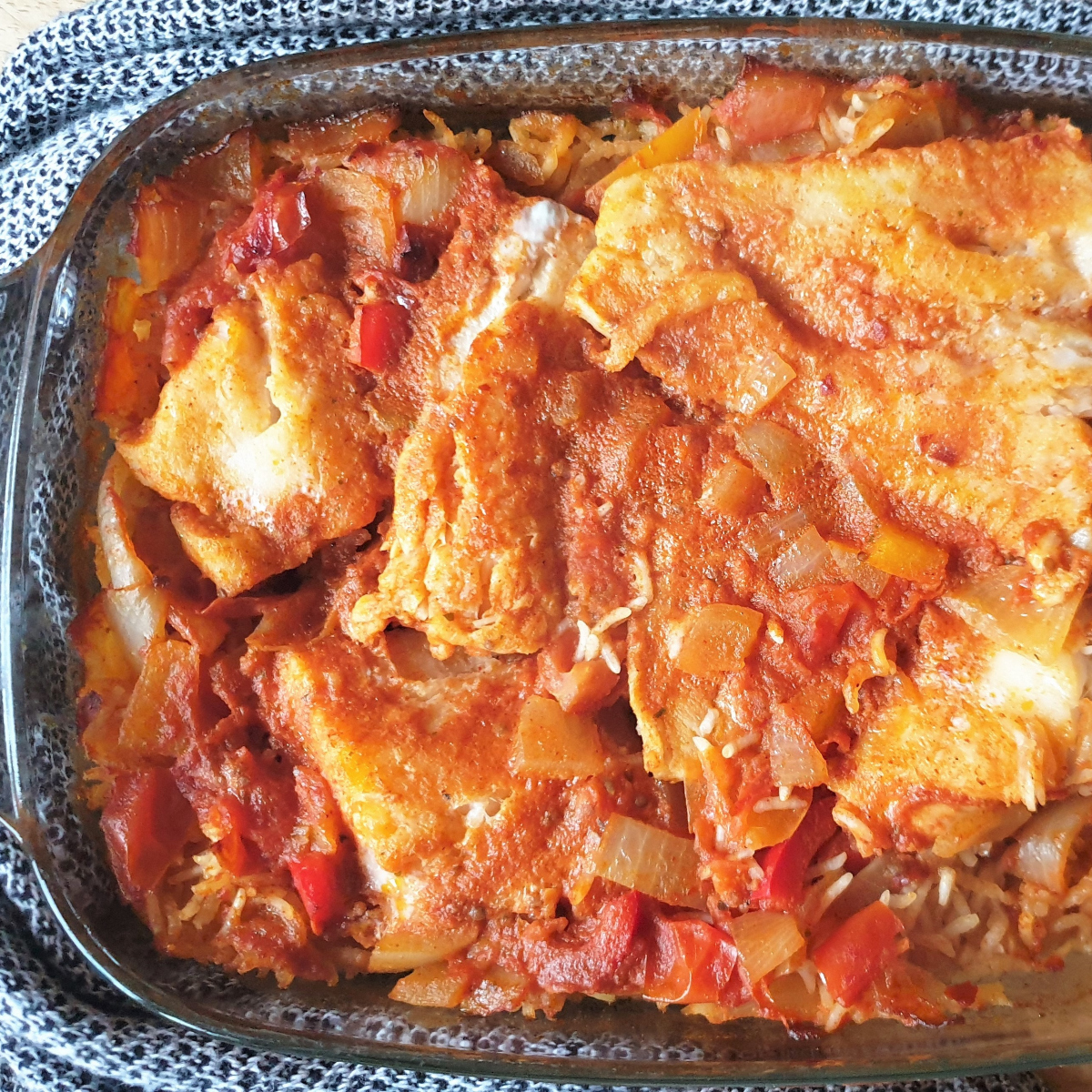 Serve with a side helping of peas, and possibly a fresh green salad.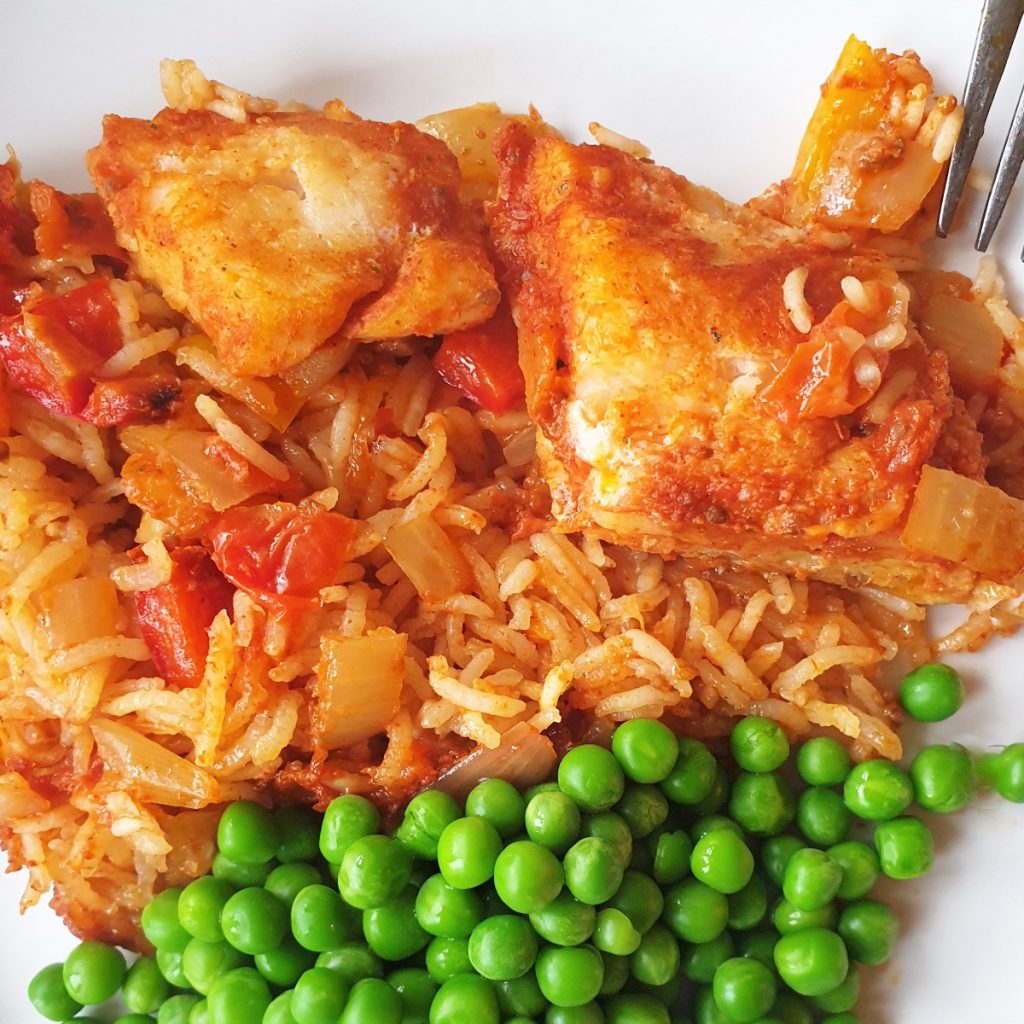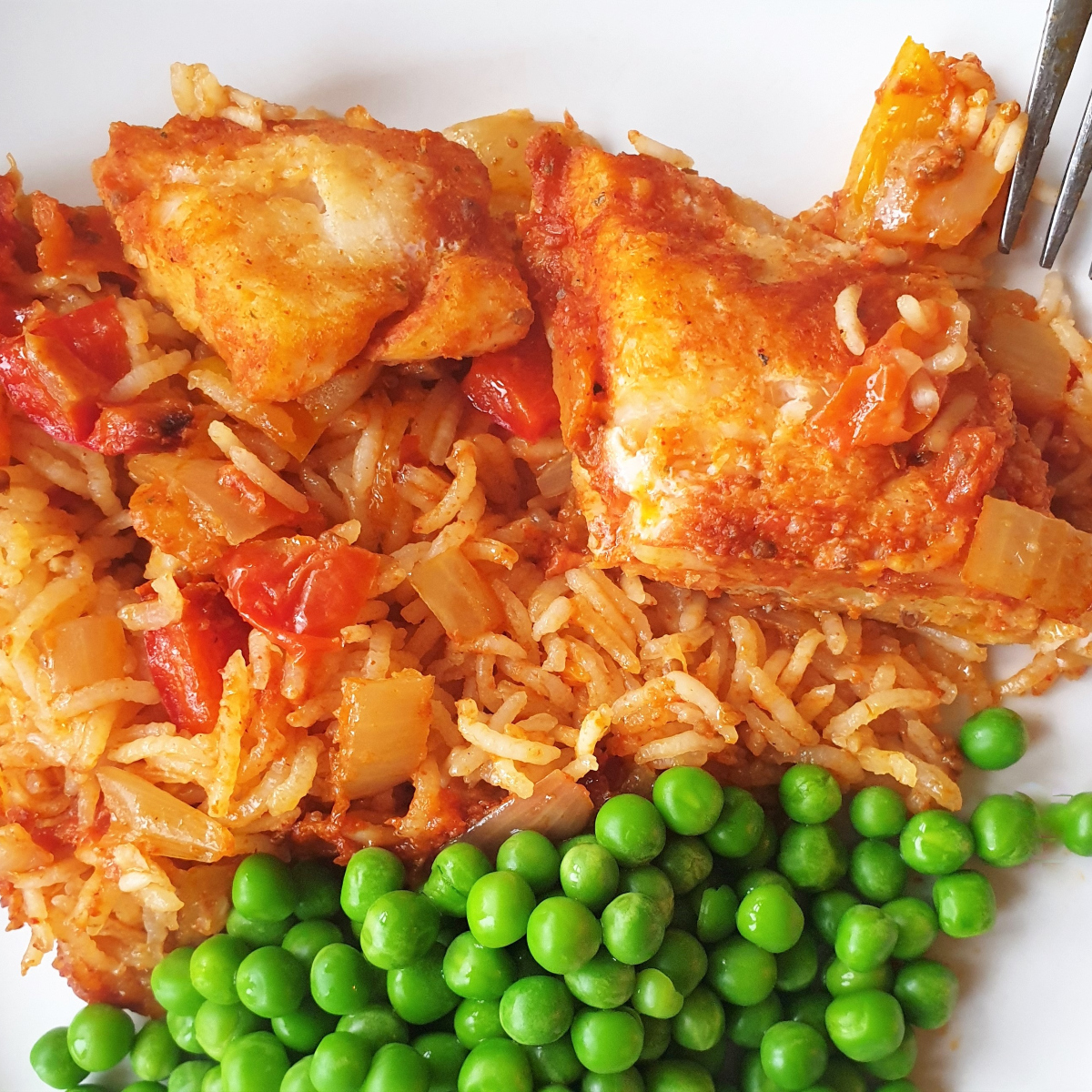 If you want to keep up-to-date with my latest recipes why not follow along on Facebook or Pinterest. And don't forget to subscribe to my mailing list so you can get your FREE COOKERY BOOK
Convert grams to cups
To help you convert your recipes, I have created a handy Cookery Conversion Calculator which will convert ingredients between grams, ounces, tablespoons, cups and millilitres. I hope you will find it useful.
If you live at a high altitude you may find you need to adjust your baking recipes to compensate for this. You can read about how to do this in this post on baking at high altitudes.
Recipe – Spicy fish and rice bake in tomato sauce
I am not a nutritionist. The nutrition information has been calculated using an on-line calculator, and is intended for information and guidance purposes only. If the nutrition information is important to you, you should consider calculating it yourself, using your preferred tool.
If you made this recipe and enjoyed it, please don't forget to give me a star rating in the comments below. And if you'd like to get in touch, you can email me on foodleclub1@gmail.com. I'd love to hear from you. And don't forget to subscribe to my mailing list so you can grab yourself a copy of my FREE COOKBOOK!
If you'd like to continue browsing, just click on this link to all my recipes.