A delicious no-cook sweet pepper relish with juicy bell peppers and sweet red onion. Pile it on your hamburger, liven up your sausages or even serve it as a side dish with a barbeque.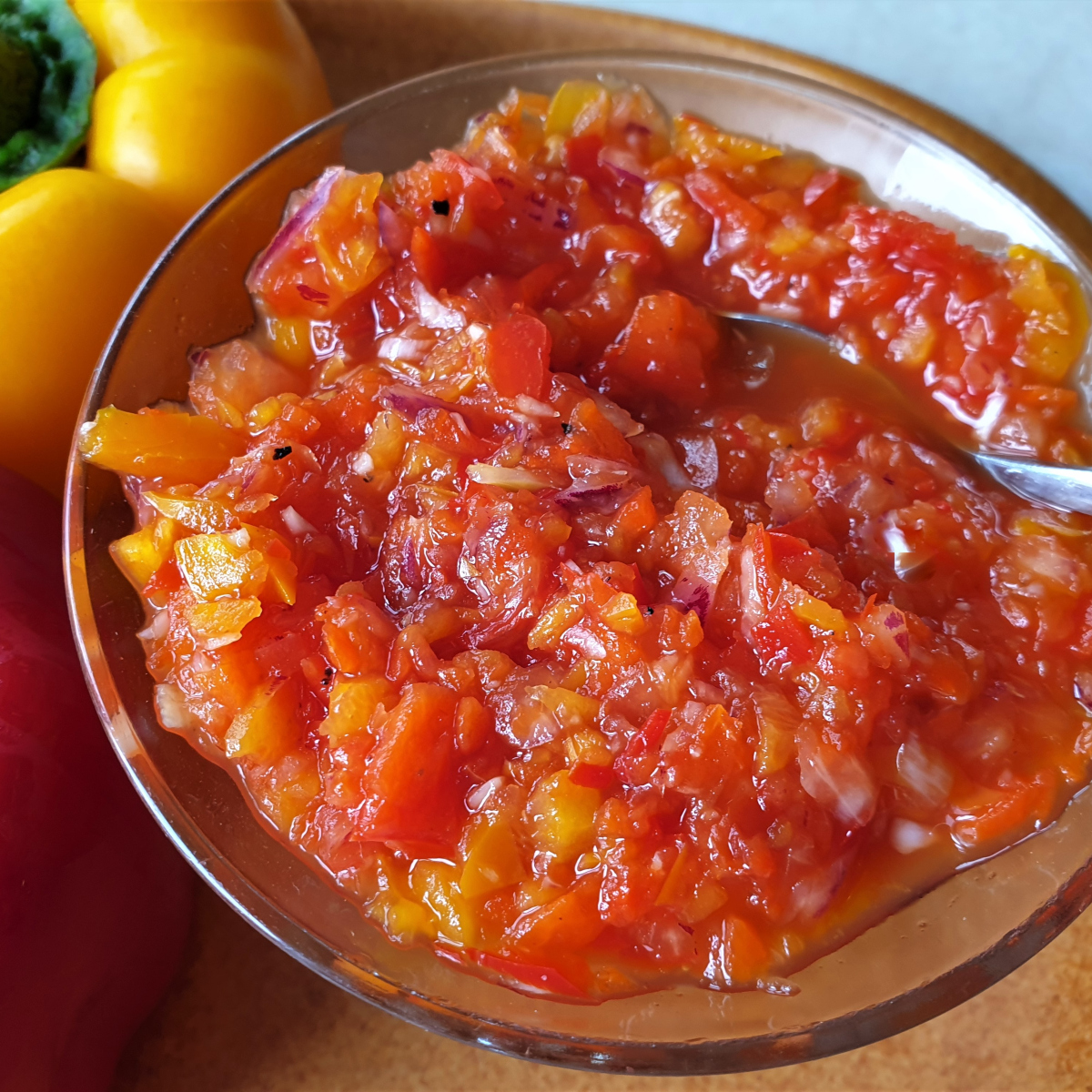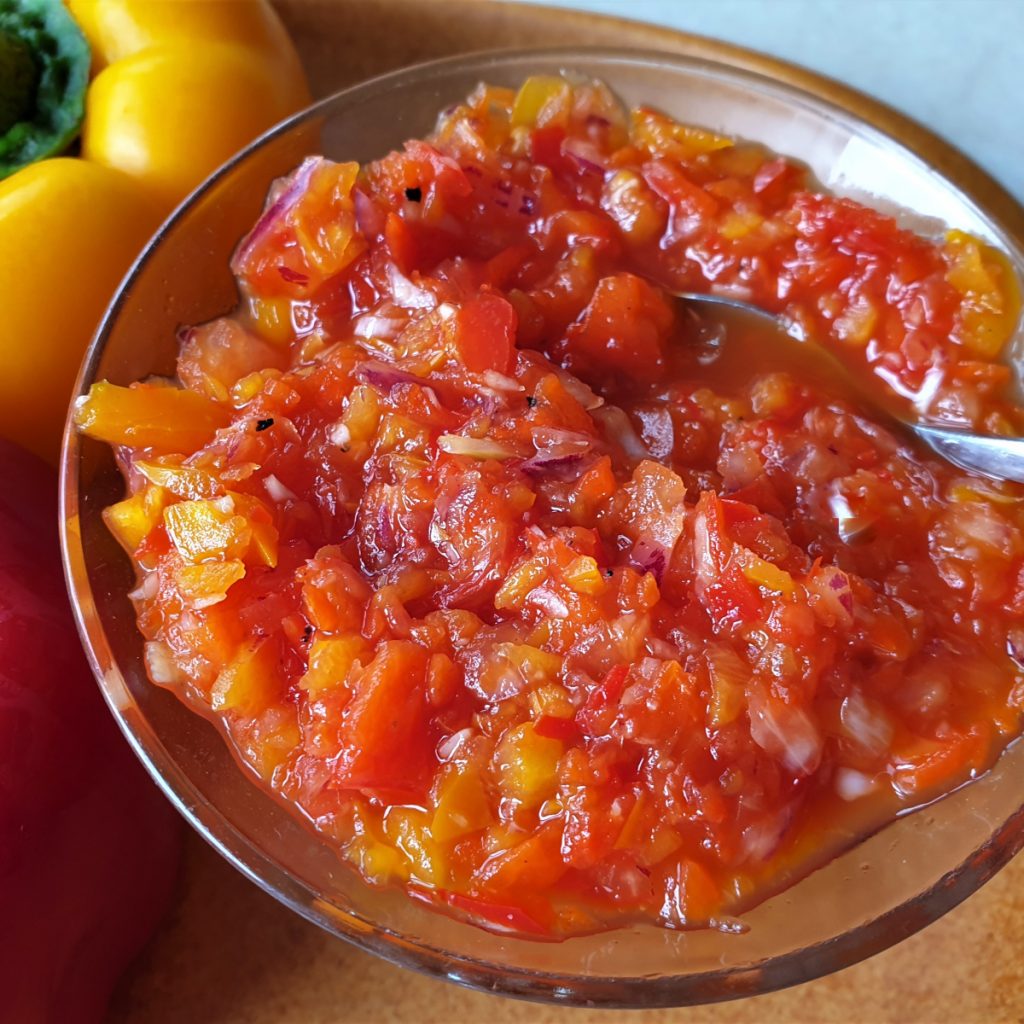 No cook sweet pepper relish
This is a deliciously spicy relish, made by finely chopping red and yellow bell peppers and sweet red onion. It's livened up by the addition of chilli and garlic and has a lovely sweet peppery taste that goes so well with a hamburger, or spooned over your favourite sausages.
There's no cooking involved, and it takes literally minutes to make. Make it in advance and chill in the fridge to give those delicious flavours time to mingle. I can practically guarantee that this is going to become your new favourite condiment once the barbeque season gets into swing.
I think this dish of sweet pepper relish is like summer on a plate!!!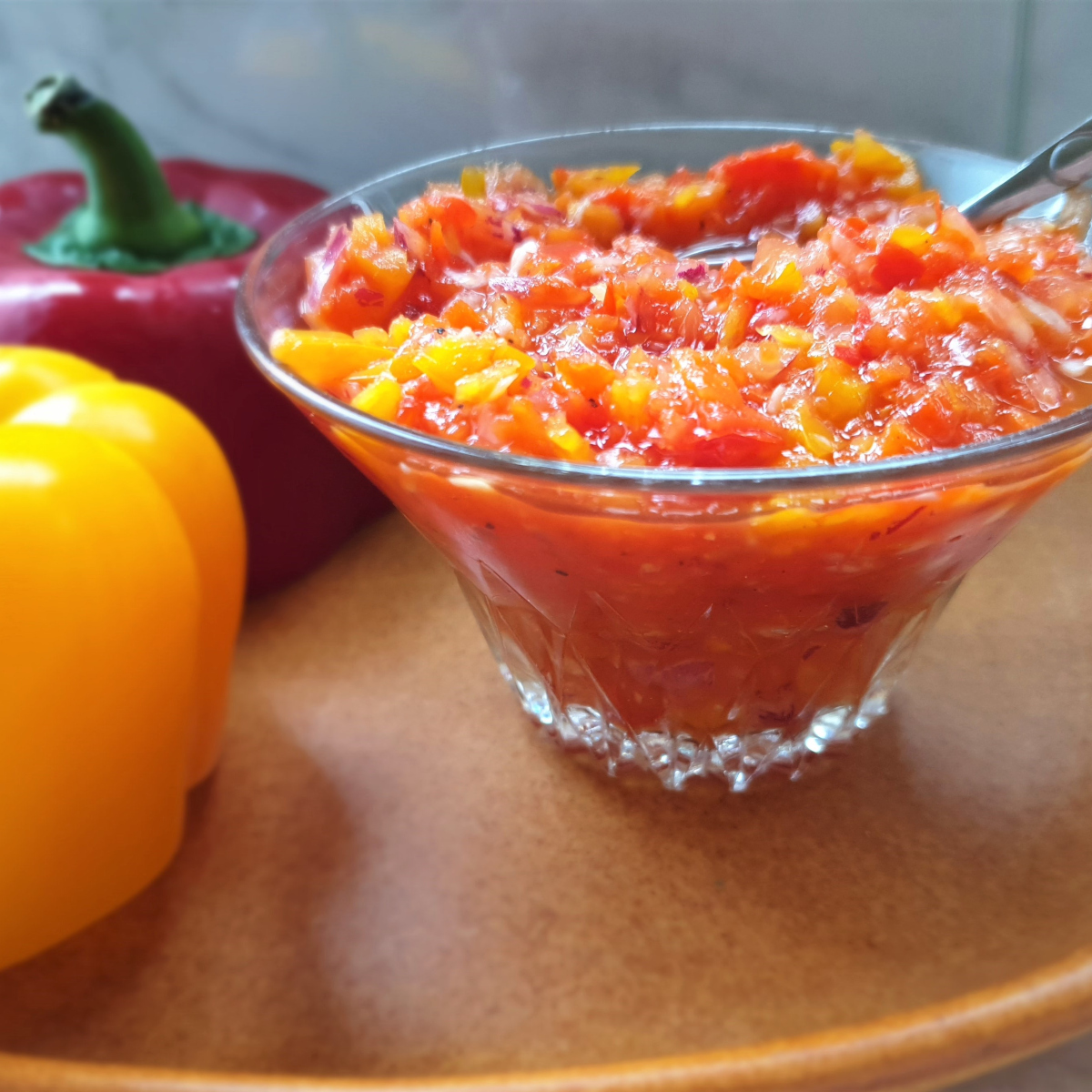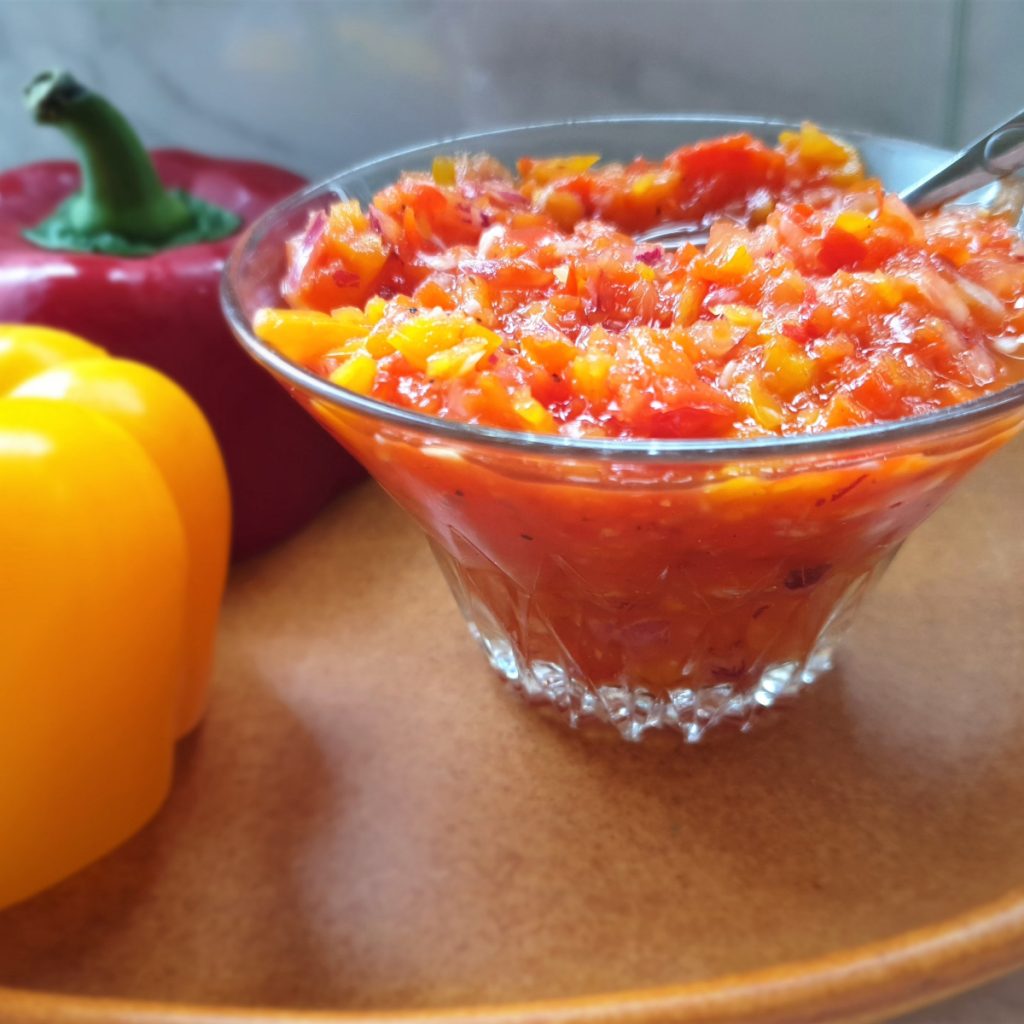 How to make sweet pepper relish
You can get the complete recipe on the printable recipe card below.
This recipe makes about 2 cups of relish, depending on the size of the peppers, but a little goes a long way so you could halve the quantities if you wanted to.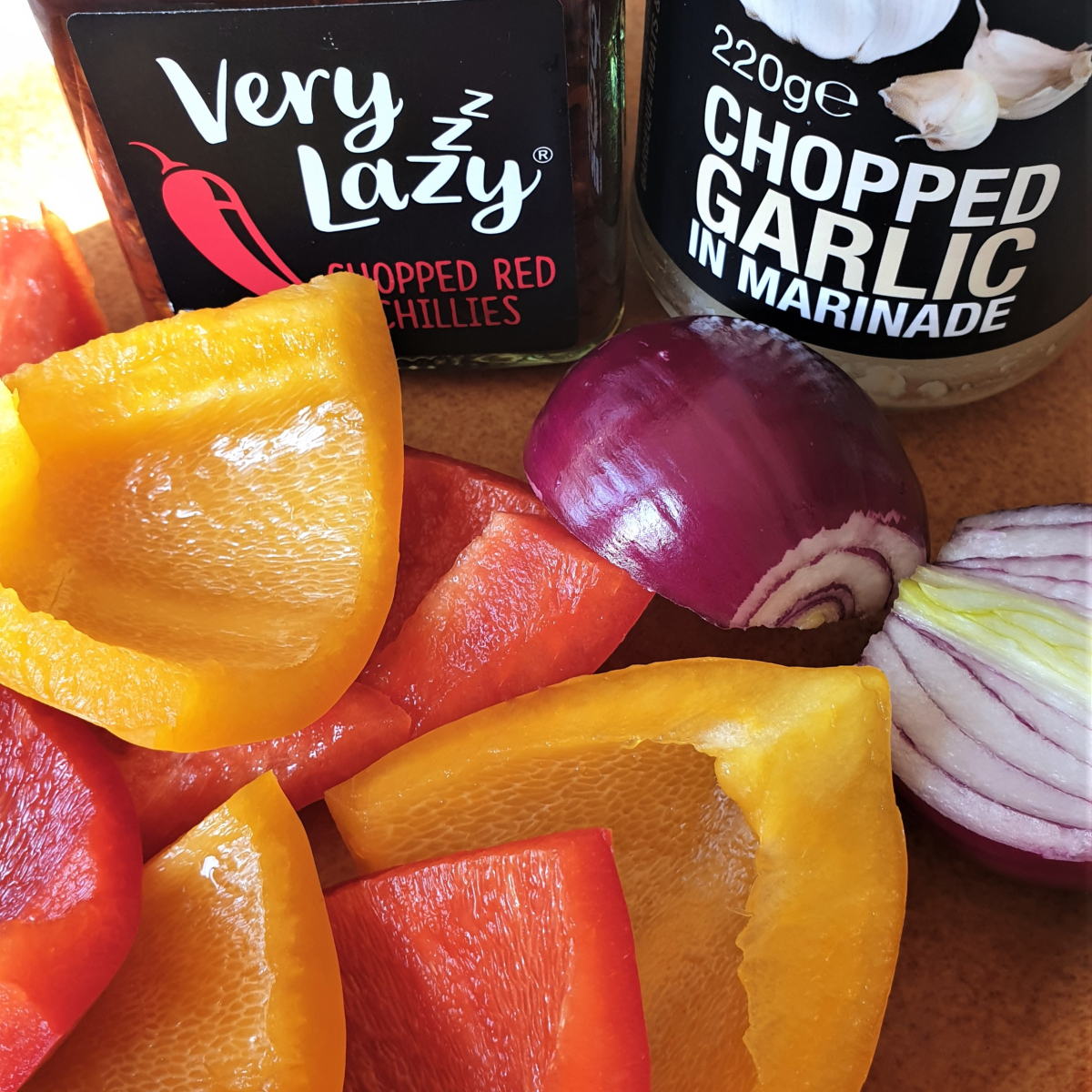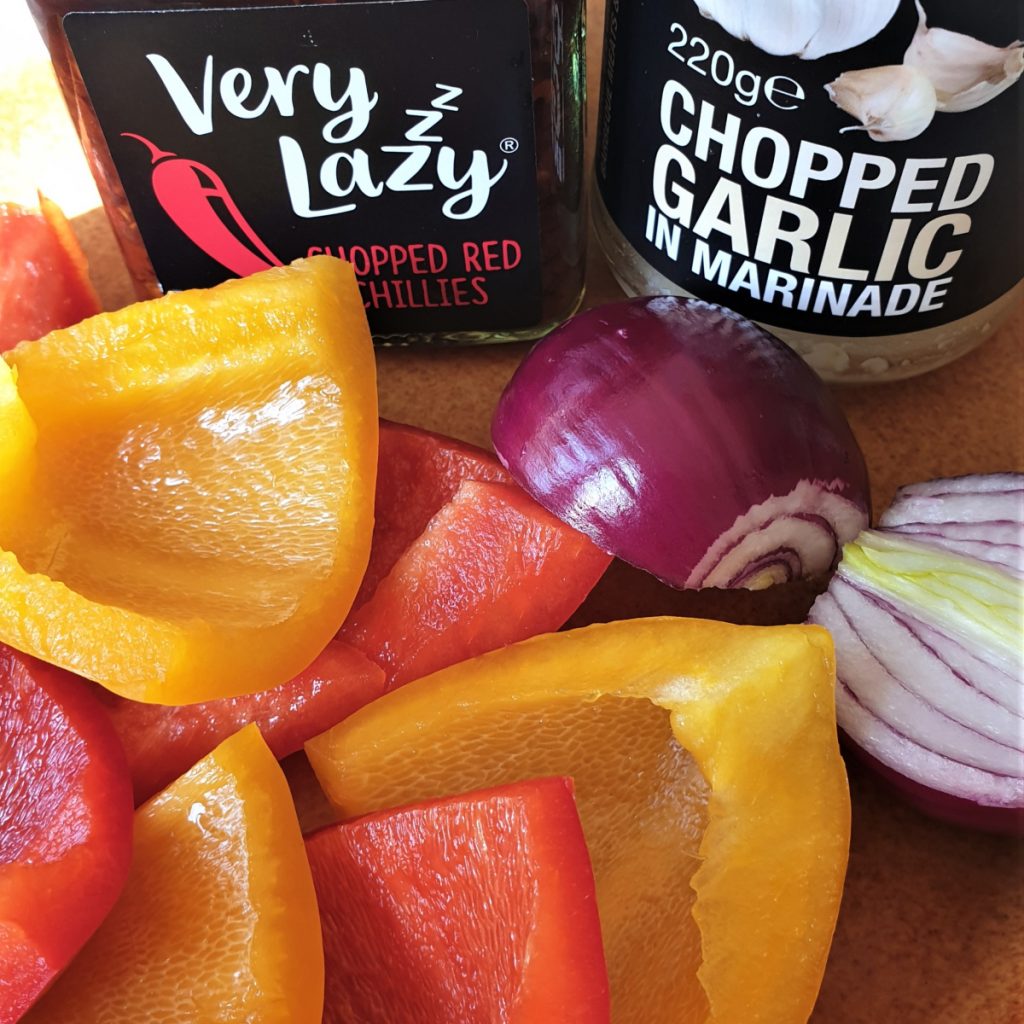 Ingredients
First of all you will need a red and a yellow bell pepper. Remove the seeds and inner membrane and chop into large pieces.
Peel a small to medium sized red onion and cut into chunks. The size of the onion will depend on the size of your peppers. You are looking for about 1/4 of chopped onion by volume to the chopped peppers.
You will also need a teaspoon of chopped chilli. I like the convenience of a jar of ready chopped chillies, but you could use a small fresh chilli with the seeds removed if you wish. You can make this relish as mild or as spicy as you like. Just adjust the amount of chilli according to your own taste.
The same goes for garlic. I used a heaped teaspoon of prepared chopped garlic, but you could add 2 peeled cloves of garlic instead.
Step-by-step instructions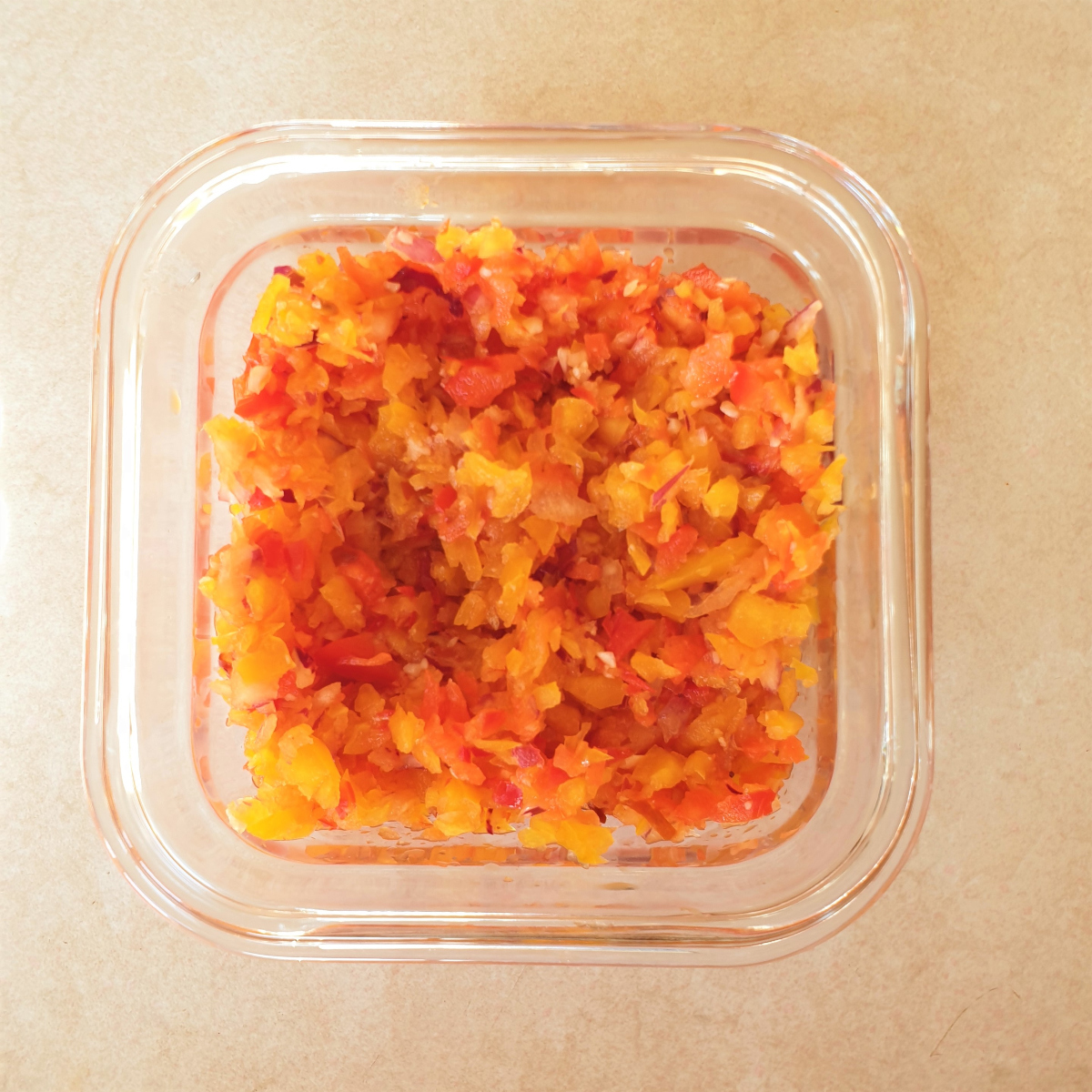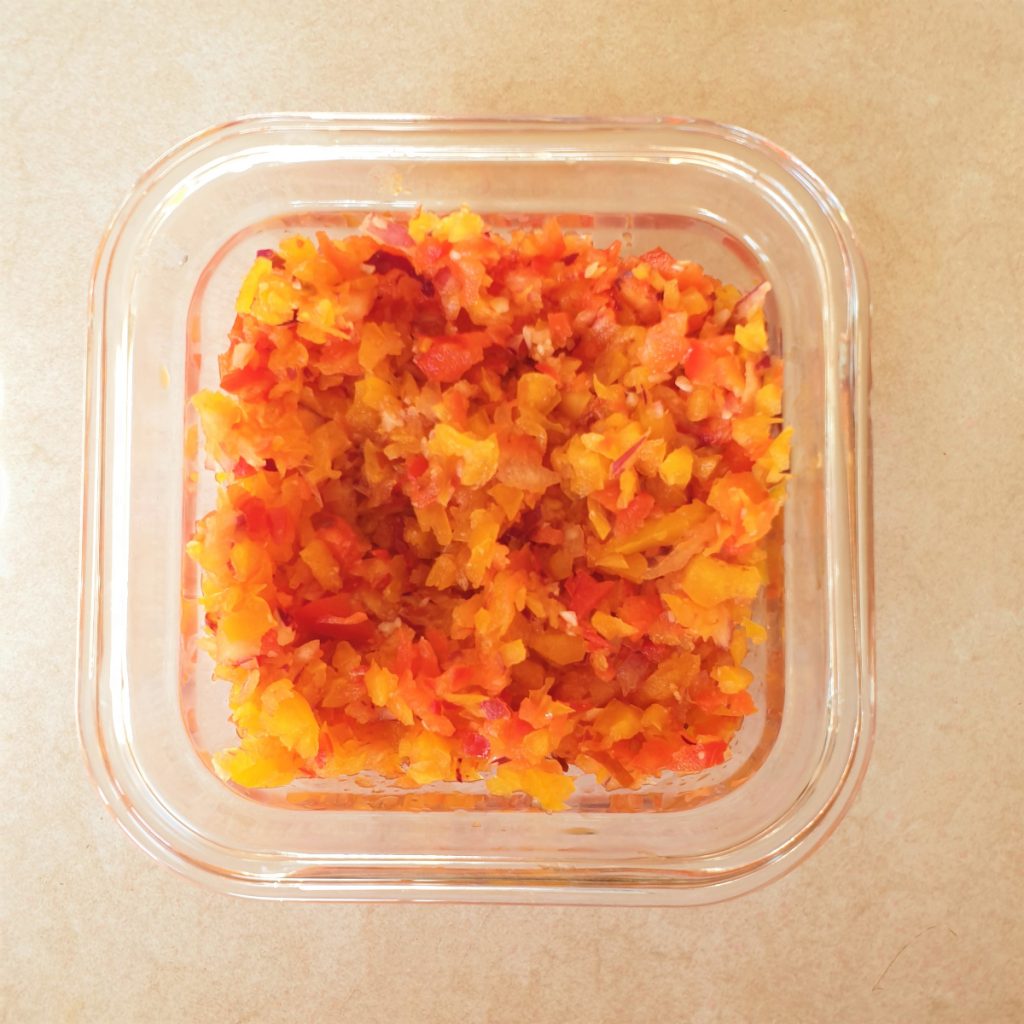 Place all the above into a food processor, with 1/2 teaspoon of salt and process until the peppers are about the size of grains of rice.
If you don't have a food processor, just chop everything finely, using a sharp knife (it will take a while 🙂 ).
Remove the chopped peppers and onion from the food processor and place into a glass or ceramic bowl. Don't use a metal bowl – it may cause a reaction with the vinegar.
Add the rest of the ingredients and stir well.

2 tablespoon white vinegar or rice wine vinegar
2 teaspoons sugar
A good grating of freshly ground black pepper.

For a sweeter taste you could substitute 1 tablespoon white vinegar with 1 tablespoon mirin.
Taste for seasoning and heat and adjust if necessary.
Cover with a lid and place in the refrigerator to chill for at least 2 hours. The flavours will intensify on standing.
For a creamier dressing you could drain the liquid, once the standing time is over, and mix with 3 tablespoons of mayonnaise.
This sweet pepper relish will stay fresh for up to 5 days stored tightly covered in the refrigerator.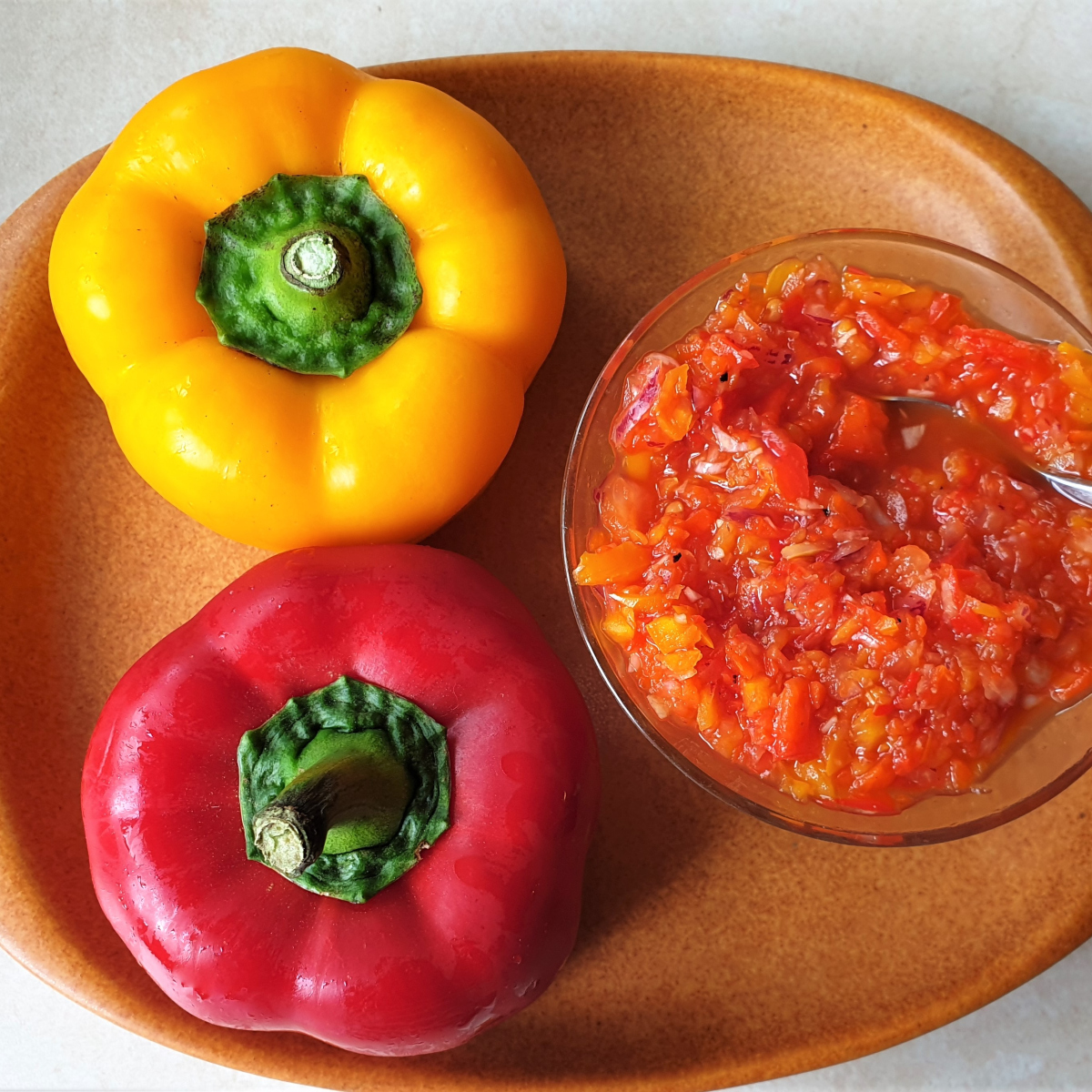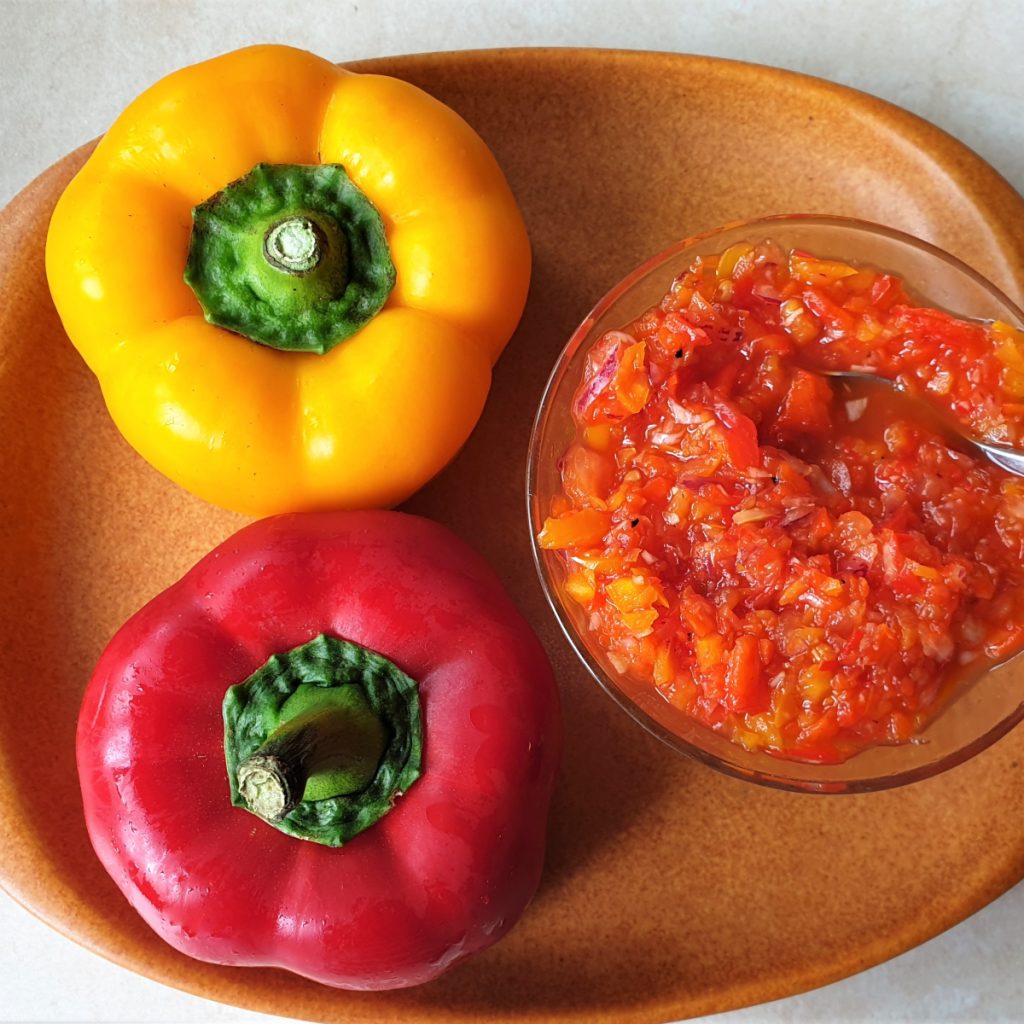 How can I use sweet pepper relish?
This is a very versatile side dish, and goes well with so many things.
If you want to keep up-to-date with my latest recipes why not follow along on Facebook or Pinterest. And don't forget to subscribe to my mailing list so you can get your FREE COOKERY BOOK
Convert your recipes
To help you convert your recipes, I have created a handy Cookery Conversion Calculator which will convert ingredients between grams, ounces, tablespoons, cups and millilitres. I hope you will find it useful.
If you live at a high altitude you may find you need to adjust your baking recipes to compensate for this. You can read about how to do this in this post on baking at high altitudes.
Recipe – Sweet pepper relish
Sweet pepper relish – no cooking required
Red and yellow bell peppers with red onion form a delicious tangy relish. Top it on your hamburger, pour over sausages or make as a side dish at your next barbeque.
Servings:
2
cups of relish (approximately)
Equipment
Food processor OR

Sharp knife and chopping board

Glass or ceramic bowl
Ingredients
1

large

red bell pepper

1

large

yellow bell pepper

1

medium

red onion

1

teaspoon

chopped chilli

2

cloves

garlic

2

tablespoons

white vinegar or rice wine vinegar

2

teaspoons

sugar

½

teaspoon

salt

½

teaspoon

ground black pepper
Instructions
Deseed the peppers and remove the inner membrane. Chop into large pieces

Peel the onion and chop into quarters

Place the peppers, onions, garlic and chilli in a food processor. Add ½ teaspoon salt

Process until the peppers and onions are the size of rice grains.

Place the chopped vegetables in a glass or ceramic bowl and add 2 tablespoons white vinegar, 2 teaspoons sugar and a good grating of black pepper to taste (about 1/2 teaspoon)

Stir well, cover with a lid and place in the refrigerator to chill for at least 2 hours.

Serve as a topping for a hamburger, pour over sausages or serve as an accompaniment to a barbeque.
I am not a nutritionist. The nutrition information has been calculated using an on-line calculator, and is intended for information and guidance purposes only.  If the nutrition information is important to you, you should consider calculating it yourself, using your preferred tool.
If you made this recipe and enjoyed it, please don't forget to give me a star rating in the comments below. And if you'd like to get in touch, you can email me on [email protected] I'd love to hear from you.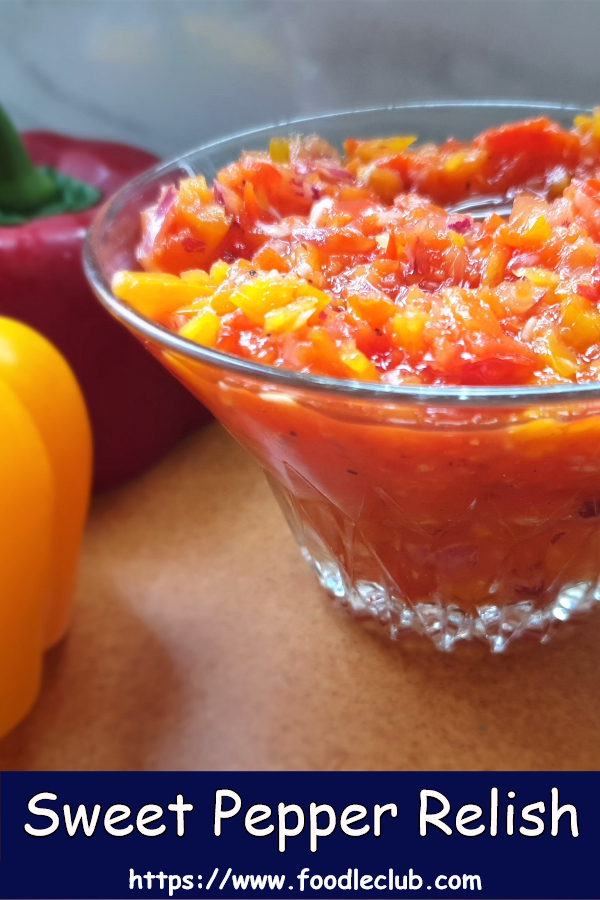 You can click the buttons below if you'd like to save the recipe to Pinterest or your Yummly recipe box. And don't forget to subscribe to my mailing list so you can grab yourself a copy of my FREE COOKBOOK! If you'd like to continue browsing, just click on this link to all my recipes.