Mouthwatering, rich meaty sauce, covered in creamy mashed potatoes and finished off with a crispy cheesy topping. This traditional cottage pie is the ultimate quick and easy supper that the whole family will love.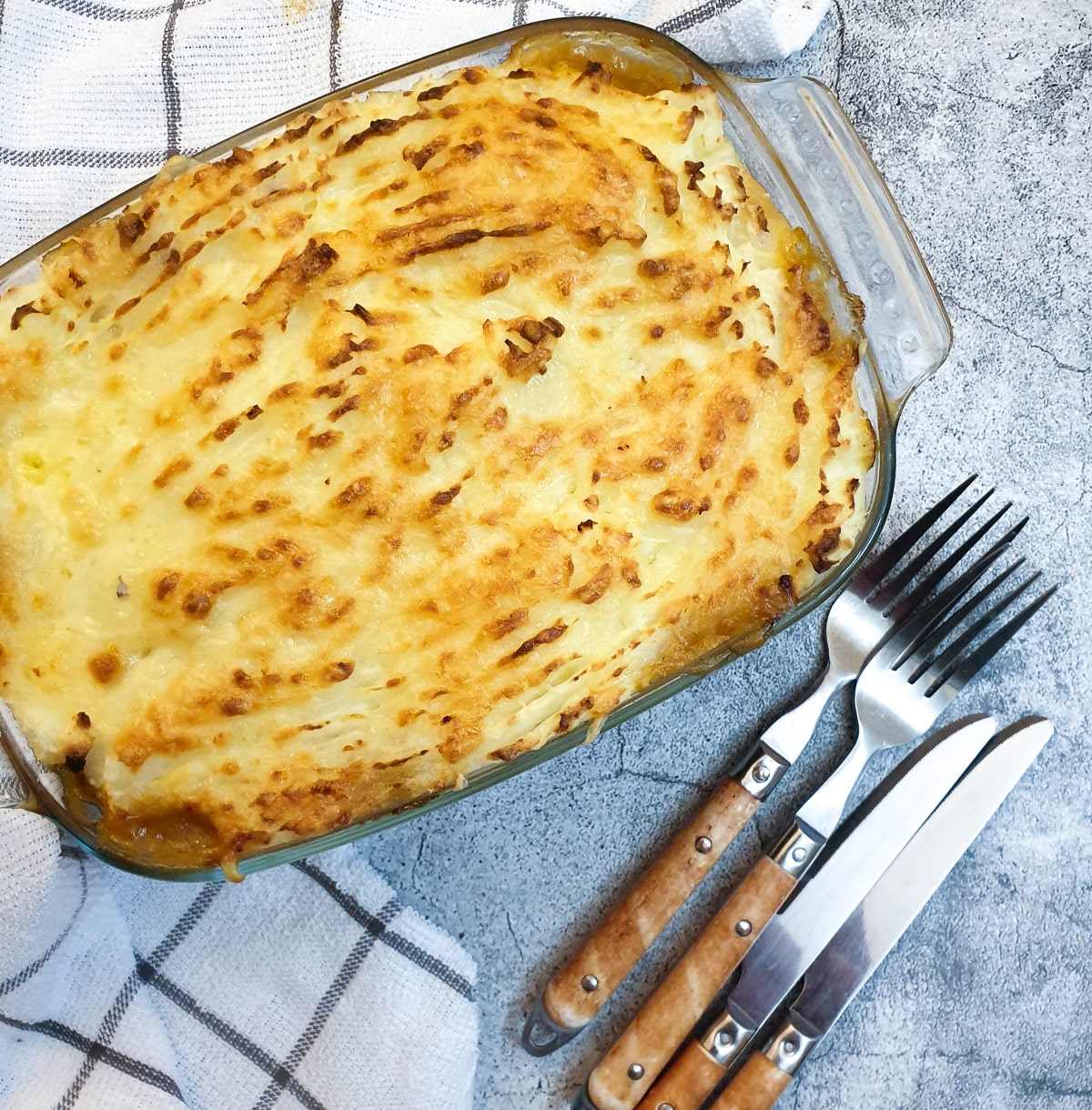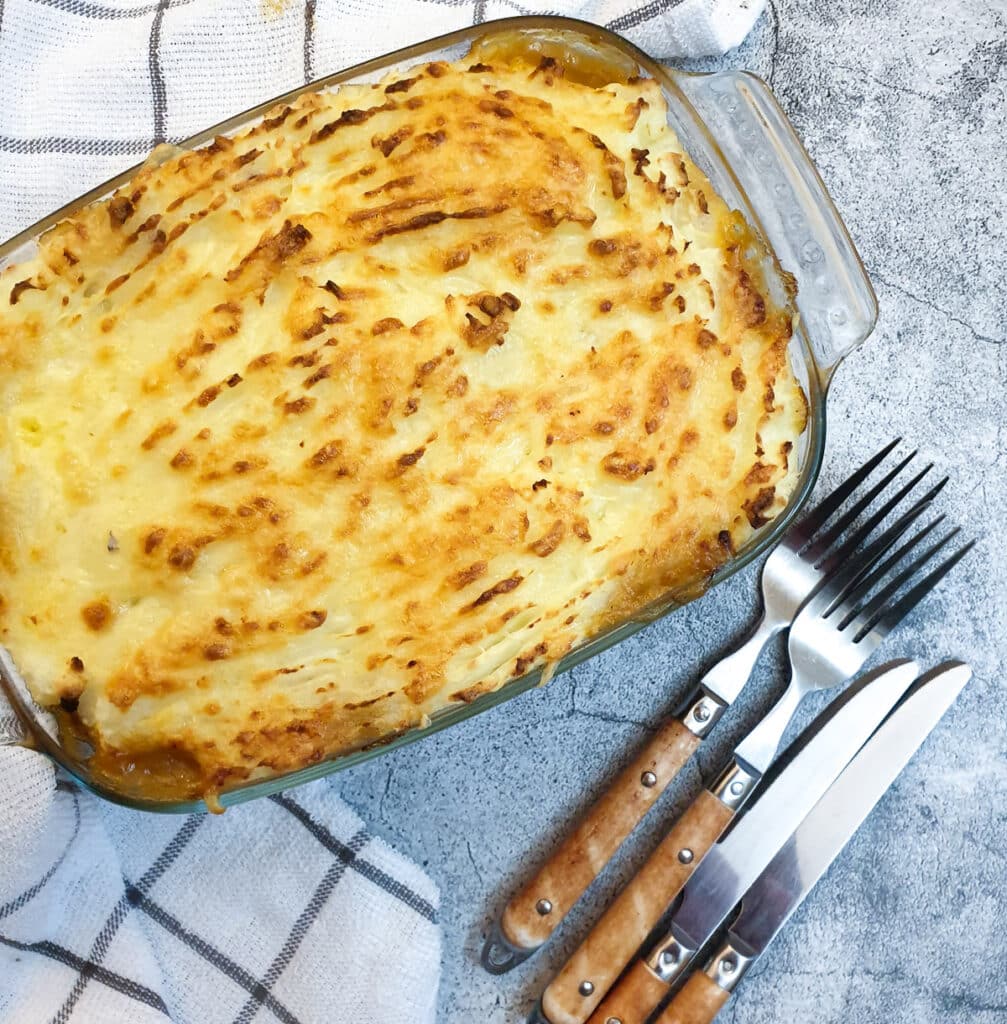 **As an Amazon affiliate, I earn from qualifying purchases.**
Traditional cottage pie – the ultimate comfort meal
I have vivid memories of school dinners back in the early 60s. I think one of the worst had to be cottage pie. A greasy plateful of greasy, tasteless mince topped with an unappetising mound of lumpy mashed potatoes. And nine times out of ten it was served lukewarm. The dinners were presided over by a gimlet-eyed teacher. 'I'm watching you … get that food down you'. The only thing worse, was when they served a dessert of prunes and custard. To this day I can't face eating prunes.
So it's quite surprising that these days cottage pie is actually one of my favourite things to eat.
A rich meaty sauce, crammed with flavour and covered in creamy mashed potatoes. Top that with a crispy cheese topping and I'm happy. The crispy topping is made from a mixture of grated cheese (cheddar is fine) and panko breadcrumbs. Panko breadcrumbs are Japanese breadcrumbs, and are much crunchier than normal breadcrumbs. Sprinkle that over mashed potatoes on top of the cottage pie just before baking, and you get a delicious crunchy cheesy topping that goes so will with the cottage pie.
Just look at the juices in the dish, ready to bubble up and combine with the bottom of the mashed potato. And the crispy cheesiness of the cheese and breadcrumb topping, waiting to be browned and melted in the oven. I could happily tuck into a plateful right now!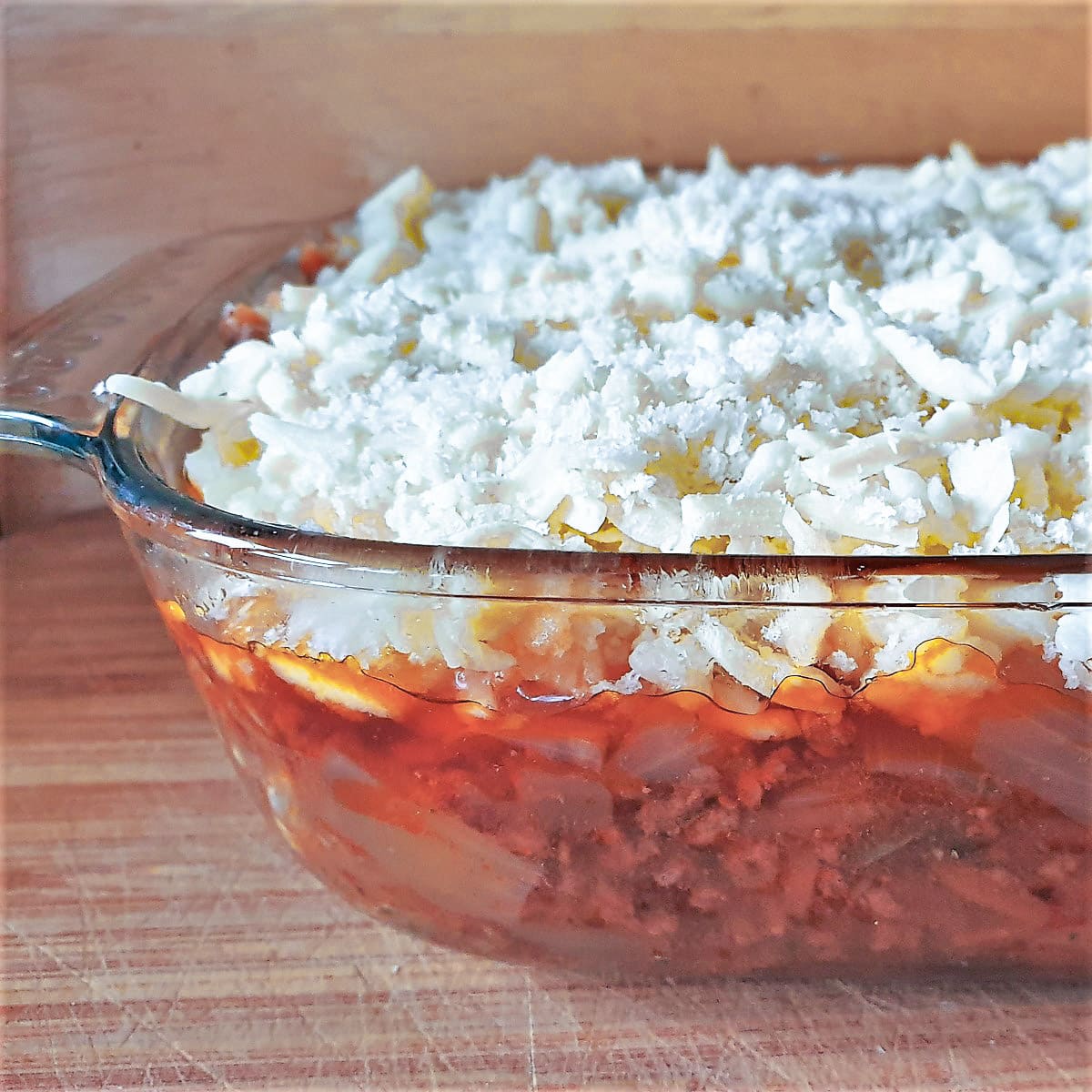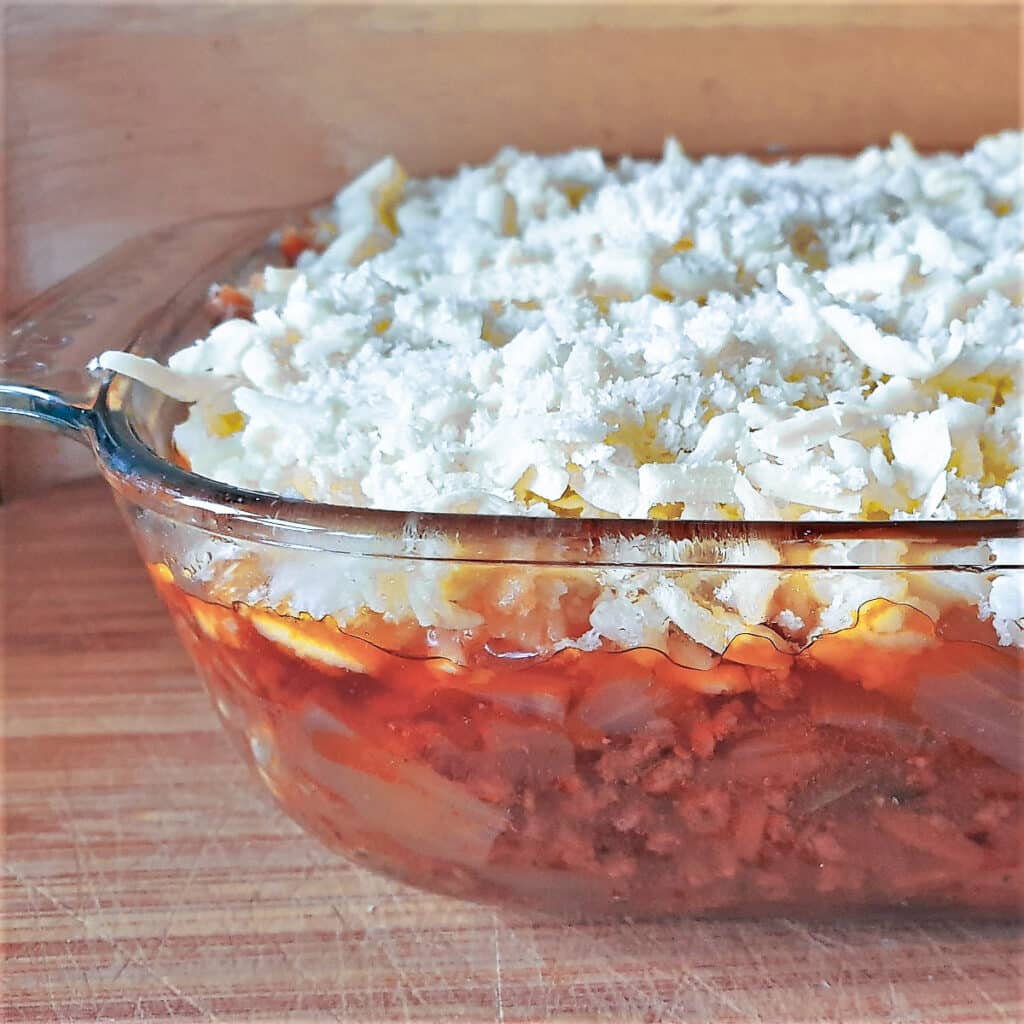 As British pie week runs from 2nd to 8th March this year, I thought it appropriate to dig out my old cottage pie recipe and publish it here.
What's the difference between Cottage Pie and Shepherd's Pie?
Cottage pie and shepherd's pie are very similar. Both are made from a savoury ground meat covered in mashed potatoes. The only difference is a cottage pie is made with beef, whereas a shepherd's pie is made with lamb.
Years ago a cottage pie was made with a topping of scalloped potatoes, rather than mash. The scallops resembled the roof tiles on a cottage, which is where the name comes from. You could still use scalloped potatoes for this recipe if you wanted. I just prefer it with mashed potatoes – and my crunchy topping of cheese and breadcrumbs.
And as for a shepherds pie, well, shepherds look after sheep, which is why it is made from lamb!
How to make a cottage pie
You can get the complete instructions and list of ingredients for making this cottage pie on the printable recipe card at the end of this post.
What you will need
This is a generous recipe and will easily feed 4 hungry adults.
Ground beef – buy the beef with the lowest fat content. We don't want a greasy cottage pie.
Onions, celery, carrots and tomatoes – these are all finely chopped, with the exception of the carrots which are grated.
Worcestershire sauce and tomato paste
Garlic – optional, but does add to the flavour
Paprika – paprika and beef go so well together. Just a small amount is all you will need.
Salt – optional as always
Beef stock – use a stock cube if you don't have ready-made stock.
Sunflower or other neutral tasting oil for frying the mince.
Potatoes, butter, milk and salt – for the mashed potato layer. Optionally you could add 1 tablespoon djion mustard to the mash.
Grated cheese and panko breadcrumbs – for the crispy topping. If you don't have panko breadcrumbs you can grate a couple of slices of bread and make your own breadcrumbs.
Step by step instructions
This recipe for cottage pie is very easy to make. The preparation time is only the few minutes that it takes to peel and chop the vegetables. Cooking time is about 15 minutes to brown the mince, and then another 30 minutes in the oven to bake.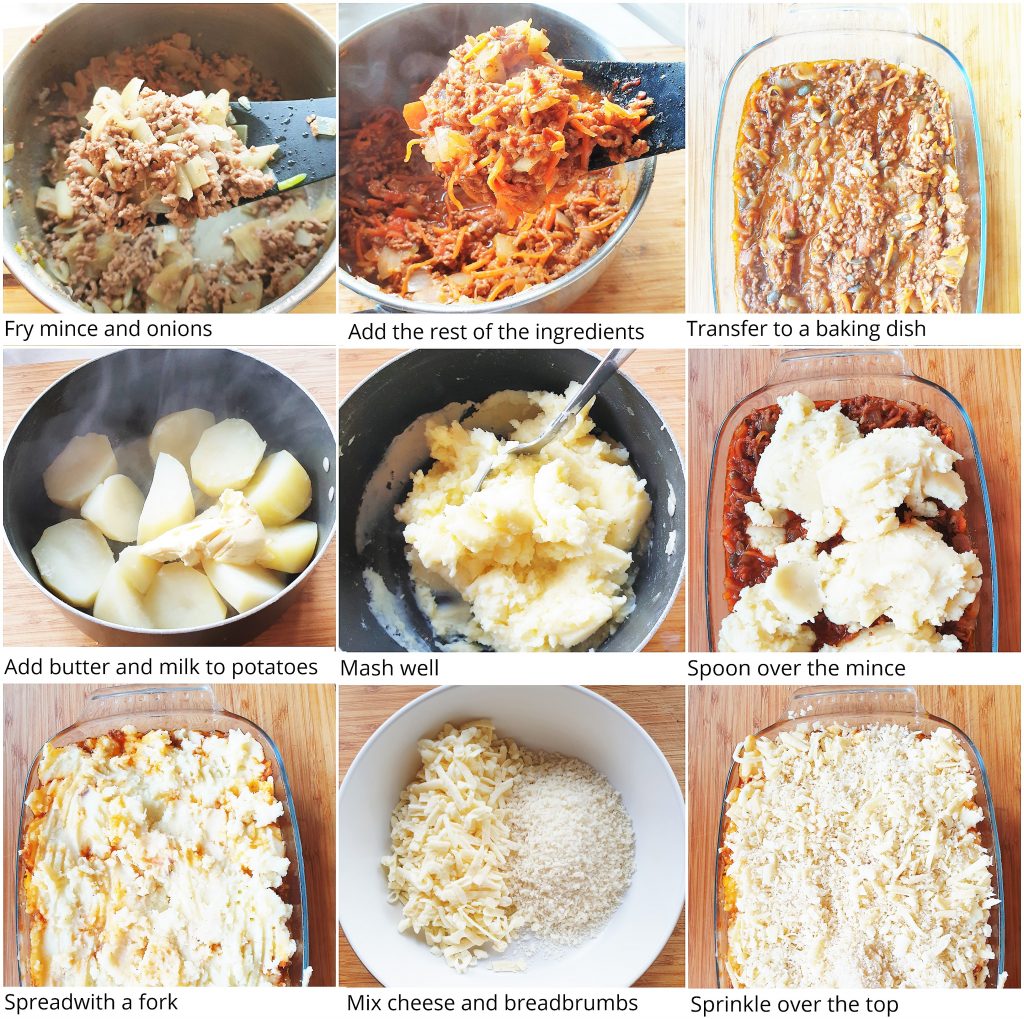 Fry the mince and onions
Sweat the onions and garlic (if using) in a little sunflower oil first, just to let them soften, then add the ground beef and stir fry until it is no longer pink and is nicely separated and crumbly.
Add the rest of the ingredients
Add the grated carrots and chopped tomatoes and celery and stir through. Then add the Worcestershire sauce, tomato puree, paprika and stock.
Let it all simmer for about 15 minutes. You shouldn't have to add any thickening agent, but if you think the gravy should be thicker you can mix a teaspoon of cornflour with a little water and stir in slowly until the desired consistency is reached. Transfer it all into a baking dish.
Make the mashed potatoes
While the beef is simmering, you can boil the potatoes in a pot of salted water for 10 to 15 minutes until they are soft enough to mash.
Remove the potatoes from the heat and drain them in a colander. Return them to the saucepan, add a knob of butter (a spoonful of mustard if you are using it) and a splash of milk and mash until soft and creamy, and there are no lumps. If you have a potato ricer, you could use this to squeeze the potatoes through.
Add the topping
Spoon the mashed potatoes on top of the ground beef and then spread them evenly with a fork. You will probably find that you get some gravy mixing itself in with the potatoes. Don't worry – you are going to cover it with cheese and breadcrumbs, so it won't show.
I find it easiest to spread the potatoes over the meat filling while the potatoes are still warm. If the potatoes are cold they will harden up and be more difficult to spread.
Combine the grated cheese and breadcrumbs in a dish and then sprinkle generously over the top of the potatoes.
Bake
Place the dish in a preheated oven – 190C/375F for about half an hour until the cheese is melted and the breadcrumbs are crispy.
Serve with a side helping of peas.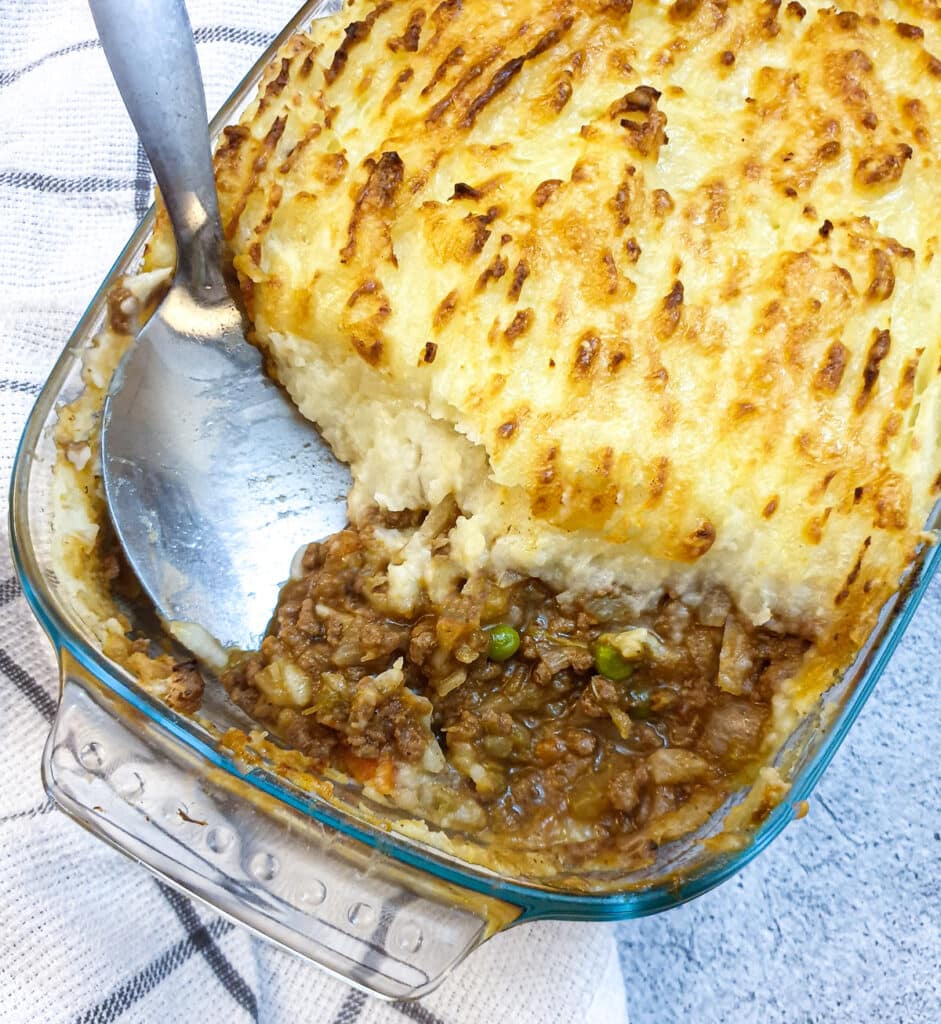 What other toppings could I use?
There are a number of different toppings you could use for cottage pie.
Just use plain mashed potato, but dot with butter before putting it in the oven.
Peel and slice potatoes into about 1/8″ rounds. Boil in salted water for 5 minutes until the potatoes are just starting to soften. Drain and cool. Arrange on top of the ground beef in overlapping layers, a bit like fishscales. Sprinkle with salt, dot with butter and bake.
Use half and half quantities of potato and sweet potato for the mash.
Just cover the mash with cheese, and omit the breadcrumbs.
If you'd like to be notified of any new recipes, why not subscribe to my newsletter. As a thank-you gift, you will receive a free recipe e-book containing some of my most popular cakes and desserts.
Save for later
If you would like to try this cottage pie, why not pin the recipe to one of your Pinterst boards so you can find it easily. Just click on the image below.
Alternatively, you can save the recipe by clicking on the floating heart icon on the right hand side of the screen.
Other traditional British meals to try
Why not take a look at some of my other traditional British recipes:
Cottage pie with crispy potato topping recipe
If you made this recipe and enjoyed it, I'd love it if you could give me a star rating in the comments below. And if you'd like to get in touch, you can email me at [email protected]. I'd love to hear from you. And don't forget to subscribe to my mailing list so you can grab yourself a copy of my FREE COOKBOOK!
If you'd like to continue browsing, just click on this link to all my recipes.
This post has been shared with #Cookblogshare