A roast dinner isn't complete without a crispy golden Yorkshire pudding covered in gravy. This post will show you how to make the perfect Yorkshire pudding every single time – and I've got 9 tips to make sure that your Yorkshire puddings turn out perfectly.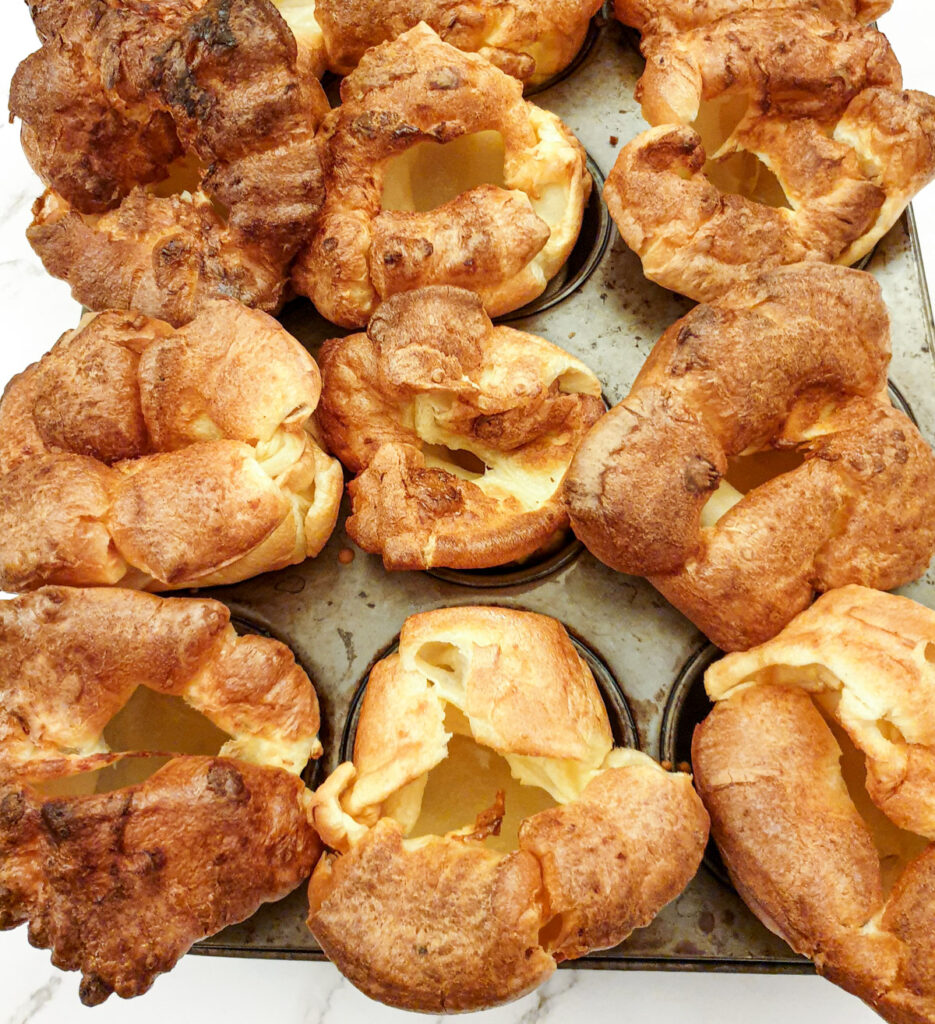 **As an Amazon affiliate, I earn from qualifying purchases.**
What are Yorkshire puddings?
When you grow up in Yorkshire, there's no excuse for not making the perfect Yorkshire pudding! And it's practically obligatory to serve Yorkshires with a roast dinner. Read on to find out how to make perfect Yorkshire puddings that rise to magnificent heights – every single time!
Yorkshire puddings are made by mixing up a simple egg, milk and flour batter, then baking the batter in muffin tins in the oven until it is well risen and golden. Yorkshire puddings are served, covered in gravy, as an accompaniment to a roast dinner.
You can make giant Yorkshire puddings, as I've done here, and serve them filled with an entire roast dinner, or you can make smaller individual ones in muffin tins.
Years ago, Yorkshire puddings, covered in gravy, were served as a starter as a way of filling up the family before serving the meal, thus cutting down on the amount of meat they would eat.
A proper Yorkshire pudding is crispy on the top, with a softer more chewy bottom. And according to the Royal Society of Chemistry, a perfect Yorkshire pudding should be no less than 4 inches tall.
Follow my tips below, and you too will be making perfect Yorkshire puddings time after time.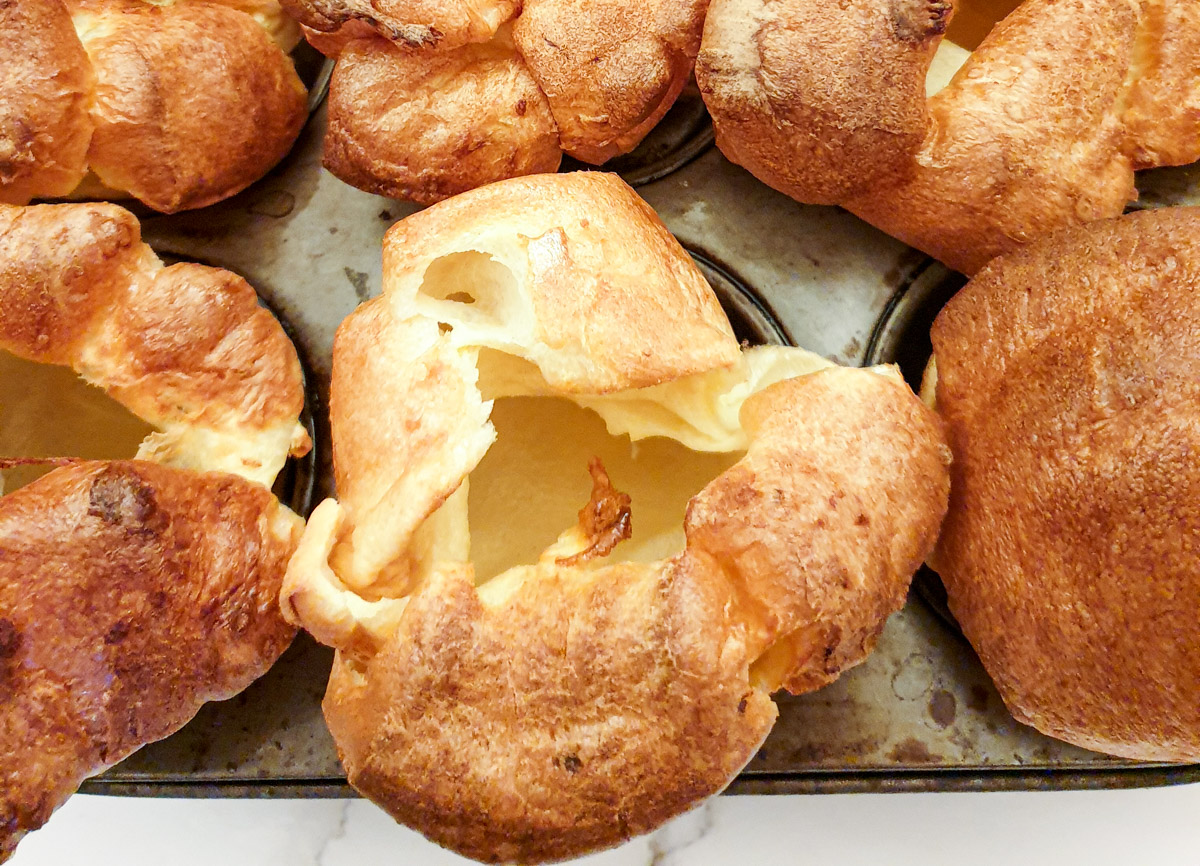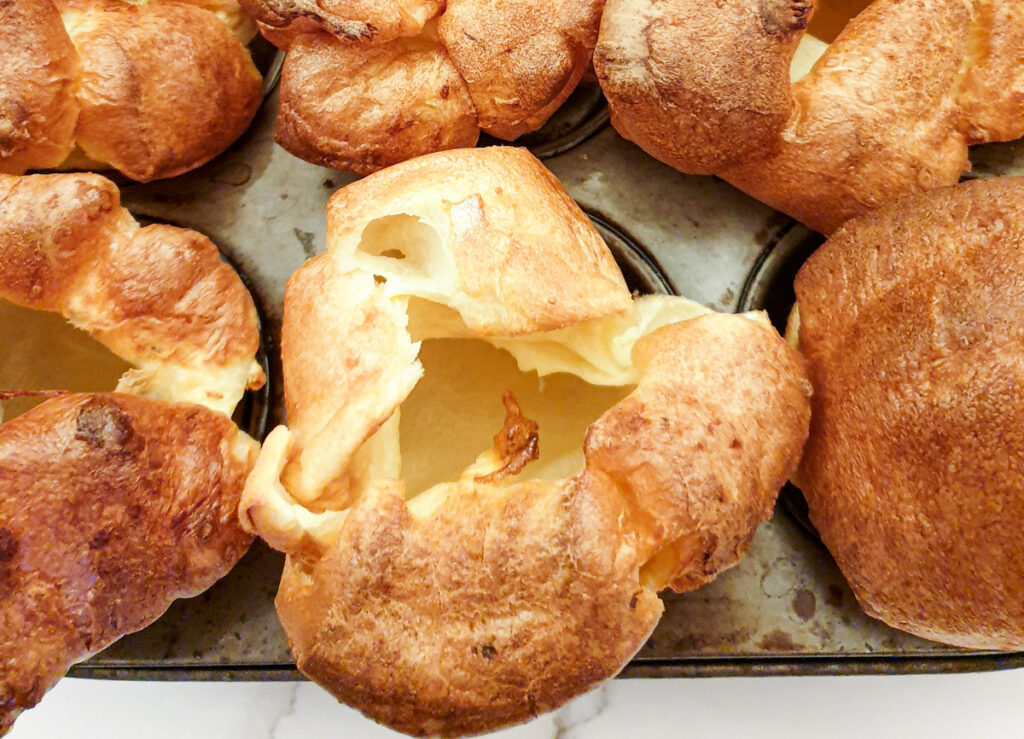 9 Tips for making Yorkshire puddings
I've come across a lot of people who have never made their own Yorkshire puddings because they think it's too difficult. Or maybe they tried to make them in the past and had an epic fail!
Well, I have to tell you, Yorkshire puddings are really not at all difficult to make. I've even got hubby making them now, and they turn out perfectly every time. If you follow my tips for making Yorkshire puddings, I guarantee that you too will be making your own, and popping out to the shops for a packet of 'Auntie Bessies' will be a thing of the past.
1. You have to get the ratio of ingredients right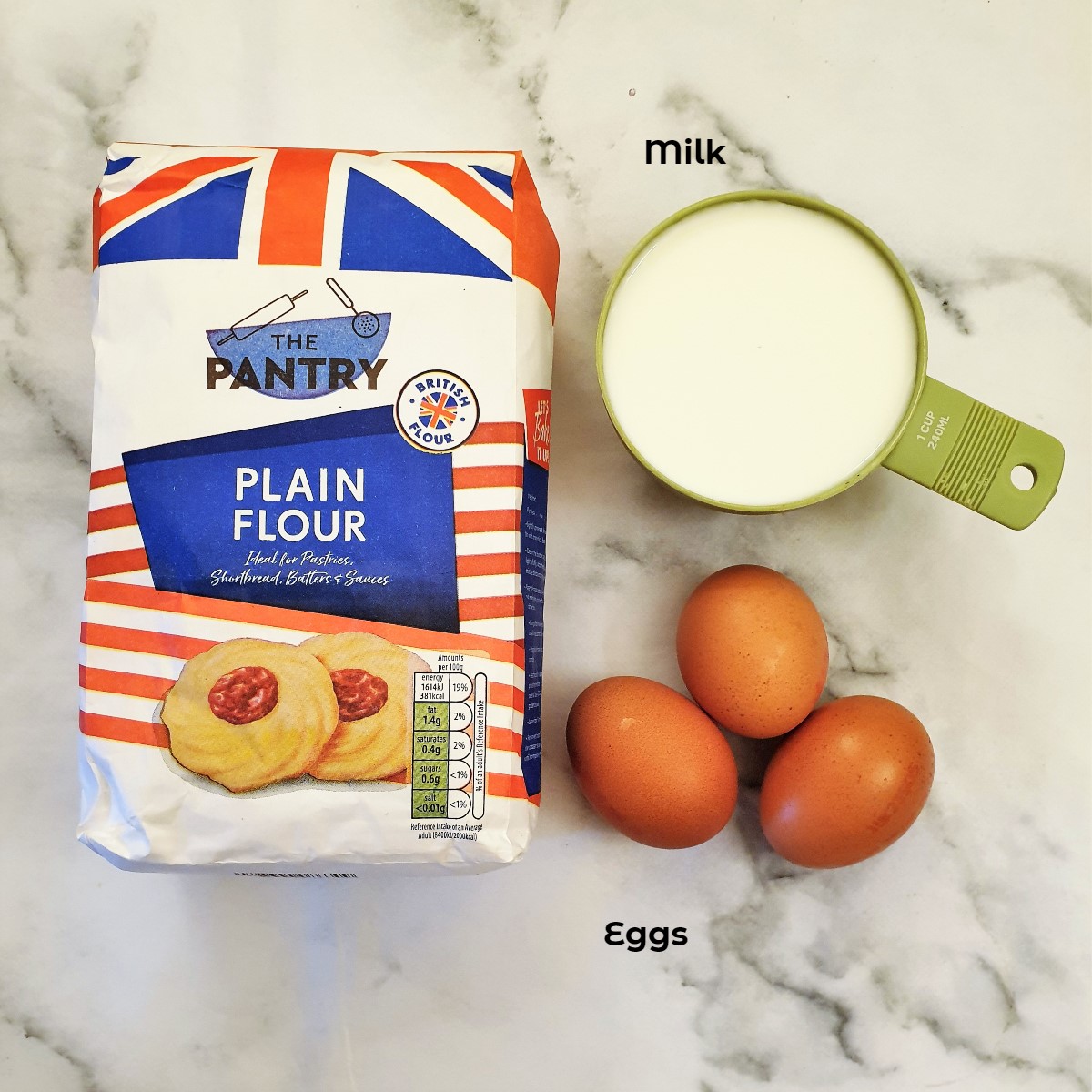 You need equal quantities of eggs, flour and milk. Too much flour and the Yorkshires will be tough; too much milk and the batter will be too runny and they won't rise.
For enough batter to make 12 muffin-sized Yorkshire puddings you need:
one cup each of milk, flour and eggs.
Assuming an egg weighs 2 ounces (or 60g), you will need 4 eggs to make up one cupful. If your eggs are on the small size you may need 5 eggs, and if they are jumbo-sized you might get away with using 3.
If you are unsure, just break the eggs into a measuring cup first.
As far as the milk goes, I use full-cream milk. You can use semi-skimmed too if you wish. Some people believe that swapping out 1/4 of the milk for water gives a crispier result, but I haven't noticed any difference. I wouldn't water down the semi-skimmed milk though.
I also like to add half a teaspoon of salt to the mixture.
2. You HAVE to use plain or all purpose flour
This is really important. It sounds counter-intuitive, but self-raising flour (or self-rising if you live in the US) will NOT make your Yorkshire puddings rise. In fact, it will be quite the opposite. Your Yorkshire puddings will be (almost) as flat as a pancake.
There is a reason for this. Self-raising flour (or any raising agent such as baking powder) will cause the Yorkshire puddings to rise very quickly. So quickly in fact that they will rise before the gluten in the flour has had time to strengthen the mixture.
As a result of this, the puddings will collapse on themselves, and become flat and stodgy.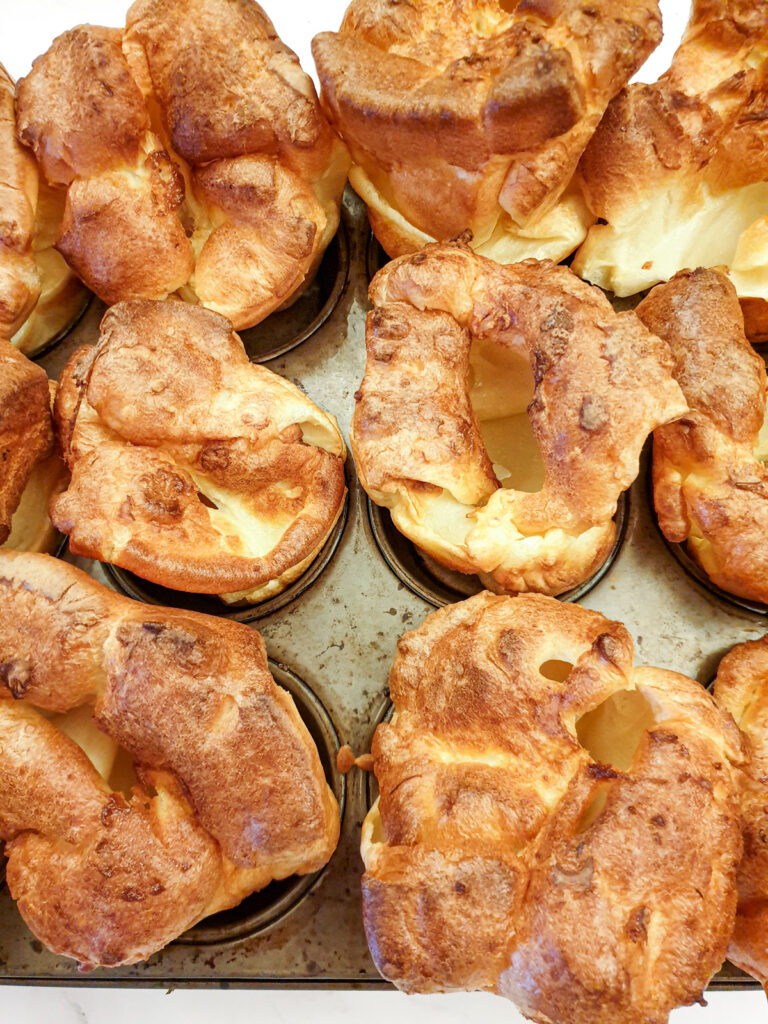 3. Rest the batter for at least 30 minutes
Once again, there is a reason for this. It is the gluten in the flour that gives structure to the Yorkshire puddings. And gluten is formed when the flour comes into contact with liquid (in this case, milk).
Leaving the batter to stand gives the gluten time to develop.
If you are in a hurry, you can cook them without resting the batter, and they will still rise, but not as much as if you'd let them stand.
There's also a debate about whether it is better to let the batter rest in the fridge, or on the countertop. Some people think that the colder the batter, the more the puddings will rise.
Quite honestly, I don't think it matters.
When I lived in South Africa (hot climate) I put the batter in the fridge as a matter of course. Here in the UK (cold climate) I don't bother (unless I'm leaving it overnight). I've not noticed any difference either way.
Just make sure that you give the rested batter a bit of a whisk before pouring it into the baking pan.
4. Use the correct oil
For perfect Yorkshire puddings, you need to use oil or fat that has a high smoke point. Olive oil or butter won't work as they will burn before they reach the desired temperature.
You can use lard or dripping if you have it. I just use plain old sunflower oil.
You will need about 2 teaspoons of lard or sunflower oil for each Yorkshire pudding. This sounds quite a lot, but it doesn't all get absorbed. There should be 1 to 2mm of lard/oil in the bottom of each pan.
5. Get the oven really hot
The oven temperature should be set to 220C / 425F and the baking tray (with the oil or lard) should be pre-heated for at least 10 minutes to allow the oil or lard to come up to temperature.
The batter should be poured into the hot oil. Don't skip this preheating step – you'll end up with stodgy Yorkshire puddings that haven't risen.
6. Pour the batter in quickly
The batter needs to be poured into the hot baking tray quickly before the oil loses temperature. The easiest way to do this is to transfer the batter to a jug and pour it in. Using a ladle will be slower.
If your oven shelf is stable enough, you can just open the oven door, and pour the batter directly into the pan.
Otherwise – once the oil is hot enough, quickly remove the baking pan from the oven, pour in the batter, and return the tray to the oven as quickly as possible.
The trick here is to work quickly before the oil has time to cool down.
The oil should sizzle when you add the batter. Test it first by pouring in a few drops of batter. If it just sits there without sizzling, leave the baking pan in the oven for a few minutes longer before adding the batter.
7. Don't overfill the baking pan
The baking pan should only be half-filled with batter. Too much batter will cause the Yorkshire puddings to be too heavy, and they will start to rise, but then collapse because of the weight.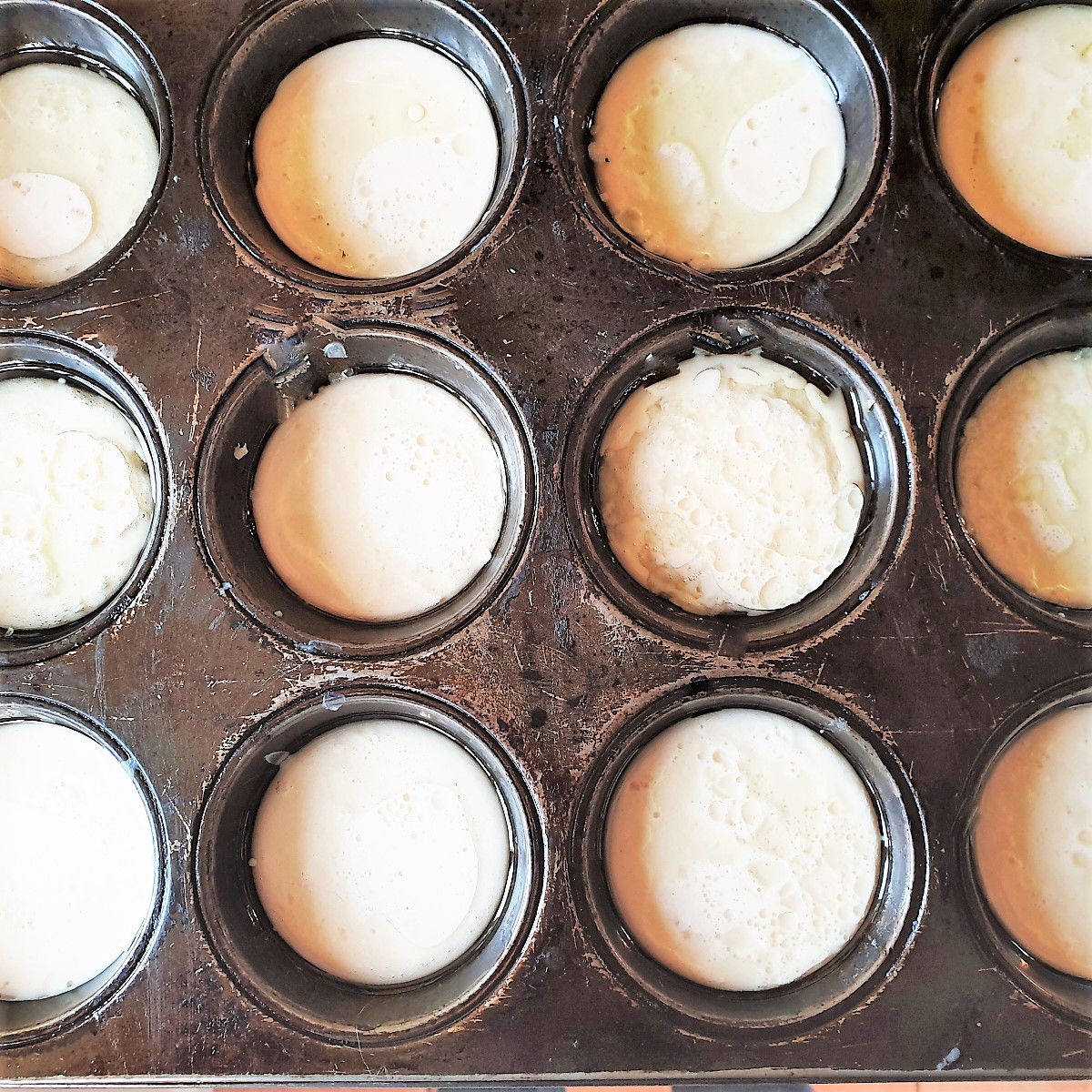 8. Do not open the oven door for at least 15 minutes
Resist all temptation to open the door to check on the Yorkshire puddings for at least 15 minutes. The idea is to keep the oven temperature constant for the first few minutes of cooking time to give them time to stabilize. If you open the door too soon there is a good chance the Yorkshires will sink.
9. Leave enough headroom in the oven
Make sure you do not put the baking tray too close to the top of the oven. You don't want the puddings to get stuck on the top of the oven. By the same token, don't put them underneath another shelf. Cleaning burned-on Yorkshire pudding from an oven shelf is not fun.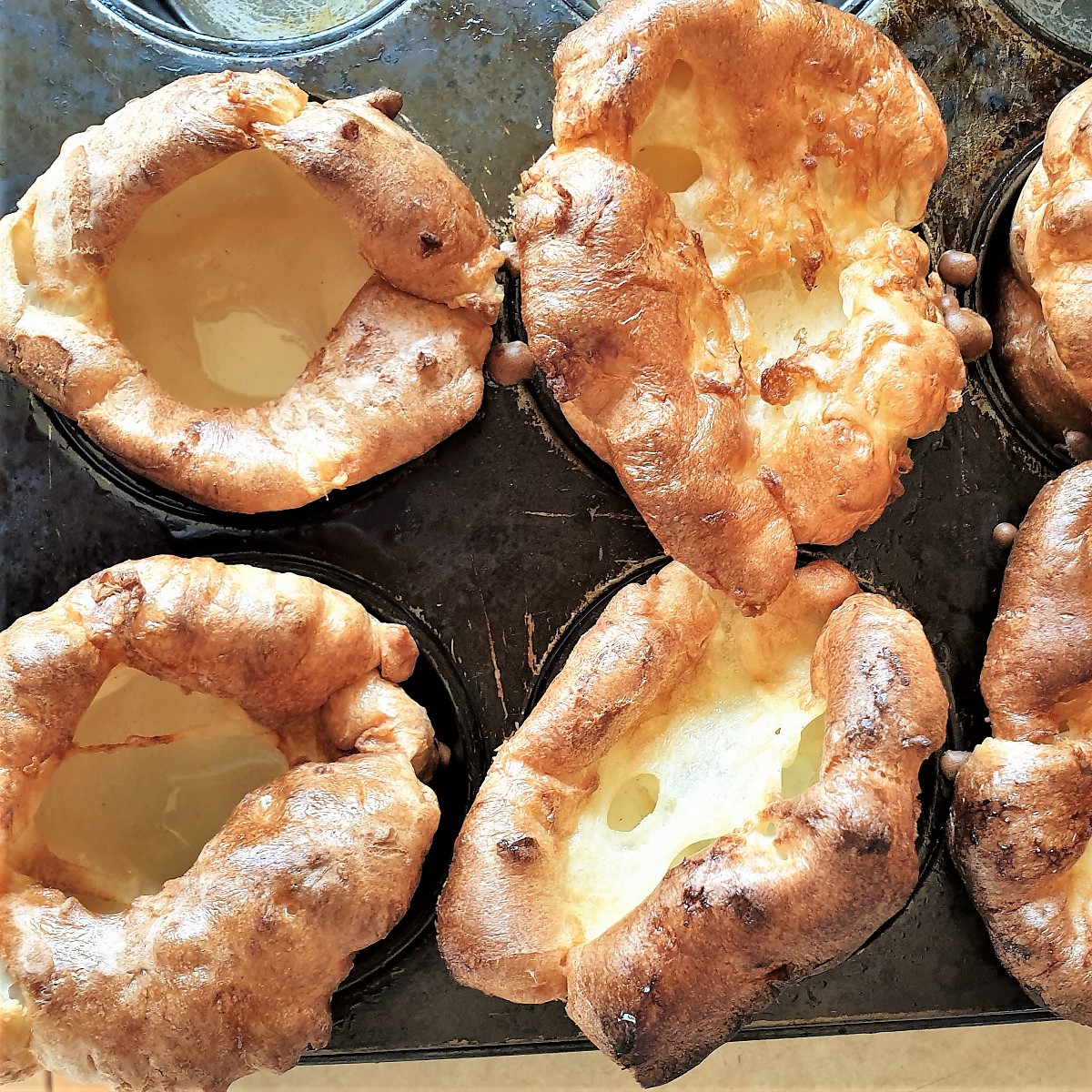 How do I mix the batter?
Mixing the Yorkshire pudding batter is simplicity in itself. Just put the flour, eggs and milk, along with a teaspoon of salt, into a mixing bowl and mix with a balloon whisk until all the lumps have been removed.
The consistency should be a pourable consistency similar to that of single cream.
Transfer to a pouring jug and leave to stand for 30 minutes.
How long do Yorkshire puddings take to cook?
Yorkshire puddings take between 25 and 30 minutes to cook. They should be golden brown on top, and the bottom should be cooked through.
If you prefer a more crispy bottom to your Yorkshires, you can turn them over on the baking tray to expose the bottom and bake them for 5 minutes longer.
Can I freeze them?
Yes, Yorkshire puddings freeze very well.
Allow them to cool and then open-freeze until solid.
Transfer the frozen puddings to a large freezer bag and freeze for up to 6 months.
To use – heat the oven to 200C/400F and place the frozen Yorkshire puddings on a baking tray. Place them in the oven for about 5 minutes until they are heated through and crispy.
Make Giant Yorkshire puddings
Much as I love the mini (muffin-sized) Yorkshire puddings with a roast, I have to admit I sometimes splurge out and make giant ones that I serve filled with a roast dinner.
Just look at the size of these beauties!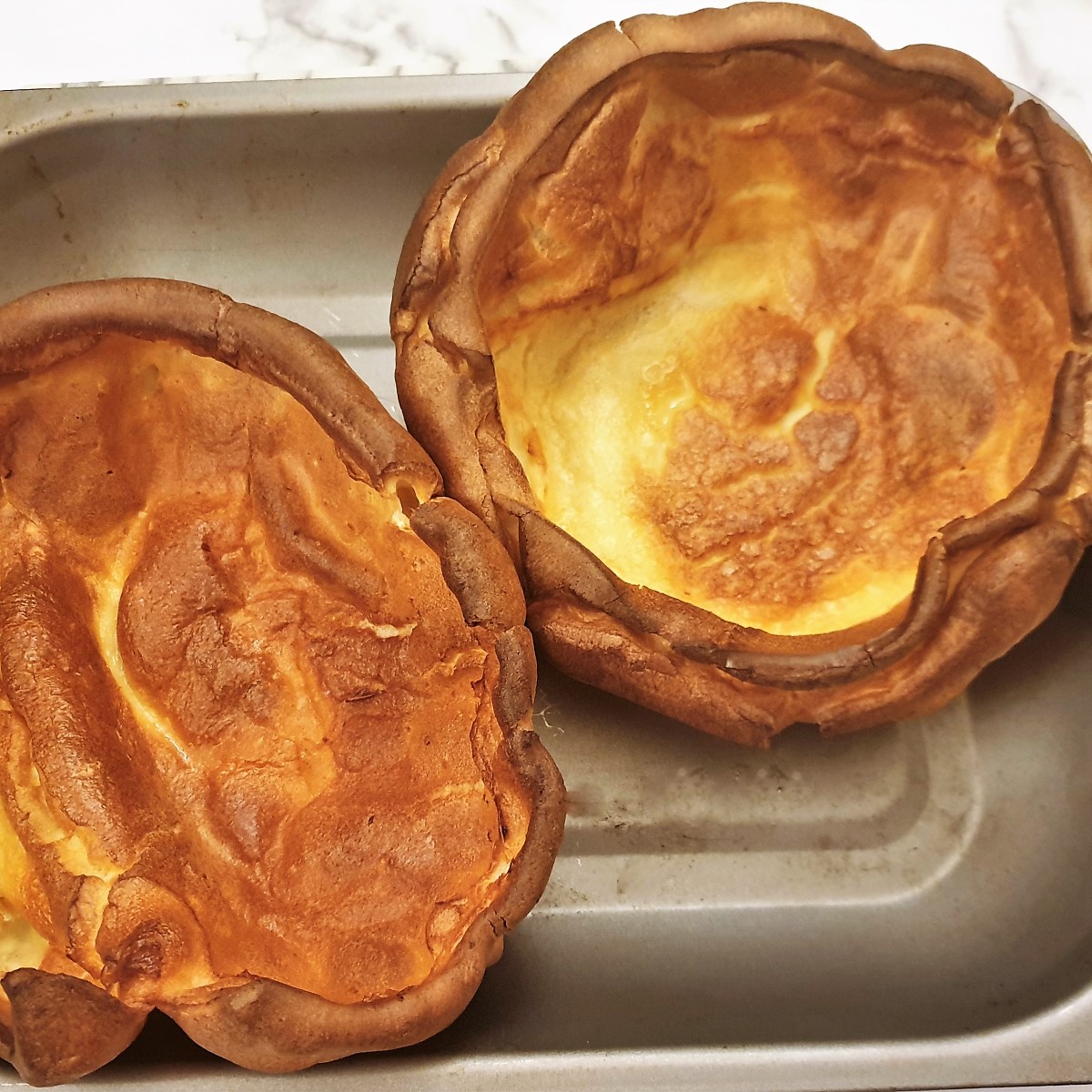 To make these giant Yorkshire puddings you should use 2 x 8″ (12cm) round cake tins.
You should add a little extra oil or lard to the cake tin so that there is about 1 to 2mm of oil on the bottom of the tin.
Then just follow the instructions for making Yorkshire puddings in a muffin tin.
As soon as they come out of the oven, fill with your roast meat and vegetables, cover with gravy and serve.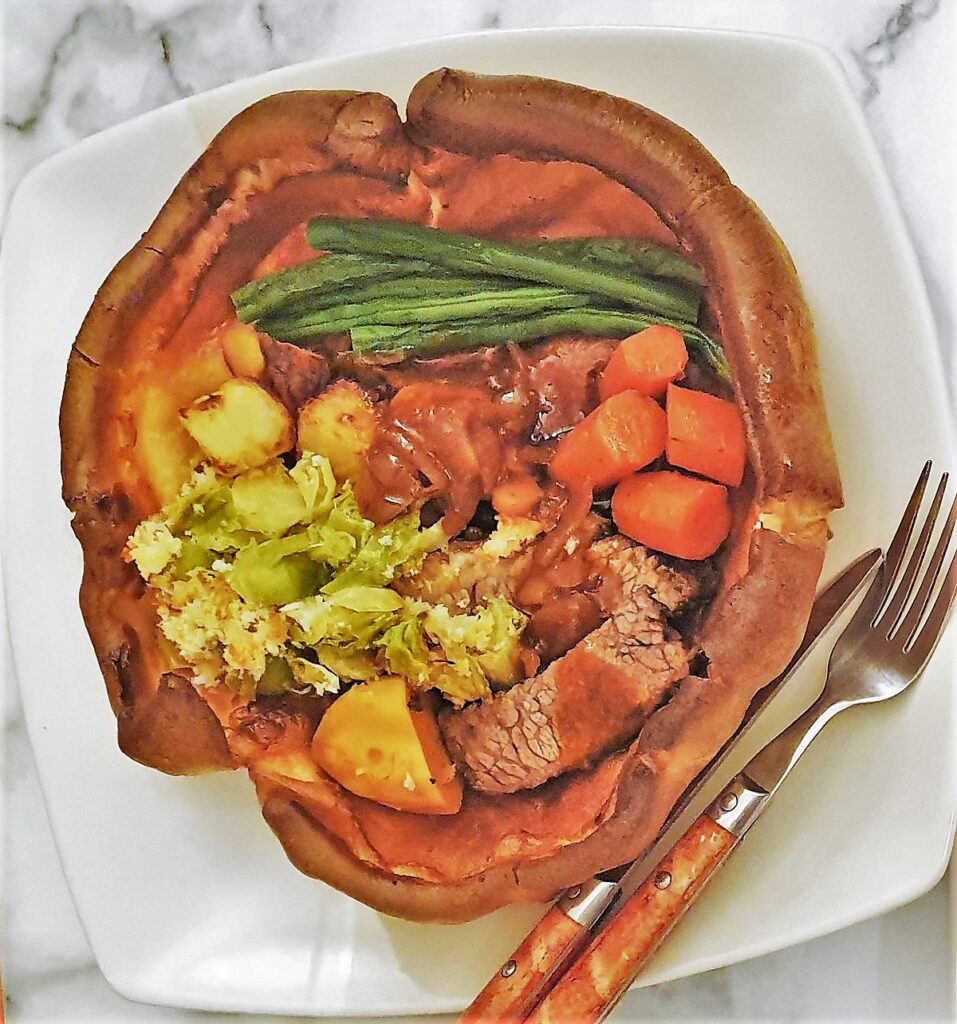 If you'd like to be notified of any new recipes, why not subscribe to my newsletter? As a thank-you gift, you will receive a free recipe e-book containing some of my most popular cakes and desserts.
What to do with leftover batter
If you have any leftover batter, you could turn it into crepes or pancakes. The batter for a Yorkshire pudding is identical to that used for pancakes.
You could also leave any leftover batter to stand in the refrigerator for up to 4 days and make another batch another day.
Variations
Why not try making a toad-in-the-hole. This is a traditional English dish made by pouring Yorkshire pudding batter over sausages in a baking tray.
If you planning on eating Yorkshire puddings with roast beef, a tablespoon of mustard (dijon or wholegrain) stirred into the batter, will add extra flavour.
Or you could even stir a tablespoon of creamed horseradish into the batter before baking.
Pin for later
Why not pin this recipe for how to make perfect Yorkshire puddings to one of your Pinterest boards so you can make it later. Just click the image below.
Other recipes
Why not serve Yorkshire puddings with one of these meals:
The recipe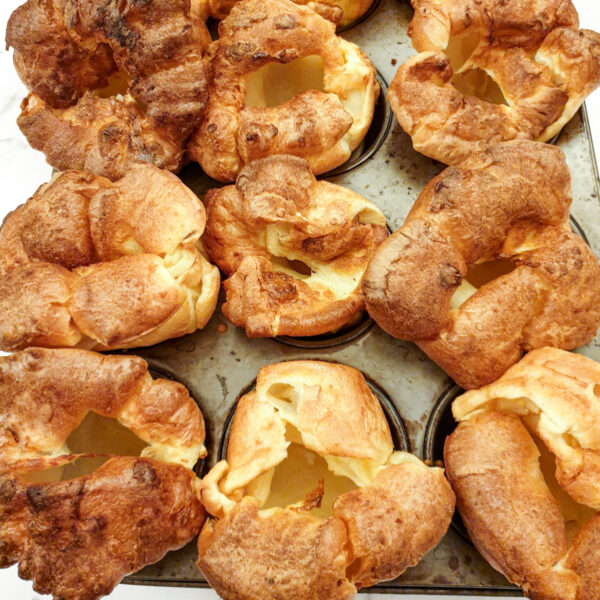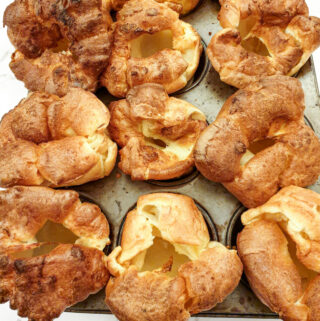 How to make perfect Yorkshire puddings
A roast dinner isn't complete without a crispy golden Yorkshire pudding covered in gravy. This post will show you how to make the perfect Yorkshire pudding every single time – and I've got 9 tips to make sure that your Yorkshire puddings turn out perfectly.
Servings:
12
individual or 2 giant yorkshires
Print
Pin
Comment
Bookmark
Saved!
(Click the stars to rate this recipe)
Ingredients
4

large

eggs

the equivalent of 1 cup

1

cup

(240g) plain or all purpose flour

not self-raising

1

cup

(240ml) milk

full fat or semi-skimmed

lard or sunflower oil for baking.

1/2

teaspoon

salt

optional
Instructions
Place all the ingredients into a mixing bowl and beat with a balloon whisk until all the lumps have been removed. Pour the batter into a jug and set aside for half an hour to stand. You can place it in the refrigerator if you wish.

While the batter is resting, pre-heat the oven to 225°C / 435°F.

Place a teaspoon of lard or sunflower oil into each hole of a 12-hole muffin tin and place the tin in the oven to heat.

Once the batter has rested (and the oven has come to temperature), quickly remove the tin from the oven and fill each muffin hole no more than ½ full with batter.

Return the tin to the oven immediately and leave to bake for 25 to 30 minutes until well-risen and golden.

Remove from the oven and serve immediately with your favourite roast and lots of gravy.
Notes
You can also make these Yorkshire puddings in 2 8″ (12cm) cake tins.  Just add a little extra oil to the cake tins.
I have not included the cooking oil/lard in the nutrition calculation, and the calories are for one Yorkshire pudding made in a muffin tin.  Calories for giant Yorkshire puddings will be higher.
Nutrition
Calories –
107
kcal
|
Carbohydrates –
16.4
g
|
Protein –
4.8
g
|
Fat –
2.3
g
|
Saturated Fat –
0.8
g
|
Cholesterol –
64
mg
|
Sodium –
130
mg
|
Potassium –
55
mg
|
Fiber –
0.5
g
|
Sugar –
1.1
g
|
Calcium –
36
mg
|
Iron –
1
mg
I am not a nutritionist. The nutrition information has been calculated using an on-line calculator, and is intended for information and guidance purposes only. If the nutrition information is important to you, you should consider calculating it yourself, using your preferred tool.
Unless otherwise stated, a cup is the standard US cup containing 240 ml. In all my recipes this cup is assumed to hold 140g of flour. For help converting other ingredients between cups, grams, ounces and other measures, see my recipe conversion calculator.
All my recipes are developed and tested at sea-level. For tips on adjusting recipes for high altitudes see my post on baking at high altitudes.
Tried this recipe?
If you made this recipe I'd love it if you could leave me a comment and let me know how it went!
Share on Facebook
Share on Twitter
If you made this recipe and enjoyed it, I'd love it if you could give me a star rating in the comments below. And if you'd like to get in touch, you can email me at [email protected]. I'd love to hear from you. And don't forget to subscribe to my mailing list so you can grab yourself a copy of my FREE COOKBOOK!
If you'd like to continue browsing, just click on this link to all my recipes.