Pasta salad? Yes please! This Orzo Pasta Summer Salad is filled with mushrooms, pickled gherkins, and german sausage. Perfect for serving as a side dish at a barbeque or with a slice of crusty bread for a delicious easy lunch.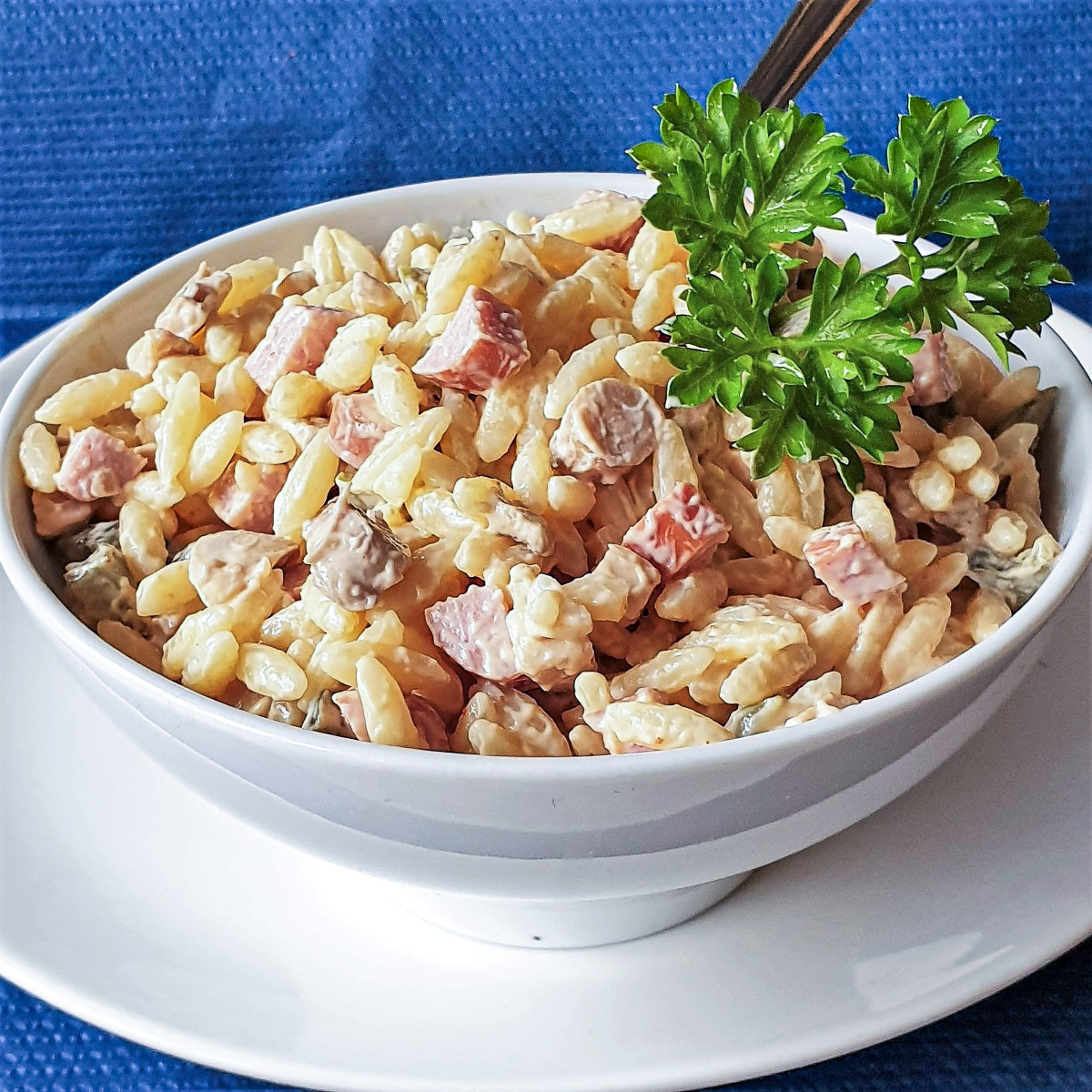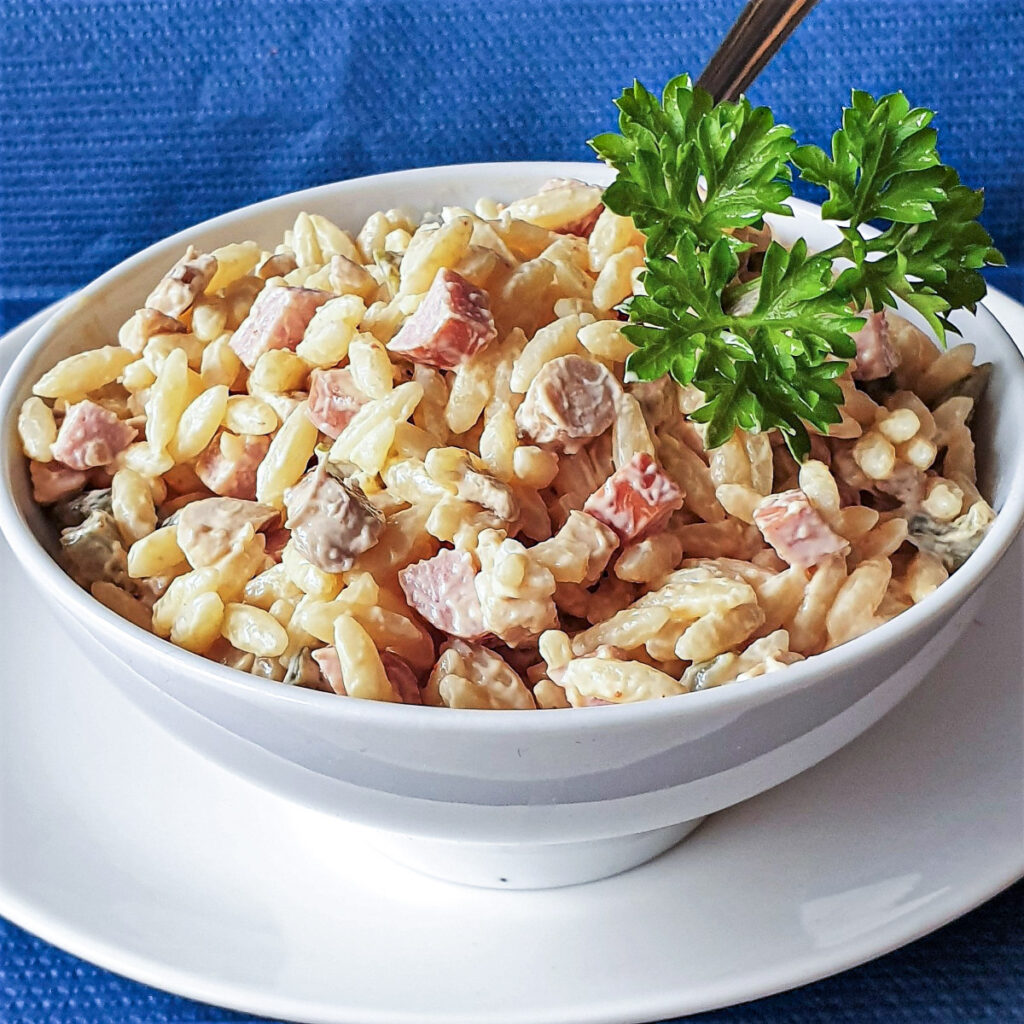 **As an Amazon affiliate, I earn from qualifying purchases.**
Orzo Pasta Summer Salad
This orzo pasta salad has been a long-time family favourite. I first tasted it in South Africa, back in the 1970s while on a visit to my sister-in-law. She was (and still is) an outstanding cook of note, and her meals were always something to look forward to. I remember sitting in the sun in her garden, eating a bowl of this orzo pasta salad whilst everyone else was tucking into a full South African barbeque. No chunks of meat required – this is a meal in itself.
It's made with orzo pasta and a mixture of whatever ingredients you happen to have in the fridge at the time. This particular recipe uses finely chopped pickled gherkins, good quality Vienna sausages (or German bockwurst or frankfurters) and mushrooms. The pasta and ingredients are mixed together and then coated in a tangy mayonnaise.
Vary it with your own ingredients
I've made it many times since, over the years. To be honest you can toss in whatever you like – a cup of frozen peas, finely chopped red peppers, a handful of pinenuts, and if I recall correctly, the original version had a tin of tuna mixed in.
It is a really handy recipe to keep up your sleeve for when unexpected guests arrive. Just make sure you keep a packet of orzo pasta in your store cupboard and you can whip up this salad in the time it takes to boil the noodles.
It will keep in the fridge for up to 3 days, but it is best eaten at room temperature, so take it out and let it stand for half an hour before you tuck in.
I'm giving you the basic version here – what you do with it is up to you!
Ingredients for Orzo Pasta Summer Salad
**You can get the complete list of ingredients and full instructions for making this recipe on the printable recipe card at the end of this post**
Orzo pasta – this is the basis for the salad. Orzo is about the same size as long-grain rice but there the similarity ends. Rice is rice, but orzo is made from wheat flour – just like any other pasta.
Chopped pickled gherkins – I like to use the small cocktail gherkins sold in jars in the supermarkets. You can use your favourite brand.
Button mushrooms – use fresh if possible. You can use tinned mushrooms at a pinch, but those are better for cooking with. Because these are eaten raw the fresh mushrooms have a nicer nuttier taste.
Good quality viennas, or German bockwurst or frankfurters.
Mayonaise – you can make your own mayonnise, but good quality shop-bought is just fine.
Sriracha or tabasco sauce – for a bit of extra zing
Salt – for cooking the orzo. This is to your own preference.
How to make Orzo Pasta Summer Salad
Cook the pasta
Put a saucepan of water on to boil and add the salt (if you are using any).
Let the water come to a strong boil.
Add 1 cup orzo pasta and give it a good stir. Do not cover with a lid as they WILL overboil and spill all over your stove.
Leave to boil for about 10 minutes until soft and swollen. Then tip the pasta into a metal sieve over the sink to drain. While still in the sieve rinse them under cold running water to stop the cooking process and get rid of any excess starch. This way you don't end up with a pan of stodge. Use a sieve rather than a colander as the orzo pasta is quite small and may fall through the larger holes of a colander.
Spoon the pasta into a large serving bowl, big enough to hold all the pasta and the other ingredients.
Tip – you can also follow the manufacturer's cooking instructions on the orzo packet.
Prepare the other ingredients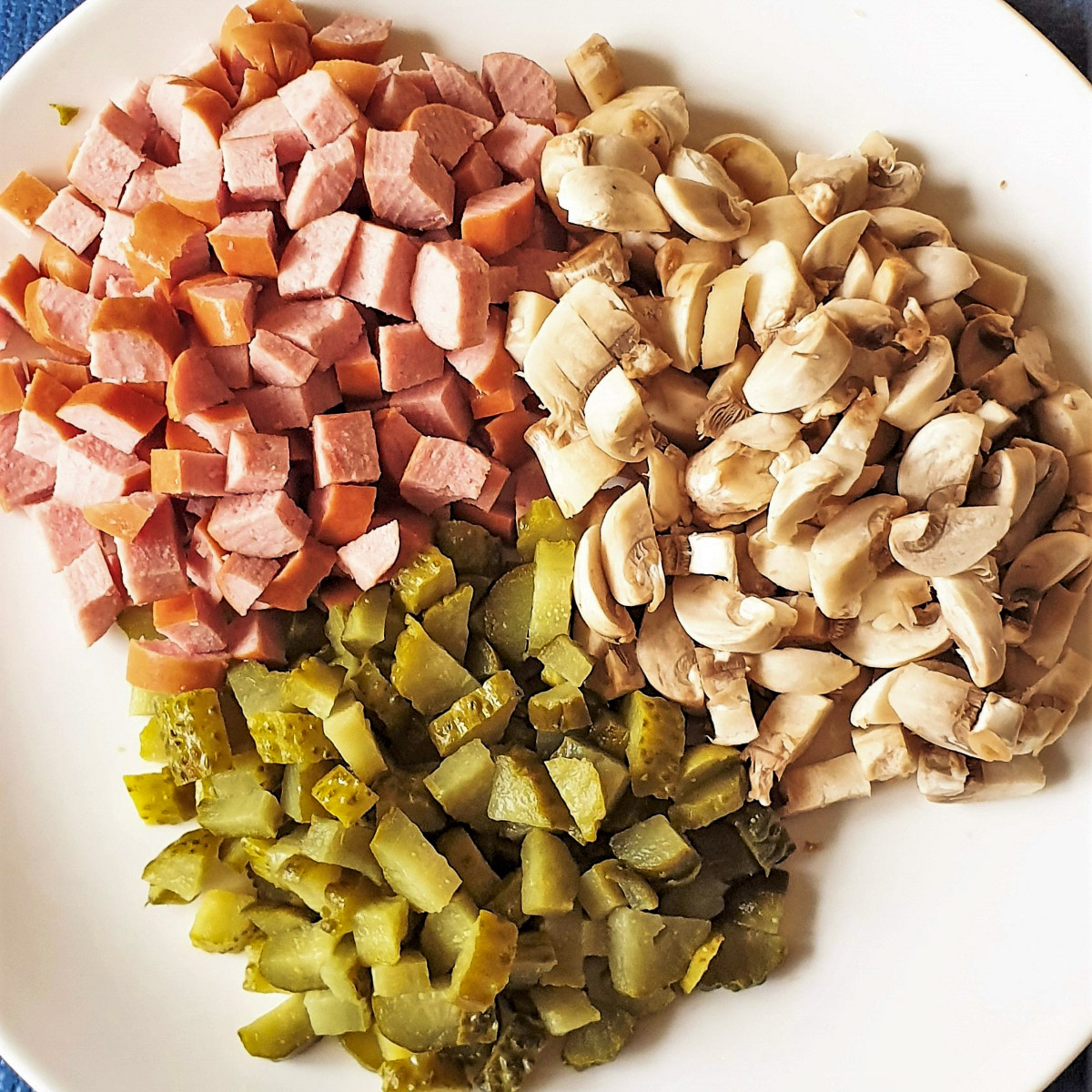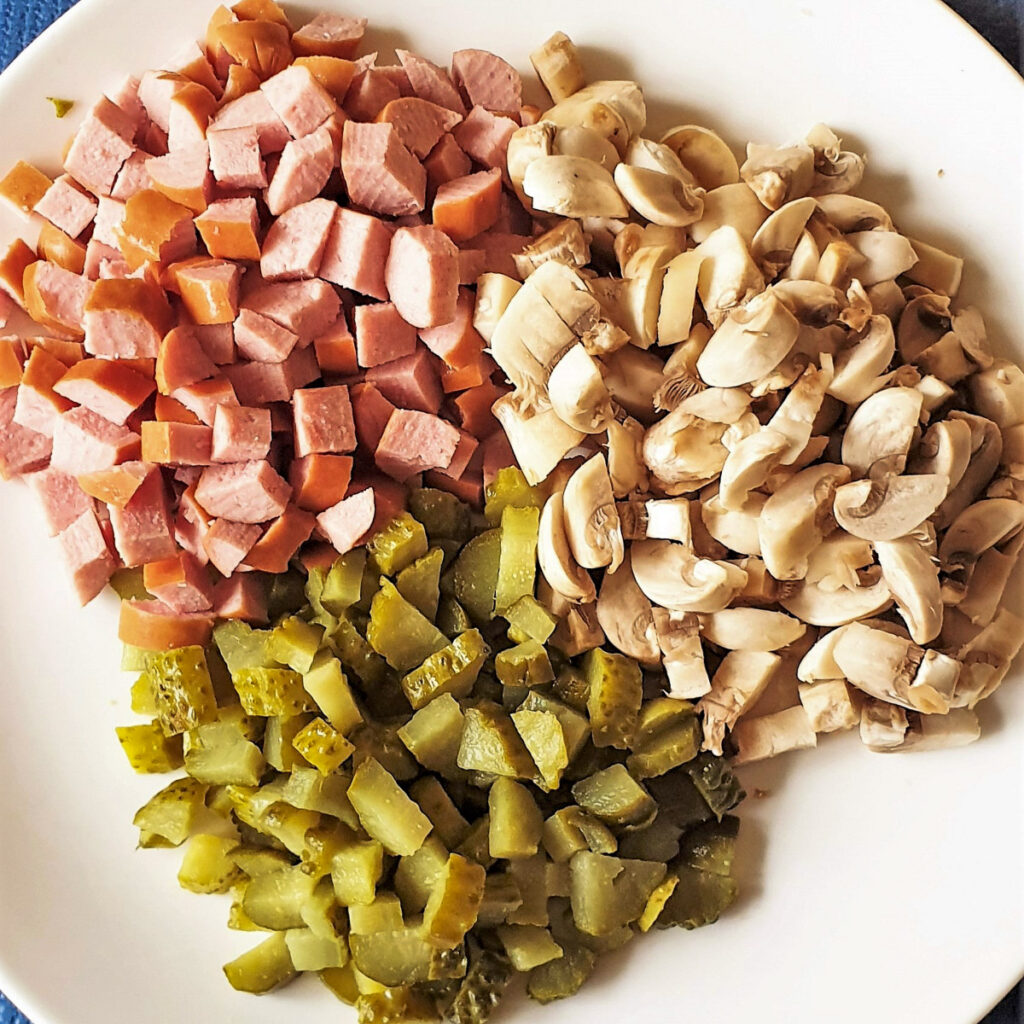 While the pasta is cooking, you can prepare the remaining ingredients.
Chop the gherkins, sausage and button mushrooms to approximately the same size as the cooked orzo.
Assemble the dish
Mix the chopped ingredients into the pasta.
Add approximately 3/4 cup of mayonnaise and a few drops sriracha or tabasco sauce.
Mix thoughly until everything is well coated.
This salad is best put together whilst the pasta is still warm so that the flavours of the ingredients have time to amalgamate.
It is best served at room temperature, but it will keep well in the fridge for up to 3 days.
How to serve orzo pasta summer salad
Serve as a salad as part of your main meal, or serve with slices of seedy bread as a light lunch.
If you are serving it at a barbeque, why not make some of these Chicken and Bacon Skewers to go along with it. It would also make a great accompaniment to a plat of sticky oven-baked port spare ribs with honey glaze.
And if this salad isn't quite what you are looking for, why not try this delicious smoked salmon pasta salad with homemade ranch dressing, or this salmon and red pepper pasta salad with corn.
There you have it, the perfect orzo pasta summer salad. Feel free to experiment with your own choice of ingredients, or try some of my suggestions below. Enjoy.
If you'd like to be notified of any new recipes, why not subscribe to my newsletter? As a thank-you gift, you will receive a free recipe e-book containing some of my most popular cakes and desserts.
Variations you could try
Orzo pasta is a bit of a blank canvas. There are so many combinations of ingredients that you could add to make delicious salads.
Try some of these suggestions
Chopped prawns or cocktail shrimps and finely chopped spring onion. Add I tablespoon lemon juice to the mayonnaise.
Shredded chicken, chopped red pepper and a drained can of sweetcorn.
Chopped ham and hardboiled eggs, with a handful of peas.
Halved cocktail tomatoes, grated cheddar cheese and pesto.
Drained tuna in brine (tuna in oil might be a bit too oily) instead of the chopped sausage.
Can you freeze this salad?
No, I wouldn't freeze the salad itself, although cooked pasta freezes beautifully by itself.
Just pop the cooked pasta into a suitable container and leave it in the freezer until you need to use it.
Let the frozen pasta defrost in the fridge and then mix in the ingredients for the salad. Let it come to room temperature before eating.
Pin for later
Why not pin this recipe for orzo pasta summer salad to your pinterest board so you can make it later. Just click the image below.
Recipe – Orzo Pasta Summer Salad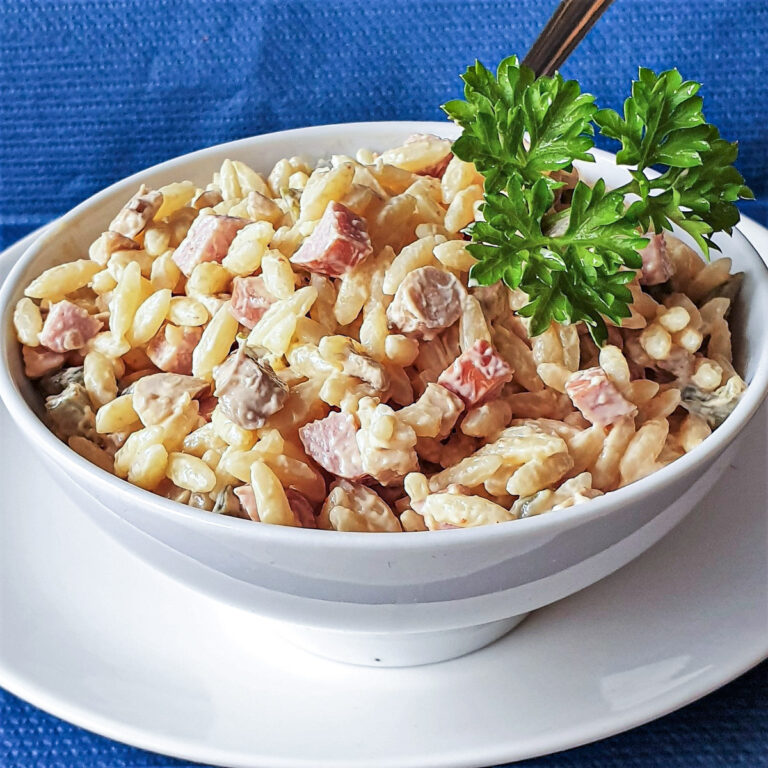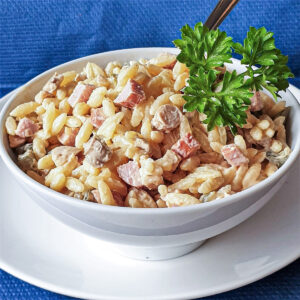 Orzo Pasta Summer Salad
Pasta salad?  Yes please!  This Orzo Pasta Summer Salad is filled with mushrooms, pickled gherkins, and german sausage.  Perfect for serving as a side dish at a barbeque or with a slice of crusty bread for a delicious easy lunch.
Servings:
4
people as a side dish
Print
Pin
Comment
Bookmark
Saved!
(Click the stars to rate this recipe)
Ingredients
1

cup

Uncooked orzo pasta

cooked according to package instructions

4 or 5

small

Gherkins (chopped)

2

small

German sausages (bockwurst)

chopped

6 – 8

small

White Button Mushrooms (chopped)

¾

cup

Mayonnaise (approximately)

1

teaspoon

Sriracha or tabasco sauce (optional)

more or less to taste

Salt

to taste
Instructions
Cook the pasta in salted water according to the package instructions. Drain and rinse under cold water. Tip the drained pasta into a serving dish.

Chop the gherkins, mushrooms and sausage into fine dice, approximately the size of a piece of cooked orzo pasta.

Add the chopped vegetables to the pasta and nix

Mix the sriracha (if using) with the mayonnaise and add to the pasta. Mix thoroughly to combine.

Serve as a barbeque side dish, or with crusty bread and cherry tomatoes as a light lunch
Notes
Cook the pasta without a lid on the pan to prevent the pasta boiling over.
Ensure you use a large pan with sufficient water to cover the pasta while it is cooking.
Drain the cooked pasta and rinse under cold running water to remove and excees starch and stop the cooking process.  This will stop the pasta clumping together.
Just remember to chop all the ingredients you are using to be the same size as the orzo pasta grains.
Nutrition
Calories –
499
kcal
|
Carbohydrates –
44.8
g
|
Protein –
8.2
g
|
Fat –
31.8
g
|
Saturated Fat –
4.8
g
|
Cholesterol –
62
mg
|
Sodium –
1054
mg
|
Potassium –
130
mg
|
Fiber –
0.6
g
|
Sugar –
7.6
g
|
Calcium –
33
mg
|
Iron –
2
mg
I am not a nutritionist. The nutrition information has been calculated using an on-line calculator, and is intended for information and guidance purposes only. If the nutrition information is important to you, you should consider calculating it yourself, using your preferred tool.
Unless otherwise stated, a cup is the standard US cup containing 240 ml. In all my recipes this cup is assumed to hold 140g of flour. For help converting other ingredients between cups, grams, ounces and other measures, see my recipe conversion calculator.
All my recipes are developed and tested at sea-level. For tips on adjusting recipes for high altitudes see my post on baking at high altitudes.
Tried this recipe?
If you made this recipe I'd love it if you could leave me a comment and let me know how it went!
Share on Facebook
Share on Twitter
If you made this recipe and enjoyed it, I'd love it if you could give me a star rating in the comments below. And if you'd like to get in touch, you can email me at [email protected]. I'd love to hear from you. And don't forget to subscribe to my mailing list so you can grab yourself a copy of my FREE COOKBOOK!
If you'd like to continue browsing, just click on this link to all my recipes.