If you are having a barbeque and have guests who don't like the normal salads, then this tomato and onion pasta salad with cheese is the ideal side dish to serve. It's made with small pasta shells and packed with tomatoes and onions in a creamy cheesy sauce. And you can serve it at room temperature too so you don't have to worry about keeping it warm!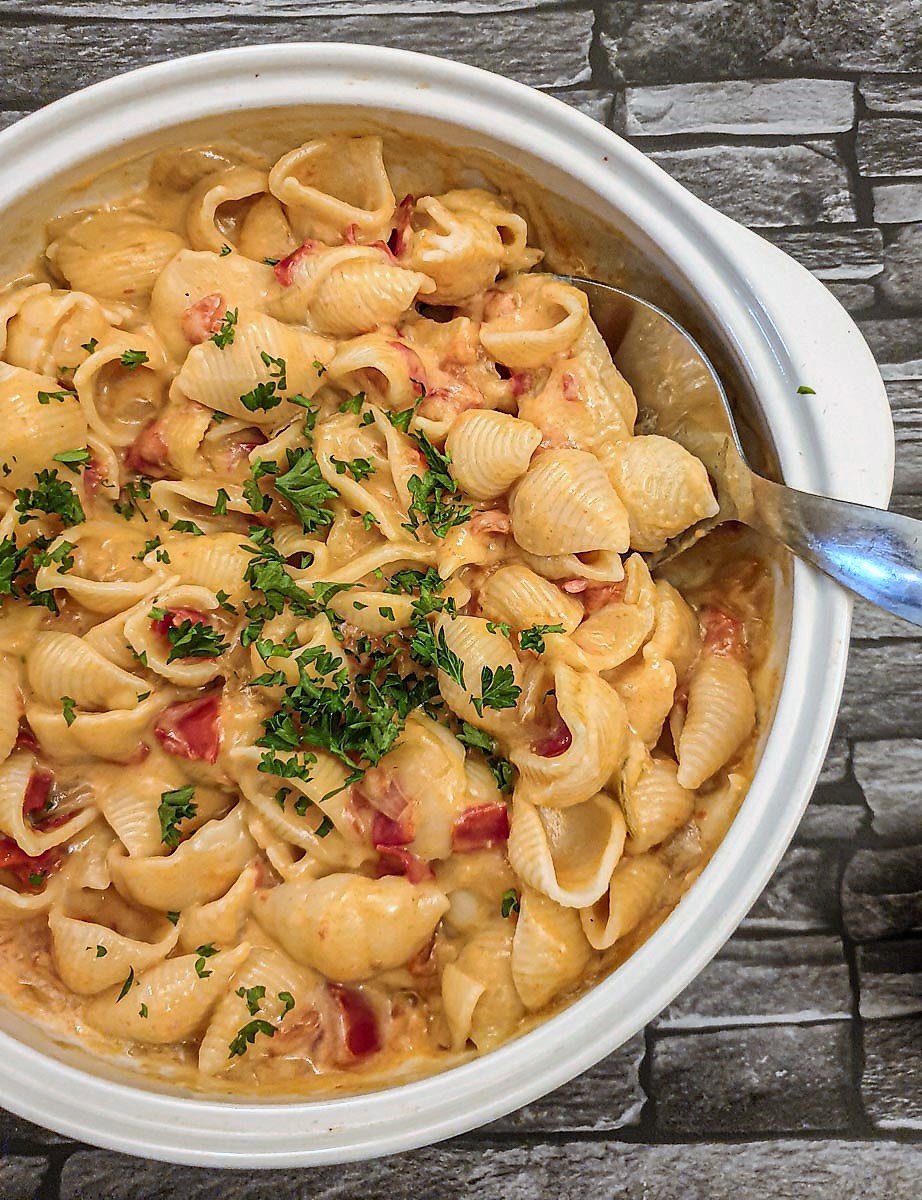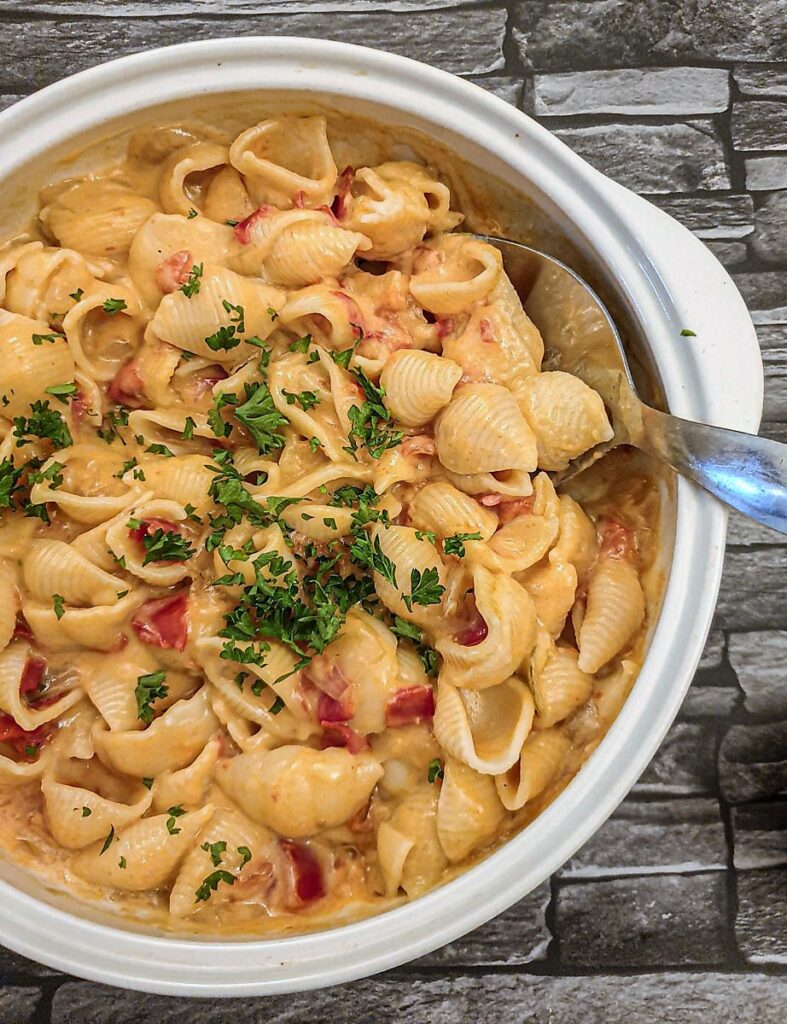 **As an Amazon affiliate, I earn from qualifying purchases.**
The best cheesy pasta salad
I first tasted this tomato and onion pasta salad in South Africa, when my stepmother made it for my brother, who doesn't like mayonnaise-based salads, at a family get-together. I found it strange at first to see a dish of what is essentially macaroni and cheese amongst all the 'proper' salads. But one mouthful had me hooked, and this tomato and onion pasta salad has since become one of the first salads I think of making whenever we have a barbeque at home.
It just works! The cheesiness of the sauce pairs so well with grilled sausages and chops, and the tomato and onions add an extra element of flavour. I could quite easily eat this dish on its own with a bowl of garlic mushrooms and a slice of crispy garlic bread.
This cheesy barbeque pasta salad is kid-friendly too. Children always seem to love pasta, and because the tomato and onions are nicely softened and covered in the cheese sauce, they won't even notice they are eating them.
What I also like about it is how easy it is to make. It's just cooked pasta, mixed with sauteed tomatoes and onions and smothered in a homemade cheese sauce. If you are super-organised you can saute the tomatoes and onions while the pasta is cooking, then it's just a matter of making the cheese sauce, and you're done. Twenty minutes – start to finish.
I think this tomto and onion pasta salad tastes best served at room temperature, but you could also serve it hot, or even directly out of the refrigerator.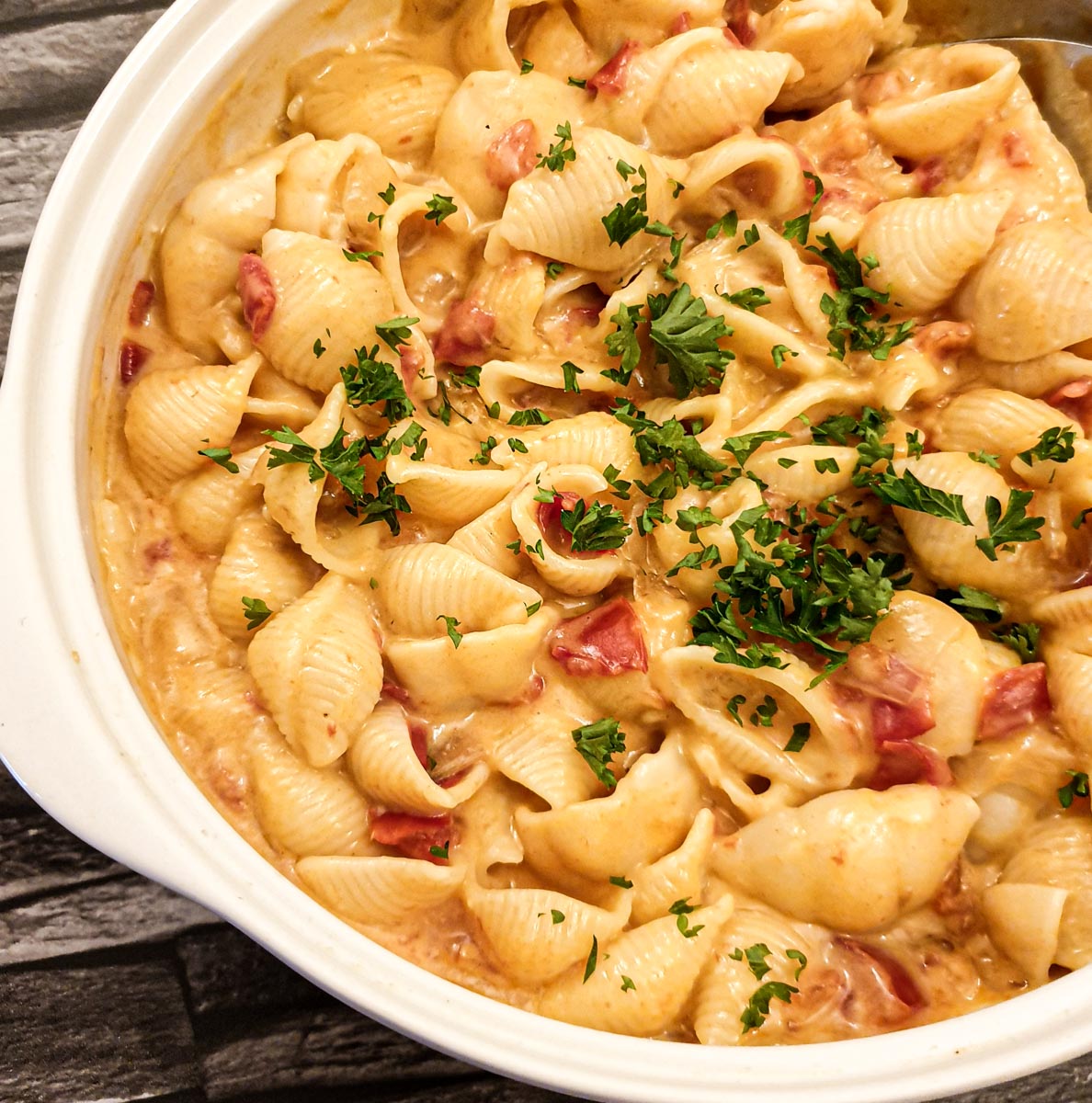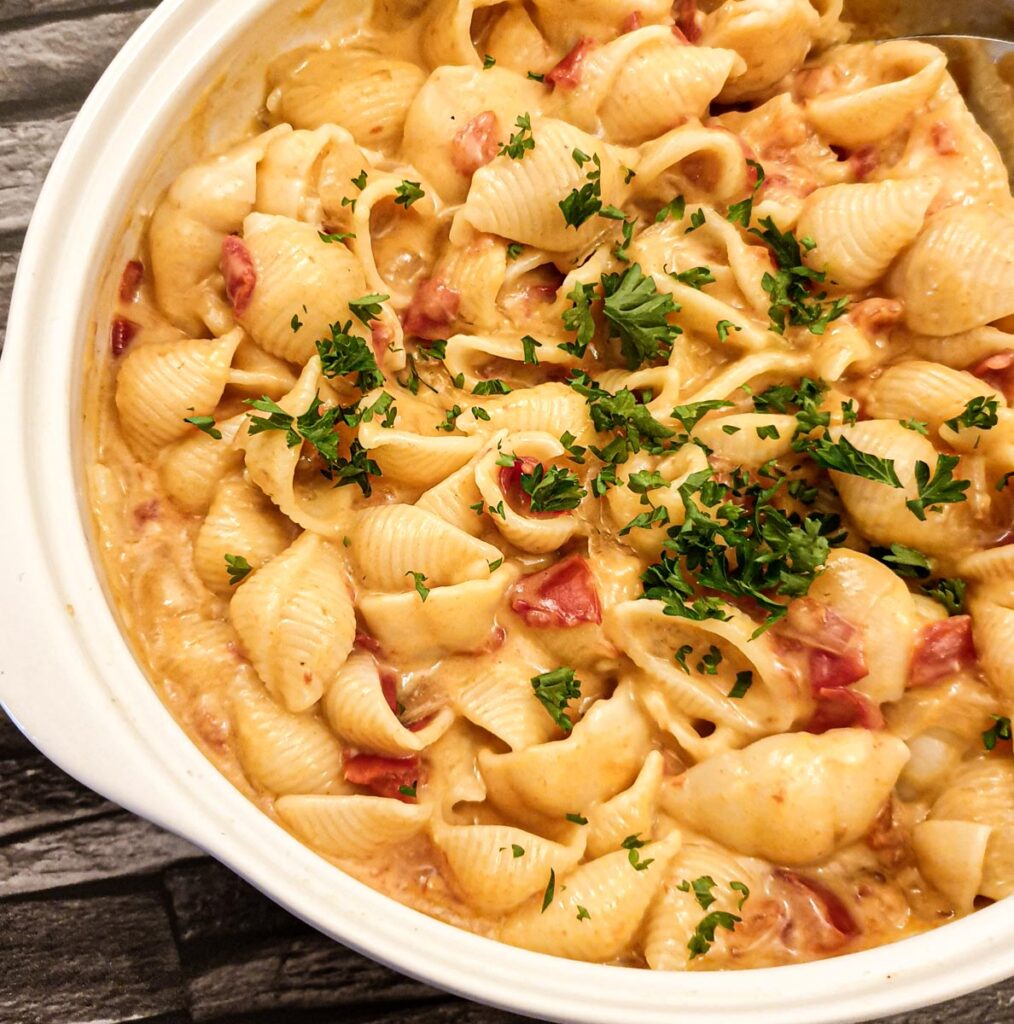 What you will need
**Get the complete recipe for this cheesy tomato and onion pasta salad on the printable recipe card at the end of this post**
This recipe makes enough for 4 to 6 people as a side dish.
Just a few simple ingredients: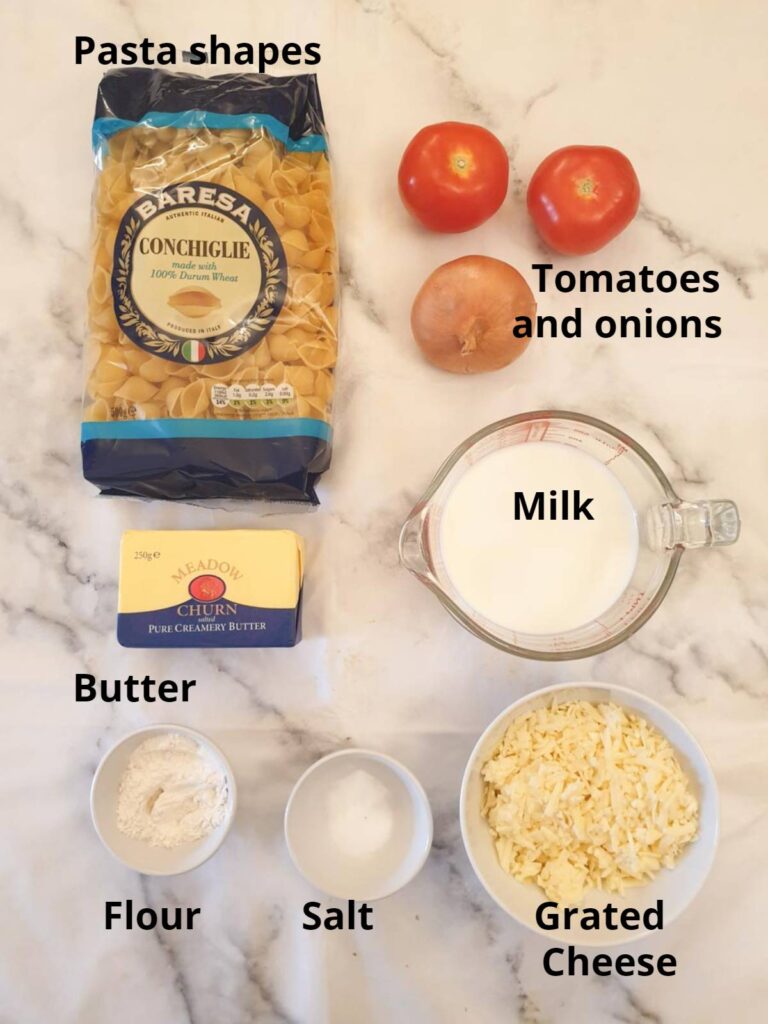 Pasta shapes – the best pasta shapes to use are small shells, because they hold the cheesy sauce so well, but you can use whatever shapes you prefer. Do try to keep to the smaller shapes though – I've tried using larger shapes when I've run out of the small ones, and it's not quite the same. For 4 to 6 people I use about half a packet of pasta (that's 250 grams or about 8 ounces).
Tomtoes and onions – you will need twice as any tomatoes as onions by volume. For this recipe you need 2 cups of tomatoes and one cup of onions, which have been cut into small dice (about 1 cm or half an inch). That's the equivalent of 2 large tomatoes and one largish onion. You don't need to be too precise with these measurements.
Butter – you can use salted or unsalted, your preference. If you use salted butter just cut down slightly on the amount of salt you add to the sauce.
Milk – there's no cream in this recipe so I would recommend using whole or full-fat milk, but semi-skimmed will work just as well.
Flour – this is used to make a roux with the butter before adding the milk, and acts to thicken the sauce.
Grated cheese – as much as you prefer. I find a cup of grated cheddar is sufficient. If you would like to have 'stringy' cheese pulling out of the sauce when you serve the pasta, you could substitute half of the cheddar with mozzarella.
Seasoning– optional and to taste. I normally cook the pasta in salted water, then once the dish has been assembled, taste it and add more salt if I think it needs it. I also like to add a good grinding of black pepper.
Sunflower oil (not shown) – for frying the tomatoes and onions.
How to make it
Just a few easy steps: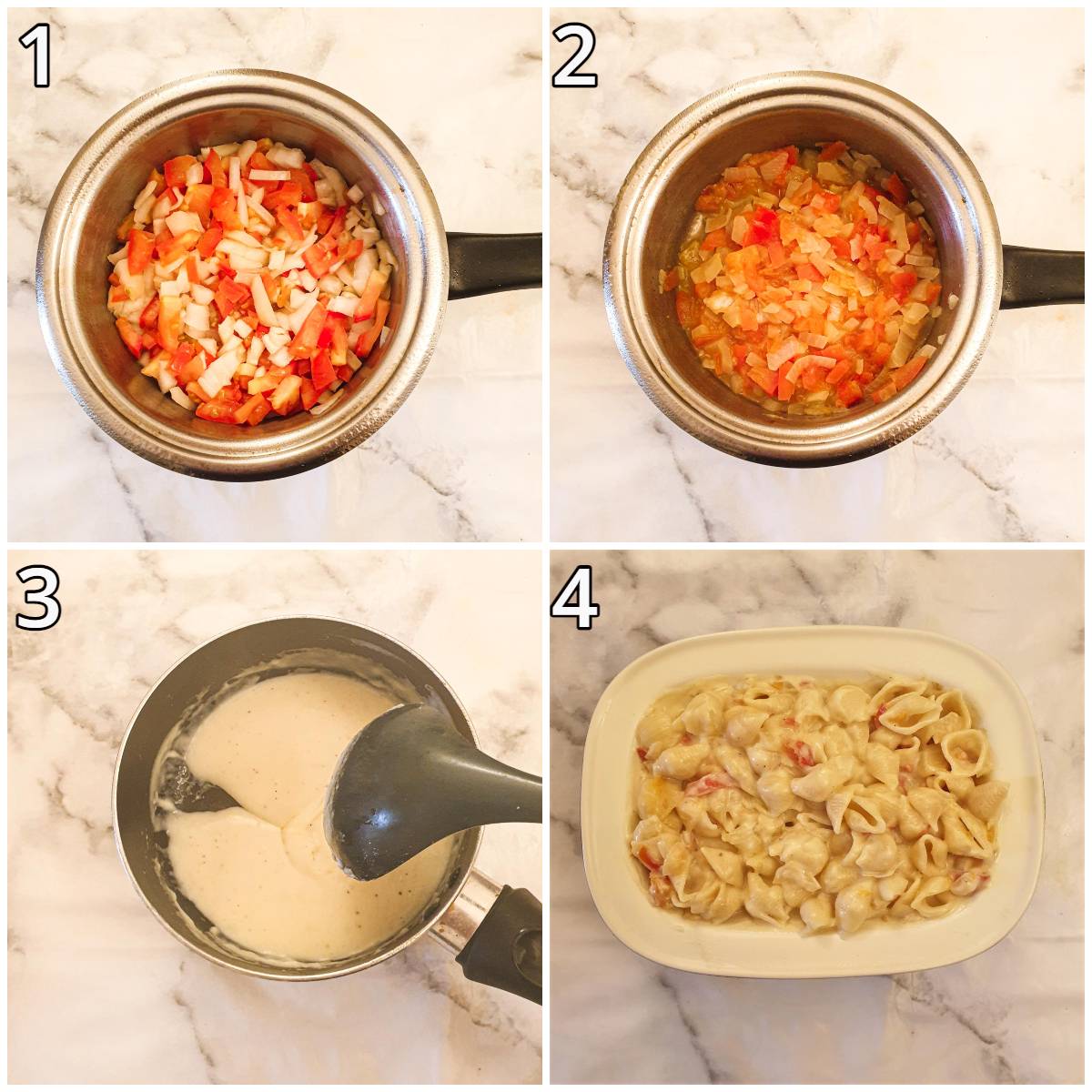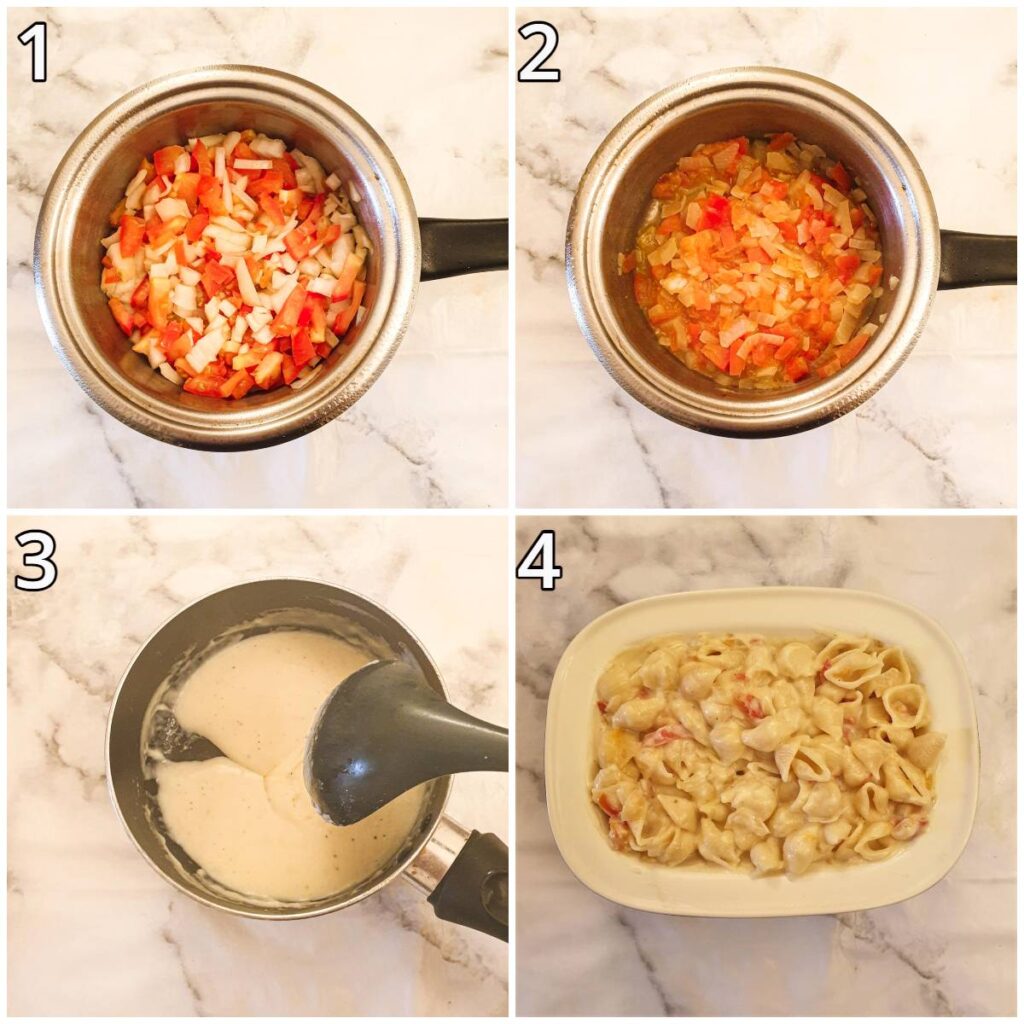 Boil the pasta shapes in salted water, following the instructions on the packet. Once the pasta is cooked, drain through a colander and then rinse the pasta under cold water to stop the cooking process.
While the pasta is cooking, chop the tomatoes and onions into 1cm dice.
Heat 2 tablespoons of oil in a saucepan and saute the onions for about 2 minutes until they start to soften. Add the tomatoes, cover the pan with a lid, turn down the heat to a gentle simmer and leave them for about 10 minutes until the tomatoes have broken down and the onion is soft. Don't add any water – the tomatoes will release sufficient liquid. Leave to simmer while you make the cheese sauce.
Make the cheese sauce
Melt the butter in another saucepan and then remove from the heat and stir in the flour, taking care to get rid of any lumps.
Return to the heat and gradually stir in the milk. Keep stirring until the mixture thickens. The sauce will leave a trail (which closes up pretty quickly) as you draw a spoon through it.
Add the cheese and continue stirring until the cheese melts. You should have a pourable sauce about the consistency of thick custard.
Assemble
Transfer the cooked pasta to a serving dish and add the tomatoes and onions, then pour the sauce over the top and mix well to combine.
Taste for seasoning and add more salt if necessary, and a good grinding of black pepper.
Garnish with chopped parsley and serve.
I like to serve this dish at room temperature, but you can serve it hot if you prefer.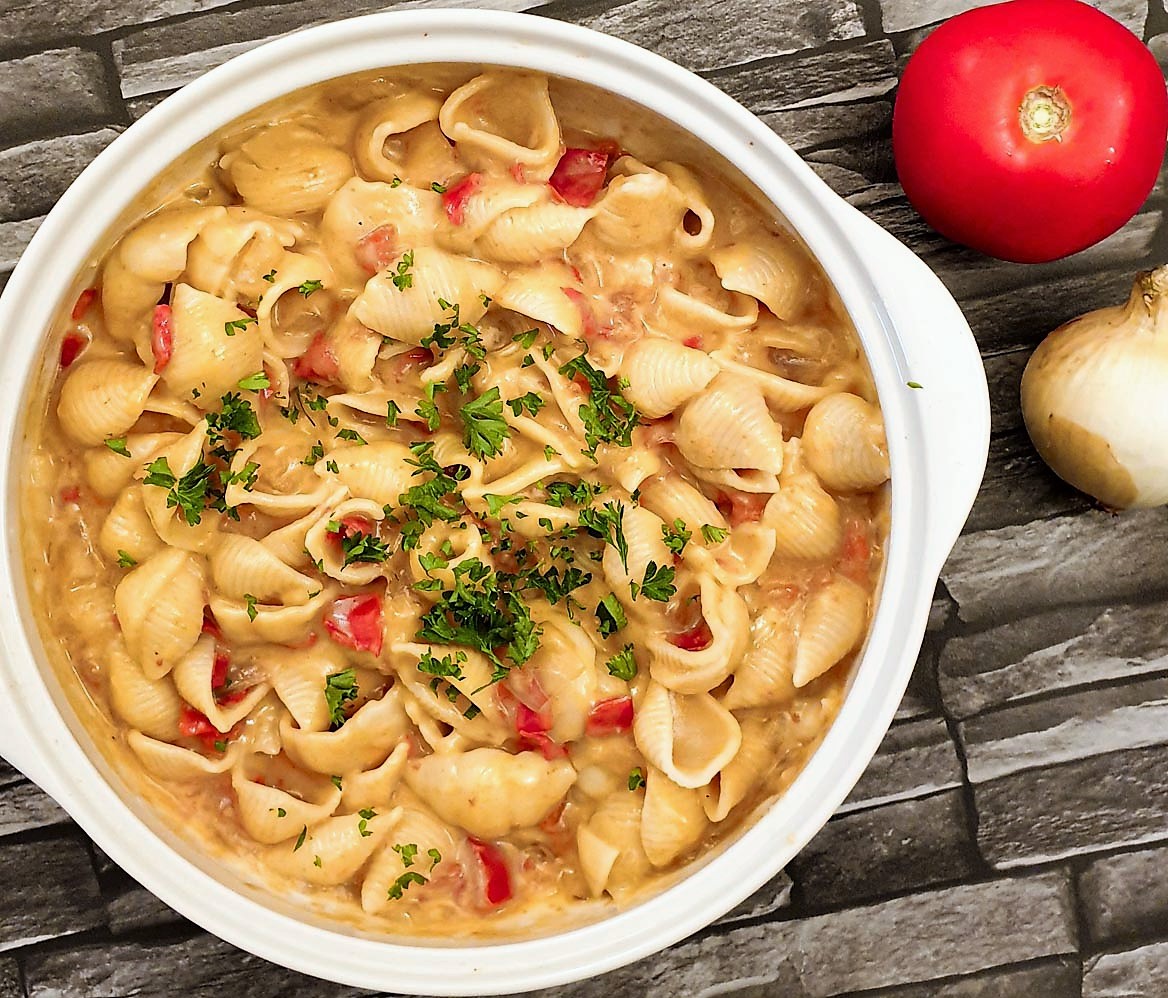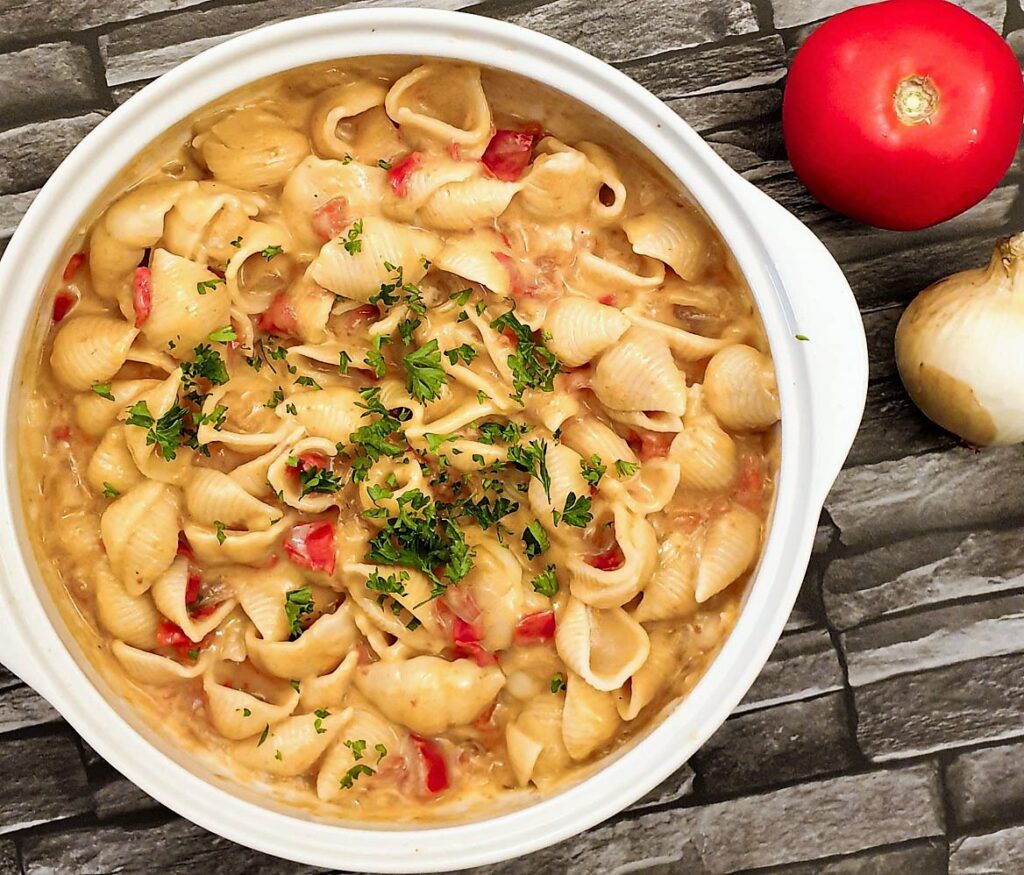 If you'd like to be notified of any new recipes, why not subscribe to my newsletter. As a thank-you gift, you will receive a free recipe e-book containing some of my most popular cakes and desserts.
Questions
Can I freeze this pasta?
You can freeze this dish if you really want to, but it is so quick to make that I prefer to make it fresh.
You may find that once defrosted, there is excess liquid in the salad. This is perfectly OK, it's just liquid coming from the tomatoes and onions. You can just pour it off and give the pasta a quick stir.
Pasta that has been frozen and defrosted also tends to be on the softer side, and not quite as appetising.
To freeze – transfer the salad to a suitable container (Tupperware or equivalent) and freeze for up to 2 months.
To use – defrost in the refrigerator and pour off any excess liquid. Allow the pasta to come to room temperature before serving. If you prefer to eat it hot you can reheat it in the microwave.
Can I make it in advance?
Yes, you can make it up to three days in advance and store it in a covered dish in the refrigerator. Allow it to come to room temperature and give it a good stir before serving.
Leftovers can be stored in the refrigerator for up to three days.
Can I vary this recipe?
There are a number of ways you can vary this dish. Here are a few suggestions.
1. Add 1 cup of chopped mushrooms and let them cook with the tomato and onions.
2. Swap out the onions with chopped red, yellow or green peppers (capsicums).
3. Fry bacon rashers until crispy and crumble over the top before serving.
4. Turn it into a complete meal by adding 1 cup of finely chopped ham when you are assembling the dish. Then cover with grated cheese and place under the grill until the cheese is melted and bubbling.
Pin for later
If you'd like to make this cheesy tomato and onion pasta salad, why not pin the recipe to one of your Pinterest boards so you can find it easily later. Just click on the image below.
Other salad recipes you may enjoy
You may also like these other salad recipes:
The recipe
If you made this recipe and enjoyed it, I'd love it if you could give me a star rating in the comments below. And if you'd like to get in touch, you can email me at [email protected]. I'd love to hear from you. And don't forget to subscribe to my mailing list so you can grab yourself a copy of my FREE COOKBOOK!
If you'd like to continue browsing, just click on this link to all my recipes.