This easy smoked salmon pasta salad contains only 3 ingredients. Tasty smoked salmon combined with noodles, and slathered with homemade ranch dressing. Serve as part of an alfresco buffet, or add additional ingredients and turn it into a delicious light summer lunch dish.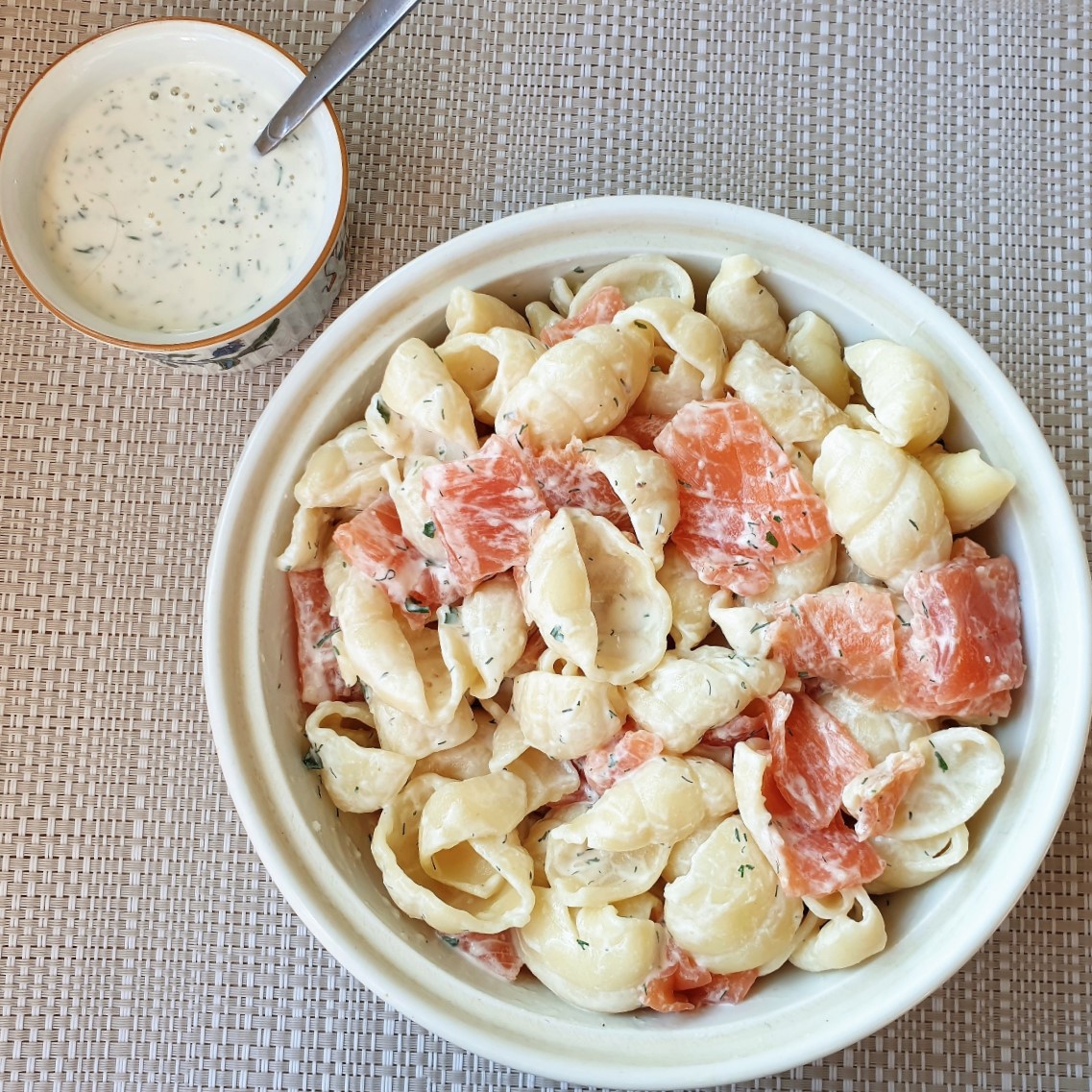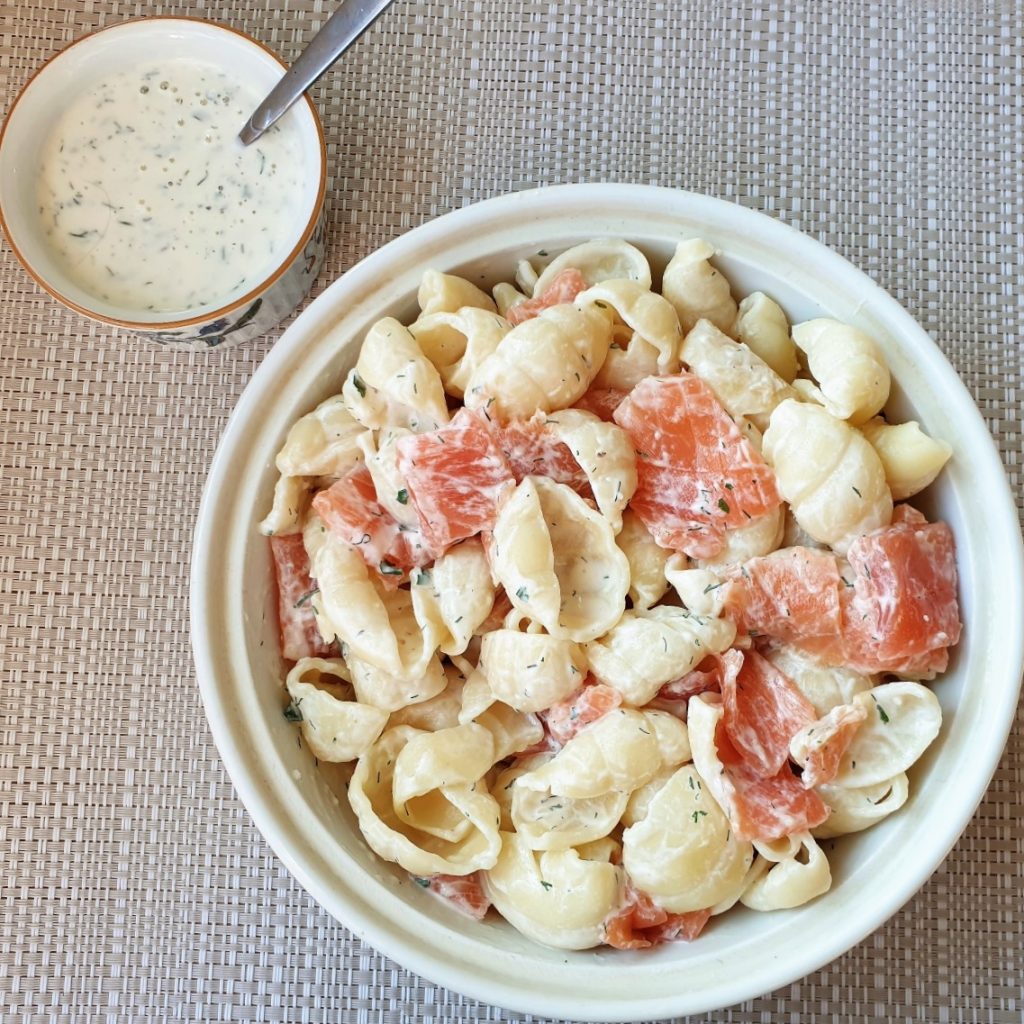 **As an Amazon affiliate, I earn from qualifying purchases.**
Basic smoked salmon pasta with ranch dressing
I came up with the idea for this smoked salmon pasta salad quite by chance.
I was looking for a salad to make to go with some lamb chops that were destined for the barbeque. All I had in the fridge was a packet of smoked salmon and a bottle of homemade ranch dressing.
So while Graham was firing up the barbeque, I boiled half a packet of pasta shells, chopped up the salmon and combined it all with the ranch dressing. And voila! A new salad was born.
The ranch dressing coated each pasta shell in a delicious creaminess, while the flavours of the dill complemented the salmon perfectly.
And of course, you don't have to use homemade ranch dressing, you could just use your favourite bottle of store-bought dressing. But I think that homemade is so much nicer because you can adjust the flavours to your own taste.
This salad is ideal for taking on a picnic, because the flavours improve with standing so you can make it ahead of time, pack it in a suitable container, and pop into your picnic hamper.
Variations on smoked salmon pasta salad
This recipe for smoked salmon pasta salad is only a basic recipe. You can turn this salad into a substantial lunch dish by adding any (or all) of the following:
Chopped celery – for crunch
Halved cherry tomatoes – for sweetness
Chopped boiled eggs – which always go well with smoked salmon
Chopped avocado – for extra creaminess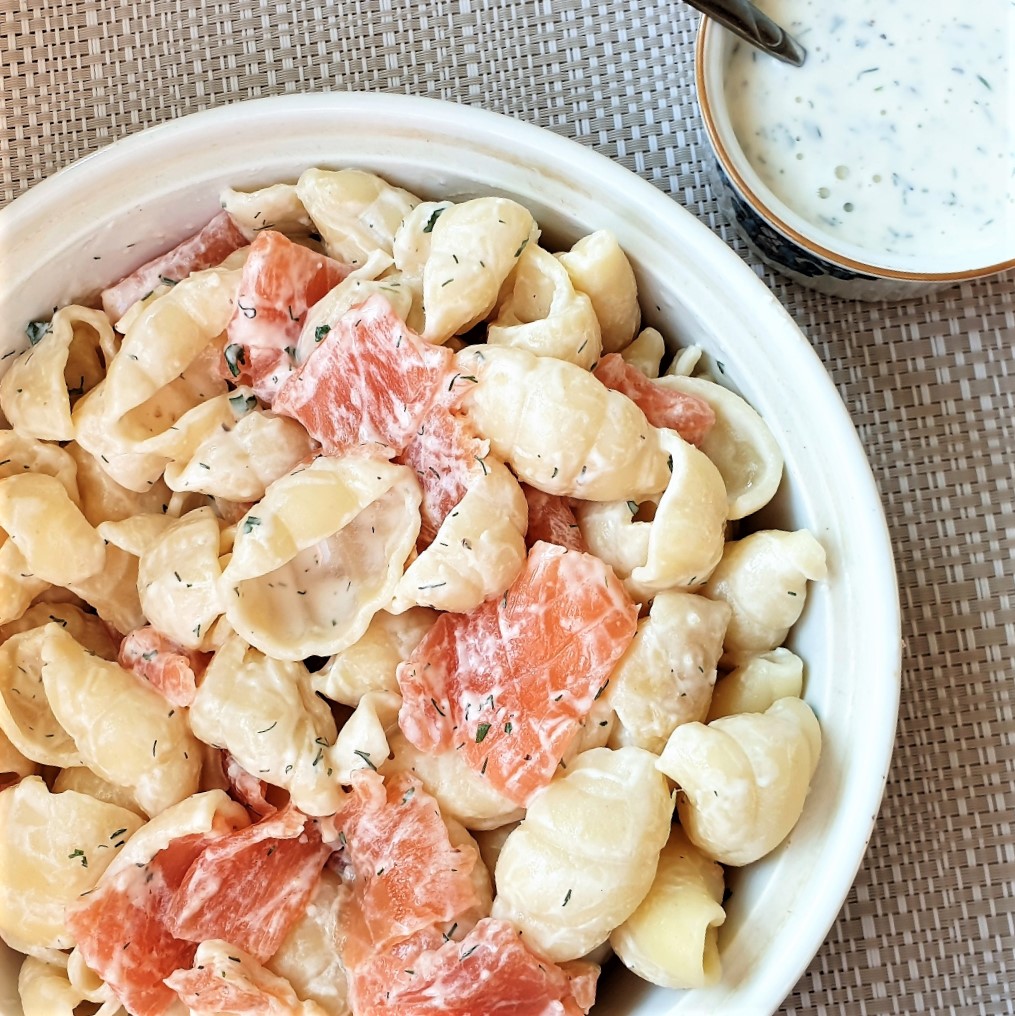 How to make smoked salmon pasta salad
You can get the detailed recipe on the printable recipe card at the end of this post.
Start of by boiling up your pasta according to the instructions on the packet. The drain the pasta and transfer to a serving dish.
When chosing a pasta shape, go for a shell (conchiglie) or a ridged or twisted pasta such as fusilli. These shapes will hold lots of yummy dressing. Don't use a tubular pasta such as macaroni or penne as the dressing will not make its way inside the tube and the salad may be dry.
Cut the smoked salmon into 1″ cubes and add to the warm pasta.
Add the homemade ranch dressing and mix well to combine. Cover and leave the salad to cool to room temperature before serving.
Mixing the salad while the pasta is still warm allows the flavours to develop.
How to make homemade ranch dressing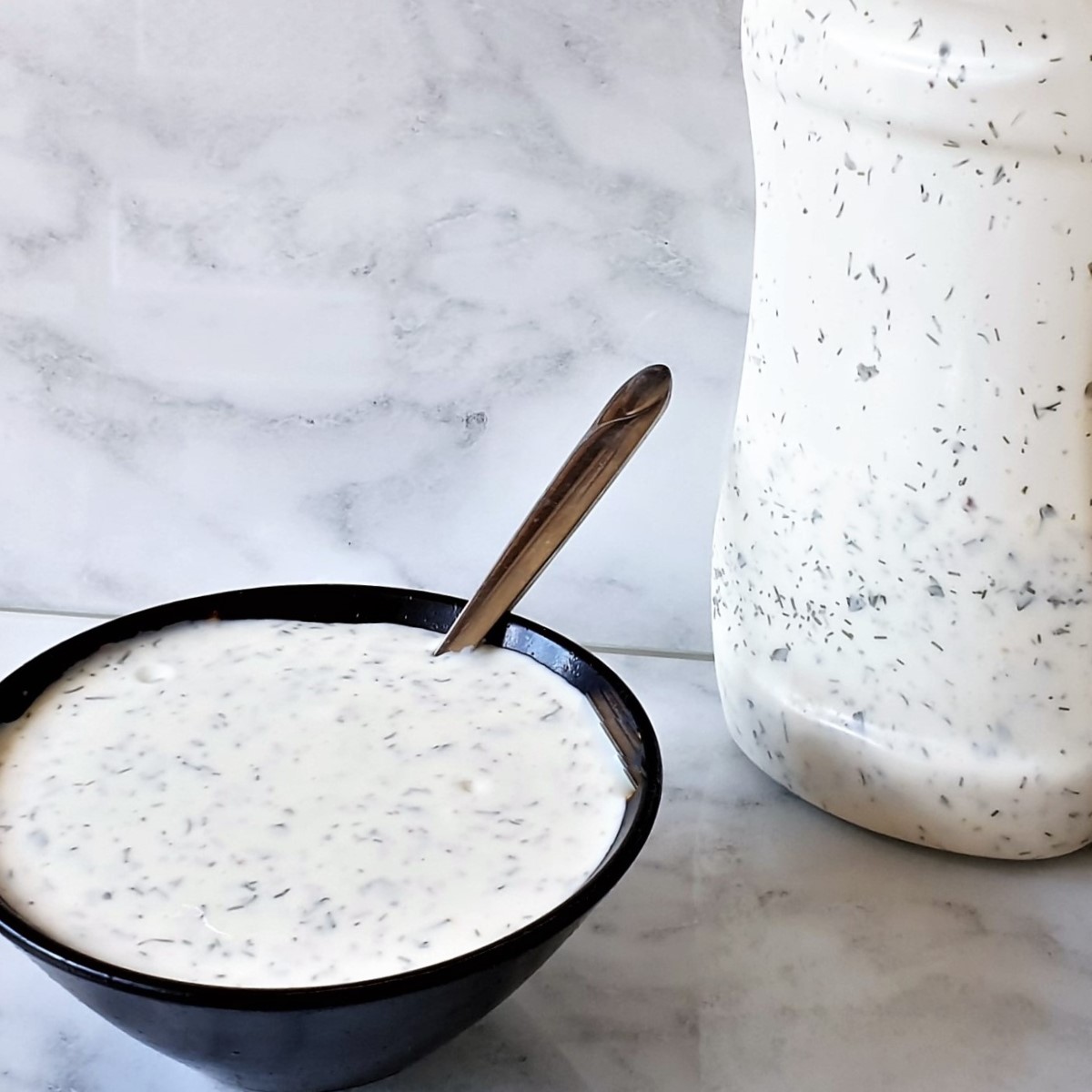 Making your own homemade ranch dressing is so easy.
All you need are equal quantites of buttermilk and mayonnaise. You could even whip up a batch of homemade mayonnaise and use that!
If you don't have buttermilk, just add 1 tablespoon of vinegar or lemon juice to 1 cup of milk. Let it stand at room temperature for 10 minutes until the milk thickens.
For the flavouring you will need vinegar or lemon juice, salt and pepper, garlic powder, onion power, and some herbs. The basic herbs are parsley and dill. If you prefer additional onion flavour you can also add chives.
You can use fresh herbs, dried herbs or a mixture of the two. If you are using dried herbs you will only need 1/3 the quantity of fresh herbs, as dried herbs are more concentrated.
Just whisk everything together, thenpour the homemade ranch dressing into a clean jar or bottle. Let it chill in the fridge overnight, until the flavours have combined.
How long will homemade ranch dressing last?
This homemade ranch dressing will last in the fridge for about a week, or until the expiry date of the buttermilk.
What can I substitute for buttermilk?
If you don't have buttermilk you can make your own by adding 1 tablespoon of vinegar or lemon juice to each 1 cup of milk. Stir and let the milk stand at room temperature for about 10 minutes until it has curdled and thickened and use in place of buttermilk.
Can I use dried herbs instead of fresh?
You can use 1/3 the quanity of dried herbs instead of freshly chopped herbs. For example, if the recipe calls for 3 tablespoons of fresh parsley, you can substitute with 1 tablespoon of dried parsley.
What other flavourings can I add?
Once you have made the basic ranch dressing recipe you can add any other flavourings of your choice.
Chili – this will add additional heat. Just chop a small chili or add 1/2 teaspoon of chili flakes (or to your own taste depending on how hot you want to make it.
Worcestershire sauce – this adds an umami flavour. Add 1 teaspoon of worcestershire sauce to the basic recipe.
Paprika – adds a smokey flavour and goes particularly well is you are using the dressing for a salad to be served with meat. Add 1 teaspoon paprika to the basic recipe.
Chopped chives – if you like more of an onion taste.
If you'd like to be notified of any new recipes, why not subscribe to my newsletter. As a thank-you gift, you will receive a free recipe e-book containing some of my most popular cakes and desserts.
Pin for later
Why not save this recipe to your Easy Pasta pinterest board so you can make it later.
Recipe – Smoked salmon pasta salad with homemade ranch dressing
If you made this recipe and enjoyed it, I'd love it if you could give me a star rating in the comments below. And if you'd like to get in touch, you can email me at [email protected]. I'd love to hear from you. And don't forget to subscribe to my mailing list so you can grab yourself a copy of my FREE COOKBOOK!
If you'd like to continue browsing, just click on this link to all my recipes.