Here's a new idea for your next barbeque – chicken and bacon skewers. Just roll up like a pinwheel, skewer and grill. Perfect for those lazy summer days in the garden.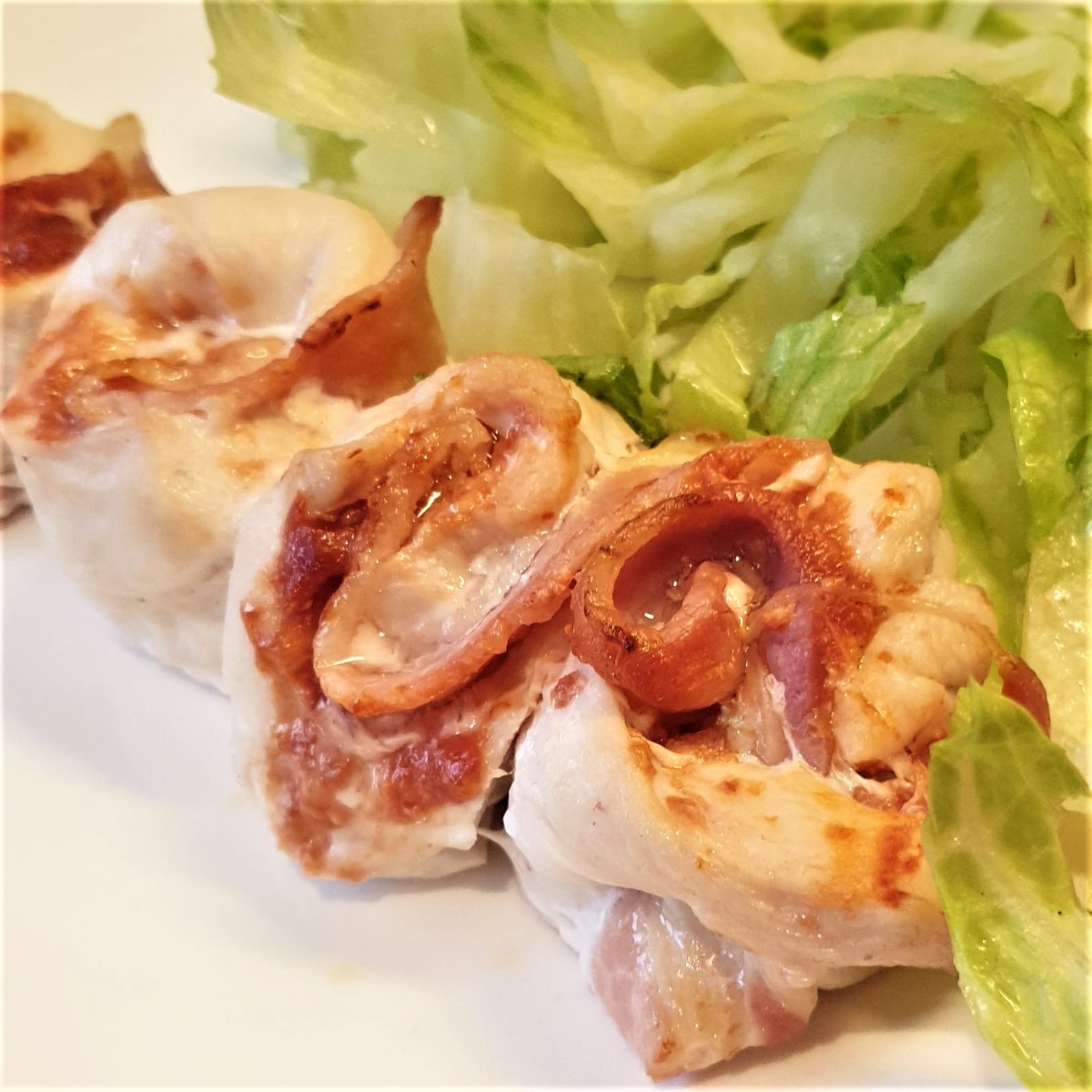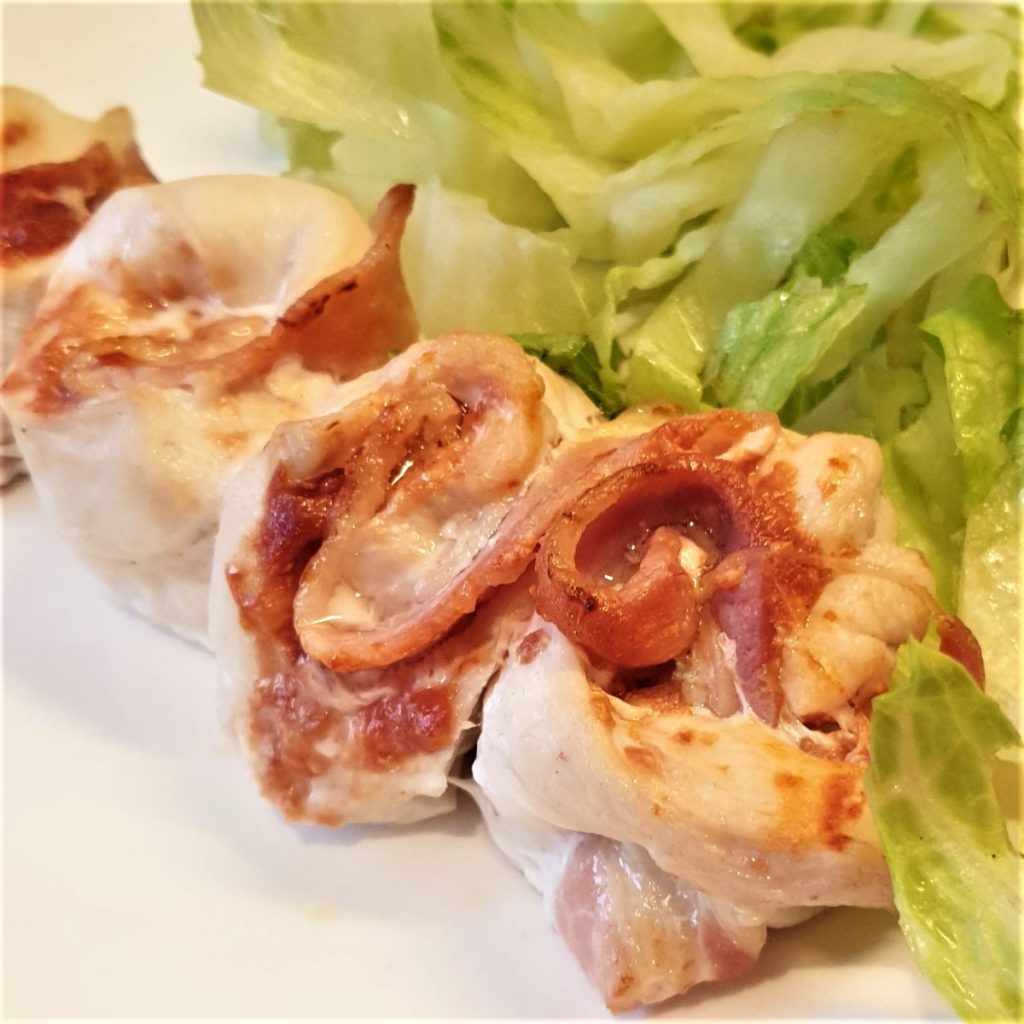 Chicken Skewers with Bacon
A barbeque always means a good time. Nothing beats sitting in the sun, drink in hand, watching someone else do the cooking!
What I do find about a barbeque though, is that it's always the same old meat that gets served. Sausages and chops seeming to be the favourite. Not that I've got anything against the good old banger, but just sometimes a bit of variety would be nice.
Add some variety to your next BBQ and serve chicken and bacon skewers
Here's a recipe for something a little different to spice up your next barbeque – chicken and bacon skewers. They are made with succulent chicken breast, which is layered with bacon, tomato puree, and garlic, and rolled up on a skewer.
They are super quick to prepare. Because there is no marinating involved you don't have to wait for the meat to pick up the flavours. All the flavour is layered on the chicken before it is skewered with bacon. Garlic and tomato goes so well together, and the fat from the bacon keeps the chicken from drying out.
These chicken skewers cook in next to no time too. Because the meat is flattened out before being skewered, they only take a few minutes before they are ready to eat.
Why not give them a try at your next barbeque. Just roll them up and pop them on the babeque for a delicious tasty treat. They go really well with my Orzo Pasta Summer Salad and my no-knead seeded Irish bread.
You could bake these in the oven too, or even cook them in a frying pan. I've included instructions on how to do this further down the post.
Ingredients for chicken and bacon skewers
Whenever I read a recipe I like to have a look at the ingredients to see whether I have everything I need. To make it easy for you – I've listed the ingredients below. You can get the full list of ingredients and quantities in the printable recipe card further down in the post.
Chicken breasts – 1 per person should be more than sufficient. These should be sliced into thin strips.
Bacon rashers – you will need enough to top each chicken strip
Tomato puree – to spread on the chicken
Garlic cloves – these should be finely minced. You will need one clove of garlic for each tablespoon of puree
Salt to taste
Bamboo skewers – wooden skewers will burn on a barbeque. Soak them in water before use, to prevent them burning on the hot grill.
Substitutions
Instead of tomato puree you could spread the following on the chicken before skewering.
Sweet Chilli Sauce – sweet chilli goes really well with chicken.
Wholegrain or Dijon mustard – for a bit of 'bite'.
Hoisin sauce – for an Oriental flavour.
How to make chicken and bacon skewers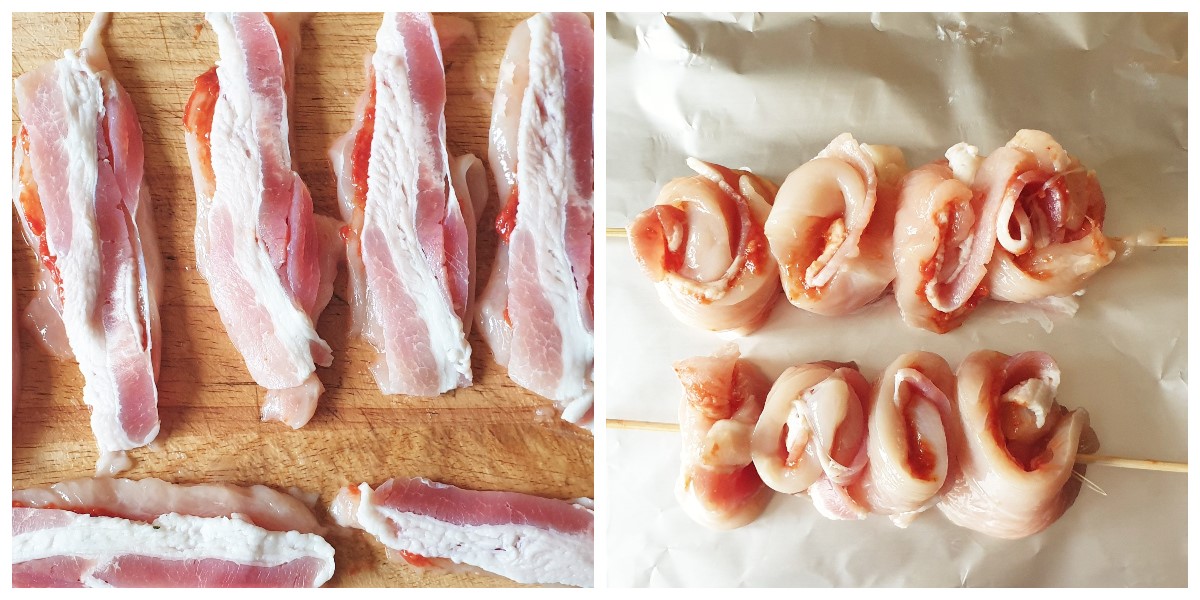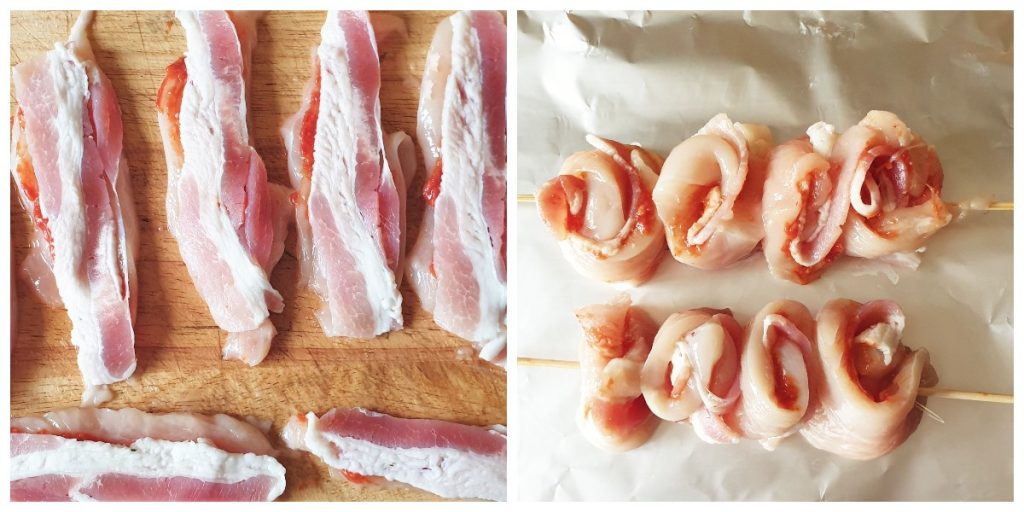 If using wooden skewers, lay them flat in a bowl, cover with cold water and allow to soak. Leave for a few hours, or ovenight if possible. This will prevent them from burning when they are on the barbeque.
Prepare the chicken
Slice the chicken breasts into long strips and flatten out evenly between 2 layers of clingfilm, with a rolling pin or meat mallet. You should get between 4 and 6 strips, depending on the size of the chicken breasts.
Sprinkle each strip with a small amount of salt
Combine the garlic and tomato puree and spread each chicken strip with a layer of the paste. (Or use one of the substitutions above).
Top each chicken strip with a slice of bacon. I find streaky bacon works best – you can cut each rasher into 2 pieces.
Roll each strip into a pinwheel and insert onto a skewer, being careful to make sure the skewer holds each pinwheel in shape.
You should be able to fit 4 pinswheels onto each skewer
How to grill chicken skewers on the barbeque
To grill the chicken skewers on the barbeque you should arrange them around the edge of the fire.
Don't put the chicken skewers directly above hot coals or they will burn.
Turn the skewers frequently to ensure they cook evenly all round.
The chicken skewers should take about 10 minutes. The actual cooking time will depend on many factors, such as how hot your barbeque is and how close to the coals the rack is.
The chicken will be cooked when it is no longer pink and the chicken juices run clear when pierced with a toothpick.
How to bake chicken skewers in the oven
If it is raining (as if it would!) you can cook these in the oven.
Place the chicken skewers in a single layer on a foil-lined tray and place in a pre-heated oven (200C/400F) for about 15 minutes.
You can lay them directly on the tin-foil, or if you prefer, you can spray a baking rack lightly with oil (to prevent sticking), place the rack on the foil-lined tray and lay the chicken on the rack.
Turn once or twice during the cooking time.
To check whether they are done, pierce a thick piece of chicken with a toothpick. If the juices run clear, then the chicken is cooked.
How to cook chicken skewers in a frying pan
To cook these in a frying pan, you will need a pan large enough to lay the chicken skewers flat, taking the length of the skewers into account.
Heat 2 tablespoons olive oil, or sunflower oil in a large frying pan and place the chicken in a single layer.
Fry gently over a medium heat, turning the chicken skewers to allow to brown on all sides.
This should take between 10 and 15 minutes.
To check whether they are done, pierce a thick piece of chicken with a toothpick. If the juices run clear, then the chicken is cooked.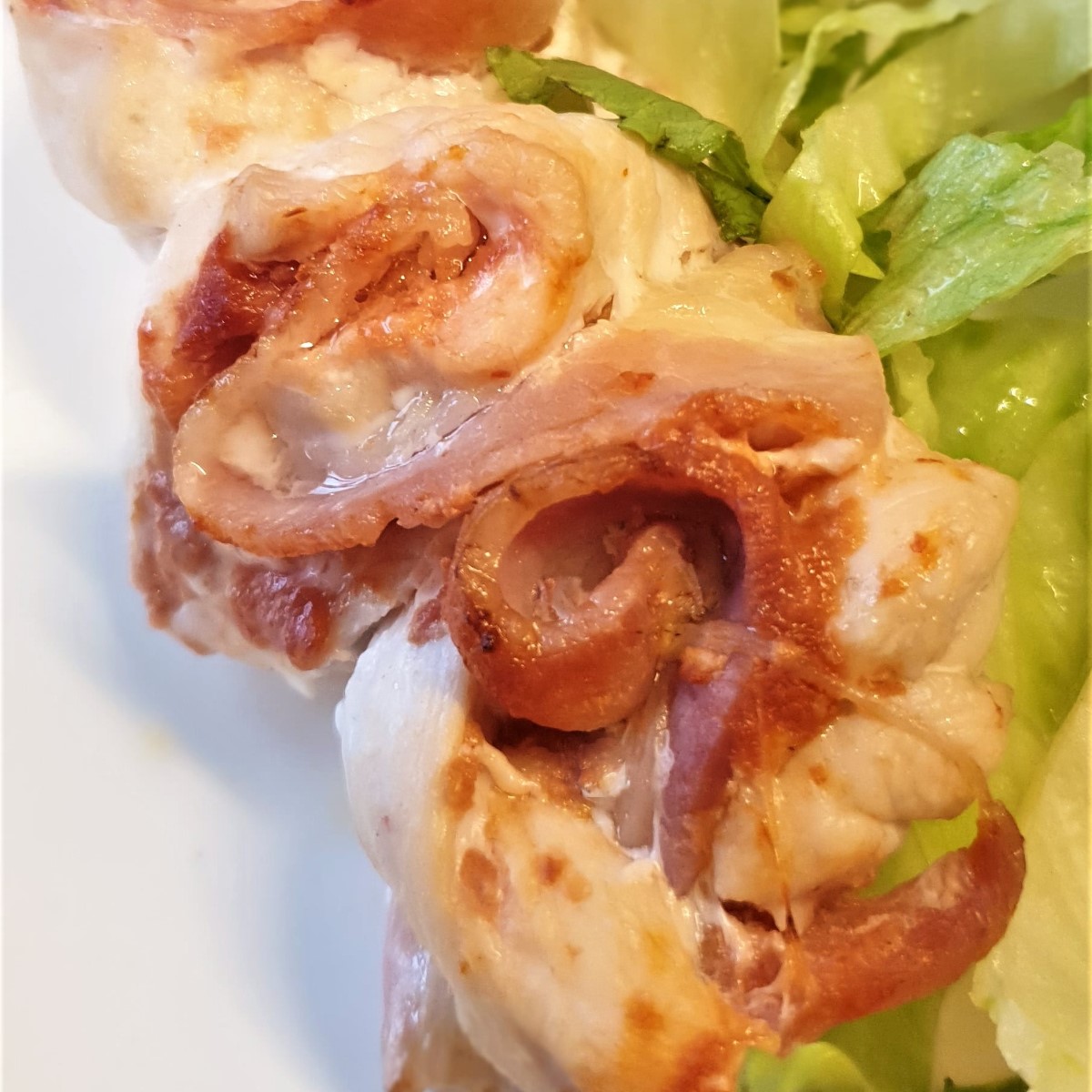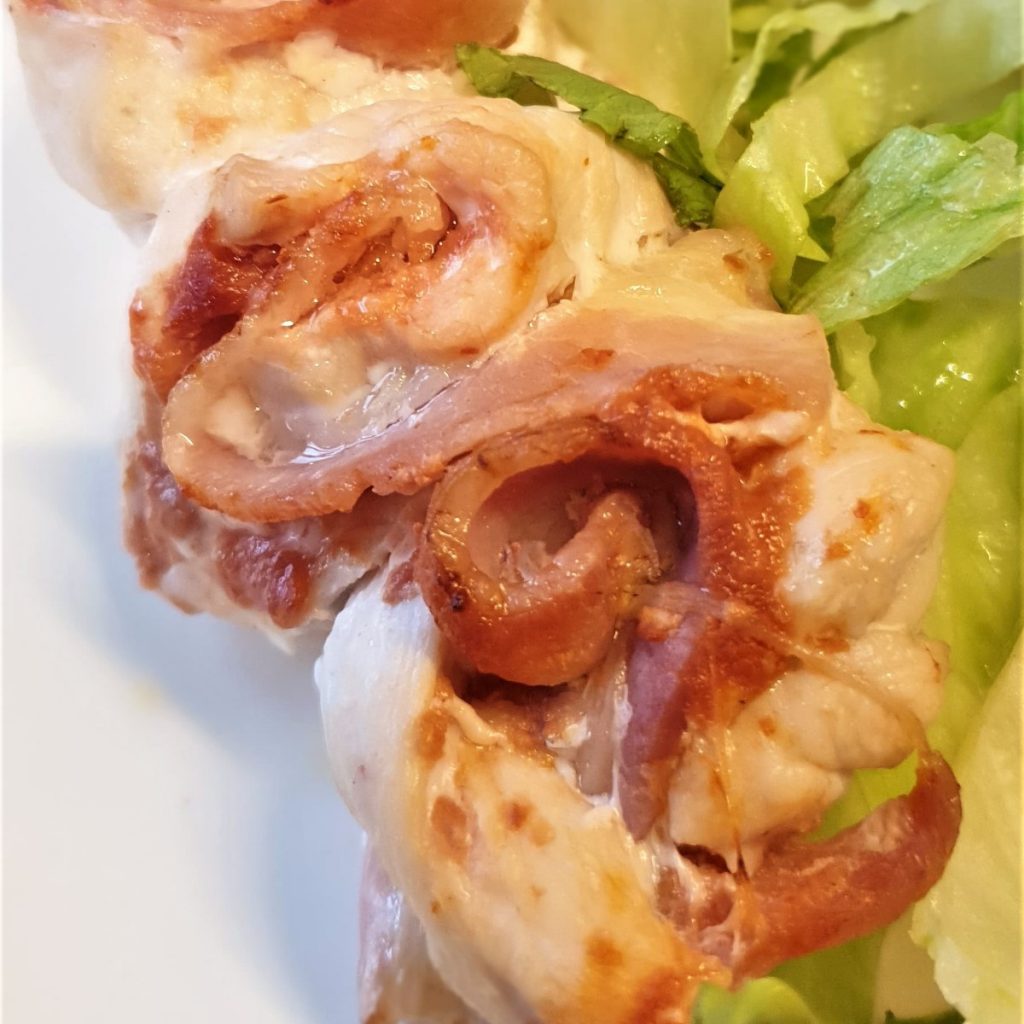 Other questions you may have…
What should I serve with chicken and bacon skewers?
These skewers to really well with Orzo pasta salad and crusty bread.
If you make them with sweet chilli sauce or hoisin instead of tomato and garlic (see substitutions above), a bowl of Chinese Egg Fried Rice would make a nice accompaniment.
They are also great with a dish of smoked salmon pasta salad with homemade ranch dressing.
Why not make a bowl of air-fryer mushrooms with balsami and garlic, or these ham and cheese stuffed mushrooms. Mushrooms and chicken is a classic combination.
Chicken and bacon skewers would also go well with a crispy potato frittata.
Can I freeze the chicken and bacon skewers?
You can freeze the prepared raw chicken skewers for up to 3 months in your freezer.
I wrap them individually in clingfilm and them place them in a large freezer bag, being careful not to pierce the bag with the skewers. Wrapping them individually enables you to take out as many as you will need for one meal.
Let them defrost in the fridge before putting on the barbeque.
How long do the chicken skewers take to cook?
Because the chicken has been flattened, it is not very thick, and these skewers should only take between 10 and 15 minutes to cook.
There are a few factors that will influence the length of the cooking time.
On the barbeque
How close to the coals the chicken is when placed on the barbeque. If the chicken is too close to the coals it may burn on the outside without the inside cooking through.
On the other hand, if the chicken is too far from the coals it will take longer to cook.
In the oven
If the oven was not pre-heated to the correct temperature the chicken may take longer to cook.
If you are cooking these from frozen, you will have to add at least 10 minutes to the cooking time.
In the frying pan
The cooking time will depend on the heat of the stove.
Too hot, and you may find the chicken browns perfectly on the outside, but is still raw inside
Not hot enough and the chicken will take longer to cook.
Can I substitute any of the ingredients?
See substitutions above.
You can substitute the tomato and garlic mixture with sweet chilli sauce. Just spread each chicken piece with a small amount of sweet chilli before adding the bacon. The sweet chilli goes really well with the chicken and bacon. You can use your favourite shop-bought sweet chilli sauce for this, or you can try your hand at making my homemade Thai sweet chilli sauce.
Use hoisin sauce instead of tomato puree for an Oriental flavour.
If you want to keep up-to-date with my latest recipes why not follow along on Facebook or Pinterest. And don't forget to subscribe to my mailing list so you can get your FREE COOKERY BOOK
Convert grams to cups
To help you convert your recipes, I have created a handy Cookery Conversion Calculator which will convert ingredients between grams, ounces, tablespoons, cups and millilitres. I hope you will find it useful.
If you live at a high altitude you may find you need to adjust your baking recipes to compensate for this. You can read about how to do this in this post on baking at high altitudes.
Recipe – Chicken and bacon skewers
I am not a nutritionist. The nutrition information has been calculated using an on-line calculator, and is intended for information and guidance purposes only. If the nutrition information is important to you, you should consider calculating it yourself, using your preferred tool.
If you made this recipe and enjoyed it, please don't forget to give me a star rating in the comments below. And if you'd like to get in touch, you can email me on foodleclub1@gmail.com. I'd love to hear from you. And don't forget to subscribe to my mailing list so you can grab yourself a copy of my FREE COOKBOOK!
If you'd like to continue browsing, just click on this link to all my recipes.