Crispy golden potato frittata. Made with potatoes, onions and cheese and baked in one pan for the easiest and tastiest hash browns ever. Delicious with bacon and eggs, or add ham and mushrooms for a complete breakfast in a pan. Read on for step by step instructions!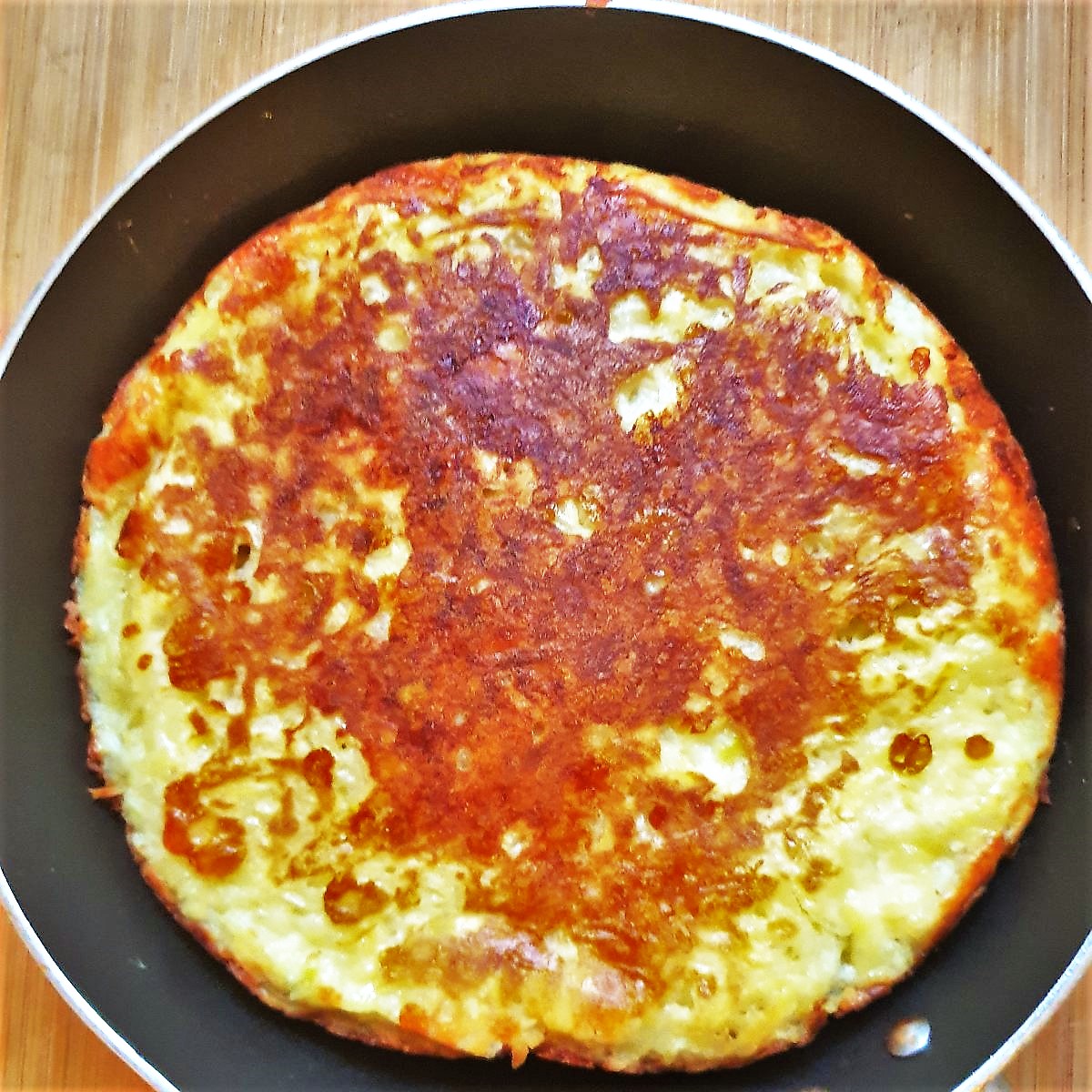 **As an Amazon affiliate, I earn from qualifying purchases.**
Potato Frittata with cheese
A potato frittata is just a posh name for hash browns! That said, there are a few basic differences that, to my mind, put a potato frittata streets ahead of a hash brown.
a potato frittata is cooked in one piece in the pan, and then sliced for serving, whereas hash brows are cooked in individual portions.
with hash browns you have to stand over the stove and fry them in lots of oil; with a potato frittata you just put it all in a pan with a minimum amount of oil and then leave it on a low heat to brown and crisp.
there's also the snob value in the name. Saying 'I had a potato frittata for breakfast' sounds so much better than saying 'I fried up a plate of hash browns'.
All in one breakfast in a pan
Once you have mastered the basics of making a potato frittata, then the sky's the limit. You are limited only by your imagination. Here are a few suggestions to get you started.
add chopped ham and mushrooms and make an all in one breakfast.
stir in a small can of whole kernel corn and make a giant corn fritter
splash out and add smoked salmon for even more snob appeal.
Other serving ideas
You could serve this dish as an accompaniment to a roast, instead of the traditional roast potatoes.
It also goes well as a side dish at a barbeqe, covered with homemade tomato relish.
Ingredients for potato frittata with cheese
**You can get the complete list of ingredients and full instructions on how to make this steak and kidney on the printable recipe card at the end of this post**
To make a potato frittata with cheese you will need the following ingredients. This recipe is sufficient to fill one 20 cm round frying pan and should serve 4 people.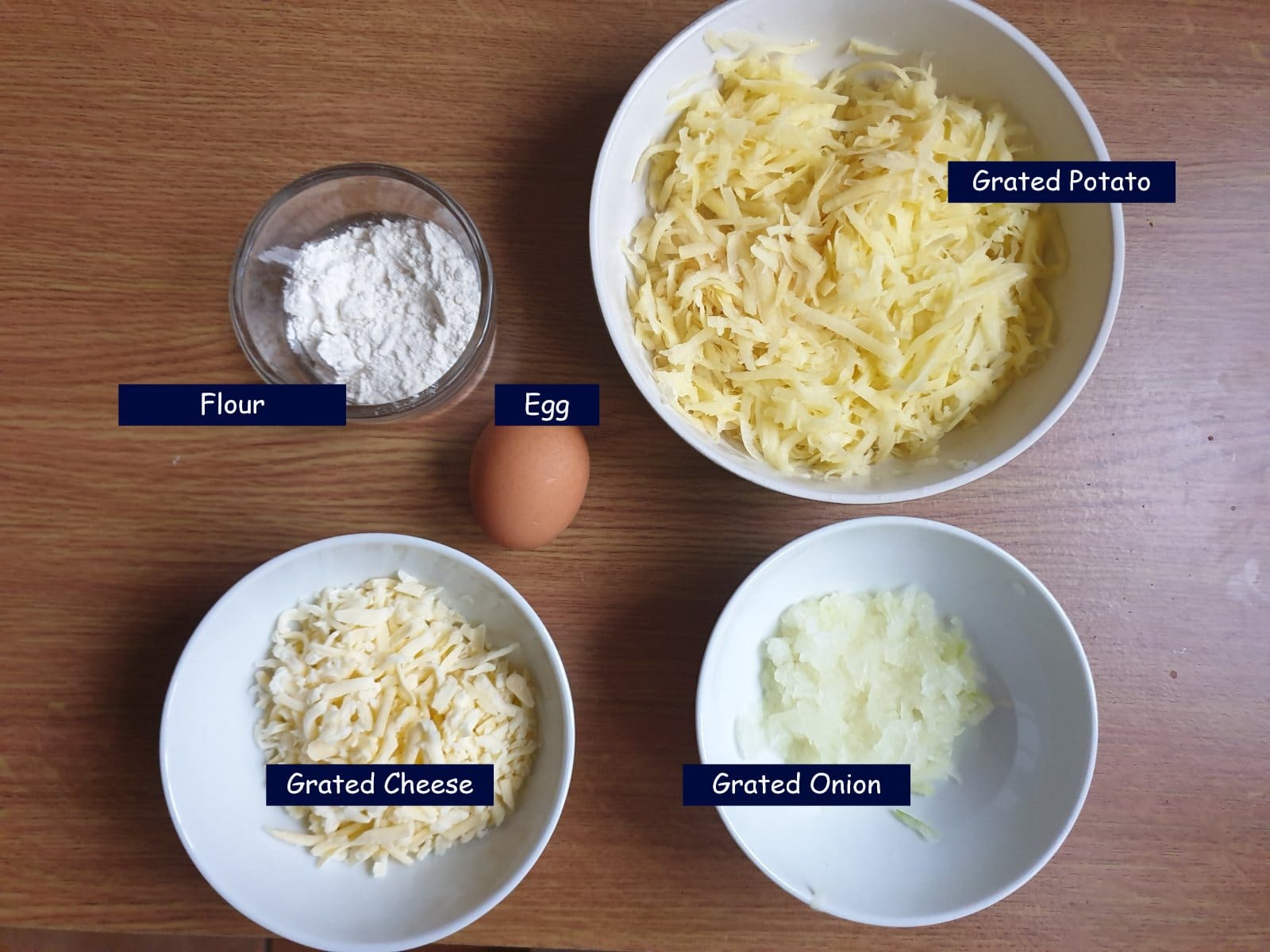 3 medium sized potatoes, grated. This should give the equivalent of appproximately 2 cups
1 medium onion, grated. Approximately 1 cup
125 g grated cheese which is also approximately 1 cup. I like to use cheddar, but you can use any similar cheese.
1 egg
30g cake flour (2 tablespoons) mixed with 1 teaspoon baking powder
1 Tablespoon sunflower oil – for frying.
Salt and pepper for flavour
You should aim for twice the amount of potatoes as onions by volume.
How to make a potato frittata with cheese
Prepare the frittata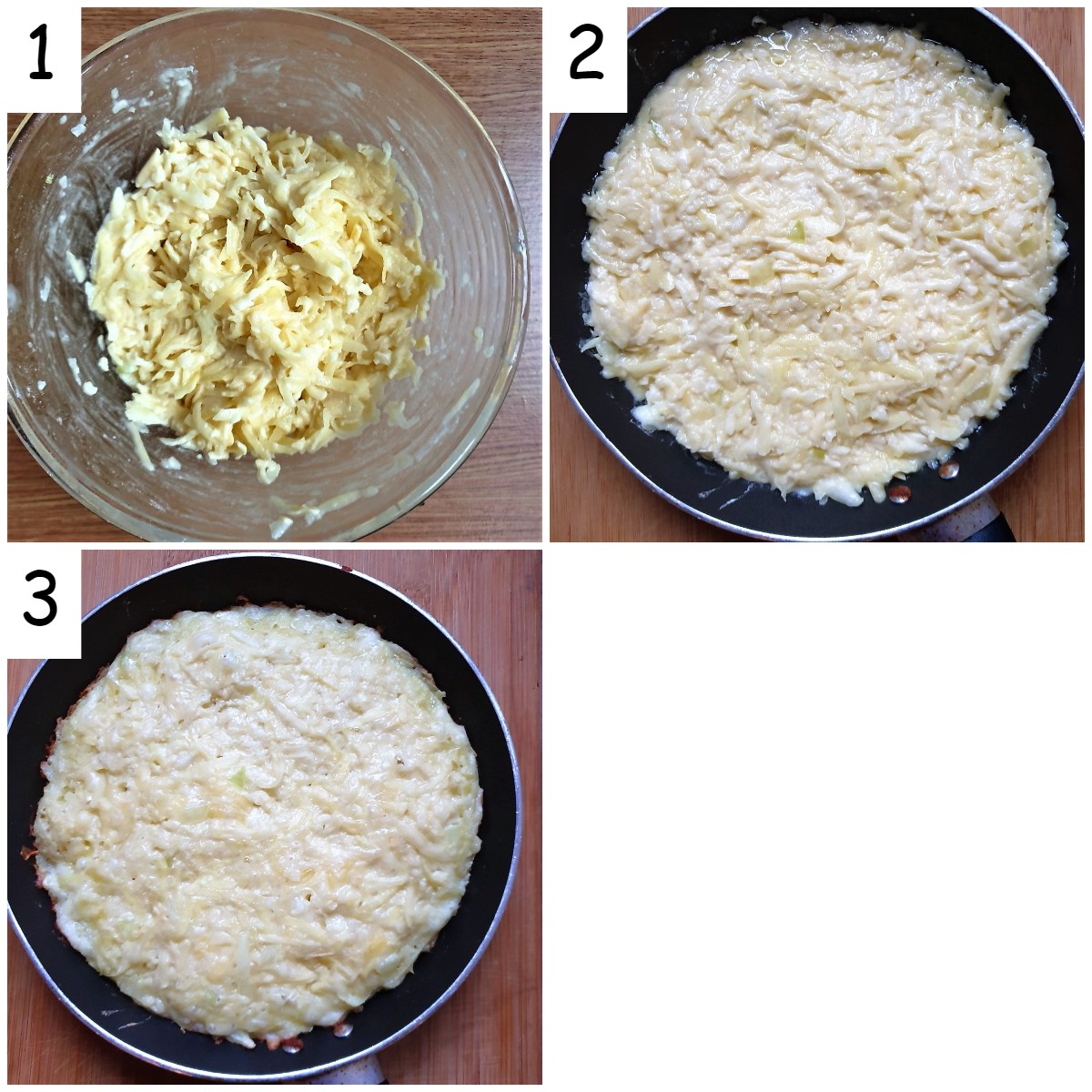 Grate the potatoes, onion and cheese.
Squeeze any excess moisture from the potatoes and onion. Too much liquid will result in a soggy frittata. To remove the moisture, just press down on the grated vegetables with the palm of your hand and pour off any liquid that comes out.
Place all the ingredients except the oil in a large mixing bowl and mix well to combine
Fry the frittata
Heat the oil in a 20 cm non-stick frying pan and tip the potato mixture into the pan.
Flatten the potato mixture with the back of a spoon to fill the pan evenly.
Place the pan on a very low heat and leave for about 10 minutes until the edges of the frittata show a little brown, and the top is starting to set.
Flip the frittata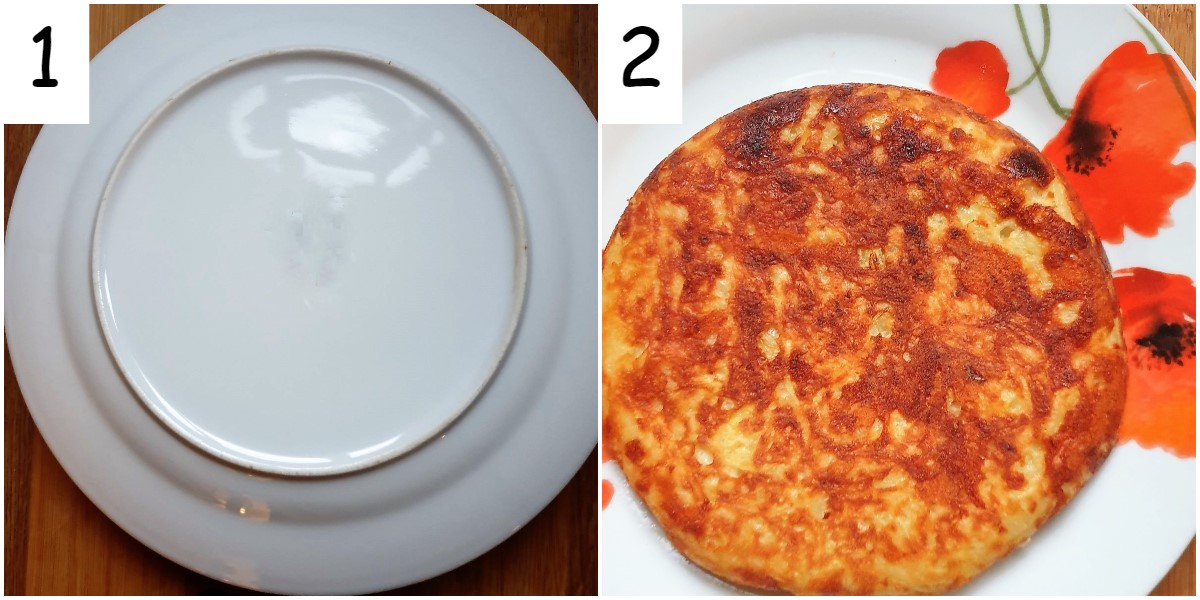 Now for the tricky bit – turning the frittata over.
Place a large plate upside down over the frying pan.
Put your hand on the plate to hold it in place, and quickly turn the pan upside down.
The frittata should drop out of the pan onto the plate.
If it sticks, use a knife to carefully loosen the edges and try again.
Slide the frittata back into the pan and allow the bottom to brown on a low heat for another 10 minutes.
Make in advance
If you want to save a bit of time in the morning, just mix up the frittata the night before, and store in a covered bowl in the refrigerator. Next morning, all you have to do is fry it.
You may find that the mixture has drawn a little water while it has been in the refrigerator. Don't worry, this is just excess moisture leaking from the potatoes. If this happens, pour any excess liquid off, then give the mixture a quick stir before frying.
If you'd like to be notified of any new recipes, why not subscribe to my newsletter. As a thank-you gift, you will receive a free recipe e-book containing some of my most popular cakes and desserts.
Pin for later
Why not pin this recipe for potato frittata so you can make it later.
Recipe – potato frittata with cheese
If you made this recipe and enjoyed it, I'd love it if you could give me a star rating in the comments below. And if you'd like to get in touch, you can email me at [email protected]. I'd love to hear from you. And don't forget to subscribe to my mailing list so you can grab yourself a copy of my FREE COOKBOOK!
If you'd like to continue browsing, just click on this link to all my recipes.